Brilliant fruit desserts are what everyone always wants to have after a hearty meal. There are endless varieties of fruits for you to incorporate into a dessert recipe. The only limit is in your imagination regarding homemade fruity treats.
Adding fruits to sweets is a bright idea to encourage children to eat healthily. Furthermore, most fruits take the treat flavors to a whole new level. Even if you're a newcomer to making desserts, there are easy recipes to follow.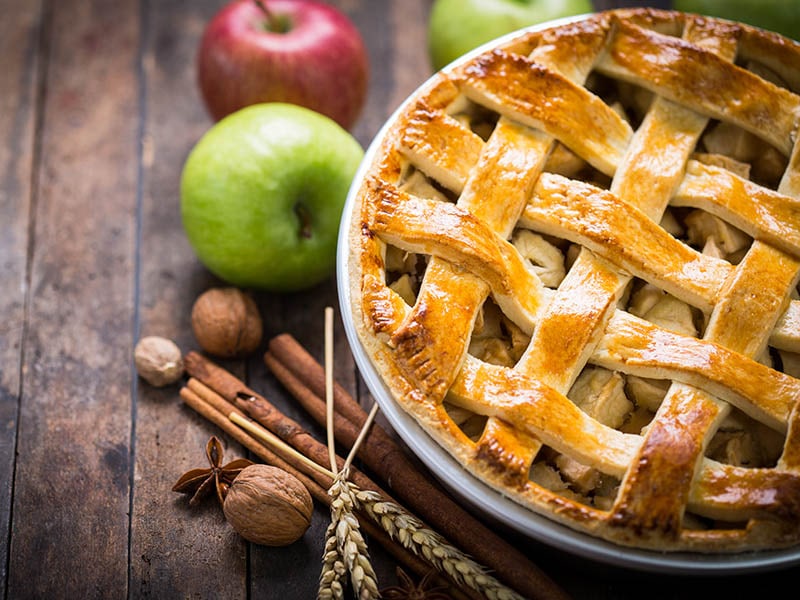 Must-Try Fruity Treats For Everyone To Make At Home
Fruits are delicious no matter how you incorporate them into a recipe. Therefore, you only have to pick the treat that tickles your taste buds the most. I hope these fruit delicacies can satisfy anyone's sweet tooth and elevate their meal quality.
Total time: 1 hour 48 minutes (including 1 hour of chilling and 30 minutes of resting the pizza)
Just because I'm giving you a dessert guide doesn't mean you can't have a pizza. Better yet, I'd like to introduce you to a dessert pizza cookie burst with berry flavors. This sweet version of pizza is sure to be a banger when you serve it after a hearty meal.
To cut you some slacks, I suggest grabbing a sugar cookie dough package from the store to be the base of this recipe. Flatten the dough until it covers the pizza tray completely. Let the oven handle the dough until it becomes golden brown.
Don't forget to cool the dough for around 30 minutes. Proceed to spread a layer of cream cheese infused with sugar and vanilla extract over the cookie surface. Now comes the fun part: pick your favorite fruits (I recommend all types of berries) and sprinkle them on the pizza.
Total time: 30 minutes.
Aside from being a sweet dessert, this strawberry oatmeal bar is perfect as a healthy snack. The treat comes together quickly and can work as a last resort if you don't have many ingredients at your disposal.
The oatmeal bar has three parts: the crust, the strawberry center, and the topping. For the crust, it's best to use oatmeal as a base to incorporate brown sugar, flour, and butter. Spread the oatmeal mixture over a sheet pan and layer it with strawberries with extra all-purpose flour.
As for the topping, combine sugar, oats, and flour to cover up the strawberries. Bake the strawberry oatmeal for around 25 – 30 minutes in the oven before serving.
Oatmeal bars are perfect for filling your tummy with sweet and healthy ingredients.
Total time: 27 minutes.
Another popular way to enjoy various berry flavors is to make a trifle, a type of British dessert that people usually serve in a bowl or cup with multiple layers. Thanks to the appearance of various berry types, this trifle is a colorful treat for both children and adults.
At the bottom, you want to use pound cake as the base; drizzle in a syrup concoction of sugar, lemon juice, and water. Follow it up with a few dollops of sweet cream cheese mixture. Scatter some blueberries and strawberries for the best visual effect.
Ideally, you want to chill the trifle overnight to enjoy a chilled creamy treat with fruity berry flavors. Thanks to the berry combination, the trifle tends to have a slight touch of acidity to pair with sweet cream cheese and whipped cream.
Total time: 2 – 4 hours.
When it comes to fruity desserts, you may want to get back to the basics with a classic fruitcake. Many tend to have negative opinions about the cake because they fail to recreate it. However, I will help you nail this treat like a piece of cake.
First, you need to whip up butter, sugar, and cream. In addition, you should include eggs, red wine, and flour in the exact order. Furthermore, throw in some raisins and nuts for that extra pop of flavors.
Of course, it's not a fruitcake without having your favorite candied fruits. Bake the whole concoction for several hours. Don't forget to cool the cake for an additional 30 minutes.
Total time: 15 minutes.
Almost any treat suggestion needs to include parfait as one of the best ways to enjoy the fruit. It originated from French cuisine around the 1890s. The dessert took over the world by storm and is now usually at the top of most wanted sweets.
I suggest fixing a raspberry sauce for this recipe by simmering the berries with sugar until the mixture becomes thick and lumpy. While you're at it, switch to dicing some pineapples and peaches to combine with the remaining raspberries.
To assemble the parfait, layer the bottom of the glass with Greek yogurt and follow that up with raspberry sauce. Next, add a layer of chopped mixed fruit. Repeat the process until you fill the top of the glass or run out of ingredients. Voila, your parfait is ready to enjoy.
Total time: 1 hour 30 minutes (including 1 hour of chilling)
Galette is a French term for any pastry with a flat round crust with toppings in the middle. The fruit Galette is the most well-known variety and possesses many variations. Instead of a big galette, I want to offer you a cute miniature version of this sweet French treat.
The cornerstone of any galette lies in the dough, a concoction of all-purpose flour, brown sugar, and butter. Knead the batter thoroughly and let it rest for 30 minutes in the refrigerator. For the filling, pick your favorite fruits to mix with cornstarch, lemon zest, and sugar.
On a baking tray, assemble the galette with a scoop of filling for each dough ball. To make the desserts more appealing after baking, I recommend brushing a layer of egg wash over the crust. The galette can have a sweet flavor and light tartness, depending on your fruit filling.
Galette is ideal for showing off your pastry skills.
Total time: 15 minutes.
Let's face it; sometimes, you're too lazy to bake cakes to make desserts. Therefore, I want to give you a no-bake cheesecake dessert to whip up in no time. In some way, it's like whipping up a sweet and creamy lasagna (an Italian baked dish).
You need to layer the bottom with crumbled Graham crackers in a pan or baking tray. Next, combine the cheesecake pudding mix with cream cheese and whipped cream to go over the cracker layer. Cover it with another cracker and cream cheese mixture with strawberries on top.
Repeat the process until you reach the limit of the pan or run out of ingredients. Let the freezer bring the cheesecake temperature down for around 2 hours before serving. The cheesecake lasagna is a creamy creation with the fruity fragrance of strawberries.
Total time: 1 hour 5 minutes.
Since French cuisine can have so many fruity delicacies, I want to introduce you to Clafoutis, a dessert with a thick flan-like batter. Traditionally, French locals usually make Clafoutis with a black cherry filling.
I suggest you stick with the authentic Clafoutis in this recipe by using black cherries. Mix egg with sugar, salt, and flour in a bowl for the basic Clafoutis batter. Pour in melted butter with milk and stir until you get a smooth mixture.
Throw a generous amount of black cherries into the batter and let the oven work its magic. It usually takes around 45 minutes until the surface is slightly brown. Once baked, sprinkle a layer of vanilla sugar over the Clafoutis surface. You can serve Clafoutis hot or cold to your liking.
Total time: 40 minutes (plus 3 hours of chilling time).
Summer is upon you, and the perfect way to beat the heat is to make ice cream. You may want to include watermelon in this chilled treat for a fruity flavor. Ice cream often requires complicated steps, but this recipe only calls for three main elements.
For starters, I recommend cutting the watermelon into uniform cubes and throwing them into the freezer. Let the watermelon cubes freeze completely before blending them with almond milk and monk fruit into a creamy consistency.
Transfer the slushy watermelon ice cream into a container to chill in the refrigerator and enjoy whenever you want. As a side note, this recipe works with any type of milk, giving you more options to work with.
Total time: 1 hour 10 minutes.
Banana is one of the most common fruits worldwide, known for its high potassium levels. In general, people tend to feature bananas in various cooking recipes. Therefore, I want to go with the flow by bringing you a banana pudding cheesecake dessert.
First, you want to bring cream cheese and sugar together until you get a creamy consistency. Next, throw in eggs to help bind the ingredients. Instead of using real bananas, I suggest utilizing powdered banana pudding to save time.
Proceed to incorporate the crushed wafer into the cream cheese blend. For the crust, people often resolve to crumble Graham cracker as a solid choice. Spread the filling over the cracker crust and bake it. Finally, chill the cheesecake in the refrigerator before serving,
Get your kids to eat more bananas by making this pudding cheesecake.
Total time: 1 hour 30 minutes (including 30 minutes of cooling).
Turnovers are easy-to-make apple treats in Britain with a tender, flaky puff pastry layer. People can put whatever fillings fit their taste buds inside the dough layer. Commonly, apples are one of the classic choices for a turnover filling.
To save you from all the tiresome work in the kitchen, I recommend using pre-made puff pastry. Combine cubed apples with brown sugar, lemon juice, and spices until the sauce thickens. Assemble the turnovers with a decent amount of apple filling for each puff pastry piece.
Apple turnovers often possess a crunchy crust full of apple flavor from the filling. Furthermore, people tend to brush a layer of egg wash over these triangular pastries to get a beautiful golden brown color.
Total time: 1 hour 55 minutes (including 1 hour of chilling)
The lemon bar is a fun and exciting way to enjoy shortbread with a touch of tanginess of lemon. The hint of citrus in each bite keeps everyone coming back for more. If that's not enough, the bar is also appealing with a bright yellow.
The essential point in a lemon bar lies in the lemon curd filling, a concoction of eggs with lemon juice, zest, and sugar. Mix the elements until you get a creamy and smooth mixture.
After baking a batter of all-purpose flour, unsalted butter, and powdered sugar, use the baked dough as the crust for the lemon filling. Pop the lemon bar into the oven again with the filling for an extra 30 minutes. Dust the lemon bar with powdered sugar for serving.
Total time: 1 hour 45 minutes (including 1 hour of chilling)
Fruit tart is like a holy combination of a variety of fruits to enjoy during hot summer. The recipe is a cake filled with colorful fruit slices, but you don't have to go through the long baking process to make it.
The crust is a simple choice of crumbled Graham cracker with some butter and sugar. You want to combine cream cheese with whipped cream, lemon juice, and sugar for the creamy filling. Spread the cream until you reach the limit of the cracker crust.
Now comes the fun part: grab various colorful fruits and start placing them interchangeably over the cream filling. In addition, you should lay your hands on some apricot jam for an extra hint of peach flavor in the fruit tart.
Total time: 3 hours 5 minutes (including 2 hours of cooling)
This fruit dessert compilation is not complete without featuring apple pie, one of the most classic treats worldwide in terms of popularity. Interestingly, although apple pie is a symbol of American cuisine, the dish's recipe first appeared in England in 1381.
Instead of making the crust from scratch, it's better to grab the pre-made dough version to save time. After pressing the batter to the side of the mold, proceed to pour in the filling consisting of sliced apples with sugar, cinnamon, and lemon juice.
Top the surface with another dough layer and bake the pie for roughly 20 minutes. Place a few dough strips over the pie for simple decoration and bake the pie for another 25 minutes. Apple pie is a simple recipe that always satisfies everyone's appetite.
A classic apple pie is unskippable at any time of the day.
Total time: 1 hour 20 minutes.
If you're about to have visitors coming over, it's time to bust out a blueberry cream cake recipe to show off your cooking skill. Perhaps, this cake is also ideal for treating your closed ones with an exquisite flavor of seasonal fruits.
The fun comes in when you get to play with the batter mixture possessing flour, baking soda, and baking powder. Next, mix the dry ingredients with eggs, butter, and sugar to get a smooth consistency. Transfer the batter to a round baking tray and cover the surface with peach slices.
For a final touch, throw in a couple of blueberries before letting the oven take care of the rest. The cake should have a harmonious sweet and sour taste with a hint of peach flavor. Commonly, you may preserve the cake in the refrigerator for a couple of days.
Total time: 20 minutes.
If you're a simple person like me, you may enjoy a macaroon made from a handful of ingredients. Don't let the low number of components fool you because these little macaroons are full of coconut flavor. These sweet balls are also perfect for adding to a ketogenic diet.
Simply whip up the egg white until it becomes stiff. Continue to sprinkle in shredded coconut and your choice of sweeteners. Scoop the macaroon into small balls to bake for around 20 minutes. The cookies should be golden brown and have a crispy texture.
Total time: 2 hours 40 minutes (including 2 hours of chilling).
Strawberry shortcakes are ideal for fixing whenever you're in a rush. The cake calls for simple ingredients, which allow even the most inexperienced to bake up a perfect dessert. In my opinion, the recipe is perfect for practicing your pastry skill.
I suggest whisking flour with eggs, butter, and sugar in a mixing bowl. Remember to add the ingredients alternately so you can make reasonable adjustments in time. Then bake the cake for around 25 minutes.
To assemble the shortcake, I recommend spreading a layer of strawberry with syrup on the cake before following it up with whipped cream. Repeat the process once more to create the top layer of the bake. Chill in the refrigerator for at least 2 hours before serving.
Total time: 15 minutes (plus 3 hours of chilling time).
Passion fruit is not a common choice in a dessert recipe; however, it makes for an exotic flavor when combined with an airy mousse. This Brazilian-style treat has everything you need in one cup for the best summer experience.
Let's fix the mousse by microwaving a couple of gelatin sheets in the oven and stirring the mixture to dissolve it completely. Pour a combination of lemon juice and passion fruit pulps into the gelatin concoction. Blend the mix with condensed milk and heavy cream.
While you let the refrigerator chill the mousse, fire up the stove to make the passion fruit sauce. Keep whisking until the sugar dissolves, producing a yellowy thick passion fruit syrup. For serving, pour the sauce over the mousse and enjoy the fluffy texture.
Passion fruit is an exotic choice to make a mousse.
Total time: 4 hours 10 minutes.
Fruit roll-ups appear dazzling in this list as a childhood snack for many people. Instead of buying these fruit strips, I want to show you how straightforward it is to create them at home. Let's take a nostalgic trip down memory lane.
For people who don't know, a fruit roll-up is a type of candy with a sweet and chewy profile. In some ways, it's similar to dehydrated fruits.
However, you need more than fruit to make roll-ups because they require a mixture of honey, lemon juice, and vanilla. Blend all the elements to a smooth consistency. Typically, you can use whatever fruits you have at your disposal.
Spread the smooth fruit mixture over a sheet pan and bake until they are no longer sticky. Finally, cut it into strips and roll them up to enjoy. The roll-ups usually carry the same flavor as the fruit you use.
Total time: 5 minutes.
Ambrosia salad is a mixed fruit dish that is even fit for your next picnic side course with its refreshing profile. Interestingly, the salad takes the name of a Greek god of food, Ambrosia. The recipe originates from the southern USA with pieces of pineapples, oranges, and coconut.
Aside from the mentioned fruits, you should also feature mini marshmallows with a few cherries. Mix all the fresh elements with sour cream, and you're good to serve the Ambrosia. A little secret for making Ambrosia: draining the fruit helps the salad become less watery.
Most often, it's best to enjoy Ambrosia salad after 4 – 6 hours of making. The longer you preserve the salad in the refrigerator, the more watery the Ambrosia becomes. The juice is mainly from the fruits sitting around too long with the cream cheese.
Total time: 10 minutes.
If you can't find passion fruit to combine with mousse, I highly recommend making another lovely treat with your lime, or key lime in particular. Although you won't get an exotic fruity taste, the addicting smooth and creamy flavors remain.
A standard mousse frequently includes a Graham cracker base with sugar and butter. However, you can omit the cracker for a gluten-free dessert. As for the cream, fold whipped cream with a whisked mixture of lime and condensed milk.
Serve the mousse in a glass with the cracker base and chilled cream filling. Garnish the glass with a lime wedge for fancy decoration.
Total time: 2 hours 18 minutes (including 2 hours of chilling).
It's past Valentine's Day already, but I still crave some chocolate-covered strawberries. Besides using them as a gift for your sweetheart, you should make this straightforward treat to show how much you love your family.
Give the strawberries a good wash but make sure to keep the stem. While you wait for the strawberries to dry, melt the dark chocolate and butter in the microwave. Dip each strawberry into the chocolate concoction and line them over parchment paper to refrigerate afterward.
On average, you need around 2 hours for the chocolate to solidify around the strawberry. For the best result, I suggest using dark chocolate chips. In addition, you may utilize sprinkles or melted white chocolate to decorate the desserts.
Spread love to everyone by treating them with chocolate-covered strawberries.
Total time: 20 minutes.
I know chocolate cutie is a weird name for a dessert, but since it's so easy to recreate at home, you should check out this recipe. The concept is similar to chocolate-covered strawberry but with a soft and juicy texture.
You swap out the strawberry with mandarin pulps for a blast of refreshing citrus flavor. Stir the chocolate with coconut oil to coat the mandarin pulps. Let the refrigerator cook down the chocolate for around 20 minutes before serving.
Total time: 27 minutes.
People often associate grilling with meat and a savory flavor, but I have an extraordinary option for you: a summer fruit skewer. Yes, you heard it right. This fun snack or dessert requires you to grill fruits to enjoy with a fresh squeeze of lemon juice.
Before you fire up the BBQ griller, don't forget to soak the skewer in water to prevent burning later in the cooking process. I suggest cutting bananas, strawberries, kiwi, pineapple, and watermelon into reasonable pieces for the fruit mix.
Skewer the fruit pieces and grill them for roughly 15 minutes. I almost forgot: you might want to season the skewer lightly with cinnamon. In addition, adding a touch of honey mixed with lime juice helps diversify the flavor a bit.
Total time: 15 minutes.
Let's face it; every child loves candies. Therefore, you may want to encourage your kids to have a healthier candy option like sour patch grapes. This grape-centered sweet treat only costs two ingredients to make into a sweet dessert, side dish, or snack for any party.
Simply grab a bunch of rinsed grapes and toss them with flavored gelatin. You may divide the grapes into many bags to combine with different flavored gelatin at this stage. Chill or serve the sour patch grapes at room temperature.
Total time: 3 hours 20 minutes (including 3 hours of chilling).
Tiramisu is a prime candidate for the best Italian dessert; the dish has an exquisite coffee flavor and soft texture of ladyfingers (savoiardi). Traditionally, the tiramisu filling usually includes alcohol in the mix to create a unique taste for the dish.
For this recipe, I suggest using orange liqueur to infuse the cream filling with a citrus flavor. Stir the raspberry jam with the liqueur to create the spreading mixture. As for the cream, mascarpone is your go-to choice to bring a mildly sweet and nutty flavor to the whipped cream.
Layer the bottom with ladyfingers in a baking dish and spread the surface using raspberry jam. Continue to lay down a layer of mascarpone concoction and a few fresh raspberries. Repeat the process until you reach the tray limit. Chill the tiramisu for some time before serving.
Bring a twist to authentic Italian tiramisu by adding raspberry to the mix.
Total time: 20 minutes.
Summer is sometimes unbearable with its intense heat; that's why making sorbet is a brilliant idea to cool yourself down. In addition, I prefer to infuse this sorbet with mango flavor for everyone to enjoy a tropical fruit flavor.
All you need to do is puree the mango into a smooth consistency with lime juice, zest, and maple syrup. Give the mixture a taste to adjust the taste to your liking. Place the mango sorbet in a container and store it in the freezer for future serving.
Total time: 15 minutes.
These little clusters of blueberry and coconut with chocolate are a delectable dessert to serve after a meal. The dish takes less than 20 minutes to come together, yet it is full of fruity flavors and a beautiful brown layer of chocolate with purple blueberries inside.
Simply melt the chocolate with coconut oil and dip individual blueberries into it. Place the blueberries close together to form a cluster. Let the clusters cool and drop them into the chocolate for a second time with a sprinkle of shredded coconut for a final touch.
Total time: 20 minutes.
Despite having the word cake in the name, this recipe is not what you think as it requires no involvement of flour. It is ideal for serving as a quick and healthy dessert to keep everyone on the edge of their seats.
The watermelon is the main focus of this treat, as you need to cut the fruit into circular shapes to serve as the base of the cake. Before you stack the watermelon pieces with cream, pat the surface dry so the ingredients can stick.
Drop a dollop of whipped cream on top with some almond slices. Top the cream with blueberry, and the mini watermelon cake is complete.
Total time: 35 minutes.
Any fan of a soft and jiggly dessert will instantly fall in love with souffle, a French baked-egg dish that debuted in the 18th century. Sometimes, people even serve souffle as a savory dish by pairing the dish with bacon and cheese.
Since I'm giving you suggestions on fruit desserts, this souffle recipe will have a raspberry flavor. The essential point of this treat is the raspberry puree consists of raspberry with flour, orange juice, and sugar. Whisk the elements until the mixture possesses a custard consistency.
As for the souffle, combine egg white with butter and sugar to get a soft concoction. Next, fold the raspberry puree and pop it into the oven for around 17 minutes. For a final touch, dust the souffle surface with powdered sugar for serving.
Learn from the expert so you can nail raspberry souffle at home.
Total time: 13 minutes.
Campfire strawberries are excellent choices for camping trips or even casual dinners. The dessert is one last-minute sweet you can fix to treat friends or family members.
It's similar to how you usually create chocolate-covered strawberries. However, the twist lies in a fluffy marshmallow covering the chocolate. After waiting for the chocolate to harden on the strawberries, dip the fruits in melted marshmallows to create the second layer.
Grill the outside fluffy marshmallow until it becomes golden brown. Serve campfire strawberries right after toasting the marshmallow to enjoy the smoky flavor. In addition, you get a hint of caramelized taste from the sugar of the marshmallow.
Total time: 1 hour 30 minutes.
For a final suggestion, let's wrap up this compilation with chilling and refreshing popsicles. Better yet, these treats are super appealing because of the color combination of various berries. It's ideal for a poolside party on the weekend.
In a blender, you want to create the syrup mixture of honey, fresh mint, and lime juice. Most often, I recommend using blackberries, blueberries, and raspberries. Remember to blend each type of berry separately with the sweet mint syrup.
Transfer the raspberry puree into the popsicle mold for the first layer and freeze it. Repeat the step for the second and third berry layers. At the final layer, don't forget to place a popsicle stick. These berry popsicles tend to have a slightly crunchy texture, but it soon melts in your mouth.
Desserts Are A Hundred Time Better With Fruits
Fruit desserts are a gift from heaven; sometimes, you don't even need to wait until after dinner to devour tasty treats. So strap on your apron, and let's get busy in the kitchen to bring out decadent sweets of all shapes and sizes.
Thank you for spending your time going through this article. In the comment section, let me know which fruit is your go-to choice to feature in an after-meal recipe. Share this article with family and friends so they can expand their sweet arsenal.