Frozen shrimps are the latest solution to all your daily meal problems, especially if you are in a time crunch or too tired from your day to make anything complex. You can include them in any of your favorite dishes, like soup, pasta, salad, and even pizza. The possibilities are endless.
From the grocery store to your freezer, frozen shrimp can still remain as juicy and plump as fresh ones if processed properly. Not to mention how convenient they are since most of them are already deveined and peeled. Let's see just how multi-purpose they are with this list.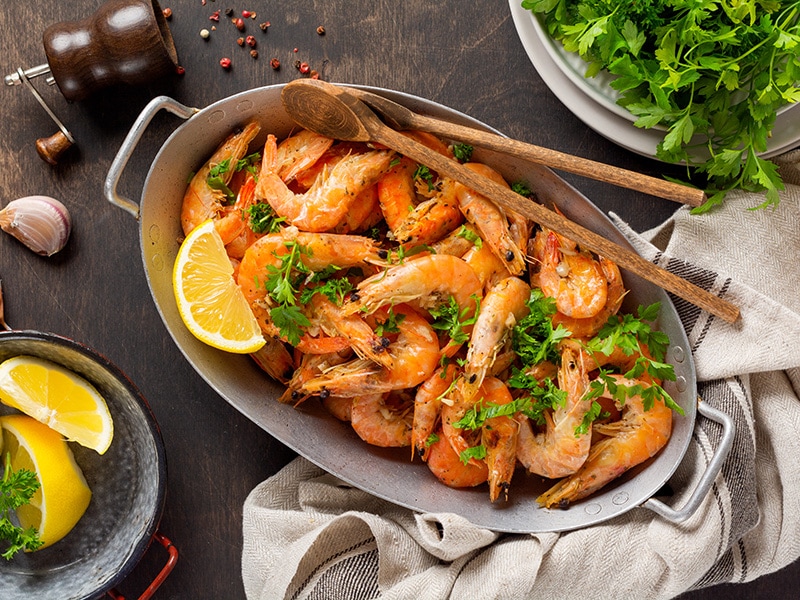 20 Easy Frozen Shrimp Recipes You Can Make In A Flash
With straightforward cooking methods, you can easily make the following recipes with your leftover shrimp. They are divided into 5 styles: soups & stew, salads, fried and sauteed, baked, and other methods. Scroll through this list to see what you can make.
Easy Frozen Shrimp Soups & Stew
Moqueca De Camarao (Brazilian Shrimp Stew)
Thai Tom Yum Soup
Corn and Shrimp Chowder
Cioppino (Fisherman's Stew)
Easy Frozen Shrimp Salads
Asian Shrimp Salad
Spicy Shrimp With Mango & Avocado Salad
Arugula Salad with Shrimp
Easy Fried And Sauteed Frozen Shrimp Dishes
Shrimp Fried Rice
Shrimp and Vegetable Skillet
Cajun Shrimp Pasta
Honey Garlic Shrimp
Easy Baked Frozen Shrimp Dishes
Lemon Roasted Shrimp
Baked Shrimp Dip
Shrimp Scampi Pizza
Baked Coconut Shrimp
Shrimp Enchiladas
Shrimp Fajitas
Other Easy Frozen Shrimp Dishes
Caribbean Shrimp Tacos
Shrimp Tostadas
Thai Shrimp Curry
4 Easy Frozen Shrimp Soups & Stews That Will Bring You Great Comfort
Everybody loves a good hearty bowl of soup to keep them comfortable after a long day. Featuring warming ingredients, these recipes will become your favorite food for all the cold days to come.
Hearty and deliciously thick, this Brazilian shrimp stew will be your new favorite go-to when this cold season rolls around. It's a rich mixture of shrimp, coconut milk, lemon juice, and various herbs.
Spend around thirty minutes in the kitchen, and you can have a large pot of this stew for the whole family. The ingredients themselves are already quite good, so you only need to season and stir around to get the ideal dish. Pair it with a bowl of rice for a filling and bright main dish.
Learn how to make this delicious comfort food like a true chef. You can see this video to know more:
Tom Yum is one of Thailand's most popular dishes. It's a spicy and sour soup consisting mainly of shrimp, herbs, and loads of spices. If you like your soup to be flavorful and aromatic, then Tom Yum is a must-try.
In addition to the heavenly taste, this soup is also extremely easy to put together. You only need around thirty minutes for the entire process. The only part that takes effort is finding specific ingredients to create the distinctive Thai taste, but a store-bought Tom Yum paste will also work just fine.
For those looking for a soup delicacy with a creamy texture, this chowder is for you. Loaded with butter and heavy cream, it has a thick consistency that's incredibly filling. Paired with a few slices of crusty bread, it's a delightful light meal you can have at any time of the day.
Despite the plain color, this soup is so much more flavorful than you think. The corn and shrimp give it a subtle sweetness, while the seasonings leave a spicy aftertaste that keeps you nice and warm. You can even put some bacon crumbs on top for an extra hint of smokiness.
This is another hearty soup to warm yourself right up during winter. It's filled with seafood like fish and shellfish swimming in a tomato and wine broth with various herbs and spices. The long list of ingredients may scare you off at first, but I guarantee it is not difficult to make at all.
From the food to the broth itself, everything about this soup is deliciously thick and chunky. This texture gives you an incredibly filling dish with minimal effort. It's best served with a few slices of garlic bread to bring out the tangy and sweet taste that will keep you hooked for days.
Five-minute fisherman's stew is absolutely possible with this detailed guide.
Put Some Green In Your Meal With These 3 Easy Frozen Shrimp Salads
Salad is perhaps one of the most effortless dishes to make. Some don't even require any cooking steps. It's also great for keeping yourself fit and healthy. Here are some recipes you should definitely check out if you love a good bowl of veggies.
Bright, colorful, and extremely easy to put together, this dish is everything you could possibly want in a salad. It's filled to the brim with fresh veggies and sweet shrimp, all blended together with a zesty citrus vinaigrette.
Whether you have it for lunch or dinner, this gorgeous salad is still a great fit because of how versatile it is. Just toss any vegetable you have available, dethaw the frozen shrimp, and get the dressing ready. Everything is all done in less than twenty minutes.
Mango, avocado, and shrimp is the food combination you will unexpectedly adore. The fruits give this salad a lovely smooth texture with tender flavors, while the sauteed shrimp bring along all the spicy and tangy taste to balance it all out.
Aside from the shrimp that need to be cooked, this recipe pretty much puts itself together. The other ingredients just need to be washed and chopped. Since it's already packed with flavors, the dressing can just be a simple lemon squeeze for some extra brightness.
Your summer will be a whole lot brighter with this delicious salad. Using arugula as the main ingredient, it is refreshingly spicy and distinctive. It's an easy and quick go-to meal for whenever you want a tasteful side dish without putting in too much work.
Because the cooking method is so simple, the tastiness of this salad mainly comes from the ingredients. The veggies are delightfully fresh, and the shrimp are sauteed with soulful herbs, giving you a mixture of flavors that is completely irresistible.
Put your leftovers to good use with this arugula shrimp salad recipe. You can see this video to know more:
4 Easy Fried And Sauteed Frozen Shrimp Dishes To Make For Dinner
Cooked over high heat with loads of veggies and seasonings, these dishes can become impressively flavorful in a very short amount of time. They are the ideal choices for your weeknight dinners, whether you're feeding the whole family or just treating yourself.
Fried rice is an incredibly forgiving dish. You can make it with any ingredient, old or new, and it would still taste amazing. The bonus point is it only takes around twenty minutes to whip up a plate. If you ever need to use up all your leftovers, fried rice is the easiest option.
Leftover rice and frozen shrimp actually work better for this dish instead of newer ones because of how dried out they get. After frying, they will become perfectly crispy and even more flavorful, thanks to the other vegetables, herbs, and eggs.
Skillet shrimp makes a very healthy and quick dish for all your casual weeknight dinners. True to the name, it consists of nothing but veggies, shrimp, and some seasonings, creating the perfect low-carb dish for you to enjoy freely.
The recipe is incredibly versatile and flexible. Besides the shrimp base, everything else is adjustable. You can try out brand-new vegetable and seasoning combinations each time you cook, making the experience more exciting each time.
Make your family dinners more exciting with this colorful and tasteful dish. You can see this video to know more:
Bring a restaurant-worthy dish right onto your dining table with this quick and easy pasta recipe! Featuring tender shrimp, savory vegetables, and rustic Cajun flavors, it's the homemade dish of your dream. Don't forget to prepare some refreshing sides for shrimp to complete your experience.
The plump and juicy shrimp combined with the vibrant sauce can make this dish look a lot more complicated than it actually is. You only really need around thirty minutes and regular cooking methods to get it done. It takes a few steps, but definitely nothing you can't handle.
This gorgeous plate of honey garlic shrimp will take your breath away from the very first taste. The shrimp are drenched in a saucy mixture of garlic, ginger, and honey, giving them a glossy caramelized appearance that no one can resist.
These shrimp are packed full of flavors, so you don't really need any other complicated dish to go with them. Just have something light like a bowl of rice, noodle, or salad to complete the meal. Your dinner nights will come together flawlessly in less than half an hour.
Homemade fried shrimps that taste like a restaurant dish, why not? You can see this video to know more:
6 Quick And Easy Ways To Bake Your Frozen Shrimp
Baked dishes are always a top choice for busy days because the end result may seem intense and complicated, but the actual process is usually the opposite. So don't hesitate to check out these recipes for what you can make using the oven.
This baked dish is as easy as it could possibly get to cook shrimp. All you need to do is season the ingredients, spread them on a sheet pan, and let the oven do its job. The result is perfectly tender shrimp infused with a gorgeous mixture of zesty and earthy flavors.
You can eat these shrimp as any part of a meal. Pair them with rice or pasta for a hearty main course. As an appetizer, they pair well with a slice of crusty bread or your favorite salad. You can even use them as filling for rolls, tacos, or sandwiches.
Take your game night meals to the next level with this luscious snack dip. In just thirty minutes, you can have a massive pan of chunky shrimp smothered in a sea of cheese and flavorful spices that everyone will absolutely adore.
This golden dish is filled to the brim with cheese, so it's flavorful enough on its own. However, you can serve it alongside chips or bread for a crowd-pleasing shrimp appetizer. Or add more color and texture with some add-ons like vegetables, sausages, or bacon.
You may be more familiar with the original shrimp scampi that is served with pasta, but this dish is just as good. You will still be frying the shrimp and drenching them in the traditional garlic sauce, only this time, they will go over a pizza instead of pasta.
This recipe requires a few more steps than some of the other ones in this list, but it's still relatively simple and can be done in just forty minutes. For a mouth-wateringly good pizza covered in cheese and savory shrimp, that's definitely not bad at all.
Give your meal a little tropical taste with this coconut shrimp recipe. Nothing can compare with crispy coconut shrimp served with its suitable partners. Drenched in coconut flakes and baked to golden perfection, they will have your guests completely mesmerized.
As the shrimp are breaded then baked, they still have that delicious crunchy exterior without being too unhealthy. The insides remain perfectly tender, giving you a delightful taste with each bite. Serve them up with your favorite sweet-savory dipping sauce to enhance the flavor.
Enchiladas work great with chicken, but how about giving shrimp a try for some brand new flavors? Filled with tender shrimp and covered in a creamy sauce, they will surely be the highlight of any meal they appear in.
These enchiladas are the perfect dinner for all your casual weeknights. They are very flavorful and so incredibly filling. You have to work on the ingredients a bit before baking them, but once you taste how delicious everything is blended together, you won't regret even a second.
Bring some Mexican flavors to your meal with a couple of shrimp enchiladas. You can see this video to know more:
Fajitas themselves are already quite easy to put together, but it's even easier with this sheet pan recipe because half the work has already been done for you by the oven. Drenched in flavorful seasonings and roasted to golden perfection, your shrimp has never tasted so good with so little effort.
This recipe is a lot more diverse than you think. You can make a few to have as a weeknight dinner, or play around and turn it into other dishes. Change it up a little and you can also make salad, quesadilla, or burritos all from this one simple recipe.
3 Other Easy Frozen Shrimp Dishes That Will Transform Your Meals
Made with lots of wonderful herbs and seasonings, these dishes are far from ordinary. They carry layers and layers of flavors but can be made so easily, giving you effortless dishes with complex tastes. Here are some ways to make your dinner nights much more entertaining.
There's never a bad time to learn new taco recipes. This one is Caribbean-inspired, using mostly spicy seasonings to bring flavors to the shrimp. The topping choices vary, but it mainly consists of pineapples, cabbage, and cilantro.
Thanks to the delectable use of spices and vegetables, this taco is jam-packed with spicy and tangy flavors. Wrapped in a crunchy tortilla shell, it bursts with colorful ingredients that everyone will fall in love with at first sight. It's the ideal crowd-pleasing light meal for all occasions.
Tostada is tacos' lesser-known cousin, also including a tortilla and various vegetables in the ingredients. However, the difference is the tortilla shell is usually toasted until it is perfectly golden and served as a flat base for the other foods to go on top.
Much like tacos, there are endless options when it comes to toppings for these shrimp tostadas. You can give them the classic Mexican flavors with jalapenos and salsa, but other modern versions are also delicious. It's hard to go wrong with these, so get as creative as you want.
Keep your meals fun and exciting with a couple of shrimp tostadas. You can see this video to know more:
Spicy food lovers should definitely check out this Thai curry recipe. It's filled with juicy shrimp, aromatic herbs and infused with coconut milk. You can pair it with some jasmine rice, fried eggs, or noodles for an authentic Asian main course.
This dish is full of complexities in taste, from a subtle coconut sweetness, fragrant Thai basil scent to the signature vibrant taste of the curry paste. It's so intensely flavored that no one would believe you can cook it in just 25 minutes.
Frozen Shrimp Have Never Seemed So Good!
When in doubt about buying shrimp, you should consider frozen ones. Not only are they way more convenient for the cooking process, but they also last so much longer. They are also as versatile as fresh ones, suitable for almost all of your favorite seafood dishes.
These frozen shrimp recipes will help make your days ten times easier than before. They come together pretty quickly, taste like heaven, and also provide you with a significant amount of protein. Give them a try and let me know all about how your dish turned out.
Nutrition Facts
6 servings per container
---
Amount Per ServingCalories356
% Daily Value *
Total Fat 18.1g

28

%
Cholesterol 184mg

62

%
Sodium 1558mg

65

%
Potassium 86mg

3

%
Total Carbohydrate 22.1g

8

%
Protein 24.2g

49

%
---
Calcium

181

%
Iron

3

%
Vitamin D

12

%
* The % Daily Value tells you how much a nutrient in a serving of food contributes to a daily diet. 2,000 calories a day is used for general nutrition advice.