The densification of French recipes makes a great contribution to the heaven of your meals. The wide range of French dishes from main dishes, side dishes, desserts, or even snacks lets you rotate to cook for your parties.
The most remarkable feature of French cuisines is that they are very comforting, hearty, and easy to cook on normal or special occasions.
This post with three main groups of recipes will make it easy to get deeper comprehension relating to wonderful French recipes to light your day.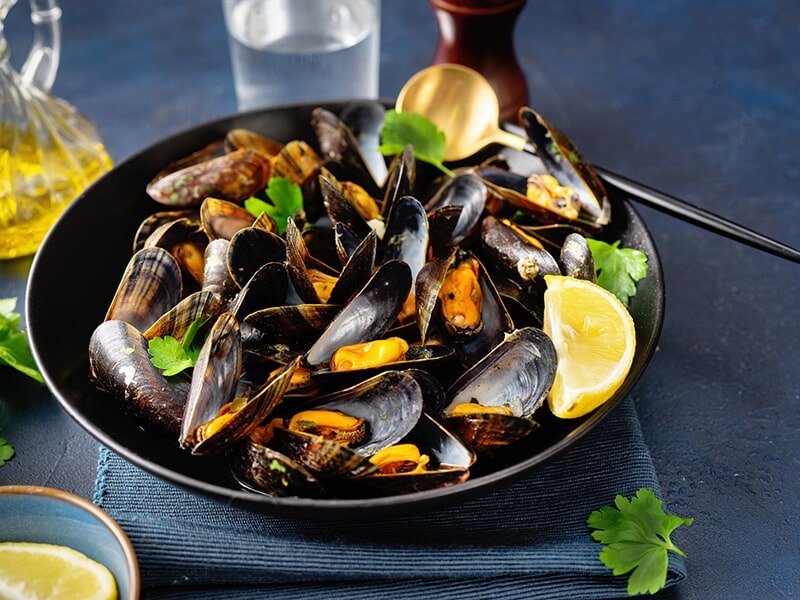 31 French Recipes That You Surely Love
This list will let you know how many French I'll mention in my post to give you renowned French dishes in which you can make decisions on what to make for your next parties or your normal meals.
French Appetizers
Chicken Livers Pate
Panisse
Salmon Rillettes
Alsatian Bacon And Onion Tart
Fromage Blanc Spread (Cervelle de Canut)
Smoked Salmon Canapes (Chez Le Reve Francais)
Lyonnaise Salad
French Cheese Puffs
Cheese Souffle
Brie With Pesto
French Main Dishes
Instant Pot Beef Bourguignon
Baked Bass
The Classic French Chateaubriand
Chicken Legs Coq Au Vin
Chicken A La Maryland
French Bouillabaisse
7-Hour Roast Leg Of lamb
Classic French Steamed Mussels
French Honey-Lacquered Duck Breast
French Side Dishes
Lyonnaise Potatoes
French Braised Peas
Ratatouille
French Broccoli Gratin
Creamed Leeks
French Grilled Romaine Hearts
French Pumpkin Soup
French Desserts
Tarte Tatin
Profiteroles
Paris-Brest
French Lemon Tart (Tarte Au Citron)
French Chocolate Mousse (Mousse Au Chocolat)
The 31 French Recipes Made With Simplest Ways
Read this section to get a better grasp of what you'll cook for the meal. You can get deeper knowledge in relation to what the dishes taste like, whether making them is complex, and whether they are suitable to serve a crowd.
French Appetizers To Get An Entertaining Beginning
You'll be impressed with these appetizers made in the French style. Prepare your curiosity to try the following stunning recipes on your meal table.
Chicken liver pate will be a comforting starter to win your guests over when it's used as a spread over hot butter toasts.
This recipe might not be popular and sounds strange as not everyone can eat the pate with comfort. Thus, if you want to make it for your family meals, just ask the members first.
Following an elegant recipe of chicken liver, Panisse will offer you an incredible dish made with chickpea flour. The Panisse has a solid outer but a soft interior when it's fried; besides, the fried Panisses are also aromatic.
Moreover, the Panisse also gives you one choice for serving your appetizers or snacks. Go along with chili sauce or tomato sauce to raise the flavors of the Panisse.
Another ideal recipe to start your meals is salmon rillettes which is very good to pair with toasted slices of baguette.
The combination of smoked salmon, mayo, and some basic seasonings will create an incredible dip to arouse the excitement to eat the following dishes.
How about beginning your meals with an Alsatian bacon and onion tart? The tart flavored with some simple spices will be a nice bacon starting course to interest your guests at the beginning of your meals.
Moreover, the toppings of bacon, onion, and some cheeses will also make your tart tangier and catchier for your kids.
The recipe of herb-flecked cheese spread was first introduced in Lyon, France, as the classic cheese spread goes with hot toasts to bring you a sense of creaminess and freshness.
Like many other dips, this spread is easy and quick to finish, making it an excellent idea for becoming an appetizer of your simple or even extravagant meals.
This smoked salmon is another comforting canape suggestion to begin your meals. Just push the bread into the pan and fill them with a mixture of chopped salmon, creme fraiche, and some flavorings.
These smoked salmon canapes will raise both the deliciousness level and the elegance of your whole meals. Hence, if you are looking for something to serve at the beginning of your meals, don't miss the recipe as it'll satisfy all of you.
What do you think about serving your meals with Lyonnaise salad? The salad actually is one of the traditional salads made with crispy bacon, fresh veggies, and flavored vinaigrette.
As you know, finishing a Lyonnaise salad is not complicated and time-consuming but healthy and heavenly.
Great! That is an adjective to describe these French puffs succinctly. The Gougeres are good with a crispy shell with rich cheese flavor.
These French cheese puffs are incredible to pair with sparkling wine or cocktail, and by the side of these beverages, these puffs will become delicious to enjoy.
Cheese and gruyere souffle is an elegant starter for your dinner or even a main course for your lunch. The aromatic Parmesan cheese and whipped eggs greatly contribute to the deliciousness of your meals.
The soft and fluffy texture of the cheese and Gruyere souffle together with tangy flavor is what makes your guests addicted to the dish.
Loaded with a rich source of cheese smothered with pesto, this recipe should be on the list of beautiful dishes with brie cheese. It will make the list more diverse, and you can rotate the recipes to prevent boredom.
You should consume this dish as it's warm, cheesy, and garlicky, which certainly makes your family members fall in love with it.
French Main Dishes That Bring You To The Heaven
These suggested French main recipes will offer you many ideas for wonderful meals. You can change these dishes so as not to get bored. Let's choose one for your meals as a light point now!
Tender and extremely tangy beef Bourguignon might be a savory dinner full of fall-apart delicate beef chunks and veggies, making a healthy recipe full of protein and vitamins.
You should serve the beef bourguignon with mashed potatoes, green beans, or bread for better taste and flavor for your meals.
Watch this video to know more:
Baked sea bass is another nutritious French dish for a balanced and healthy meal as the fish contains a rich source of selenium and omega-3 fatty acids, which play an important role in the immune system and mental health.
Whole baked sea bass marinated with simple seasonings and going with fresh herbs and veggies will form an incredible recipe for big parties when it brings you flavors of fish together with herbs.
This classic French chateaubriand will offer you a savory recipe for your special occasions with beef. Making chateaubriand is easier than you think with a simple marinade and cooking method.
Tender, full-marinated, and juicy beef will surely meet your expectations related to flavors and texture when it's cooked for about an hour.
Chicken leg coq au vin must be the best recipe you can make with your chicken thighs and drumsticks. Making this recipe is not complex but requires a lot of time to finish; thus, if you have free time, just make this recipe to enjoy with your family members.
Creamy mashed potatoes, butter smothered rice, and cauliflower will be the most brilliant side dishes with chicken leg coq au vin.
Your family members and guests will be pleased with this recipe!
Chicken à la Maryland is basically fried boneless chicken with the dressing of gravy and often goes well with bananas to make a balanced meal for your children.
This recipe will show the luxury of a first-class recipe for passengers in an extravagant but doomed Titanic voyage. If you're interested in this recipe, just make it for your family.
French bouillabaisse will bring you a fabulous idea for cooking seafood like shrimp, mussels, clams, and any kind of fish that you like.
French bouillabaisse has an unforgettable flavor and contains tons of protein and vitamins for body development, making it a great choice for your kids' meals.
As the name suggests, you need about 7 hours to get these roasted lamb legs ready on your meal table. Thus, if you plan to serve your guests with this recipe, manage time to roast the lamb legs in advance.
Your recipe will pair well with juicy salad or baked veggies to get balanced and healthy meals.
If you're a sucker for seafood, these classic French steamed mussels will offer you a great recipe to perfect your weeknight dinners, as you can finish this recipe with ease and no time.
The mussels flavored with buttery broth and simple seasonings are the perfect dish to go with pasta or salads.
Dinner meals become easier and more delightful with grilled chicken paillard with the topping of arugula tomato salad as one of the most famous French recipes.
Your children will love this French chicken recipe because of its delight and comfort, and making grilled chicken paillard is easy and quick.
French Side Dishes Are What Will Color Your Meals
How about French side dishes? Are they as wonderful as many other recipes from other countries? Continue reading these recommended recipes to choose what should be the most worthy one, and make it for your next meals.
Lyonnaise potatoes are nothing but easy and heavenly to make. With three modest ingredients, such as potatoes, butter, and onions, you can create a flavorful French accompaniment for beef, fish, turkey, and pork.
To finish the lyonnaise potatoes, you need to peel and slice the potatoes, parboil them, season the potato slices with normal spices, and then bake them for about 30 minutes.
Ratatouille is baked veggies made in the French style as one of your family and parties' healthiest side dishes.
This recipe is an excellent side dish for chicken, fish, and any recipe. Feel free to use your creativity to get nutritious and hearty meals.
When baked, French broccoli gratin will bring you a sense of cheese, creaminess, and tenderness from broccoli and melted cheese.
Baking the broccoli and cheese mixture is an easy way to get a heavenly French dish to the side for any main courses if you like.
Watch this video to know more:
As a great source of flavonoids as antioxidants, leeks are a healthy vegetable and delicious when combined with cream to create this simple yet tasty leek recipe.
Creamed leeks have a dense and creamy texture and good aroma, making it a great choice to go with fried chicken.
Grilled hearts of romaine will also be a great but easy side dish for any main course of your meals. Besides, these grilled romaine hearts are dressed with vinaigrette or cheeses to get tanginess.
You can finish the recipe within 10 minutes; thus, it must be a suitable dish for busy and quick meals.
Pumpkin soup is a classic French healthy and comforting side recipe for your children. Almost all children I know love eating pumpkin-based dishes.
The soup with a velvety texture and very tasty and delightful flavors will attract your family to enjoy.
If you're vegan, this light and healthy recipe is for you. French potato salad is deeply satisfying and simple to make but has tangy flavors with fresh herbs like tarragon and parsley to elevate the deliciousness level.
The French potato salad is suitable for many people as you can make it once for all. You can finish the recipe within 30 minutes; hence, just make this side dish for meals if you have free time.
Treat your family with this healthy and easy recipe with potatoes right now
Sweetish Endings For You French Meals
French desserts make your meal delicious to the ending point. That will make you excited until the last dish and offer your meals a sense of fulfillment. These French desserts will satisfy your taste and bring your meals to another level of tastiness.
The classic Tarte Tatin is basically tarts with caramelized apples made with French style as an icon that is buttery, tender, and heavenly to eat as the last dish of your meals.
Making Tarte Tatin is not as complicated as many other cakes, and you can finish the cake with simple ingredients.
Another attractive French sweet dish comes from profiteroles: crispy hollow choux pastry balls with cream filling and chocolate topping for an appealing appearance.
You can make these profiteroles in advance to serve your family meals, especially when you need to feed a lot of people at the same time.
Pistachio Paris-breast will bring you a sense of delight and comfort when you enjoy them as desserts. Your children will get addicted to this recipe and ask you to make this more than once a month.
This recipe requires a lot of time to get these desserts ready for your meals; thus, plan to make it in advance for your perfect meals.
This French lemon tart will be a light point in your meals with yellow-colored pieces of cake. You had better enjoy this lemon-based sweet treat with tea or coffee to enhance flavors.
This recipe is also made with very familiar ingredients but will offer you a fantastic choice to serve a crowd with a big-size tart.
Enjoy your meals with delightful and light French lemon tart
How about making chocolate mousse for your endings? The harmony of chocolate and vanilla flavor creates an irresistible smell for the mousse.
Mousse, with the addition of chocolate, is basically creamy and rich, making it a magical dessert for your meals. Moreover, if you would like to serve the chocolate mousse to end your meals, just make it ahead of time and let it cool before using.
These Recipes Will Take You To Ville Lumière
Top 31 French recipes will bring you a lot of choices for making elegant, beautiful, and very delectable meals for your meals or to treat your guests.
If you can not find any favorite dish from my list, just share your ideas with me in the comment section below. Of course, there are many other incredible French recipes; thus, feel free to let me know about your discovery.
Nutrition Facts
6 servings per container
---
Amount Per ServingCalories136
% Daily Value *
Total Fat 7.4g

12

%
Sodium 143mg

6

%
Potassium 535mg

16

%
Total Carbohydrate 16.5g

6

%

Dietary Fiber 6.7g

27

%
Sugars 9.5g

Protein 4g

8

%
---
* The % Daily Value tells you how much a nutrient in a serving of food contributes to a daily diet. 2,000 calories a day is used for general nutrition advice.