French desserts have a romantic look like the landscape and people of France that are leading in the world culinary industry. The desserts are beautiful in both appearance and taste.
If you love to experience a different culinary culture, French desserts are made for you. Today, let's take a tour around France and learn about the most scrumptious French desserts there.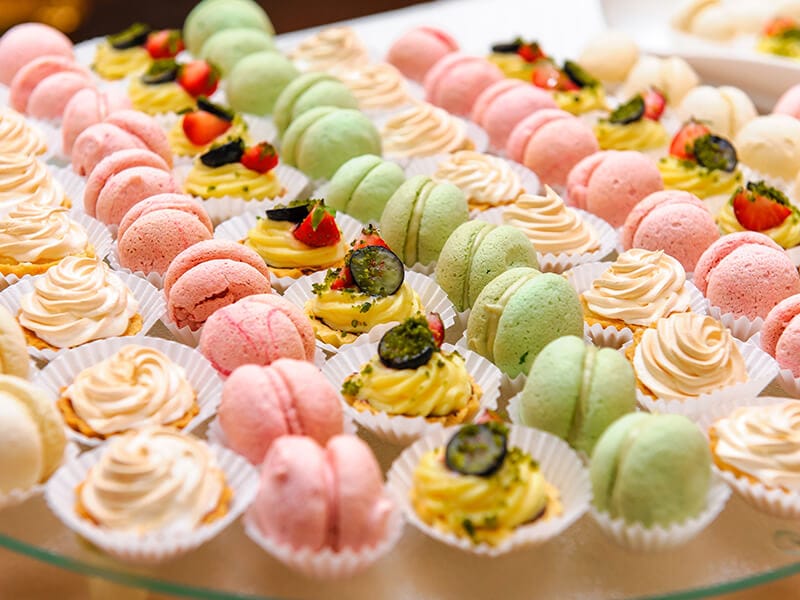 30 Attractive French Desserts That Will Definitely Blow Your Mind:
What is your favorite French dessert? Check out this quick list of 30 delightful recipes you will definitely love. You can quickly pick up yours and go straight to the recipe!
Baked French Desserts:
French Desserts with Fruits:
French Apple Tart (Tarte Tatin)
French Lemon Tart
Blueberry Violet Eclairs
Strawberry Napoléons (Mille-feuille)
French Cherry Clafoutis
Ispahan Cake
Coffee Crème Brûlée
French Desserts with Chocolate:
Pain au chocolat
Chocolate Eclairs (Éclair au Chocolat)
Mocha Pots de Crème
Chocolate Soufflé
Nutella Soufflé
Other French Desserts:
Orange-Cardamom Madeleines
French Macarons
Palmiers
Paris-Brest (Pâte à Choux With Praline Crème Mousseline)
Petit Fours
Kouign-Amann
Profiteroles
Canelés De Bordeaux
Mont Blanc
Meringues
French Creme Caramel
No-Baked French Desserts:
French Crepes
Floating Island (Ile Flottante)
Nutella Berry Crepes
Mango-Basil Vacherin
French Chocolate Mousse (Mousse au Chocolat)
Chocolate Mendiants
Chocolate Banana Crepes
Let's Discover The Best-Ever French Dessert Recipes For This Weekend:
You should not forget French dessert on days when your menu becomes deadlocked. Try to make them yourself following these easy recipes that I introduce to you below:
Delight Your Meal With Stunning Baked French Desserts
These French baked dessert recipes are fun to make and delicious to eat. Their taste is undeniable. Try some of these super cute and easy-to-make dishes below:
French Desserts with Fresh Fruits For a Healthy Body
The French baked desserts with fruit are a harmonious crystallization between taste and appearance. Make the particular French version dessert and enjoy their great flavor:
This tart has a fascinating origin – from the Tatin Hotel that was created by accident. The country-specific variations of this delicious sweet-tart can be found worldwide.
Tarte tatin is a fruity apple-based treat that comes with a pastry bottom and unbeatable caramelize taste. The top layer of apples is evenly soaked in caramel and butter, with a crispy crust to create a specially attractive taste.
There are many different recipes for this cake, but the common point is that the cake will be turned upside down after baking. The rich aroma of butter imbues each piece of fresh apple. The glossy golden brown color of caramel sugar is covered on the surface.
Try to make this tart tatin like a pro with this instruction!
I once tried this wonderful French lemon tart recipe, and I have to share it with you right away! The crust is crispy, the tart is sour, sweet, and always fragrant with the smell of lemon. This is a delicious dessert that is hard to criticize at any point.
This lemon tart uses an existing tart case as the base, so you will save a lot of time instead of kneading the dough traditionally. After enjoying a piece of this, your first impression will be the aromatic and fatty taste on the tip of the tongue.
Remember to cut a few slices of lemon to decorate the tart beautifully and invite the whole family to enjoy it.Let's discover the recipe for French lemon tart with me right away!
I would like to introduce to you a French dessert that everyone will love – éclair. Éclair is a variation of Choux. This cake has a long and thin crust, and inside is a sweet and cool cream that blends together when you bite it.
The top of the eclair is covered with a beautiful glossy coat of violet-flavored syrup and dotted with pretty little blueberries. When listening to the description here, are you imagining the attractiveness of this dessert?
In France, this dessert is often called "Mille-feuille," which means "a thousand leaves." This name reminds of thin layers placed on top of the strawberry and decorated with a delicate cream layer. Strawberry mille-feuille often appears in gourmet parties.
This dessert has an amazing taste and a beautiful appearance. Crispy layers of cake blended with sweet and sour strawberry flavor and fatty cream layer create a fantastic flavor overall. Interesting, right? Try it right away to show off your skill!
The process of making this dessert is absolutely mouth watering!
Cherry clafoutis has the same basic recipe as custard, consisting of fresh cherries with a mixture of butter, milk, flour, and eggs. Traditional clafoutis is shaped like tarts or pies in similar molds.
This dessert is characterized by fresh cherries, a soft, creamy texture, and a sweet taste that perfects a good start for the day. It is impressive, especially for those who like the taste of wine in the recipe.
Just go through a few processing steps with the ingredients, you will find that making this dessert is simply beyond your imagination. You can also create many variations with other fresh fruits to create variety for this delicious dessert.
Ispahan cake was created by French master baker Pierre Hermé. Those lovely cakes are full of sweetness. When you enjoy it, you will be attracted by four layers of incense and encounter four different interesting flavors.
The first bite takes you to the first scent of sweet, delicate rosewater that spreads throughout your taste buds. The second bite brings you to the second scent: the passionate aroma of lychee, the toughness of fresh succulents.
The third bite takes you to the third fragrance, which is the scent of the raspberry – neutralizes the sweetness. And then, to the last flavor, you will feel the fatty taste of cheese.
Speaking of stunning French desserts, creme brulee is one of the things you have to mention. Creme brulee has an attractive color with a beautifully toasted sugar topping that even gourmets can't resist.
This is probably the most famous French dessert, and everyone should try it at least once. In fact, crème brûlée is made simply from eggs, but the crispy layer of sugar on top is the attractive feature. This dessert has a soft and relaxed creme.
To enjoy, you use a spoon to break the burnt sugar layer and then scoop a spoon of crème into your mouth. The fatty aroma combined with the sweetness and slight bitterness of caramel creates an incredible taste. You can serve creme brulee with fruits to add more flavor.
5 Wonderful Baked French Desserts with Chocolate That Will Tempt Sweet Lovers:
When it comes to France, you must mention chocolate. And you will definitely fall for the baked chocolate desserts that I'm about to introduce below! Nothing is better and easier than these, my friend!
Of course, you cannot forget pain au chocolat. If you want to start your day in the French way, choose this dessert every time. This is the quintessential French dessert – a bread that ranks on the list of Parisian delicacies for the sweet tooth.
Pain au chocolate in French means "chocolate bread." Thanks to the chocolate ingredients, pain au chocolat is more attractive, making anyone who has tasted it once remember it forever. Waking up in the morning and enjoying pain au chocolat plus a cup of coffee is the greatest!
Make your best version of pain au chocolat with this recipe!
If you are bored of the traditional cream choux with a round shape, try making these Eclair au Chocolat – the fantastic chocolate-covered choux. Originating in 19th century France, chocolate éclair is almost unbeatable to this day.
A chocolate eclair is made from the same dough as a choux cake. It is shaped into a long, hollow stick that contains the cream filling. This cake skin must be light, open, dry on the outside, and slightly moist on the inside.
The cream in this eclair is a bit cool to bring an exciting taste. The appearance will be more eye-catching by being decorated with a layer of rich chocolate. For the whole family to have delicious desserts to enjoy these days, immediately save the way to make these stunning sticks.
Mocha Pots de crème is a charming combination of ingredients. The bitter taste of coffee and the feeling of chocolate deposition, along with a little fat cream on top, create a wonderful recipe.
This dessert has a great light taste and low caffeine content, even the best for those not used to drinking coffee.
Mocha Pots de crème is loved since the characteristic taste makes this dessert more attractive and less tedious. Get in the kitchen and make it right now!
Capuchino soufflé is a famous dessert that exudes sophistication in taste and shape. It's made from beaten egg yolks and egg whites with a bit of cocoa. This is a trendy baked good in France, with a perfectly skillful combination of ingredients.
Although it is pretty hard to make, this dessert will definitely bring you an unforgettable taste. Soufflé requires a lot of attention, and you should enjoy it right after cooking to avoid hardening.
Excess egg whites can be used to make a wonderful French dessert: Nutella soufflé. This can be a sweet dessert or an appetizer. It is also very flexible in terms of flavor since you can customize it with different ingredients.
Nutella soufflé is usually served hot right out of the oven to ensure the signature puffiness. This dessert always has two basic parts: the Nutella filling and a lot of whipped egg whites, so this is an effective way to handle the egg whites left in the fridge.
Served with a fresh sliced strawberry and powdered sugar topping, this soft soufflé with a rich Nutella filling is a dessert that the whole family will enjoy!
Check out this excellent recipe with detailed instructions for your nutella souffle!
Don't Forget to Try These Other French Bake Recipes And Enjoy This Weekend'!
There are many other French dessert recipes that bakers are sure to love below. Try them now to enjoy the comfort of French cuisine at home!
Orange-cardamom madeleines are known as "the muse in the French tea-party." This is a kind of sponge cake characterized by its attractive shell-shape.
This cake is famous for its softness, especially the citrus aroma of orange and the buttery taste of butter, making it more stunning. The shell-shaped makes it easily dust with a little icing sugar when serving.
When you bite the cake, you will immediately feel refreshed with the special taste of honey – all of that melting right in your mouth!
One of the cutest desserts that consistently gets the most attention in France is Macaron – a small, tiny cookie with many eye-catching colors. Dubbed the "queen" of the dessert world, Macaron makes up the brand name of French cuisine.
In the past, Macaron cake was only used for afternoon tea by French and European aristocrats, but now, it is available all over the world.
It has the crispiness of the crust, the fatty taste of the cream inside, and the gentle scents of the filling. Hidden inside is a deep sweet flavor.
Grab your ingredients and let's get baking these colorful cookies!
I would like to introduce an incredibly delicious, beautiful, and popular dessert in France – Palmier. I like it because of the small cute shape with a layer of sugar around that's slightly burnt like caramel. It is not too sweet to eat – super enjoyable.
When you bite into it, you will feel the sugar particles mixed with the crunchy texture of the pastry. It feels like layers of butter are melting on the tip of your tongue. Imagine this Palmier with a cup of hot tea!
Looking at the shape of the Palmier, it doesn't seem easy to make. But I was curious to see how they came up, so I tried to find out how. Who would have thought that this dessert is so straightforward to make!
The round shape with a hole in the middle represents the wheel to memorize the Paris-Brest-Paris long-distance bicycle race. The crust of the Paris-Brest is crispy and fragrant, thanks to the almond coating on the outside. The cream part makes you more infatuated.
The filling of this dessert is quite thick and fatty with a lot of butter. I don't really like this heavy feeling, but I do love the nutty taste of the nuts. Of course, you can optionally choose the cream for this recipe. And remember to sift powdered sugar up before serving.
Petit fours are the common name for the beautifully decorated small cakes. In France, people love to eat this cake after a meal with coffee, and it is also part of a luxurious buffet.
The method is essentially the same as the birthday cake, but this time in small pieces. You just need to pour the cake dough into a square or rectangular tray, then decorate them simply.
This dessert usually includes many layers of cake and buttercream topping, all covered with a layer of fondant or optional sauce. Each time you eat only a tiny piece of cake, so you will not be bored and want to eat more and more.
Kouign-amann utilizes the same croissant dough mixture to produce one of the most intriguing eggless treats with a signature buttery flavor. It is also folded several times then slowly baked over low heat.
When enjoying, you can feel the sweet crunchy crust of sugar caramel, when the inside is soft and fluffy. With its layered dough and signature crispiness, Kouign-Amann will lead you to a paradise of butter and caramel. I wish you success with these easy recipes!
The name profiterole may probably still be strange to many people. This is a French dessert with a choux crust and cream or custard filling. You can also change the filling for diverse versions.
When enjoying profiterole, you will be surprised by this exciting flavor. The dessert swells up very beautifully, round and tight with buttery custard. You can drizzle with chocolate sauce or sprinkle with icing sugar for an extra delicious treat.
If macarons are only for sweet teeth with eye-catching colors, canelés de Bordeaux is the opposite of the beauty hidden inside. The color is somewhat natural, with primary tones of yellow-brown caramel.
This small French pastry is a specialty from the Bordeaux region. It is known for the crispy caramelized crust with eggs, milk, and rum center. These desserts are perfect to end a dinner with some chantilly ice cream.
I invite you to practice and enjoy the beautiful little cake with the sweetness of vanilla and the unique aroma of rum. And the inside is soft like custard.
Let's learn how to make these delicious canelés at home and try them!
Mont Blanc has an eye-catching and distinctive appearance that can make anyone fall in love at first sight. It is one of the tart lines but more sophisticated in the making process.
The small tart base, topped with whipped cream, is enough to make you feel fascinated just by looking at it. And their taste is excellent thanks to the delicious ingredients like egg whites, vanilla, and chestnut.
To make this exciting dessert, you need to be patient enough to go through many steps. So, if you have free time, Mont Blanc will be an ideal choice!
MMeringue is actually a word that refers to a mixture of egg whites and powdered sugar, whipped until fluffy and smooth. This dessert will give you an unforgettable impression from the first time you enjoy it with these simple ingredients.
When eaten, Meringue leaves a vanilla flavor, along with a sweet and soft aftertaste full of nostalgia. Just touch your lips, and meringues will melt in your tip tongue.
Moreover, the perfect small appearance of meringues makes you look mesmerized at first sight. You can create a meringue cake with many different colors.
When making a list of French desserts, you cannot ignore the creme caramel made with simple ingredients. This dessert originated in Europe and is now widespread in many parts of the world.
Creme caramel is made from eggs and milk, which are healthy foods. This dessert has a dedicated sweet taste. In particular, this is also suitable for all ages, very nourishing for children and pregnant women.
With these particular recipes, you will quickly make this attractive dessert, and the final version will be beyond expectations.
Renowned No-bake French Desserts That You Must Taste Once In Your Life:
And the above desserts are not all France brings to you! There are still many no-baked French desserts that you must know because they will make your daily menu no longer poor!
French crepe is one of the most loved desserts in French cuisine. This dessert originated in the northwest region of this country, then spread overseas and became a popular dish of people around the world.
Crepes have a delicious taste and eye-catching appearance. Many people think crepes are challenging to make, but it is actually simple.
To add more flavor and color to this crepe, you can prepare some of your favorite fillings to roll with or spread on the crepe surface, such as fresh fruits, green vegetables, cream, or chocolate, to add more flavor and color to this crepe!
The floating island is a famous traditional dessert in French cuisine. It looks like pure white "islands," soft and fluffy like clouds, suspended above the creme Anglaise. This is a delicate dish made from eggs – the essential ingredient.
You can find this dessert at any restaurant in France. Not as colorful and fussy as other desserts, the floating island attracts people from the fatty taste of whipped egg white and the coolness of creme. Those simple ingredients alone make for an irresistible French dessert.
Crepes are probably familiar to sweet lovers, but have you tried the rich berry crepe with Nutella flavor? This is a must-have in your special dessert list. Soft crepes, creamy Nutella, and sweet berries make the best combination.
Surely this French dessert will make you super happy from the first try. For decoration, put some icing sugar on top. I will help you do this in a simple way so that you can enjoy them immediately with your kids!
You will have a lovely chewy dessert with just a few simple steps to process the juicy and fragrant mangoes. Mango-basil vacherin looks simple but has an irresistible charm.
The sweet and sour taste blends together harmoniously, satisfying your taste buds. Mango-basil vacherin has such great fascination because it contains all the stunning ingredients.
With the stunning mango-basil vacherin recipe that I introduce to you, you do not have to go too far, all the way to Paris, to enjoy the delightful taste of this beautiful dessert.
In the world of various desserts, French chocolate mousse is considered a unique highlight. In the hot weather of summer days, what's better than enjoying an incredible piece of chocolate mousse?
When put in the mouth, the mousse will melt with a fatty cream taste mixed with the typical bittersweet chocolate.
This French mousse has a rather sophisticated and complicated way of processing. However, with a bit of ingenuity and care, you can make this dessert.
Introduced to France in the 16th century, chocolate mendiants can now be found in almost every corner of this romantic country. This is one of the big contributions to the combination of chocolate and exquisite French dessert.
Chocolate Mendiant is a traditional French Christmas dish inspired by Christianity. This tiny chocolate cake is usually handmade, combined with nuts and rose petals, and dried fruits.
Today, the recipe for making Chocolate Mendiant is much more diverse and creative, encouraging people to create a dessert that best suits their tastes. This is really a meaningful gift choice for anyone.
Chocolate banana crepe is a trendy dessert variation from France. This crepe does not even require an oven. This can be a quick breakfast or just an interesting dessert.
With just flour, eggs, butter, milk, and a simple way to make it, you will have a smooth, sweet crepe mixed with the aroma of ripe bananas and rich chocolate sauce.
The chocolate banana crepe has a light golden color. The smell of buttermilk captivates many people. What could be better than making your own chocolate banana crepes and enjoying it with a warm cup of tea?
Let's Make Your Best Version Of These Splendid French Desserts!
So, how many French desserts above are interesting enough to attract you? Let's try the above categories to bring the most delightful dessert to your table!
If you find the above information helpful, please share it for everyone to enjoy and follow me continuously to update more great names!. Wishing you and your family good health and successful cooking!