Exploring some foods start with U is one of the best ways to broaden your understanding of international cuisine. You will never go wrong with this post since it covers main and side dishes, appetizers and desserts, and even vegetables and fruits that start with the letter "U".
Some dishes may sound familiar to you, but there are still some that you have never heard about. They are, nevertheless, worth your time looking through. Go on and find the ideal dish to try!
List Of 31 Foods That Start With U
I have compiled a list of 31 foods that begin with the letter U. Which dishes beginning with the letter U that you want to try first?
Main And Side Dishes
Udon
Unagi
Uni/ Urchin
Ugali
Ukrainian Dinner Rolls (Pampushki)
Ukrainian Cabbage Rolls
Umbricelli Pasta
Undhiyu
Upma
Usban (Osban)
Utica Greens
Umeboshi
Bread, Soups, Stews, And Seasonings
Ukha
Unleavened Bread
Urfa Biber
Uszka
Appetizers, Desserts, And Snacks
Unni Appam
Ube Cake
Utap (Otap)
Umibudo (Sea Grapes)
Upside-down Cake
U-No Bar
Urda Cheese
Utah Scones (Fried Scones)
Uštipci
Vegetables And Fruits
Ugli Fruit
Ugni Fruit
Ube
Refreshing Drinks And Beverages
U-Boot
Up To Date Cocktail
Umbuzada
Main And Side Dishes Beginning With U – Can You Name Them?
Here are some of the main and side dishes with "U" as a starter that makes your meal a thousand times better.
1. Udon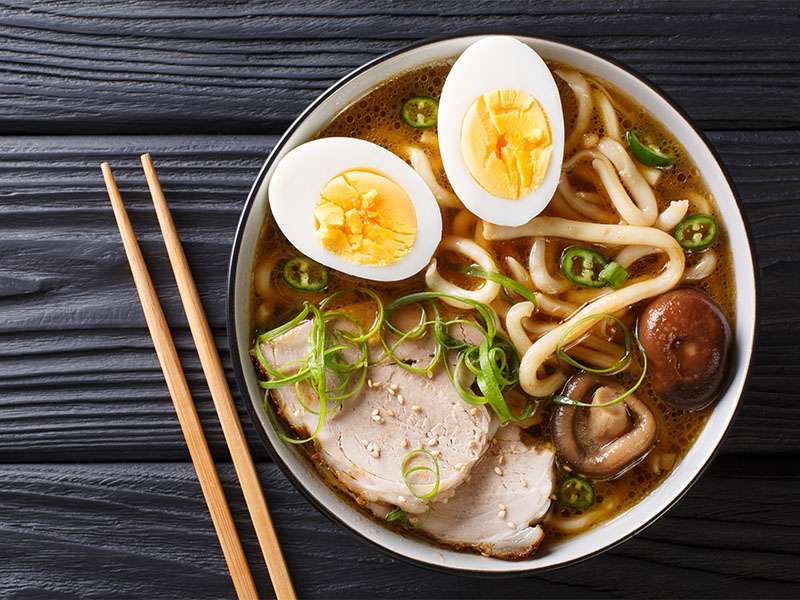 If you love Japanese cuisine, Udon is not unfamiliar to you. It's a comfort dish for many Japanese people. These thick, chewy noodles are made from wheat flour, salt, and water.
Udon noodles are usually served in soups or stir-fries. After cooking, the Udon becomes softer with a mild taste. When served hot, vegetables, braised beef, or a raw egg can be added on top. When served cold, udon noodles can be garnished with sauces and veggies.
Udon noodles are primarily carbohydrates with a minor amount of protein and very little fat. Thanks to the high fiber content, udon noddles help lower colorectal cancer risk. Moreover, udon contains a high vitamin B level that keeps you energetic.
2. Unagi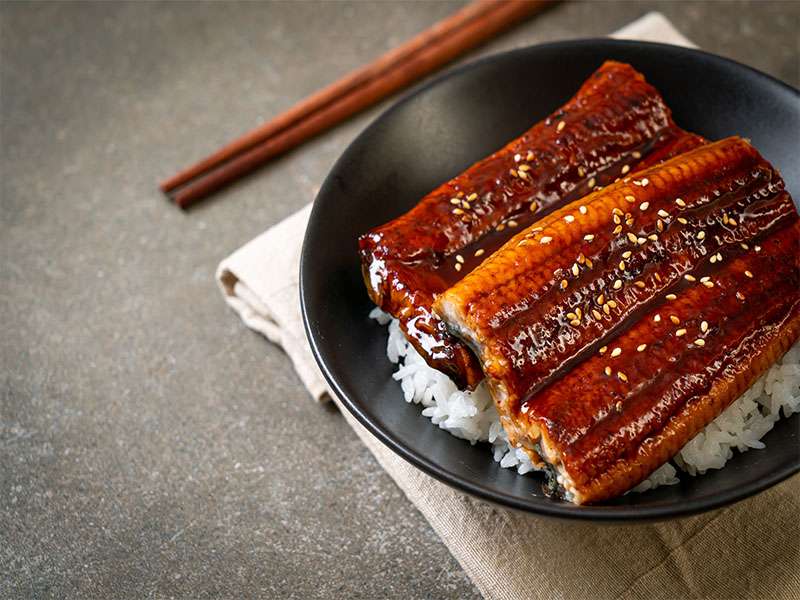 Unagi, or freshwater eel in Japanese, is a long, fatty fish with a deep, robust flavor. If you love sushi, you will often see "Unagi" on the sushi menu at the Japanese restaurant. It is also a popular ingredient in Japanese cuisine.
Unagi tastes the best when smoked, and you can also pan-fry, sautee or blend it into soups. Unagi is commonly utilized in Asian cuisines. Since eel blood contains poisons, it should never be eaten raw.
Let me tell you more detail about Unagi's taste! It has a mild, sweet flavor that is not overbearing and is quite tasty. Its texture is chewy, yet soft. That's why it is excellent for sauce recipes.
3. Uni/ Urchin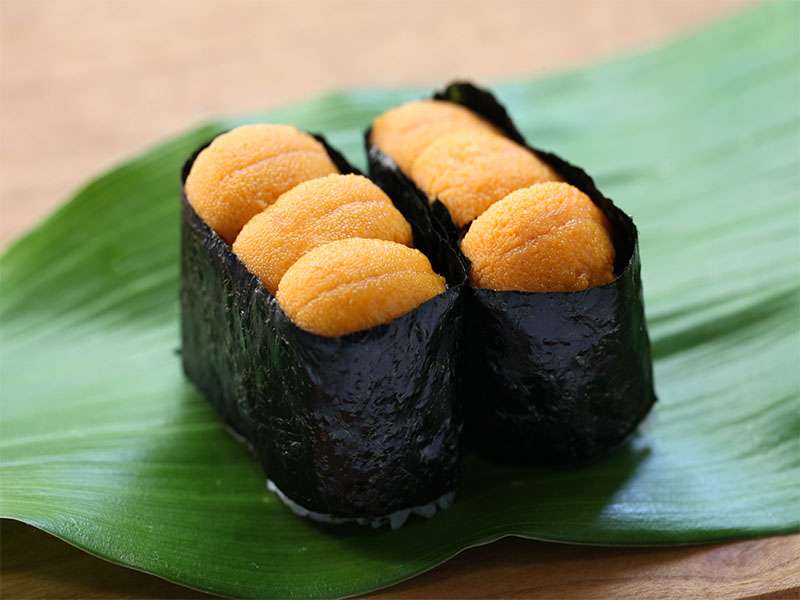 Uni is the Japanese word for the edible component of the Sea Urchin. While Uni is commonly described as roe (eggs), it is really the animal's gonads. Uni features the melt-in-your-mouth texture with the distinctly briny and umami flavor.
Like oyster or sushi, eating uni/sea urchin raw and as fresh as possible is likely the most fantastic way to enjoy it. Uni comes with a high price because of the difficulties in farm harvesting.
Is Uni good for health? The answer is undoubted Yes. Uni is actually extremely good for you. Uni contains Omega 3 fatty acids, which aids in decreasing blood pressure and minimizing the risk of irregular heartbeats.
4. Ugali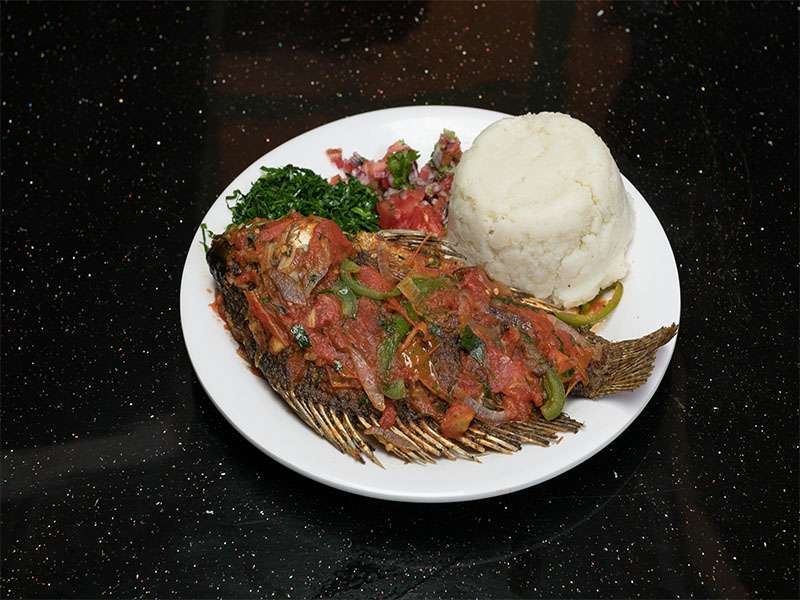 I am amazed at how many different kinds of cornmeal porridge there are on the globe! And Ugali is also a cornmeal porridge from Kenyan. It is a simple yet pleasant companion to stews, soups, and curries.
If you want to improve your quality of life, eat Ugali. With rich fiber content, Ugali aids digestion and is beneficial to the bones. Moreover, ugali is also rich in iron and protein, which means it extremely nourishing and healthy.
Ugali is the main course in most homes, with several suitable vegetable side dishes to accompany. Ugali has a light popcorn flavor; adding salt or butter can enhance its flavor.
5. Ukrainian Dinner Rolls (Pampushki)
The Ukrainian version of dinner rolls is also known as Pampushki. This dish is delicious, tender, and it will be best when drizzled with garlic and herb sauce. It is going to become your family's favorite!
These delectable dinner rolls complement various soups, such as Kharcho. That's why they are an excellent side dish for lunch or dinner.
Do you want to know how to make Ukrainian Dinner Rolls? Watch the video below right now!
6. Ukrainian Cabbage Rolls
Ukrainian Cabbage Rolls are common dishes in Russia and Ukraine. This Ukrainian form of stuffed cabbage is also known as holubtsi. This dish can be considered as stuffed cabbages, but it may be different from the stuffed cabbages you have tried.
It comes in various varieties. Generally, the filling is always supplemented with grain and flavored with vegetables. This dish is created with basic, low-cost materials but is tasty. It is such a great family dinner idea! You can serve this dish with soft French bread or sour cream.
You want to make Ukrainian Cabbage Rolls for tonight's meal, but you don't know how. Don't worry since this video can help!
7. Umbricelli Pasta
Umbricelli is an easy-to-make classic Umbrian pasta dish. It is just similar to spaghetti, but it is somewhat bigger and slightly shorter than the original version. This dish is traditionally served with a simple tomato sauce and grated pecorino cheese sprinkled on top.
Umbricelli pasta is made from egg-free dough composed primarily of water and durum wheat flour, which gives it a thick and chewy texture. Apart from tomato sauce, you can also enjoy this dish with cream sauce.
This dish is just fun to make. Are you willing to try? Spend time watching the video for the instructions!
8. Undhiyu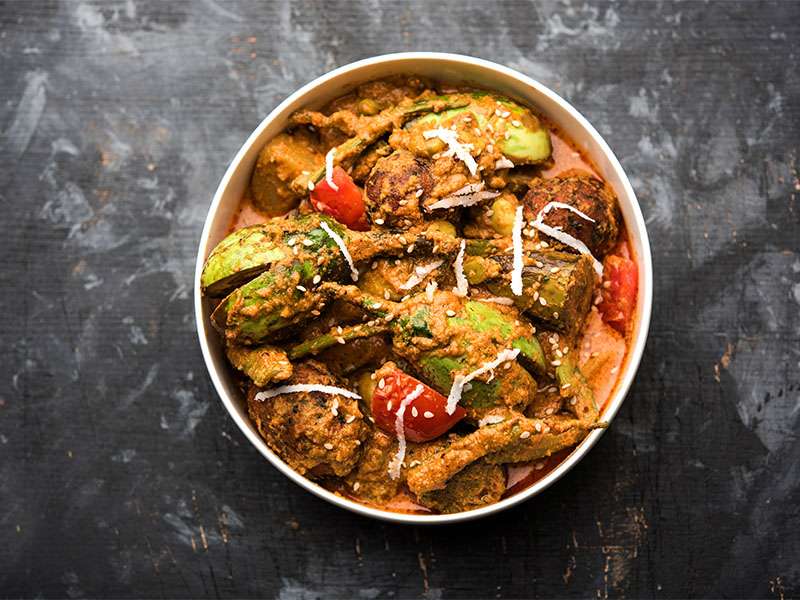 Undhiyu is a Surat regional specialty. This dish is a one-pot is Gujarati mixed vegetables. Its name is derived from the Gujarati word "undhu" which means "upside-down". It takes a lot of time and effort to prepare Undhiyu.
Typically, the dish is prepared or fried in clay pots. Then the pots are sealed, and set upside down in a hole excavated in the ground for a fire pit. Undhiyu is often served in the winter because some of the vegetables used are only accessible in this season.
9. Upma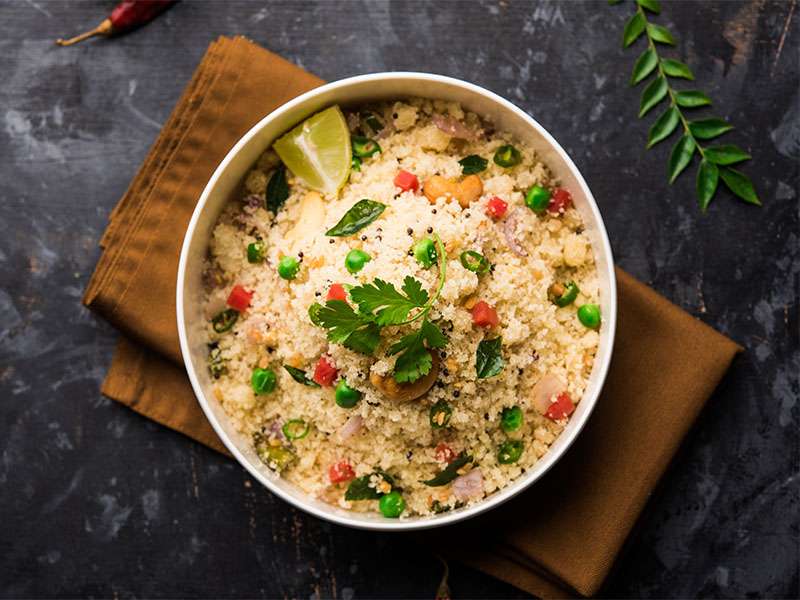 Upma or Rava Upma is a savory porridge cooked with semolina and vegetables, and it is one of the most popular Indian dishes. Such a hearty and fulfilling breakfast! It is best to enjoy with chai or filter coffee on the side!
Upma is a nutritious meal that contributes to a well-balanced diet. It is low in calories and cholesterol. Moreover, it also comes with vitamins, fiber, and healthy fats. If you want to lose weight fast, Upma is such a great breakfast idea.
10. Usban (Osban)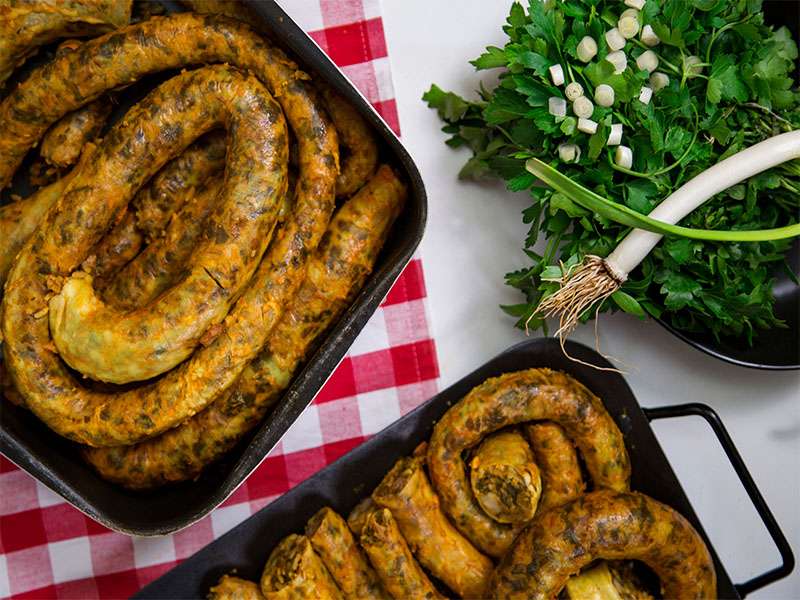 Usban is also known as Osban, which is a typical Egyptian, Algerian, Tunisian, and Libyan sausage stuffed with rice, spices, lamb, chopped liver, and heart. Usban is usually served with the main course, and it must be consumed with Mseyer pickles.
There are several types of Usban with various herbs and spices added, such as dried mint, parsley, cayenne pepper, black pepper, cinnamon, turmeric, and so on.
11. Utica Greens
This is a popular side dish among Utica's Italian-Americans, and you can find it at most restaurants across the area. It can be made in a variety of ways, but the typical ones involve escarole, fiery cherry peppers, and garlic.
Utica greens can be topped with crispy bread crumbs and melted cheese. It is such an excellent dish for dinner with a spicy taste. This dish can also be served as a pizza topping or as a side dish with steak or grilled chicken.
You need the recipe for this interesting dish, right? Watch the video, and you will be confident making this dish to serve the whole family!
12. Umeboshi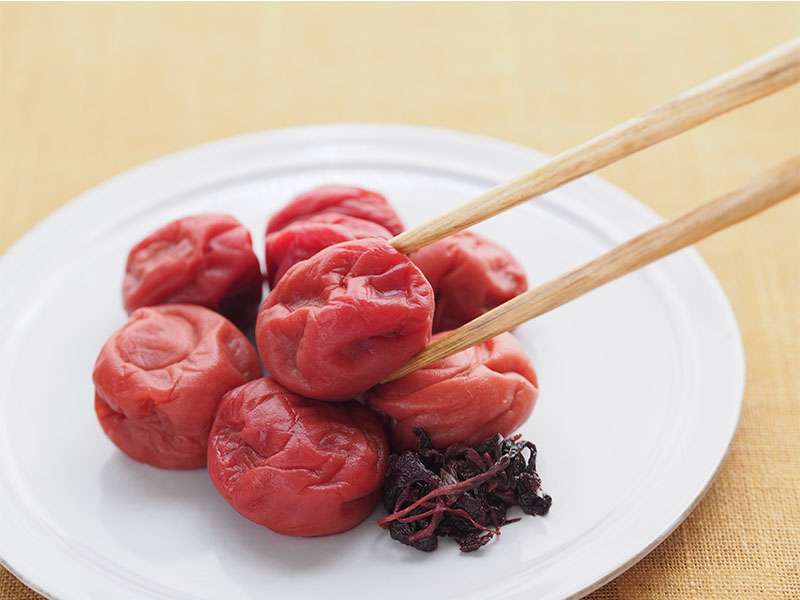 Umeboshi, also known as the Japanese apricot, features an oval and wrinkled shape. Because of the high citric acid concentration, umeboshi has a sour and acidic flavor. The end of June is the time to harvest Umeboshi.
Umeboshi is usually combined with rice to serve as rice balls, or it can also be a side dish. Surprisingly, you may also find umeboshi paste and umeboshi vinegar, which provide tart and fruity tastes to a variety of foods.
Scrumptious Bread, Soups, Stews, And Seasonings With "U" As A Starter
Keep reading to have an idea of some bread, soups, stews, and seasonings that start with U. How many of these foods have you tried?
13. Ukha
Ukha is a traditional Russian fish soup that is both tasty and soothing. Fish fillets, potatoes, and carrots are slowly cooked in a rich broth loaded with delicate tastes of black peppercorns and bay leaf.
Ukha is commonly a homemade dish, but now you can also see it in many Russian restaurants. If you love to enjoy fish and need something warm for cold days, Ukha is highly recommended.
If you find this fish soup interesting, why don't you make it to serve your mates?
14. Unleavened Bread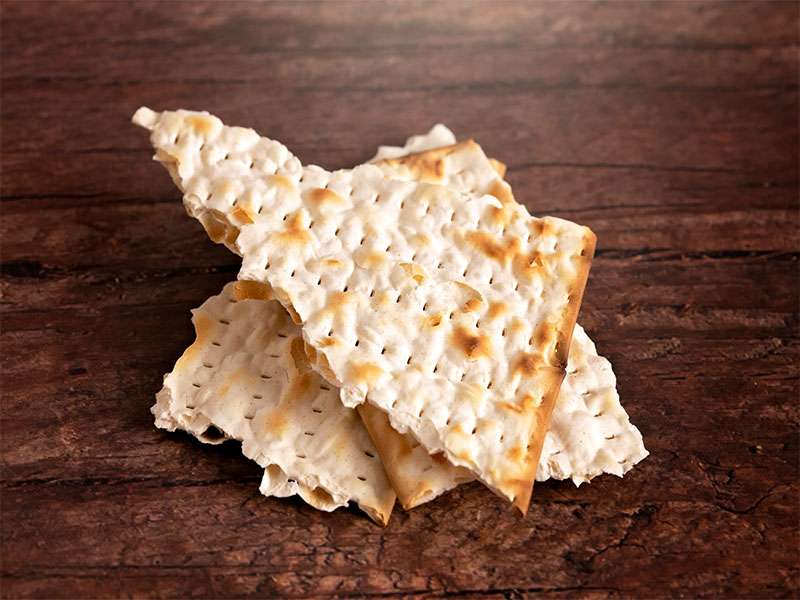 As its name implies, unleavened bread means a flatbread made without leaven (rising agents). There are various varieties of unleavened bread such as Matzo, Tortilla, Roti, Lavash, Kitcha, and so on.
Unleavened bread is just easy to make, you just need a few ingredients. Unleavened bread can be used to complement foods as a replacement for crackers, and you can also use it as a basis to create sweet pancakes.
15. Urfa Biber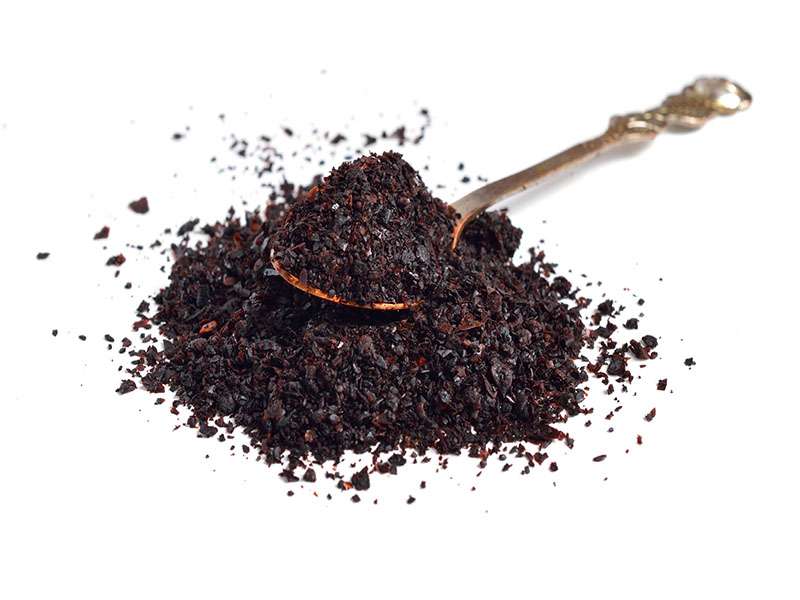 Urfa Biber is a dried Turkish chili pepper with dark red color and a deep, smoky flavor that makes it quickly become a favorite among chefs around the country. Also known as Urfa Pepper, it is well-known for the rich burgundy color and unevenly sized flakes.
Urfa Biber has a spicy, salty, and somewhat sour flavor profile. Moreover, it also boasts a sense of smokiness from the sun-drying process. The pepper has an earthy flavor with overtones of cocoa, tobacco, and subtle sweetness.
16. Uszka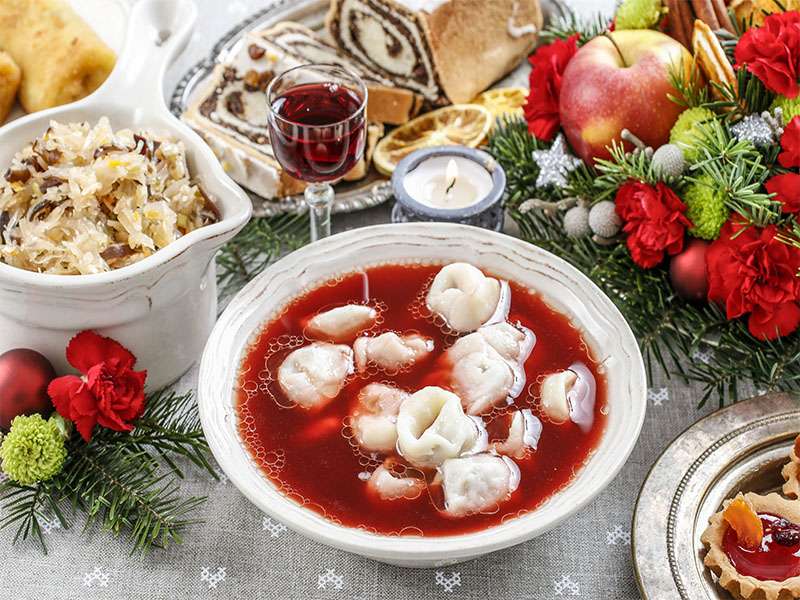 Uszka means "little ears", its name somewhat tells you what the dish is like. Uszka is little Polish dumplings. These dumplings are usually packed with Wild Mushroom or Sauerkraut filling and served in a transparent Red Borscht soup on Christmas Eve.
Uszka is often filled with flavorful ingredients and simmered in broth. Uszka is suitable for vegan diets. If you are following a gluten-free diet, you can replace the dough with gluten-free pierogi dough.
Appetizers, Desserts, and Snacks Starting With A "U"
Selecting appetizers and desserts should not be done randomly. Here are some ideas that you should consider. Some of my favorite appetizers, desserts, and snacks that start with U are Ube Cake and Umibudo.
17. Unni Appam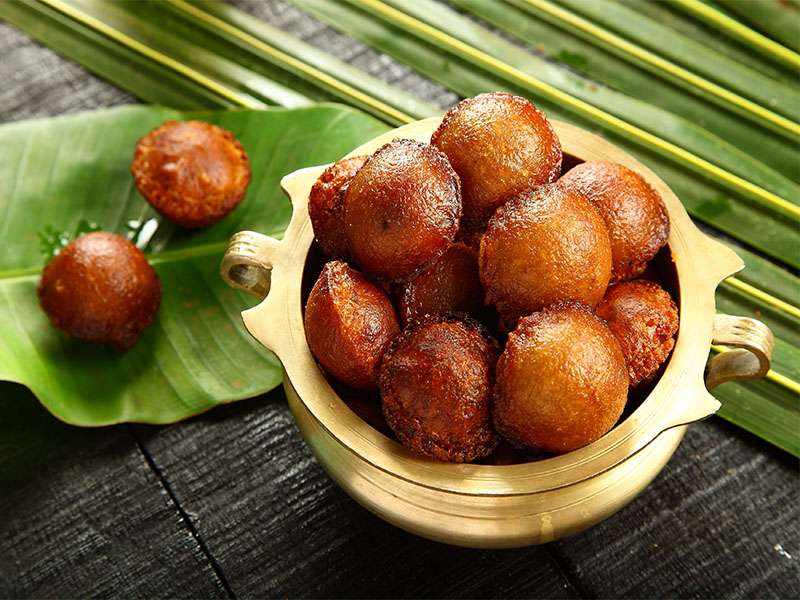 Unniappam, also known as Unni Appam, are delicious fritters prepared with rice, banana, spices, and coconut. It is a delicious sweet snack from Kerala that is also eaten at the Onam Sadya and also served as a prasad in various Kerala temples.
You can serve Unni appam warm or at room temperature. They are kept in good condition for 1 to 2 days at room temperature. You may also put them in a casserole dish. These unniappam keep warm in the casserole for a long time. Storing them in the refrigerator is also a good choice.
18. Ube Cake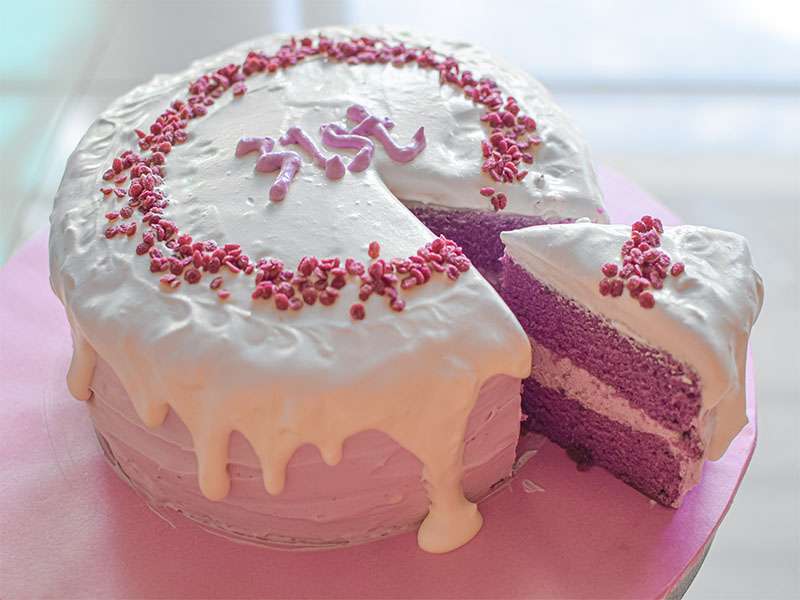 Ube cake is a sweet treat from the Philippines prepared with Ube Halaya, also known as mashed purple yam. Like other foods made with Ube in the Philippines, it has a particularly brilliant purple hue.
Ube cake is a great idea for family gatherings or Christmas. Are you looking for something different this weekend? Why don't you try Ube cake? Your family will be surprised.
19. Utap (Otap)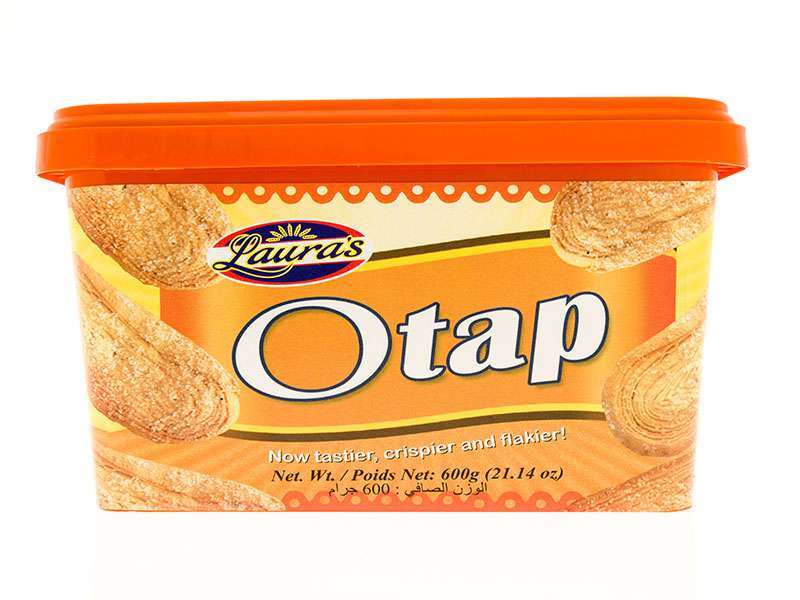 Utap is also known as Otap. It is a long, narrow puff pastry that comes with a length of 4 to 6 inches and a width of 2 inches. It features a sugar-sprinkled flaky, brittle, and crumpled surface.
This puff pastry comes from the Philippines, particularly popular where it originated – Cebu. It is often made with a mixture of flour, shortening, coconut, and sugar. An eleven-stage baking procedure is required to obtain the texture of the pastry.
20. Umibudo (Sea Grapes)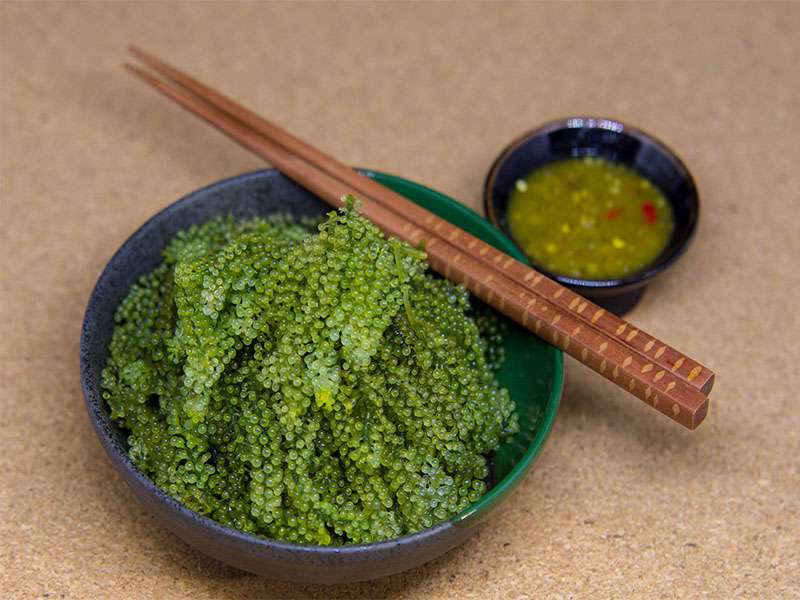 "Umibudo" is the Japanese word for sea grapes, which are species of seaweed that thrive in the shallow seas around Okinawa and several other places of Southeast Asia. Seagrapes are eaten raw, in salads, or as a snack. They have a faint seaweed flavor and a consistency similar to real caviar, ensuring a sharp freshness kick.
Sea Grapes features a high content of vitamin A and C, protein, and Omega 3 fatty acids, calcium, and iron. That's why sea grapes come with various health benefits such as strengthens bone, joints, eyesight, heart health, etc.
21. Upside-down Cake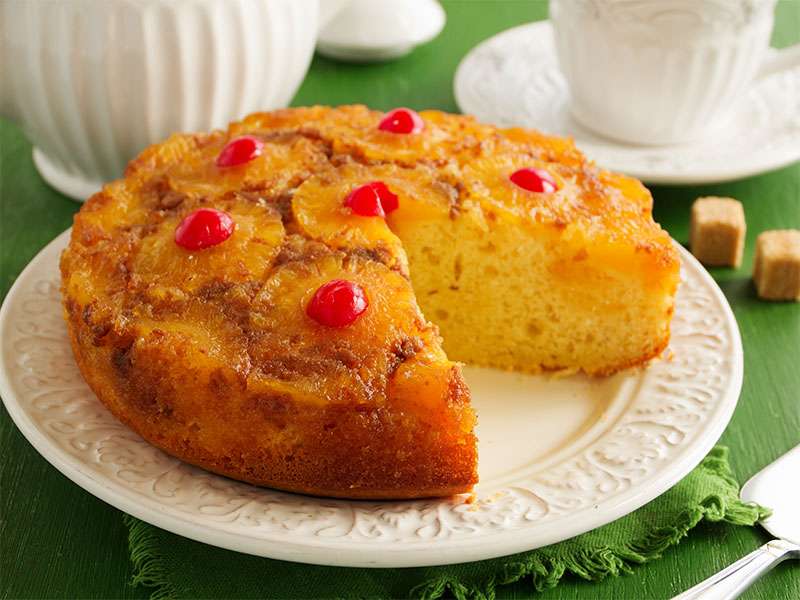 Let's imagine a little bit! An upside-down cake is a cake with toppings at the bottom, and it is baked in a single pan. When serving, you will need to serve it right-side up by de-panning the cake onto a plate.
Before placing the batter, chopped or sliced fruits, butter, and sugar are usually put on the bottom of the pan. You may be familiar with the American pineapple upside-down cake, or the French Tarte Tatin, which are the traditional versions of upside-down cakes.
22. U-No Bar
U-No Bar is a truffle-like bar with almond pieces encased in a thin chocolate layer. It is covered in a silver foil-like wrapper. There are two flavors: original and mint, but the company has discontinued the mint flavor.
U-No was first established by the Cardinet Candy Company in the 1920s, but it was eventually owned by the Annabelle Candy Company in 1978.
23. Urda Cheese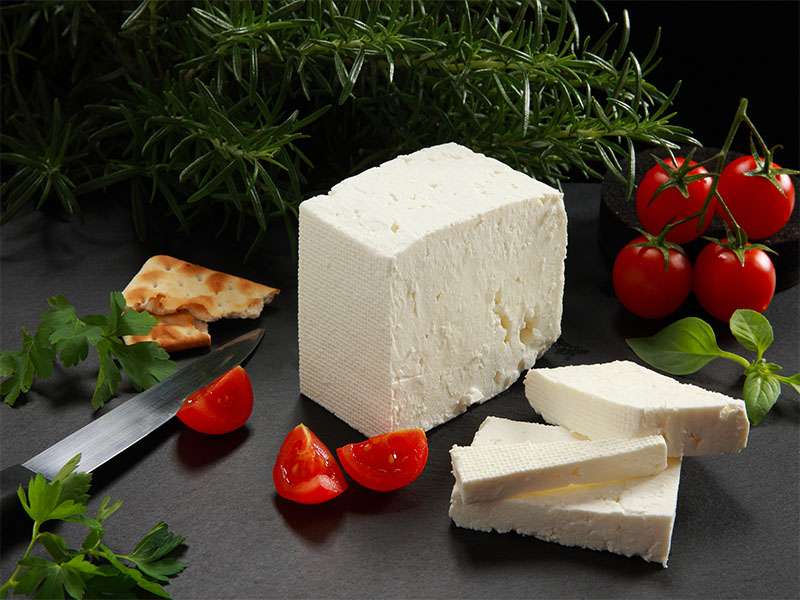 Urda cheese is a fresh whey cheese made all across the Balkans. The whey from the milk of cows, sheep, or goats is used to make the cheese. It has a smooth, gritty, and crumbly texture with gentle, sweet, and cream flavor with fresh fragrances.
Urda is frequently used in Romanian cookery to make desserts such as plăcintă and clătită. Moreover, Urda cheese can also be used as pastry fillings.
24. Utah Scones (Fried Scones)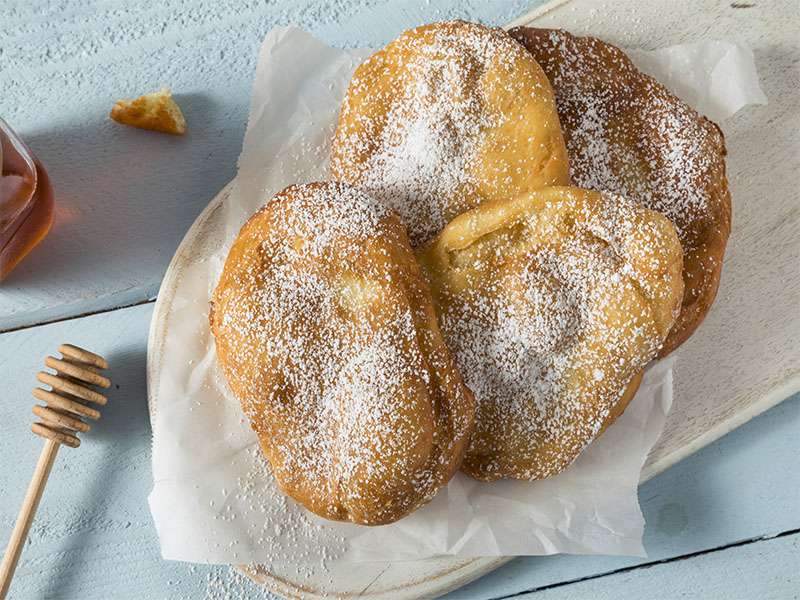 Utah scones are deep-fried, puffy bread, and they are usually served with powdered sugar, butter, and honey. Utah scones are not the same scones anywhere else. They are fried flatbread topped with decadent toppings. Seem simple, but they're scrumptious.
Surprisingly, they appear to be more common at casual restaurants than at the bakery. If you are fed up with other baked goods, why don't you give it a try?
25. Uštipci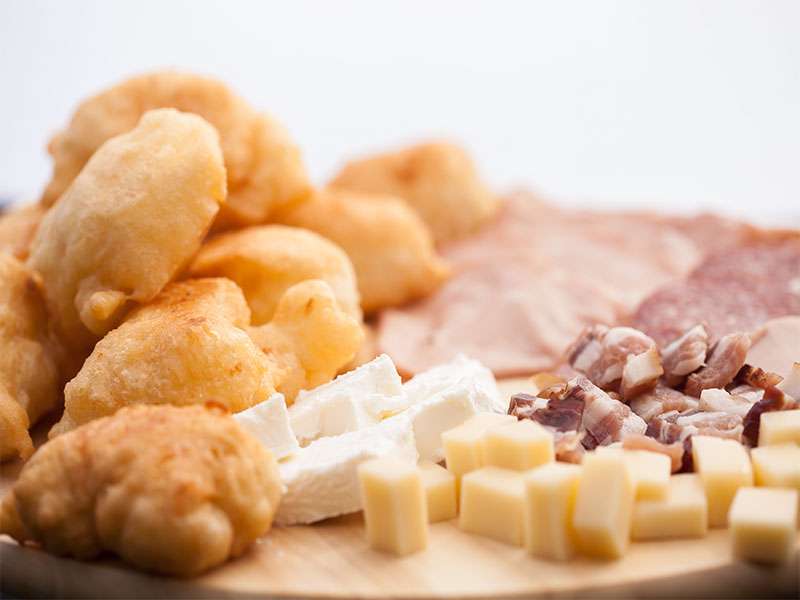 Ustipci is a local delicacy in Serbian, particularly in Vojvodina in northern Serbia. This dish comprises little doughnut-shaped balls of dough that are cooked in oil. This junk food can also be served as an appetizer or a dessert.
You can enjoy Ustipci with cheese and cream alongside, or add icing sugar and jam on top is also a great option. One interesting note of this dish is that it is also well-known in Balkan cuisines.
Some Healthy Vegetables And Fruits With U At The Beginning Of Their Name
Vegetables and fruits are essential components of a balanced diet. A diet rich in vegetables and fruits provides many nutrients to keep your body healthy. Why don't you have a look at some vegetables and fruits that start with U?
26. Ugli Fruit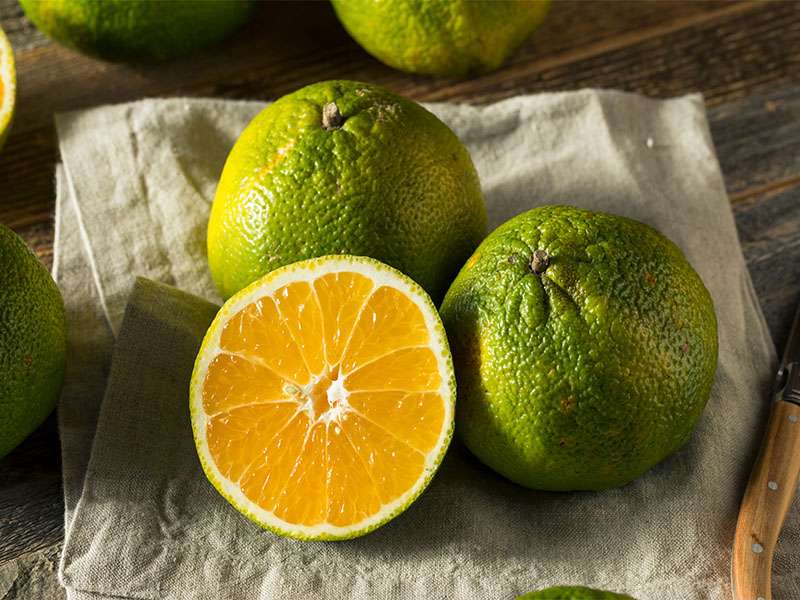 Ugli fruit is a mix between an orange and a grapefruit. It comes with thick and rough skin, so it is simple to peel. With the uniquely sweet and citrusy flavor, it's getting more attention. Ugli fruit provides a number of health advantages because it has high vitamin and mineral content.
Ugli fruit has low calories, so it can also help promote weight loss. Moreover, the antioxidants this fruit contains also help reduce liver damage.
27. Ugni Fruit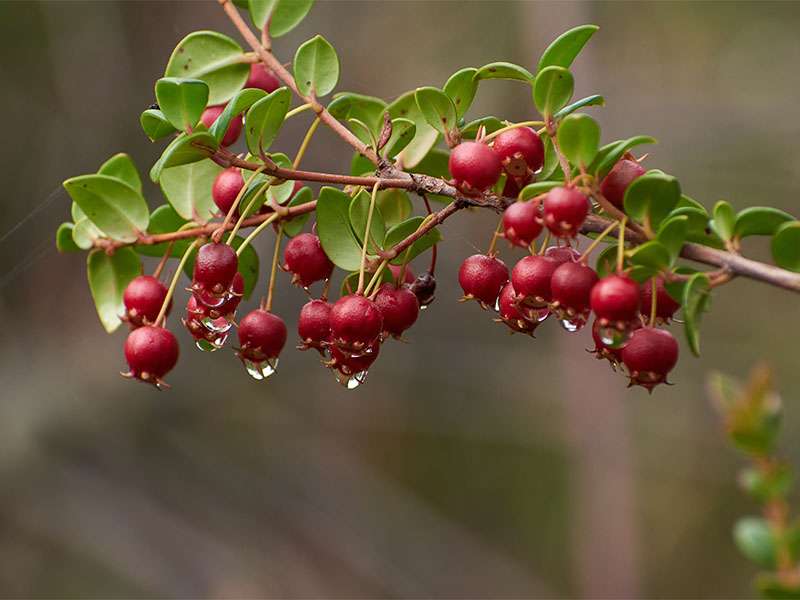 Ugni is a medium-sized tree that is native to Latin America, including Argentina, Chile, and Mexico. Ugni fruits are aromatic, purplish-red fruits that resemble berries. They are relatively little, barely reaching a width of around 1/2 inch.
This fruit has a delicate flavor, similar to strawberries, but with a hint of acidity. People normally do not consume raw Ugni fruit. Instead, it is processed and put into jams, jellies, desserts, and spicy beverages.
28. Ube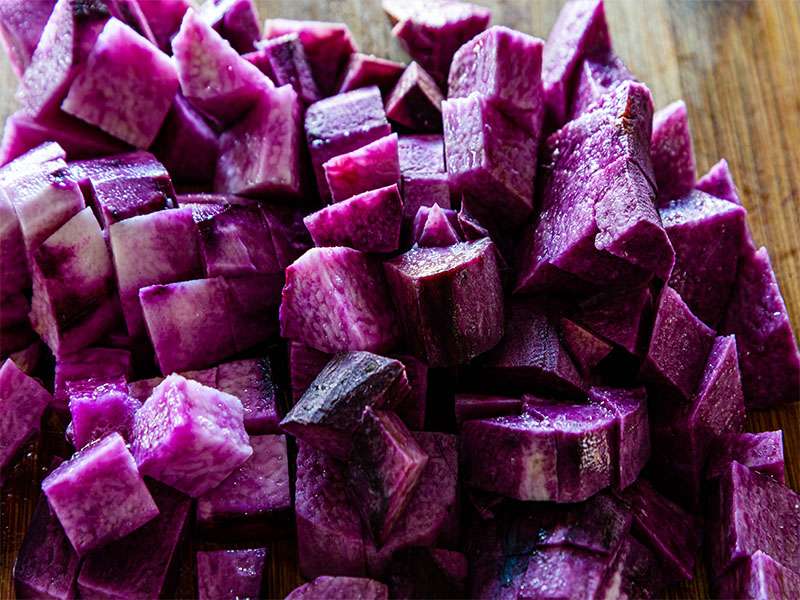 Another food that starts with "U" is Ube, which is the purple yam that is native to the Philippines. Compared with the orange sweet potato, Ube features a sweeter and more mellow taste.
About nutrition, Ube is just similar to sweet potatoes. It is rich in fiber, thiamine, niacin, and vitamin B. Ube is commonly used in Filipino desserts. Generally, it is cooked and mashed with condensed milk.
Refreshing Drinks And Beverages That Start With U
Below are some refreshing and cooling beverages that can quench your thirst on hot sunny days. Let's take a quick look at these drinks right now!
29. U-Boot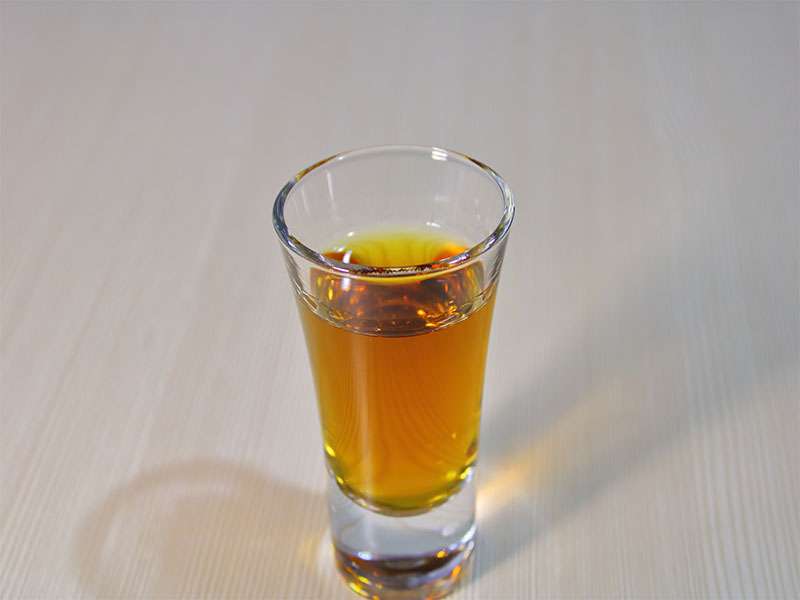 A U-boot is a beer combination created in Poland and Belgium using beer and vodka. 1 bottle of beer mixed with 1 shot of vodka gives you the U-boot. This is a potent drink that can make you drunk quickly. It is widely consumed in Poland, Germany, Flanders, and North Macedonia.
30. Up To Date Cocktail
The up-to-date cocktail is a sherry-based drink. With just a few ingredients like an amontillado, whiskey, Grand Marnier, Angostura bitters, you can get the refreshing beverage in just a short time. You can garnish this drink with lemon peel.
Let's learn how to make this sherry-based cocktail with the following recipe!
31. Umbuzada
Umbuzada, also known as Imbuzada, is a popular beverage in the Northeast of Brazil, particularly in Bahia. This drink is made with sugar, milk, and Umbu or Imbu, a type of Brazilian plum. When enjoying Umbuzada, the slightly acidic flavor of the beverage makes it different from other drinks.
Additional Ideas For Foods Beginning With U
You now have a plethora of food start with the letter U, from main and side dish to appetizer, desserts, and anything between. I have made every effort to ensure that the list of foods beginning with U is as comprehensive as possible.
Due to language and nation restrictions, it is difficult to name them all. Please let me know if you know other foods that start with U! Have you tried some of the foods I mentioned above? Feel free to share your thoughts with me via the comment! Thank you for reading, and stay safe!