The Qatar & Doha foods are a treasure to the people in these countries. They cook the dishes with passion and love, creating the most unique and filling flavors. The rich uses of spices and slow-cooking techniques have created one of the best cuisines worldwide.
However, the tasty flavors and beautiful appearance solely are not sufficient to describe the beauty of these dishes. Since the Qataris use mainly the freshest and finest ingredients for cooking, the Qatar dishes are full of energy and nutrients.
Did your stomach raw for hunger? Let's discover the best Qatar & Doha food recipes right now!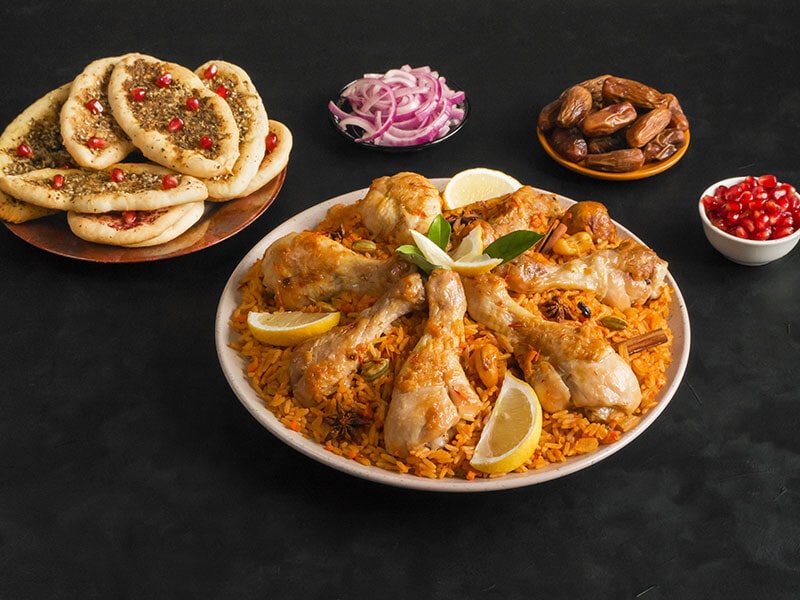 14 Qatar & Doha Traditional Dishes That Everyone Will Love
The traditional dishes in Qatar & Doha are a perfect blend of different culinary cultures, giving an endless list of yummy dishes with diversified ingredients and tastes. Whether it is for occasions, family gatherings, or regular meals, these dishes are all perfect options.
You definitely have to try out these delicious dishes with the combination of the finest Qatari beverages when visiting this beautiful Arabic country. They will bring more flavor and pleasure to your day, providing your body with healthy nutrition and energy for a tiring day at work.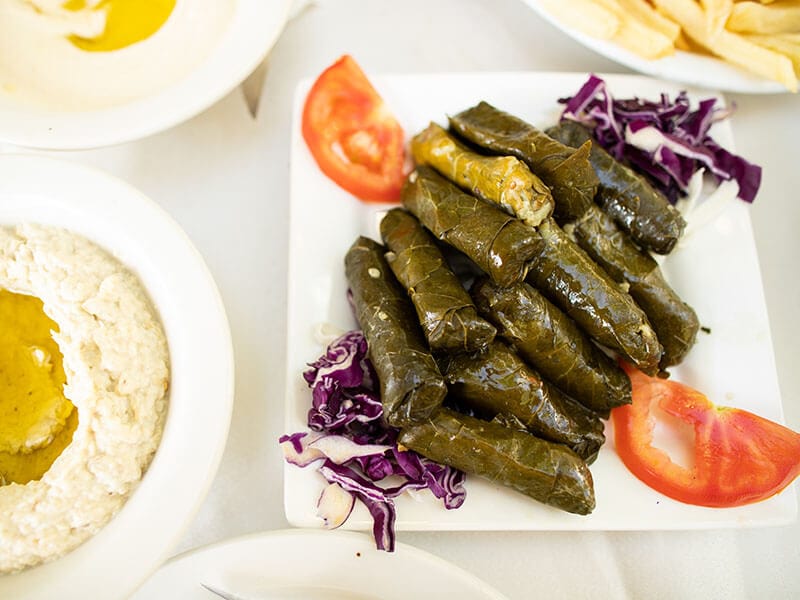 This is a famous light snack familiar to any Qatar & Doha dweller. Warak Enab, also known as the stuffed grape leaves, is a perfect way to start a meal. This dish features the filling of meat, rice, and veggies stuffed in the sour and tasty grape leaves.
There are two popular versions of Warak Ebab: the vegetarian and the meat version. While the meaty version is often served hot, vegetarian Warak Enab delivers the best flavor when eaten cold. They both suit any occasion and meals, so it is rather a matter of preference.
The steamed rice is so smooth and soft, enhanced with the meaty flavor of ground lamb and spices, creating an unforgettable taste. The vegetarian version is a bit simpler, involving only grain rice and veggies rolled in the grape leaves.
How to cook the best Warak Enab? Let the following video enlighten you!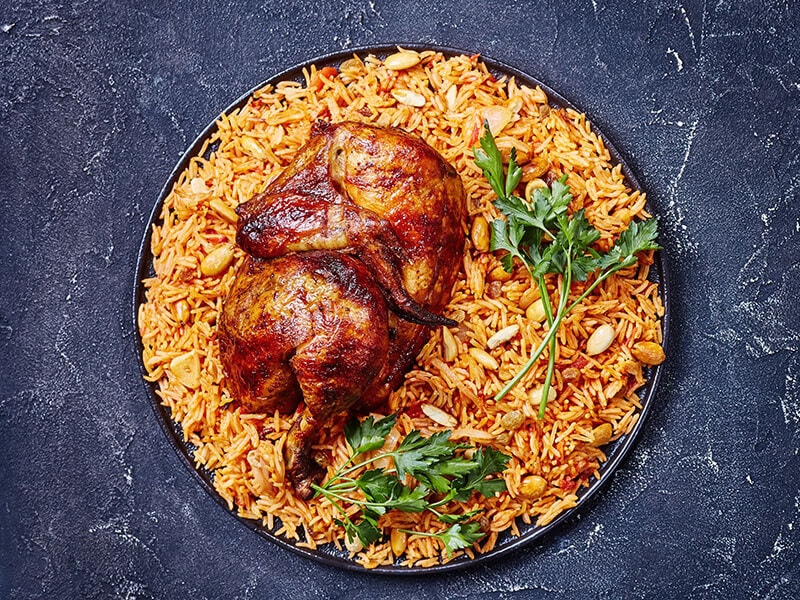 Majboos, also known as chicken Machboos or Salsa, is a popular rice dish in any Qatar & Doha restaurant. People often use this dish with tomato garlic sauce to enhance its flavor.
A typical chicken Machboos involves a rich blend of diversified spices, from coriander, cumin, curry, cloves, to cinnamon. Besides the delicious and filling taste, the spices also give this dish a hearty aroma.
The spices have to be combined in the proper ratio, or it will ruin the taste of Majboos. The best thing about this dish lies in its use of flexible ingredients. It works with nearly all types of meat, but most commonly chicken or lamb.
After hours of slow cooking, the meat gives a moist and beautiful broth. This meaty broth blending with white steamed rice creates an irresistible flavor. It's commonly served with yogurt raita or salad for a filling meal.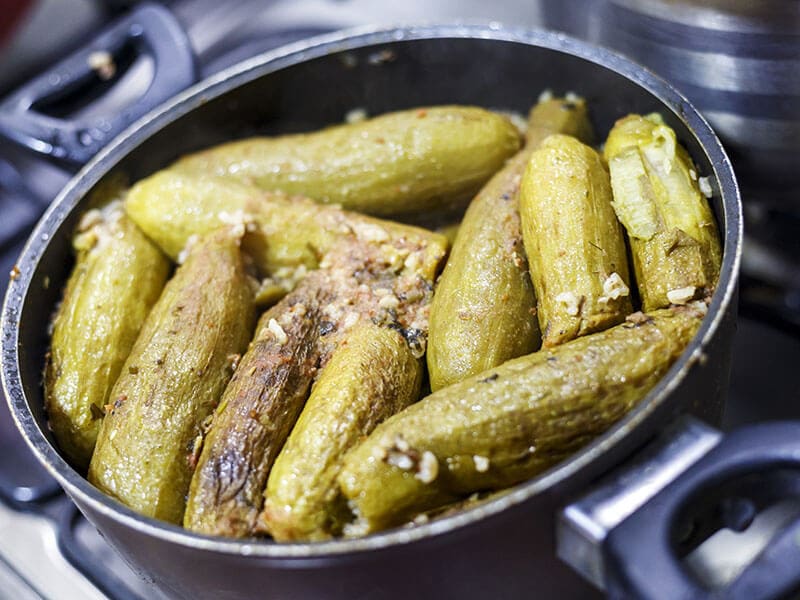 Stuff veggies are always the most favored and popular dishes in any Mediterranean meal, including Qatar & Doha. Kousa Mahshi is the tender zucchini stuffed with rice and minced meat. The dish is commonly seasoned with mint and parsley.
There are various versions of Kousa Mahshi, but they all feature minced lamb and vegetables as the staple ingredients. These components combine so well to create eye-catching and beautifully shaped quashes.
The typical way to serve Kousa Mahshi is to dip it in tomato sauce or yogurt. They add a magical flavor to the already tasty and filling stuffed zucchini.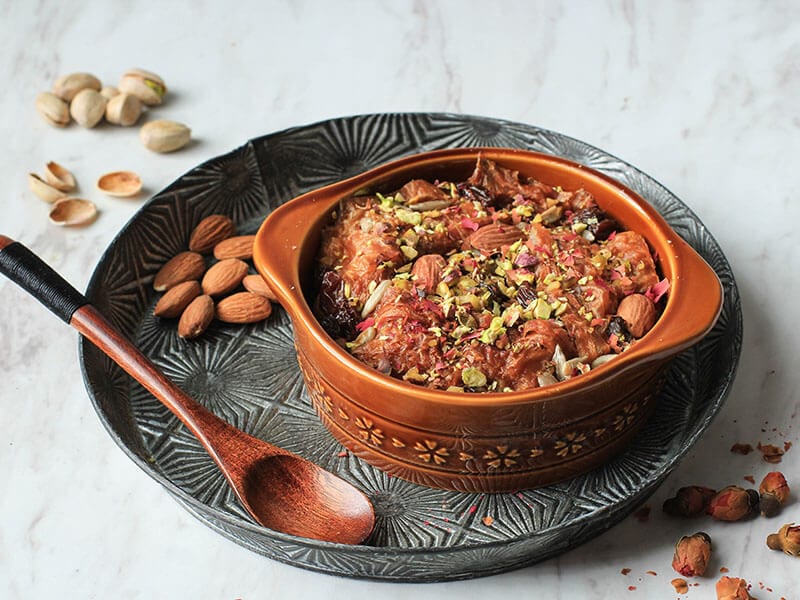 Umm Ali is the classic Qatar & Doha pudding devoted to dessert lovers. The dish originated in Egypt and has made its way to Qatar & Doha cuisine, delivering a sweet and yummy flavor with a creamy and tender texture.
The story behind the origin of this dish with U at the beginning of its name is also interesting. Umm Ali means "Ali's mother," referring to the wife of an Egyptian ruler in the 12th century. However, some say it's the name of a woman living in the town.
Over several centuries, the dish still retains its popularity and hearty flavors. A traditional Umm Ali pudding consists of pastry, milk, sugar, raisins, and nuts as the staple ingredients. The uses of different nuts and spices also create a healthier version of this dish.
The healthy and protein-packed Kabab Nakhi is easy to make, featuring the delicious and blended flavors of veggies and meat. A typical Kabab Nakhi is made mainly of vegetables soaked in the batter for deep frying.
The magical spices give this gorgeous appetizer strong and memorable flavors. If you have gotten fed up with the meat-based dishes and want a more delightful meal, the Kabab Nakhi is an ideal option.
No one can resist these crispy and filling Kabab Nakhi!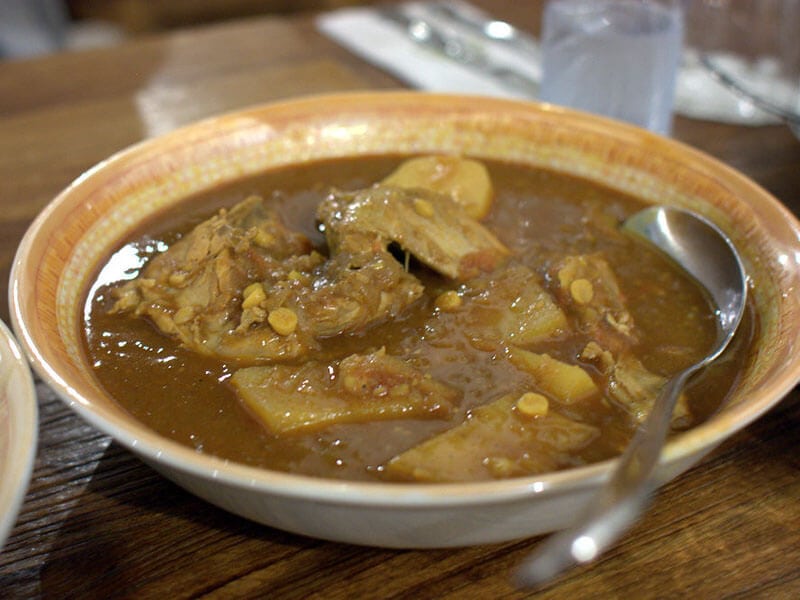 Saloona is a traditional Arabic stew, which usually involves beef, lamb, or fish and veggies as the main ingredient. Whatever type of meat you have on hand is compatible with this dish, creating numerous variations of Saloona with diversified tastes and textures.
There is also the vegetarian version of Saloona, combining the healthiest veggies and spices like garlic, ginger, and sautéed onion. Saloona is Qataric's favorite home-cooked dish, which is usually served with rice or bread.
Try one spoon of Saloona, and its heart flavor will blow your mind. Ensure that you use a generous amount of rice or bread to soak up the veggies and meat broth, which is the soul of this dish.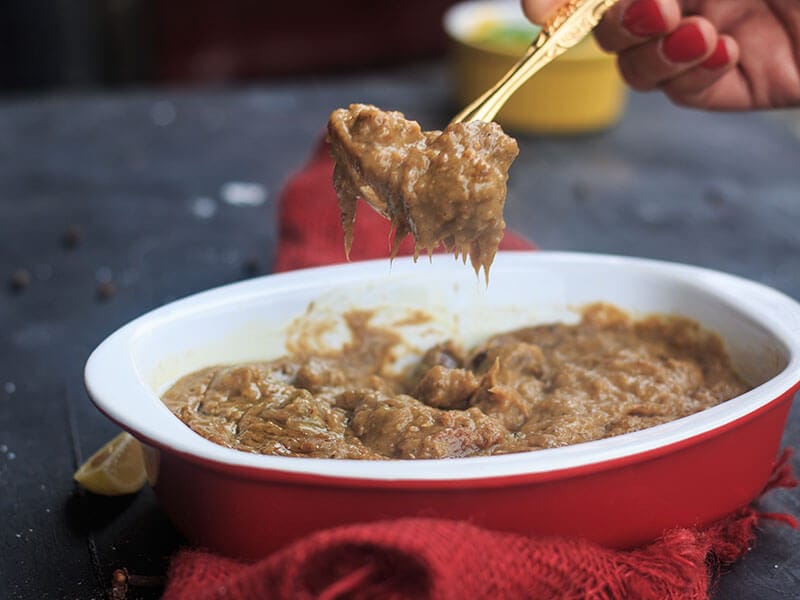 There are various versions of Harness with different flavors and ingredients, but the Qatari Harees typically involve wheat and chicken. This dish is among the most authentic Qatari dishes that feature this wealthy nation's cultural and culinary beauty.
Haress appeared in a cookbook from the 10th century, which is much earlier than any dishes compiled on this list. The dish is famous in the Holy month of Ramadan and sacred rituals in Qatar.
The wheat is boiled, cracked, and well beaten, then mixed with meat and seasoning materials for making Harees. Its fatty and gluey texture is quite similar to a porridge or gruel. The traditional Harees's flavor is quite bland without any powerful flavors.
What is the proper way to cook the most authentic Qatari Harees? The following video will give you the answer!
Madrouba means beaten rice in Arabic, featuring the mashed rice after steaming for many hours. The dish is a blend of rice mixed with mashed chicken, milk, butter, and cardamom, giving a fabulous scent and amazing flavor.
If you love tender food, there can't be a more ideal dish than Madouba. The ingredients are thoroughly blended and slow cooked for many hours, resulting in a moist and tender texture.
There's one secret ingredient that makes this dish so special: dried limes. They bring a unique earthy flavor to the beaten rice that you can't ever forget after the first try. The best way to serve Madrouba is when it's still hot and gives a fabulous scent.
Ghuzi, or shuwaa is a meat-based dish devoted to lamb meat lovers. It is the national dish of Iraq but is also popular in Qatar and other Arabic countries. Ghuzi is a slow-cooked dish with a whole lamb stuffed with roasted nuts and raisins served on fried rice.
The whole cooked lamb is then cut into smaller slices to serve. Ghuzi is a nutrient-rich and tasty dish for grand festivals and gathering meals. If you love stews and slow-cooked dishes, you will surely love Ghuzi's flavorful taste and beautiful texture.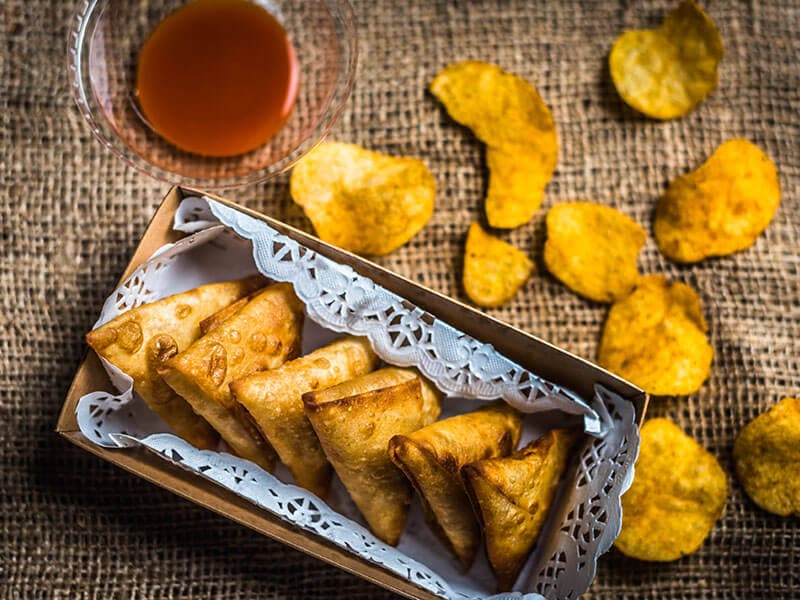 Samosa, or Sabosa, is a famous recipe in the Middle East region and Qatar. You can find this delicious snack served in virtually any place in Qatar, from street vendors and restaurants to cafes.
The name Samosa means "triangle pastry" in Hindi. This dish originated in Central Asia in the Medieval time, with the earliest recipes found in Arab cooking books around the 13th century.
Samosa pastry is a mix of potatoes, peas, and onions. The Qataris usually bake or fry pastry to make this tasty snack. Samosa comes in various shapes like half-moon shapes, cones, and typically triangles.
You can judge the quality of Samosa just by glancing at its crust. A well done Samosa should have a perfect golden-brown crust with no black spots on it. Its texture is pretty crispy and chewy, bringing a burst of flavor from the stuffing.
How to fold the most beautiful triangle Samosas? Find out the ultimate answer here!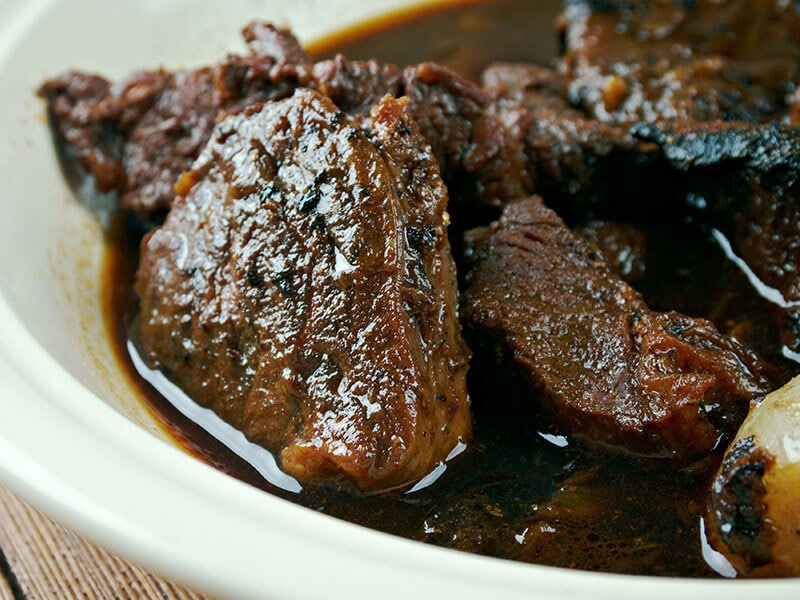 I would like to introduce another popular dish for the Holy month of Ramadan in Qatar and Arabic countries. Thareed, or Qatari Lasagne, is one of the most filling and complete dishes you can find in this country. It has three main components: vegetables, sauce, and meat.
The most authentic Thareed involves chicken and vegetables like potatoes, carrots, or beans. But it also works with any type of meat and simpler veggies. The special thing about Thareed is the Tannour or tortilla bread layer underneath the stew.
This waver-thin soaked bread layer is full of flavors and softness, which will melt softly in your mouth. People often garnish the stew with chopped cilantro to enhance its flavor.
This dish features all the essence of Qatar & Doha culinary beauty, from crispy bread, nutritious veggies, and hearty meat to flavorful spices. Sorry if you are reading this with an empty stomach.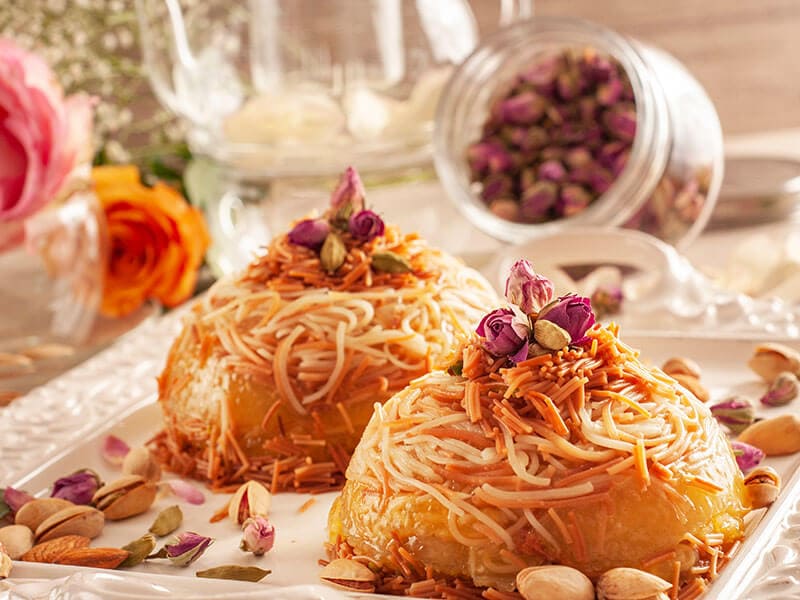 Balaleet is a prevalent option for breakfast in Qatar, with a blend of sweet and savory tastes. A typical Balaleet plate involves the sweetened vermicelli topped with an egg omelet slice. Its sweetness comes from the staple seasonings like saffron, rose water, and cardamom.
Sometimes these two components are accompanied by potatoes and sautéed onions, delivering more unique and contrasting flavors. Balaleet is a traditional dish for the Eid holidays after the long fasting ritual of the Holy Ramadan in Qatar.
Why does Balaleet have such a distinctive and flavorful taste? Here comes the answer.
Margoog is a nutritious and tasty stew with meat and vegetables. It commonly involves lamb or chicken and veggies like potatoes, carrot, and onion. Margoog is usually served by pouring on thin bread or as a dipping texture like curry.
Its meaty and delicate scent of spices like cinnamon and cumin is enough to make you mouth-watering. Similar to the regular Qataric stews, Margoog features a tender and filling texture with a pleasant savory and spicy taste.
Making Margoog requires time and patience, which is demonstrated in this video.
Sago is the core tissue of the palm stems growing in tropical regions, making it a popular ingredient for various dishes and desserts in Qatar. It is produced and commercially sold in tiny pearl shapes and used for making pancakes or puddings.
The sweet Sago pudding is a perfect dish that brings your meal to the fullest. It's commonly mixed and boiled with sugar, water, and milk. There are countless variations of Sago pudding since you can add diversified flavorings to this dish.
It features a gelatin-like and soft texture, combined with a distinct and neutral taste. Some Sago pudding versions may give a slightly savory and meaty flavor, depending on the ingredients used.
7 Popular Qatar & Doha Street Foods For Any Food Lovers
Besides the restaurants, you can enjoy the essence of a region's culinary beauty just by wandering around its streets and trying out the delicious street foods. Every country has its unique set of street food, and Qatar & Doha is no exception.
The street foods in Qatar come in various textures and flavors from diversified cooking methods. If you have the chance to visit this beautiful country one day, don't forget to try out its delicious street foods.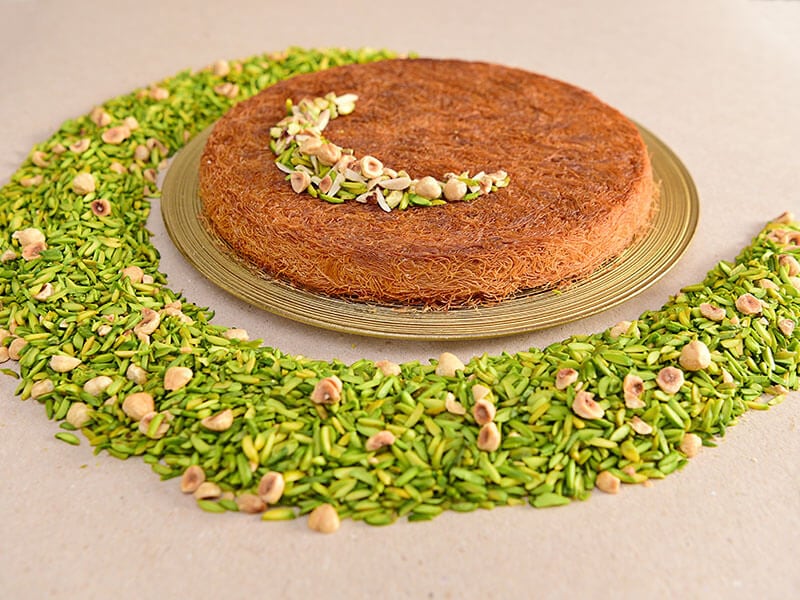 Kunafa is another hearty and yummy dessert to satisfy your sweet tooth. Kunafa means "swing pastry" in Arabic, a sheet of filo pastry loaded with cheese, clotted cream, and nuts. The pastry is soaked with sweet syrup to enhance its flavor.
Similar to the Luqaimat, people soak Kunafa in sweeteners like sugar, honey, or maple syrup to enhance its flavor. It features an additional layer of cheese or cream on top, giving a moist and tender texture.
There are two versions of Kunafa with a soft or harder texture. The softer version is called Kunafa naama, while the hard one is called Kunafa Khesna, with a crunchy texture. Both versions deliver an irresistible sweetness and flavor.
The cheesy and diversified flavors of Kunafa make it one of the best foods in Qatar & Doha. It is often consumed in the Holy month of Ramadan.
How do the local street vendors prepare the most authentic Kunafa? Find out in this guide!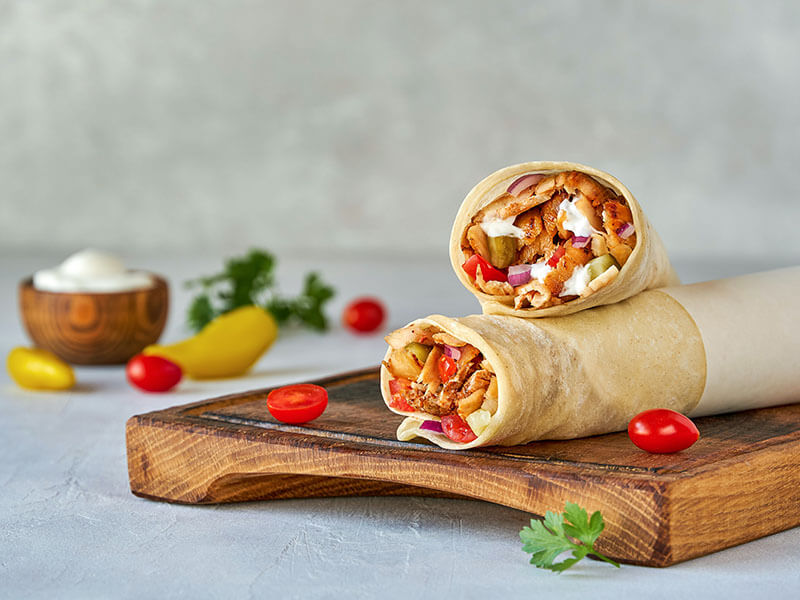 Not just in Qatar & Doha, Shawarma is one of the most popular street foods worldwide. You can find this treat in the cuisine of Turkey, Greece, and other Middle Eastern nations, albeit under different names. The Shawarma rolls typically come with marinated meat and veggies with a mouth-watering and pleasant flavor.
You can easily find street vendors selling Shawarma in Arabian cities. There are various versions of this dish that use a specific meat type like beef, pork, or lamb. The meat is marinated thoroughly with spices while the stacks are roasted near the fire for many hours.
Virtually any vegetables, sauces, and spices work with Shawarma. But the street vendors usually serve this food with the common Arabian sauces like hummus, garlic, and tahini.
You can either eat the Shawarma by hand like a sandwich or eat it in a large bowl or plate for a regular meal. Its meaty flavors and crispy stack crunch will surely make you addicted.
Don't take a look at this making of Shawarma when you are hungry. It will make you mouth-watering.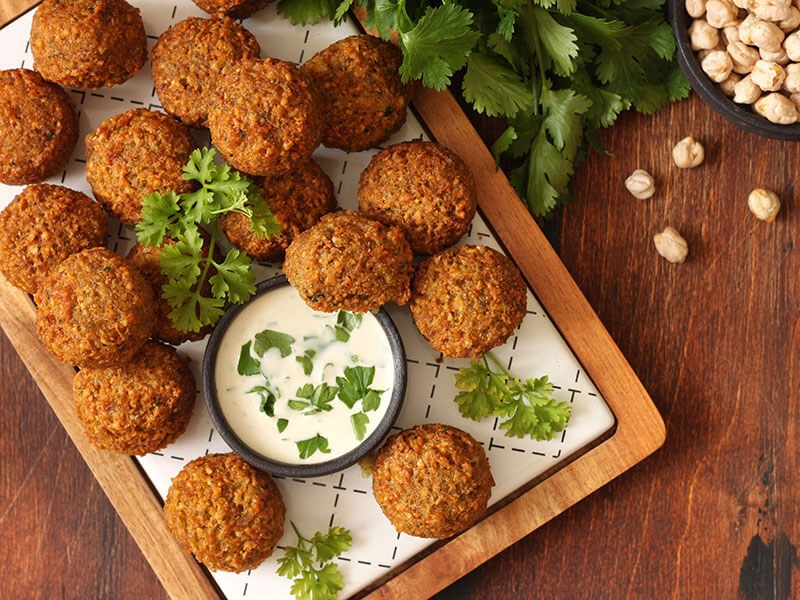 Like fried meatballs in North America and European countries, Falafel is prevalent street food in Qatar & Doha and the Middle Eastern. This dish uses fava beans and chickpeas seasoned with herbs and spices, thus ideal for vegans.
The street vendors often serve Falafel with sauces, pickles, and other veggies. Sometimes they can use Falafel as the patty for hamburgers or sandwiches instead of fried meat. Falafel has a crispy crust outside with a dense and fluffy inner texture.
As chickpeas and fava beans are very high in fiber and plant-based protein, Falafel is a healthier substitute for fast food and sugary treats. You can serve these delicious deep-fried balls with a bunch of veggies and fruits for a nutritious and filling meal.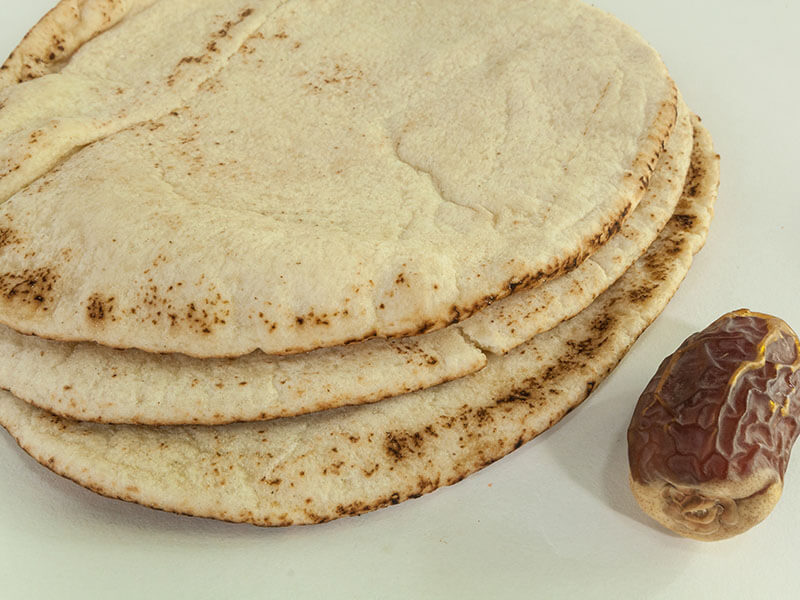 Khaboos is another famous food sold in many streets and local markets in the Middle East. Whole wheat flour and all-purpose flour are the staple ingredients of this dish. The street vendors often bake Khaboos in a hot pan or oven.
The Qatari version of Khaboos is very high in fiber as it uses whole wheat flour. The dish features a beautiful brown color with a crunchy bread crust. Only one serving of this yummy and healthy bread can keep your stomach full for the whole day.
This short video will explain why Khaboos is the favorite Arabic bread.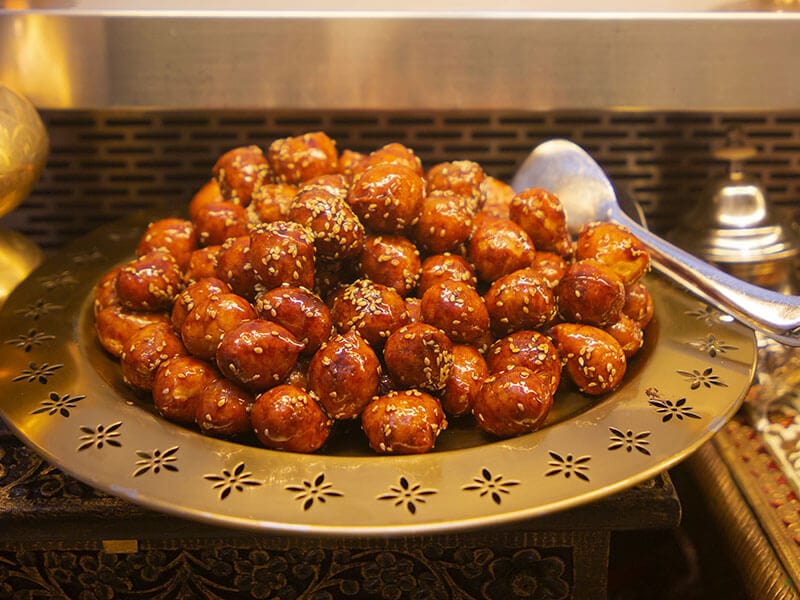 Luqaimat is delicious finger food, a favorite sweet treat in Qatar & Doha. It features a crunchy and smooth texture with a beautiful golden brown color. The sweet dumpling is deep-fried and soaked with sugar syrup, giving a crispy and sweet texture.
The word "Luqaimat" means "little bites" in Arabic, a common food appearing on special holidays in Qatar. To enhance the sweetness of Luqaimat, people also roll them in extra sugar and honey after frying.
Luqaimat tastes best right after frying when they are still hot and crispy. A perfect Luqaimat bite should not be too large (about 2 inches high and wide are sufficient). The oil's hotness is carefully modified while frying to get a crispy crust and an airy, tender texture inside.
Cooking the Qatari Luqaimat has never been simpler, thanks to this guide!
Khanfaroosh, or the Qataric hotcake, is a sweet food that the Qatar & Doha culinary culture can be proud of. Its aromatic scent and the eye-catching golden-brown crust will make any special occasions and gatherings more special.
Khanfaroosh is a combination of cardamom and saffron cake mixed with powder, flour, sugar, and rosewater. If you have the chance to visit Qatar & Doha, just visit the local markets, and you can find the most delicious Khanfaroosh there.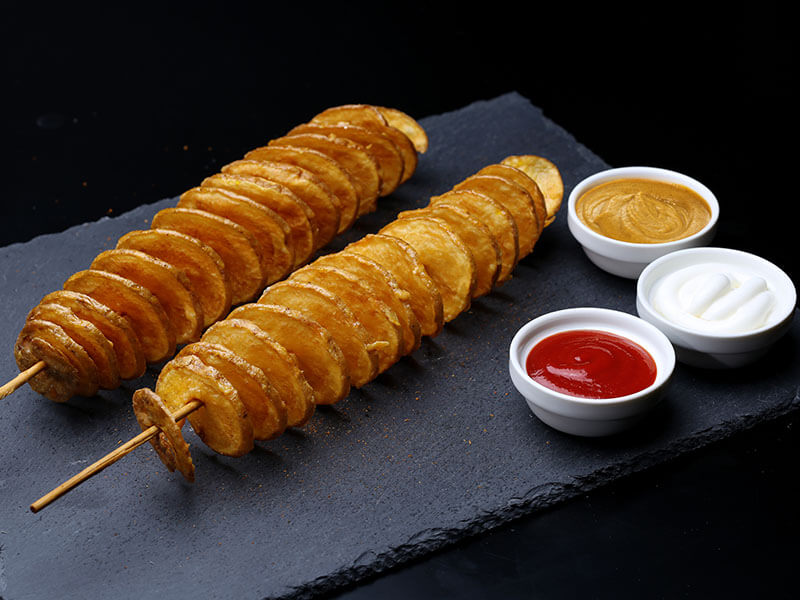 Another addictive street food you must try in Qatar is the spring or tornado potatoes. As its name suggests, this delicious tread features a spiral potato slice skewed by a long wooden skewer.
It is a perfect on-the-go tread for potato lovers with a salty and satisfying flavor. Besides the black pepper and salt, some Qataric spring potato versions are soaked with parmesan cheese, smoked paprika, or garlic powder to get a more diversified taste.
The potato crust is super crispy and eye-catching with a tender and filling inner texture. You can eat it right on the skew or transfer the potato slice to a plate to serve. If you have gotten fed up with the sugary treads, then the spring potato is a perfect option to renew your taste.
Learn to make the authentic spring potato with this simple guide!
Which Qatar & Doha Food Do You Like Best?
So, which Qatar & Doha foods in this dish caught your attention? Though these dishes are very yummy and nutritious, they are just the shallow surface of the immerse and fascinating Qataric culinary culture.
The more food you try, the better you understand a specific country's cuisine, and Qatar & Doha is not an exception. I recommend that you try making these delicacies at home and enrich your diet.
If you had a chance to visit this beautiful Middle Eastern country, which dish would you try first? I am really curious about the answer, so don't hesitate to let me know in the comment section.
Did you have a good time reading this post? I would be grateful if you could share it with the others. Thank you for reading!