The best-flavored popcorn recipes are not only available in the stores. You can make this favorite homemade treat that is tastier than any store-bought popcorn following these quick and simple recipes.
Besides a crispy and evenly cooked texture, delicious popcorn has to incorporate good flavorings. It's the part that most beginners mess up with when preparing popcorn at home. In this post, I will show you the secret flavors that will make your popcorn more delicious.
You will never get fed up with the well-diversified taste and textures of these fantastic popcorn desserts, from peppermint and chocolate to caramel. Moreover, their fabulous aromas will add more to the goodness of the popcorn. So, let's jump straight into the recipes.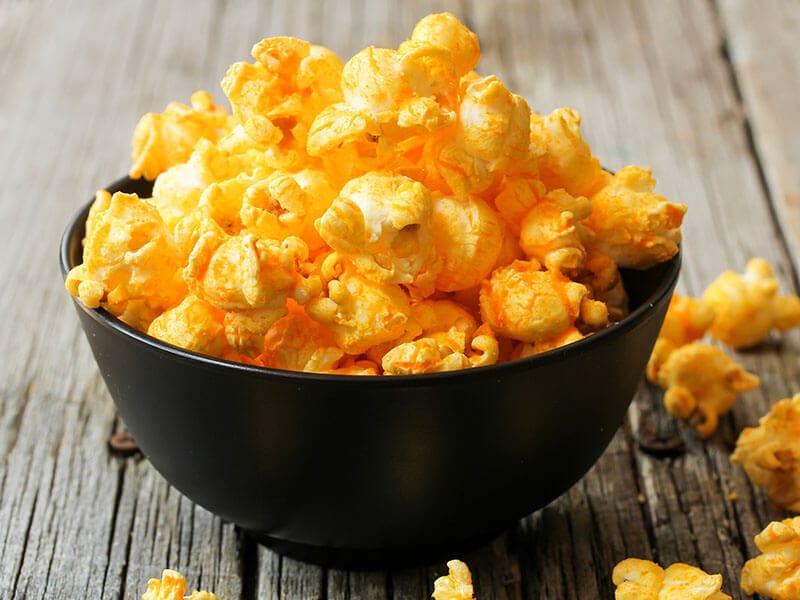 The Best Flavored Popcorn Recipes Everyone Will Love
Depending on the ingredients and cooking methods, the popcorn will feature a distinct flavor and texture. But you can never prepare delicious popcorn without following the proper techniques.
Though these recipes are very straightforward, they require some attentiveness from the makers. Ensure that you follow the steps carefully, and the end result will be a worthy payoff. Now let's discover the recipes.
Total time: 30 minutes
The garlic herb butter popcorn is a delicious and simple snack using butter, herb, and especially garlic salt. The last ingredient is basically a mix of table salt and garlic powder, giving this popcorn an unmistakable savory and garlicky flavor.
The spice used in this recipe is dried parsley, which gives the popcorn a beautiful green topping. It just combines with the garlic salt and melted butter so well, creating a satisfying and herby snack.
The fabulous garlic and buttery scent is a plus point to this recipe. This popcorn can help regulate your blood pressure and prevent infections by incorporating these special seasonings.
Total Time: 6 minutes
Only the cheddar cheese can give this popcorn such a beautiful and vibrant yellow texture. This cheese popcorn looks more appealing than any snack, with a sharp and pungent flavor of cheddar cheese that you cannot resist.
Simplicity is the beauty of this recipe. It works with any popcorn brand, whether it's fresh or microwave. However, you should avoid the sweetened products since they don't combine well with the cheddar cheese flavor.
Also, it's best to use unflavored butter since the added salt in this recipe may make the popcorn too savory. If you use salted butter, don't add additional salt. This recipe also involves ground mustard, providing a more special flavor.
This is a quick and fun guide for making the best cheese popcorn!
Total Time: 5 minutes
As a popcorn lover, I always want to incorporate as many flavors into this delicious treat as possible. If you're like me, this multi-flavored and tasty popcorn with brown butter, lemon, and rosemary will surely make you fall in love with it.
Though this recipe involves many flavorings, the popcorn doesn't taste so powerful. The buttery flavor mixed with the herb rosemary and sourness of lemon creates a mild and pleasant taste.
However, you must mix rosemary with melted butter first before adding it to the popcorn. This step makes the flavors combine better, giving your popcorn a more balanced taste and a well-colored texture. Finally, add salt, lemon zest, and lemon to serve.
Total Time: 10 minutes
Fans of BBQ will love this simple and yummy BBQ Ranch popcorn. It takes just a few minutes to prepare, but the dish tastes better than any store-bought popcorn. The mildly spicy flavor also makes this recipe stand out from the regular popcorns you've tried.
Obviously, the key ingredient in any ranch popcorn recipe is dry ranch mix seasoning. It's a blend of spices, herbs, and a little sugar, giving the popcorn a satisfying burst of flavor. Also, this BBQ Ranch popcorn possesses an airy yellow texture from the melted butter
You can use both fresh or microwave popcorn, but the fresh one will surely taste better. The first step is combining the paprika, brown sugar, pepper, and ranch mix in a large bowl. Then pour this seasoning mixture on the tossed popcorn mixed with melted butter.
Total Time: 5 minutes
Truffle popcorn is famous for its rich and intense flavor, which can satisfy any sweet tooth. While salt is an indispensable ingredient, this truffle popcorn takes a step further by using truffle oil.
This ultimate ingredient helps impart the addictive truffle scent and flavor to the popcorn. But don't worry if you can't find the truffle oil. A mix of regular oil and truffle salt still works great with this recipe.
To best utilize the truffle oil, you should premix it with melted butter on a hot pan. When the two components are well combined, pour half of the mixture on the popcorn and season it with additional truffle salt to maximize the flavor.
Then add the other half of the oil and butter flavor to the popcorn, followed by a finishing batch of salt. Remember to stir well, or the seasoning mixture might overburn. You can adjust the amount of truffle salt to suit your taste.
Learn how to combine the flavors properly to create the most delicious truffle popcorn through this guide!
Total Time: 10 minutes
Try recalling the time you visited the cinema and enjoyed a large batch of popcorn while watching a film. It may taste very good, but do you want something else more organic and with better quality control?
With this "better than movie theater" popcorn, you may never want to order popcorn at the cinema ever again. After all, movie theaters sell popcorn in large quantities, which may decrease its flavor and texture.
This copycat recipe is a perfect blend of flavors from corn kernels, onions, garlic, and sweet paprika. The added cumin also creates a vibrant and attractive yellow texture. In addition, this popcorn is low in cholesterol and sugar, making it an ideal snack for vegans and dieters.
Total Time: 30 minutes
Cinnamon Churro popcorn is a gluten-free and healthy snack that every vegetarian will love. Each bite gives you a burst of Churro flavor, which tastes like a cinnamon donut with a warm and contrasting texture.
You should use vegan butter to make this recipe dairy free, though the regular variety is applicable. The coconut sugar also brings a mild sweetness and caramel taste to this popcorn. But if you don't like its flavor, substitute it with brown or regular sugar.
Moreover, this lovely cinnamon sweet treat attracts you with its woody and earthy taste. Ground cinnamon also adds a little brown color to the dish. You can either bake or just microwave the popcorn, but baking will make the snack crispier and last longer.
Total Time: 30 minutes
Chocolate is the universal goodness that levels up the texture and flavor of any sweet treat. If you are craving some desserts full of chocolate flavor, then don't skip this delicious white chocolate peppermint popcorn.
This recipe is a perfect gift or snack to serve on special holidays, like New Year's Eve or Christmas. It involves cheap and store-bought ingredients like chocolate candy melts, candy canes, and air-popped popcorn.
Instead of the real chocolate bar, the melted white chocolate candy gives just as tasty and chocolatey flavor. When mixed with crushed candy cane garnishing, it creates a filling, sugary taste.
You can serve the popcorn with a cup of hot cocoa to indulge your love for chocolate. This snack can last at room temperature, but remember to keep it in an air-tight container.
Total Time: 10 minutes
Imagine watching your favorite movie with a batch of burning hot bagel popcorn emitting a fabulous buttery aroma. This simple and tasty bagel popcorn is a real game changer for any movie night and weekend party.
This recipe uses every bagel seasoning to make the preparation more simple. It's a mix of sesame seeds blended with minced garlic, onion, and salt flakes, giving a powerful salty and savory flavor that will make you ecstatic.
Preparing this everything bagel popcorn is a child's play. Start with blending the garlic powder and melted butter in a bowl. Then add half of the mixture and every bagel seasoning to the popcorn. Keep stirring thoroughly, and add the remaining seasoning to serve!
Total Time: 10 minutes
Wasabi actually tastes better than many people think. It gives a similar taste to hot mustard with an aromatic and pungent flavor. That is why this wasabi ginger popcorn will create a burning sensation in your nose with its exhilarating and refreshing flavor.
In addition, wasabi and ginger are among the healthiest ingredients you can add to popcorn. They have anti-inflammatory functions, along with many other significant health benefits. If you have a sore throat, this wasabi ginger popcorn is a perfect snack to enjoy.
Despite its yummy taste, this popcorn is very spicy and may not be the best snack for your young kids. Try serving the wasabi ginger popcorn on a cold winter morning. It will slowly build up the heat in your body and lighten up the mood.
Total Time: 25 minutes
Are you looking for a fun and simple snack to chill with your favorite TV show on the weekend? These yummy cookies and cream popcorn are effortless to prepare, but their flavor will make you ecstatic.
An even better thing about this popcorn is that you can prepare a large batch and enjoy it for the whole week. The simple sweet and salty flavors of the white chocolate chips and Oreo cookies make such a great duo.
With the extra canola oil, this snack possesses that classic yellow and brown texture that looks more appetizing than any cinema popcorn. For people following a diet, consider replacing cookies and cream with almond bark as a healthier option.
Don't make the cookie and cream popcorn until you see this video!
Total Time: 20 minutes
Look at this beautiful golden brown chipotle lime cauliflower popcorn! It's a bright yellow color that, combined with the crispy texture, vibrates like sunshine! I knew that this popcorn was a perfect summer snack the first time I saw it.
This dish seems to possess the best things of a delicious popcorn with its savory taste, crunchy texture, and nutritious ingredients. Rather than microwave popcorn, it uses cauliflower heads, which is a much healthier substitute.
Besides the classic salt and pepper duo, the chipotle powder also gives this popcorn a mildly spicy and smoky undertone. You can freely adjust the number of seasoning materials used to achieve your favorite flavor.
Total Time: 20 minutes
This honey peanut butter popcorn is a little bit more special with its gooey and chewy texture. The pleasant sweetness of honey and buttery flavor will melt softly in your mouth with each bite.
In addition, you can spice up the flavor of this already-delightful honey dessert by adding your favorite toppings like candies, chocolate chips, or roasted peanuts. Just use whatever type of peanut butter in your pantry; it will work fabulously with this recipe.
Remember to discard the unpopped kernels after microwaving the popcorn. To achieve a gooey texture, you should blend sugar and honey, then simmer them before adding vanilla and peanut butter. Finally, glaze the popcorn with the hot mixture and serve.
Total Time: 20 minutes
Try out this exotic miso butter and black sesame popcorn with the delicious white miso and black sesame seeds duo. This popcorn features a rich and umami taste from miso butter. Its appearance is also beautiful, with a light and airy white texture garnished with black sesame.
In case you don't know, miso is a fermented mixture of soybeans, koji, water, and salt. The white miso Shiro is already salty and powerful, but you can add more salt to enhance the savory flavor of the popcorn.
Blending miso with butter creates an even more exciting flavor with a fabulous scent for this popcorn. You should melt the butter first before adding miso so they can combine easier. Use a fork to mix thoroughly, or there will be small lumps in the mixture.
Total Time: 10 minutes
The staple ingredient for this exotic and flavorful recipe is curry and ginger powder, which creates a deep and earthy flavor. Most curry powder products are spicy, but you can add a little cayenne to enhance the spiciness of the popcorn.
Also, remember to check the description of your curry powder. If it doesn't contain salt, you can use a half spoon of sea salt to season the popcorn. Ensure that you shake the pot thoroughly when heating to avoid overburning the kernels.
Total Time: 1 hour
With a filling gingerbread mixture and melted almond bark glazing, this gingerbread caramel popcorn is ridiculously yummy. This delicious snack features a beautiful caramel golden brown texture with an appealing ginger aroma.
The gingerbread mixture is a mix of salt, brown sugar, molasses, cinnamon, and ginger. The mixture will boil up when heated, so you should use a tall pot for cooking it. Don't forget to add baking soda; it is a secret ingredient that helps the mixture foam up.
This recipe takes longer to prepare since you have to bake the popcorn to fully incorporate the gingerbread flavor. Bake the popcorn for one hour and take it out to stir every 15 minutes. Serve when the popcorn turns crispy with a finely baked texture.
Total Time: 7 minutes
How about a simple and delicious sour cream and onion popcorn to heat up your night? The sour cream and onion combination will make all your friends addicted to their filling and amazing flavor.
As a quick and easy snack, this recipe uses store-bought microwave popcorn to save time. The sour cream flavoring gives the popcorn a rich and creamy texture with an airy white color.
The powdered milk and powdered Parmesan cheese also add more creaminess to the thick texture. To make the onion and sour cream mixture, you can blend onion salt, milk, dill, and Parmesan cheese in a shaker.
Making sour cream and onion popcorn is a piece of cake, thanks to this guide!
Total Time: 5 minutes
To me, the spicy nacho popcorn is among the most delicious snacks you can serve on any special occasion. The onion and garlic duo seems boring, but cayenne pepper and nutritional yeast are the real game changers.
The yeast brings a cheesy and earthy aroma. It's like the smell of the healthy veggies dish you can find in vegetarian restaurants. Meanwhile, the cayenne pepper adds a little hot and spicy undertone, making this popcorn yummier than ever.
Unless you mix them thoroughly, the spices won't spread evenly on the kernels, and they will end up sitting at the bottom of the bowl. There's a little hack that can help you solve this annoying problem. A little olive oil sprayed on the kernels will help the spices stick better.
Total Time: 15 minutes
What the heck is tiramisu popcorn? The first time I heard of this recipe, I was immediately drawn by its special name. In Italian, tiramisu means "pick me up," which is also the name of a popular sweet dessert in Italy.
It turns out that tiramisu popcorn is a mix of coffee, chocolate, and cookie treat flavors. This tiramisu is all about coffee and that addictive bitterness with chocolate chips, coffee granules, and espresso beans.
Imagine waking up after a long night and catching the fabulous coffee aroma of this tiramisu popcorn. It will instantly light up your mood and make all the fatigue fade away. Tiramisu popcorn is like a snack incorporated with a cup of hot filling coffee for the morning.
Total Time: 10 minutes
What if the regular sweet popcorns look too simple, and you prefer a more classy snack for the party? It's time for this exotic Margarita popcorn mixed with lime juice and tequila to shine.
Yes, you didn't hear it wrong. Adding tequila to popcorn may sound too extreme, but it will create a fruity and earthy flavor that you can never forget. When combined with lime juice, kosher salt, and sugar, the taste of this Margarita popcorn is simply out of this world.
You can use either stove-popped, air-popped, or microwave popcorn for this recipe, but kosher salt is a must-have. It features larger grains and also brings a purer salty flavor than the regular table salt. Lastly, a few slices of lime on top will make the popcorn more classy.
Preparing margarita popcorn is much simpler than you think. Follow instructions to know why!
Total Time: 28 minutes
When was the last time you encountered the vintage look of the fall season with yellow autumn leaves? This cinnamon maple popcorn will help you relive that lovely image with its wonderful-tasting maple syrup and cinnamon.
All you need for this recipe is corn kernels, maple syrup, nut butter, cinnamon, and seasoning material. Preparing it is also a piece of cake. When the kernels are popping in the microwave, boil the maple syrup at medium heat to make the sauce.
After 3 minutes, turn off the heat and add the remaining seasoning materials. Blend until all the ingredients are fully combined, and pour the mixture onto the popcorn. Finally, spread the popcorn and bake for around 5 minutes. Garnish with extra salt or cinnamon to serve!
Total Time: 15 minutes
The snow-like texture garnished with colorful red sprinkles of this sugar cookie popcorn makes it a perfect snack for Christmas. Though the recipe doesn't involve real sugar cookies, there's a secret ingredient that gives it an even more delicious flavor.
You may have tried vanilla or almond extract for popcorn, but have you ever combined these two components? When blended with butter and salt, the vanilla and almond extract mixture brings a heavenly sweetness and satisfying salty flavor.
Melted vanilla also strengthens the sugary and caramelly taste of this sugar cookie popcorn, not to mention the bonus holiday sprinkle garnishing. This recipe is a perfect way to indulge your sweet tooth.
Total Time: 15 minutes
Forget the sugary sweet treats and candies. This salty vinegar popcorn is a much healthier dessert to fulfill your craving for sugar. Vinegar contains a lot of beneficial acetic acid, giving the popcorn a classic sourness and pungent scent.
Since the liquid vanilla may soften the popcorn and ruin its crispy texture, this recipe uses powder vinegar as a substitute. It also combines so well with sea salt, creating an irresistible salty and sour burst of flavor in each bite.
The simplest way to pop your popcorn is by heating it on the stove using a covered saute pan. The popcorn can last for 14 days in an air-tight container at room temperature. Don't keep it in the fridge unless you want to lose its crunchy texture and taste.
This is the only guide you need for making the best salt and vinegar popcorn!
Total Time: 15 minutes
I had never thought putting peanut butter and banana in popcorn was a great idea until I tried this recipe. The natural sweetness of banana combined with the buttery and healthy peanut butter will steal your heart.
Banana is also a healthier substitute for powdered sugar, making this peanut butter banana a healthier substitute for sugary treats. This recipe doesn't have a single grain of processed sugar, so people following a keto diet can freely enjoy it.
However, you can always add a little honey or corn syrup to achieve a more satisfying sweetness. For those suffering from peanut allergies, consider replacing peanut butter with almond butter. It will work great with this recipe.
Total Time: 2 hours and 10 minutes (including 2 hours of air drying time)
Whoever comes up with this boozy chocolate-covered popcorn is a true genius. No one would ever think of putting rum and chocolate mixture in popcorn. That's why this recipe gave me a deep impression.
This boozy chocolate-covered popcorn is a delicious snack that will add more fun to the adults' parties. Since rum already possesses a sweet undertone, the rum chocolate mixture gives a surprisingly delicious taste.
But popcorn must be kept simple, so you can use any chocolate of your favorite in this recipe. After seasoning the popcorn, you should leave it on parchment paper to dry before serving.
Total Time: 10 minutes
Popcorn doesn't always have to be crispy and dry. This gooey caramel marshmallow popcorn will redefine what delicious popcorn looks like. Really, I haven't seen any popcorn with such a vibrating yellow color.
The gooey golden texture you see is a blend of butter, corn syrup, sugar, and especially, marshmallow. These are all simple and cheap ingredients that you can find in any grocery store.
Both mini or large marshmallows are applicable, but you will need around 200 mini ones for this recipe. If you can't find corn syrup, maple syrup or honey is also a great substitute. A homemade mixture of water and granulated sugar can also serve as a sweetener.
Cooking caramel marshmallow popcorn is a real art. This video will demonstrate it!
Total time: 5 minutes
I'm not exaggerating when saying that this delicious, caramel-flavored butterscotch popcorn is among the easiest dishes on this list. All you need is popcorn, butterscotch chips, corn syrup, some butter, and 5 minutes to mix and stir everything.
All these ingredients give the popcorn a filling and buttery sweetness, which is quite similar to the mix of butter and brown sugar. They also bring that brown caramel texture that will stimulate your appetite at first glance.
These Flavored Popcorn Recipes Are A Real Gift Of Life
It's not hard to understand why popcorn is among the most favorable snacks and desserts worldwide. As an ardent popcorn lover, I was fascinated with the crispy and crunchy textures combined with the exotic flavors of these recipes.
Each recipe is definitely delicious, but it may not suit everyone's tastes. Therefore, I recommend trying out one dish at a time, and eventually, you will find your favorite flavor. So, which recipe will you make first? Please comment and let me know.
Also, spending your valuable time on this post is a big appreciation for me, but it will be great if you like and share this article with everyone else. Thank you for reading!