These easy flatbread recipes are solutions for your same rotation of meals. I mean, there is nothing worse than eating the repeated dull dishes day by day. Why serve plain garlic bread when you have plenty of other flatbread options?
You can keep things simple or go extra with flatbreads. They are versatile enough to be on your breakfast, lunch, or dinner. Even better, turn them into delicious appetizers or side dishes to wow your guests at the party if you prefer.
Moreover, this is your opportunity to learn about different versions of flatbread from other cultures such as Pupusas, Bazlamas, or Gozlemes. Also, there is a blurring line between pizza and flatbread. Don't be surprised when you will encounter many pizza-style flatbreads below.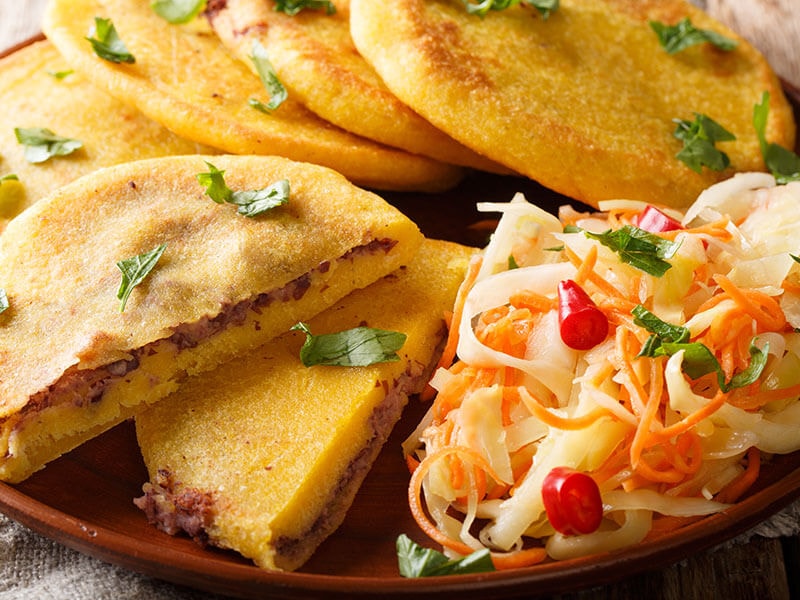 Easy Flatbread Recipes To Add To Your Diets
These flatbread recipes below are not only delicious and healthy but also incredibly easy. With inexpensive and easy-to-find ingredients, you just need to spend a little extra effort to make them work and enrich your family meals.
Total time: 25 minutes
Let's start off with a basic dish. This quick and easy pizza appetizer only takes 5 minutes to make with a handful of ingredients. Be creative and decorate your pizza with all your favorite toppings.
This no-yeast flatbread dough has several ingredients: all-purpose flour, olive oil, and table salt. If you're more into thin crust, bread flour is a better option to create a chewy and airy texture. Cornmeal is necessary to prevent the dough from sticking. But if it is unavailable, use the flour.
Since the dough is thin, it can get soggy after adding the toppings. Thus, par-bake it to ensure a crispy crust. Be sure to brush on the olive oil after par-baking. And most importantly, don't overload the thin flatbread with toppings to avoid cracks.
Flatbread pizza doesn't need many ingredients and is easy to make at home.
Total time: 20 minutes
My list is about easy recipes, and this pulled pork pizza flatbread is no exception. You're on your way to a quick pizza night with only 20 minutes of cooking. The thin, crispy flatbread, savory pulled pork, and sweet-and-tangy Teriyaki sauce are utterly delicious.
You don't need to make flatbread from scratch: choose your favorite store-bought brand as a shortcut. There are no fancy ingredients: only pulled pork, shredded cheese, buffalo ranch dressing, and a few more. Mix and match the toppings according to your taste.
Spread the flatbread and top it with cheese, pork, and garlic powder. Then toss the ingredients in the oven for 15 minutes at 375°F. Then, season with salt and buffalo ranch dressing. The last touch is adding chopped cilantro and a fried egg. And voila, your pulled pork flatbread is all set.
Total time: 7 minutes
These Flatout wraps prove that healthy and light dinner meals don't have to be boring. With turkey, bacon, tomatoes, or lettuce, every bite is a different experience. And this delectable dish is filling enough to keep your energy up for a while.
What sets these out-of-this-world sandwich wraps apart is their low calories and high nutrients. The Flatout Light Original flatbreads are a rich source of protein and fiber. The total calories of these wraps are under 400 calories each.
With Flatout flatbreads, this recipe offers you two wraps: the BLT and the turkey bacon ranch. Each version is equally delicious, so choose what suits you best or try them both. Spoiler alert: they are both low in mayo, dressing, and cheese but high in veggie and protein content.
Total time: 3 minutes
I love sweet flatbread wraps, especially this delicious treat with ricotta cheese. These wrap-ups contain sweet bananas, juicy blueberries, creamy Ricotta, and earthy hazelnuts. As a result, their fruity toppings will bring freshness to your palate.
There's nothing much to do to prepare the wraps. Just spread all the ingredients on the flatbreads and roll them up. The only knife work is cutting the wraps into bite-size pieces. In about 3 minutes, your fruity wraps are good to go.
The mild flavor of Ricotta doesn't overpower other ingredients. And the sweetness from bananas, blueberries, and Ricotta cheese is harmonious. At the same time, chopped hazelnuts deliver a crunchy texture in each bite.
Total time: 1 hour
Let's travel to Turkey and meet Bazlama, a traditional Turkish food made with Greek yogurt. This sweet Turkish dish is an excellent wrap due to its soft and flexible texture. A huge plus point is that this is a one-bowl recipe, so the cleaning work is minimal.
If Bazlama is still an alien concept to you, it is also known as "village bread" and is similar to pita-type bread or naan. Like its siblings, Bazlama uses yeast, flour, yogurt, and sugar. People often enjoy Bazlama with butter or olive oil for a comforting breakfast or dunk it in Hummus.
What's unique about this Turkish staple is that it gets a tang flavor from Greek yogurt. Another difference is that you cook Bazlama in a pan or stovetop instead of baking like other flatbreads. If possible, try making it over a wood fire for the most authentic taste.
Making this Bazlama will give you a lot of satisfaction, and feel free to add your favorite toppings.
Total time: 15 minutes
This grilled peach, pesto, and Burrata (an Italian cheese) flatbread has everything you need for a light and delicious weeknight meal. It's a great way to add more vegetables to the table when you suddenly hit a sweet-meets-savory craving.
It's essential to choose the best peaches. Remember that your fruits should be ripe, sweet, and tender. However, if peaches are not your favorite, go for nectarines. When grilling the peaches, flip the slices every minute to prevent them from sticking to the grill grates.
The mix of grilled peaches, rich Burrata, salty pesto, and spicy arugula is perfect. Grilling the peaches brings extra sweetness to your flatbread mix, while a drizzle of honey ties all the flavors together. All the sweet and savory summer flavors are available in this dish.
Total time: 30 minutes
This buffalo chicken flatbread takes around 30 minutes or less to make the magic work. The additive spicy buffalo sauce blends perfectly with milky mozzarella and salty blue cheese. A combination of flavors that you should not miss.
Opt for your flatbread of choices, such as naan or mini ones. Homemade and store-bought buffalo wing sauce are both acceptable. Likewise, you can use fresh mozzarella and hand-grate it, but the pre-shredded cheese will make things faster.
Remember that there is moisture in the ingredients. So to avoid soggy flatbread, bake it for a few minutes before filling the toppings. Pair the flatbread with salads or other side dishes for the best experience.
Total time: 25 minutes
The creativity is no limit with this taco flatbread pizza. The only difference is that you will use flatbread instead of a tortilla. It is still filling, fun, and full of your favorite Mexican flavors with fresh lettuce, cheddar cheese, seasoned meat, and taco sauce.
Homemade flatbreads are the best, but ready-made ones are fine too. Bake them at 400°F until crispy enough for any fillings (about 10 minutes). Add the taco seasoning or your seasoning mix to the ground beef. You can utilize the leftover taco meat for this dish.
While taco meat is seasoned perfectly, the variety of toppings offers diverse textures and flavors. Serve it as a main dish or an appetizer to breathe new air into your taco night.
Total time: 8 minutes
If you think the combo of strawberry and balsamic is strange, think again. Together, the two create a mouth-watering appetizer in this strawberry balsamic flatbread. Ripe and juicy strawberries married to sweet-and-tangy balsamic vinegar will create a flavor explosion.
Make sure your balsamic vinegar is of high quality and the strawberries are fresh, ripe, and juicy. Aside from that, flatbread is a vital ingredient too. Choose whole wheat flatbread for a healthy meal, but the regular ones are also fine.
To avoid last-minute stress, prepare the marinated strawberries in advance. And a tip to make your appetizer fancier is to use finely cut basil. This way, your basils are easier to chew and add a more dedicated touch of green to the already-colorful dish.
Total time: 20 minutes
Needless to say, the flavors of Elotes (grilled Mexican street corn) have inspired many recipes, including this flatbread pizza. This Mexican street corn flatbread is baked to crispy perfection with sweet corn, tangy sour cream sauce, and tons of cheese.
Most ingredients are kitchen items, such as flatbread, sour cream, or mayonnaise. For a more diverse flavor and texture, black beans, red onions, or Pico de Gallo will help.
This recipe is about "mix-and-bake," so even a newbie baker can make it successfully. You must prepare the sauce, layer the ingredients on the flatbread, and bake.
Every bite is sweet, savory, tangy, and spicy all at once. In addition, lime juice brings a delightful zestiness. At the same time, crumble cotija adds a hint of saltiness to this party of flavors.
Total time: 40 minutes
With flavorful ingredients and a crispy crust, this honey bear pizza is a comforting and filling dish to make your stomach full on the weeknights. The buttery white sauce is blended with thinly red onion slices, browned Italian sausage, and layers of mozzarella sprinkling.
Start with browning the sausage and breaking it into small crumbles. In the meantime, prepare the white sauce and red onions. After layering the ingredients on the dough, put the pie in the oven for 12 – 15 minutes. Wait for it to cool down before finishing with a drizzle of honey.
Every layer is finished with cheese so that the Italian sausage won't get much affected by the high heat. Repeat layers until you run out of sausage crumbles. Plus, cover the top with cheese for the best melting effect.
Total time: 2 hours and 20 minutes (including 2 hours of resting time)
There's a reason for the popularity of this classic type of Italian bread. What makes this treat stand out is its high content of nutrients from a few ingredients. The good news for health-conscious people is that this recipe is vegan and gluten-free.
La Cecina goes by other names, such as La Farinata and Torta di Ceci, the well-known street delight in Italy. A classic version combines chickpea flour, water, salt, and olive oil. Other variations can have rosemary or more veggies in the batter.
La Cecina's ingredients and preparation are simple, but the taste is authentic as if it came from an Italian pizzeria. The crispy exterior and soft interior are irresistible. Plus, the nuttiness of chickpea and the aromatic nature of rosemary mingle beautifully with each other.
If you haven't made La Cecina before, this is your calling.
Total time: 15 minutes
You must be familiar with 2-or-more-ingredient flatbreads, but what about this one-ingredient potato version? The potato dough is the only item you need without any added elements. The best part is that you can turn leftover cooked potatoes into a new delectable dish with this recipe.
Russet and Yukon Gold potatoes are the ultimate choice for the best results. Any seasonings you love will work here, such as Italian herbs, onion powder, salt, and pepper.
Cook the potatoes based on your preferred method and mash them to create the dough. Roll it into a flatbread size and bake for about 10 minutes. As I mentioned above, you can use leftover cooked potatoes too, but make sure that they don't contain too much cream or butter.
As a side note, this potato flatbread is an ideal pizza base too. Adjust the dough portion's thickness to about 4 – 5mm and when finishing baking, top it with your desired pizza toppings.
Total time: 2 hours and 24 minutes (including 2 hours of resting time)
Have you ever tried golden milk (turmeric milk) before? If not, why don't you have a first meeting with the beverage in this recipe? The vibrant yellow color cake will draw your attention at first glance, but its flavors will make your stay.
This sweet and savory cake is worth every calorie. The golden milk adds richness and moisture to the cake. At the same time, coconut oil and milk bring a sweet-smelling aroma, while spices such as cinnamon or nutmeg add more character to your flatbread.
Golden milk is already rich in beneficial ingredients, such as calcium and vitamin D. And the combination of black pepper and turmeric will bring about even more health benefits. This yummy and healthy vegan cake gets the best of both worlds.
Total time: 40 minutes
Bring a fall flavor to your table with this pumpkin flatbread. Flour, salt, pumpkin puree, and garlic are the basic things you need to whip it up in about 40 minutes. And this autumn delicacy tastes best when accompanied by curry and chilies recipes.
Make sure to use pressed garlic because the minced one doesn't produce the same results. Also, add more garlic if you're into a more pungent taste.
Moreover, the pumpkin bread won't taste the same after reheating, so it's best to enjoy it fresh off the oven. However, if you make a big batch, keep the flatbreads warm by covering them in aluminum foils. They can remain in the heat for about 20 – 30 minutes before serving.
Total time: 50 minutes
It would be remiss not to mention a classic from Turkey: Gozleme. Today's recipe will guide you to make it from scratch. Prepare more than one batch because I'm sure everyone at the table will fight for the last piece.
Gozleme is a classic Turkey pastry dish with thin layers of dough and tasty fillings. This recipe uses flour, spinach, eggs, and Greek feta cheese.
However, there are no fixed toppings for Gozleme. You can cook this delicacy with your leftover lamb, ground beef, seafood, or anything you want.
While the crispy crust brings you a crunch bite, the feta-and-spinach filling takes the flavor game to another level. The feta offers a nice tangy balance and complements the earthy and bitter flavor of spinach.
Here is how to make an eggless version of Turkish Gozleme, and it's easier than you think.
Total time: 1 hour and 19 minutes (including 30 minutes of resting time)
These fluffy garlic and coriander flatbreads may not look like other regular versions. However, I promise the cake will leave you with no disappointment. Crispy on the outside and chewy on the inside, the garlic flatbread could get you under its spell right away.
Active yeast isn't easy to deal with, but it's a must for a fluffy appearance. Fast-acting or instant yeast is another solution in this case. In addition to yeast, you also need flour, salt, butter, and yogurt.
This flatbread comes with a tangy yet buttery flavor. It is even more attractive with the mix of garlic and green coriander on top. However, be bold and play with the flavors with multiple toppings according to your preference. Tomato sauce or Italian seasoning will be delectable.
Total time: 15 minutes
Transform your dinner into an unforgettable meal by serving these rosemary sea salt flatbreads. The flatbreads are coated with olive oil and a good heap of rosemary and sea salt. They make a beautiful appetizer, in addition to being a scrumptious side dish.
The recipe offers a shortcut, using pizza dough to save you more time. So basically, all you're going to do is cut the dough into squares, fry them over medium-high heat, and finish up by sprinkling chopped rosemary and sea salt.
Flatbreads are not ideal for serving cold, so you'd better enjoy them hot and fresh. Still, it's possible to save them for lunch for the following day. Warm the flatbread in the oven at 350°F for 10 minutes when you want to use it.
Total time: 45 minutes (including 15 minutes of resting time)
You have seen flatbreads as a substitute for other bread, sandwiches, or pizzas. However, these flatbread crackers may change your perspective about them. With Italian seasoning and olive oil, the crispy crackers are the perfect images of good snacks.
Although Italian seasoning is fine here, try any herbs or spices you like. Similarly, whole wheat flour is an excellent alternative for whole grain and all-purpose.
Homemade flatbread-style crackers are a healthier choice than the store-bought versions, not to mention their excellent taste. Even better, you just need 15 minutes to prepare the dough, and the oven will take care of the rest.
These crackers are a perfect pair for cheese, fruits, or veggies. Or, sneak a few deli meat slices between them to make a lunchbox meal for your kids.
Total time: 30 minutes
Seafood pizza is delicious, but this shrimp scampi flatbread is more than that. The beauty of this bread lies in the delicacy of its ingredients and its portable size. These flatbreads taste heavenly with buttery garlic, cheesy mozzarella, and a flavorful shrimp mixture.
When done, the flatbreads will have a beautiful golden brown crust. The color combination of pale pink shrimps, red pepper flakes, green parsley, and yellow lemon zest are even more plus points for the overall look.
Moreover, all the ingredients are in great harmony and will create a firework of flavors in your mouth. My favorite part is the cheese. The bubbly mozzarella really shines when paired with the scampi sauce.
Total time: 1 hour
These easy, fluffy, and meat-filled flatbread from El Salvador are what you need for a fun and simple appetizer. This flatbread is a unique combination of Masa Harina (corn flour) with water and salt.
Pupusas are beloved stuffed breads with various delicious fillings. In this recipe, they are filled with seasoned pork, melted cheese, onions, and tomato sauce. However, the filling options are endless. Get creative and use chicken, refried beans, or other cheese types.
Due to the variety of ingredients, their flavors tend to be rich and cheesy. For extra deliciousness, cook your pork shoulder at medium-high temperature to keep it juicy inside and get a good char outside.
This is the easiest way to make pupusas; give it a try.
Total time: About 30 minutes
This goat cheese, Prosciutto, and fig flatbread are one of the easiest and tastiest goat cheese recipes you must try. All the ingredients create layers of flavor that are hard to forget.
With just a few ingredients, this recipe can hold a party of flavors. This flatbread got its tartness from goat cheese, sweetness from dried figs, and an intense flavor from arugula. Prosciutto is a salty addition for meat-eaters, while balsamic glaze adds a fancy touch to the overall flavor.
Aside from the taste, I also give a solid 10/10 for this dish's appearance. The combination of pink Prosciutto, green arugula, creamy white goat cheese, and golden brown flatbread fit together like puzzle pieces.
These Easy Flatbread Recipes Won't Let You Down!
One thing that I can guarantee about the recipes above is that their flavors only bring you joy and deliciousness. They are sure to expand your eating experience to a new level. In addition, flatbreads go great with many fillings, so this is your chance to experiment with new flavors.
Be sure to check out these recipes and tell me what you think after making them. And remember that your sharings help this website to grow and thrive. Stay tuned because I provide new content every day!
Nutrition Facts
10 servings per container
---
Amount Per ServingCalories173
% Daily Value *
Total Fat 4.6g

8

%
Sodium 234mg

10

%
Potassium 40mg

2

%
Total Carbohydrate 28.6g

10

%

Dietary Fiber 1g

4

%
Sugars 0.1g

Protein 3.9g

8

%
---
* The % Daily Value tells you how much a nutrient in a serving of food contributes to a daily diet. 2,000 calories a day is used for general nutrition advice.