Finding authentic Filipino recipes has never been easier if you read this article. The food culture of the Philippines is not too difficult to reach, and it is much closer than you think.
Filipino dishes have a unique distinctiveness with influences from many major culinary cultures and the diversity of ingredients and spices, thanks to the rich and diverse natural features.
Now let's take a look at these 35+ authentic Filipino dishes and recipes to make them at home to confirm what I say is true or not.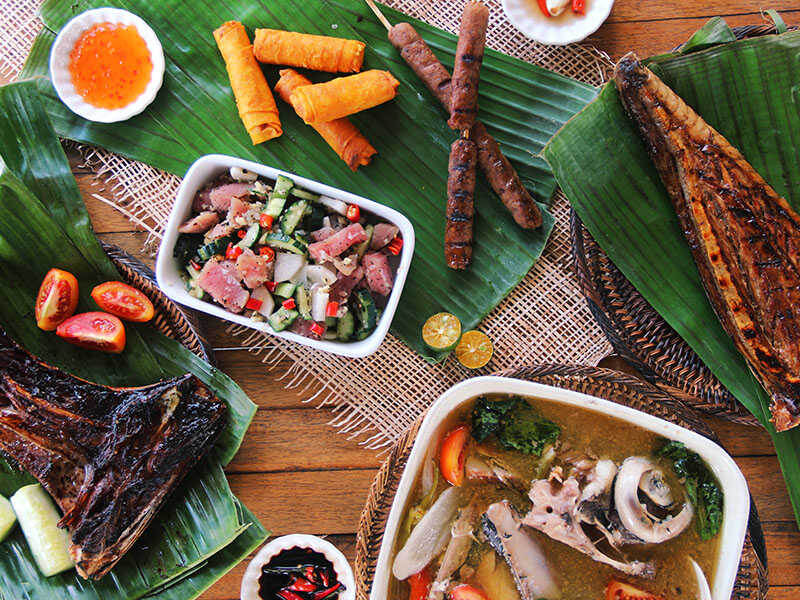 Real Filipino Delicacies You Should Try Once At Home
You might be surprised to discover that two familiar tastes in Filipino food are sweetness from sugar and sourness from vinegar. As a result, these condiments are frequently included in the ingredient lists of the recipes listed below. Let's see what these are.
Flan cake seems to be the easiest dessert to make globally, and it also has numerous variants for each cuisine.
This Filipino flan (or you can call it "milk custard") differs from the other variants with the extra creamy smooth texture since the ingredient included egg yolks and condensed milk. Extra milky, extra easy, even a rookie can nail this Leche flan in a single trial.
This Leche flan cheesecake might not be as sweet as the original Leche flan, but it's creamier since it has cream cheese. It also has an attractive denser, and more cake-like texture that will make you crave another piece.
Have you ever been a kid who asked your mom to make a cake every weekend? I used to be a kid like that. My favorite food has always been the soft, fluffy cakes I can sit and nibble on all afternoon.
This chiffon cake reminds me of when I implored my mother to make me some cakes since the taste of mom-made is distinctive. Now that you and I are adults, these treats have become so regular and accessible.
But I still want to savor the mom-made flavor. Should I try this taisan recipe now?
If you once had the opportunity to walk the busy streets of Manila, you will have no surprise to this hopia because it is sold in most sweet shops. Made from simple ingredients with free ranges of sweet filling at will, you surely eat two of it at a time.
And if you didn't have a chance to try the cake in its hometown, follow the recipe I gave you today at home. It is definitely worth every effort and time.
I can't overlook the exquisite coconut dishes since the Philippines is the world's second-largest coconut-producing country. Of course, coconut is an excellent choice as an ingredient in desserts that will appeal to anyone with a sweet tooth.
When I first saw this coconut macaroon, I mistook it for a mini-size cupcake intended to be eaten in one bite, as I did. This cake is steeped in the richness of coconut, sweet, and has a chewy texture; nevertheless, it melts in your tongue.
It's also straightforward to create, so give it a try sometime!
This is how to make a fantastic Filipino coconut macaroon at home! Watch this video to know more:
A few good words cannot describe my love for this dish. Let's say I love the rustic sweet flavors, so this cake is no exception. Traditional cakes like these are often mistaken for being challenging to make but are very easy indeed.
You can use the tools you have in the kitchen to make this bibingka. As soon as you take a first bite of the sweet, fragrant rice cake, you will know you didn't waste time making it.
This is another Filipino rice cake, but it is different from bibingka. A puto has a smaller, cupcake-like look, relatively denser texture, and is usually mixed with cheese.
Also, because the main preparation method for puto is steaming; it will provide a purely sweet taste with no hint of burnt caramel like the baked one.
If you are finding another bread recipe for breakfast, consider this Filipino brioche. The swirl shape embraces the soft moisture texture. This brioche is delicious because they keep it simple; why not give it a chance to prove its goodness.
France has their baguette, Filipinos have their pan de sal. This Pinoy small-size bread roll has the lovely spongy, moist and mild sweetness that makes it suitable to eat alone or with some additional toppings at will.
The 4-minute guidance you need to create your own pan de sal for breakfast!
Nothing beats a delectable dessert accompanied by a cup of tea. Filipinos have a unique way of making their basic ginger tea stand out from the crowd, so give this delectable drink from Filipino cuisine a try with the sweet I have suggested.
Before taking another bite of sweets, the pungent aroma of ginger may wonderfully freshen your taste.
Iskrambol is a perfect cold treat for summer, and no one can deny that. Sweet, milky, rich, and flavorful; how can I resist this appealing cup of goodness? With only a few preparation steps, you can have a yummy ice scramble treat ready to devour.
Grab the recipe and try it now!
Filipinos love eating their savory dishes with white rice, just like other Asian cuisines. This chicken adobo recipe brings a great savory and spicy flavor that is ideal with a bowl of rice. Although it is tasty, don't use it as an excuse to have the next bowl.
To be clear, this chicken chop suey dish resembles stir-fried chicken with vegetables and oyster sauce. I suggest using chicken breasts for this recipe to have a healthier side dish option in your daily meals.
Just looking at the dark amber color of chicken thighs makes my mouth water already. This Inihaw na Manok (Filipino-style grilled chicken) can contribute an irreplaceable position in any of your backyard parties in the future.
Although you can replace the thighs with the other part of the chicken, they provide a juicy interior since they are mostly dark meat. At the same time, they can absorb the spice mixes very well that can give you the best effect.
The best instruction to make your Filipino-style grilled chicken successful in the first trial!
The combination of pineapple, a prominent Filipino fruit, and chicken in a braise brings an outstanding flavor.
The mild, fruity sweetness from the pineapple provides a pleasant subtle base for the broth. At the same time, the chicken also benefits from the fruit's acidic flavor profile and becomes softer and juicier after cooking.
Another tomato-based soup has been added to the menu, and the main protein is now chicken. This dish has some variations depending on the primary protein used, but chicken is the most popular.
It might be because the chicken takes less time to cook until tender and thoroughly absorbs the flavors. For a well-balanced dinner, serve this over a bowl of fluffy steamed white rice.
If Thailand has a typical Tom Yum dish, the Filipinos have sinigang na hipon (shrimp in sour soup). This shrimp soup delivers an unmistakable uniqueness in taste by focusing on the sour and natural sweet flavors of the shrimp.
It also requires no particular skill to make so you can try it at home anytime.
Arroz Caldo (Filipino chicken porridge) is a type of comfort food in the Philippines. Although you can see the recipe includes many ingredients, the star should be the soft, steaming hot porridge. I suggest you use glutinous rice or jasmine rice to have a better effect.
Imagine having a spoonful of this Arroz Caldo dish on a cool morning; the heat may warm your whole body up.
You can make yourself a hot porridge in a blink following this instruction!
Rice has always been a famous ingredient for Asian cuisines. Besides all the kimchi fried rice or egg fried rice, this sinangag or Filipino garlic fried rice has its own peak. With only around 25 minutes to make and the ingredients are right in your fridge, why not try it now.
Tortang talong, or eggplant omelet, is a prevalent, quick, healthy breakfast and a great Filipino-style side dish for lunch. You still can add some additional proteins, but I prefer the basic recipe with only eggplants and eggs. It might be so simple to you, but it's definitely delicious.
Balut is a unique ingredient in Asian cuisines, as it is in Filipino cuisine. Although balut may be cooked and eaten simply, the Filipino technique of processing it greatly enhances the flavor of the egg.
Pepper, vinegar, and bay leaf eliminate the pungent smell, leaving just the mild savory and chicken broth-like flavor. Trust me, and give it a go.
Beef mechado is a Filipino dish but is influenced by Spanish cuisine. After a long time of innovating, the Filipino create their uniqueness from the old base; this beef mechado is proof of that.
The fatty cut beef will be simmered for a long time with various types of vegetables in a tomato soup base and will be well-seasoned with Asian-specialty spices. Serving this beef mechado hot beside the perfectly cooked white rice is enough for a hearty dinner.
Tenderloin is one of the softest and most delicate cuts of beef, and it is a chef's dream. As long as you don't overcook it, you can deal with it using any processing method, and it will miraculously taste amazing.
To make this beef salpicao or garlicky beef tenderloin, stir-fry the meat in a hot skillet with butter and season with other spices to taste, nothing more. Simple and delicious!
The next stewed beef is a soy sauce-based and Chinese-influenced recipe. If you wander on any Philippines street, you can come across a pushing cart selling this warm treat. This delicious dish is usually served with noodles or rice.
Those can balance the taste of the dish well and become the ideal base.
The perfect guidance to bring a street delicacy to your home dinner table!
The fried onion for a subtle vegetable sweetness and the soy sauce-marinated meat distinguish this bistek Tagalog from the usual beef steak. It is straightforward to make and only takes an hour; you can use this bistek recipe to change your usual one.
Not chicken or beef, pork is the ingredient that dominates Filipino cuisine. Therefore, you and I cannot miss pork dishes on this list, and this grilled pork liempo recipe is the first one. The longest step to make this dish is marinating, which needs at least 30 minutes.
After perfectly marinating, I suggest using charcoal grill to have the best effect, but you can use other ways to grill it if you don't have the utensil on hand. It doesn't seem very easy, but the outcome is worth your effort.
This Filipino pork noodle soup's name has the words "La Paz" since it originated from a seller in the La Paz market from the 19th century. From a portion of humble street food, it now becomes a famous palatable dish representing Filipino cuisine.
You can also effortlessly prepare a La Paz batchoy bowl at home within 45 minutes of preparing. Although you can use any part of pork, offal and fatty cuts are preferred.
Almondigas or meatballs and noodle soup have another cute name, "bola-bola." And it is different from its cousin from Mexico, albondigas (a Mexican meatball soup which are not served with noodles and provide a much heartier taste).
This meatball noodle soup of the Philippines usually brings light, natural veggie sweetness and is perfect for eating when the weather is cold. Is it getting colder at your place now? If it is, what about making a bowl of almondigas for a warm soul.
Miki noodles or fresh egg noodles are an essential ingredient for this dish because the mild starchy flavor can balance the intense savory taste of various proteins. And, this pancit chami recipe is a real feast if you look at its ingredient list.
Therefore, I suggest serving this delicacy for dinner parties or lunches since it contains high calories.
Siopaos are definitely perfect choices for breakfast full of nutrients, starch, fiber, and protein. I like to eat these siopaos for breakfast because I'm a rather lazy cook. With this dumpling recipe, I can prepare a big batch and freeze them.
When I want them for my breakfast a few days later, I can just take one out and steam it. Steamy hot and absolutely delicious!
There must be a reason that when people think of Filipino cuisine, they immediately think of large servings filled with fresh ingredients.
Almost all Filipino dishes include a lot of elements, especially savory dishes. So is this dish, this one plate of rice noodles with pork and shrimp is enough for a small family to eat in one preparation.
It is also highly nutritious thanks to the various ingredients and convenience as you will only need to prepare fewer dishes for a relatively healthy meal.
Unlike the Western meatloaf, this Filipino version is smaller and contains some fillings. The dish's main ingredient is ground pork, which can be mixed with other types of meat due to family preferences.
Embutido is usually served on special occasions, so maybe you should try making this as a small gift for your loved ones.
Wondering how to make an embutido like a Filipino? This recipe will help!
This lumpiang shanghai, just as you see in the name, is a Chinese-inspired dish and also called Filipino pork egg rolls. The crunchy bite is the highlight of the dish.
I love the feeling when my teeth bite into the crunchy egg rolls, and the juicy, nicely cooked filling gradually infuses its flavor into my mouth. You definitely need to try this treat once in your life.
To describe the dish's taste, I will say it has the perfect balance between sweetness and sourness. The highlight point of this dish might be the crispy exterior of your pan-fried pork.
At the same time, the fatty lard inside the pork, when you have a bite, will blend with the sweet and sour to balance the taste better and make sisig become a great dish.
Filipinos, in particular or East Asian cuisines in general, try to make full use of the edible parts from cattle, meat, intestines, and even blood. It's a way to show respect, and they will also turn those edible portions into delicious dishes.
This dinuguan is a recipe made with pork blood, which may seem strange to some. Don't worry much about the unpleasant scent in the intestines; a bunch of hot spices helps you eliminate it all and enhance the fatty richness from the main proteins.
Believe me; intestines are try-worthy. (Just don't eat them every day.)
Don't miss this video if you want to know how to make your dinuguan properly!
Milkfish or Bangus is considered the national fish of the Philippines. This fish is known for its delicious firm texture and mild seafood sweetness; the Bangus is perfect for soups, best for fried dishes and grills.
Therefore, let's keep the simple thing simple; I suggest a crispy milkfish recipe that can never go wrong even if you are a rookie.
I would love to offer you a full-veggie option for this list. Ginataang gulay or Filipino vegetables in coconut cream brings the opposite effect to all the savory dishes above.
Although your veggies will be submerged in creamy and rich coconut cream, they will not be greasy at all. Conversely, this combination gives you the strangest freshen taste ever.
One notable thing about Filipino eating habits is that they usually prefer warm food, then if you have already prepared some food, eat them when steaming hot.
Don't Let Your Food Wait!
Filipino cuisine is extensively influenced by Western cuisine, distinguishing this culture from other Asian cuisines.
My teacher at university was Filipino; she was likable and always wanted to share the snacks she made at home with her students. It was also the first time I had a chance to try Filipino cuisine. That time also grew my big interest in the beautiful Filipino culture.
The simplest method to learn about a culture is through its cuisine. With the authentic Filipino foods I shared with you today, I hope you will try them at home and share your opinions in the comments section. Practice is the most effective method of learning!
Nutrition Facts
6 servings per container
---
Amount Per ServingCalories341
% Daily Value *
Total Fat 13.3g

21

%
Cholesterol 133mg

45

%
Sodium 1323mg

56

%
Potassium 436mg

13

%
Total Carbohydrate 8.7g

3

%

Dietary Fiber 1.1g

5

%
Sugars 4.4g

Protein 43.5g

87

%
---
* The % Daily Value tells you how much a nutrient in a serving of food contributes to a daily diet. 2,000 calories a day is used for general nutrition advice.