Filipino foods are one of many things that you need to explore when mentioning the Philippines. They are god-sent masterpieces with unique flavors, distinctive aromas, and beautiful colors.
Food in the Philippines is inherited from generation to generation, so it is especially rich in culture and heritage. It's not flattering to say Filipino cuisine is one of the most extraordinary delicacies in the world.
I will give you a tour of Filipino staples, and you will be surprised by every creative and delicious dish. So now I invite you to the show of these appealing Filipino foods. Let's get ready to be astonished!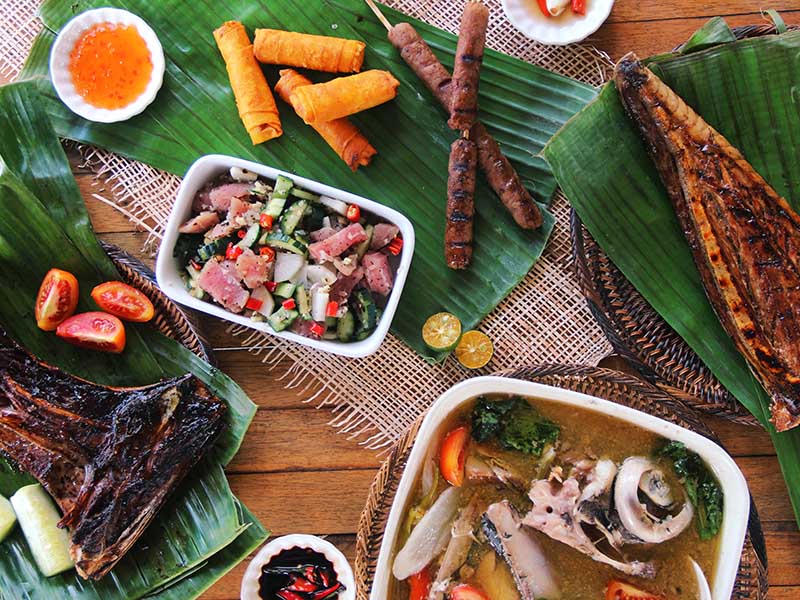 14 Delicious Filipino Meat Dishes That'll Encourage Your Appetite
The list will start with amazing meat dishes coming from the Philippines. It includes not only Adobo, the most famous delicacy, but also many different dishes made of meat you haven't known.
I highly recommend you serve them with some outstanding Filipino beverages to finish your meal to the finest.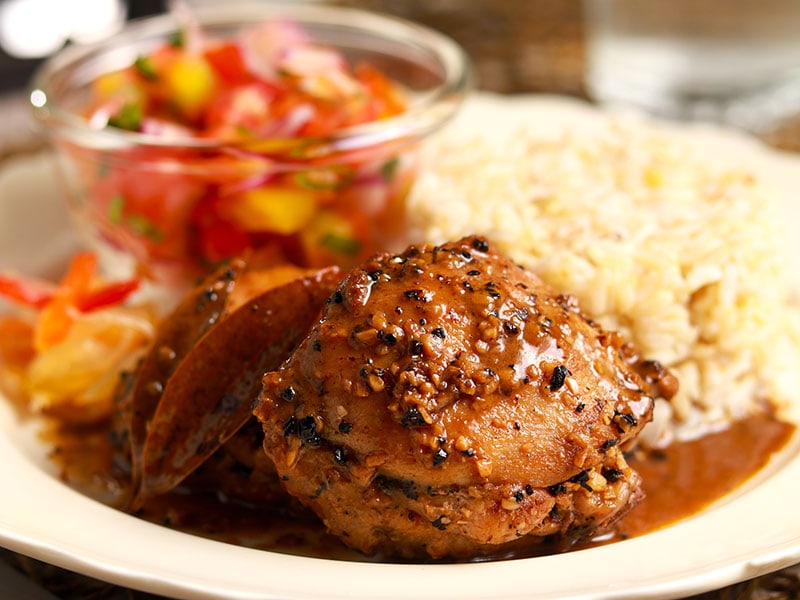 Adobo is one of four main traditional cooking methods in the Philippines. In Spanish, Adobo means marinade (sauce or seasoning). Besides, this one is informally regarded as the national dish in Filipino.
Filipinos will apply Adobo with some main ingredients, including meat (usually chicken), vegetables, or seafood. They ensure the meat is soaked and coated well inside out with salt and vinegar, then simmer them until they have a beautiful golden brown color.
In the past, people often used salt and vinegar (made from palm sap or sugarcane) to keep the meat in good condition in the tropical climate. You can find similar cooking techniques in many Spanish-speaking countries, but the Filipino version always stands out from the crowd.
You will gain tremendous knowledge with this information about Filipino Adobo.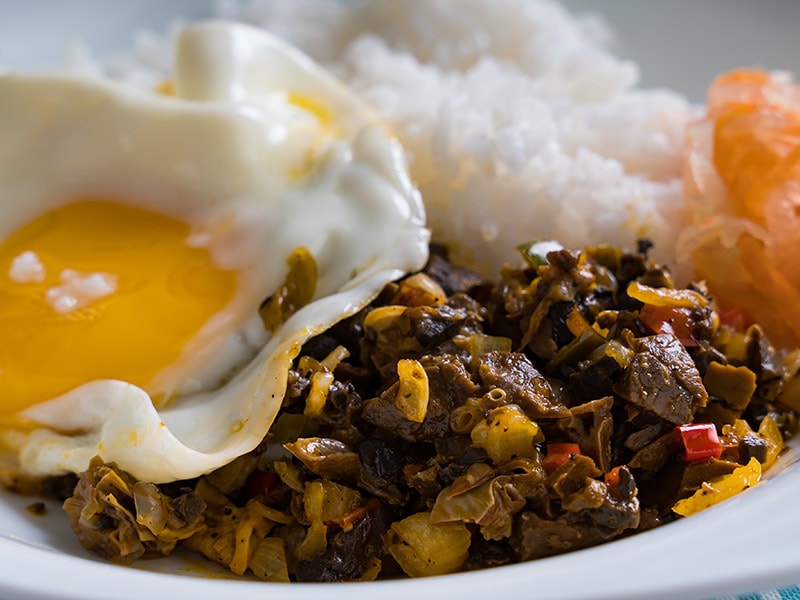 Bopis is a savory dish from the Philippines that uses finely chopped pork or lungs and heart from beef. Filipinos will choose a stir-frying or sauteing method to cook the minced meat with other ingredients such as onions, tomatoes, and chilies.
Actually, there is little information about the origin of Bopis, yet it's believed to come from the name Bópiz in Spanish. Unfortunately, information about why Bopis has that name, or the place it originated, cannot be found.
Besides, its flavor will vary depending on each family or place in the Philippines. Bopis also is considered a popular Pulutan ( a snack served with beer).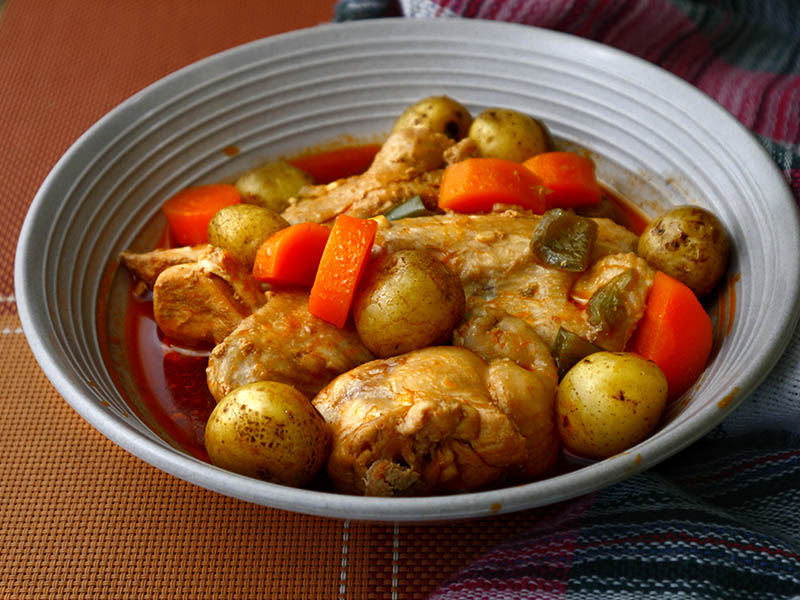 Afritada comes from the Spanish word, Fritada, which means "fried". This term also implies how Filipinos fry the meat to achieve tenderness before cooking it with tomato sauce.
Afritada also has other titles, such as Afritada and Apretada. People usually enjoy Afritada consisting of meat (chicken, pork, or beef) in tomato sauce with white rice. Besides, you can find the plate in every Filipino household, whether it's the morning, lunch, or evening.
Besides, people usually mistake Afritada for Menudo and Kaldereta, other famous stews in the country. But actually, Afritada's sauce is less thick compared to those dishes.
You can follow this instruction to make yourself a tasty plate of Afritada.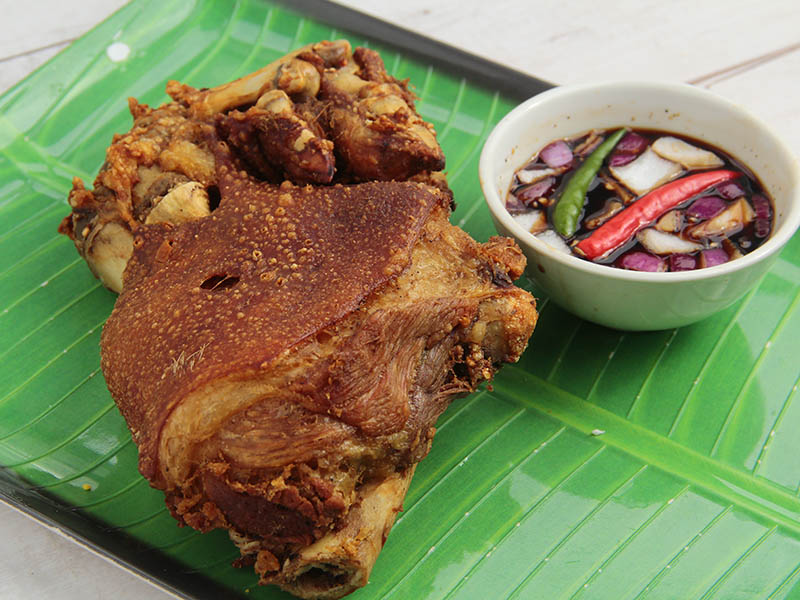 Filipinos seem crazy about pork, with many dishes using pork as the main ingredient, and Crispy Pata is no exception.
The history of Crispy Pata begins with a woman named Mama Chit. She was the owner of a restaurant named Barrio Fiesta in Manila, the capital of the Philippines.
Then, a couple of years later, her son, Rodolfo Ongpauco, purchased fresh pork legs and brought them to the deep-fried process. As a result, Rod created something new known as the current Crispy Pata.
Filipinos usually fry the whole pig's knuckles or trotters in hot oil until it reaches the ideal crunchiness. Besides, some restaurants throughout the Philippines also serve Pata without bone.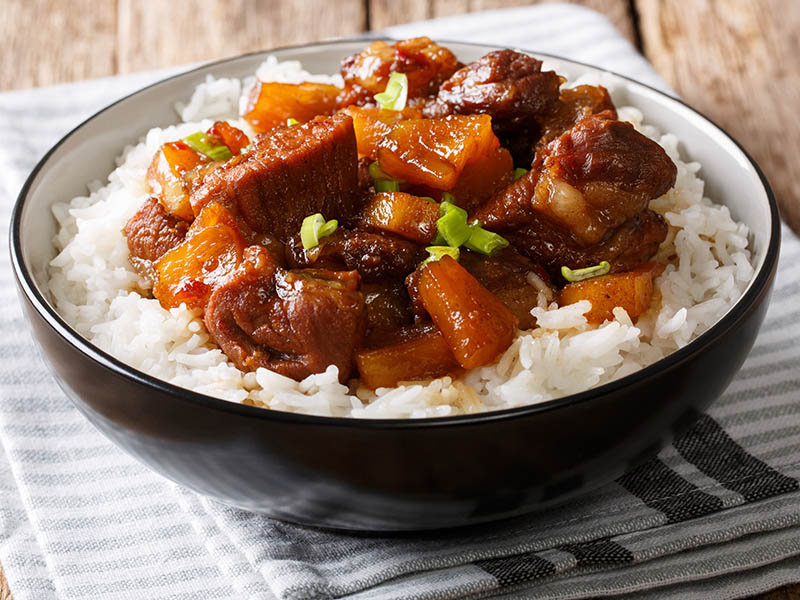 You may know the dish by a bunch of names, including Hamonado, Hamonada, Jamónado, Endulsado, and Endulzado. On Christmas day, Hamonado is just an indispensable dish on the Filipino table.
Hamonado is the way the word "Jamónado" in Spanish sounds, literally meaning "prepared like ham". This staple is very special, owing to the appearance of pineapple. Filipinos first will soak the meat overnight in the mixture of pineapple juice and potent spice blend.
Then they bring it to the pan-fry step and finally simmer the meat in the bone broth along with more pineapples. Overall, people in the Philippines also use the nameHamonado for every full-flavored dish using pineapple in the cooking process.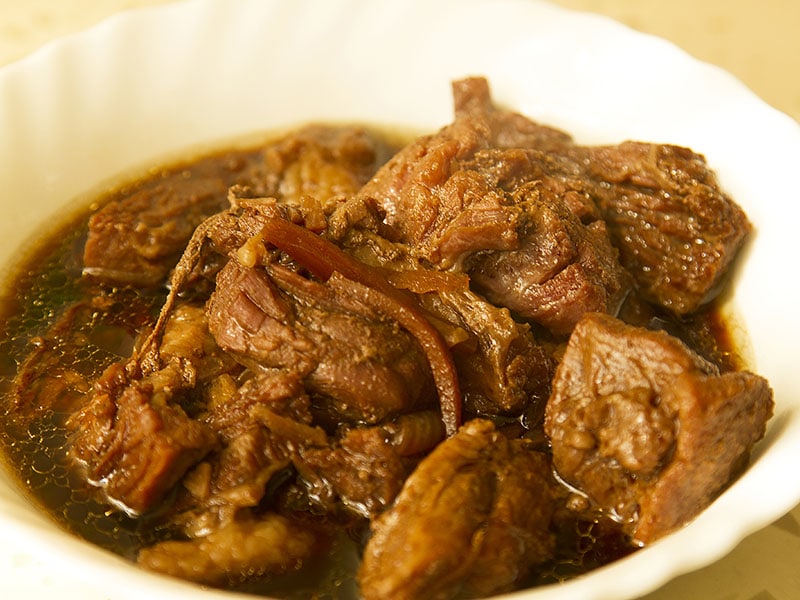 Humba got inspiration from the traditional Chinese dish, Hong Shao Rou (red braised pork belly). In the past, the Hokkien people who immigrated to Visayas island brought this specialty to the country.
This tender Humba is especially famous in Ronda town of Cebu province. They even have the Humba religious festival to maintain this iconic dish of the place.
Humbà (or Hombà) contains Liempo (pork belly) marinated in vinegar, soy sauce, black peppercorns, Tausi (fermented black beans), and, importantly, Muscovado (sugar). Then, the cook will sauté the meat and move on to the simmering method by pouring water.
Some people might confuse Humba with Adobo. But the former is sweeter due to its sugar content. Besides, locals usually serve Humba with banana blossoms and mushrooms, while Adobo just requires eggs.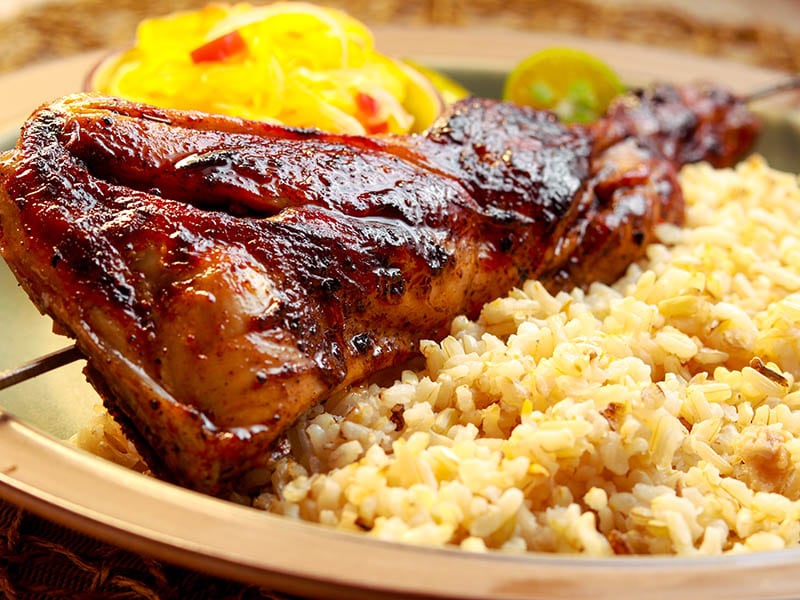 Chicken Inasal stemmed from Bacolod city in the western Visayas in the Philippines. It's just one of the iconic delicacies in the region. So if you travel to the Philippines one day and visit a Bacolod household, you will certainly run into it.
Inasal comes from a Spanish word meaning "to grill". As almost all Filipino dishes get marinated before cooking, Chicken Inasal is the same.
Local people always make sure that they're soaked well in the mixture of coconut vinegar, calamansi, and Annatto (orange-red spice and food coloring).
If you crave some Chicken Inasal, you should go to the Visayas islands or, more specifically, Iloilo City, where there are plenty of famous eateries ready to indulge you.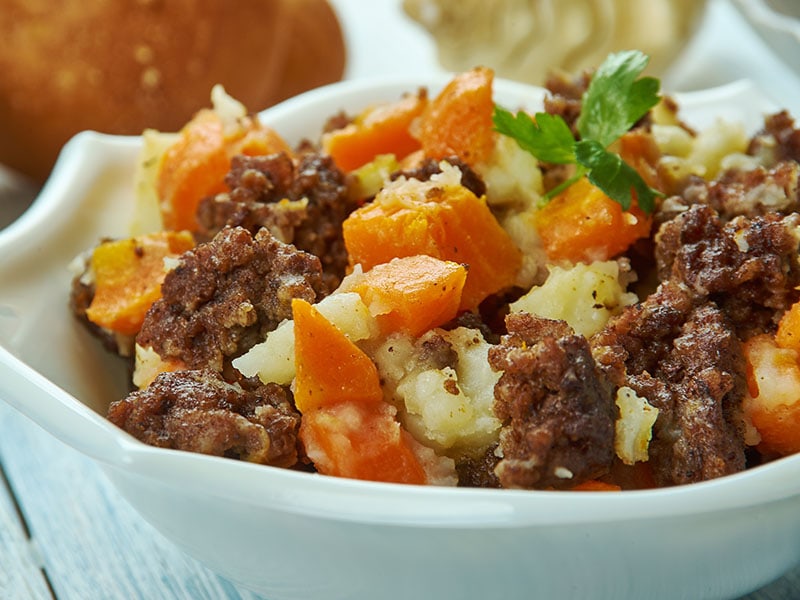 Picadillo, a finely minced beef, is native to the Philippines and many Latin American regions. The Filipino Picadillo version will be in the form of a soup that includes chopped ground beef and potatoes or chayote.
Besides, Picadillo has a less-wet variation under the name Giniling. Filipinos normally add tomato sauce, raisins, and chopped potatoes to their Picadillo. They often serve the dish with a handful of rice, Arroz A La Cubana (also known as Cuban-style rice).
How about learning some new things about the art of making Picadillo?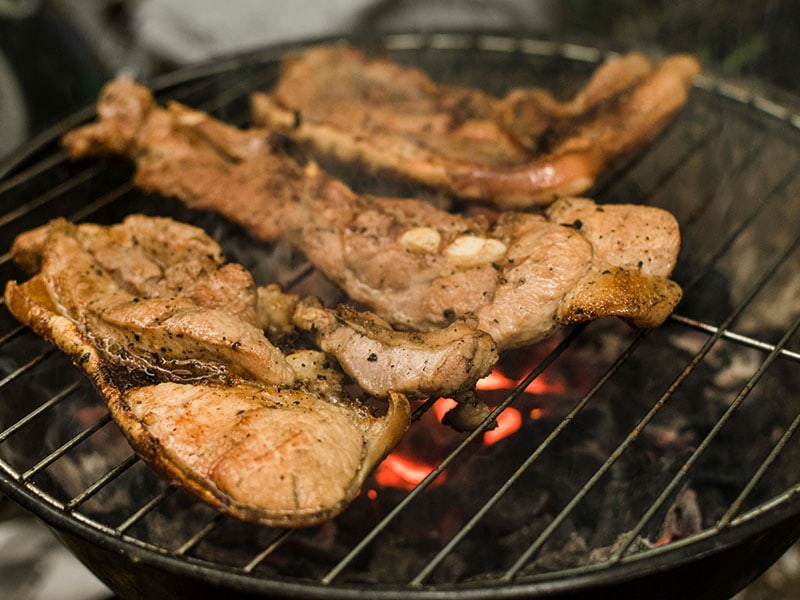 The dish that I will introduce next has several titles, from Pinoy BBQ, Filipino barbecue, Sinugba to Inasal, Ihaw-Ihaw, or Sugba-Sugba.
You might stumble across many kinds of Inihaw all over the street in the Philippines. The smell of the meat from the grilling or roasting process gives out every corner of the road, drawing the attention of locals and tourists alike.
In the Tagalog language, Inihaw indicates "grilled" or "roasted", representing how to prepare the dish. Filipinos usually apply Inihaw to beef, chicken, pork, seafood, or even offal (organ meats).
Traditionally, there are two popular ways of Inihaw. For the first method, people put the marinated meat straight on the grill. Alternatively, they use bamboo sticks to skewer the marinated meat (or the whole animal) before roasting it.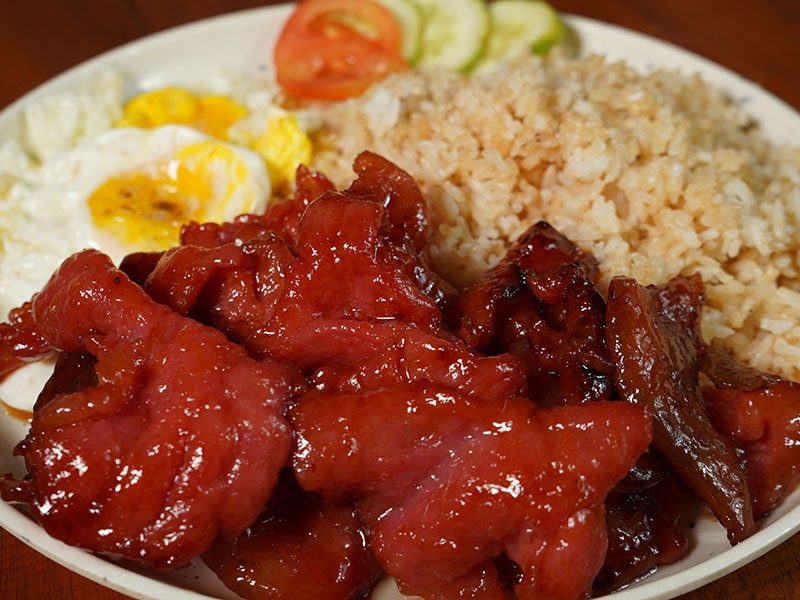 This is the Filipino version of the Spanish bacon Tocino. Filipino locals call the dish cured or sweetened pork belly.
People cut the pork into slices and then marinate them with water, salt, anise wine, and Annatto (natural food coloring from fruit). Then, they put them into an airtight box and leave the meat in the fridge for curing for three days.
They often serve Tocino in their breakfast or lunch meals with other elements, including fried eggs, Atchara (pickled papaya), and Siangág (garlic fried rice).
The Kapamgangans, an ethnic group in Pampanga, have their own Tocino version by cooking the meat for around four to six hours before leaving it to ferment at room temperature.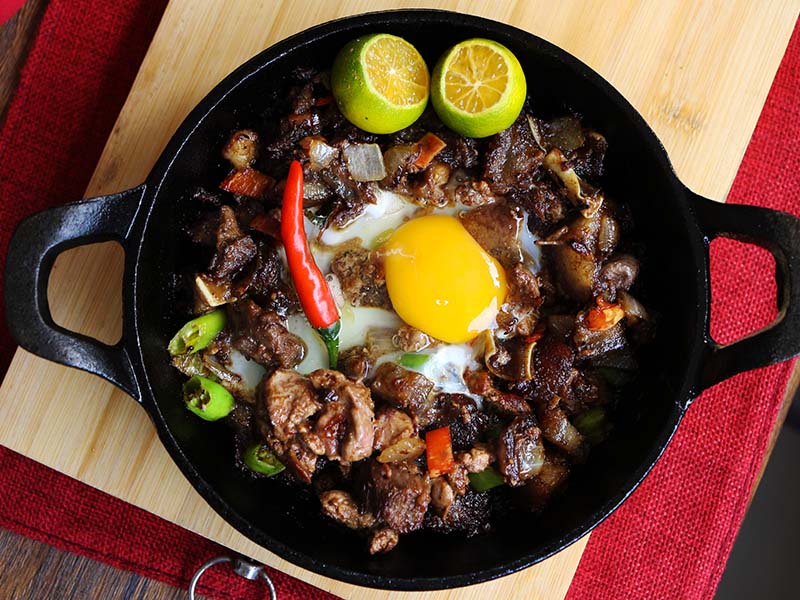 Sisig is a traditional food that can be served as a delicious main course or an appetizer and salad. Sisig hailed from Pampanga, a city credited as the capital of Filipino cuisine.
The origin of the term Sisig likely came from Mannisig or Mannisig Manga, which described the eating habit as dipping green mangoes in vinegar. Also, the name describes the cooking technique for meat and fish.
Interestingly, Sisig in the previous centuries referred to the sour snack that included no pork. People believe that the ingredient only started to be part of Sisig during the American presence after World War II.
Sisig contains some parts of the pig, like the belly, brain, and liver. Filipinos mix chopped meat with Calamansi, chili peppers, and onions and then grill it to the sizzling finest.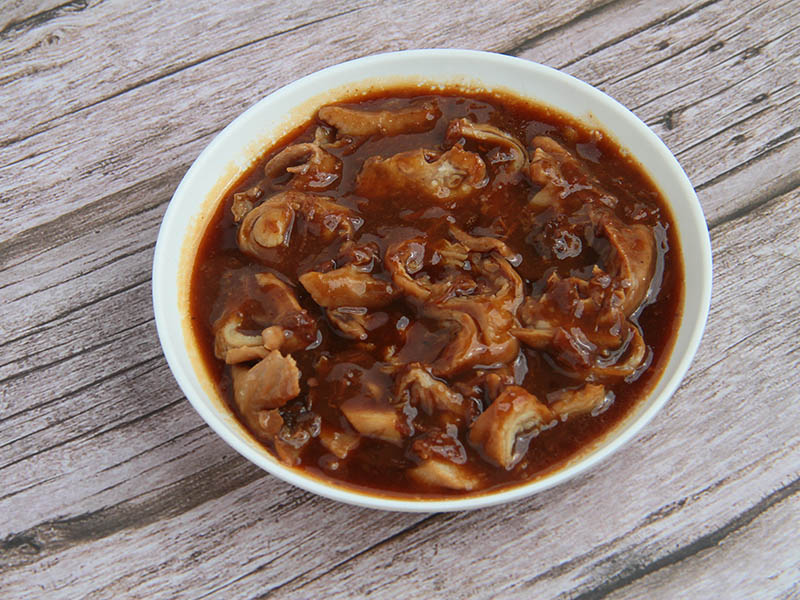 Beef Pares, or shortly Pares, is the common dish that Filipinos sell in carinderia, a kind of food stall popular throughout the Philippines.
When translated into English, Pares literally indicates "pairs". Usually, one serving of Pares will include Sinangag (garlic fried rice), beef Asado (stewing beef in a sweet soy sauce), and a clear soup often made from meat broth.
One Pares can provide you with tender and soft meat with a sweet seasoned sauce and hearty meat broth.
Pares stemmed from Jonas carinderia in the 1970s, which was run by the Tiu family. Until today, that restaurant is still in operation but with a different name, Calle Retiro.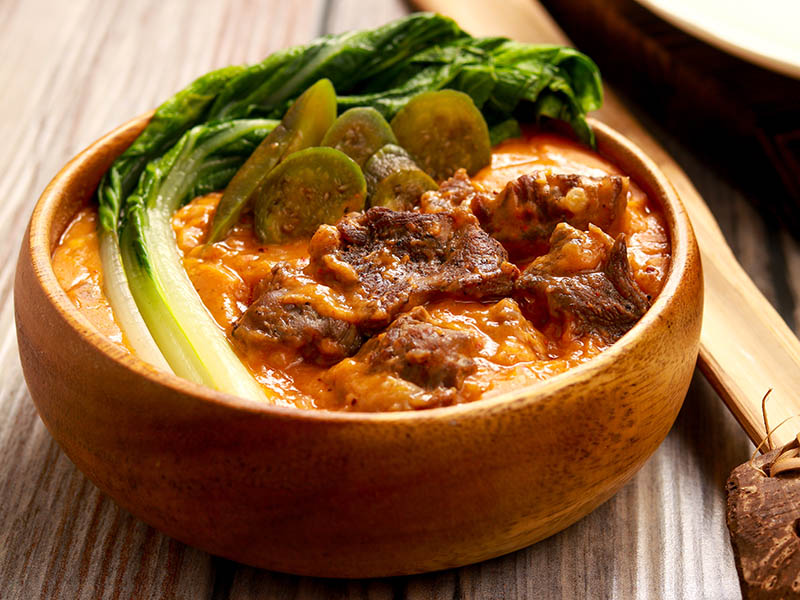 Filipino cuisine can't be exceptional without Kare-Kare. This food has existed in the Philippines for centuries. Regarding how Kare-Kare came about, there are some theories.
First, people believed Kare-Kare originated in Pampanga because people there were hearty eaters, so they always generated nourishing delicacies.
The second theory is that Kare-Kare had its roots in Acapulco trading ships. They largely traded the peanut, an indispensable ingredient of Kare-Kare.
People also believed that Kare-Kare came from the Moro people in Manila or the Indian soldiers during the British colonial era. But no matter the Kare-Kare's origin, it's still recognized as one of the most famous dishes in the Philippines and captured tourists' intention.
The thick sauce contains peanut sauce and vegetables. In different parts of the country, people use different parts of the animals, but usually oxtail and pork.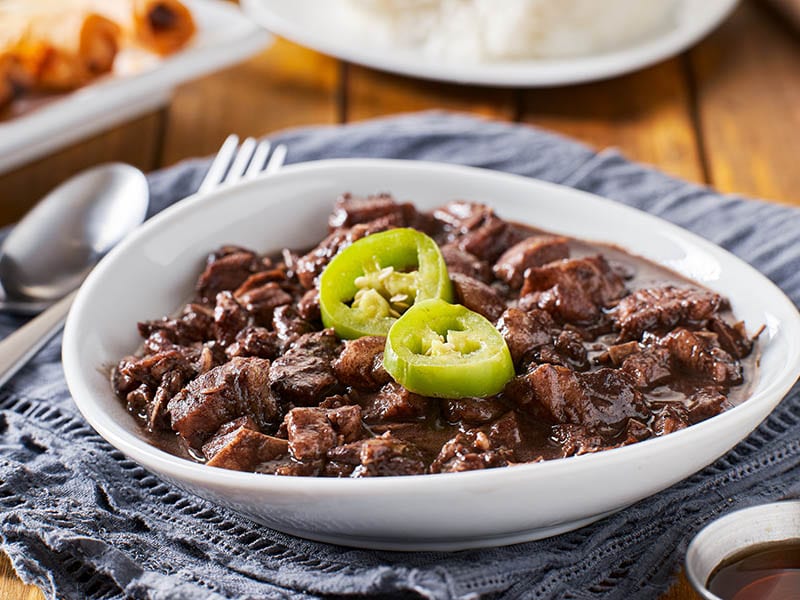 Dinuguan leaves a very strong impression on me with its dark brown or blackish-brown color. The special element that makes up Dinugun's reputation is pig's blood. It's not only prevalent in Filipino cuisines but also in other Asian countries' fares.
The names of Dinuguan will vary depending on each area in the Philippines, from Sinugaok (Batangas) and Zinagan (Ibanag), to Dugo-Dugo (Cebuano), etc. However, those names all mean something like "stewing the pork in blood" in English.
Dinuguan will require organ meats, pig's blood, and other condiments and ingredients to become a delicious hot bowl. Dinuguan also has another version in which locals substitute the organ meat with pork, chicken, or beef.
If you are a big fan of seafood like me, you can't ignore these charming Filipino foods. Filipino locals know how to enhance the flavor of the seafood with many cooking techniques, so I'm sure you won't get bored easily!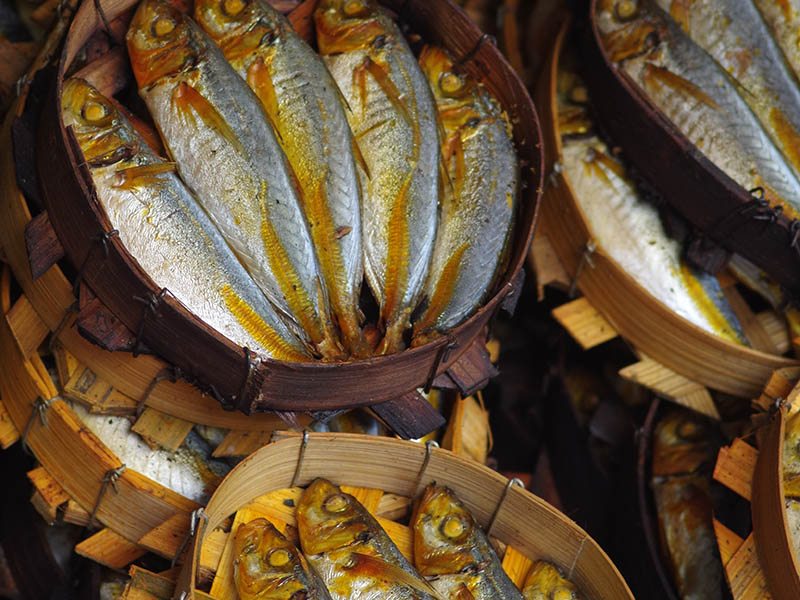 Bataan province is a famous place in the Philippines that provides many fresh types of fish such as blackfin scad or Bangus (milkfish). To preserve the bountiful source of fish and further the flavor, locals utilize the smoking method.
Tinapa has the meaning "prepared by smoking". The name originated in Tagalog from the word "Tapa". According to Filipino words, Tapa also refers to the meat or the fish going through the smoking process to keep the fish in good condition.
In the Philippines also exists a canned Tinapa version with tomato sauce. Whether traditional Tinapa or canned Tinapa, I think either way is heavenly and delicious!
Want to know more about the origin of Tinapa? This tutorial will help you.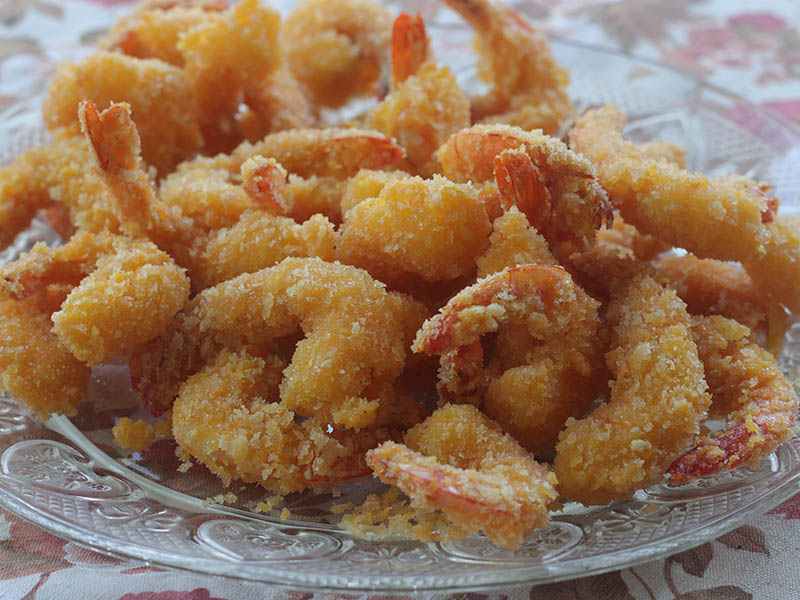 In the Philippines, Camaron Rebosado is the dish in which people usually soak shrimp into the batter and deep-fry them. You can also call it by another name, Rebosadong Hipon.
According to the Spanish language, Camaron refers to "Camarón", and Rebosado indicates "Rebosar", literally meaning "shrimp" and "bubble over" correspondingly.
About its origin, between the 16th and 19th centuries, Chinese immigrants found a new home in the Philippines and brought along this shrimp delicacy.
Normally, local people marinate the shrimp with a combination of Calamansi juice, black pepper, salt, and other condiments. The dish is the best when served hot with sweet and sour sauce.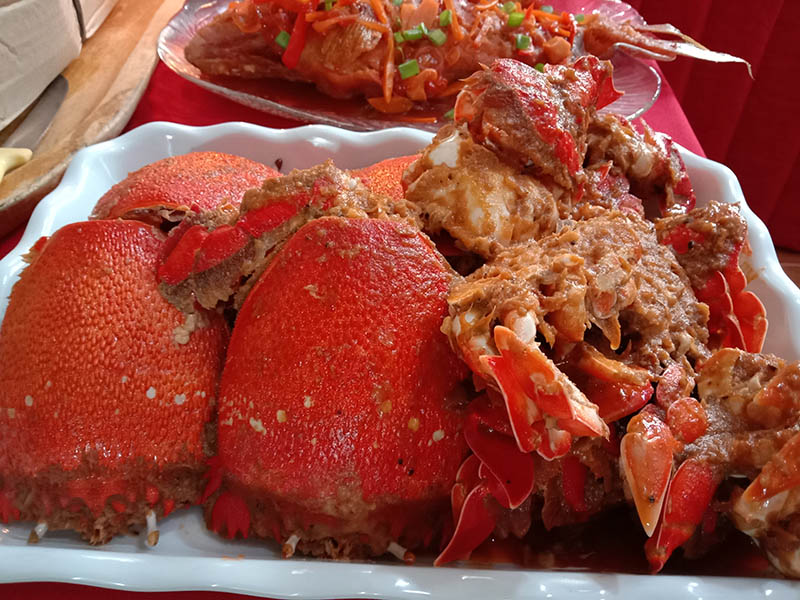 Here I introduce you to Curacha, a type of crab that appears exclusively in Sulu, Zamboanga, and Bataan areas. Curacha refers to the red frog or spanner crab whose scientific term is Ranina ranina.
Curacha is a giant crab with a lobster-like appearance. It has a bright red color with the meat mostly found in the body rather than in the claws.
Locals usually cook it with many techniques, including boiling and steaming. Especially, even when people cook Curacha, it shows no signs of color-changing.
Curacha originated from the Spanish word Cucaracha for "cockroach". Filipinos use that peculiar name perhaps because the crab's legs look like those of a cockroach.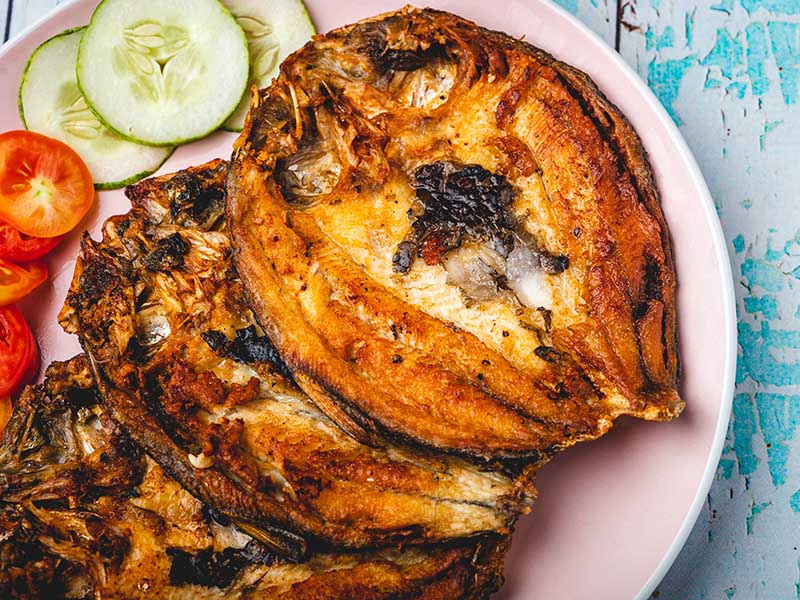 Daing is a famous dried fish from the Philippines with many different names, including Bilad, Tuyô, and Pinikas. Due to its low price, Daing is regarded as a famine food. However, it still occupies quite a position in Filipino cuisine.
The literal meaning of Daing is "sun-baked" or "sun-dried" in English. Besides, people in central and southern Philippines, especially Cebuano, usually call it Bulad or Buwad.
To prepare the dish, locals will use a knife to split the fish and then open them just like opening a book. In the next step, they marinate them with salt and dehydrate them under the sun as the final step.
People will choose grilling, frying, or baking Daing before serving it on the table. With the last version, they often wrap the fish with foil and then let the oven handle the rest.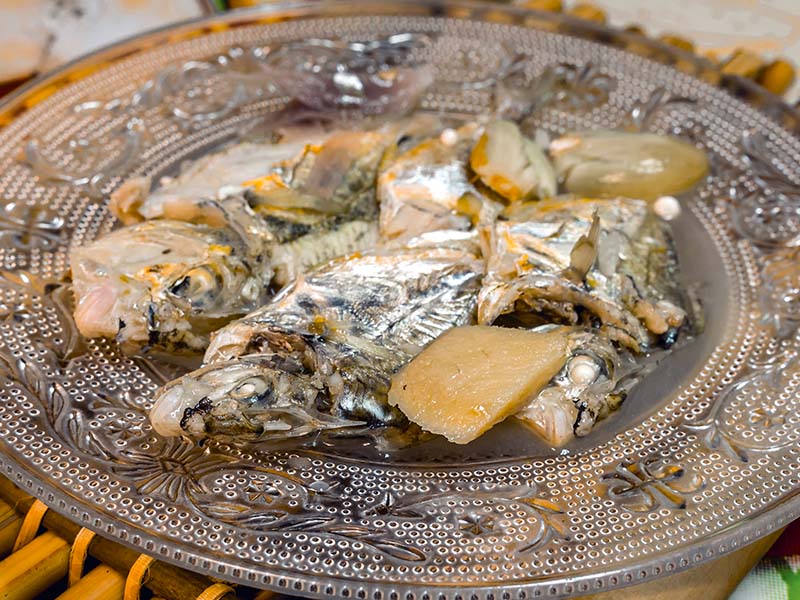 Paksiw is another style of cooking that belongs to the Philippines. When translated into English, Paksiw expresses the meaning "cooked in vinegar". Filipinos prepare it by poaching the fish in vinegar and adding other ingredients such as fish sauce and Siling Mahaba (green chili).
This fish plate sometimes will have the appearance of vegetables, Ampalaya, and bitter melon. Thanks to vinegar, it will reduce the fishy smell significantly and bring a wonderful and unique flavor to Paksiw Na Isda.
Other Filipino Foods That You Might Want To Have A Taste
Champorado is my favorite in this section. I highly recommend you to enjoy eating as soon as you can. Besides, there are some bowls of Filipino soup that will surely stir up your hunger.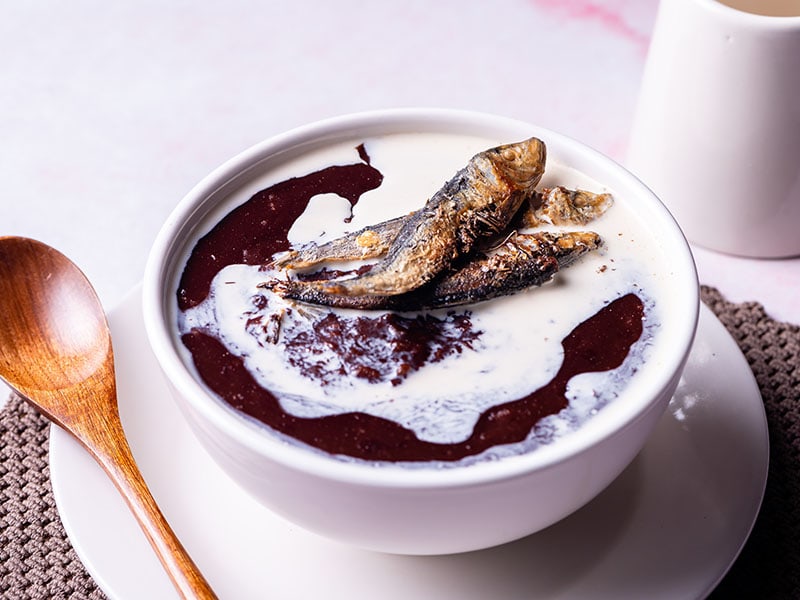 To be honest, Champorado is the most exciting porridge I've ever had. The secret to the exceptional flavor lies in the sweet Tablea (chocolate) and the sticky rice. Besides, there are some needed ingredients like coconut milk and sugar.
Despite being famous in the Philippines, Champorado had its roots in Mexico. Due to the trading ships between the Philippines and Mexico during the Spanish Empire period, merchants on both sides exchanged goods and knowledge.
Eventually, Filipinos learned how to make the chocolate porridge with Masa (a kind of dough), while Mexicans got Tuba (Filipino palm wine) in exchange. As time passed by, Filipinos replaced Masa with their traditional sticky rice, creating the current Champorado.
Champorado often appears in Merienda (a light meal) or a nourishing breakfast. One more notable thing is that you should try enjoying the bowl with Daing to balance the hearty and sweet flavor.
Wherever you are, you still achieve your own Champorado with this fabulous guide.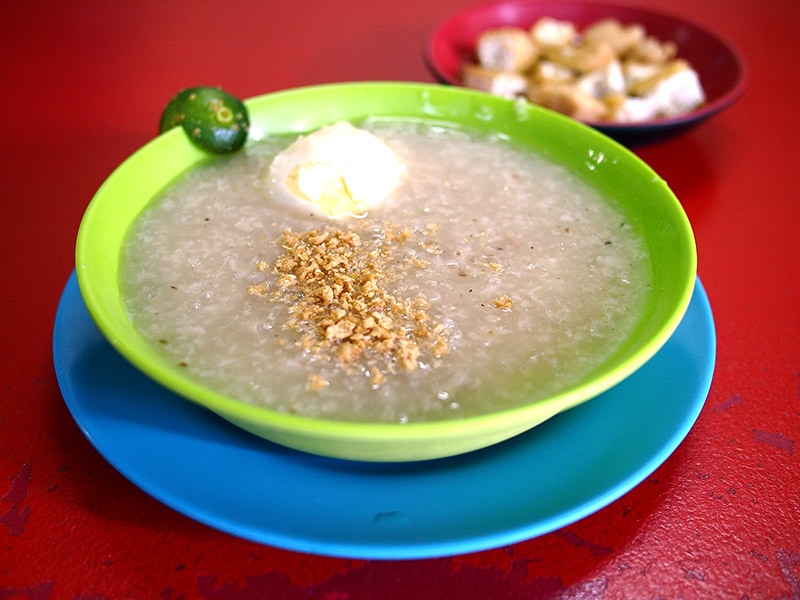 Lugaw, Pospas, or Lugao, is a porridge made of glutinous rice in the island country. However, you can substitute the glutinous rice with the white rice but with a lot more water. Lugaw can range from sweet or savory versions depending on its ingredients.
Normally with traditional Lugaw, locals usually add salt, sugar, garlic, and ginger. Sometimes, to make Lugaw more flavorsome, they will utilize the meat broth to cook it.
Lugaw is best when served in the winter or rainy season. If someone in your family is unwell, Lugaw can also be a wonderful element to comfort them. Interestingly, this porridge is the most ancient food among Filipino delicacies.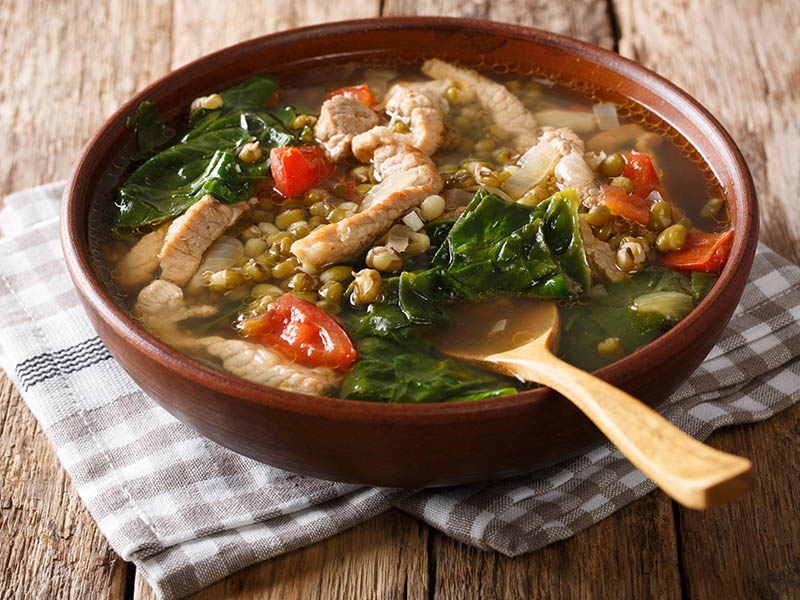 Ginisang Munggo or Ginisang Monggo is a traditional soup coming from the Philippines. According to the Filipino language, Ginisang Munggo implies "sauteed mung bean", which also tells you about the soup's key ingredient and the cooking method.
Ginisang Munggo will include mung beans, several types of veggies, meat or seafood, and Patís (fish sauce). Once cooked, Filipinos will decorate the soup with Chicharrón (fried pork rinds).
Mung beans have a huge pack of nutrients that might reduce the possibility of heart disease and blood pressure. Therefore, I think Ginisang Munggo is a healthy soup you can munch on every day.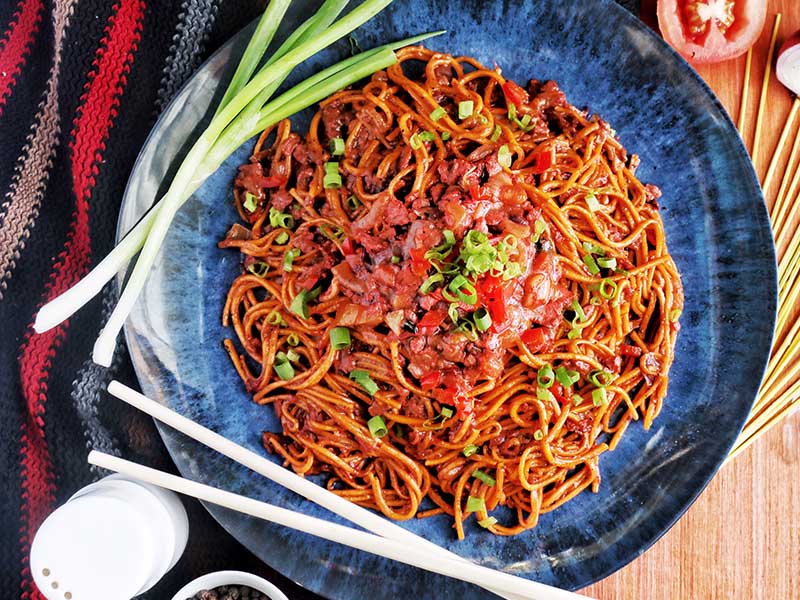 Filipino spaghetti can replace regular spaghetti in no time. The noodle plate usually appears on kiddos' birthdays or any special celebration in the Philippines.
From around the 1940s to the 1960s, during the Second World War, Filipino produced their unique ketchup condiment, banana ketchup. It later became the key ingredient of Filipino spaghetti. But if they don't have it on hand, they will replace it with brown sugar.
Besides, there are other ingredients, namely tomato sauce, hot dogs, Giniling (ground meat), etc. You can find Filipino spaghetti from small stores to famous restaurant chains, such as Jollibee, KFC, and McDonald's.
Making Filipino Spaghetti is no longer hard when you have this tutorial.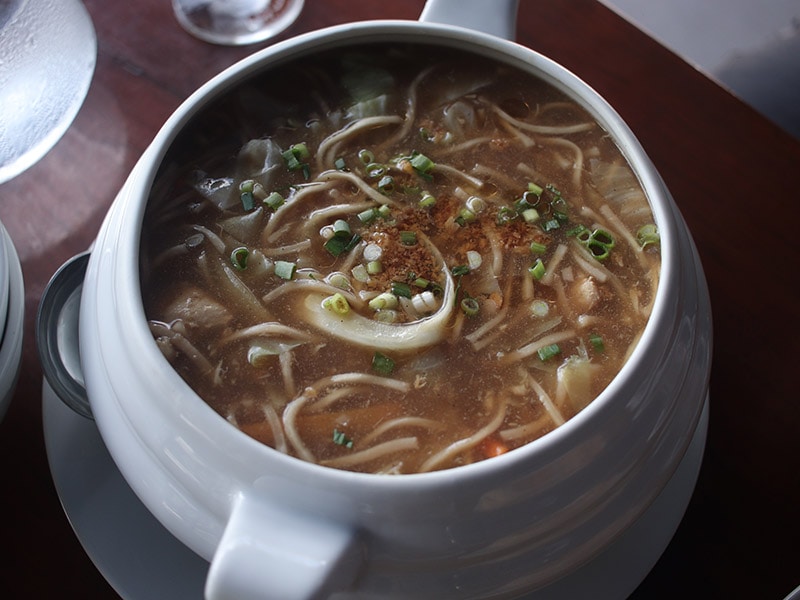 Lomi, one of several noodle dishes called Pancit, is strongly embraced in Filipino cuisine. People usually cook Lomi with vegetables and some protein, including chicken and pork.
The secret trick to level up the flavor is that Filipinos will steep the fresh egg noodles in lye water before cooking. When enjoying Lomi, Filipinos usually add Calamansi juice, soy sauce, or fish sauce to make the bowl more savory.
If you have a chance to visit the Philippines, you can come to the Batangas area, where Lomi is served in many ways cooking in restaurants, Carinderias, and Panciterias. Besides, you can find Lomi in any eatery throughout the Philippines.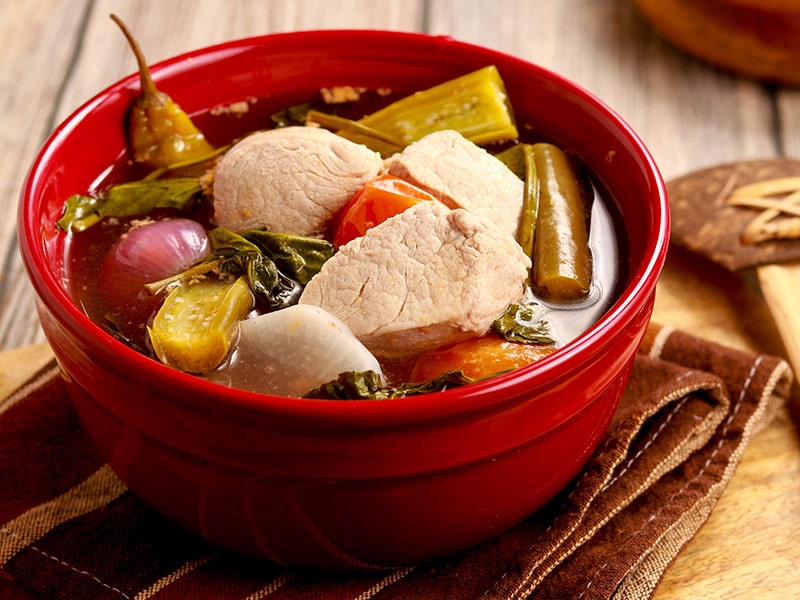 A hot pot of Sinigang Na Baboy can be an excellent character on your dining table. In Tagalog, Sinigang literally implies its cooking process, "to stew". Sinigang Na Baboy features a great combination of pungent and sour tastes, making you crave the soup even more.
The secret trick that makes the broth sour is not only Sampalok (tamarind) but also other acid-content fruits (unripe mango or butterfly tree leaves).
Some travel guides name Sinigang as among the best vegetable soups in the world. That said, Sinigang Na Baboy has gained popularity worldwide with many variations.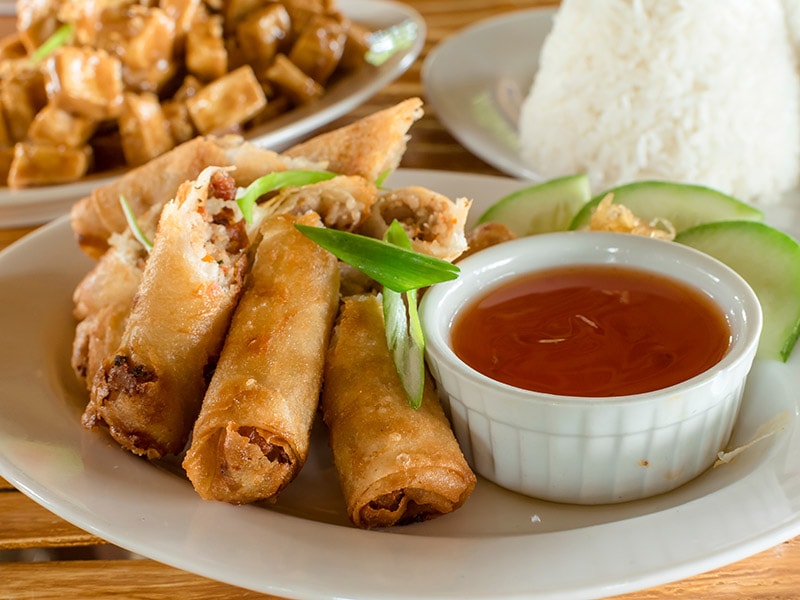 Lumpia, the Filipino-style spring rolls, is very popular for family reunions or special celebrations. Unlike the original spring rolls from China, this version has a super-thin wrapper made of flour, salt, and water.
There are numerous filling options for Lumpia, such as Adobo meat, fish, or vegetables. Commonly, when serving, Filipinos will dip Lumpia into Agre Dulce (sweet and sour sauce), banana ketchup, or chili sauce.
During the pre-colonial period before the 16th century, Hokkien traders brought along their Lumpia to the Philippines. That said, the name also originated in the Hokkien language. Lumpia, or Lun-pia, literally means "soft cake" in Filipino words.
How can I forget to provide you with a detailed guide on preparing Lumpia?
9 Hearty Desserts/ Snacks From the Philippines That You Need To Notice
Besides Filipino main dishes, the country also provides you with many exciting treats to munch on for weeks. Some will use fresh Filipino fruits as their main ingredients, and some will have rice as the foundation. But anyway, everything is heavenly and tasty!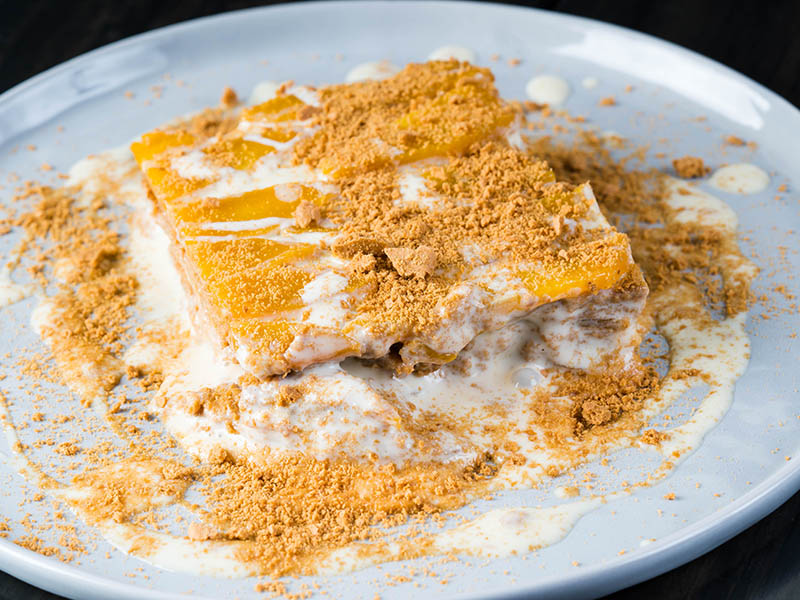 You might already know mango, especially Carabao mango, is the national fruit in the Philippines. Therefore, this Crema De Mangga, also known as Mango Float, not only present the best of Filipino fruits but also marks a cornerstone of the Filipino cuisine.
Also, Crema de Mangga has many names: Mango Icebox Cake, Mango Graham Float, or Mango Refrigerator Cake. Interestingly, the last term also implies one of two methods to make this cake.
The ingredients to produce Mango Float include Graham crackers or ladyfingers (a type of biscuit), Carabao mangoes, whipped cream, and condensed milk. The outlook of the cake has a form of layer between those ingredients.
Usually, people will let it chill either in the temperature room or in the refrigerator. I prefer the fridge method because I feel like I'm eating Mango Float in an ice cream-like texture which is an enjoyable experience.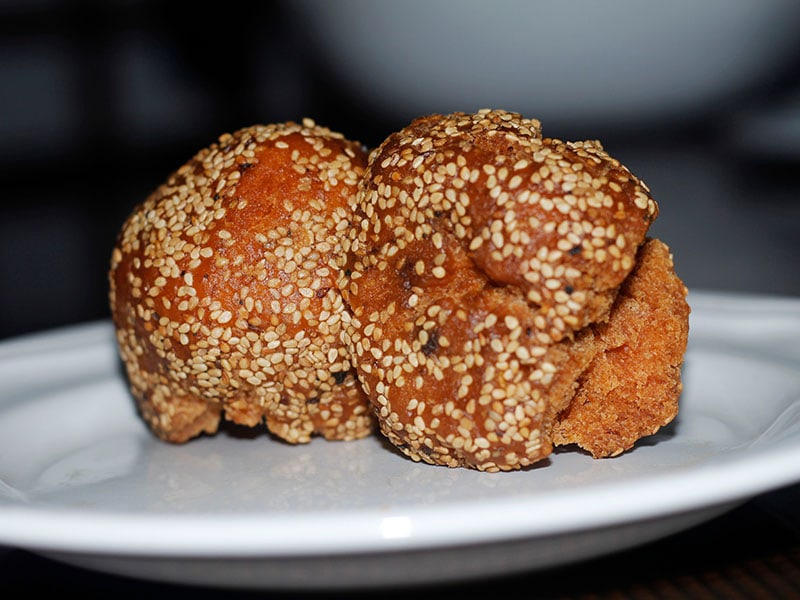 Binangkal, a traditional fried doughnut ball coated with sesame seeds, is primarily traded in the Central Visayas and Northern Mindanao in the Philippines.
Some sources say Binangkal has almost the same name as the Bangkal tree (Nauclea orientalis) owing to the fruit-like or flower-like appearance of that tree.
After deep-frying, Binangkal is best eaten as soon as possible with hot chocolate or coffee dip sauce. Each bite delivers crispiness outside and a spongy texture inside.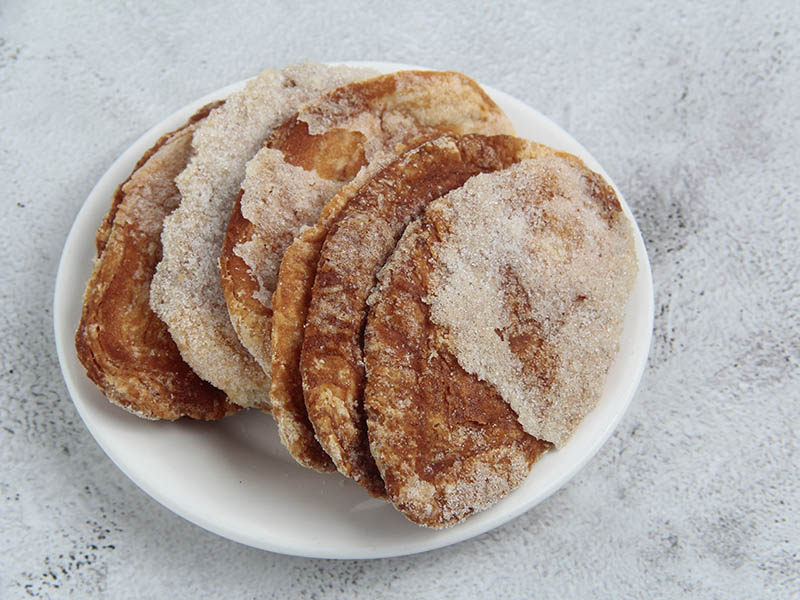 Otap is native to Cebu province of the Philippines. But that's not mean you can't find Otap in other areas of the country. The snack has achieved popularity also on Visayas island, especially in Negros Oriental and Negros Occidental.
This snack resembles palm hearts, a French pastry. However, Otap will tend to be less heart-like in appearance with more layers tight to each other, resulting in the crispy pastry.
Usually, Filipinos will use flour, coconut, sugar, and shortening to make Otap. It also requires a pretty long baking process with eleven steps to achieve the perfect quality.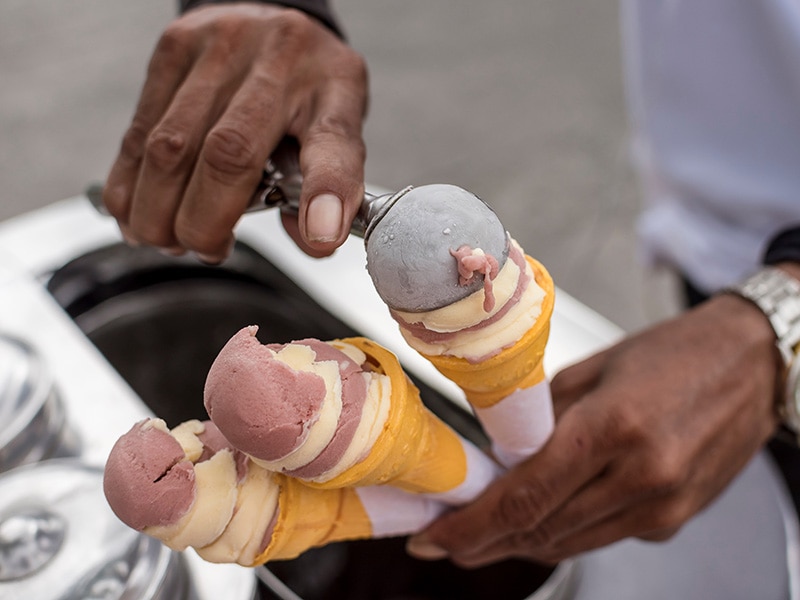 Summer won't be fun if it lacks ice cream. Filipino know that fact, so they have ice cream vendors and pushcarts everywhere in their country. But not just any ice cream: it is Sorbetes, one of the iconic cooling treats hailed from the Philippines.
This ice cream is also well-known as "dirty ice cream". Interestingly, people came up with this name because they didn't want their kids to consume the ice cream from vendors who scooped the ice cream with their bare hands.
About Sorbetes' origin, it appeared at the same time when Filipino locals first knew about refrigerators and other cold-storage boxes.
If Americans make their ice cream from cow's milk, Filipinos have another cheaper version, using the milk from Carabao, a native buffalo in the Philippines. Besides, they also use coconut milk to make Sorbetes.
The ice cream has many flavors ranging from mango, avocado, coconut, jackfruit, and chocolate. Sellers often serve Sorbetes with Pandesal, a traditional bread roll in Filipino.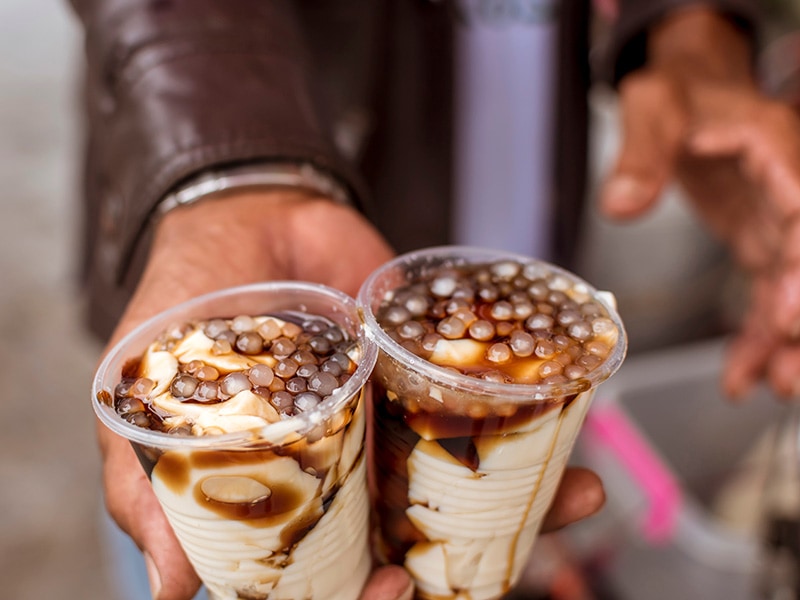 Despite being borrowed from the dish Dou Hua (tofu pudding) of the Hokkien people, Taho has become an important part of street food (or snack food) in the Philippines.
Walking along Filipino street, you will see the Mágtatahô (Taho vendors) carrying a shoulder pole with two buckets: one containing Taho and the other containing essential ingredients inside.
Hawkers sell Taho not only in the morning but also in the afternoon and evening as well. Each hawker will have their own route and time, so every day, they walk around the street and advertise their fare by calling Taho to draw customers' attention.
Usually, Taho consists of sago pearl, Arnibal (brown sugar syrup), and soft tofu, the biggest secret built into its reputation. Besides, Taho also appears in supermarkets and cafeterias.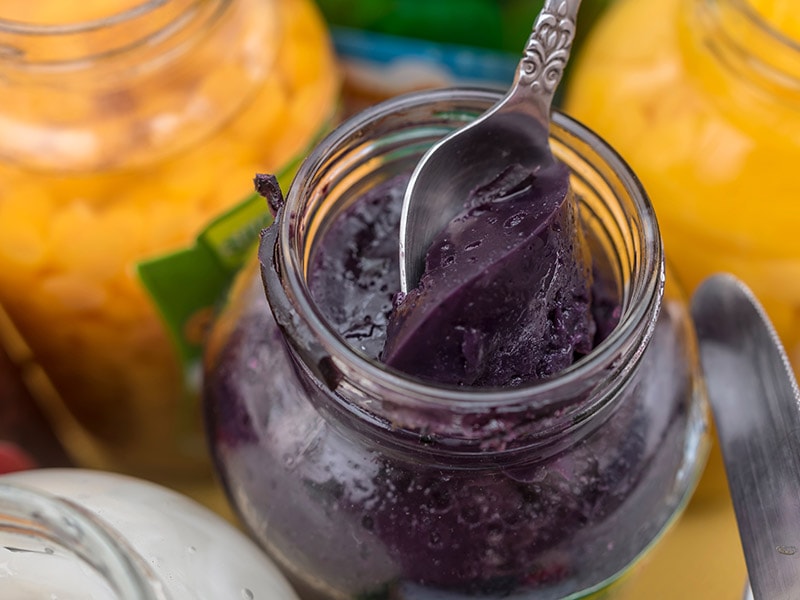 Ube (or purple yam) has long been associated with both traditional and modern Philippines cuisines. This starchy root vegetable is widely used for a variety of Philippines desserts, with Ube Halaya as one of the most excellent examples.
Ube Halaya, Ube jam, purple Yam Jam, Nilupak Na Ube, or Halayang Ube, are all of the names that you can use to call the snack. Ube Halaya also contributes to Halo-Halo, a famous cold dessert in Filipino, or pastries and ice cream.
Filipinos first boil the purple yam, then crush it carefully and put the mixture of crushed yam and coconut milk (or condensed milk) on the melted margarine on top of the saucepan before giving it a good stir.
The snack food is perfect after being cooled. Locals can serve the snack on its own or add other toppings such as coconut and condensed milk to enhance the flavor.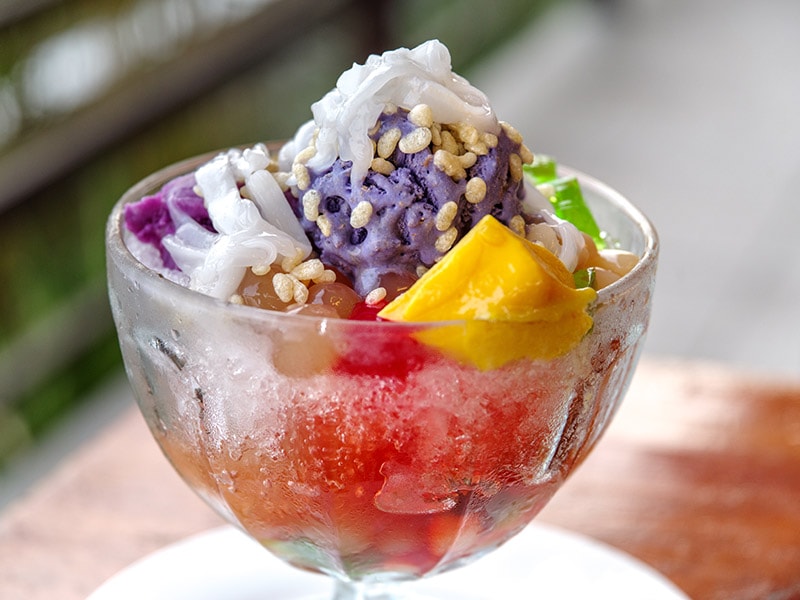 Halo-Halo has its root from the Japanese dessert, Kakigori, a shaved ice dessert. The first variation of Halo-Halo just had boiled mung beans as the main ingredients. As time went by, Filipino developed the current Halo-Halo with its unique components.
The name Halo-Halo, which means "mixed" in Tagalog, reveals the best way to eat it: mixing everything. One bowl of Halo-Halo usually contains shaved ice, milk (coconut or evaporated milk), and toppings, typically Ube Halaya, Kaong (sugar palm fruit), or Macapuno (coconut sport).
The ingredients will vary depending on each store or region in the Philippines. You can find this refreshing dessert in small food stalls or fancy restaurants. Also, you can enjoy Halo-Halo in Jollibee, Max's, and Chowking in the Philippines.
How do the people of New York react to Halo-Halo? Find out here.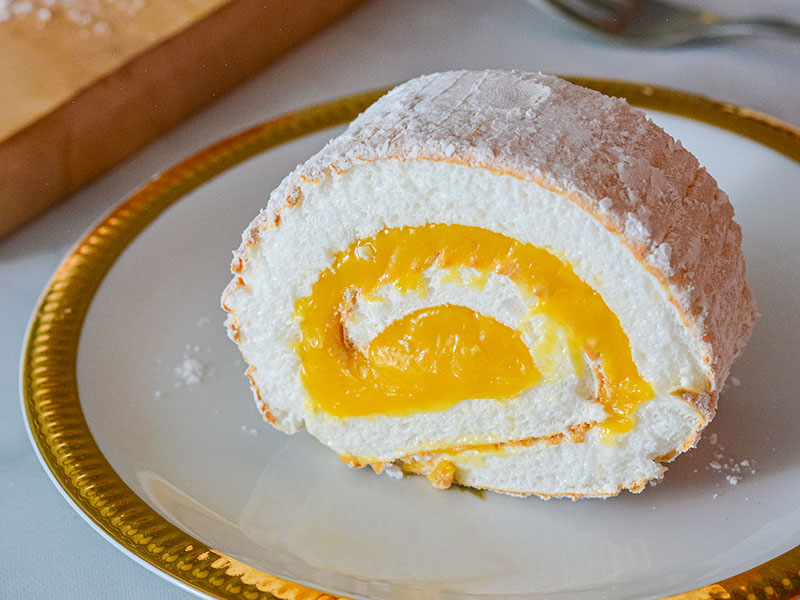 Brazo De Mercedes is a traditional Filipino dessert that doesn't require any flour. Instead, they use a mixture of egg whites, granulated sugar, and cream of tartar known as meringue.
During the Spanish colonial past, people used egg whites for their binding ability to build architectural works.
When locals realized that so many leftover egg yolks went to waste, they utilized them as custard filling and found a way to Brazo De Mercedes.
Its name sounds like a brand name car, but in the Spanish language, Brazo De Mercedes refers to the phrase "Arm of Our Lady of Mercy".
Normally, Brazo De Mercedes will be coated with powdered sugar. The dessert will offer a super light texture that'll melt gradually in your mouth as soon as you take a bite.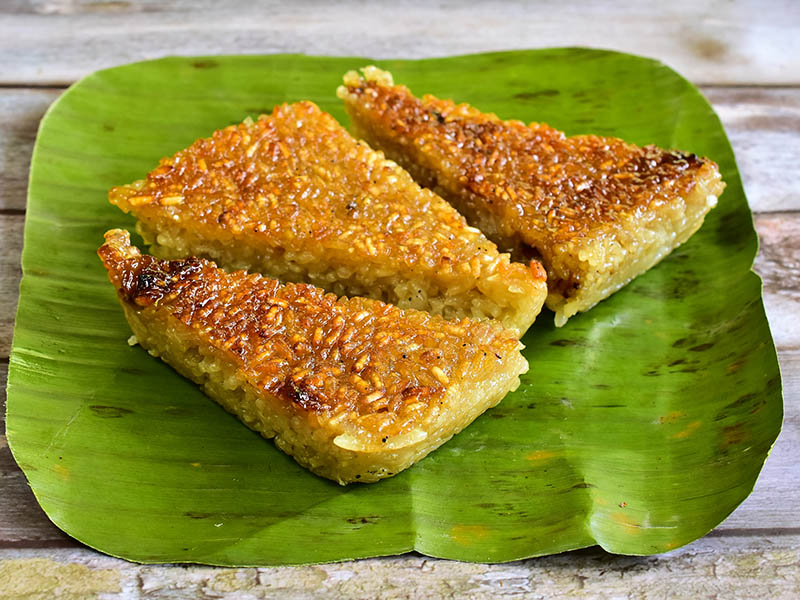 Last but not least, please give a round of applause to Biko, a popular dessert consisting of glutinous rice, coconut milk, and brown sugar. It is also a member of the Kalamay family; the term implies dishes with a sticky texture.
Biko has a variety of names that up to the regions. In Ilocano Northern Luzon, people will call it Inkiwar, meanwhile, in the Southern Luzon, Sinukmani or Sinukmaneng is the common term for Biko. Besides, in some Muslim areas in Filipino, Biko is regarded as Wadit or Wagit.
Sometimes, Filipinos will put a thin layer of Latik (local coconut-based condiments) on top. Regarding Latik, either syrupy caramelized coconut or solid one is perfect.
How Many Filipino Dishes That You Fall In Love With?
In conclusion, Filipino foods deserve the utmost recognition for their diversified, unique, and delicious cuisine. Some dishes are so famous that you can get the recipe and cook it yourself. However, some require you to visit the Philippines to taste its authentic flavor.
If my article brings any helpful information to you, please don't forget to spread it to other people. Besides, if you achieve some wonderful results, just comment immediately in the comment box below. Thanks a bunch!