You may have seen fava bean recipes that show different names of this vegetable, the most popular of which is broad beans. Fava bean, or broad bean, is highly beneficial for your health. At the same time, it can taste heavenly if you cook it right.
With that in mind, I have compiled a list of the best recipes for you to follow. There are main course dishes, desserts, snacks, and appetizer options. Therefore, it has something to offer no matter what you seek.
The wait is over. Let's dig in and discover the ultimate ways to turn fava beans into the most delicious dishes you've ever tried.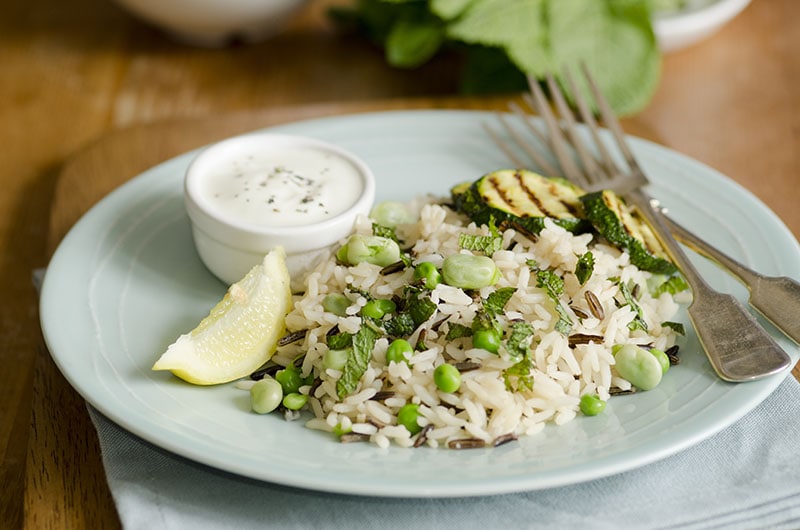 Cooking Fava Beans Is Fun And Easy With These Recipes
When you read the instructions, ensure you understand whether they use fresh fava beans, dried beans, or canned beans. Each type is processed differently before cooking, so don't be sloppy.
Total time: 1 hour (excluding soaking time)
It's interesting witnessing how cheap ingredients in the past have become much more costly these days and how dishes of the poor have made it to luxury restaurants. Fave E Cicoria, or fava bean puree with chicory, is an example of this.
The recipe is easy, with only six ingredients and a few steps to make. After 12 hours of soaking and an hour of cooking, you will get a smooth puree that's thick by nature. At the same time, chicory prevents it from getting too dense and adds a veggie flavor.
Fava bean puree with chicory works with additional veggies like celery, carrot, and especially tomatoes, giving it a more vivid color.
Total time: 1 hour and 35 minutes
Panzanella is a Tuscan salad comprising vegetables and soaked bread. This fava bean recipe keeps these key ingredients, but it also features herbs that elevate the dish's scent. Meanwhile, feta adds a creamy, salty, cheesy taste.
This refreshing summer salad is perfect for vegetarians. In addition to vegetables and herbs, it contains bread and croutons, which enrich not only the flavor but also the texture of the dish. The crispy croutons start to soften as you eat, which is satisfying.
The dressing is made with shallot, red wine vinegar, and olive oil. It is thick, yellow, and tangy-sweet, helping the dish become a united blend.
Total time: 50 minutes
Bissara is a North African dish signature by fava bean puree. The soup, which doubles as a bean dip, is popular in colder weather because it is warming and tasty. Moroccan fava bean soup also has a unique yellow hue of ground cumin.
Since the soup is mostly bean puree, it tends to solidify at lower temperatures. Therefore, you should serve it hot. Also, if you store the leftovers in the fridge, reheat them with water before eating.
This bissara is 100% vegan and gluten-free, so diners on these respective diets can enjoy this soup with no worries.
Those who want a simpler bissara recipe can check out this video.
Total time: 55 minutes
Broad bean is among many different names of fava beans, in case you didn't know. And a dish of warm fava bean salad with bacon is my go-to dinner when I want something light or to cut down my carb intake.
The salad is served warm with tender cooked beans and slightly crispy bacon. It makes you feel like you are not eating much but enough for dinner. You can enjoy this delicious dish any time, but it works best on the cooler days of the year.
As for the beans, it's best to follow the instructions strictly. After you drain the beans, the existing heat will continue cooking them. If you are tempted to cook them in boiling water for more than five minutes, don't!
Total time: 4 hours and 5 minutes
Egyptian fava bean stew is one of the easiest dishes to make. It takes you only five minutes to prepare. After that, the slow cooker will do the work.
Ful medames is signature with a nutty flavor of fava beans cooked for multiple hours. Meanwhile, dry lentils and tomatoes make the dish look more vibrant with their natural colors. This luscious Egyptian food makes for a perfect breakfast you can enjoy any day.
Traditionally, this stew is made with skin-on fava beans, but many worry the skin doesn't soften. An expert tip to prevent this is baking powder, which you will find in this recipe's ingredient list. Yet, remember to use it in a slow cooker only.
Total time: 25 minutes
Here's another effortless fava bean recipe for you. This one calls for the beans, smoked pancetta (salt-cured pork belly), and seasonings.
First, cook the meat with oil in a pressure cooker until crisp and brown, then add wine. Continue cooking until the wine is almost gone, and add the beans and water. Next, cook the mix for five to seven minutes. Release the pressure and open the lid.
Serve this dish warm or at room temperature with parsley and pepper. You can enjoy it alone or on top of pasta.
Total time: 25 minutes
Fresh strawberries are juicy and crunchy, while fava beans are nutty. These two ingredients also create a vibrant color contrast to form an eye-catching dish. Rucola, or arugula, is a nice addition to this salad, offering a great look and valuable cancer-fighting nutrients.
This recipe is signature by pecorino cheese. Unlike most cheeses, pecorino is made from sheep milk, which gives it a grassier and earthier flavor. It's hard and has a darker yellow color.
This salad is more suitable as an appetizer in the summertime. Adding more fava beans to the mix may help if the flavor is too sharp for you.
Total time: 8 hours and 35 minutes
Chicken soup may come to your mind when talking about comforting food. However, this spring lamb and fava bean soup is also an excellent candidate. It comes with tender, slow-cooked lean lamb chucks in the flavorful broth.
The beef bone broth is the key to making this soup perfect. This recipe involves nearly 15 ingredients, ensuring a result rich in texture and flavor. With the same amount of water, the more bones you use, the thicker the broth turns out. So, adjust the ingredients to your liking.
As a balanced combination of meat and vegetables, this soup is hearty, delectable, and great for a cold day.
Total time: 1 hour and 30 minutes (excluding soaking and chilling time)
This fava hummus turns the protein-rich legume into a smooth, thick dip you can enjoy with different types of bread. Fava bean is not naturally yellow, but the sauteed onion and olive oil on top give it a vibrant color.
If you use dried fava beans, you must not skip the soaking step, or the bean skin will not come off. Soaking also helps soften the texture so that you can cook them quicker.
You can only skip the soaking step when you can find canned beans. In this case, leave out water from the ingredient list as they can already have liquid.
See how fava hummus comes together in this recipe guide.
Total time: 2 hours and 30 minutes
Ravioli consists of two parts: a filling and pasta dough, formed into a shape of choice. It makes the pasta look like a tiny pillow. Now, you can make tiny ravioli with fava bean filling from scratch.
The filling has ricotta and parmesan cheese. They offer not only a milky, salty flavor but also creaminess for the pasta. After cooking the ravioli, you can take a bite and feel their stringy properties.
To serve this green-filled ravioli, you can simply cook them in browned butter with fava beans and sprinkle more cheese on top.
Total time: 1 hour
Fritteda is an Italian salad made with fava beans and artichokes. However, it doesn't look all green like other fresh salads. Instead, you will have to saute onion and fennel until the onion is soft and brown, then cook the mix with other veggies.
Seasoning this salad has utmost simplicity as all you need is salt and pepper. Also, vinegar is added in the last cooking step to enhance the dish's flavor and smell. The result is tender and salty with a slight tang.
If you cannot get fresh peas and artichokes, frozen products work, too. You can serve this salad as a side dish or with spinach pasta.
Total time: 15 minutes (excluding chilling time)
Solterito is a cold dish native to southern Peru. All the ingredients making up this dish are finely chopped. If you have never made this salad before, you will be glad to know the process is effortless.
Step one, make the vinaigrette by whisking vinegar with oil until completely blended. Step two, add all the ingredients except for the cheese in a mixing bowl. Step three, add the vinaigrette in step one to the bowl and toss thoroughly; add salt and pepper for seasoning.
Lastly, let the salad sit in the fridge for one to two hours. Add the cheese right when you want to serve the dish.
Total time: 20 minutes
Whether you are on the Mediterranean diet or just seeking a healthier toast recipe, this one will put your mind at ease. These toasts with ricotta, fava bean, and mint are delicious, fancy, nutritious treats that you can put together in less than half an hour.
This dish is so versatile you can serve it however you like. For instance, it works as a party plate, an appetizer, and a snack. You can even enjoy these green toasts for lunch or breakfast if you love light meals.
This recipe also introduces an alternative method to cook fava beans. Rather than placing them in boiling water, microwave them with a little water for three minutes.
Total time: 40 minutes
In this recipe, you will combine fava beans with shrimp, seasoned with a bit of Indian flavor, to create tasty tacos. Cooked over high heat, the beans become tender, while the shrimps get firm and chewy. Season the mix to your liking and achieve the perfect taco filling.
Besides the fava bean and shrimp filling, these yummy tacos consist of crunchy fresh cabbage, soft tortillas, and flavorful aioli. The spiced mustard sriracha aioli acts as a blending sauce to bring all the ingredients together.
These tacos may look like they call for a lot of work, but they turn out to be hassle-free to make. Such warm treats are a great option for a quick dinner for yourself and your family. Give it a try!
Total time: 15 minutes
Grilled fava bean is one of the purest dishes you can make with this vegetable. Both the process and ingredient list are simple. Grilling is also an efficient way to cook fava beans because it takes only a few minutes but allows you to shell the beans easily.
When your guests work on the beans with their own hands and lick their fingers after eating, it will make them feel like they're eating right from the garden. If you have a party in your backyard, don't miss out on this recipe.
For parties where your diners don't like getting their hands dirty, reduce the work for them by shelling the beans beforehand, dressing them in olive oil, lemon, and pepper, then serving.
Looking for a different way to season your grilled fava beans? Follow this cook's instructions.
Total time: 45 minutes
Marinated fava beans with garlic and rosemary are very good for your health. Particularly, garlic is famous for helping prevent a lot of diseases, especially the flu, and it boosts your immune system in general.
This recipe is a piece of cake, even for new cooks, if you keep a few notes in mind. First of all, the beans are not meant to be mushy, so don't use a pressure cooker or soak the bean. Secondly, mashing the garlic cloves will go a long way in ensuring a great flavor.
The last note about this dish is about storage. You should marinate the beans for three days and keep the result in the fridge for up to a week after marinating.
Total time: 30 minutes
Coming from Italian cuisine, crostini are grilled or toasted bread slices with toppings. The best thing about this appetizer is that you can put anything you like for the topping. However, if you are looking for topping ideas, take a look at this one.
This recipe tops the little crusts with fava bean, chopped strawberries, and pecorino cheese. They give each treat something veggie, something fruity, and something cheesy, respectively. With punchy wine vinegar, these treats taste the best in the summer.
Total time: 30 minutes
At first, this frittata may seem similar to an omelet, but they are very different. While the omelet is quickly cooked over high heat and served hot, frittata comes together over low heat and is served at room temperature. You can also see that frittata is much thicker.
With fava bean and spring onion, this dish features an eye-catching color blend of yellow and green. In terms of flavor, it has a salty, cheesy flavor of pecorino, paired with starchy beans and smooth egg.
Fava bean and spring onion frittata earns a place on this list as a delectable breakfast or brunch. You can have it any day, but on colder days, you should consider serving it a little warm rather than at room temperature.
Total time: 40 minutes (excluding soaking time)
If you have kids, these bite-sized treats will help you sneak vegetables into their diet. Fava bean falafels are small, lovely balls with an amazing look and taste.
Each falafel features a crispy shell that hardens and browns during the deep-frying time. On the inside, you can see a nice green color. You will feel a smooth, fluffy texture created by fava bean processed with many other ingredients.
Fava bean balls are so delicious and filling that you can give them to your kids for a snack or serve your guests as an appetizer. They don't contain any flour, so no worries about a heavy starter for your party.
This video offers a lot of detail on each step of making fava bean falafel.
Total time: 40 minutes
Roasted fava beans offer a low-cost snack and a crowd pleaser for your cookbook. The treat is extremely simple to make with a painless process and ensured success.
After about 40 minutes, you will obtain crunchy, seasoned beans. Especially, they have browned, slightly charred edges, which elevates the smell and flavor of the dish.
When it comes to seasonings, from this recipe, you can customize the flavor to match your appetite. Some of the best options include curry powder, smoked paprika, smoked salt, herbs, and Chinese five spices.
Total time: 35 minutes
As of now, I have included various types of dishes to make with fava beans, such as toast, soup, tacos, and salad. Here's another type: tartlets. These small treats look bright and refreshing with green beans, white cheese mix, and golden tartlets.
The crumbly texture of these cute treats makes it easy for them to blend with the filling when you take a bite. Also, though they look like sweet dessert tarts, these likely fall on the salty, tangy end. They are milky and cheese but you can't get fed up with them.
These fava bean and pecorino tartlets are best served as finger food or in picnics.
Total time: 50 minutes (excluding soaking time)
A bowl of fava bean pilaf is exactly what you need for lunch on a spring day. Pair it with a green or fruit salad, and your meal is complete.
This recipe calls for shelled beans to save your effort. That said, you need to soak the rice. It will help make sure the best texture after cooking. Apart from that, the steps are straightforward, and you can whip up the dish in less than an hour.
It's worth noting that the ingredient amount will produce six cups of rice. Based on this, you can scale up or scale down the recipe to make the right quantity for your family.
Here's how to make fava bean rice pilaf in an instant pot.
From Fava Bean To A Favorite Meal
Now that you have got many great fava bean recipes on your hands, I hope you will turn this ingredient into high-quality food to serve yourself and your loved ones. I would love to know if my list proves useful to you, so remember to leave a comment with your results.
Also, share this article with others. Regardless of the season, your friends will find one or more recipes that they can make right at home. I can't say enough how versatile and great fava beans are, so make sure your friends try them, too.