The list of flavorful farfalle recipes is diverse, so feel free to change your taste buds regularly by making one recipe for each day if you love it all. Or, you can pick your favorite ideas to serve your loved ones at specific events.
There are many ways to create mouthwatering farfalle recipes by applying some simple steps. You can mix the butterfly-shaped pasta with your best-loved veggies, meat, sauce, or other ingredients. Let's see the way to turn farfalle into delicious food right now!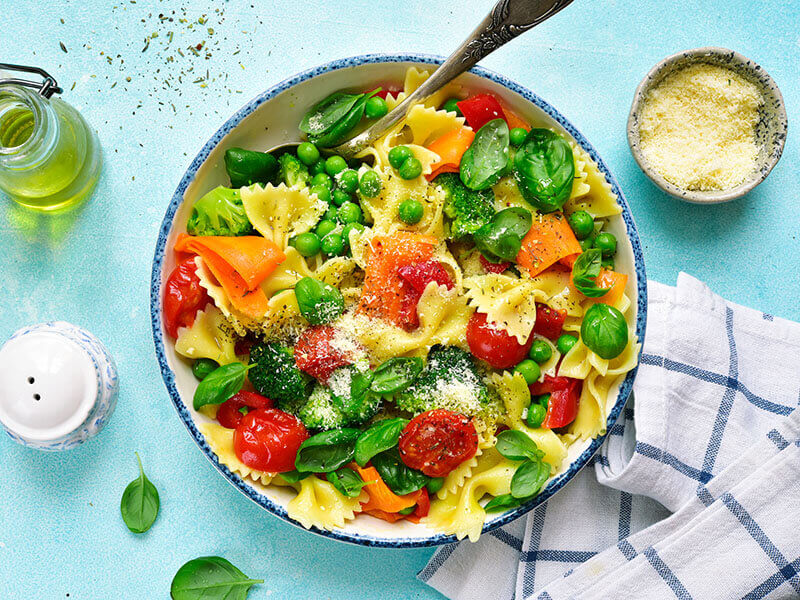 Fall In Love With These Yummy Farfalle Recipes
As you know, pasta is one of the most popular foods in Europe. And the farfalle pasta with a typical butterfly shape appears in many great recipes in Italy and other countries. This part will contain various recipes made from farfalle and other ingredients. Do not skip it!
Total time: About 35 minutes
If you crave a delectable Italian dish, you should mix Italian sausage with broccoli and farfalle to satisfy your cravings. This combination guarantees a scrumptious treat to consume. Cheesy garlic bread and sparkling white wine are this sausage's common companions at a party.
The first task you must do to get a delicious dish is to boil the farfalle in seasoned water. While waiting for the pasta, cook the sausage and garlic until you see a brown hue. Then, cook the mix of chicken broth, red pepper flake, and broccoli rabe until the veggie is soft.
Add cheese, butter, and spices and cook until the liquid is thickened. You can serve the dish after tossing the mix with farfalle.
Total time: About 25 minutes
Cooked chorizo chicken sausage will make your pasta dish taste even better, so mix it up with the farfalle in your kitchen immediately. You will feel a natural sweetness after adding pumpkin to this beautiful chorizo recipe.
The spicy flavor from red pepper flakes will tickle your taste buds and create a distinctive highlight for the delectable dish. Nevertheless, you can omit this component if you are not good at spicy food.
Thanks to the cheesy and creamy touch of the shredded Mexican cheese blend, it will easily reach more diners. Also, this element gives your dish a fascinating aroma.
Follow the directions to mix farfalle, pumpkin, and goat cheese in a recipe.
Total time: About 40 minutes
A bowl of warm Italian sausage and farfalle soup is a suitable suggestion for the cold weather. You dive into the tenderness of pasta, the zesty, meaty flavor of sausage, and the refreshing, delicate touch of sauteed veggies on the first try.
Browning the sausage is the first thing you must do when making this yummy Italian soup. Next, saute veggies and boil in beef stock, herbs, spices, and tomatoes. Place the pasta in the pot and cook for about 7 to 9 minutes.
Then, put the cooked sausage and spinach in the pot and wait until the spinach is wilted. Serve your hot soup with grated Parmigiano.
Total time: About 30 minutes
The refreshing and light salad is my favorite chicken recipe for summer dinner. I always feel comfortable and relaxed when enjoying this delicious salad in the hot weather.
I fell in love with this fabulous treat at first sight due to its colorful and gorgeous appearance. It looks like a work of art, thanks to red cherry tomatoes, light yellow pasta, black olives, and more.
Looking at this food, you can imagine yellow butterflies flying in the garden with many types of veggies and fruit. For more convenience, you should make this salad beforehand, keep it in the fridge, and serve this dish when you need it.
Discover the correct ways to prepare a chicken bowtie salad.
Total time: About 15 minutes
How to enhance the flavor of grilled salmon or chicken effectively? The best answer is to serve them with a rich and appealing mandarin spinach pasta salad. This culinary masterpiece contains crispy bell pepper, almonds, soft pasta, and spinach.
Furthermore, the characteristic citrus touch from orange slices can make you remember this salad forever. From my point of view, this salad's appeal lies in the teriyaki dressing's light sweetness.
The excellent sauce is an incredible blend of teriyaki sauce, honey, garlic, ginger, and rice vinegar. It doesn't matter to add some toppings like shredded carrots, nuts, or red onion, so let's pick whatever you want to increase the quality of the food.
Total time: About 15 minutes
It's time to refresh your taste buds with a fantastic strawberry Caprese pasta salad. This unique recipe requires only 5 easy-to-find ingredients: pasta, fresh mozzarella cheese, basil, strawberries, and balsamic glaze.
Suppose you are a sweet-savory food lover, you must keep this recipe in your mind instantly. In addition, you can find a subtle tartness in fresh strawberries and glaze. You can enjoy this salad after tossing cheese, strawberries, and basil and drizzling a layer of glaze.
Total time: About 20 minutes
It is a shortcoming not to introduce BLT pasta salad in this awesome article. BLT stands for bacon, lettuce, and tomatoes, so you know that the dish wouldn't be complete without these three components.
In addition, it needs the tenderness from bowtie pasta and a variety of flavors from different spices and dressings like Italian and creamy Ranch salad dressing. In case you want to make this salad ahead of time, leave the lettuce out until your guests arrive.
Listen to the instructions to make a delicious BLT pasta salad.
Total time: About 1 hour 32 minutes (including 1 hour for chilling)
Another yummy salad I must mention in this list is the strawberry chicken and spinach pasta salad. It is an excellent accompaniment for potlucks, barbecue parties, or picnics. The diversity in ingredients gives it many colors, textures, and flavors.
The flavorful salad is a top-of-the-line dish using goat cheese with sweet strawberries, crunchy almonds, smoky grilled pesto chicken, and refreshing spinach to complement each element. Of course, I cannot miss the taste and citrusy pesto vinaigrette when talking about this salad.
It is possible to turn this recipe into a vegetarian version by omitting the chicken if desired. In addition, you can use feta or mozzarella cheese and blackberries to make this recipe instead of goat cheese and strawberries.
Total time: About 25 minutes
When it comes to Diavolo, I will think of the spicy and hot taste in this fantastic and refreshing salad. In Italian, the word "Diavolo" means "devil", so you can call this excellent dish "deviled chicken pasta".
Before making this salad, you should cut the chicken, spinach, and sun-dried tomatoes into bite-sized pieces. Then, cook the chicken and cayenne pepper to give it a spicy touch and golden-brown shade.
Boiling the pasta is a critical step you cannot skip. In the meantime, cook butter with garlic, crushed pepper flakes, cheese, and cream. Add the mix to the tomatoes, pasta, and spinach, and stir them thoroughly.
Total time: About 35 minutes
Do you have any good ideas for your potlucks or picnics? I suggest preparing sweet pepper pesto pasta to enjoy with your family members or lover on these occasions. It meets your requirements for a sweet, cheesy, rich, and light dish.
To soften the pepper and give it an appealing fragrance, you need to roast this ingredient and garlic powder in the oven for about 10 to 15 minutes. Cook, drain, and rinse the farfalle in cold water before mixing.
Then, blend this component with pepper, olive, and pesto to create a well-combined mixture. Before serving this treat, it is better to chill the dish in the fridge and add a bit of cheese on top.
Total time: About 22 minutes
Indeed, the blend of pasta and veggies always delivers incredible performance, and the farfalle with cauliflower and toasted breadcrumbs recipe is a specific example. You'll love cauliflower's gentle taste, pasta's softness, and the perfect crispness of breadcrumbs.
In particular, when giving this food a try, you cannot ignore the typical umami flavor of anchovy. There are many options to bring the heat to the recipe, but I prioritize red pepper flakes and ground pepper since they can give my dish a beautiful and typical red shade.
Total time: About 30 minutes
Are you finding a crispy and funny snack for your mid-day meals? I will leave the pasta chips in this part, and you can refer to them if you desire. At first glance, the butterfly-shaped pasta's golden-brown shade can instantly catch your eyes.
There are 2 common methods to make these great chips: stovetop and air fryer. From my experiences, both of these ways bring yummy and excellent results. The spicy and savory taste of pepper and salt makes your mouth water continuously.
In addition, grated Parmesan cheese enhances the value of your tasty snack. Like other chips, this dish also needs a flavorful dip or sauce to make it richer, and I opt for warm marinara.
Please prepare the pasta chips by following the tutorials to entertain your game night.
Total time: About 1 hour
Many legendary foods have been made from the combination of chicken, roasted garlic, and farfalle. It's great to enjoy bowtie pasta with the distinctive creamy taste of a cream sauce. Also, the crunchy bacon makes you want to eat this food again and again.
You get an excellent mouthfeel from the roasted garlic clove's lightly sweet taste and sun-dried tomatoes' tart touch. Soft chicken and meaty mushrooms increase the appeal of this fantastic treat twice.
Using wine brings a unique and attractive flavor to this delectable dish. White wines like Pinot Gris or Sauvignon Blanc are the perfect candidates to give the recipe a liquor touch.
Total time: About 30 minutes
It's time to take your guests to Italy by serving farfalle pasta with smoked salmon and zucchini. Count on me! The deliciousness of the mix of salmon, veggies, and pasta will steal your heart in no time.
It's easy to find many variations of this recipe in Italy. Italians often add vodka or cognac to this recipe. Nevertheless, they also make it with tomato sauce or veggies. Today, I decided to choose the version using zucchini, cream, and a bit of fresh ginger.
Total time: About 30 minutes
If you do not know what to do with beautiful farfalle in the kitchen, you can refer to the blend of salmon filets, farfalle, mint, and almonds. Moreover, you must prepare grated cheese to add a cheesy taste to the delicacy.
Make a well-combined pesto by mixing rocket, mint, lemon juice, and almonds. The next step is to cook the salmon in a large pan and wrap it in foil for resting (about 5 minutes). After boiling farfalle, you must drain them and remember to keep ¼ cup of the liquid for later use.
Add pasta, reserved liquid, pesto, and rocket leaves to the pan. Toss them to get the perfect and tasty mix. Add the salmon to the pan and continue to toss. Finally, let's enjoy the food with a bit of lemon zest for an appealing citrus hint.
Total time: About 15 minutes
After enjoying the healthy tuna pasta salad recipe, your body will be charged with an abundance of protein. The umami taste of tuna is the highlight of this recipe. Also, its flavor becomes more delicate with fresh veggies.
I use pepper, salt, pepper, and garlic powder to flavor this amazing salad. Besides, the citrusy touch of lemon juice can leave a profound impression on your diners' minds. Add basil and parsley to make it more fragrant.
Total time: About 30 minutes
How do you feel about blending soft farfalle pasta and creamy pumpkin sauce in a recipe? I have tried it, and the taste has mesmerized me in no time. This yummy dish has a creaminess, tenderness, and distinctive pumpkin taste.
To complete this dish, cook the pasta first in the water. Remember to use plenty of water to avoid pasta from burning at the bottom of the pot. You can season the water to get flavorful pasta. You must ensure the water boils before putting the pasta in the pot.
Next, make the creamy sauce by mixing rosemary, milk, cheese, and pumpkin. After getting bubble sauce, you'll put the pasta in the pan and toss. To thin the mix, let's use a bit of pasta water. Please add fresh parmesan cheese on top before serving it.
Do not miss any step in the directions to gain the best farfalle recipe in a creamy pumpkin sauce.
Total time: About 35 minutes
This recipe looks fresh and eye-catching thanks to the yellow farfalle, green spinach, white zucchini, and red tomatoes. The tasty flavor of this fantastic dish comes from the vegetable stock and parmesan cheese.
The veggies get a charming aroma after sauteing with garlic. It is necessary to prepare all essential ingredients beforehand since this recipe comes together quickly. To save cooking time, saute veggies while cooking the pasta.
For the best result, you must use high-quality and fresh veggies and do not overcook them as they can lose their crispiness. In case the vegetable stock is unavailable in your house, let's use chicken stock instead.
Total time: About 17 minutes
I often take advantage of the instant pot to cook bowtie pasta with spices, ground beef, and marinara sauce to have a hearty dish for dinner. You'll not spend too much time and effort because of the practical support of instant pot, so learn this recipe if you are busy.
You will be impressed by the distinctive red of the sauce. To prevent the sauce from burning and sticking to the bottom of the pot, you should use broth or water to thin the sauce.
Another tip is to pour the sauce over the pasta to avoid it directly contacting the bottom of the pot.
Total time: About 40 minutes
Asparagus is one of the favorite veggies in Italy. This ingredient appears commonly in many delicious dishes like soup, risotto, and pasta. And the shrimp and asparagus farfalle recipe is an actual example of the perfect combination between asparagus and pasta.
Apart from the tender farfalle and lightly crunchy asparagus, an ocean breeze from shrimp can captivate you immediately. In addition, this food tastes better and looks more gorgeous with cherry tomatoes, white wine, and peperoncino (Italian chili pepper) flakes.
Total time: About 20 minutes
The following incredible recipe I want to share on this list is farfalle pasta with chili, garlic, and pancetta. Indeed, farfalle or bowtie pasta is a versatile ingredient since you can mix it with many types of sauce, cheese, and veggies.
In this recipe, I add smoked pancetta cheese and tomato sauce to this pasta recipe. Moreover, this excellent recipe cannot be complete without red chili's heat and spicy kick. This component brings a darker red shade to your dish.
You must add a bit of cream and chopped parsley while simmering pasta with sauce to enhance the creaminess and fresh fragrance.
Total time: About 20 minutes
If you are a vegetarian person, the flavorful farfalle primavera is a compatible suggestion. You can make the wonderful vegetarian pasta dish simply and serve it as a mouthwatering main dish or side dish according to your preference.
Adding parmesan cheese and ricotta cheese gives the recipe an enticing creaminess and characteristic white shade. You can utilize the cooking water from pasta boiling to make a creamy sauce for this recipe.
Furthermore, do not skip your best-loved vegetable like carrot, squash, mushrooms, or asparagus to add the crunch and extra flavor to the fantastic dish.
Fill your hungry stomach by making the delectable farfalle primavera to enjoy.
Total time: About 17 minutes
You will have excellent and memorable moments with your family when enjoying the flavorful pasta with meat sauce recipe. I will use the instant pot for cooking this recipe's ingredients effectively.
It is hard to refuse this fantastic dish containing plenty of ground beef and rich pasta sauce. I use classic tomato and basil sauce to add a light tartness to the food. The typical taste of Italian seasoning, garlic, onion, and black pepper leaves a deep impression on your diners.
In addition, this recipe works well with any type of sauce, so feel free to use other options depending on your preference. When you have this dish on hand, let's make roasted broccoli, garlic bread, or lemon butter broccoli to consume together.
Total time: About 25 minutes
This fantastic salad comprises farfalle pasta, cucumber, spinach, and sun-dried tomatoes. It is an excellent choice for hot summer. People often prepare it to enjoy with hot soups at lunch. The easy-to-find components and simple preparation allow you to complete it quickly.
Vegan cream or feta cheese are indispensable in creating a creamy and cheesy salad. Furthermore, the citrusy and tasty salad dressing is the heart of this delicacy.
For variations, try making it different by adding artichokes, cherry tomatoes, chickpeas, or olives to the recipe.
Try The Farfalle Recipes Immediately!
Are you a fan of delicious farfalle recipes? If yes, let's show your cooking skills by making these beautiful recipes in this article. I have been successful, and I believe you can finish them simply like me. So, try them immediately!
The fantastic recipes in this post will be valuable to many other people, so do not hesitate to share this article. Moreover, your feedback plays a vital role in developing my website, hence leave them in the comment section.