It's not an exaggeration to say fall soup recipes are the (addictive) food for the soul. They warm you up, make you all cozy, and make you want to have a good long sleep. Especially when sick and lying in bed, anyone will love a warm bowl of soup.
Thanks to their warm and easy-going nature, soups are ideal for the fall season. You can eat them on their own for breakfast, with bread for a light lunch, or with salad for an easy dinner. Fall soups are truly versatile and suitable for almost every occasion or gathering.
There's nothing like curling up on your couch (or bed) with a bowl of hearty soup, bisque, chowder, or stew with autumnal veg. What's a better way to make yourself cozy on a chilly night? Pick up your spoon and dig in now!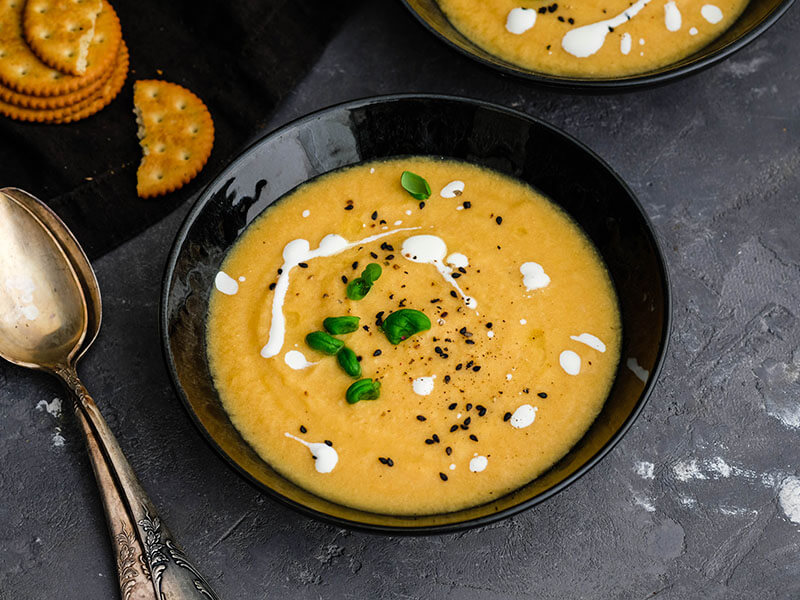 The Mouth-Watering Fall Soup Recipes That Deliver
There are many methods and ingredients you can use to make the most of the fall season. Whatever you go with, you can't go wrong with the delicious and luscious results. Let's cook a big batch of these recipes and warm yourself up.
Total time: 30 minutes
Chicken noodle soup is everyone's favorite comfort chicken dish cooked in a Dutch oven. The chunks of tender chicken in a hearty broth are just irresistible. The recipe is your familiar lemon chicken soup, but using orzo (short-cut pasta) instead of the traditional noodles.
The dish is a nice blend of freshly-squeezed lemon juice, delicious chicken meat, and refreshing veggies. The tart lemon adds a pop of flavors to the whole dish. The refreshing lemony broth will capture your heart.
Whipping up a lemon chicken orzo soup is one of the simplest things in the world. To summarize, you toss all the items into a dutch oven and occasionally stir until they are tender. Then just squeeze lemon juice and parsley into the broth to taste.
You can recreate the awesome and super tasty lemon chicken orzo soup.
Total time: 45 minutes
The yellow-colored gingered butternut squash soup reminds the eaters of fall thanks to its appearance and ingredients. This is the recipe for when you want a simple yet elegant dish for your special night. Squash soup is among the fancy sides for your autumn weeknights.
The dish makes use of Crème Fraiche, a sour cream variant with a higher amount of fat than usual. Incorporating this component into the squash soup makes it richer and creamier. And not to mention there's the delicate sweetness from another layer of ginger.
There's no exact measure of how much Crème Fraiche you should pour into the soup. Just put the sour cream in little by little until you see fit. Pour in more if you want richer results or less if you prefer the other way.
Total time: 35 minutes
Wild rice, also known as Manoomin, grows in the upper Midwest and Great Lakes regions of America and has been a staple food of Native American tribes for generations. So it's no surprise that the soup made from this ancient grain is popular in these regions.
This soup with a creamy texture is close to the original version, except a few simple twists. It has flour, half and half, and evaporated milk to enhance the soup's flavors without making it heavy. You can substitute the chicken stock with veggie broth if you want a vegetarian dish.
The white wild rice soup tastes amazing with the nutty and earthy flavor from wild rice and a combination of mouth-watering ingredients, spices, and herbs. The simple dish can take you for a wild ride (pun intended).
For more variety, you can change the items to make something new. For instance, you can put in shredded rotisserie chicken or cubed ham. Hot smoked fish, fresh or dried mushrooms, or sausage are also good options.
Explore the best way to whip up the classic American creamy chicken and wild rice soup.
Total time: 4 hours 30 minutes (Including 4 hours 20 minutes of slow cooking)
What is tortellini? It is pasta stuffed with meat and cheese from Emilia, Italy. The exact origin of this dish remains unknown as the people of both Bologna and Modena claim tortellini comes from their cities.
Tortellini has many flavors, depending on the fillings. The soup recipe using pasta doesn't call for any specific tortellini, so choose any variant you fancy. Whatever your choice is, it will go well with the sausage, diced tomatoes, heavy cream, and parmesan cheese.
As you may have noticed, most of the items required are Italian-style. Thus, the final product will be a true Italian-inspired soup with one of the most fulfilling and coziest tastes you can get. The cooking is simple, toss all the items into a slow cooker and let this machine handle the rest.
Total time: 35 minutes
If you want a plant-based and delicious low-in-sodium soup for the vegan folks, I've got you covered. The potato leek soup is also gluten-free and nut-free. So rest assured that this is not only a comforting meal but also a healthy offering for your whole family.
Potato leek soup is versatile, and you can eat it as a side dish or a main dish. Salad, bread, or sandwiches are some recommended sides for this potato soup. Moreover, you can freely enjoy the flavorful goodness within 30 minutes of making.
You can store the meal by letting it cool and putting it in an airtight container in a refrigerator for around 5-6 days or up to 3 months in a freezer. When you want to consume it, thaw overnight before and reheat in the microwave. Stir in water or broth if it is too thick after thawing.
Kick off your morning with the delicious vegan potato leek soup now.
Total time: 1 hour 20 minutes
It's a guilt-free dish as there's no cream or sugar involved. However, the final product is still a creamy, luxurious, and sweet bowl of soup. Everything is perfectly achieved with one secret ingredient: the basil pesto.
You don't have to use heavy cream or half and half anymore since the pesto's pine nuts and parmesan cheese already give you all the flavors and texture you need. They add just the right amount of cheesiness and creaminess without being overwhelming.
In case you are strictly following a vegan and dairy-free diet, opt for vegan pesto, in which you use nutritional yeast instead of parmesan cheese. You can use the homemade or store-bought version.
Total time: 15 minutes
Now let's explore a savory and delicate Japanese soup you can enjoy in fall or every season. Miso soup, also known as Miso Shiru as the Japanese call it, is properly the second most well-known dish from the land of the rising sun, just after sushi.
As the basics, Miso soup's main components are Dashi (Japanese soup stock), Miso paste (fermented soybean paste), onion, and water. Put in Ichimi Togarashi (Japanese 7 spice blend) for an extra flavor. Consider topping the soup with tofu and seaweed, too.
The recipe can be made from scratch, but if you want to do it the easy way, don't hesitate and use Dashi granules. For an even simpler route, opt for instant Miso soup. You can easily purchase them in Japanese stores or online shops.
Explore Japanese cuisine with the traditional Miso soup.
Total time: 25 minutes
Chinese hot and sour soup, also known as Hulatang (Pepper Hot Soup), is a popular dish in Sichuan cuisine. Despite being a relatively spicy and gloopy dish, the dish has a light heartiness to it. The bamboo shoots and mushrooms add a nice crunch to the taste of the broth.
As the recipe calls for Chinese ingredients like wood ear mushrooms and Shiitake mushrooms, you have to pay a visit to the Asian or Chinese stores close to your place. If you can't get your hands on them, sliced carrots and zucchini make for good substitutions.
Fortunately, this hot and sour soup is quick to make, unlike other Chinese recipes requiring hours of slow cooking. You can make the dish vegetarian-friendly by swapping the chicken broth for a veggie one.
Total time: 45 minutes
Are you looking for a cheesy vegan soup with plant-based protein? Then you've come to the right place. Before adding the cauliflower and garlic to the soup along with other ingredients, you roast them first for a richer, deeper, and fuller flavor all-around.
The roasting is even longer than the time it takes to cook the whole dish. Roasted cauliflower soup is that easy and quick to make. With a blender, everything comes nicely together within 1 hour. When you get a smooth soup, whisk in cream and cheese, then simmer.
Warm yourself and your family with the easy and creamy roasted cauliflower soup.
Total time: 45 minutes
Sometimes you want a spiky kick since you have a higher heat tolerance. It makes sense as the sharp flavor can keep you warm better on chiller days. I hear you, spicy food enthusiasts, and here is your recipe: feel-good spicy ramen with sweet potatoes and crispy shallots.
True to its name, the feel-good ramen offers a steaming hot bowl of ramen stemming with extreme flavor. There are a lot of yummy components in the dish: sweet potatoes, fresh wintry greens, great toppings of smoky bacon, soft-boiled egg, and crispy shallots.
In short, this is an offering of warming, flavorful, and a little spicy soup to warm yourself. It's the perfect fall or winter soup recipe. The feel-good spicy ramen can be the thing you need to make it through the cold.
Total time: 45 minutes
Make this soup tonight, and it will be a hit with your family. All you need is a large pot to whip up your next favorite tomato soup recipes. The cooking steps are straightforward: throw all the ingredients into one place, then cook and simmer throughout.
Within an hour, you can make about 6 portions of this beyond delicious soup. The combination of tomatoes, parm cheese, and puffed tortellini is just too good to pass. If you want the dish to be vegetarian, swap out the chicken broth with a vegetable broth.
Total time: 30 minutes
Here's another great recipe for chicken meat lovers. The dish is not only mouth-watering but also low-carbs and packed with nutritious ingredients. The slightly cream broth with rotisserie chicken and veggie chunks makes for a unique experience.
The recipe uses rotisserie chickens to save time and for the sake of convenience. But feel free to use roasted chicken or shredded chicken breasts if that's your jam. If you want a vegan dish, simply remove the chicken and add canned beans and veggies broth.
The soup is already hearty and fulfilling as-is, but you can add more toppings. Another way is to eat it with side dishes. Some good suggestions are guacamole, warmed tortillas, or quesadillas.
You can make chicken tortilla soup in just about 30 minutes.
Total time: 20 minutes
Healing lemongrass and mushroom broth, or nấm hấp sả in Vietnamese, is a light and delicate soup that makes you want to keep eating. The "healing" property of the dish refers to the lemongrass and ginger ingredients.
They provide a good source of antioxidants, folate, potassium, vitamin A and C. Lemongrass-based soup is also good for lowering fever and relieving pain. Consuming the dish can keep you healthy and aid your digestion system.
You can store the soup for about 2 days in the fridge. You may notice how the soup tastes better during this time. This is because there is time for the broth to absorb the lemongrass, resulting in a slightly richer and more savory taste.
Total time: 40 minutes
Bold yet comforting are what you can expect from this soup. Roasted red pepper soup consists of cooked bell peppers, dried oregano, sour cream, hot sauce for extra flavors, and topped with more extra sour cream and fresh herbs.
The rich, creamy, and thick consistency of the soup makes it ideal for eating hot in fall or consuming the dish at room temperature on summer days. The red bell peppers bring a slightly sweet flavor to the whole thing.
Let's start cooking the roasted red pepper soup with this detailed cooking guide.
Total time: 40 minutes
You can't talk about fall without mentioning pumpkin, as it's the season of this fruit, after all. Hardly any activity is more suitable for this season than eating a bowl of hot, delish pumpkin soup, especially when the chilly wind blows outside.
The ingredients include canned pumpkin, coconut milk, veggies broth, curry paste, and spices. Take care not to purchase pumpkin pie filling mistakenly. It's not the same as canned pumpkin puree, as you need pure pumpkin puree without sugar and spices added.
As it is, pumpkin curry soup is a vegetarian recipe, but you can add sauteed chicken or sausage. Moreover, consider putting in cooked quinoa, tempeh, chickpeas, etc., to spice things up.
Total time: 25 minutes (Excluding 16 hours and 40 minutes of simmering time)
Udon noodles are chewy Japanese noodles typically made of wheat flour, salt, and water. They are white and thicker than your average noodles or ramen but still served similarly. Udon noodles are versatile as they are mild with a springy texture, ideal for cooking many dishes.
The recipe calls for bone broth instead of the traditional Dashi broth, a stock base used for many dishes in Japanese cuisine. You should make the broth in advance as the dish requires you to cover and cook it on the lowest setting for up to 48 hours.
What's special about this bone broth udon soup is how highly customizable it is. Using the tasty broth you get from slow-cooking the ingredients, you can add anything to it for a tasty dish, from veggies like celery and seaweed to woody herbs.
Satisfy your tummy with the yummy chicken udon noodles now.
Total time: 1 hour 40 minutes
This is a cross between French onion soup and lentil soup. You have all the flavors from the former with fulfilling aspects of the latter. Vegan French lentil soup is truly the best of both worlds. Furthermore, you can get all of the veggie protein from the recipe.
Judging from the main components, you can tell this is a hearty and healthy soup. Onions and lentils introduce many benefits to the eaters: improving immunity, lowering blood pressure and cholesterol, etc. Rest assured that you can stay fit and healthy with this delicious soup.
Total time: 1 hour
This soup sure has a curious name. The name's origin is from the phrase minestra maritata, which means "married soup" in Italian. It refers to how the meat, green veggies, and flavors "join hands" together in one dish.
The recipe features small pasta, flavorful broth, spinach, and mini meatballs. This may not be the authentic Italian soups for weddings in the traditional sense, but I promise the meal is still worth trying with all of its savory soup and tender meat.
There are 2 parts you need to prepare: the meatballs and the broth. For the former, you need to use any ground meat of your choice. Beef, pork, turkey, or chicken are good options. As for the soup base, just cook and simmer all the required items in a broth.
Let's marry the meat with green veggies in your kitchen with the Italian wedding soup.
Total time: 8 hours 15 minutes (Including 8 hours of slow-cooking time)
If you have an abundance of pumpkins or some leftovers from past dinners, check out this chili. Thanks to long hours of slow-cooking, the soup has time to infuse all the flavors into itself. There is a tomato sauce, but the dish can keep its pumpkin-cinnamon offering.
The making and cooking of pumpkin chili couldn't be easier. All you need to do is saute the ground beef, onions, and bell peppers. Then pour the mixture into the slow cooker along with other items and cook on low for 7-8 hours. Alternatively, you can cook on high for 3-4 hours.
The cinnamon is what makes this recipe a fall soup. However, if you can't handle it or are afraid that the spice is too overbearing, use ¼ teaspoon instead of the ½ recommended teaspoon.
Total time: 30 minutes
Artichoke soup is another affordable and warming soup to enjoy alongside your beloved ones. This fall delight is best served with crusty bread, as it highlights the creamy texture and deep earthy flavor. You may also want to garnish the dish with sour cream, yogurt, thyme, etc.
Artichoke is the key to making this green-colored soup. You can purchase frozen artichoke hearts at the stores. But fresh ones are the best: choose the plants that are firm to the touch and heavy. The leaves should be tightly closed and thick.
Canned artichokes are also a solid choice. Canned in water is better than marinated ones. Should you only find the latter, you should rinse them thoroughly before using them. Since they are more acidic, you shouldn't put lemon into the soup.
You can whip up the lovely artichoke soup in a snap.
Total time: 35 minutes
When you are feeling down or tired, Mediterranean white bean soup can be the dish that brightens you up with its energizing properties. White beans, onions, carrots, celery, and herbs blend nicely, creating a wonderful soup with charming aroma and taste.
The beauty of the recipe is how flexible it is. You can add more veggies like tomatoes, zucchini, potatoes, peas, etc. You can leave out the tomatoes if you prefer the present color of this soup. If you prefer something creamier, feel free to pour in some cashew milk.
Mediterranean white bean soup calls for canned white beans for ease of cooking. Navy beans, cannellini beans, Great Northern beans, or any kind of white beans, you can use them all. You can also use dried beans, but remember to soak them the night before.
Total time: 35 minutes
Different from your everyday Indian soups, this dish uses Madras curry powder, which is popular in Southern India and Thai cuisine. Thanks to the addition of this intense curry blend, the dish has a richer and deeper flavor than your average curry.
Plus, you can make the whole thing in a snap. First, cook and drain the broccoli. Next, saute onions, minced garlic, carrot, mushrooms, and cooked broccoli for a few minutes. Then you add coconut milk and broth along with spices, stir well to combine.
Lastly, remove the soup from heat and serve it with chopped fresh cilantro. That's it. Whipping up Madras curry vegetable soup couldn't be easier. It's the ideal soup for eating with your family at dinner.
Total time: 30 minutes
Check out this recipe if you want a whole-grain healthy autumn soup recipe. It's rich in fiber, low-fat, and comprises fresh veggies. You only need a dutch oven, a sharp knife, and basic cooking skills. You can also cook this dish using an instant pot.
What's more, the heart-warming Dutch oven recipe calls for simple ingredients which you can find anywhere: pearl barley, stalk, onions, tomato, etc. Most of them may have already been sitting in your pantry. With a few simple items, the result is a mild, nutty barley soup with a veggie taste.
The cooking process involves sauteing the ginger, garlic, and onions and then simmering them along with the remaining ingredients in water and broth on low heat. The soup is ready to serve in about 30 minutes or when the barley is tender to your liking.
You may become a big fan of the healthy barley soup once you make and taste it for the first time.
Total time: 50 minutes
If you are a lasagna fan but don't want to do all the hard work, I have good news. Lasagna soup is an excellent way to enjoy this delectable and divine pasta. You can taste your favorite lasagna flavor in a hearty soup form.
The soup can be frozen, but you should skip freezing the noodles and the cheese topping. This is because when you reheat the soup, it's better to prepare these two components fresh than to eat their frozen and thawed forms.
Total time: 30 minutes
A hot bowl of potato cheddar chowder should always do the trick whenever you are feeling cold or down with the gloomy weather and want to brighten up. This is a creamy and hearty instant pot soup with chunks of potatoes, veggies, and other items.
The most suitable potatoes for the job are baby yellow or golden ones for their buttery and rich flavor. You don't need to peel these potatoes, just toss them into the instant pot along with other required ingredients, and you are golden!
Great topping options are cooked bacon, extra shredded cheese, chives, or green onions. You can also serve the dish alongside salad, breadsticks, or garlic bread. To store, put it into an airtight container in the fridge for up to 3-4 days.
Total time: 35 minutes
Sometimes a feel-good recipe doesn't take much. With a few ingredients like coconut milk, veggie stock, carrots, spices, and herbs, anyone can make the best coconut ginger carrot soup without breaking a sweat.
There are just two steps: sauteing with a saucepan or a soup pot and blending. You can blend the dish in the pot with an immersion blender, but it's recommended to use a high-speed blender for best results.
Within less than 45 minutes, you can taste the amazing sweet-spiced flavor with a slightly thick texture. Top it off with fresh cilantro and lime juice for an extra pop of tastiness. If you want to thin the soup, stir in extra veggie stock, non-dairy milk, or water.
Give your taste buds a whole new experience with coconut ginger carrot soup now.
Total time: 3 hours 20 minutes
Pho soup may be the most well-known meal in Vietnamese cuisine. And now you can make a delicious serving of Pho at your own home. The dish is a combination of broth, rice noodles, meat, herbs, and some sauces.
The broth is the highlight here. It takes about 3 hours of simmering to infuse the broth with all the flavors and nutrients. Plus, the process is mostly hands-off, so there's not much hard work involved.
Pho soup is healthy as it provides proteins, vitamin C, and minerals, all the while being low-fat and low-calories. If you want to eat it the Asian way, consume Pho with chopsticks, but fork and spoon work fine, too.
Total time: 40 minutes
Bean is the magical component that you can never get enough of. Ribollita, or Tuscan bean soup, has been around since the Middle Ages. It's a popular bread soup to eat when autumn is in full swing.
You can trace the dish's origin to Tuscany, Italy. Ribollita means "reheat" in Italian. In the past, people prepared the dish on Friday, then consumed and reheated it for several days after. Traditionally, the soup had added animal protein, while the modern version is vegan.
You can use either dried or canned beans for the recipe. Remember to drain and boil the dried ones for about 40-45 minutes or until tender. If using canned beans, just drain them for meal prep.
The dish at its heart is simple, but it has a complex and extraordinary flavor. The classic version of Ribollita will be a hit with anyone, especially when they consume it in fall or winter.
Surprise your friends and close ones with impressive servings of Ribollita.
Total time: 1 hour 15 minutes
Every meat lover must have a soft spot for meatballs. They are the concentration of explosive flavors compressed into a smaller profile. Spanish albondigas soup is one of the best meatball soups you can whip up to enjoy that tastiness.
Saffron is what makes or breaks the dish. The spice adds a unique and subtle aroma and flavor to the dish. It is pricey, but thankfully you only need to use a small amount. With kale, albondigas (meatballs), and smoked paprika, the soup tastes amazing.
Total time: 3 hours 30 minutes
Shoyu means "soy sauce" in Japanese, so you can imagine how it steals the show in this ramen recipe. The dish has a bold taste with strong umami flavors. You can often find this ramen almost anywhere in Tokyo.
The Japanese soup calls for kombu Dashi and Tare for the soup base. Kombu Dashi is a vegan soup stock made of dried kelp. Tare is a flavored, concentrated soy sauce, and some say this is the soul of Shoyu ramen.
The other components are pork shoulder, toasted nori sheets, spring onions, and soft-boiled eggs. They all come together, creating a festive burst of Japanese flavors right on your table. Remember to serve the ramen with chili oil, sesame oil, and shichimi togarashi (Japanese spicy spice).
Make the flavorful and delicious Shoyu ramen now. It is very easy and budget-friendly.
Make These Inviting Fall Soup Recipes When You Want A Good Time
The colors of fall soup recipes are hearty and resemble the hue of falling leaves at this time of the year. They may get you all sensational with their appearance, but don't forget to appreciate the tasteful flavor, too.
A bowl of comforting soup is all everyone needs when the chilly winds start blowing. You can fix servings of them to share with your close ones. Or better yet, you can share these dishes with everyone all over the world by clicking that "share" button on this page.
If you want to engage in conversation with others about how these delicious soup recipes have helped you in the autumn, drop a comment in the discussion section below. I and others would love to hear about your experience.