The yummy fall side dishes will cozy up your gatherings in the cool weather of autumn. Nevertheless, not everyone knows how to create the perfect accompaniments. If you are having trouble with this, follow this article.
Apart from providing the ideal suggestions to diversify your menu, this post also shows the small tricks to level up your recipes. I guarantee all the most exciting things are in this article, so don't take your eyes off your phones or laptops.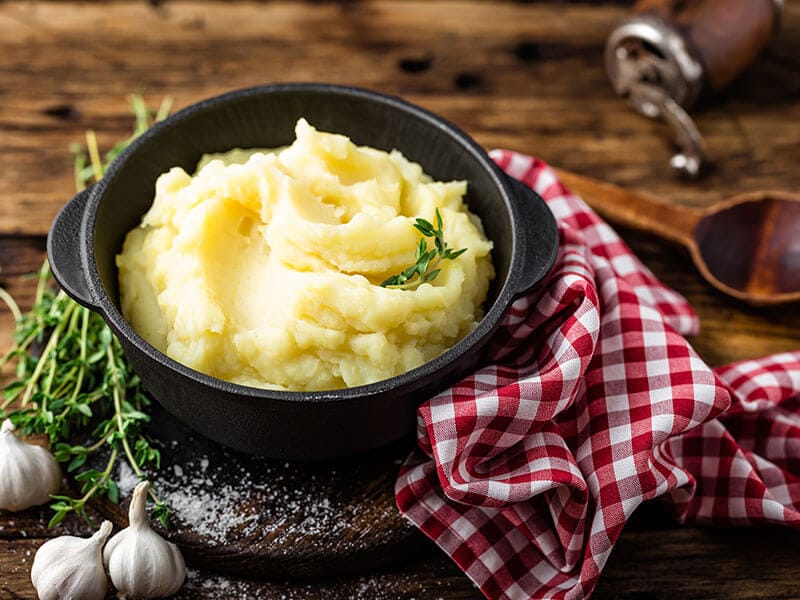 Warm Your Meal With These Fabulous Fall Accompaniments
It is effortless to prepare the fall accompaniments with some simple steps. Let's read this part to explore these steps and some extra tips to get yummy side dishes.
Total time: About 50 minutes
You will have a healthy autumn meal with a tray of flavorful roasted fall vegetables. Every year, I make this incredible recipe to consume with heavy main dishes on Thanksgiving. Furthermore, do not skip it if you are a real vegetarian.
You can make this fantastic dish with any veggie you desire. Nonetheless, from my experiences, sweet potatoes, cauliflower, butternut squash, and carrots are lovely fall veggies that are suitable for roasting.
Aside from the authentic and fresh taste of the veggies, you need the savory and spicy touch from salt and pepper to tickle your diners' taste buds. Plus, this dish becomes more appealing with the sexy aroma of herbs and garlic.
Check proper instructions to make your roasted fall veggies.
Total time: About 2 hours
Cornbread dressing with oyster and sausage is the must-have dish at your fall parties. This recipe impresses you with its savory and aromatic dressing. This dish has the potent umami taste of oyster and the softness and delicate touch of cornbread.
It's better to use leftover cornbread for this dish (the dry ones) since it helps the bread absorb oyster liquor and chicken stock better. You can use fresh ones for oyster selection, but you must shuck them before adding them to the dish.
However, you can still use a can of raw shucked oysters to finish this Thanksgiving side dish. Minced fresh thyme and tarragon leaves are the indispensable ingredients for an aromatic dish.
Total time: About 45 minutes
The versatile flavor of pumpkin makes it suitable for many different culinary styles. You can find it in main courses, desserts, or side dishes. When it comes to yummy side dishes containing pumpkin, roasted pumpkin is the first name that comes to my mind.
This gluten-free, vegan, and healthy recipe has the prominent smoky flavor of roasted dishes. In addition, it tastes spicy and savory with the appearance of various spices.
There are many ways to mix the spices for this treat. You can choose the mixture of salt, olive oil, and pepper or the blend of olive oil, red chili flakes, pepper, salt, and other options depending on your preference.
Total time: About 15 minutes
With an air fryer, you do not need to spend too much effort and time to have crunchy and yummy zucchini chips. People usually consume this amazing recipe as a fantastic snack, a side dish, or an addicting zucchini entree can be another role of the dish on the dining table.
When you take a bite of fried zucchini, you will feel the rustling sound of the crispy bread outside. Nevertheless, zucchini retains its softness, moisture, and mild flavor. A slight spiciness of smoked paprika will awaken the taste buds.
For storing, there is no problem refrigerating the leftover zucchini chips for 3 to 4 days. When you want to enjoy them, reheat them to bring the crispiness back.
Learn the essential steps to make yummy air fryer zucchini chips.
Total time: About 57 minutes
In case you do not know what to do with green beans in the kitchen, you should give the gluten-free green beans casserole a shot. It is a suitable accompaniment for your family's party.
Besides green beans, you cannot complete this delicacy without mushrooms, sliced shallots, cream of mushroom soup, and some spices. You are wrong if you think fresh green beans are better than canned ones. I have used both, and canned veggies are the most suitable choice for this dish.
Total time: About 35 minutes
To make these crispy and golden-brown fritters, you must have all-purpose flour, butternut squash, Parmesan cheese, and chopped fresh sage. Then, add the ingredients to a large bowl and season the mix with salt and pepper.
Cook the fritter in a nonstick skillet until it turns into a golden-brown color. Let the cooked butternut squash fritter on a paper towel to discard the excess oil. It is better to serve this food with sour cream or plain Greek yogurt for extra flavor.
Total time: About 1 hour 10 minutes
The charming aroma of corn pudding casserole will make your mouth water, no matter how stubborn your palate is. While there is no corn muffin mix in this incredible recipe, it still has a creamy texture and delicate flavor.
Corn pudding casserole is one of the most well-known side dishes in the US, though you can enjoy it as a filling dessert for fall dinners. Besides the richness of creamed corn and milk, you can feel the earthy warmth of various spices in it as well.
Get into the kitchen to bring a fragrant corn pudding to your loved ones.
Total time: About 40 minutes
The creamed spinach and mushrooms recipe is one of my best-loved steakhouse dishes. The vegetarian side dish's cheesy and creamy flavor makes it a regular choice for my fall holidays.
The cheesy touch of this treat is made with Gruyere cheese, milk, and all-purpose flour. In addition, you can find a little warmth from nutmeg when enjoying this delicacy in the cool autumn.
Even better, chefs often sprinkle a few panko crumbs to give the savory dish a light crunch. For crowded gatherings, it is better to make this food ahead of time and serve it when your diners arrive.
Total time: About 1 hour 25 minutes
Every year, when the fall comes, baked acorn squash with butter and brown sugar always appears in my family's tiny kitchen. The buttery and sweet taste of this delicious dish will bring a pleasant sensation to the chill atmosphere of autumn.
Acorn squash achieves a beautiful golden-brown shade after taking it out of the microwave. You need to remove the whole seeds inside before making this delicacy. The most effective way to eat this food is to use a spoon to scoop the flesh to eat.
You need to be careful when choosing acorn squash for this dish. You should only buy squash without mold and blemish on the skin. In addition, you need to avoid purchasing squash with soft spots.
Total time: About 50 minutes
Au gratin creamed peas are a familiar accompaniment for fried chicken and other delightful main dishes at fall parties. The sweet peas are baked in a creamy sauce and covered in a cheese and bread crumbs layer. These elements create a creamy and tasty side dish.
It doesn't matter to prepare this incredible dish beforehand. You just need to keep this food in the fridge and reheat it when you want to serve it. For leftover peas, put them in a freezer bag and place them in the freezer for storage effectively.
Total time: About 40 minutes
When talking about the mouthwatering side dishes for autumn gatherings, it is impossible not to mention rice. This familiar dish is associated with the cuisine of many nations worldwide, predominantly Asian countries.
This spectacular side dish with rice will be a nice addition to your menu if it has ham, chicken, turkey, or BBQ dishes. Unlike plain steamed rice, this rice dressing recipe has ground beef, pork breakfast sausage, beef broth, and spices to enrich the rice.
Let's see how to prepare a rich and tasty rice dressing for your autumn.
Total time: About 20 minutes
I love the seafood touch of shrimp in the tasty and savory cajun shrimp and sausage skillet recipe. Shrimp and andouille sausage are rich sources of protein. Plus, bell peppers give this dish a crunchy texture and a spicy hint.
The first step is to brown the sausage and cook onions and sliced bell peppers. Do not forget to spice them up with cajun seasoning. Fill the skillet with shrimp and toss to blend the components. After the shrimp is cooked, add a bit of lemon juice and green onion before serving the dish.
Total time: About 10 minutes
This is a staple salad for my autumn parties. The fresh, sweet flavor of spinach works well with a fruity hint of fresh apple in this recipe. Nevertheless, the soul of the dish belongs to tangy balsamic dressing and maple-glazed walnuts.
Walnuts make your fresh salad more crunchy, but pecans or almonds can also take this. Another ideal idea to customize this salad is to add sliced shallot, feta, goat cheese, or sunflower seeds.
Do you know how to serve this delicious spinach apple salad? The brilliant idea is to eat it with your best-loved pasta, pizza, stuffed almonds, or baked salmon.
Total time: About 30 minutes
The combination of greens and garlic can always surprise you due to their delicious, fantastic flavor. I'll use kale, fresh parsley, garlic, and sun-dried tomatoes in this recipe. Of course, you need a little olive oil to grease the dish.
Before blending with fragrant garlic, you must soften kale in a boiling pot. Then, take the kale out and add some oil to the pot with garlic and tomatoes. One minute later, return cooked kale, salt, and parsley to the pot and cook thoroughly.
Total time: About 30 minutes
The roasted Brussel sprouts recipe is always on my impressive side dishes menu for Christmas and Thanksgiving dinners. I love the fantastic crispness of these veggies and their smoky touch when roasted in the oven.
Furthermore, you will be addicted to the rich and sweet balsamic in this outstanding food. I use tamari to give the sprouts a savory flavor, but you can replace it with coconut amino or soy sauce if you cannot purchase tamari.
I get a lot of questions about whether frozen Brussel sprouts can be used for this recipe. Honestly, this option will reduce the crispiness of the dish as frozen ones seem moisture. Also, you have to spend extra time defrosting them. Hence, fresh veggies are the best.
Follow the tutorials to roast Brussel sprouts for fall parties.
Total time: About 20 minutes
You can encounter sweet carrots in many delicious dishes, from main dishes to side dishes or even desserts. Have you ever tried mixing baby carrots with honey? Honestly, this is an excellent combination since it creates an enticing and irresistible accompaniment.
With the addition of honey, the sweetness of the food will be enhanced excessively. You can finish it in a short time due to its simplicity. You just need to cook carrots, brown sugar, dill, and honey to get the tender and sweet side dish.
Total time: About 55 minutes
Nothing is more wonderful than sipping a warm bowl of pumpkin soup on cold autumn and winter days. The creamy and intense pumpkin flavor will warm your soul and body quickly and effectively.
In terms of appearance, this excellent vegan soup captivates you, thanks to its eye-catching dark yellow shade. Plus, it looks more gorgeous with the white hue of cream and brown color of roasted pumpkin seeds on top.
This fantastic soup is not only delicious but also good for your health since it contains a lot of vitamin C, A, fiber, and calcium. Are you wondering about the type of pumpkin you can use? I often use Hokkaido pumpkin due to its excellent sweetness and creaminess.
Total time: About 45 minutes
One of the yummy fall side dishes you cannot miss is loaded cauliflower casserole. Also, it is a keto suggestion with a mix of steamed cauliflower, sour cream, cream cheese, bacon, and chives. You can taste this treat after baking it for about 20 to 25 minutes.
I often prepare this food with fresh cauliflower, but you can use frozen one if you run out of fresh veggies. According to the flavor, I have to say it tastes excellent with a creamy, rich, and cheesy touch of cheese and cream.
Before baking the food, it is necessary to layer the baking dish with cooking spray to avoid sticking. To achieve the best texture, steam the cauliflower until it becomes soft.
Jump into your kitchen to make a delicious loaded cauliflower casserole right now.
Total time: About 10 minutes
I have to admit that I was addicted to the fabulous crispiness of the air-fried okra after the first try. Gradually, this recipe has become a succulent treat to elevate kabob's flavor in my kitchen. Its simplicity makes it impossible for me to leave it out of my cookbook.
The secret of this flavorful recipe lies in the layers of flour, egg, and bread crumbs on the outside. They ensure excellent crunchiness for the exterior of this beautiful side dish. I usually enjoy it with baked fish, grilled sandwiches, or salad.
Total time: About 2 hours
In case you have a lot of free time, you should go to the kitchen to make Parmesan – herb cornbread pudding to treat your relatives in the fall. I am sure your loved ones will fall in love with it in no time.
Indeed, it's hard to say no to the beautiful dish with the signature cheesy and butter flavor. Plus, this recipe's eye-catching yellow color makes it impossible to keep your mouth from watering when standing in front of this culinary masterpiece.
This dish requires baking twice to gain the complete texture and flavor. First, you need to bake the batter to get the golden cornbread. Next, you continue to bake after adding the milk mixture and cheese to the cornbread.
Total time: About 45 minutes
The most common way I use potatoes on hand is to mash them with melted butter, cream cheese, and seasonings to make a scallop-worthy amazing side to elevate your next gatherings. I usually prepare it for crowded parties.
There are many potato options for this recipe. Typically, I use Yukon golds or russet potatoes for a smooth blend. Nevertheless, you will get the best result when you combine 2 different types of potato. Let's try this recommendation!
Watery potatoes can destroy the entire texture of this mashed recipe. So, you must do everything possible to avoid this terrible situation. And remember to cut the potatoes before boiling them. Also, never boil them for too long.
Discover the correct tutorials to make the smoothest mashed potatoes.
Total time: About 30 minutes
Creamed corn is an indispensable part of your family's Thanksgiving dinner. I go crazy with the delicate flavor and gentle sweetness of corn kernels. Of course, you won't have creamed corn without cream cheese and shredded cheese.
This fantastic food is a beautiful picture with the harmonious combination of yellow, white, and green shades of corn, cheese, and herbs. The seductive fragrance of the delicacy will awaken your sense of smell after taking it out of the oven.
Total time: About 30 minutes
I get many questions about a yummy and fresh hamburger helper side dish I can make and enjoy whenever I want. The answer is the roasted garlic green beans. You do not have to go through a million steps to have a lovely accompaniment.
From my experience, roasting is the best option to turn fresh green beans into an excellent dish. All you must do is roast the green veggies with olive oil and garlic until you see the golden shade.
If you intend to blanch the green beans before roasting, you should forget this idea right away since it is not practical. Instead, you can roast the beans after trimming them.
Total time: About 30 minutes
Cauliflower is a versatile vegetable as you can try many cooking methods with this component. Roasting it is my top option for an excellent side dish. This food tastes distinctive with a smoky and garlicky flavor.
Roasting helps elevate the taste of cauliflower. In addition, paprika makes the veggies look eye-catching and gorgeous with a light golden-brown shade. To enhance this recipe's flavor, it is impossible to skip the garlic.
This healthy food is an ideal accompaniment for fish, beef, pork, or chicken dishes to enhance the meat's flavor.
Total time: About 1 hour 30 minutes
Sweet potatoes' natural and gentle sweetness captivates the hearts of food lovers. Therefore, I cannot leave the delicacy made from them out of this list. This yummy casserole always appears on the side dish menu of the Thanksgiving party.
This wonderful recipe comes in 2 parts: sweet potato filling and marshmallow streusel topping. You just need to put the necessary ingredients in the baking dish and put it in the oven to get the cheesy and rich casserole.
This recipe tastes more delectable with fresh sweet potatoes. Not only that, you can make this fantastic food ahead of time and bake it when the party starts. Remember to keep an unbaked casserole in the fridge for later meals.
Do Not Ignore The Fall Side Dishes!
Sharing is caring! I really love this sentence, so you should share this article with others to spread indirect concern for the quality of the meals of those around you. Plus, if you have any trouble making these treats, tell me about them in the comment box.
Side dishes are indispensable parts of a perfect meal, so let the recipes improve your fall parties. Please take advantage of this article effectively to bring high-quality and memorable meals to your family members.
Nutrition Facts
4 servings per container
---
Amount Per ServingCalories256
% Daily Value *
Total Fat 3g

5

%
Cholesterol 41mg

14

%
Sodium 825mg

35

%
Potassium 404mg

12

%
Total Carbohydrate 47.5g

16

%

Dietary Fiber 3.4g

14

%
Sugars 3.9g

Protein 9.7g

20

%
---
Calcium

78

%
Iron

3

%
Vitamin D

4

%
* The % Daily Value tells you how much a nutrient in a serving of food contributes to a daily diet. 2,000 calories a day is used for general nutrition advice.