Try these fall salad recipes if you want some side dishes hearty enough on weeknights. Autumn is the prime time to seek comfort when the temperatures drop. The blend of the autumnal elements in these salads will fill your heart and stomach.
Salad is not all about the fresh and juicy ingredients of summertime. Fall is also a perfect time to make yourself a salad bowl with comforting fruits, veggies, and nuts such as butternut squash, pumpkin, apples, or pecans. Be prepared because you will see them a lot throughout the list.
From apple and quinoa to chicken salad, there are plenty of delicious and hearty salads for you. Take out the paper and note down your picks to try throughout the fall.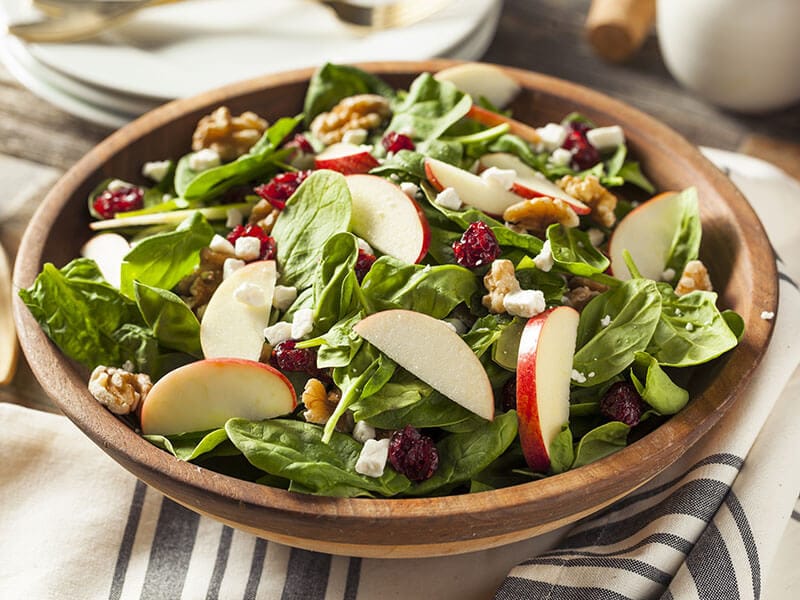 The Fall Salad Recipes You Should Try This Autumn
Eating with the seasons is good for your health and your wallet. The ingredients on the recipe list below are at their peak in the fall. Financially speaking, they are also more affordable. You will get the best of both worlds with them.
Total time: 20 minutes
This autumn apple and pear salad is a great start for this list. The combination of sweet pear and apple with salty bacon and tangy feta becomes a flavorful appetizer using apple for your Thanksgiving. You can turn this salad into a filling meal by adding some chicken or turkey.
The fresh ingredients' contrast in shape, texture, color, and flavors make this fall salad more appealing, such as soft pears with crisp bacon. Not to mention, apples and almonds add a pleasing crunch. Plus, the classic sweet-meets-salty combination will spoil your taste buds.
The sweet and tangy balsamic vinaigrette ties all the ingredients together. To cut short prep time, use a store-bought vinaigrette, but the homemade one always brings a better result.
Experiment with the recipe by using your favorite apple and changing feta cheese to goat cheese or blue cheese.
Total time: About 18 minutes
This autumn chopped salad is a healthy and budget-friendly dish with all your favorite seasonal produce. How can you pass the sweet flesh of apples, salty bacon, fresh romaine lettuce, and nutty peanuts? In addition, the poppy seed dressing works well in this fall salad.
With various ingredients, this fall salad celebrates a change in season with a beautiful combination of tastes and textures. The taste is a blurring line of sweet, salty, and savory umami flavors. Besides, peanuts and dried cranberries add more layers of textures and flavors.
It would be remiss not to talk about the sauce made from poppy seed dressing and balsamic vinaigrette. A little tangy and a little tart can compliment any type of salad.
This autumn chopped salad will be an excellent sight for your holiday feast.
Total time: 40 minutes
This feel-good fall salad is a feast with vibrant fall colors for your eyes. With the fresh green of avocado and arugula, orange-red carrots and sweet potatoes, and the creamy white of goat cheese, you can find all the presentative colors of autumn in this small salad bowl.
In this recipe, it is easy to customize the ingredients. Feel free to choose your desired nuts, cheese, or greens. Instead of arugula, switch to kale or spinach. Similarly, crumbled feta or blue cheese are great substitutes for crumbled cheese.
The salad is already nutrient-packed, but there are more adaptations to make it extra healthy. For a boost of protein, the addition of chicken, shrimp, or tofu will do. To keep the recipe vegan-friendly, eliminate the goat cheese and change to the vegan version with nutritional yeast.
Total time: 10 minutes
If you're seeking delicious fall produce-inspired salad, you've come to the right place. This autumn salad with apple cider vinaigrette can be your go-to recipe all year round with simple ingredients, such as romaine lettuce, apples, bacon, and feta cheese.
In this recipe, you will make the dressing from scratch with olive oil, apple cider vinegar, maple syrup, and other ingredients. All you need to do is pour all the dressing into a jar and shake until combined. It is fine to make the dressing 2 – 3 days in advance.
The cider vinaigrette adds a burst of bright and tangy flavor to your salad. Meanwhile, the sweetness of apples and cranberry is balanced by the salty bacon, taking the sweet and savory combo to a new level. Sounds tempting?
Total time: 30 minutes
Say hello to another fall favorite: Honeycrisp apple and kale salad. With sweet honey, crisp apples, juicy pomegranate arils, and nutty pumpkin seeds, this salad will keep your stomach full and your heart warm during this autumn/winter season.
This salad is a fun blend of kale, Honeycrisp apples, feta cheese, and other fall products. With the variety of ingredients, this veggie dish has diverse textures, from crunchy and crispy to creamy. It has a bit of everything: salty, sweet, and crunchy that you'll never get bored with.
All the ingredients are perfectly coated in a sweet, tangy vinaigrette made of caramelized shallots and apple ciders. Don't get rid of leftovers. Keep them in the refrigerator and enjoy them the next day because this salad's flavor will taste better.
Total time: 40 minutes
To your surprise, the famous chicken Waldorf salad is also a fall dish. This dish packed with diced chicken is an unexpected combination of cooked meat and fresh fruits. Besides the chicken, this salad contains seasonal flavors from apples, walnuts, and grapes.
Baked chicken is perfectly seasoned with salt and peppers. It gives tenderness and moistness to the salad. In the meantime, red grapes and Granny Smith apples bring a tangy sweetness to every bite. Also, you will get a nice crunch from celery and nuttiness from toasted pecans.
This recipe only needs an effortless apple treat combined with baked chicken. You should bake the chicken first before cooling it down to mix with other ingredients. Amp up the mayonnaise flavor with lemon juice if you want. It will add a zesty tang and fresh taste to the mix.
This classic American chicken Waldorf salad will be a great item on the fall menu.
Total time: 20 minutes
Serve this salad on your weeknights; I believe it can become a fall classic in your family. This easy and flavorful broccoli salad has your favorite autumn elements, such as pecans, apples, pomegranate seeds, and dried cranberries.
If you assume that broccoli is only for summer dishes, think again. With additional fall items, it will be an excellent base for your autumn salad. Best of all, no cooking is involved; you only need raw ingredients. However, if raw broccoli is not your preference, boil it for 1 minute.
The longer you let broccoli salad sit, the more flavorful it becomes. Therefore, making the salad 1 – 2 days in advance will be a great idea. I do not recommend freezing the salad due to the texture of the Greek yogurt. However, refrigerating it for five days is acceptable.
Total time: About 10 minutes
Prosciutto, pear, and pecan in a breath-taking staple with goat cheese? Yup, your dream fall salad comes true in this recipe. This pear salad only contains nutritious and delicious ingredients. Best of all, you can quickly whip up this veggie dish in only a few steps.
The first one is mixing pear, prosciutto, goat cheese, and other salad elements. And the second step is to combine the dressing ingredients, including balsamic vinegar, olive oil, and strawberry jam. Lastly, top the salad with the dressing when ready to serve.
The tangy sauce will bring out the best in this autumn salad. Note that the order you put ingredients in doesn't affect the overall flavor.
Total time: 45 minutes
Are you looking for a salad that will keep you coming back for more? Be sure to give this pomegranate delight a try. It is a mix of your favorite seasonal ingredients, such as butternut squash, pomegranates, pumpkin seeds, or gouda cheese.
The highlight of this dish is roasted butternut squash with cinnamon and honey. Caramelizing makes the veggie tender on the inside and crisp on the outside. It also adds a beautiful brown color to the food. Therefore, the outcomes will be unique with sweet and salty flavors.
Raw pumpkin seeds taste good, but the roasted ones are on another level. These seeds get done quickly, so pay close attention while cooking.
Its deliciousness remains at both room temperature and under cold storage. Serve the salad immediately when done, or save it in the fridge for later use. You can refrigerate the leftovers for 2 to 3 days.
Total time: 50 minutes
Bright, crunchy, and tangy, this side dish full of vegetables and pumpkin goddess dressing will bring many surprises to your diners. You'll thank me when you eat this fantastic mix of pecans, apples, acorn squash, and pumpkin dressing. It's a fall-in salad.
Roasted acorn squash with maple syrup carries natural sweetness to the salad. Meanwhile, the pumpkin goddess dressing is tangy and creamy, with a herby twist. Together they create a party of flavors in your mouth.
This recipe calls for nonfat Greek yogurt for the dressing. However, mayonnaise, sour cream, or a mix of both will be delicious too. It's not necessary to only use acorn squash. Change to roasted butternut squash or sweet potatoes if you want.
Total time: 40 minutes
If you think this fall cobb salad sounds familiar, that's correct. Compared to the classic cobb salad, this fall-style version has more seasonal twists, featuring butternut squash, maple syrup, pumpkin seeds, and more.
In case you wonder about the cobb salad, this American classic originated in California in 1937, a signature dish of the Brown Derby restaurant. The original ingredients consist of chicken/turkey, tomatoes, avocado, and chives. And the accompanying dressing is a vinaigrette.
You can save more time by preparing roasted butternut squash ahead of time. Unlike other salads, this beauty doesn't need to be "tossed and stirred" in advance. Decorate the ingredients according to your liking with a small bowl of vinaigrette on the side.
Total time: 20 minutes
Add more sweetness to your dinner table with this creamy grape salad. Brown sugar and chopped pecan give this fall fruity salad bowl extra flavor and crunch. With a few simple steps, your grape salad will come together in no time.
Although the main ingredients of this recipe are cream cheese and sour cream, you can consider other options for the best results.
Mascarpone is a lighter substitution, while plain yogurt is a flawless switch for cream cheese. Similarly, Greek yogurt is a healthier alternative to sour cream.
I guarantee this fruity dish will be a big hit at your next potluck or picnic party. To level up the flavors, consider toasting the nuts for extra crunchiness and nuttiness. Serve it as a side dish along the main course, or enjoy this grape salad as a snack or dessert.
Serve this dessert-like grape salad and be the star everywhere you go.
Total time: 50 minutes
Besides typical fall ingredients such as apples or pumpkin, beets and carrots are also prominent names. If these two are your favorites, this decadent dish with Burrata (an Italian cheese made from mozzarella and cream) is for you.
Plus, a honey rosemary vinaigrette is a perfect accompaniment to go with this hearty salad.
Orange is autumn's signature color, so adding carrots makes your salad bowl warmer and more filling. Also, more green from beet tops, the bright yellow of golden beets, and creamy white from cheese help this salad stand out even during a festive feast.
This recipe cooks with both red and golden beets with tops. Wait for the cooked beets to cool down enough to peel their skin. Make sure to keep the beet's tops to saute them later. Most importantly, keep some distance between red beets and other ingredients to avoid color bleed.
Total time: 1 hour and 15 minutes
There is no reason why a good fall salad can't contain some summer freshness. You'll find all the summer and autumn goodness in this napa cabbage salad. This savory fall side dish got your favorite seasonal veggies such as cabbage, bell peppers, pecans, or sweet potatoes.
For your information, a more familiar name for napa cabbage is Chinese cabbage. Delicious taste aside, this veggie is nutritious with high dietary fiber content. Its crisp texture helps this cabbage work well in any salad.
This dish is a beautiful cross between a salad and slaw. And yes, it only gets the best from the "parents." Therefore, besides the classic sweet and savory flavor, it has a depth of textures. Tender sweet potatoes and carrots are harmonious with crunchy cabbage and bell peppers.
Total time: 25 minutes
The presence of pumpkin is always a good sign for a yummy autumn salad. If you're looking for a vibrant and simple side dish to serve on Thanksgiving, this roast pumpkin salad with pine nuts is what you need. Everyone will love this nutrient-packed and eye-catching side dish.
You only need some ingredients to whip off this fantastic delicacy. The star ingredients are pumpkin, rocket leaves, pine nuts, and goat cheese. In addition, pumpkin seeds provide a crunchy bite, while a drizzle of olive oil dressing will emulsify and add a finishing touch.
Pumpkin is the highlight of this salad so pay extra attention. Choose Kent or Jap pumpkins for the best roasting effect. A tip to make sure the pumpkin gets cooked evenly is to cut it into the same-sized cubes. And to avoid soggy pumpkin, remember to roast it at 464°F.
Total time: 30 minutes
Needless to say, while summer salads bring out the freshness, the autumn veggie dish will deliver more warm and comforting vibes. This vegan orzo salad with roasted veggie may give you the same feelings. It is a delicious yet healthy dose for you with all plant-based ingredients.
Small-shaped pasta is most suitable for this recipe. So if you make any substitutions, notice their sizes. Other great options for walnuts are slivered almonds, roasted peanuts, or pecans. Similarly, omit the dried cranberries and change to dried raisins or tart cherries.
This salad is an easy way to boost more critical vitamins, minerals, and fiber. Orzo is low in fat and rich in protein, while Brussel sprouts are a great source of vitamin C and cancer-fighting glucosinolates. Plus, sweet potatoes are rich in fiber and vitamin A.
Total time: 1 hour and 15 minutes
When hot summer ends and warm autumn comes, it's time for you to make this beet salad with goat cheese and balsamic. This beet salad is easy to throw together for any fall meal or gathering.
Apart from beets, this fall salad offers a lot, from tangy goat cheese and sweet-tart apple to fresh greens. Moreover, toasted walnuts add richness and crunch, while sliced shallot delivers a delicate sweetness. Plus, the balsamic vinaigrette gives a signature flavor to this salad.
The beet salad with goat cheese is perfect for enjoying any time of the day. Serve it at lunchtime with soup or potato leek. Likewise, it can be a great side dish to pasta or pizza. In addition, it will be a great item to be on your holiday when paired with other main entrees.
This beet salad with goat cheese will complete any main course of your fall meal.
Total time: 30 minutes
Salad may get a bad rap for plain taste, but that's not the case with this one. Why don't you embrace the change in season with this roasted chickpea fall salad? Loaded with dried cranberries, chickpeas, kale, and more, all smothered in an apple cider vinaigrette.
The tandoori roasted chickpeas add a bold flavor to your favorite salad. Not to mention, the dried cranberries' tartness balances out kale's bitterness and pomegranate seeds' sweetness. Meanwhile, the fluffiness of this green dish is offset by the crunch of seeds and nuts.
This attractive appetizer for potlucks is not only easy but super versatile. Any green, such as kale, spinach, or arugula, will equally work. Also, any nuts and seeds are possible in this recipe too. Moreover, the roasted chickpea salad can last under cold temperatures for up to 2 days.
Total time: 30 minutes
Embrace the autumn and make a big batch of this pear salad with bacon vinaigrette. This fall recipe is packed with bacon vinaigrette, pecans, and blue cheese. Pear and bacon are not a usual combo, but I promise the taste will be over the top.
Frisée, or curly endive, is a member of the chicory family with mildly bitter and pepper flavor. This bitter green is perfect for adding more variety to this salad.
However, if you're not a frisée fan, try baby spinach or other spring mixes. Similarly, go for your favorite pear, but I'd recommend d'Anjou for its firm textures and a mild taste.
This recipe mixes sweet pear, salty blue cheese, and peppery frisée leaves. All tango well with a tangy bacon vinaigrette. Maple and bacon are a meant-to-be pair. Sweet and savory, syrupy and crispy, this sauce turns any salad into an addiction.
Total time: 10 minutes
This spinach apple salad is a breeze to make with the sweet and sour honey balsamic vinaigrette. Plus, apple and spinach are always a classic duo for a standard fall salad. And there is no shortage of textures with crunchy walnuts, creamy feta, and soft spinach.
With just about 15 minutes, this vegetarian dish is always ready to serve on weeknights or at holiday festivals. Although this is a plant-based recipe, add meat if preferred. Grilled or baked chicken breasts are great additions. However, avoid red meat or pork for the best experience.
And no worries, this salad is nothing but boring. The flavors vary from sweet apples and slightly salty feta cheese to an earthy walnut note. All mingle together in the rich honey balsamic dressing. Bring it to your next Thanksgiving feast and wait for your guest's reaction.
Enjoy this spinach apple salad with homemade honey-based dressing (note).
Total time: 20 minutes
Have you ever wondered how the combination of your signature fall ingredients and Italian seasonings turns out? Find out the answer in this kale Caesar salad, and I'm sure it will surprise you in the best ways.
This worthy chicken parmesan complement is filled with some of the best autumn flavors, including kale, raw cashews, pomegranate arils, and dried cranberries. You cannot forget Caesar's Italian-styled creamy dressing made of tahini, lemon juice, and garlic.
This kale Caesar salad tastes even better when made ahead for one day and refrigerated. The flavors will be more decadent since the veggies have more time to marinate the dressing.
Mix the kale with the sauce and keep them tightly in the refrigerator. Before using, add apples, nuts, and other ingredients.
Total time: 10 minutes
Not all autumn recipes are about pumpkin or cinnamon. Lighten up your dinner with this sweet treat full of autumn flavors. The vibrant colors of oranges, pineapples, grapes, and apples in your salad bowl make it eye-catching at first glance.
This salad is a citrus delight with your favorite fruits and poppy seed dressing. To make this simple recipe, whisk the dressing ingredients together, then pour the mixture over the fruit. Give them a good stir, and your salad is all set.
Customize with other fruits for more flavors and textures, such as strawberries, clementines, kiwis, or other berries. Even better, take advantage of whatever fruits you have on hand.
Making the salad a day in advance is fine. The leftovers will last 1 – 2 days under cold storage or even longer. The citric acid in orange prevents apple slices from turning brown, but they will lose their original textures over time.
Total time: 1 hour and 50 minutes (including 1 hour of chilling time)
This autumn chicken salad is filled with some of the best seasonal flavors, such as apple, dried walnuts, and sweet potatoes. Not to mention, the mayo-based dressing brings out a typical fall "sweet-meet-savory" flavor.
Most of the ingredients are raw or canned. But for sweet potatoes, you can roast, or air fry them. Either way, let the potatoes cool down for at least 5 minutes before continuing the next steps. Besides, if possible, toasting walnuts is a great choice to bring out the natural nutty aroma.
Let your chicken salad chill for at least one hour, preferably overnight, for the flavor to meld. You can serve this chicken salad on toasted bread or in lettuce wraps. Another great option is accompanying tortilla chips or plantain chips.
This autumn chicken salad will become a regular face on your dinner table in cold seasons.
Total time: 20 minutes
Bring to your holiday table more quintessential autumn flavors with this apple and brussels sprouts slaw. The combo of sweet-tart apples, chewy brussels sprouts, aromatic rosemary, and fresh lemon dressing creates an exciting flavor experience on your palate.
This recipe only needs a little knife work with cutting root ends and slicing. Prepare yourself with a food processor with a shredder attachment, and things will get done quickly.
Homemade lemon vinaigrette is chosen here, but consider other options such as Dijon mustard dressing or honey mustard sauce. Like other salads, this slaw keeps well in the fridge for days. It can be dressed and stay crispy after 24 hours before serving under cold storage.
Total time: 35 minutes
The harvest quinoa salad is a perfect and delicious way to welcome the season change. This salad is made for the fall, a complex mixture of nutty butternut squash, healthy quinoa, and crunchy pepitas (pumpkin seeds). Besides, this salad also provides numerous benefits.
It's no exaggeration to say that the harvest quinoa salad is a good choice for a healthful diet. In particular, quinoa is high in plant-based protein and bone-building minerals, while butternut squash is good for your heart. Even the apple cider vinaigrette contains good probiotics.
This addictive salad is bursting with sweet and savory flavors. Plus, it will add a pop of autumn color to your dinner with orange, dark red, purple, and more. Apart from the excellent look, its taste is also a solid 10.
How about treating your family to this harvest quinoa salad at the next dinner?
Total time: 35 minutes
Let's add more seasonal elements to the original chicken salad with apple, pomegranate, and beets. An orange dressing brings a citrus note and sweet acidity to your salad. This fall chicken salad can be a great make-ahead lunch for weekdays.
Its flavor is everything you're looking for in an autumn dish: the juicy chicken breast, sweet apples, tart pomegranate seeds, and earthy beets. Not to mention, the flavorful orange dressing is the perfect complement to the hearty salad.
Red apples are recommended for an excellent presentation look, but feel free to choose any type you want. This recipe also requires you to simmer chicken breast for about 18 to 20 minutes. Don't forget to add salt to avoid plain taste and remove its skin when finished.
Total time: 35 minutes
Butternut squash is best from early fall to winter when it delivers fantastic sweet and nutty flavors. Therefore, this veggie is a perfect autumn item for the roasted butternut squash, kale, and cranberry couscous salad.
Apart from butternut squash, kales, and couscous, this recipe also needs dried cranberries, walnuts, goat cheese, and an orange vinaigrette. Couscous is a kind of pasta made from durum wheat and water. So if you're not a big fan of it, switch to whole wheat pasta.
Some prep work involves roasting the squash, chopping the kale, and boiling couscous. As for the orange-based dressing, combine apple cider vinegar, olive oil, and orange juice. Then, combine all the ingredients together, and your fresh and yummy salad is ready.
Make These Fall Salads All Season Long
Autumn is the harvest time of the year. And thankfully, there is a variety of healthy and nutrient-rich foods. Apart from seasonal vegetables and crisp fruit, numerous grains, nuts, seeds, and legumes are available, adding an extra high-quality protein to your daily diet.
Take advantage of these fall salads to have the best eating experience with those delicious and healthy items. And don't worry, salads are the place for creativity. You can customize ingredients to make your fall veggie dish more delectable.
What is your favorite fall salad recipe? Share it below. Also, remember to spread my article on your social media if this recipe list helps you solve the challenging question "what to serve today at dinner."