Fall desserts have become an indispensable part of the cool season. They give your guests a cozy sensation and refresh their mouths after each heavy party. Let's immediately check the correct ways to make these excellent and sweet treats.
The fastest way to extend the desserts list in your cookbook is to read this post carefully. A rich treasure of delicious fall desserts is waiting for you to explore and try. Do not lose focus since you can lose vital information right now.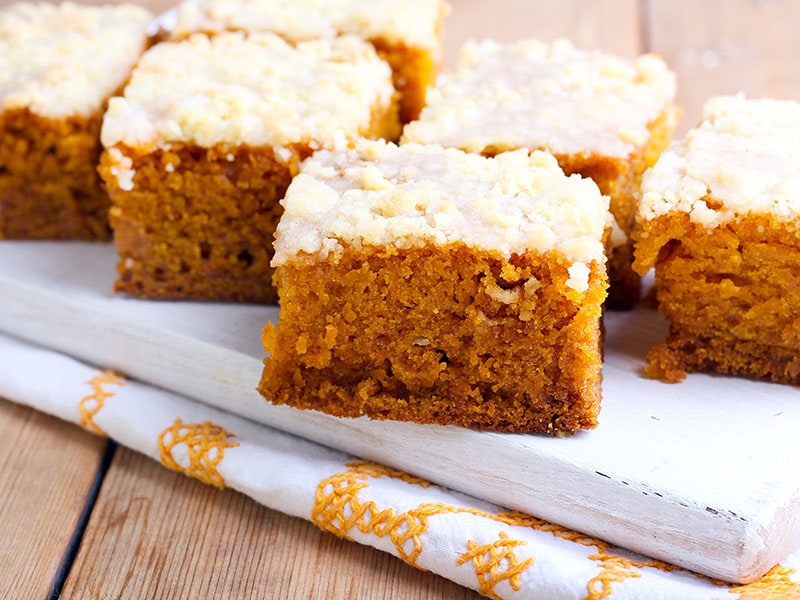 How Many Fall Desserts Do You Know?
A yummy dessert can make your fall meals better and more memorable, so let's check out the excellent fall dessert in this part.
Total time: About 6 hours 26 minutes (including 5 hours for chilling)
Do you know how to turn leftover pumpkin on hand into a delicacy? Making cheesecake is my choice, and you can try it because its quality will be worth the effort, time, and money you spend.
You must find cream cheese, sour cream, pumpkin puree, and pumpkin spice. Of course, this recipe won't be finger-licking enough if it lacks the warmth of cinnamon, nutmeg, and cloves.
The crust is a vital part of this dessert, so I hope you pay attention to making it, which is a fusion of Oreos, graham crackers, and butter.
One note you must keep in mind when making this dish is not to overmix the batter and use the elements at room temperature to avoid bubbles that can spoil the dessert.
Follow the instructions if you want to enjoy a yummy pumpkin cheesecake.
Total time: About 2 hours (including 1 hour for cooling)
It is always a great pleasure to munch on a delicious caramel apple dessert full of the fruity taste of fresh apples and the sweetness of caramel. Many types of apples are suitable for this dish, but Granny Smith is always my top selection.
Instead of using nuts, chocolate, shredded coconut, and sprinkles are other options you can add to this dish. When making this food, do not forget to wash the apples with hot water to remove the wax layer and help the caramel stick better.
To enhance the aesthetic value of this excellent dessert, I usually pierce the apples with a wooden popsicle stick or bamboo skewer. When you want to serve it, slice the apple into small pieces to eat them more easily.
Total time: About 2 hours 32 minutes (including 2 hours for cooling)
The pumpkin whoopie pies recipe is a traditional Christmas dish, but you can have it a little earlier. The moist pumpkin pies with the cheesy cream cheese filling will take over your entire wet mouth when you chew on this incredible recipe.
When it comes to the factors that contribute to this dessert's intense appeal, pumpkin puree is an element you cannot ignore. It delivers the dreamy and buttery pumpkin taste to your treat. Please make sure to add this component to the batter before you work with dry elements.
You should scoop the batter with an ice cream scoop to get even pies. Cooling the pies after baking is crucial in bringing the best flavor and texture, so do not skip this step.
Total time: About 30 minutes
Churros are a fantastic food invention of the Portuguese and Spanish. It gradually became famous in North America and Europe. People often enjoy it as a dessert after each meal. Furthermore, you can encounter this sweet treat at carnivals, fairs, and street vendors.
Simple choux pastry is a critical ingredient of this well-known dessert. This is a fried recipe with the charming sweetness of the sugar and cinnamon blend outside. Also, this mix makes your treat sweeter and warmer.
For variations, it is simple to change up the taste of this dessert by adding Oreos, crushed cookies, lemon extract, or cocoa powder to the batter. In restaurants, chefs often serve this treat warm with various dipping sauces.
Save these steps to make the incredible churros for your weekend parties.
Total time: About 2 hours 50 minutes (including 2 hours for chilling)
You will immerse yourself in the softness and sweetness of the cinnamon rugelach. The raisins and nuts layer inside will make the cookies more flavorful. You can think of the pumpkin rolls when looking at the cookies since the similarities in appearance.
This excellent dessert is derived from the Jewish communities in Poland. It began to become famous in the mid 20th-century in America. Nowadays, you can easily find rugelach at bakeries, cafes, and holiday parties (for example, it is often served as a toothsome Hanukkah dessert).
The well-known name has its origin in a Yiddish word meaning "little twists" or "little corners". Regarding serving ideas, it is better to slice the roll into small pieces before eating.
Total time: About 25 minutes
Suppose you have an intense passion for peanut butter, you should list peanut butter blondies on your dessert menu instantly. This peanut butter-based recipe also comprises butter, all-purpose flour, egg, and brown sugar.
You must first prepare a well-combined mix of melted butter, egg, brown sugar, and peanut butter. Next, put flour and salt in the wet ingredients mixture, place the dough on the baking dish, and bake them for about 20 to 25 minutes.
Before baking, I recommend placing aluminum foil or parchment paper on the baking dish and covering it with a bit of cooking spray to keep the blondies from sticking.
Total time: About 50 minutes
If you mix chocolate chip cookies with brownies, you will have delicious brookies to enjoy with your loved ones during the holidays. The rich, sweet, and fudge taste are the highlights you can find in this fantastic dessert.
You should keep the following tips in your mind when making the yummy brookies. Let's use a spoon and your hand to scoop the cookie dough and flatten it before putting it on the brownie.
In terms of appearance, you can recognize this amazing dessert thanks to the brownie's golden brown hue and the chocolate cookie's dark shade. This look is suitable for the chilly and nostalgic vibe of the fall season.
Total time: About 50 minutes
This fall dessert is a traditional fried pastry and is famous in the Americas. Initially, people used the leavened wheat dough to make this treat. It usually appears in circular, triangular, and square shapes.
This treat tastes sweet with the addition of cinnamon sugar or powdered sugar on the surface. The recipe is associated with Tex-Mex, New Mexican, and Mexican food. People often eat it with honey on top or dip it into this natural sweetener.
You can satisfy your creative passion with sopapilla, which comes in many variations. Try coating the cakes with coconut or cinnamon sugar instead of powdered sugar.
It's straightforward to make it warmer by adding pumpkin pie spice to the recipe. If you want to enjoy the vegan version, let's use vegan butter and discard the honey.
Check the right directions to get a delicious sopapilla instantly.
Total time: About 1 hour 40 minutes (including 1 hour for cooling)
In terms of origin, galette is a well-known flat round cake of French cuisine. I guarantee its rustic look and reinvigorating flavor will make your fall meals more memorable.
The traditional version has buckwheat flour as the most important ingredient, along with a savory filling. The recipe I want to introduce is a stimulating cranberry-based dessert that boasts a pleasant sourness as well as a refreshing aroma from various spices.
But in this post, I'll bring the sweet and tart touch to the recipe by using apple, cranberries, and cinnamon for the filling. You can finish this treat quickly since you just need to roll out the dough, fill it with prepared filling, fold the edges, and bake the cake.
Total time: About 55 minutes (plus 20 hours for chilling)
When you roll the sweet dough with cranberry-orange jam, you will have a fabulous orange dessert to indulge your guests after a heavy meal. This food has a golden-brown shade of baked dough, red jam, and white cream cheese drizzle.
To enjoy the dessert with the best taste, you should serve this food with a layer of butter on top. You can use both if you have all-purpose flour and half-bread flour in your house. Nonetheless, using half bread flour is my suggestion.
Total time: About 40 minutes
Ready for something new? Take your notebook and write down these instructions for making the wonderful chai cupcakes! This excellent dessert can warm your soul on cool days effectively with the presence of warm spices.
Furthermore, you'll hardly forget the creamy, sweet, and tangy flavor of the frosting on top. What do you need to prepare when making this dish? Cake flour, warm spices, tea, and eggs are the indispensable components on your hand.
If you store leftover cupcakes in the pantry, please consume them within 2 days. Nevertheless, you can extend their shelf life by placing them in the freezer.
Total time: About 30 minutes
After enjoying savory dishes, refresh your taste buds with these heavenly-tasting apple desserts. I deeply love their deliciousness and simplicity: you can finish this sweet dish in about 30 minutes.
The citrus and warm flavor of lemon juice, cinnamon, and nutmeg in this recipe can tickle your taste buds instantly. Also, the sweetness and slightly tangy taste of apples make this delicious treat stand out in countless fall desserts' treasures.
For the best performance, you should slice the apples into small pieces. When cooking the recipe, 375 degrees F is the ideal temperature for frying this dish. Your fritters can be burned if the oil is too hot.
Let's prepare apple fritter to treat your guests at fall meals.
Total time: About 3 hours 10 minutes (including 3 hours for cooling)
Pumpkin pie chia pudding is a familiar dessert with high protein content for a homemade creation. This dish's dark golden-brown shade will leave an indelible impression in your mind. The appearance of this beautiful dessert is even more stunning with little black chia seeds.
Regarding the nutrition value, this fantastic recipe adds a high amount of protein, carbs, and healthy fats to your body. In particular, you cannot find any sweetener in this recipe, but the enticing natural sweetness can make you fall in love with this dessert in no time.
Nevertheless, you can enhance the sweet taste by adding honey or maple syrup to the recipe. Also, it's good to boost the protein content with the addition of protein powder. Omitting pecans is the best suggestion to create a nut-free version.
Total time: About 50 minutes
There is nothing better than consuming cozy and hearty pumpkin spice latte cupcakes with a cup of coffee or tea as vibrant as the amber-red leaves of fall. This yummy treat has a slight hint of coffee taste, and it will leave a profound impression on your guests' minds.
Since this is a toothsome dessert with airy whipped cream, you shouldn't forget to slather the ingredient on top. Before serving, do not forget to drizzle a bit of caramel sauce on your cupcakes. This component will be a highlight in the taste of this treat.
When making this dish, it is best to use espresso powder to keep your cupcakes from getting a grainy texture. Nevertheless, finely ground instant coffee is another feasible option you can use if you do not find this component at stores.
Total time: About 6 hours 15 minutes (including 4 hours 30 minutes for cooling)
The sweet and tasty salted caramel apple pie is indispensable in the cool air of the coming winter. You will dive into the juicy taste of apple slices and the sauce's light savory, and caramel touch. The all-pie crust gives the dessert a subtle crunch.
The golden-brown shade will grab your attention as soon as you see this appealing pie. And I am sure you will want to rush in to enjoy this sweet delicacy immediately. Having it as an amazing after-meal sweet treat at Thanksgiving is a very attractive idea you should try.
Sweating apples plays an essential role in bringing perfect consistency. This step helps remove excess moisture from the apple and prevents your pie from getting watery. Like the caramel apple recipe above, Granny Smith apples are the best option for this dessert.
Total time: About 31 minutes
Apple fritter cookies are suitable for the atmosphere of the season. They have the tenderness and warm taste of cinnamon sugar, so this treat will bring you a nostalgic feeling when enjoyed in the fall. A little vanilla glaze on top will make you remember this dessert forever.
Also, if you care about your health, this suggestion should have a special place in your heart. This excellent dessert contains low-carb ingredients, so I love adding this name to the keto desserts list.
Let's start preparing the dry and wet mixture. After combining 2 concoctions, you'll add apple chunks to the blend. Scoop the mix with a spoon and top the unbaked cookies with cinnamon sugar.
After baking the cookies for about 13 minutes and cooling them for about 5 minutes, you can finish the dessert with a layer of creamy glaze.
Total time: About 1 hour 5 minutes (including 25 minutes for cooling)
Nutritious carrot desserts are an important part of numerous lists of fall recipes, and this keto carrot cake is no black sheep. It will grace your dinner table with the richness of eggs, almond milk, shredded carrots, and flour.
This cake is topped with a layer of frosting containing cream cheese, heavy cream, and powder allulose.
If you want to keep the cake for later use, you can wrap it in plastic film and place it in the freezer. In terms of serving this treat, it is an ideal companion with cinnamon pork chops, eggplant lasagna, and coconut shrimp.
Find out how to make sweet carrot cake in the instructions right now.
Total time: About 1 hour 35 minutes (including 1 hour for chilling)
When autumn comes, my loved ones and I often make the pumpkin roll to refresh the taste buds after heavy meals. I am addicted to the buttery flavor, sweet taste, and spongy texture of the roll. Also, it becomes richer with the cream cheese filling.
The crust and cheesy filling will blend together and melt in your mouth. Experience how the natural buttery aroma of the pumpkin will stimulate your sense of smell. For serving better, you must cool it in the fridge for about 60 minutes and slice it.
Total time: About 55 minutes
Easy recipes for fantastic keto-friendly desserts? Count me in! These carrot-based cupcakes are a good example of what you can expect. Their tenderness and light sweetness always bring about incredible experiences when the cool autumn breezes blow.
Besides the cream cheese frosting on top, you can make it better by adding pecans, raisin pieces, or chopped walnuts in this delicious recipe.
Storing this wonderful dessert is simple. You can place these cupcakes in an airtight container and keep them in the fridge for 1 week. In addition, to freeze them, please put them on a baking tray and store them in a ziplock bag.
Total time: About 30 minutes
In the theme of excellent fall desserts, the flourless and healthy pumpkin brownies always appear in my mind immediately. The dark color of these brownies will be suitable for the chilly atmosphere of autumn parties.
Moreover, the fall flavor from nutmeg, cloves, cinnamon, and ginger will warm your soul. To enjoy the brownies with the best texture, I recommend adding applesauce or sweet potatoes to increase the moisture. You can add the latter in a large amount to create a nice sweet potato dessert.
If you are a fan of chocolate, this delectable dessert will satisfy your chocolate cravings quickly since it is loaded with chocolate chips and cocoa powder. Finally, remember that it tastes more delicious when served with melted chocolate and pumpkin ice cream.
Total time: About 50 minutes
The yummy bars look gorgeous and appealing, its color a mix of dark yellow mingled with white hue. This sweet dish is a fantastic product made from pumpkin puree and cream cheese frosting in your kitchen.
The chewy and dense consistency can make you think of brownies. You can find a few similarities between the two types of desserts in the fluffy texture. But I usually serve pumpkin bars at crowded parties.
It's simple to store the unfrosted bars as you just need to place them in the ziplock bag and keep it in the freezer for 3 months. For frosted ones, let's arrange them on a cookie sheet and freeze them for 60 minutes before wrapping the bars and storing them in a bag in the freezer.
Total time: About 1 hour 5 minutes
The mix of coffee and pumpkin can satisfy the taste of the most demanding eaters, including myself. It steals my heart thanks to the tender and fluffy texture. Furthermore, the eye-catching golden shade can make your mouth water at first sight.
Aside from consuming it as a delectable dessert, it is possible to serve the pumpkin coffee cake at brunch or breakfast. Note that you should not overmix the components. Resisting the urge to press the crumb into the batter is another thing you must remember.
Total time: About 50 minutes
The characteristic apple and sweet taste of snickerdoodle cobbler give you a pleasant mouthfeel in the coolness of fall. Snickerdoodle cookie dough is the crucial component of this excellent treat. The apple filling and caramel sauce on top will make it tastier.
A feature I cannot ignore when discussing this wonderful dessert is the heart-warming fragrance of the cinnamon mixture. This element can tickle your taste buds on the first try. Furthermore, you should enjoy this brown dish with some ice cream on top for extra flavor.
Total time: About 30 minutes
Autumn is the perfect time to show off your cooking skills with delish desserts made from pumpkins, and pumpkin muffins are the name you should not miss. The fluffy and moist dessert will make you fall in love at the first bite.
Pumpkin puree, almond milk, eggs, and warm spices are the things you must prepare when planning to make this delectable dish. The first step to getting the best dessert is to mix pumpkin puree with eggs, milk, and warm spices.
Combine the wet mix with flour and chocolate chips. Fill the cups with the batter and bake them for about 20 to 25 minutes at 35 degrees F. To check the condition of the cakes, put a toothpick into them: you can eat them when you get a clean toothpick.
Do not miss the tutorials to create wonderful pumpkin muffins for dessert.
Total time: About 1 hour
This tasty dessert is full of pumpkin flavor. You cannot refuse the chewiness and thickness of these beautiful cookies or escape the charm of the light crunch of their exterior.
An essential step you must not skip is cooling the cookies for about 30 minutes. This action makes your cookies chewy, firmer, and better. Let's move on to the taste! It has the enticing sweetness of brown sugar, molasses, and pumpkin spices.
The presence of chocolate chips gives the sweet treat the typical chocolate taste. Also, they look prominent on the golden-brown cookies, so feel free to add this element if you are a big fan of chocolate.
Total time: About 1 hour 35 minutes
It is hopeless to resist the fantastic pumpkin bread with the moist texture, crispy topping, and sweet maple glaze. To get the whole bread, you need to prepare pumpkin spice streusel, pumpkin bread, and maple glaze.
The best way to bring the perfect moist consistency to the recipe is to bake the bread slowly at 325 degrees F for about 75 minutes. But you can stop before that mark as long as the pumpkin batter rises perfectly and forms in a dome shape.
Check the doneness of the cake by penetrating a toothpick into its center. Continue to bake if you see the batter on the toothpick.
Total time: About 25 minutes
If you are busy, the pumpkin cinnamon sugar donuts recipe is a compatible choice for you. You only need to spend about 25 minutes creating this wonderful dessert. Besides eating them after a lavish party, people also consume them in the morning as breakfast food.
The deep pumpkin taste of this baked donut comes from the pumpkin spice and pumpkin puree. It will be more suitable for the fall atmosphere if it boasts a layer of cinnamon sugar coating on the surface as the mix gives the dessert a warm touch.
Do You Love These Yummy Treats For Fall?
Let me know your feelings about the fall desserts via the comment section. Besides, it's fantastic to spread these beautiful recipes to your friends by sharing this excellent post. It helps their dessert selection become more straightforward.
What do you think about these fantastic desserts in this article? I am sure your guests will be pleased after consuming the fall desserts with appealing flavor. Therefore, do not miss the chance to impress diners by serving these fabulous desserts.