I found many egg yolk recipes that magnify the best values of this ingredient. An egg yolk's orangish tone gives dishes a beautiful bright yellow color. Meanwhile, its texture is not too runny but not too dense, just creamy and light enough to enhance the main flavors.
Eggs are a special ingredient as you can find various dishes using eggs, whether as a whole or when the egg white and egg yolk are separated. Through the recipes in this post, you will discover what egg yolks can offer to bring these heavenly dishes to life.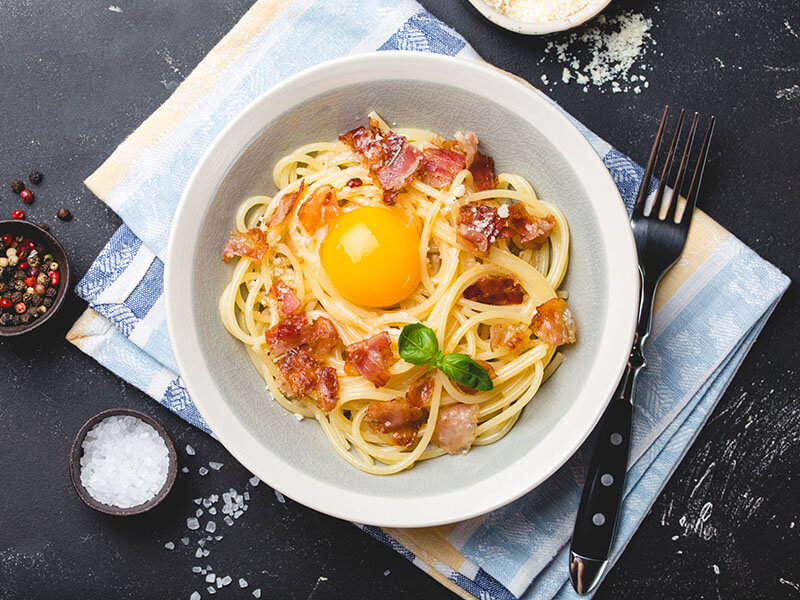 Keep These Egg Yolk Recipes Up Your Sleeves
As you go through these recipes, you will find that several dishes require chilling or freezing. Remember to check for that information and choose a suitable recipe depending on your cooking plan. Now, let's get started!
Total time: 55 minutes
Egg tarts are a common grab-and-go dessert in the UK, but it's also popular worldwide as a lovely, delectable treat. It's a classic recipe where you need to use many egg yolks, particularly seven, to create a luscious treat.
A good egg tart should have a smooth, shiny filling that feels creamy and moist in the mouth. Meanwhile, the pastry base is crispy and flaky. Egg tart tastes the best when delivering a light sweetness.
If you have never made egg tarts, you may have some issues. These include lumpy custard filling, puffing-up egg tart, watery custard, etc. However, these bites are not that difficult to make; as long as you follow the instructions closely, you'll be fine.
Total time: 4 hours (including chilling time)
A classic vanilla slice consists of two buttery pastry layers, a thick vanilla bean custard layer, and powdered sugar dusted on top. It's one of the desserts that remind you how a mesmerizing dish can be so simple to make.
Here are a few tips to obtain the perfect vanilla slice. First, take it slow when cutting the dessert. You need to do it gently, or the pastry easily breaks, and you won't get the shape you want.
Plus, it's best to dust the sugar after the slicing step because it gives a nicer appearance. This recipe calls for eight egg yolks, but feel free to scale up if you serve a larger crowd.
Total time: 7 minutes
Hollandaise sauce is somewhat similar to mayonnaise, but it's tangier, runnier, and has a buttery mouthfeel. Its yellow color is also not as bright as mayonnaise. This sauce is often used to add flavor to breakfast dishes.
Using four egg yolks, this sauce takes only seven minutes to make. First, melt the butter over medium heat. Then, add lemon juice, egg yolks, and milk to the pot. Whisk the mixture until the sauce thickens. Remove the pot from heat, add pepper, and you're done.
Hollandaise sauce can go with anything, making your dish taste much better. Serve it with a sandwich, eggs benedict, roasted vegetables, etc. If you end up with more sauce than you need, store it in the fridge for up to three days or in the freezer for a month.
Total time: 1 hour (excluding freezing time)
Vanilla beans and vanilla extract are fundamentally the same things, but vanilla extract has additional ingredients and costs less. The extract form is also more popular in baking and cooking. Yet, vanilla beans offer amazing scents and flavor and are great for making ice cream.
The best thing about this classic ice cream treat is that it requires only a few ingredients. Specifically, you need egg yolks, salt, sugar, heavy cream, and whole milk. The simplicity of this ingredient list also gives a lot of space for the vanilla beans to shine.
With this recipe, the key to success is letting the ice cream mixture cool down thoroughly before placing it in an ice cream machine. Otherwise, you won't get the proper texture.
Total time: 2 hours (including chilling time)
You will surely love this recipe if you appreciate good chocolate sweet treats as I do. The Creme Brulee tart comes in three exotic layers. It starts with crunchy caramelized sugar on top, followed by a creamy custard filling, and the bottom is a flaky chocolate casing.
This sweet treat needs to sit in the fridge, so make sure you make it ahead and set aside the time for chilling. Plus, you can make mini tarts for easy serving. Just remember to reduce the baking time.
Lastly, it's okay if you don't have a Creme Brulee torch. This dessert is already delicious without the caramelized top.
Total time: 1 hour and 10 minutes
Duchess potatoes are a lovely French accompaniment dish combining mashed potatoes, butter, egg yolks, and seasonings. The dish often comes in individual bites with a sunshine color and browned edges.
Duchess potato bites are overall refreshing. In terms of texture, they are crispy on the outside with browned edges but buttery, fluffy, and creamy on the inside due to the cheese. This lovely side dish will make your dinner so much nicer and cozier.
When making Parmesan Duchess potatoes, remember to mash the potatoes as smoothly as possible. Also, you will notice this mixture is stiffer than regular mashed potatoes, but it needs to be, or the bites will lose their shapes when baked.
Like a little spiced Parmesan Duchess potatoes? Follow this cook and add some finely chopped chilly.
Total time: 15 minutes
Passionfruit is a summer fruit, but you can now buy it all year round. There are purple and yellow passion fruits, and you can use either of them for this recipe. The flavor and texture come from the pulp, so feel free to remove the seeds if you don't like chewing them.
Passionfruit curd is great for many dishes. You can spread it on crumpets or scones and use it as Danish pastry and tart filling. It also works as a topping for cheesecakes, pancakes, and pavlovas, among many other dishes.
To make a dairy-free version of this curd, replace butter with a vegetable-based spread.
Total time: 5 minutes
This herb mayonnaise delivers the same fatty, creamy, thick texture as the original version but adds extra scents and flavors of basil, parsley, and dill.
Making a jar of herb mayonnaise is as simple as its appearance, including only three steps. First, put egg yolks, vinegar, mustard, pepper, and salt until you get a frothy mixture. Then, steadily add oil as you keep processing the mixture.
Once you achieve a thick, creamy texture, transfer the mayonnaise to a bowl. Now, add parsley, basil, and dill. Stir well.
Total time: 1 hour and 30 minutes
Nothing is better to much on than desserts made with raspberries because this fruit is always fresh and carries the highest-quality flavors. With that in mind, the raspberry is an incredible part of this tart.
This exquisite dessert offers not only a buttery, creamy taste but also a refreshing touch. When you take a bite, the juice running out blends nicely with other ingredients. It also disperses a fruity smell that elevates the overall flavor of the dessert.
This recipe produces a tart big enough for six to eight people. Feel free to upsize or downsize the amounts of ingredients if you have more or fewer egg yolks.
Total time: 25 minutes
Zabaglione is a classic dessert from Italian cuisine. It's a foamy cream you often eat with cookies or fresh fruits. Zabaglione has a gentle yellow tone and is quite runny. You can serve it hot or cold, depending on your preference.
Traditionally, this recipe calls for Marsala wine, but you can use substitutes such as Limoncello or any other alcohol you have on hand. If you want to reduce the alcohol content, try using Passito, Moscato, or Prosecco.
Do you want to serve this dessert to children? Make a no-alcohol version with milk, vanilla, or cinnamon. Then, you can give this yummy Italian cream to anyone from children to adults.
See what the proper Zabaglione texture looks like in this instruction video.
Total time: 4 hours and 5 minutes (including cooling time)
Lemon bars are the tangy, creamy treats you need whenever you crave a reviving dessert. Fresh lemon juice gives these bars a light flavor, while the added lemon zest gives them extra brightness. But don't add too much zest, or the bites will become bitter.
Note that it may take more time to bake the bars depending on your oven. You should keep an eye on them to ensure the filling is not jiggly or runny and the edges are firm. Also, consider using parchment paper to prevent the bars from sticking to the pan.
To cut this dessert perfectly, use a sharp blade. Place it under hot running water, dry it, press it straight down through the bar, and slide it out. Repeat the process after each cut.
Total time: 20 minutes
You cannot go wrong with a brandy custard on a snowy Christmas day. It has the same lovely thick, creamy texture as the traditional custard but adds a little booziness. Hence, the custard will satisfy your appetite and warm you up at the same time.
You can serve brandy custard with Christmas pudding, trifle, cherry cake, or baked peaches. As you cook the custard on heat, remember not to let it boil.
This recipe uses three egg yolks and generates 1.5 cups of custard. So, scale up the ingredients if you serve more people or want to store some for later.
Total time: 1 hour and 52 minutes (excluding resting and chilling time)
I'm not trying to sugar-coat this for you. Making this lemon pavlova parfait takes a lot of time and effort. It's arguably one of the most demanding recipes on this list. But in the end, the elegant jars of summery dessert are worth it.
Each jar comprises multiple layers, including a sponge cake layer, refreshing lemon cream, delectable vanilla whipped cream, chewy jelly cubes, and airy meringue kisses. If you are having a picnic or dinner party with your friends and family, treat them to this dessert.
You can use some fresh flowers to garnish the dish though it already looks amazing on its own.
Total time: 1 hour and 45 minutes
The base sponge of this summer sunshine cake has a buttery, dense, heavy texture with incredible sweetness. However, the recipe cleverly balances this thickness by pairing the layers with savory, creamy Mascarpone filling and refreshing orange curd.
As a result, you obtain a lovely summer dessert that is not overly sweet, diverse in texture and has a nice combination of flavors. You can save a little curd to put on top of the cake for garnish. Also, dust some powdered sugar over it before serving.
This summer sunshine cake should be perfect for eaters of all ages and all occasions. Have a birthday party for your grandma in your summer garden? This cake fits. Host a play date for your kids in the afternoon? The dessert works, too.
Total time: 3 hours and 15 minutes
Coffee pastry cream is extremely versatile. It works as a filling for cream puffs, cakes, tarts, napoleons (layered flaky puff pastry), profiteroles (filled choux pastry ball), and more.
This cream is thick enough to hold its shape, showcasing creaminess and rich taste. Yet, you can thicken it even more to serve on Oreo crust.
The amount of cornstarch in this recipe is perfect for pastry cream. To make it thicker, increase the amount to 3 tablespoons. To make it runnier, reduce the amount to 1 and a half tablespoons, depending on how you plan to serve it.
Another thing I want you to note down is not to boil the half and half cream. Otherwise, it will curdle, ruining the texture of the mixture.
You can replace Espresso powder with actual Espresso coffee to make coffee pastry cream.
Total time: 10 minutes
Aioli is native to northwest Mediterranea. It's a cold sauce made up of salt, garlic, egg yolk, and olive oil. This sauce is perfect for dipping fries, wings, cauliflower bites, zucchini bites, meatballs, chicken strips, etc. You can add it to burgers and quesadillas, too.
Is this your first time making aioli? If yes, pocket the following tips. First, this recipe works the best with fresh egg yolks. Next, you should use light olive oil or a mix of extra virgin olive oil and avocado oil. Using solely olive oil may not be too much for those unfamiliar with it.
In addition, you can create several aioli versions by tweaking the ingredients. This includes adding mustard, skipping the lemon juice, or adding more garlic per choice.
Total time: 4 hours and 30 minutes (including chilling time)
Creme Brulee is an easy dessert you can prepare for a dinner party or a holiday meal when main course dishes are a lot of work. It requires 4 hours of chilling in the fridge, but you can also make it the night before.
However, remember that this recipe uses Amaretto liqueur with 21 to 28 percent alcoholic content. It means this Creme Brulee is only suitable for adult-only parties. Don't serve it to children.
When making this Amaretto Creme Brulee, don't use glass bakeware. The reason is that when you add boiling water into a glass pan, it may break or explode due to the sudden heat.
Total time: 1 hour
From the outside to the inside, these chocolate chip cookies feature a slightly crispy edge, a soft, chewy center, and a great deal of chocolate. The recipe I'm introducing here not only helps you handle the extra egg yolks but also ensures the best outcome with four secrets.
Specifically, you need to use half all-purpose flour and half bread flour; the latter is behind the chewy texture you aim for. Meanwhile, cornstarch leavens and makes the center soft. Then, using more brown sugar than granulated sugar generates more moisture.
Lastly, you can add an extra egg yolk to the mix. It will enhance the chewy texture of your cookies.
Total time: 35 minutes
The best thing about this French buttercream recipe is that you don't need any food colorings or extracts to generate a lovely cream for your cakes and other desserts. Its color and flavor come from the tangy raspberry sauce only.
To produce the perfect French buttercream, you must use butter at room temperature. It's soft and malleable, which you can glide through easily with a butterknife. It makes sure you get the right dense, smooth, thick texture at the end.
Also, let the sugar dissolve completely when stirring it with corn syrup. Otherwise, your buttercream will be grainy.
Total time: 4 hours and 25 minutes (including cooling time)
If you consider yourself not a good baker, Creme Brulee will give you some joy. I have introduced two recipes for this easy dessert. Should you succeed with them, why not try a chocolate flavor? I'm sure everyone will love it, especially children.
As of now, you have probably become familiar with making Creme Brulee, but I want to remind you of what the right result is like. When you gently shake the ramekin, it should wobble but doesn't look like there's liquid underneath.
Knowing the right texture is extremely important because not all ovens are the same. When you make the dish the first few times, you have to figure out the correct baking time for your oven. Checking the texture will help you do this.
It's best to top chocolate creme brulee with caramelized sugar and cocoa powder like this chef does for the best flavor.
Total time: 10 hours and 35 minutes (including chilling time)
After a few hours in the kitchen and at least 8 hours of waiting, you will be rewarded with a batch of pot de creme jars. The difference between this French dessert and pudding is that you use egg yolks instead of cornstarch as a thickener.
Meyer lemon pot de creme is great for those who are not fans of sweet treats but love fruit desserts. A jar of lemon-flavored pot de creme will give them a light, refreshing touch to cap off the party or big dinner you served them.
The only thing to note with this recipe is to remember not to overbake the pot de creme, or the custard will get too firm after chilling.
Total time: 1 hour and 40 minutes (including chilling time)
Yuzu is a citrus fruit native to China, Korea, and Japan. It's sour like limes and lemons but has certain pleasantness and unique tartness in its flavor. When I can get my hands on this fruit, I like to use it instead of lemon juice.
With that in mind, yuzu chocolate carries this special taste and elevates the fancy of this sweet French delight.
A pro tip I often apply to this recipe is adding ¼ teaspoon of vanilla extract as it boosts the indulgent flavors. Also, you must chill the mousse before serving, or it will have a loose texture. Mousse tastes better when it's cool.
Total time: 13 minutes
I cannot compliment this egg yolk recipe enough. It's easy, quick, healthy, delicious, and especially kid-friendly. Also, while being a sweet dish, this pudding has much less sugar than most desserts.
Read on if you can't imagine why I say it's easy to make this pudding. First, whisk milk, cornstarch, sugar, egg yolks, and vanilla in a saucepan. Cook the mixture over medium heat and continue constantly whisking until it thickens, then remove from heat.
Lastly, pour it into a bowl or multiple serving cups. Let it chill in the fridge until you get the coolness you want. Top the pudding with whipped cream and banana slices when serving.
Total time: 2 hours
Quindim is a popular treat that originated in Portugal. Its main ingredients include egg yolks, sugar, and ground coconut. It features an intense yellow color of egg yolks and baked coconut crusts.
With this recipe, you can use white sugar or light brown sugar. The former will give you a bright sunny yellow, but the latter will result in a pale gold shade. You can serve these lovely treats at room temperature or after chilling.
If you choose to make it ahead, keep in mind that Brazilian coconut egg custards can be good in the fridge for up to three days. Just store them in an airtight container.
Total time: 10 minutes
This egg coffee is among these must-try beverages in Vietnam. But before your time comes, you can make it right in your kitchen with a few simple ingredients.
There are several egg coffee versions worldwide, but the Vietnamese version is like tiramisu in a mug. It features strong black coffee topped with light, foamy, sweet whipped egg yolk mix.
To enjoy this coffee, don't forget to stir it, so the creamy egg topping and coffee parts blend well into a rich beverage.
If you can't handle strong coffee, you can add some milk to this Vietnamese egg coffee.
Total time: 6 hours and 45 minutes (including freezing time)
Semifreddo is like frozen mousse. It has a lighter texture than ice cream, with more air and lower fat content. This lemon semifreddo is the right dessert to include on your menu when it calls for an elegant finish to your dinner party.
It takes hours to complete lemon semifreddo because there's a lot of freezing and refrigerating. Plus, I must warn you that the process of making this dish is not simple. However, the result is rewarding.
In the end, you will get a delicious terrine. From the bottom to the top, it starts with a layer of sponge cake, then the exotic lemon curd, whipped cream, and lemon zest. Drizzle lemon sauce on top for an extra sweet-tart flavor.
Total time: 30 minutes
I always appreciate a good pasta recipe, especially one that uses all the leftover egg yolks in my fridge. The egg yolks do a great job of thickening the pasta sauce and giving the dish a beautiful yellow color.
Don't add oil to the pan when you start cooking Bucatini Carbonara. Since the pancetta will release fat, there's no need for more oil. Just remember to cook over medium heat so the meat won't burn.
Besides, be careful not to overcook the egg mixture. You don't want to turn your pasta sauce into scrambled eggs.
Total time: 25 minutes (excluding infusing time)
In Spain, natilla is a type of custard consisting of eggs and milk, similar to creme Anglaise (custard sauce) in European countries. It's popular in several Latin American countries like Cuba, Mexico, Colombia, and Costa Rica, though each has its own traditional recipe.
This dessert's signatures include creaminess and richness. It takes less than an hour to make and is a light, breezy delicacy to treat yourself on a relaxing afternoon. You can otherwise make it ahead and store it in the fridge for up to two days before serving.
Total time: 2 hours and 50 minutes
It's a moon cake but not similar to the traditional Chinese version. Take a bite, and you will first feel the flaky cookie-like crust, followed by the molten salted egg yolk. Then, it'll be a mouthful of runny egg custard.
Despite having the fewest steps, the mooncake crust is the hardest part to make. If you under- or overdo anything, the texture will fail. With that in mind, beat the sugar with butter until fluffy.
Additionally, stir thoroughly to ensure everything combines well whenever you add something to a mixture. This way, you can avoid lumps and uneven ingredient distribution.
Total time: 1 hour and 30 minutes
Trifle is an elegant dessert often with multiple layers, including sponge cake soaked in wine, fruit, whipped cream, and custard. However, this simplified version has only two main parts: brownies and salted caramel mousse.
Brownies are generally chewy, moist, and dense. They have a dark, attractive shade. They are in contrast to the slightly yellowish mousse layer with such a rich, creamy texture. Together, these two components form a soft, lovely, easy dessert anyone would enjoy.
The treat delivers a perfect balance of sweetness and saltiness you can't be fed up with. It's best to top this salted caramel brownie trifle with a drizzle of caramel sauce and chocolate.
If you can't imagine how to conduct each step to make a salted caramel brownie trifle, refer to this guide.
Total time: 8 hours and 42 minutes (including chilling time)
This is one of the most versatile recipes because you can easily add mix-ins and toppings to this vanilla custard ice cream base to generate an ice cream you like. You'll get the finest dessert with six egg yolks, 42 minutes of work, and eight hours of wait.
There are plenty of mix-ins for you to choose from, such as Oreos, sprinkles, Twix, Reese's, caramel, brownies, fudge, nuts, and fruits. Meanwhile, as one of the five key ingredients, sugar lowers the freezing point of water, so your mix won't be frozen completely.
An important note to keep in mind is that you must let the ice cream cool before churning. If you pour it into the ice cream machine when it's still hot, the result will be a soupy mess.
Total time: 1 hour and 15 minutes
There are too many sweet desserts to create with egg yolks, so I find it fortunate to eventually come across this effortless dinner recipe for a change.
Coming from Persian cuisine, Tahchin appears on this list as a combination of long-grain rice, saffron, and aromatic turmeric. You can top these little bites with dried barberries to add extra sweetness and tartness.
The recipe I'm introducing here is very close to the traditional version. Yet, it has small tweaks in the layering technique, and you will be using muffin tins for baking, which shortens the baking time.
Total time: 35 minutes (including freezing time)
At this point, I have presented many easy, quick, simple egg yolk recipes. However, none of them can be easier than this chocolate semifreddo seduction, taking only 5 minutes to make.
There's not much to say because the process is so straightforward that any beginner can follow and succeed. However, you should pay attention to the freezing time.
It's best to freeze the semifreddo for 30 to 45 minutes to get the best texture since it's only partially frozen. If you prepare this dessert ahead of time, chill it in the fridge. Then, 30 minutes before serving, move it to the freezer, wait, and serve.
Total time: 15 minutes (excluding 3 hours of chilling time)
Budino is the Italian word for pudding, so I guess you can call this dish Italian chocolate pudding. It reminds me of the chocolate truffle's center, a smooth, rich, intense texture.
Budino is so easy to make and yummy to eat that you may be unable to stop craving more. Here's how to make the best chocolate budino in 15 minutes.
First, heat egg yolks, milk, sugar, salt, and cocoa until the mix thickens. In the meantime, add butter and chopped chocolate to a bowl, and strain the hot mix into the bowl. Next, stir vanilla in the mix until it blends nicely.
Lastly, divide it into small jars, let it chill, and serve with Espresso whipped cream and a pinch of flaky salt.
What Will You Make With Egg Yolks?
If you are busy and seek an instant solution, try chocolate semifreddo seduction. However, you can invest more time into making something beautiful out of your egg yolks, like the options I introduced in this post.
What's your favorite egg yolk recipe? Leave a comment and let me know. Regardless of your choice, I hope you will have a great time enjoying these delectable treats with your friends and family.
Do you know someone who also appreciates the versatility of egg yolks? Tell them about this article and discuss your experiences and tricks with them. Maybe, you can even work on new egg yolk dishes together!