This fantastic article is a rich collection of easy egg recipes you can make in little time and with minimal effort.
Apparently, eggs are the standard and essential ingredient in many delicious dishes, so it is necessary to learn how to mix them with other elements to create various delectables.
Aside from the specific instructions for cooking, you can blow your mind with the ways to serve and create many other beautiful variations. It's time to expand your recipes list with these fantastic egg-based ideas. Let's get started!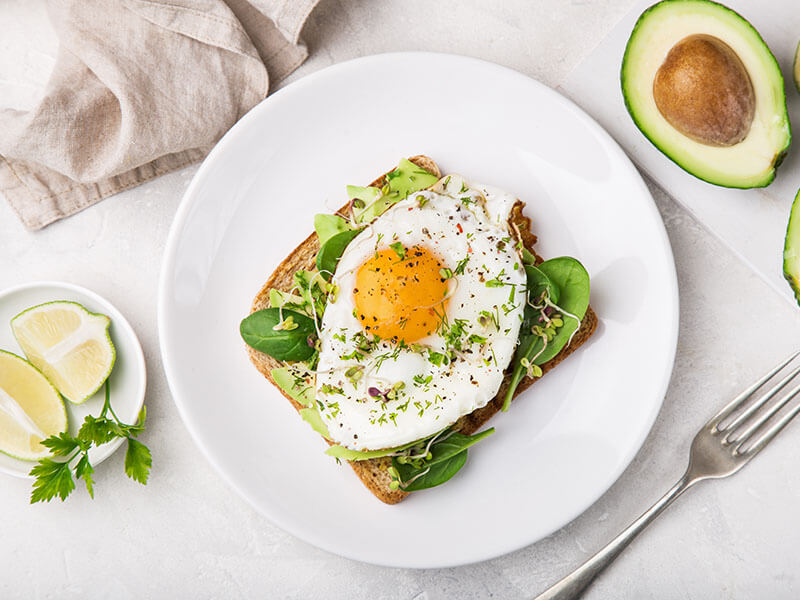 How To Prepare Delectable Dishes With Eggs Properly?
If you do not know many exceptional methods to turn eggs into mouthwatering dishes, this post is your ideal assistant. Please follow these directions carefully to get the most flavorful recipes.
Total time: About 13 hours 20 minutes (including 12 hours for chilling)
It's time to step up to heaven by enjoying the wonderful egg benedict casserole. You'll love this excellent treat brimming with egg yolk, English muffins, Canadian bacon, and creamy, buttery hollandaise sauce.
Morning is the best time to consume this dish. The colorful recipe will wake you and your taste buds, thanks to the softness, cheesy, and rich flavor. I am also satisfied with the appearance of Canadian bacon in this dish since it tastes similar to my favorite food – ham.
The deliciousness of this dish will be reduced if you overcook the eggs on top, so do not let this happen! Do you want to turn this recipe into a vegetarian dish? If yes, please omit the bacon and add your preferred veggies like green onions or mushrooms.
Explore the ways to make outstanding eggs benedict casserole.
Total time: About 1 hour
What do you think about mixing berries and French toast in a casserole recipe? This masterpiece has a slight crisp of French toast and a fresh, fruity taste of strawberries and blueberries.
These fantastic fruits give the casserole appealing red and blue hues. When biting this treat, the moisture inside can captivate you in no time. The enchanting sweetness of maple syrup can make you love this recipe even more.
The few-day-old bread can combine well with egg blend, so let's prioritize this option. I always cover the baking dish with a butter or oil layer to prevent it from sticking while baking. If you make this dish without fresh berries on hand, please use frozen ones.
Total time: About 1 hour 10 minutes
This soft and cheesy tater tot casserole is my favorite food to kick off a new day. To enhance the quality of this food, I often add smoky bacon and sausage to the recipe. Finally, I got the yummy dish with crunchy tater tots, creamy eggs, and smooth cheese.
This is a healthy recipe since it is created with gluten-free ingredients. To make it healthier, please replace butter with virgin olive oil. If you want to increase the spiciness, you can use spicy sausage and cheddar instead of breakfast sausage and pepper jack cheese.
Total time: About 45 minutes
Why don't you try mixing cheese, bacon, eggs, milk, and bread in a recipe? You will be surprised by the cheesiness inside of your product. In addition, the golden surface with a gentle crunch will give you a pleasant mouthfeel.
I recommend using leftover bread to prepare this delicious dish. To customize this fantastic recipe, remember to add garlic butter, roasted mushrooms, chicken, smoked fish, or spinach to this savory recipe.
Total time: About 50 minutes
Egg hash brown casserole is a suitable dish for crowded parties. Furthermore, it will fill your hungry stomach at brunch effectively. Hence, you should make and consume it often to load a large amount of protein for your body.
When you run out of frozen hash brown, please take advantage of the fresh potatoes in your kitchen to complete this dish. I love to eat a casserole with a rich and potent taste, so I often add extra spices and fresh herbs to the recipe.
Check the tutorials to create delicious hash brown casserole in Cracker Barrel style.
Total time: About 20 minutes
If you want to enjoy some sweet dishes for breakfast, you should save the pancake recipe to the menu. They will steal your soul, thanks to the charming sweetness of the syrup, fresh blueberries, and fluffy, tender, buttery texture.
A tip to get a perfectly even golden shade is not to add butter or oil to the skillet before cooking the pancakes. Nevertheless, if your skillet is not new, you should use some oil to prevent the food from sticking.
It's best to serve these pancakes warm, and please cover them with a towel to keep them warm longer.
Total time: About 15 minutes
Let's bring unique Turkish cuisine to your dining table with the prominent Cilbir or Turkish eggs recipe. It is my standard breakfast option. I cannot resist the creamy, buttery, and tasty flavor of runny eggs, spiced butter, dill, and yogurt.
It doesn't matter to make the yogurt ahead of time and store it in the fridge for about 4 days, but you must prepare poached eggs and butter when you want to serve this dish. Cayenne pepper, Aleppo pepper, or hot paprika are elements you can add to enhance the spiciness.
For serving, restaurants usually serve this mouthwatering recipe with toasted keto bread, flatbread, or sliced sourdough bread.
Total time: About 1 hour
Serving baked egg custard is a wise choice to end your party. This smooth dessert has a moderate sweetness and appealing pale yellow color. Depending on your preferences, it is possible to enjoy warm, cold, or room temperature.
To have a perfect custard, you must prepare a mixture of eggs, spices, milk, and half & half. Next, put the liquid in ramekins and use a water bath method to bake the custard. It's not difficult to create a highlight for this dish when you only need to add a little nutmeg on top.
Find the proper instructions to prepare the baked custard.
Total time: About 45 minutes
Fried rice is a convenient dish that many people choose for breakfast. It results from easy-to-find and familiar ingredients, such as bacon, rice, and eggs. In particular, its simplicity is suitable for newbies in the kitchen.
The tasty flavor of this excellent recipe derives from the mixture of sesame oil and soy sauce. It tastes tastier with the addition of frozen veggies. Before making this dish, you must dry the rice by spreading it on a large plate or baking sheet and placing it in the fridge.
Total time: About 28 minutes
Finding an incredible breakfast that can be enjoyed as a dessert is not complicated. And banana chocolate chunk muffins are suggestions you should consider.
These tender and fluffy muffins have eye-catching golden brown and a black hue of chocolate to accentuate the treat.
They are soft, sweet, and convenient to grab and go, making them perfect for busy mornings. If you enjoy it at home, you can serve it with scrambled eggs, fruits, or potato chips.
Total time: About 27 minutes
This is a versatile keto recipe ideal for breakfast, appetizers, or snack menus. In particular, it tastes fabulous when you serve it cold or hot. The soul of this excellent treat lies in the creamy, smooth, and rich mustard sauce.
The mouthwatering dipping sauce is a well-combined blend of lemon juice, ground mustard, mayonnaise, and cracked pepper. Topping the eggs with sauce or serving the dip on the side are the ideas you can use to mix this food and sauce.
These fantastic Scotch eggs first appeared in Scotland. Initially, it was created with eggs and bread crumbs as the main ingredients. Gradually, the chefs have begun to combine eggs with sausage to prepare this excellent recipe.
Total time: About 20 minutes
This refreshing and flavorful deluxe egg salad sandwich will be a perfect sandwich for your breakfast and lunch. You can easily make this food with hard-boiled eggs, salt, mayo, and bread. If desired, you can occasionally serve the salad with lettuce or buffalo chicken wrap.
You only need to spend about 20 minutes boiling eggs, chopping them, and mixing them with cream cheese, pickle juice, mayonnaise, and bacon.
To diversify the flavor of this fantastic recipe, it is possible to add sliced tomato, pickled onions, and diced jalapenos to the recipe.
Total time: About 20 minutes
There are many simple and delectable sides to mix with main courses at parties, but I also intensely love egg salad blini bites.
Egg salad and blini are the 2 main parts of this yummy dish. Small and thin sliced blini will be topped with refreshing eggs, veggies, and mayonnaise.
You'll blend milk, salt, butter, and all-purpose flour to create brown blini. Next, chop the hard-boiled eggs and mix them with lemon juice, zest, pepper, and mayonnaise to make an appealing salad. Place the salad on the blini and garnish with dill.
Total time: About 55 minutes
I ate a lot of popovers when I saw these charming golden-brown treats for the first time. The light and airy texture will fascinate you from the first try. And this fabulous recipe is one of the fluffiest dishes I have tried.
You can make this delicacy whenever possible since the ingredients are available in your kitchen. Salt, butter, flour, and eggs are indispensable components in your house. With a few simple steps, you can combine them to make an excellent and warm treat.
Let's go to the kitchen to make a fluffy popover right now.
Total time: About 52 minutes
If you love dishes with a cute appearance, you should try making deviled egg chicks. It resembles little chickens with white fur, red legs, and black eyes. The adorable look will grab you and your kid's attention immediately.
The red legs of the chicks are made up of carrots, and the black peppercorns are the key elements to creating their eyes. Regarding the making process, you must be careful when using a sharp knife to cut and turn the hard-boiled eggs into the shape of lovely chicks.
Total time: About 30 minutes
If you are a big fan of Mexican dishes, you should go to the kitchen and make Chilaquiles Verdes immediately. This food contains flavorful salsa verde and fried corn tortillas. Typically, I'll mix it with refried beans and a fried egg at dinner or lunch.
You can eliminate the monotonousness of this recipe by adding Mexican crema, cilantro, onions, and Cotija cheese as fresh toppings. Furthermore, feel free to replace green salsa with red sauce if you want to make red Chilaquiles.
To prevent the Chilaquiles from getting soggy, you should give up the intention to use the store-bought tortilla chips. Also, try baking the chips if you don't like fried foods. As I am a spicy food lover, adding jalapenos or peppers is my top choice to increase the heat.
Total time: About 40 minutes
You will have a fantastic breakfast combining sourdough demi baguettes, eggs, diced pancetta, and heavy cream. The fluffy texture of these boats will win your heart from the first bite. In addition, you can feel the rustling sound of crispy baguettes.
You will think of golden brown boats carrying yellow eggs. If you organize a huge party, you can make this dish beforehand and keep it in the fridge for about 2 days. When the party starts, you just need to put the boats in the oven or microwave to reheat.
When unstuffing the baguettes, you need to perform thoroughly and evenly. This helps the filling fit perfectly. Suppose you intend to use milk instead of cream; please don't opt for it since this element can negatively affect the texture of eggs.
Total time: About 25 minutes
In case you have the chance to go to Italy, you have to try frittata. It is an egg-based dish with many similarities to an omelet or scrambled egg. In addition to eggs, its delusion also comes from the presence of cheeses, veggies, and meats.
Today, I will show you how to mix sausage and spinach to create a perfect American-style frittata. You'll start stirring the veggies and sausage. Do not forget to add salt and black pepper to make it more flavorful.
After preparing egg mix with cheese, cream, and spices, you'll combine it with spinach and sausage mix to complete the delicious food. Typically, I love pairing frittata with bread, roasted veggies, and salads at meals.
It's time to save the instructions to prepare a yummy spinach frittata.
Total time: About 10 minutes
I would like to introduce this poached egg avocado toast with creamy, soft eggs and crispy toast. Moreover, the subtle and seductive aroma of toast will instantly tickle your sense of smell.
When biting this delectable dish, the crunchy toast, tender eggs, and buttery avocado invade your mouth and dissolve gradually. It gets a fresh touch with the appearance of cherry tomatoes and pine nuts.
Total time: About 15 minutes
Among countless delicious egg recipes, I still have a great love for the breakfast grilled cheese with scrambled eggs and pesto. It is loaded with tender scrambled eggs, cheesy fontina cheese, and basil pesto. 2 sliced sourdough bread will connect them together.
When making this delicacy, you should not overcook the eggs since they will be cooked in grilled cheese later. It can be more flavorful after you add salt, hot peppers, or sauce. Let's make this dish richer by adding cream cheese or mascarpone.
It is a versatile food as you can serve it at breakfast, lunch, or dinner. A secret to bringing the highlight to the dish is drizzling a bit of honey to give the food a natural sweetness.
Total time: About 20 minutes
Fusing smoked salmon and creamy scrambled eggs will create a culinary masterpiece. It is suitable for charging energy for your new day.
In addition, I often prepare this yummy dish for supper at night. I guarantee you'll immediately love its creamy, tender, moist, and cheesy texture.
After mixing the eggs with cheese, spices, and heavy cream, I will blend scrambled eggs and salmon pieces together. After nearly a minute, you can decorate the delicious dish with scallions or chives and serve this delicacy to your guests.
Total time: About 30 minutes
Suppose you are seeking a keto breakfast; you should save this idea of spinach egg muffins with tomatoes. This mouthwatering recipe also contains a fresh touch of cherry tomatoes, spinach, and cheesy mozzarella.
This treat has a typical shape of beautiful yellow cups. The trick for getting these gorgeous muffins is to use a non-stick muffin pan. Also, you can choose a ceramic-coated muffin pan for making this dish. A feature that I love is that I can make it ahead of time.
Total time: About 20 minutes
If you love Korean foods' typical taste, you must try kimchi fried rice immediately. It has an intense flavor of kimchi, the umami touch of soy sauce, and the creamy fried eggs. It takes about 20 minutes to complete this excellent recipe.
Preparing this recipe is the best way to utilize your day-old rice. Please dry the rice for about 1 to 2 hours to discard the moisture.
I also use 1 to 2 tablespoons of kimchi juice to add the extra taste. You should not ignore adding red pepper flakes to give the dish a red hue and spiciness.
Total time: About 25 minutes
Let's try combining avocado and eggs to create a creamy treat. This dish looks like rustic boats filled with eggs, chopped herbs, salsa, and spices. This simple dish will save you time and money thanks to the straightforward process and easy-to-find components.
Please note that you should not choose overripe avocados for this dish because they will become more tender when cooked in the oven.
On the other hand, you should use a spoon to scoop the flesh before filling the eggs. In particular, be careful and gentle when you dice and crack the avocados.
It is not complicated to make baked egg avocado boats with the directions.
Total time: About 13 hours 15 minutes (including 12 hours for chilling)
This ham casserole allows you to store it in the refrigerator overnight and bake to enjoy in the morning. This tasty and savory treat contains green chiles, ham, hash brown, eggs, and cheese. After baking, you will have the bright yellow and fluffy casserole to start a new day.
You need to arrange shredded hash browns, ham, cheese, and green chiles into a baking dish. Prepare a mixture of eggs, black pepper, and evaporated milk and pour it into the dish. You can bake it and enjoy it after covering it with foil and storing it in the fridge overnight.
Total time: About 16 minutes
Pain Perdu is a famous bread in French cuisine. The name "pain perdu" means "lost bread" in French. This bread is known commonly as "French toast".
Suppose you do not have much time in the morning; you can learn how to make Pain Perdu. Baguette is an irreplaceable element in this particular recipe. It has a perfect softness and slight firmness.
In particular, this bread gets a fascinating sweetness when bathed with melty butter and maple syrup. I love the warm touch that comes from the nutmeg and cinnamon when tasting this sweet recipe.
Total time: About 45 minutes
Enchiladas with roasted poblano sauce are an excellent suggestion for your breakfast. Also, it is possible to serve this delectable ground turkey dish at lunch, dinner, or mid-night meal. This savory treat comprises chili potatoes, scrambled eggs, melted cheese, and spicy ground turkey.
All of these ingredients are carefully and beautifully wrapped in a tortilla. Indeed, the dish's value becomes much more significant when you use roasted poblano sauce. They bring smooth consistency and rich flavor to the recipe.
You should mix the sauce with a bit of water to make it thinner and add a layer of sauce to the tortilla before wrapping it to prevent it from getting dry and stiff. This dish tastes more appetizing when you serve it hot so consume it as soon as you take it out of the oven.
Total time: About 35 minutes
Are you trying to find a delicious dish for your family's breakfast? Making Bisquick casserole is a brilliant idea. This savory recipe includes cheese, eggs, sausage, and other ingredients. I believe you'll rush in to eat this dish as soon as you see its vibrant yellow hue.
I often cut it into small squares and use them for picnics or camping. It is simple as you just need to place cooked sausage and Bisquick mix (eggs, milk, cheese, and maple syrup) in the baking dish. After about half an hour, you'll have a stunning and yummy casserole.
Total time: About 30 minutes
I love kicking off the breakfast or brunch with the fluffy and soft spring chive cheesy egg puffs. I typically consume this excellent treat with pickled onions, and this combo can steal your heart instantly.
The fresh chive plays a crucial role in the deliciousness of this food. Occasionally, you cannot find fresh chives in your kitchen, and dried ones are the best alternative you can try. You should use the 1:3 ratio when replacing fresh chives with dried versions.
Total time: About 1 hour 25 minutes
Quiche Lorraine is a type of tart created with a flaky pastry crust, custard filling, creamy cheese, and smoky bacon. Its name is derived from the name of a region in France. It began to be widely known in the United States in the 1950s.
You should use the mix of parmesan and gruyere cheese for this excellent recipe to give the perfect smoothness and lovely golden crust to the top. And the fantastic and eye-catching hue can catch your eyes immediately.
Instead of bacon and cheese, it is acceptable to use ham or other meats to change up the taste buds. In case you are a vegetarian, you can use fresh veggies like tomatoes, onions, and zucchini instead of meat.
Expand your knowledge with the ways to create excellent quiche lorraine.
Total time: About 15 minutes
Huevos Rancheros is an egg recipe originating in ranches and farmhouses in Mexico. It appeared in this country in the 16th century. This is simple since it is created with only 3 essential components: black beans, eggs, and salsa.
Furthermore, you have many other options to enhance its taste and aesthetic such as green onions, tortillas, chopped cilantro, and avocado. I often simmer black beans and salsa before dropping in eggs. After cooking for another 5 to 8 minutes, your egg-used dish is ready to enjoy.
Total time: About 1 hour
Burrito is a traditional recipe in Mexican cuisine. It has existed for thousands of years. The people of Mesoamerican cultures wrapped foods with tortillas in 10000 BC. Gradually, this dish has become an essential part of Mexican cuisine and many other nations.
To make this delicacy, you must have tater tots, beans, eggs, cheese, and tortillas in the kitchen. Using ingredients at room temperature is better to prevent the recipe from getting soggy.
The best way to preserve the dish is to freeze it, but please remember to cover it with aluminum foil.
Total time: About 35 minutes
There's nothing better than starting your day with a hearty and flavorful baked Denver omelet. When consuming this simple recipe, you'll also find the savory and meaty touch of ham, onions, peppers, and cheese.
Many people claim this beautiful omelet recipe is derived from a famous sandwich called the Denver sandwich. Both contain similar fillings. Meanwhile, some said this food is inspired by a yummy dish invented by Chinese immigrants working on railroads.
It's simple to diversify the menu of meals with the variations of this recipe. You'll bring new twists by replacing cheddar cheese, ham, and heavy cream with mozzarella cheese, bacon, and milk. Let's top the recipe with salsa, green onions, and chives for extra taste.
You can learn how to make a baked Denver omelet by following the instructions.
Total time: About 10 minutes
I believe most people have heard the name "tacos" at least once in their lives. It is a dish associated with traditional Mexican cuisine. This food consists of corn or wheat-based tortilla and delectable filling. Its filling typically includes chicken, beef, seafood, cheese, or veggies.
Now, you can make this flavorful morning dish with an air fryer. You just need to add the filling onto the tortillas, fold them, and cook them in an air fryer. This device will bring cheesy, crispy, and yellow tacos to your gatherings.
Total time: About 30 minutes
Zucchini egg skillet is a simple and delightful delicacy that always appears on my breakfast or brunch menu. The flavorful taste of this dish comes from the shredded zucchini, cooked sausage, eggs, and cheeses.
If you are a beginner in the kitchen, you can make it easier. Just cook potatoes, onions, zucchini, and sausage in a skillet. Then, flavor the veggies with pepper, salt, and cheese. Add the eggs to the skillet and cook until the yolks are set.
It's Time To Feel The Awesomeness Of These Egg Cooking Ideas!
Have you gained a lot of valuable knowledge from this excellent post? If yes, you must introduce it to other people around you to improve the quality of your and their meals.
After reading this article, do not hesitate to share your thoughts in the comment box if you have any feedback or contributions. I will try my best to respond as soon as possible.
It is fantastic to kick off a day or fill your hungry stomach at lunch, dinner, or supper with a delicious egg-used recipe. I have provided a diverse list of delectable dishes, and your job is only to get into your kitchen and make them. Good luck, and thanks for your time!
Nutrition Facts
2 servings per container
---
Amount Per ServingCalories554
% Daily Value *
Total Fat 49.2g

76

%
Cholesterol 372mg

124

%
Sodium 153mg

7

%
Potassium 1119mg

32

%
Total Carbohydrate 18.2g

7

%

Dietary Fiber 13.5g

54

%
Sugars 1.8g

Protein 16.5g

33

%
---
Calcium

80

%
Iron

3

%
Vitamin D

35

%
* The % Daily Value tells you how much a nutrient in a serving of food contributes to a daily diet. 2,000 calories a day is used for general nutrition advice.