These best Dutch oven recipes provide an outstanding flavor to your meal time, whether a homemade recipe or a camping meal. If you have a Dutch oven at home, you may take a quick peek through this article to discover all the beautiful ideas.
A Dutch oven is typically popular because of its sturdiness and ability to withstand various cooking conditions. Therefore, you often see many people carrying their trusty Dutch oven along for their outdoor activity to cook all sorts of dishes.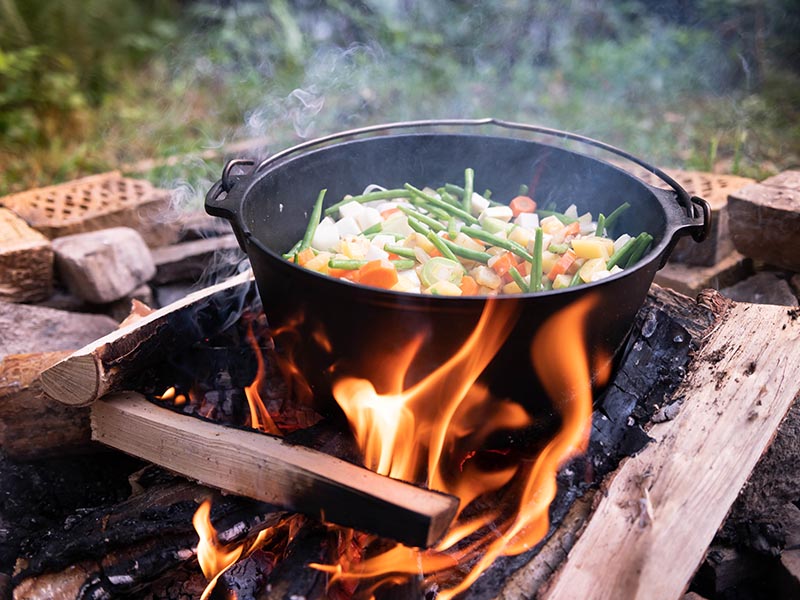 Experiment With These Wonderful Recipes Using Your Dutch Oven
These cooking ideas are easy to materialize with only a bit of effort put into your cooking process. I believe you will soon find your favorite in this fantastic compilation.
Total time: 1 hour.
For a starter of this compilation, you may think about making some sauce in your Dutch oven. Lucky for you, I have a basic tomato sauce recipe for you to take a look at. The sauce is simple to create with only a handful of ingredients.
First, boil water in the Dutch oven to cook the tomatoes. Make sure you prepare some ice water for the tomatoes to make it easier to peel the skin. Transfer the tomato pieces to the blender until you get a chunky consistency. Simmer and stir in some lemon juice and salt for seasoning.
Typically, you can store tomato sauce for up to 3 months in a freezer. Another way is to transfer the sauce into a can for a more prolonged preservation method.
Total time: 30 minutes.
Tortellini is a pasta that often appears in various Italian cooking ideas. This soup version of the Tortellini uses a Dutch oven to cook the ingredients. If you don't have access to the cooking utensil, you may replace it with a stockpot.
The Italian delicacy possesses a licorice taste coming from Italian sausages. Furthermore, people use chicken stock and tomato sauce to bring a sweet note to the broth. For an authentic approach, ensure you saute the sausage with Italian seasonings before adding the broth.
Simmer the mixture until it begins to thicken. Throw in the Tortellini and cook until tender. In addition, people also use heavy cream for a mesmerizing creamy taste to the soup. You can include some kale to have with other soup elements.
Enjoy a decadent Tortellini soup in a Dutch oven.
Total time: 1 hour.
Let's head to another soup recipe by combining potato and leek. The soup is a super creamy blend to consume warm on cold days. The specialty is entirely plant-based, making it a perfect addition to your vegan diet.
The base of the soup is sauteed leeks and peppers with white wine vinegar. Continue to pour in vegetable broth, potatoes, and white beans before bringing the soup to a boil.
To create a smooth texture for the soup, I suggest transferring the cooked ingredients to a blender. Puree until it reaches the desired consistency. I prefer adding a splash of lemon juice and mustard to the pureed soup to elevate the flavor profile.
Total time: 1 hour 15 minutes.
If you enjoy an array of vegetables like me, you should not miss Ratatouille. The French delicacy is essentially baked vegetables with a soft, tender texture. The resulting flavors may vary depending on the types of vegetables you use.
Traditionally, French locals utilize eggplant with zucchini, tomato, and bell pepper for the vegetable mixture. People often cook the tomatoes first to achieve a thick mixture. As for the eggplant, squeeze the pieces hard to extract unwanted excess liquid.
You want to saute the onion and peppers in the Dutch oven until they become tenderized. Add all the mentioned vegetables and simmer until they are tender. Proceed to season the Ratatouille with vinegar, and sprinkle it with a bay leaf for serving.
Total time: 50 minutes.
Pizza in a pot is not new, but it's a necessary dish for an outdoor camping trip. All you need is the ingredients with your trusty Dutch oven to cook pizza in the middle of the wild. It's a straightforward and fun recipe that you should try.
To save up on your time, I recommend using pre-made pizza dough. Typically, you should rub the dough with olive oil to prevent the pizza from drying. Flatten the dough into a disk shape and spread the pizza sauce with cheese over the surface.
As for the topping, you may use cooked sausages, bacon pieces, or peppers. Don't forget to preheat the Dutch oven before transferring the pizza into the pot. Commonly, people use briquettes (a block of combustible biomass) to heat the Dutch oven.
You should get a golden brown pizza with a crunchy golden-brown crust in no time. Next time you're on a camping trip, give this recipe a go.
Total time: 1 hour 30 minutes.
Mac and cheese is everyone's favorite side dish or snack when people have nothing to do. Similar to the prior mentioned recipe, this Dutch oven version of mac n cheese is ideal for enhancing the experience of a camping trip meal.
Like any mac n cheese, you must cook the macaroni and drain them. I suggest bringing cream, milk, and water for a mouth-watering cheese mix. Prepare some Cheddar and Gouda cheese in a separate bowl for later steps.
Once your preheated Dutch oven is ready, combine the macaroni and creamy blend into the pot. Include the cheese mixture with some bread crumbs to coat with the macaroni. It usually takes around 10 minutes for the cheese to melt completely.
Learn how to infuse up to five types of cheese into one mac n cheese recipe with a Dutch oven.
Total time: 55 minutes.
Stuffed bell pepper is a classic recipe to enjoy during lunch or dinner. The bell peppers are like a bomb of flavors ready to explode in your mouth with various cheesy and savory tastes. In addition, the dish is easy to materialize with only a few ingredients.
First, you should cook some rice using the Dutch oven. As for the bell peppers, slice off the top and bottom. To prepare the filling, I love a combination of cooked rice with sauteed pork sausage, onion, and salsa (Mexican tomato sauce).
After baking the stuffed peppers in the Dutch oven for 35 minutes, top them with shredded cheese and melt them by returning the pepper to the oven. The peppers should be soft inside and outside with a pleasant cheese scent.
Total time: 40 minutes.
At first glance, the red pepper soup is a mesmerizing blend of smooth broth with vibrant orange color. Despite its intimidating look, the soup only offers a mild spiciness. However, you can adjust the heat with hot sauce.
Typically, people broil the bell pepper slices with garlic until they have some char marks. This stage helps infuse the pepper with a pleasant fragrant smokiness. Next, remove the burnt skin of the bell pepper to turn it into a puree afterward with onion and garlic.
Continue to pour the bell pepper puree into the Dutch oven with the chicken stock. Bring the concoction to a simmer to include sour cream in the mix. Stir until you get a smooth consistency to serve with herbs or extra sour cream.
Total time: 2 hours 15 minutes.
It's hard to imagine that you can create aromatic garlic rosemary bread in a Dutch oven. It almost sounds like an impossible task, but I'm here to give you the support you need. The bread is a super comforting dish to whip up at home.
Any good bread starts with the dough mix, a blend of all-purpose flour with yeast, warm water, and sugar. Don't forget to include diced garlic and rosemary sprigs in the dough mixture. Let the dough rise in a warm place before you proceed to the next step.
Dust your working surface with flour to start shaping the dough into a ball. Flip the dough a few times until you see the surface becomes smooth.
Ensure you score the dough before placing it into a preheated Dutch oven for baking. You should enjoy crispy golden brown bread in no time.
Total time: 1 hour 15 minutes.
After a hearty meal, you must be looking for a sweet treat to finish the course on a high note. Don't worry because I have the perfect idea in the form of soft and decadent cinnamon rolls cooked in a Dutch oven.
To materialize the dough, you must incorporate milk with flour, yeast, and butter. In addition, I recommend crackling in an egg, so it's easier to work the dough. While you wait for the dough to rest, crush the cardamom pods to combine with sugar, cinnamon, and butter to make the filling.
Flatten the dough ball and spread the cinnamon filling over the surface. Then, roll the dough into a cylindrical shape before cutting it into thick slices. Place the cinnamon rolls into the Dutch oven and bake until the rolls become golden brown.
Remember to whisk up milk, butter, and powdered sugar to create the icing layer of the cinnamon rolls. These tasty rolls are best to enjoy while they are warm.
Cinnamon rolls are easy to cook using a Dutch oven.
Total time: 2 hours 15 minutes.
It's time to go big or go home with this incredible whole chicken recipe cooked in a Dutch oven with rosemary sprigs for fragrance. Although you may say roasting a chicken is an easy task, it's an entirely new experience when you use a Dutch oven.
For the chicken, stuff the inside with rosemary sprigs, onion, and garlic cloves. Brush the chicken outside with butter and sprinkle it with a generous amount of smoked paprika and salt. Transfer the chicken into a Dutch oven and cover it with a lid.
Let the oven handle the rest of the cooking process. Your cooking time will vary depending on the size of the chicken. Once the chicken skin turns a golden brown color, it's ready for serving.
Total time: 30 minutes.
Everyone knows that potatoes and cheese make for an addicting combo. Therefore, you may want to recreate this outstanding duo in a Dutch oven. Furthermore, the dish is also a fan favorite to make during outdoor activities.
First, I recommend preparing a mixture of sour cream, butter, and cream of chicken soup. Next, layer the ingredients in the Dutch oven in order of potatoes followed by soup, onion, and cheese. Repeat the process until you run out of ingredients or reach the limit of the pot.
Remember, you should finish the process with the cheese layer on top. Pop your Dutch oven packed with cheesy potato into the oven for baking. It should take around 20 minutes to melt the cheese and cook the potatoes thoroughly.
Total time: 52 minutes.
If you love cream Italian rice dishes, this healthy vegan butter squash risotto is a must-have in your cookbook. The Italian specialty is easy to create yet packs a heavy punch of taste and texture at the dinner table.
For an authentic Italian flavor, it's best to utilize arborio rice to make the risotto. Commonly, you should saute the onion, mushrooms, and garlic to create the initial fragrance in the Dutch oven. Don't forget to transfer the pot into the oven for baking until the vegetables become tenderized.
Add rice and water to cook with a few spices. Top the rice with spinach, but do not stir the mixture. Place the pot back into the oven, and you will have your risotto ready in no time.
Total time: 1 hour.
Brownie is a heavenly dessert packed with incredible chocolate flavor. As you may tell, it's possible to cook brownies in a Dutch oven. Better yet, you have the choice to cook it inside an oven or over an open fire.
If you don't want to make a mess in the Dutch oven, I recommend lining the bottom with parchment paper before adding the ingredients. As for the brownie base, people often infuse cacao powder with butter and oil on low heat.
Pour the flour into the brownie batter. In addition, you may include some nuts and chocolate chips in the brownie mixture. Transfer the brownie to the Dutch oven pot and bake in the oven until the texture firms up a bit.
To cook brownies on an open fire, you will need to distribute coals on top and bottom of the Dutch oven. Don't forget to check the brownie after 20 minutes of cooking.
Spice up your next camping trip with this incredible brownies specialty made with a Dutch oven.
Total time: 2 hours 15 minutes.
Golubtsi is a Russian specialty where people usually wrap minced pork filling with cabbage leaves. Aside from Russia, many European countries also possess their version of cabbage roll, which you can adapt using various fillings.
For a traditional approach, you may boil the cabbage to a tender and remove the center rib of the leaves, so they are easier to handle. To create the filling, people use chopped cabbage to combine with cooked ground pork, tender carrots, and celery.
Furthermore, I like adding rice and bell pepper to the filling to elevate the overall profile of Golutsi. Cook the cabbage rolls with tomato sauce and serve the dish with sour cream. Golubtsi can last up to 6 months in the freezer for later consumption.
Total time: 3 hours 35 minutes.
Sweet and delicious applesauce is an essential part of accompanying various savory delicacies. Furthermore, you may pair applesauce with bread for a straightforward and tasty dessert. The condiment is easy to create with little effort.
The only element you need is crispy apples. Typically, people place the apples in the Dutch oven and bake until smushy. Transfer the cooked apples to a colander and mash them to extract the sauce into a clean jar. Applesauce is good in the refrigerator for up to a few months.
Total time: 20 minutes.
S'more is a classic camping specialty that combines sweet marshmallows with crunchy crackers and chocolate to experience an addicting ooey-gooey dessert. To turn s'more into a Dutch oven recipe, I prefer to turn this little treat into a big cake to satisfy everyone's sweet tooth.
Of course, you should use the Dutch oven for this recipe. The treat calls for pre-made food cake to be the base for the s'more. Continue to throw in some Graham crackers and follow them with delicious chocolate bars.
Cover the top with fluffy marshmallows before closing the lid for grilling. It won't take long for the marshmallows and chocolate to melt. Remember to check your s'more frequently to prevent any unwanted burns.
Total time: 1 hour 15 minutes.
Aside from applesauce, you can also whip up a fantastic apple crisp dessert in a Dutch oven. The dessert centers around the apple pieces with various condiments for a new height in terms of flavors.
The apple filling is the cornerstone of this dessert which consists of apples tossed with lemon juice, flour, and cinnamon. As for the topping, I suggest using oatmeal as a healthy choice. In addition, the topping should be a little bit chunky after combining the oatmeal with condiments.
Transfer all the elements into the Dutch oven and let the baking process begin. Ideally, the baked apples possess a beautiful golden brown color. Apple crisp is superb to pair with a dollop of chilling vanilla ice cream.
Dutch oven apple crisp is what you need to elevate everyone's outdoor experience.
Total time: 55 minutes.
Let's leave the realm of savory and cheesy delicacy to discover a decadent dessert recipe that you can whip up inside a Dutch oven. The wonderful blueberry taste of the cobbler will instantly impress everyone with a dollop of whipped cream for garnish.
To bring the cobbler filling to life, toss blueberries with a combination of flour, sugar, and lemon juice. Transfer the filling to the cast-iron Dutch oven. While the filling is cooking, whip up the topping using milk with butter, flour, and sugar.
Open the Dutch oven lid and drop in the topping batter. After covering the pot, scoop a couple of charcoals over the lid. It helps the cobbler cook evenly from all sides. Once the topping turns golden brown, remove the cobbler from heat and serve.
Total time: 1 hour 15 minutes.
Bisque is a type of smooth, creamy soup originating from French cuisine. It has various adaptations with different ingredients. The lobster Bisque is only one of the many Bisque versions you can create using a Dutch oven.
To create the essential notes for the Bisque, you want to sauteeing the onion with olive oil. In addition, I prefer throwing in some potatoes with bay leaves and garlic to bring out more fragrance. Be careful not to burn the garlic at this stage.
Combine clam juice, diced tomatoes, and vegetable stock to deliver a seafood aroma for your Bisque broth. Blend the concoction to achieve a smooth texture with a mesmerizing light red color. Simmer the blended mixture before adding lobster and cream for serving.
Total time: 30 minutes.
Lyonnaise is a French specialty that involves sauteeing slices of potatoes and onions in butter and aromatic parsley. However, I want to twist the recipe using carrots as the center of attention. Carrot Lyonnaise is ideal for people looking to create a fancy meal for their dinner.
I recommend cooking the carrot pieces until tender and crispy in a Dutch oven. While at it, you can multitask by sauteing the onion in butter. In the onion blend, you must include flour, salt, and bouillon for a flavorful profile. Remember to pour in water gradually for a thick consistency.
Drain the carrot from excess water and mix it with the viscous sauce. Sprinkle your Lyonnaise with some parsley, and you're ready to serve a fancy meal to the dining table.
Total time: 4 hours 40 minutes.
Pot roast brings an incredible nostalgic sensation to the holiday time when you surround yourself with loved ones. Therefore, I want everyone to relive that feeling with an outstanding Dutch oven pot roast.
Traditionally, people usually go for the chuck roast part of the meat for a smooth texture. You should often sear all the meat surfaces to lock in the juice and flavor. Furthermore, the recipe possesses a terrific glaze of onions with red wine, beef stock, and carrots.
Place the chuck roast over the glaze and bake the dish in a Dutch oven. After a few hours of cooking, the beef should become tender enough to shred with a fork. Save some leftover glaze to simmer with cornstarch for a thick gravy to serve the shredded chuck roast.
Make pot roast with a Dutch oven to enjoy a sensational holiday spirit anytime you want.
Total time: 2 hours 20 minutes (including 1 hour of resting)
It's time to switch up your fragrant Dutch oven bread recipe for a mild spiciness from the Jalapeno. The fun part of the recipe is that you can customize and adjust the ingredients to create your ideal Jalapeno bread.
Let me enlighten you if you're wondering why you should cook bread in a Dutch oven. The main reason is that the pot traps most of the steam, which produces a soft crust texture. Mix flour with bacon, chopped Jalapeno, and cheddar cheese to create the bread dough.
Combine the dry elements with a concoction of water and yeast to create a smooth dough consistency after kneading. Brush the bread with egg wash to produce a golden brown color. Remember to top the surface with cheese and Jalapeno.
Score the bread and place it into the Dutch oven. Transfer the pot into the oven for baking for roughly half an hour. Ideally, you must allow the bread to cool off before cutting it.
Total time: 1 hour 20 minutes.
It's hard to imagine that you can create such a soft and rich cheesecake inside a Dutch oven. Yes, you hear me right, cheesecake is no longer a dish you have to make using a mold. So if you have a Dutch oven at home, you may enjoy decadent cheesecake daily.
The cheesecake starts with a crust consisting of Graham crackers at the bottom of the pot. Whisk cream cheese with flour, sugar, and vanilla in a bowl to make up the filling. Don't forget to include sour cream and eggs for a rich flavor.
Cover the cheesecake and bake until the center is set. Remember to cool off the cheesecake before you can dig in with your favorite toppings.
Total time: 40 minutes.
Suppose you crave some tasty Mexican cuisine while on your camping trip; you need to bust out a campfire lasagna recipe to impress everyone. All the elements are cooked inside a Dutch oven, so you don't have to be afraid of making a mess at the campsite.
In the Dutch oven, you want to coat the bottom with oil to prevent any sticking before layering the pot with savory pasta sauce. Next, add some noodles and follow them up with more sauce. Continue to place spinach and cheese over the sauce to complete the process.
Repeat the step until you reach a desirable stack of lasagna. Sprinkle the top with oregano for a herbal profile. Close the lid and start cooking the lasagna with some coals over the pot. It should take around 30 minutes for the lasagna to become tender.
Total time: 4 hours 10 minutes.
Pulled pork is another holiday staple for people who enjoy tenderized savory meat. The dish is perfect for bringing the BBQ experience into your home. Plus, it only takes a few ingredients to create a mouth-watering pulled pork.
Most often, the butt meat produces the best texture to make pulled pork. However, you must marinate the meat with a spice mix of paprika, garlic powder, and salt to build the layers of flavors for the pork.
I suggest cutting the meat into manageable chunks for the spice to coat evenly. Sear the meat chunks until all sides become brown. Let the oven braise the pork with water for a couple of hours. After shredding the pork, toss it with the remaining sauce from the searing process.
Serve the tenderized shredded pork between soft buns for the best experience.
Tenderize your pork with a Dutch oven for this terrific pulled pork delicacy.
Total time: 30 minutes (excluding chilling time).
Since I have given you so many homemade food items, let's uncover a special pink Rhubarb punch to make with a Dutch oven. The beverage is perfect for you to throw a small party or treat everyone with a bit of tipsiness during the holiday season.
In the Dutch oven, start bringing a concoction of water and rhubarb to a boil to extract the signature sour taste with a touch of sweetness from the vegetable. Proceed to introduce sugar and gelatin to the mix and chill it in the refrigerator.
I prefer adding some pineapple and lemon juices to the rhubarb before chilling it for a refreshing tropical flavor. Whenever you want to serve rhubarb, infuse the punch with ginger ale and garnish the glass with a few fruit wedges.
Total time: 2 hours 20 minutes.
Aside from applesauce to spread over bread for breakfast, I have another option in the form of honey pear butter, a viscous sauce with mesmerizing brown color. Try out this sauce to make your sandwich in the morning more diverse with flavors.
Instead of apples, I suggest pears to create a thick jam. To make the butter, people simmer pears with honey, cinnamon, and lemon juice to a tender inside a Dutch oven. Next, transfer the liquid pear content to a blender to puree it to your desired consistency.
Return the pureed butter to the stovetop to simmer until it thickens. Another alternative way is to use an instant pot which helps soften the pear faster. Whichever method you choose, you will always end up with a sweet, decadent pear sauce to spread over bread.
Total time: 1 hour 10 minutes.
I suggest going for a delicious rib specialty inside a Dutch oven to wrap things up with a bang. It's quick and easy with only a handful of elements to create an addicting tender rib meat texture in one pot.
The best section to use is the baby back rib part which possesses a natural tenderness. Rub the ribs with BBQ seasonings of your choice. In a Dutch oven, you want to layer the pot's bottom with BBQ sauce before placing the ribs in with extra sauce covering the ribs.
Follow the condiment with soda water and finish the top with extra BBQ sauce. On average, it takes around an hour to tenderize the ribs thoroughly. Remember to throw a few pieces of coal on top of the pot to distribute the heat evenly.
Which Dutch Oven Recipe Attracts Your Attention The Most?
A Dutch oven is highly adaptable to whatever recipes you have in your mind. Let your imagination fly to create fantastic cooking ideas that you can stuff inside the sturdy pot. So hop into your kitchen to whip up some delicious delicacies.
If you love the versatility of the Dutch oven for outdoor activities, share your opinion about the fascinating ways you have used the pot. In addition, you may spread this article to any who just purchased a Dutch oven so they may know what recipes to create.