Have you read about these delicious Dutch oven chicken recipes? They are some of the tastiest recipes made with an amazing Dutch oven to keep yourself updated. Next thing you know, your beloved ones are going to ask for more of these chicken dishes.
Using a Dutch oven is a great way to bring out the best flavors of braised and slow-cooked dishes. This cast iron pot is well-known for its heat retention ability, which plays a crucial part in cooking.
Cooking chicken with a Dutch oven is so quick and simple that you'll end up surprising yourself with how dinner is ready in such a short time. The best part about this is you won't have many pots and pans that need cleaning, which is more efficient for you in the kitchen.
So let's not waste any more of your time and jump right into these mouth-watering recipes!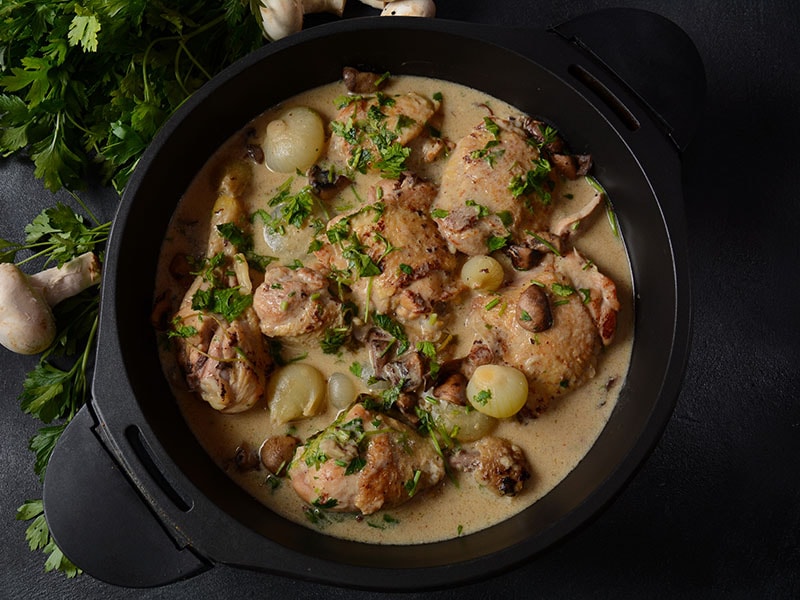 These Recipes Are The Best Way To Make Use Of Your Dutch Oven
A Dutch oven is by far one of the best cooking tools that I use in my kitchen. This tool has helped me a lot in keeping and enhancing the flavors of the dishes I make, especially chicken. So feel free to look through these recipes and try them out to see what I'm talking about.
Total time: 1 hour 10 minutes
If you've been to Thailand before, you would know how creamy and rich the curries are over there. This recipe is going to help you recreate just that flavor with some beautiful spices and a few basic ingredients. The best part? Everything takes place in the same pot.
One unique feature of this unique recipe from Thailand is that it doesn't require browning the chicken beforehand. Only saute the onion with the curry paste to enhance this curry color. There are also spices like paprika and curry powder to intensify the flavor of the curry.
For the best quality of this dish, I have a few tips to share with you regarding curry paste. You should aim for a quality curry paste with an ingredient list including herbs, spices, shrimp paste, and salt. Don't opt for those with oil or other seasonings since they are not authentic.
Let's make Thai coconut chicken curry the easy way with this tutorial.
Total time: 45 minutes
Lemon and butter have long been a dynamic duo in cooking. This time, let's combine it with some chicken and cook a tasty dish for dinner in a Dutch oven. This is a perfect chicken dish for your summer meal as it's easy to make and flavorful.
With a bright flavor, the lemon butter sauce is a highlight note for this chicken dish. Along with that is the Parmesan cheese that is silky and creamy, just suitable for the tender and moist chicken. Lastly, you also have flavorful spices like paprika, garlic, and pepper to elevate the chicken.
This dish is a classic meal that's both rich and inviting. You can pair it with the most common side dishes like steamed white rice, pasta, or toasted baguette. Make sure to finish the buttery sauce and not let it go to waste.
Total time: 1 hour 45 minutes
Another recipe that calls for chicken thighs. This part of the chicken offers the most tender and juicy flesh for a stew. And there is no better way to elevate that flavor than by combining them with some slow-cooked vegetables that are soft enough to fall apart.
This simple stew will attract you with its beautiful red color. This shade of red mainly comes from the tasty tomato paste together with the fat from the chicken skin. With other ingredients like potatoes and carrots, you can tell that it's going to be a filling stew for a dinner meal.
For the chicken thighs to attain the best texture, make sure your chicken pieces are not in contact with the gravy or the stew water or it will turn the skin soggy. In addition to that, try cooking the onions for a bit longer so that the natural sugar can start working its flavor into the stew.
Total time: 45 minutes
This is one of my all-time favorite chicken dishes. Chicken and rice always make the perfect lunch that packs with flavors and is nutritious. In this recipe, you can make it even quicker in just one single Dutch oven.
Chicken and rice is a popular lunch and dinner menu in many countries around the world. But it's not very common to see the appearance of lime in this dish. This is a perfect recipe for adding lime to elevate your rice.
One of the brilliant ways to infuse the rice with all the essence and flavor of the dish is to cook it together with the chicken. By soaking the rice in the chicken fat, you will get the most out of the chicken juiciness.
Before cooking the rice with the chicken, you will have to cook the rice in melted butter, which will increase the aroma of the rice and the overall dish. Also, add a squeeze of lime juice and cilantro at the end for a sour note that helps lift the creaminess to a new level.
Total time: 1 hour
This is another rice dish with chicken that you're going to love. Risotto is a traditional Italian rice dish that you make by slowly stirring Arborio rice in some wine or stock until it's soft and creamy. In this recipe, you're going to combine the risotto with some chicken.
As I mentioned above, you usually make risotto by stirring the rice until it's cooked. However, let's switch up the heat with this recipe and bake the risotto in the oven with the chicken to bring out the ultimate tenderness and richness of the dish.
This risotto with chicken tastes best when it's fresh out of the oven. So remember to gather your family members around the dinner table before it gets cold and turns stale.
Total time: 50 minutes
Time for a party treat. This version of chicken Marbella uses a Dutch oven instead of a regular oven, which is easier for you to keep an eye on the dish.
Chicken Marbella is a baked chicken dish consisting of many flavorful ingredients like olives, white wine, and herbs like bay leaves, oregano, and parsley. In addition to that, there is another significant ingredient that brings the strongest flavor to the chicken: prunes.
Prunes are sweet and chewy dried plums. Adding them to the chicken will bring out the fruity sweetness of the dish. Aside from that, by combining this dried fruit with other ingredients, you will get a beautiful marinade for the chicken that carries a rustic flavor.
Feel free to pair your chicken Marbella with a bed of white rice or some roasted vegetables. Since the chicken is already flavorful, you don't have to go heavy on the seasoning for the rice or the vegetables.
Total time: 1 hour 15 minutes
Pozole Verde is a famous Mexican green soup made from hominy or dried maize and chicken or sometimes pork. This recipe is going to give you a simple yet delicious pot of Pozole Verde t when the weather turns cold.
Since this dish full of shredded chicken also has different components like tomatillo and hominy, it's a nutritious dish you can eat any time of the day. Along with that, there is no complicated seasoning, as you will only need salt, pepper, and some chili peppers.
Although the ingredients I mentioned above are all basic, the soup itself is surprisingly flavorful, thanks to the cooking process in the Dutch oven. This cooking tool helps the chicken exude all its flavors and essence into the stock, making the soup much more enjoyable.
Here's the best way for you to cook up some delicious Mexican chicken soup.
Total time: 1 hour 30 minutes
Indulge yourself in this delicious recipe for Spanish chicken. This is a dish perfect for anyone who prefers their chicken in a rich tomato sauce with a hint of paprika. What's special about this recipe is that you also have some chorizo and potato to pair with your Spanish chicken.
This recipe will get you addicted to its flavorful sauce. The aromatic garlic, onions, and herbs are what make the fragrance of the sauce. Meanwhile, you have all the juiciness and flavors coming from the chorizo and chicken that thickens the sauce and turns it into a gravy.
Two other ingredients that I cannot overlook are the potatoes and the butter beans. By its name, you can already tell how soft the beans are going to be. Then, combining these beans with the starchy potatoes will bring you a fulfilling pot of chicken stew to last for a couple of meals.
Total time: 45 minutes
Escabèche is a special dish from Latin American cuisine. Usually, people make Escabeche by cooking fish or meat in a vinegar sauce. Since today's theme is chicken, let's learn how to make some Escabeche of chicken.
This recipe is going to provide a cozy flavor by adding some roasted fruits, namely apples and grapes. The addition of these fruits adds a hint of fruitiness and sweetness to the stew. On top of that, the sauce contains wine, apple cider, and vinegar which gives the dish a tangy taste.
As you can imagine, the combination of roasted fruits and wine gives the dish a beautiful balance of all the complex yet elegant tastes. This chicken Escabeche is a perfect autumn delight, a rich stew with a sweet and delicate flavor.
Total time: 25 minutes
Sometimes the classic chicken noodle soup can be boring. This version of chicken noodle soup will offer you a colorful and exotic twist to the dish.
One of the most enjoyable aspects of this dish is how effortless it is to put together a pot of Mexican chicken noodle soup. You don't have to spend much time preparing the ingredients, and the ingredients themselves are easy to find as well.
By adding some beans, corn, and chilies to the soup, you will get a much more versatile texture than just noodles. This recipe also requires some enchilada sauce which will add some extra heat to the dish.
Making this Mexican chicken noodle soup is so quick and simple as you only need to saute some onions and garlic before assembling all the ingredients into the pot. All there's left to do is let the Dutch oven do its job of cooking up a hearty soup.
Total time: 45 minutes
This recipe is a variation made from roasted hatch chili peppers. It is going to include some chicken, so there is more texture and flavor to your chili.
Hatch chili peppers are New Mexican green peppers. They have a distinct flavor that enhances itself when you roast the peppers. Turning these peppers into salsa and adding it to your chili will create a beautiful green color for the dish.
This chili will be a feast for your taste buds. The crispy skin of the chicken thighs is full of flavors from the salsa. There's also a generous dressing of honey on top that highlights the subtle sweetness, making it a harmonious combination on your palate.
Total time: 30 minutes
You would normally see Parmesan, Cheddar, or Swiss cheese as the prominent cheese types. But there's one type of cheese that deserves more attention: Asiago. When cooking chicken with Asiago cheese, you will get a nutty and creamy-tasting chicken dish.
This recipe is going to be heaven for garlic lovers. By using a generous amount of garlic for the dish, the chicken will come out fragrant with an earthy taste. It's optional to add some bacon, but I highly recommend doing this for a richer and more flavorful base.
Total time: around 1 hour 45 minutes
Milk is one of the indispensable ingredients in baking. But did you know savory dishes also calls for milk? This recipe for braised chicken uses this ingredient to produce a creamy sauce that you can enjoy with the moist and tender chicken.
Cooking with milk is a great method to tenderize your chicken. This milk will then gather all the flavors from the chicken and bacon fat to turn into a beautiful sauce. However, you're also going to add some lemon, which helps curd up the milk sauce.
This milk sauce may sound unappetizing to some. But trust me, the final product of this braised chicken is mouth-watering. By using sage and cinnamon with citrusy hints from the lemon zest, the milk sauce will be more fragrant with an earthy taste.
This chicken dish is great for the winter season as it is warm, comforting, and filling. Pairing it with some rice or mashed potato will be a pleasant combination for your meal.
Try making a unique chicken in milk dish at home by following this tutorial.
Total time: 40 minutes
I think chicken meatballs are no less tasty than beef or pork meatballs. Despite carrying so much flavor, they are leaner and healthier for you. This special recipe for ground chicken is one that I enjoy eating, as it includes some hot chipotle peppers.
Unlike usual occasions where you're eating your meatballs with marinara sauce, this recipe combines them with some creamy and peppery gravy. This gravy or sauce gains its flavor mainly from the charred chipotle peppers and the adobo sauce, a spicy Latin American marinade.
Small children might not enjoy this recipe as much as grown-ups due to the spicy flavor. However, I still feel like adding the right amount of chipotle peppers brings out the most flavors in the dish. But you can always lessen the number of peppers and adjust the taste accordingly.
Total time: 1 hour 5 minutes
Another fun twist for your familiar bowl of chicken noodle soup. This time, let's substitute the shredded chicken with some chicken meatballs and change up the noodles with some Acini di pepe pasta.
Acini di pepe pasta is a tiny type of pasta. It resembles the shape of small stones. Its texture in this recipe for chicken soup is going to give your palate a new and exciting sensation.
Let's not forget about the tasty chicken meatballs. In this recipe, you're going to season your meatballs with some flavorful herbs like thyme, oregano, and parsley. They also call for some panko crumbs. This ingredient will help absorb less oil while keeping the meatballs firm.
Total time: 1 hour
Throughout this post, I have shared many chicken recipes involving fruits. And this is another extraordinary one for you.
Braising your chicken with apples not only helps tenderize the meat but doing so also brings out the light fruity taste. However, there's a twist to this fruity taste, and that is the Dijon mustard. This condiment will make your braised chicken a little tangier.
The mustard also smoothens the texture of this dish, making it feel like silk against your palate. But you can still feel the crispy chicken skin very clearly when going for a bite. So make sure to properly sear your chicken thighs before cooking them with water.
Total time: 1 hour
Chicken pot pie is a signature dish of Southern cuisine. It carries a soothing and peppery flavor with a decadent filling of chicken, carrots, etc. Knowing how to make these chicken pot pies will save you tons of time on serving a delicious meal.
Allow me to elaborate a little bit on this recipe. Chicken pot pie normally consists of vegetables like carrots, peas, and onions. However, this recipe offers a small change to your pie by adding some beans and chiles and turning the filling into chicken chili.
People traditionally make chicken pot pie in either small cups or a casserole. However, I feel like it's better to cut down on some time and use one big Dutch oven for my chicken pie. With a Dutch oven, you can make your chicken pot pie in a large serving that can feed a big family.
This pie is going to be a satisfying bite for you on a rainy day. When taking the first taste, you will feel as if your body is warming up from all the spices and chiles in your chicken pie.
You don't need an oven to bake your chicken pot pie if you try this recipe.
Total time: 40 minutes
I'm amazed at the ways you can switch up the tasty chicken in the coconut duo. One of my top favorite ways is to add some rice noodles and make it a fulfilling lunch. This recipe right here is going to help you put together just that pleasant flavor I'm talking about.
To optimize the fragrance and flavor of this dish, you should let the chicken thigh sit in the turmeric and curry paste for a while before searing it in the Dutch oven. By doing so, the chicken will have time to absorb all the delectable essence from the paste.
The appearance of coconut milk in this chicken dish will add a pleasant sweetness, together with a spoonful of honey. In the end, you will have a rich and creamy chicken soup that you can pair with stringy rice noodles.
Total time: 1 hour
Jambalaya is a Cajun rice dish that people from the United States and France love to eat. This dish usually consists of seafood or meat, rice, vegetables, stock, and seasonings.
This sausage and chicken jambalaya are perfect for dinner. Since you cook the rice with the essence of the chicken and the sausage, a flavorful dish will be the reward for your hard work.
One highlight of this chicken and rice dish is the use of "the holy trinity" of onions, bell peppers, and celery. It's a common cooking component in Cajun cuisine which gives this dish its signature flavor.
This jambalaya is yet again a meal you can make and store in the fridge for a quick meal. In the freezer, you can store your jambalaya for almost 6 months. If you plan to finish your jambalaya within the week, just put it in an air-tight container, and it should be good for 3-4 days.
Total time: 45 minutes
Phở is a world-renowned Vietnamese dish that is perfect as a breakfast meal. There are mainly two variations of Phở: beef and chicken. You're going to learn how to make the latter variation with this recipe.
Phở broth carries a complex taste with many layers of flavor. It's hard to believe how you can create such a lightweight yet flavorful broth from spices like cinnamon, ginger, star anise, and onions. Remember to slightly char these spices before putting them into your broth.
Traditionally, the process of making Phở requires a bit of effort and time. But that doesn't have to be your case since you're making Phở with a Dutch oven in this recipe. With this cast-iron pot, the broth will exude its satisfying taste most quickly.
One noteworthy feature of this recipe is the chicken. The chicken in this version of Phở is going to taste a little bolder. This taste mainly comes from the soy sauce and honey marinade. So you can always go lighter on the broth's seasoning to keep the taste balanced.
A bowl of Phở is ideal on a cold day when your nose is getting runny. Just like chicken soup, some chicken Phở will heal your cold in no time, getting you up and running.
Total time: 45 minutes
Chicken pasta is one of those no-fail dishes with diced chicken you can make for both grown-ups and children. This version of chicken pasta is guaranteed to leave you hooked on its creaminess and pleasant flavor.
There's no need to elaborate too much on this dish as it's already familiar to everyone. However, there are many special features about it which I adore. The first feature has got to be how convenient it is to make this chicken pasta, you only need a Dutch oven and nothing more.
Another thing I love about this recipe is how rich and creamy the final product is. Sometimes when the weather gets slightly cooked, you just need a warm plate of cheesy pasta on your table to feel better. And this recipe nicely rises to the occasion.
Total time: 4 hours 50 minutes
As an avid food lover, I bet you have already heard of the infamous dish called Coq Au Vin. It's chicken that you braise in a white wine sauce. This is one of the most famous and tastiest chicken recipes in existence.
This rustic chicken stew will bring into your chicken a refreshing summer breeze. The juicy chicken thighs will absorb all the flavor from the red wine sauce without drying out.
With this recipe, you will realize how awesome wine is as a cooking ingredient. It doesn't need to be expensive. With just a standard bottle and the right techniques, you can produce a tasty wine reduction for your chicken stew.
Recreating this classic chicken in wine is no longer challenging if you follow these instructions.
Total time: 1 hour 30 minutes
How about going back to some Mediterranean flavors with this luscious chicken stew from Morocco? It offers an exceptional taste that comes from the beautiful mix of spices like cumin, Hungarian sweet paprika, etc.
One significant ingredient that I must mention is the dried marjoram. This herb is a perennial herb that carries a hint of citrus and sweet pine. You can create a hearty Moroccan stew by combining this unique herb with the aforementioned spices and fruits like Turkish apricots and raisins.
Among the colorful components are some main ingredients that provide a sense of depth to the dish. Such ingredients are cinnamon, paprika, and dried Turkish apricots. These are also common ingredients that you can find in Moroccan cooking.
With the versatile spices, it's no surprise your chicken will turn out delectable. You can pair this chicken stew with some rice or cucumber salad, and it will easily be your next favorite winter meal.
Total time: 55 minutes
You can never have too much chicken noodle soup. But this dish is another twist on your chicken noodle soup, in which the noodles come in the form of dumplings. How exciting is that?
When talking about dumplings, I bet you will immediately think about how hard it is to make them. Unfortunately, I might have to prove you wrong with this version of dumplings. All you need to do is make some dough and drop it into the boiling soup with a spoon.
Now about the chicken, it can be tempting to think that most recipes for chicken soup will give bland-tasting soup. Not with this one. To bring out the most flavor, you should saute your chicken with carrots, celery, and the seasonings first to coat the Dutch oven with the flavor.
This soup is undoubtedly a simple and enjoyable recipe you can make any time of day. You can even make the dough beforehand and store it in the fridge for many months.
Total time: 1 hour 10 minutes
You may have heard of Ratatouille, a dish consisting of stewed vegetables from France. The common vegetables you can have in this dish are tomato, zucchini, eggplant, and bell peppers. Now, what better way to elevate the dish than by combining it with some chicken?
Although this recipe doesn't require charring the vegetables, you can still taste the smokiness coming from the eggplant. When cooking these ingredients together the right way, you will taste the rustic flavor of the chicken and the tender texture of the colorful vegetables.
There's one more ingredient you cannot miss when putting this dish together, which is basil. This component will provide a fragrant taste note satisfying for your taste buds.
Total time: 1 hour 5 minutes
Earlier I talked about French chicken in white wine sauce. Here's another variation of that dish coming from Tuscany, a region in Italy. This version has a more citrusy and lightweight taste thanCoq Au Vin.
What makes this dish stand out is the rub you use to marinate the chicken. This rub consists of rosemary, garlic, lemon, olive oil, salt, and pepper. Simple as it seems, the rub acts as a flavor enhancer for the chicken, soaking the meat in its exotic taste.
Since you are roasting the whole chicken in the Dutch oven, you will gather a significant amount of essence from the chicken. This essence, combined with the rub, will produce an unforgettable flavor you cannot find elsewhere.
Total time: 1 hour 15 minutes
While It's common to see red chili, you should overlook the less popular variation called white chili. This is a delish combination of green chili peppers and chicken. Whatever yummy sides for chicken you have, white chili is sure to blend with them beautifully.
This version of white chili uses the usual spices like cumin and garlic, but there's an addition of taco seasoning as well. This combination is what creates a depth of flavor for the chili. Aside from that, you will taste the rich and creamy texture when tasting the dish.
It's also crucial to roast your peppers for this white chili dish. Doing so will bestow a smoky and charred flavor on it. This altogether helps enhance the flavor and aroma of your hearty chili.
Cook up some yummy white chicken chili in no time with this simple tutorial.
Total time: 25 minutes
It's interesting how you only need to add one more ingredient to a dish to create a new one. By adding pasta to the Tuscan chicken, you now have a meal of Tuscan chicken with some penne.
However, there is much more to it than just the pasta. This recipe is simpler to make compared to the previous one. It will only take around 20 minutes to whip up an inviting dish of Tuscan chicken and penne.
In addition to that, this variation also includes some heavy cream. This ingredient will give the dish that creamy and smooth sensation it needs. And creamy chicken pasta is perfect since the chicken itself can sometimes get dry and rubbery.
Total time: 2 hours 5 minutes
Although roasted chicken looks and sounds like a fancy dish, it's one of the easiest chicken menus to prepare. This is my go-to dish when I have no time in hand and many tasks to finish. All I have to do is put the chicken in the Dutch oven and let the oven work up its magic.
There's not much you need to do with this roasted chicken recipe since the cooking process requires little effort. However, you still need to be thorough in preparing your chicken. You must pat the chicken dry and let it reach room temperature for even cooking and crispy skin.
On top of that, to prevent your chicken from getting dry and chewy, make sure to let it rest after roasting. Fight the urge to check on your chicken right when you turn off the heat so that the chicken will be able to preserve the moisture and tenderness of the meat.
Total time: 1 hour 30 minutes
Cacciatore in Italian is a hunter-style stew that you cook with tomatoes, onions, herbs, and wine. In today's recipe, I will show you how to make some chicken Cacciatore.
With minimum carb content, this authentic Italian chicken stew is a healthy option for most people. There's no fuss in the kitchen since you don't have to brown the chicken beforehand or do any excessive prep work.
One highlight of this stew is the wild mushroom. When you cook this ingredient in the wine and tomato sauce, the mushroom will become soft. It will also release its earthy and sweet flavor, making the stew much more pleasant-tasting.
When making chicken Cacciatore, you can choose between a white wine base and a red wine base. This recipe happens to be a red wine base since it includes San Marzano tomatoes that are sweet and slightly brighter. The red wine will complement such flavors very well.
Total time: 50 minutes
Let's end this post with a cheesy note. You've guessed it right. It's time for some chicken Parmesan pasta. This recipe is a mouth-watering twist on the classic Italian dish chicken Parmigiana or chicken Parmesan.
Like some of the recipes above, this dish only requires the Dutch oven to make, which means much less of a mess in the kitchen. Cooking pasta and chicken in the same pot helps keep all the flavors from going to waste.
For this dish, your main character should be the chicken since it has the most seasoning. Salt and pepper, garlic powder, and Italian seasoning will be the components you use to bring out the savoriness of the chicken.
Another thing to note down is the addition of mozzarella cheese. Even though Parmesan alone is already an excellent ingredient, adding mozzarella will enhance the stretchy texture as well as the creaminess.
Try this recipe for some palatable chicken Parmesan pasta.
Dutch Oven Is Truly A Magic Tool In The Kitchen
It's wonderful how one Dutch oven can produce this many lip-smacking chicken dishes. From chicken stews and roasted chicken to soup dishes, there's not a dish this cooking tool cannot make.
Investing in a quality Dutch oven can be somewhat pricey. However, you will see the drastic difference once you start cooking with it. The quality, flavor, and texture of the food that this type of oven can provide are extremely worthwhile and almost incomparable.
Hopefully, you are now inspired to cook with your Dutch oven at home. I'm sure there are many more exciting features this cooking tool can provide. If you have any questions related to the recipes, leave them in the comments, and I'll make sure to reply as soon as possible.
And please share this post with everyone around you if you enjoyed the content. Have a great meal, and thank you!