The best dragon fruit recipes elevate summer menus with their inviting taste, tropical vibe, and gorgeous appearance. It has a strange shape to some people, but in terms of deliciousness, there is no doubt.
Dragon fruit is versatile; therefore, you can combine them in many dishes such as drinks, desserts, smoothies, etc. No matter the dragon fruit forms, they enhance the flavor and create a stunning beauty for any dish.
Let's bring dragon fruit to your dinner table with this collection of simple, quick, and addictive recipes.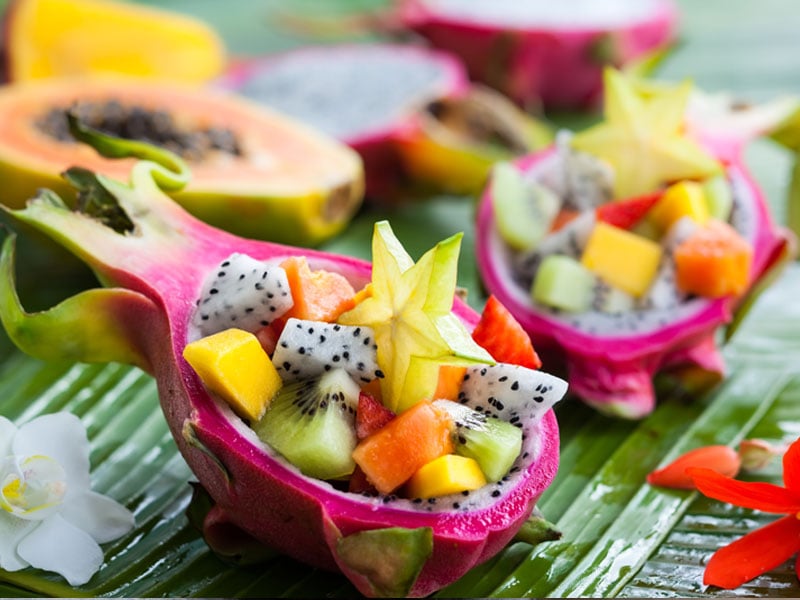 Dragon Fruit Recipe Scores Both In Taste And Appearance
These dragon fruit recipes turn familiar dishes into something new and toothsome. Dragon fruit does not have as many flavors as other tropical fruits. However, this article provides dishes that make full use of dragon fruits.
Total time: 30 minutes
For most fruits, jam recipes are always the preferred choice. It is easy to make, has a long shelf life, and brings the fruit's distinctive flavor to different dishes when combined. The beautiful red dragon fruit jam is a prime example.
If there are a lot of ripe dragon fruits in your pantry or refrigerator, do not hesitate to apply this recipe. Different from the texture of other jams, dragon fruit jam is almost jelly-like, and its edible seeds create an enjoyable crunchy feeling.
While cooking, simmer the mixture of dragon fruit, lemon juice, and sugar until it reaches the perfect consistency. The lemon juice helps prevent the sugar from crystallizing as the jam chills. You can prepare this jam and spread it on toast for a convenient breakfast.
You can make this simple homemade dragon fruit jam with just three ingredients.
Total time: 1 hour 15 minutes (including 1 hour of chilling)
Breakfast is the most important meal, so start your day with this dragon fruit pudding recipe. This dish is easy, quick, and nutritious for a busy morning. In addition to dragon fruit with chia seeds, you only need milk, vanilla syrup, yogurt, and a blender.
Chia seeds are high in fiber, protein, and healthy fats such as omega-3. Combined with dragon fruit, it creates a tasty dish that is light on the stomach. A beautiful heliotrope-color smoothie with a cream-like part on the top is exceptionally prominent.
You can make it in advance and keep it in the fridge to ensure you have a breakfast or snack for the whole week. Not only that, but this type of dragon fruit pudding is also attractive by its thick and beautifully layered texture.
Total time: 25 minutes
The dragon fruit panna cotta is an answer for those looking for a pinkish treat. Original panna cotta includes a few ingredients, such as gelatin, heavy cream, and sugar.
This dish is usually a combination of layers of panna cotta topped with fruit sauces, and dragon fruit is also a great choice. This panna cotta is extremely creamy, silky smooth, and rich.
The dragon fruit sauce layer has a sweet taste and a delightful color. It makes this dessert stand out by balancing the overall taste. To thicken the sauce, you can add some cornstarch and simmer this mixture.
Dragon fruit panna cotta is a dish that suits all parties as it has a custard-like shape. Each serving is divided and put into mini cups, perfect for all diners to grab and enjoy.
Total time: 10 minutes
The beautiful-looking and easy frosting recipe is made from dragon fruit that can satisfy any sweet lover. This recipe is definitely summer-appropriate and drives the kids crazy.
This dragon fruit buttercream frosting produces a flavor leaning more on the floral and citrusy side. People often use frosting to garnish or as a final touch to pastry desserts.
With a thick, dense, and buttery texture, you can try putting the frosting on moist chocolate cupcakes to create a color contrast between white and black. The addition of vanilla provides an incredible aromatic scent to the frosting.
Meanwhile, dragon fruit has a mild and neutral taste. The combination of these two elements creates a frosting recipe that stands out from the other regular buttercream options.
Total time: 1 hour 15 minutes
Imagine how fun and exciting it will be when your guests are served this dragon fruit-like macaron. The outer shell of the macaron is a lovely pink. Yet the filling has a milky color representing a dragon fruit's content.
The ideal macaron texture shouldn't be hard or crispy to pair well with the refreshing frosting. Therefore, this recipe gives you a crunchy, sweet, and slightly nutty shell made from ground almonds, eggs, and sugar.
The dragon fruit frosting in the middle has to be fluffy, sweet, and creamy. So you have to whisk the sugar, milk, and dragon fruit flesh carefully. It makes the overall flavor of these cakes harmonious and addictive.
Refer to this video so you can make beautiful macarons that taste and look like dragon fruit.
Total time: 15 minutes
These dragon fruit & chia almond energy balls are a healthy make-ahead dish filled with outstanding benefits. With just seven ingredients and no oven required, you can fuel yourself up after a tiring day with this recipe.
To make this breakfast or snack without dairy but still provide adequate protein, you can consider using a plant-based protein powder. I suggest choosing a vanilla flavor powder to keep the cute pink color of the balls when mixed.
Almonds have a mild flavor. In addition to the raw type, include some more almond extract to add a bit of sweetness and nuttiness. If you like other flavors like cinnamon or lemon, you can also try variations.
Total time: 1 hour 30 minutes
Dragon fruit only has a mild and slightly sweet profile. Therefore, you can usually add it to most recipes, even a savory dish. Dragon fruit with shrimp and forbidden rice is a beautiful combination of sweet and salty.
It seems unrealistic, but it helps to elevate the taste and create a unique experience for every dinner. Succulent dragon fruit combined with soft and spongy forbidden rice is worth a try.
This rice is similar to a white or brown variety with a grainy and nutty flavor. In addition, it has a purple and black hue that accentuates the look of this dish.
To make it more flavorful, you should marinate the shrimp with orange juice, lemon, and spicy honey. After removing the shrimp from the sauce, proceed to thicken the mixture before mixing all the elements.
Total time: 10 minutes
The most refreshing summer salad calls for a concoction of dragon fruit, pear, and spinach to enjoy on a hot day. Plus, blackberry and raspberry add to this salad a colorful appearance and fresh and sweet flavors.
For a hearty meal, you can have it as a side dish or a fantastic fruity opening for dinner with grilled chicken and garlic jasmine rice. In addition, goat cheese is also present in this recipe. It brings a distinctive tanginess and tartness taste with a strong odor.
Alternatively, you can use feta instead for a more pleasant flavor. Thanks to the lightly sweet, nutty, and buttery flavor with a forestry aroma of pecans, they are a perfect topping for any salad. Pecan can also bring a toothsome crunchy texture.
Total time: 8 hours 5 minutes (including 8 hours of freezing)
In addition to scoring high for the gorgeous pink color of the dragon fruit, this ice cream also has nutritional benefits. So instead of eating store-bought ice cream, why not try making a healthier version at home?
Plus, this pretty dessert is entirely dairy-free. Its ingredients are surprisingly minimal, with only bananas and dragon fruit. However, this recipe makes for a refreshing and tasty dessert after a hearty meal.
You don't need an ice cream maker to make this dish. Simply freeze the banana and puree it with dragon fruit in a blender. It's best to use one with a sharp blade because frozen bananas are very hard, and you don't add any liquid.
With eight hours in the freezer, you can enjoy the banana and dragon fruit mixture for the next meal. When served, gather some chocolate sauce, mini marshmallows, or nuts to pair with this dragon fruit ice cream.
Adding condensed milk and whipping cream can enhance this dragon fruit ice cream's richness.
Total time: 10 minutes
Guacamole is native to Mexico and has a creamy avocado base. This recipe can surprise and delight everyone's taste buds by introducing dragon fruit to the familiar guacamole.
The typical guacamole's main ingredients include tomatoes, bell peppers, and onions, among other spices. However, it becomes more delicate, refreshing, and unique when diced dragon fruit is added.
To serve this recipe at parties or picnics, you can use the leftover dragon fruit rind in place of the plate and top it with guacamole. The light creamy green color of the avocado envelops the rest of the ingredients and makes for a more appealing feel.
Make sure you buy fully ripe dragon fruit since unripe dragon fruit has no flavor and can spoil the guacamole mix. After done, serve immediately with tortilla chips and enjoy the rest of your day.
Total time: 1 hour 15 minutes (including 1 hour of chilling)
This mimosa dragon fruit beverage will completely quench your thirst on hot sunny days. In addition, this beautiful cocktail, with its stunning pink color and subtle aroma, deserves to be the drink to welcome the new year.
For this recipe, it is best to use fresh lychees. They have a mild sourness and peculiar floral notes with an intense sweet flavor. Therefore, you shouldn't add sugar if you use the canned type.
Champagne is what makes this recipe so addictive. The drier the variety, the better because it contains a lower sugar content to balance the sweetness of dragon fruit and lychee.
However, depending on your taste, you can choose the champagne variety that you like. Alternatively, you can make a mark by adding strong citrus, sour, and floral hints with the introduction of kaffir lime leaves.
Total time: 5 hours 30 minutes (including 5 hours of chilling)
When you cut this cheesecake into pieces, you will see each layer of crust and fillings intermingled with vibrant colors. It feels like a perfectly built dessert. This mango dragon fruit cheesecake tastes creamy and contains various tropical flavors.
Not only healthy, but this recipe is also dairy-free by using coconut cream instead. The cream has a relatively thick texture, accompanied by its coconut profile and rich taste.
You can use this cheesecake for a quick and easy breakfast. Plus, you should throw in some soaked cashews in both fillings of dragon fruit and mango. They provide a nutty and creamy taste similar to peanuts which can emphasize the fruity flavor of this dish.
Total time: 5 minutes
Smoothies are always a quick, nutritious, and easy breakfast item. This luscious smoothie bowl is even more delicious with the appearance of dragon fruit.
This smoothie recipe is vegan-friendly and full of tropical flavor. To add liquid and light creaminess to this dish, plant-based milk such as almond or coconut milk is your best option.
The flavors of these fruits produce a perfect balance of sweet-sour profile. However, the lemon extract may be your preferred option if you want a brighter note.
In addition, you can use natural sweeteners like dates, honey, and coconut nectar to keep the recipe on the healthy side. The result is a smooth cream-like texture with crunchy nuts or granola to make the bowl more special.
Let this recipe bring you a hearty dragon fruit smoothie bowl to fill your hungry stomach.
Total time: 2 hours 30 minutes (including 2 hours of freezing)
Sorbet is a dessert that is well-loved by the cold it brings. It is made simply from frozen fruit puree and sugar. You even do not need an ice cream maker, as a good blender or food processor can do the job just fine.
The dragon fruit sorbet recipe has a refreshing and energizing taste. This is a perfect fruit dessert on a warm day or an exciting addition to a movie night with the family. The magenta color of this dish is entirely due to ripe red dragon fruits.
The sourness of lemon is always an important ingredient to enhance and balance the sweetness. This solid fruit puree has magnificent color and smooth texture, so you can fully enjoy the fruit's fresh flavors.
If the sorbet stays too long in the freezer, it will get icy. To solve this problem, you can turn the sorbet into a smoothie by blending it with some bananas and water.
Total time: 1 hour 55 minutes (including 40 minutes of freezing)
Mooncakes are a type of cake eaten during the Mid-Autumn festival and originate from China. Over time and with the taste of each region, it has more variations. Understandably, this recipe is also one of them.
Agar-agar dragon fruit mooncake fully recreates all the main parts of an original mooncake but differs in texture. Instead of having a slightly hard outer crust like a tart shell, this whole dragon fruit mooncake recipe is smooth and jelly-like.
The color of the dragon fruit creates an attractive deep red-pink outer layer. Furthermore, the inner content has milk, providing a lighter pink and creamy taste.
In a true moon cake, there are usually salted egg yolks. You can use the yellow color of mango puree mixed with agar-agar powder to mimic the egg filling. Then pour the mixture into round ice cube molds; you should get lovely mango egg yolk in no time.
This traditional dish has changed its ingredients to suit vegetarians but still retains the spirit of the Mid-Autumn Festival.
Total time: 5 minutes
For a grown-up recipe, the dragon fruit mojito is a great choice. You may imagine how quickly this refreshment will cool you off on a hot day.
Made from dragon fruit juice mixed with lemon, mint, and vanilla, it has tart, sweet, and full of fruit flavors. In addition, you can prepare the dragon fruit mojito beforehand to soothe all summer parties with harsh sunlight.
In this recipe, instead of sugar, agave is more suitable. It has a strong sweet, honey-like, and nutty taste. In addition, white rum provides a sweet and light taste to the Mojito. All the flavors of the ingredients create a harmonious refreshment to enjoy on hot days.
Follow this dragon fruit mojito tutorial to treat your friends to this alcoholic drink at any party.
Total time: 45 minutes
Blackened shrimp tacos with dragon fruit salsa are truly a rockstar when you bring them to any party or gathering. It has a tangy flavor from the avocado cream sauce.
Plus, you can enjoy the freshness and fruity taste of salsa. To make it more spicy and savory, I suggest sautéing the shrimp with chili powder, paprika, and salt to make it more spicy and savory.
More than that, all those delicious fillings are wrapped in attractive rose-red tortillas. How gorgeous are these cakes when you just need to add a little dragon fruit powder?
In the salsa, if possible, use white and red varieties to pop up the color of silky green avocado cream. In addition, it also helps the hue of the filling stand out against the corn tortilla layer.
Total time: 30 minutes
Who could turn down a gift that's both tasty and scrumptious for Valentine's Day? Even more special if the person you love is obsessed with pink. These brightly colored waffles with some dark brown chocolate chips are gluten-free.
Furthermore, it is vegan because it does not contain any eggs. However, the texture of this recipe retains its crispiness on the outside and is perfectly soft on the inside.
This perfect breakfast takes only about 30 minutes to be ready. In the ingredients of this recipe, most of the elements are unsweetened.
The main sweetness of waffles comes from sugar and fruit, or you can also use maple syrup instead. When served, this pink dragon fruit chocolate chip waffle is gorgeously topped with fresh berries, powdered sugar, or syrup.
Total time: 1 hour 20 minutes
If you love sweets, there is no better way to satisfy your taste buds than this dragon fruit cake. For a nice pink hue, you should use the pink-fleshed dragon fruit. The white variety is still good, but the pink one is better in color.
This dish is suitable for sharing with your family after a hearty meal. It's almost impossible to resist such a soft cake. The cheese icing on the cake provides a mild, sweet, and slightly tangy taste from the cream cheese that gradually melts in your mouth.
Furthermore, the light and airy buttercream also enhance the creaminess of the cake and pair exceptionally well with fragrant vanilla. After your first bite, you will keep coming back for more.
Total time: 10 minutes
From this dragon fruit lemonade recipe, you can have a healthy and refreshing drink to knock down the sun's heat. As the name suggests, you can make this sweet recipe with three ingredients.
Moreover, all you have to do is prepare the dragon fruit, blend it, and add lemon juice. It contains freshly squeezed lemon juice, dragon fruit, and sweeteners such as agave nectar or maple syrup to balance the tartness.
To impress everyone with this drink while serving, add more ice cubes and a few slices of lemon. However, if you're worried that the melted ice might dilute the flavor of this recipe, you can refrigerate this dragon fruit lemonade before serving.
You should reward yourself with a cool glass of dragon fruit lemonade after a hot working day.
Total time: 10 minutes
A simple and time-saving dinner delicacy that goes well with either American or Asian main meals is worth trying at the last minute. There is no limit to what can pair with dragon fruit, so let's make it an ingredient of this coulis fish and pink rice vermicelli recipe.
Cod is a high-priced and nutritious fish with quite lean, tender, and firm meat. Atlantic cod has a milder, milky, and sweeter flavor compared to other varieties. Plus, it doesn't need too much seasoning. Simply marinate it with salt and sauté for about 5 minutes.
Meanwhile, you can soak vermicelli with dragon fruit so that the white pasta is dyed purple. The sauce is blazing purple thanks to the flesh of this fruit and a little red wine.
This sauce has a tart, spicy, sweet, fruity, and floral flavor. Therefore, it is palatable when served with cod and vermicelli.
Total time: 1 hour
This creative recipe has numerous thin layers of crepes sandwiched with whipped cream and topped with a wide variety of garnishes. The interesting look of this eye-catching whipped cream-filled dessert comes from dragon fruit puree, which bestows an additional fruity flavor.
These crepes have lovely pale pink that completely captivates every diner's heart. It will surely please the crowd, especially during kids' birthday parties.
The taste of mascarpone is worth considering in this recipe. This famous Italian cream cheese is sweet, nutty, and tangy. You can feel the soft, smooth, and high consistency while enjoying it.
All Great Things About Dragon Fruit
Dragon fruit, though, can be pretty strange to some cuisines. However, it is a great ingredient to add flavor and color to various dishes.
It has a mildly sweet taste and is incredibly juicy. People often liken the taste of dragon fruit to a combination of kiwi and pear. In main dishes, desserts, snacks, or even drinks, dragon fruit is versatile to create appealing red-pink color and enhance the freshness.
So you should never ignore it when starting to make a new recipe. Leave a comment about the ways you prepare dragon fruit. At the same time, your sharing helps more people know and add this nutritious fruit to their daily menu.