What do you know about Dominican Republic foods? This small country loves holidays, and its people are hospitable, which significantly shows a part inside their foods.
Although influenced by other cuisines, Dominican cuisine has several differences from Cuban, Spanish, and other cuisines. Its dishes are a fusion of flavors with lovely twists to invent their distinctive features. Don't hesitate; it is time to learn more about this culture!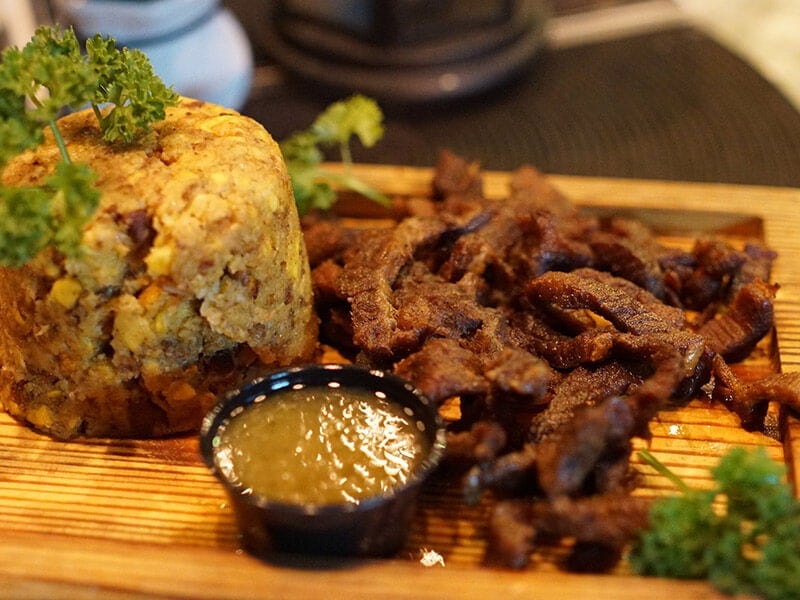 Traditional Dominican Foods You Should Know More
Dominican cuisine is not complicated and can satisfy even the most discerning diners. The Dominicans are proud of the high-quality foodstuffs provided by the forest and the sea, as well as their skill to process those delicacies in a way that honors nature's gift.
1. Chivo Guisado Picante (Spicy Dominican Goat Stew)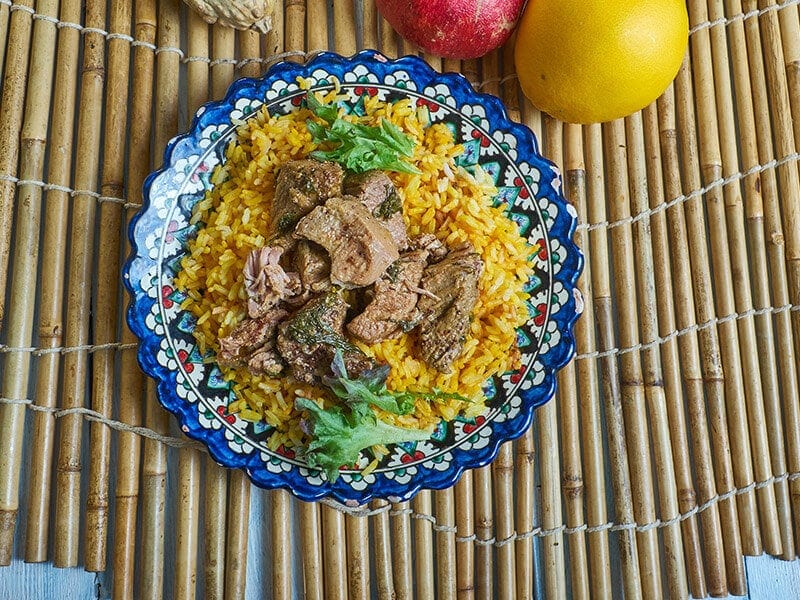 Everyone who has tried this dish tells me that this delicacy is exceptionally spicy and lip-smacking delicious. While goat meat is not famous in Western countries, this ingredient is prevalent in the Latin American regions. The Dominican Republic is not an exception.
In this country, goat meat can be considered as the national-favored protein. This Chivo Guisado Picante or spicy Dominican goat stew, a specialty from the Northwestern areas, is solid proof for that. It is the best processing method to cook this gamey meat in Dominica.
It is said that the goats in this Dominican Northwestern region include plenty of wild oregano in their diet. Because of that, the goat meat there exceptionally exudes a lovely fragrance of these special herbs (which also contribute to a great experience when tasting this treat).
2. Arroz Blanco (Dominican Rice)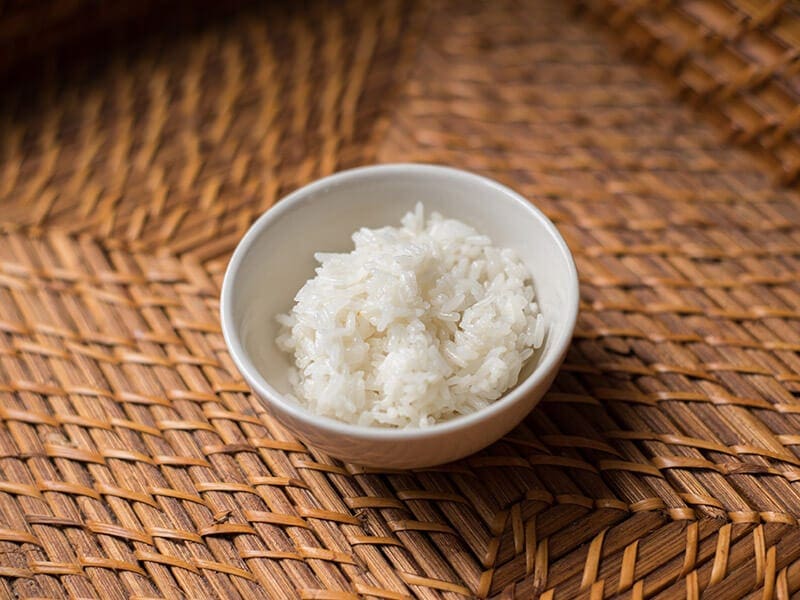 Chinese settlers first brought rice to the Caribbean islands in the early 1900s. It went incredibly well with almost all the native foods, and white rice – Arroz Blanco – has become a popular base in Latin Caribbean meals until now.
Yet, as I mentioned, Dominicans found a way to create their own recipe for this dish with incredible creativity. A perfect batch of white rice should be cooked thoroughly while each grain is still firm and doesn't stick with the other.
This Arroz Blanco can be eaten as the lovely rice side for other savory dishes or the main components of other foods.
Looking at how a Dominican makes a perfect Arroz Blanco here!
3. La Bandera Dominicana (The Dominican Flag)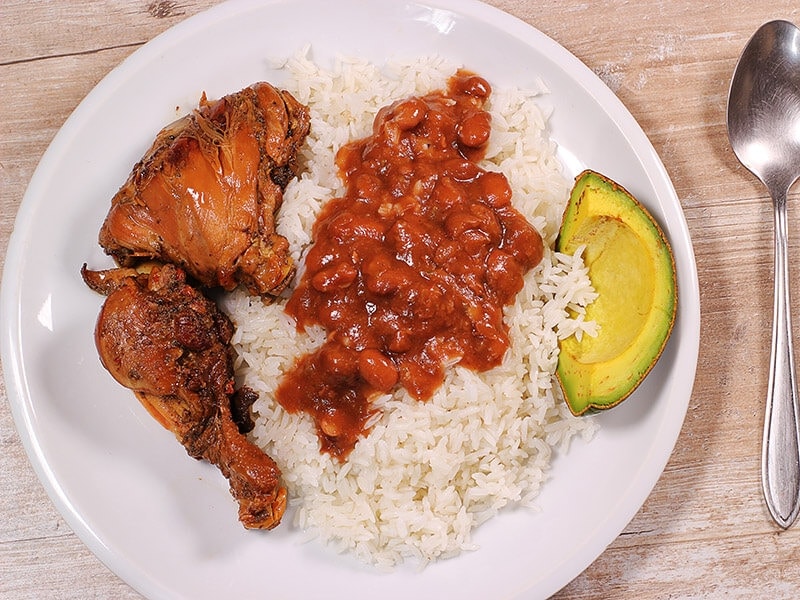 The biggest and most important meal in the Dominican Republic is lunch. And this La Bandera Dominicana (The Dominican Flag) is the most popular one.
A standard serving of La Bandera Dominicana will include steamed long-grain rice, red beans, and meat (beef, chicken, pork, or fish), sometimes accompanied by a fresh salad.
The main components also represent the colors in the Dominican flag, red (beans), white (rice), and blue (meat), so it is also the reason why this dish has such a unique name.
This treat will be absolutely nutritious enough for Dominican lunches. The Dominican Flag also offers a robust spice kick (which clearly shows the big influence of Spanish, Indian and African.
This dish's highlight must be the chochó part (slightly burnt rice) at the bottom of the rice pan; it is so palatable!
4. Habichuelas Guisada (Dominican Bean Stew)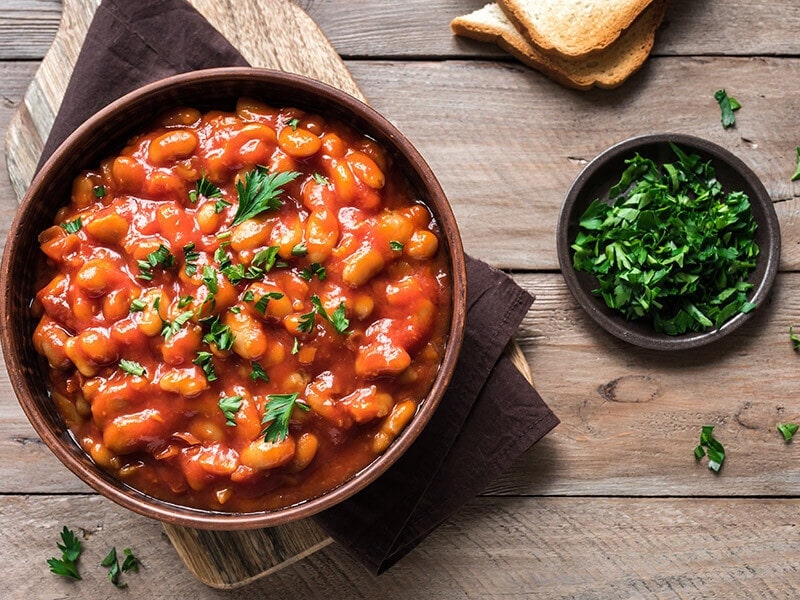 Wandering around the Caribbean or Latin American countries, you will find many variations of bean stew. It is because beans are essential components in the local people's diet. So as the Dominicans. They love bean stew, and its variation here is called Habichuelas Guisadas.
Although this Dominican version has some resemblances with Puerto Rican, it's still distinguished. This Dominican bean stew is an essential component in a La Bandera Dominicana plate as a side dish for lunchtime.
The term "habichuelas" means beans, including various types from kidney beans, butter beans, or lentils. Yet, once mentioning this specific bean stew, Dominicans will think of red beans, cranberries, and pinto.
Then if you are allergic to those beans, be careful! If you are not, there is no reason not to give it a go.
The easy peasy way to create the good Dominican bean stew.
5. Chapea (Bean Stew With Squash And Plantains)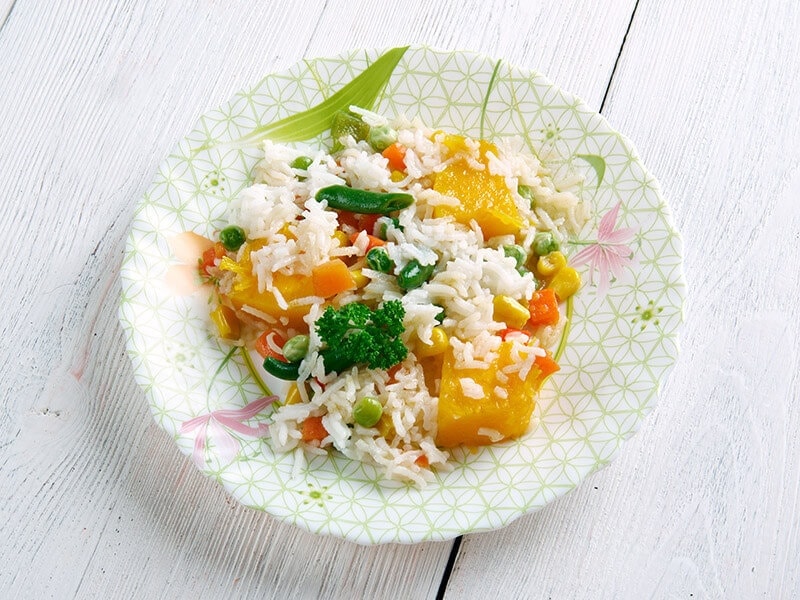 How about another variation of bean stew with more starchy ingredients? The Dominicans not only add it with some veggies like squash or plantains, but they also add rice (white or brown) and meat to this delicacy.
Therefore, if you are not in the mood for vegetarian-friendly foods like the previous Habichuelas Guisadas, this Chapea might be a much better option. Since the veggies used are varied, there are many variations of this Chapea based on each household's preference.
This treat is also served as a hearty side dish for the famous Dominican Flag, and you don't have to worry about their nutritional value.
6. Carne Guisada/Carne De Res Guisada (Dominican Beef Stew)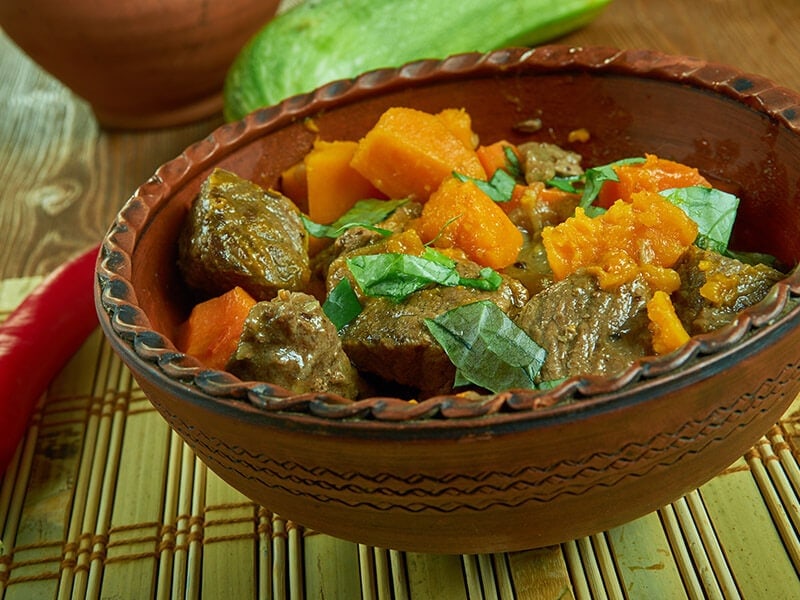 "Carne" means "meat" in Spanish, so there is no limit on the sort of meat you can choose. Yet, Dominicans have two main variations for this stew; one uses chicken (Pollo Guisada), and one other uses beef (Carne Guisada).
Let's discuss more about this beef-y stew! With my explanation of the name, you might have already known that this dish originates from Spanish cuisine, and it really does.
One notable characteristic in this Dominican Carne Guisada that distinguishes it from other Hispanic-influenced variants is the ingredients.
Carne Guisada in Puerto Rico will include carrots or root vegetables, but the Dominican version will not. It's not for any deeper purpose; it is just not how the Dominican created this treat.
7. Ensalada Verde (Dominican Green Salad)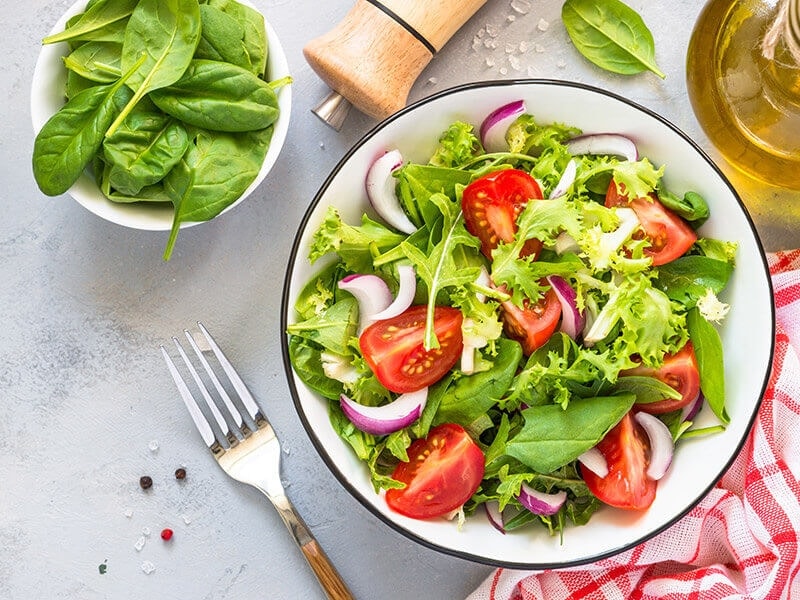 Because this Ensalada Verde is especially popular with children, it might remind your Dominican friends of their childhood. Why? The reason is this salad does not necessitate the use of any specific herbs or spices.
Even the dressing is more about creating a sour-sweet balance. To make the dish sweeter, some families sprinkle sugar on the salad. As a result, this food will undoubtedly appeal to kids' palates.
Furthermore, practically all of the components in the recipe are veggies (bell pepper, cucumber, onions), as the name "Verde" indicates (meaning green or raw). Beetroot, a healthy root rich in vitamin A and iron, is the only ingredient to be boiled before mixing.
8. Pescado Con Coco (Fish In Creamy Coconut Sauce)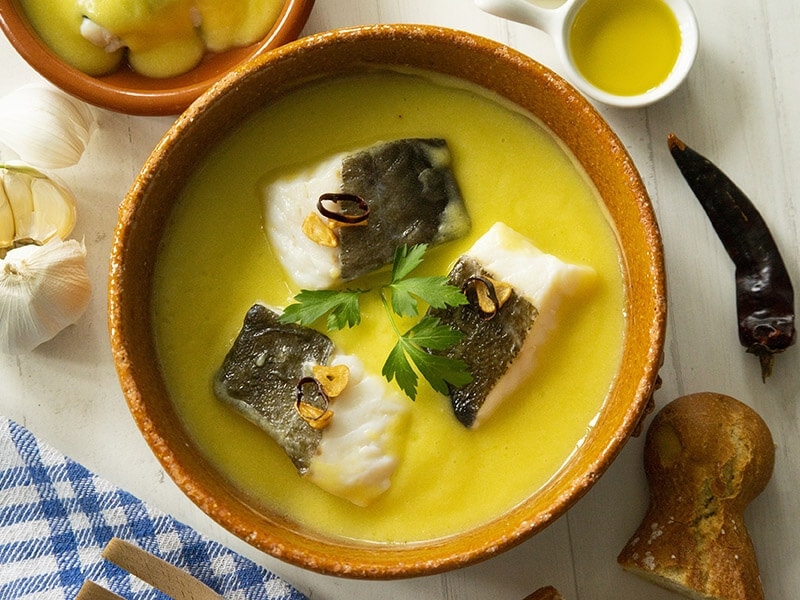 As I mentioned earlier, authentic Dominican cuisine is a rustic culture, simple but effective. The people here try to honor each ingredient they use for a dish since they think those are gifts from mother nature.
Once enjoying Dominican foods, you can taste each ingredient's flavor distinguishably. From the beginning I introduced you to many foods such as vegetables or meat, now let's talk about fish. Seabass is a typical fish of the Caribbean, so the Dominican sea is no exception.
Therefore, getting fresh sea bass to cook is not a difficult task. Thanks to the always-fresh main ingredient, combined with the mild fattiness of the typical coconut sauce, this dish is even more prevalent. Nowadays, it is an enjoyable comfort dish that no one can refuse.
This brief introduction will tell you a bit about this toothsome Pescado Con Coco.
9. Casabe (Cassava Bread)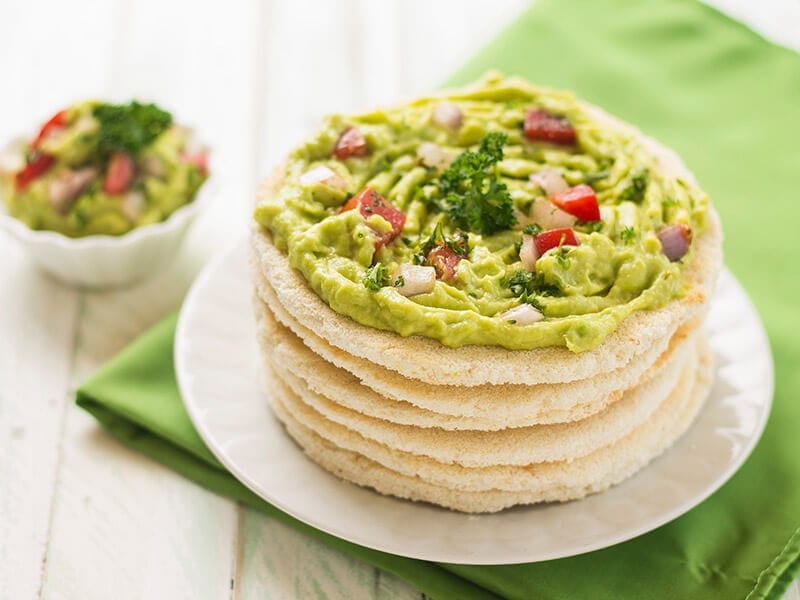 Casabe is a unique flatbread treat that stands for the whole Caribbean region's cuisine and the Dominican Republic. This kind of bread has been an essential part of the Dominican culinary culture for about 500 years and is still an irreplaceable food in the Dominican diet.
This dish is ubiquitous, so there are many local sayings about it. The funniest of which is "If there is no bread, eat the Casabe."
Don't misunderstand this Dominican Casabe with naan or any other flour-made flatbread! This Dominican unleavened flatbread is made of casabi (cassava roots), not the regular flour and yeast.
10. Yaroa (Dominican Loaded Fries)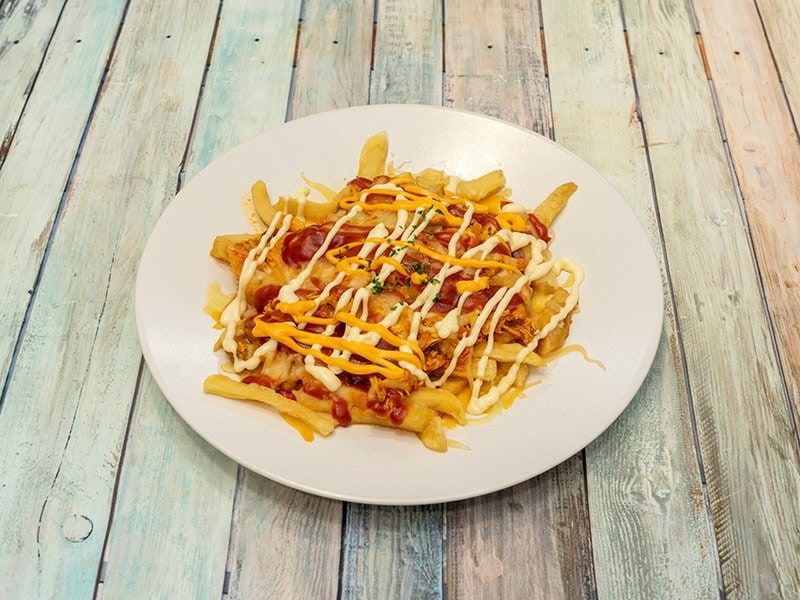 When talking about the best Santiago delicacy, I will immediately think of this Yaroa. Yaroa is a famous side dish for the day's main meal, like an authentic Dominican dinner or just as a tasteful snack.
There is no official information about who was precisely the one first to create this dish. One thing I can tell you here is that this Yaroa appeared in the 1990s at Santiago's vendors.
This treat consists of many things, from plantains to ketchup and cheeses, but the harmony is perfect since they get on well with the others. An additional fascinating fact for you here is in the Dominican Republic, people usually sell it outside the nightclub. Interesting!
You will not regret spending time learning more about Yaroa through this guidance.
11. Chimichurri Burger (Dominican Burger)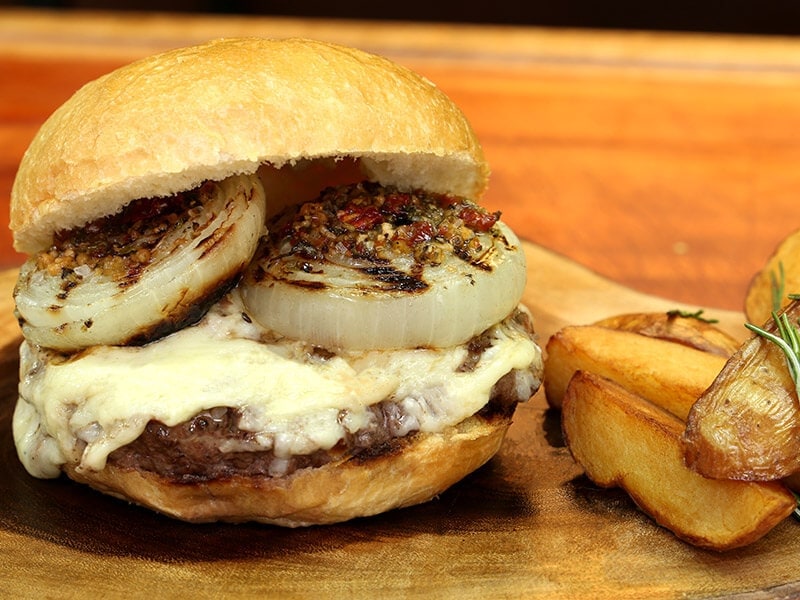 Chimichurri burger (or Chimichurris/Chimi) is a globally famous burger of the Dominican Republic. The idea of this dish is relatively similar to the regular ones, also including buns, salads.
The twists are mainly inside the robust meat patties (consisting of many spices) and the mouth-watering Chimichurri sauce.
The true origin of this burger is not clear yet, but the most supportive theory is that Juan Abrales created it. He was an Argentine cook who immigrated to Dominica in the 1970s.
No matter where it first started, the nowadays version is considered an authentic Dominican fast food recipe. Let's grab a cold beer and enjoy the treat with your friend as soon as possible!
Tasty Dominican Delicacies That Are Inspired From Other Countries
Once coming to the Dominican Republic, visitors will have the opportunity to enjoy diverse foods that are mixed from many major cultures around the world. What are you waiting for without discovering right away?
12. Mangu (Plantain Mash)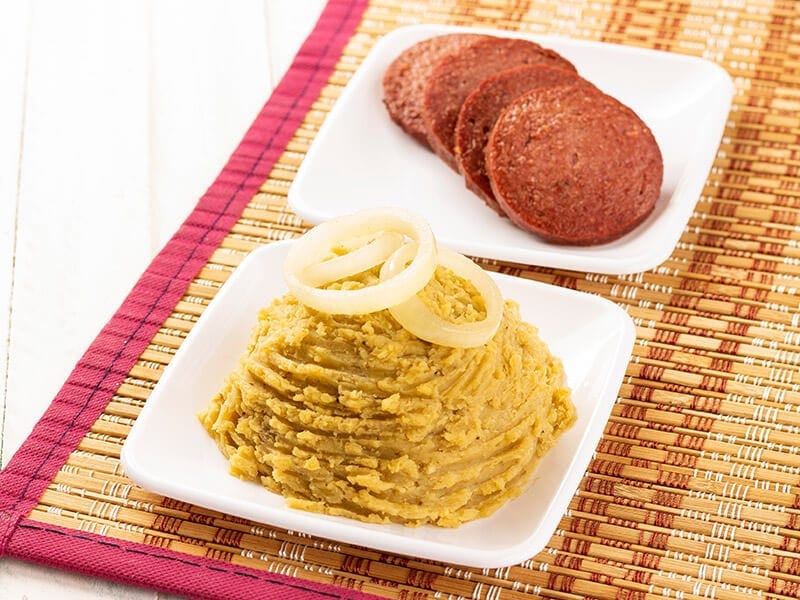 The true origin of this Mangu is in West African, and its name is derived from "Mangusi" ( a West African term that means mash).
If you want to find a new recommendation for your morning meal, opt for this. Mangu is a Dominican national breakfast, although Dominican people now eat this treat for every meal in a day. Believe me; it is surely light and tasty.
Many savory dishes like eggs, queso Frito (fried cheese), and some others require Mangu as a base to balance their flavors.
13. Ninos Envueltos (Swaddled Children/Rice And Beef Cabbage Rolls)
This dish is credited by many countries as their traditional food, such as Egypt, Lebanon, or Syria. Each variation of this dish in these countries shares the same idea that the beef filling is wrapped inside cabbage leaves.
Yet, only the variant in Egyptian traditional cuisine is the closest one to the Dominican variation since they serve the rolls with tomatoes.
This delicacy was brought to the Dominican Republic in the 19th century, from the time of the former Ottoman Empire, and has been very popular here. So far, many families have created their own recipes for their swaddled children. All exude the solid Dominican breeze.
14. Sancocho (Seven-Meat-Stew)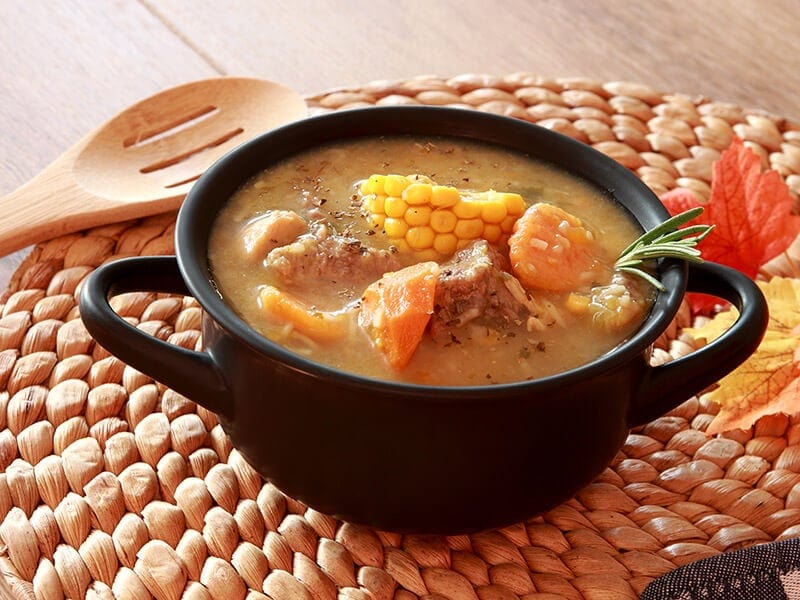 This dish is said to have originated in the Spanish Canary. It came to Latin America when the Canary Islanders immigrated to this area.
They started moving to different parts of Latin America like Colombia or Ecuador before going to the Dominican Republic. Although it is not an authentic Dominican Republic dish, Sancocho is still considered a national stew and served year-round.
There are several different versions of Sancocho, such as the deluxe one that has seven different types of meat in a stew. The meats can vary, but most common examples include goat, beef, pork, and chicken (including bones for deeper flavors).
Dominican people will also mix it with various root vegetables, so Sancocho is extremely hearty. People in this country usually serve this food with hot rice and butter in special Dominican-style dinners or religious occasions.
You can collect the best information for this Sanchoco through this documentary.
15. Mofongo ( Flavored Mashed Plantains)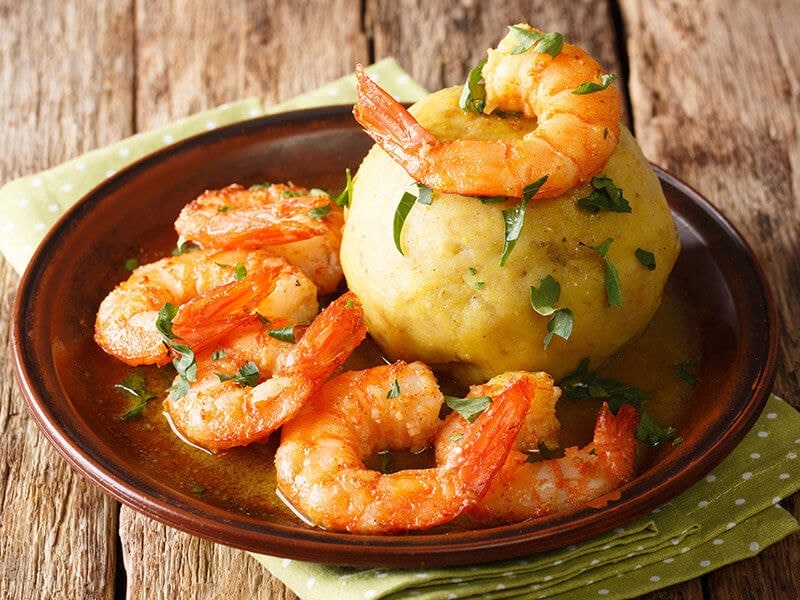 Back to the origin, this dish has a lot of similarities with the African yams mash treat called "fufu". Even the name of this food, "Mofongo," is derived from an Angolo Kikongo (from Africa) term, which is "mfwenge-mfwenge" (means " a great amount of everything").
Therefore, the most supportive theory about this Mofongo's origin is that it is influenced by African cuisine.
Dominican people will fry the green plantains in hot oil before mashing in a wooden mortar and pestle (or a special pilón). After that, the food will be mixed harmoniously with garlic, lard/olive oil, and crispy pork.
You can also find a variation of this treat in Puerto Rico, yet, the Dominican one hits the difference. Some I can tell you here are the distinctive uses of garlic broth, crispy pork when processing, and the melting cheese when serving.
Take this introduction right now to know more about Mofongo!
16. Ensalada Rusa (Dominican Potato Salad)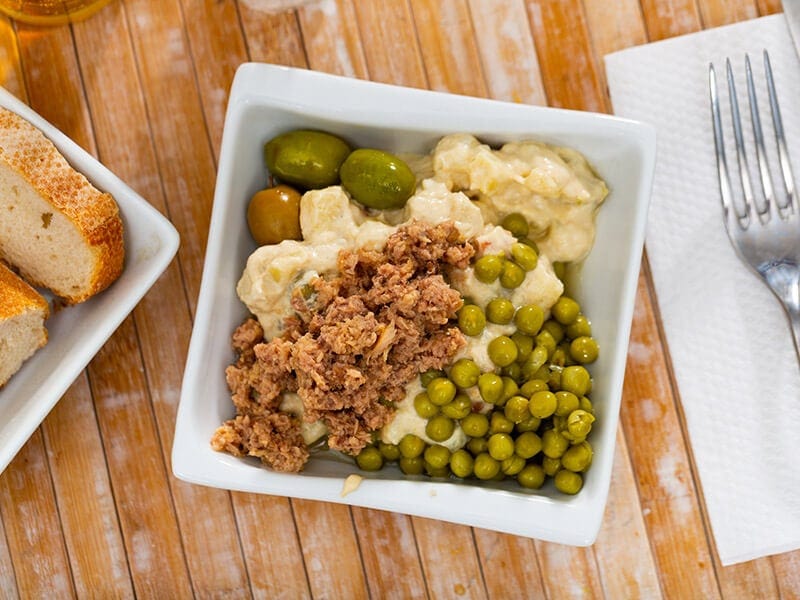 The accurate translation for this salad's name is "Russian potato salad". This dish has that name since it is inspired by the world-famous Russian food with potatoes.
The original potato salad was made by Lucien Olivier, a Russian chef, in the 19th century before it was widely spread globally for its deliciousness.
The actual original version of Lucien Oliver contains no mayonnaise, yet, that signature dressing has pity lost over time.
Nowadays, the Dominican recipe keeps the components as simple as possible with a slight twist (using sugar root). Ensalada Rusa is now a famous Christmas treat in the Dominican Republic. People in this country love eating this salad on special occasions.
17. Chicharron De Cerdo (Dominican-Style Fried Pork Belly)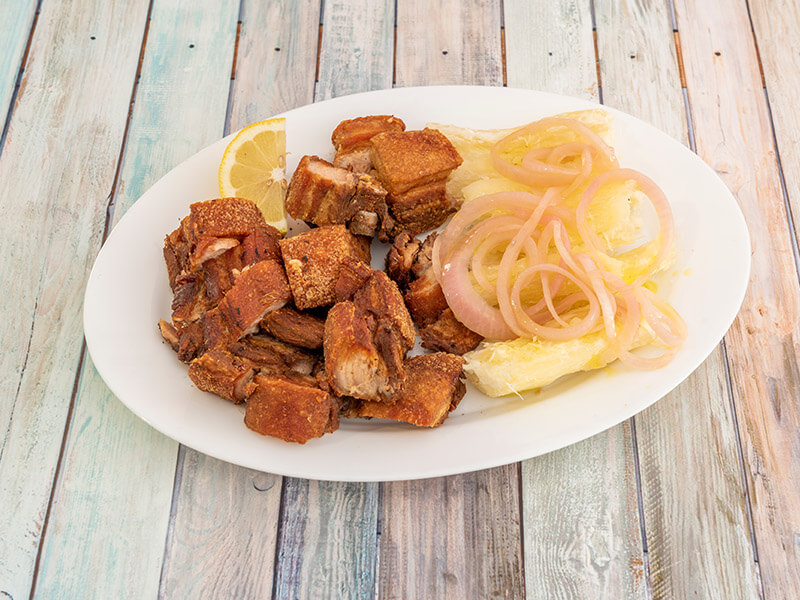 This crispy, guilty pleasure dish originates from Andalusia, Spain, and has various variants worldwide. You can also find this delicacy in other Latin American cuisines, yet the Dominican style is surely different.
Made of fatty pork belly (or chicken), the treat will offer a crispy exterior and an irresistible crunchy effect when eating. To enjoy this Chicharron in an authentic Dominican way, you have to eat it with tostones (fried plantains).
Crunchy and even more crunchy, how appealing it will be!
This guide will reveal what no one tells you about this Chicharron De Cerdo.
18. Chofan Dominicano/Chow Fan ( Dominican Fried Rice)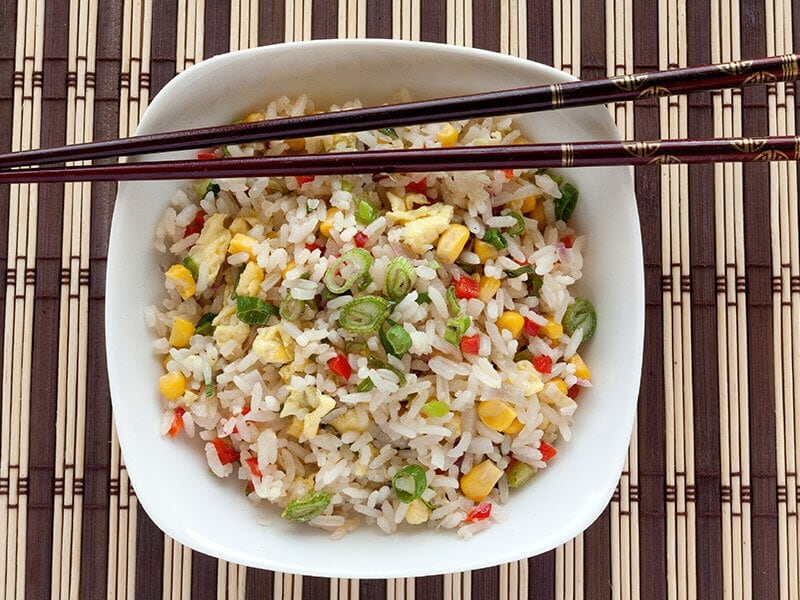 Even its name is derived from the Chinese word "zaofan", which means " breakfast rice". The original version usually includes mainly eggs and veggies, while the Dominican variations have more components from proteins to signature spices.
This dish was created by immigrants from China to the Dominican Republic many years ago, and they sell it in their restaurants. This dish does not have an original or authentic recipe, so that you can experience many variations, and each of them has undeniably distinct colors.
Delightful Dominican Desserts To Try Once In A Lifetime
If you are a sweet tooth, Dominican sweet treats might be the first things you should experience when coming to the Dominican Republic (DR). Here you go! From traditional to fusion dishes, each provides a distinct, memorable color.
19. Habichuelas Con Dulce (Sweet Beans Cream)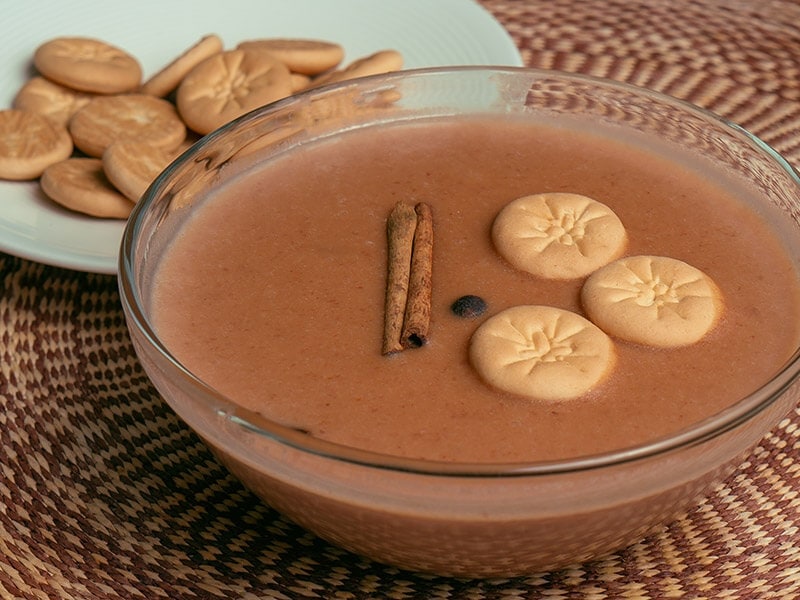 Habichuelas Con Dulce is considered the king of sweets in Dominican Republic cuisine, and it plays an essential role in Dominicans' beliefs.
The Dominicans will definitely eat this dish during the Lenten period (a time that they will be restrained and fasting) because they believe that their Lenten week cannot be completed without this dish.
Since the food looks relatively similar to Frejol Colado (Afro-Peruvians' signature bean-based dish), they thought of a theory that an African slave first created this delicacy. There are many other prevalent theories, yet, this one seems to be more supported.
Knowing more about this Habichuelas Con Dulce through this guide.
20. Suspiritos (Meringue Kiss)
The next dessert with a poetic name on the list is this "Suspiritos" (which means "meringue kiss"). As illustrated, you can see the reason why the food has that name.
Thanks to the basic components and the harmony between sugary and sour, this treat will be easier to eat.
In the Dominican Republic, they will serve these beautiful sweets in a baby shower or birthday party. Everyone will enjoy something light and mellow for a special occasion.
21. Bizcocho Dominicano (Dominican Cake)
This cake is exceptionally famous in bakeries on the Hispaniola island in the Dominican Republic, thanks to its soft, fluffy chiffon-style base and rich in moisture.
The icing is also the highlight of this dish called "Suspiro" (an Italian meringue). It offers just a moderate amount of sweetness and a gentle look to the exterior.
Dominicans love to have one of these adorable cakes in their sacred celebrations like birthdays or weddings.
A small fact in almost all Dominican sweets is that they will include local fruits in Dominica (for a refreshing taste) or rum. As proof, this dish is no exception, with the rum inside the cake.
An easy peasy instruction on creating a luscious Dominican cake.
22. Tostones (Twice-Fried Plantains)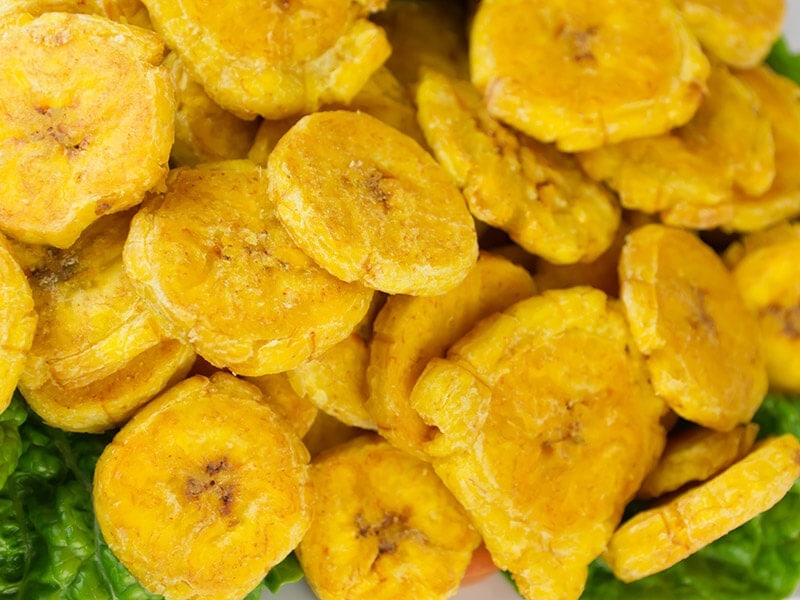 Plantains are the cousin of bananas, and you can easily notice the similarities in appearance between them. The unripe plantains are relatively starchier and bland, somehow tasting like potatoes. Because of that, the food can be used as a side dish for hearty meat treats.
Although you can find this treat in various variations from many other Latin American countries, the Dominican version holds its own specialty. They are often served with several drops of fresh lemon juice and some sprinkled salt in the Dominican Republic.
There is no rule to enjoy these Tostones. Dominicans eat them every time in a day, breakfast, lunch, or snack with a signature sauce. If you want your dish to be heartier, you can try adding cheeses, eggs, salami or even rice. It can still taste great anyway.
23. Crème Caramel (Dominican Flan)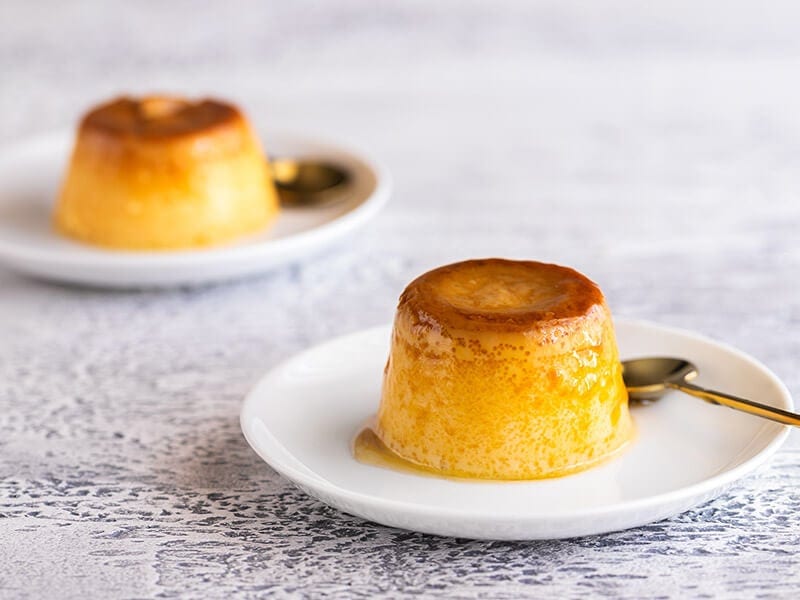 When talking more about the reason for the existence of Flan, you should mention ancient Rome. At one time, the people of ancient Rome had quite a few eggs, so they had to think of ways to use them, and the Flan was born just like that.
The dish's name, "Flan", is taken from the French term "flaon" (or the Old German word "flado"). Both words mean "flat cake" due to the flat shape of the top, and both refer to a dessert with a rich, milky custard base.
This sweet treat appeared in the Dominican Republic thanks to the influence of the culinary culture of Spain (its original name is Creme Caramel).
An incredibly straightforward tutorial to make a Dominican Flan is shown here!
24. Yaniqueque (Johnny's Cake)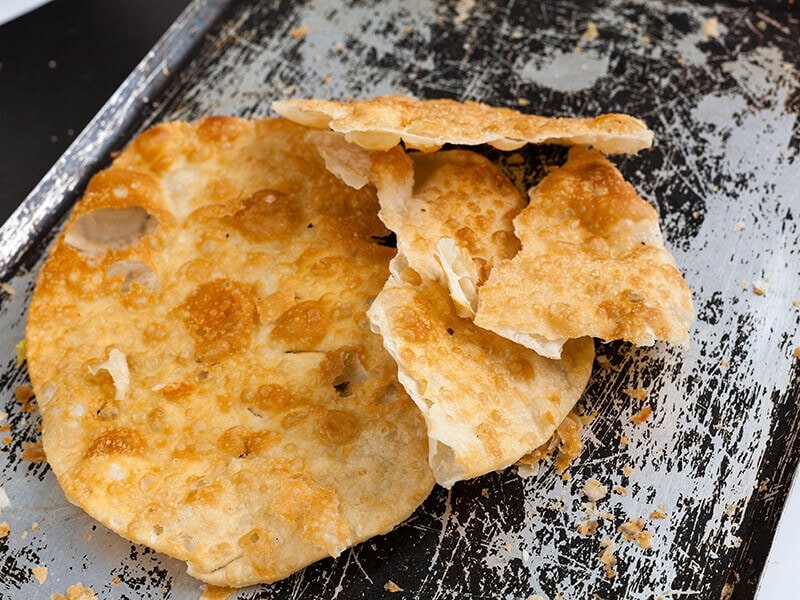 Just looking at that thin crispy crust makes my mouth water. This Yaniqueque is associated with an image as a snack, and Dominicans and other tourists love to enjoy it next to the beach view.
And one surprising news for you is this snack is not an authentic Dominican dish. It is a dish that came to the Dominican with Cocolo emigrants from the British West Indies.
Even the name of the dish is derived from Johnny Cakes. Although it sounds pretty related, these two dishes do not have much in common. Because of that, this theory creates quite a bit of controversy.
Yaniqueque comes in a variety of sizes, and Dominicans also often eat it for breakfast along with some cocoa.
Dominicans' Favorite Drinks That Can Blow Your Mind
After those suggested sweets and snacks, now turn to the recommended Dominican drinks. They will amaze you from the first time trying.
25. Morir Sonando (Milk And Orange Drink)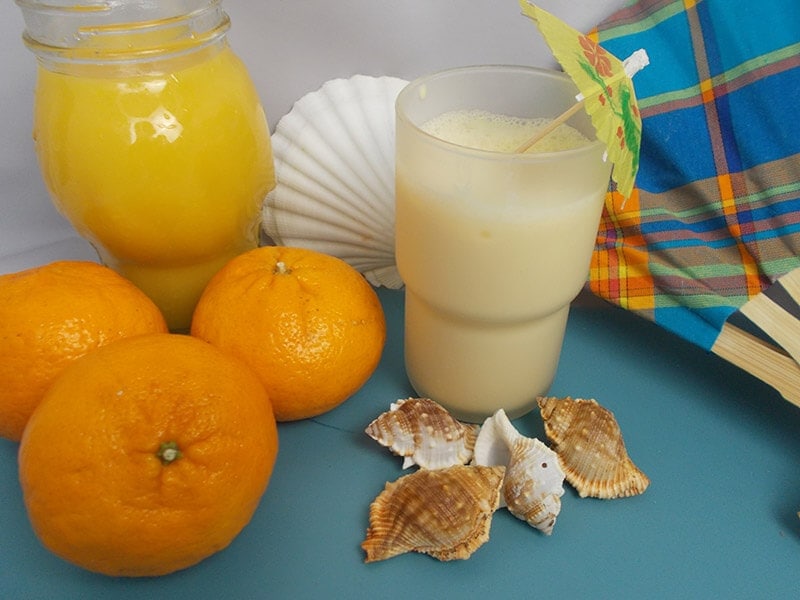 Don't be too surprised, the name of this drink, Morir Sonando, means "to die dreaming". This drink is genuinely a traditional Dominican Republic delicacy, and it is now one of the most famous drinks in the Caribbean and Latin American regions.
If you don't know what to have for a Dominican Republic-style breakfast, milk or orange, how about having both in one? The light sourness from orange combined with the sweetness in the evaporated milk will surely please your taste buds.
This instruction will make you want to try this special morir sonando immediately.
26. Mama Juana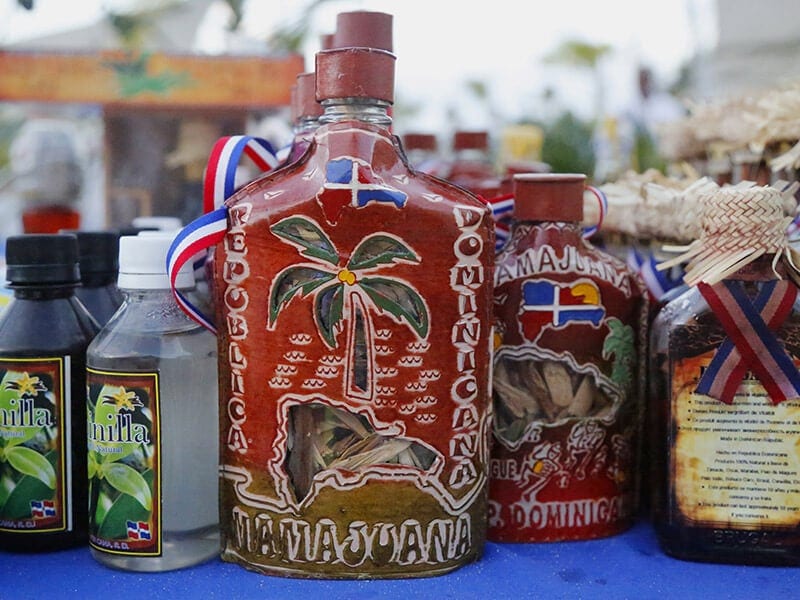 When it comes to Dominican Republic drinks, ignoring this quintessential Mama Juana (or Mamajuana) would be a big mistake. Mama Juana is a herbal liquor with long roots in the Native American culture. Those people first made it to support their health.
The Taino people created the first version of Mama Juana from soaking various types of bark and herbs in water for a long time. Until Christopher Columbus arrived in this land, they replaced water with rum, and an excellent drink was born.
When you first see a bottle of Mama Juana, you will be surprised that it's loaded with dried leaves and twigs. Since there's no official Mama Juana recipe, all of these bottles are handmade. As a result, each bottle is distinct due to the liquor maker's ingenuity.
This fascinating taste test will tell you a bit about this Mama Juana.
27. Jugo De Chinola (Passion Fruit Juice)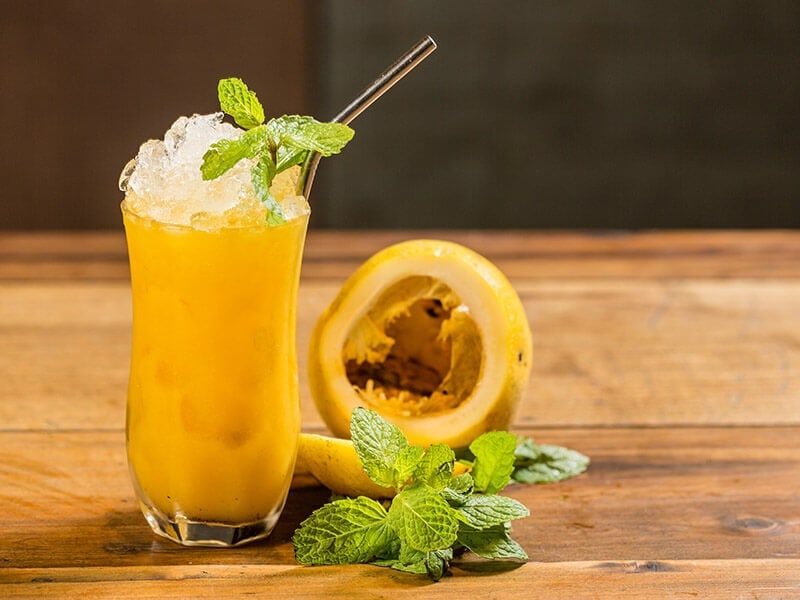 In the Dominican Republic, "chinola" stands for "passion fruits," it is also one of the most favorite tropical fruits in this country.
Although there are purple passion fruits, you will mainly see the green and yellow variations in the Dominican Republic. These DR's special chinolas will offer a more potent aroma with a sharper sourness mildening with the pleasant sweetness.
Dominicans also love this drink since each portion is cheap; you can also grab it quickly at the sidewalk vendors. So delicious, healthy, and approachable!
You Will Never Regret Trying These Dominican Dishes
Believe me, every cuisine in the world encases its own hidden treasure, and you have to experience that to explore fascinating things.
Have you found out what you want to try first yet? I suggest you start with something light and sweet first before moving to the others. Yet, all the foods I have indicated above are exquisite, so that it will be worth craving for.
Don't hesitate to leave me a review in the comment section below and tell me about your opinion. Loving is sharing.