Easy date night recipes can turn out to be the most undeniably delectable things on earth! They can effortlessly fill your heart with joy and make your dinner dates become a worthy memory.
However, there are too many dishes, and you don't know what to start with. Please rest assured because this informative article will guide you from A-Z on how to prepare the most decent date night meals.
Before digging into very detailed instructions, let's have a look at the recipe list first!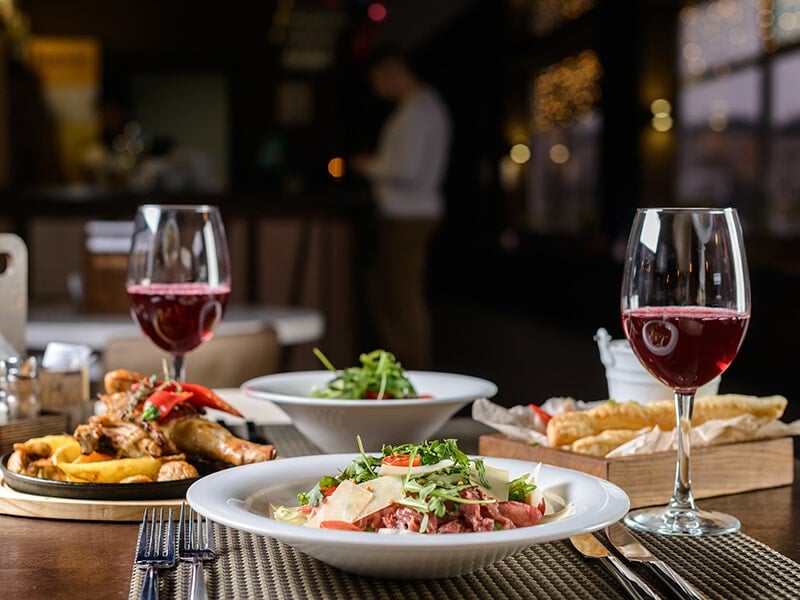 The Ultimate List Of Easy Date Night Recipes
For your convenience, I will separate the food in this post into 3 categories: appetizers, main dishes, and desserts. You just have to choose one random item from each part and plan your perfect course meal menu!
Appetizer recipes:
Cheese Recipes:
Fresh Apricots With Goat Cheese And Lavender Honey
Baked Feta With Tomatoes And Olives
Cheese Board
Roasted Tomato And Burrata Salad
Meat Recipes:
Devils On Horseback
Caspere Chicken
Pecan Maple Bacon
Beef Filet Bites With Horseradish Sauce
Prosciutto Wrapped Figs
Seafood Recipes:
Mini Crab Cakes
Seared Scallops With Raspberry Gastrique
Salmon With Piquant Dill Sauce
Crab Stuffed Mushrooms
Prosciutto Wrapped Shrimp
Main Dish Recipes:
Meat And Seafood Recipes:
Lemon Chicken Piccata
Balsamic Cranberry Pork Chops
Beef Tacos With Mango Salsa
Pan-fried Pork Dumplings
Tuscan Chicken
Pepper Crusted Seared-roasted Steaks
Curried Coconut Mussels
Other Recipes:
Lemony Asparagus Risotto
Penne Alla Vodka Pasta
Grilled Vegetable And Fresh Mozzarella Stacks
Korean Fried Cauliflower
Creamy Mushroom Fettuccine
Baked Gnocchi With Bacon
Homemade Cheese Ravioli
Dessert Recipes:
Chocolate Tiramisu
Blackberry Apple Galette
Molten Chocolate Cakes
Peach And Raspberry Oat Cobbler
Chocolate Coconut Date Balls
Champagne White Chocolate Fondue
Easy Cherry Crisp
Chocolate Mousse
Vanilla Panna Cotta
No Cook S'mores Parfait
Terrific Appetizers That You Are Sure To Hooked On
Appetizers are the very first thing that appears on your dinner table, right? Therefore, you will have to carefully consider which cuisine should be served to make an impression.
Don't worry because below are the simple yet magical appetizers that will manipulate your course in the most extraordinary way!
Decadent Cheese Appetizers For You Date Night
Cheese is such a lovely and outstanding dairy product, right? Whether you bake or serve it fresh, cheese appetizers are always distinct and astounding.
Let's check out the simple recipes below!
Open your date night dinner with this marvelous recipe with goat cheese! Mixing this cheese with fresh apricots and honey will surely win your partner's heart and soul with only 15 minutes in the kitchen!
Freshly picked apricots are bright, soft, and tenderly sweet. This superfruit acts as a marvelous "container" for you to stuff nuts, goat cheese, and other ingredients inside. The dish has a full range of flavors, and its smell is really out of this world.
This cheesy cuisine is such a breeze to make! With this easy yet phenomenal recipe, baked feta with tomatoes and olives is guaranteed to knock your socks off!
You will only need a handful of ingredients to complete this high-class food. Besides the three main components mentioned in the name of the dish, olive oil and garlic are the other two things you need to prepare.
I recommend that you serve some slices of bread alongside this wonderful appetizer.
There are four major components to create this killer appetizer: cheese, fruits, sliced baguette/crackers, and nuts. Because the board's name is "cheese", various types of this dairy product are combined to create this stunning cheese board.
You will encounter an explosion of texture and flavor when eating cheese board! This dish is truly a grown-ups' snack, and hence you will have a lot of fun munching cheeseboard and talking to your partner.
Why not elevate your romantic, wonderful date night by serving this exquisite homemade salad? It is perfect to begin your meal with and fully packed with beneficial nutrients.
Cherry tomatoes have a naturally sweet flavor on their own, but if you roast this vegetable in your magic oven, you seem to have deepened that sweetness many times! And when served with terrific burrata cheese and herbs, they will blow you and your mate away!
Mouthwatering Meat Appetizers That Are Very Likely To Gone After A Short While
If you are a fan of meat, like chicken, beef and bacon, this entire category is for you. All the meat appetizers are exquisite, but take away none of your effort at all!
Are you curious about this one-of-a-kind dish? You'd better be so because devils on horseback will definitely make you and your loved one burst with joy and excitement!
This "devil" appetizer is actually bacon-wrapped dates with goat cheese inside. It delivers a rich creaminess together with a beautiful balance of mildly sweet and savory flavors. One thing I love about this spectacular dish is that you can make it one day ahead.
Caprese is a signature Italian term for starters made of mozzarella cheese, herbs, and tomatoes. When seared boneless chicken breasts are incorporated, they become an effortless yet elegant dish.
You can make a remarkable impression on your upcoming date night with this healthy and fabulous recipe. It has a heavenly taste and smells super aromatic. 30 minutes and several ingredients are all you need to finish this star appetizer.
Do you want to bring some exceptional bacon dishes to start your meal? Then learn how to make this phenomenal dish because pecan maple bacon can easily satisfy anyone's sweet and yummy food craving.
Sugary, smoky, salty, and nutty together create the fantastic flavor palette of this appetizer. Some other varieties may taste spicy or peppery. According to your personal preference, you can freely choose the final coating layer, such as vinegar or coffee.
Do these beef filet bites remind you of cake pops in some way? They are fun to look at, yummy to serve, and easy to steal your partner's heart!
Beef filet bites with horseradish sauce only cost you a little time and a few ingredients to complete, yet bring you an exciting and excellent appetizer. Making the horseradish sauce, searing beef filets, and garnishing them with herbs are all the steps to make the dish.
This incredibly simple instruction will show you how to make the horseradish sauce the most straightforward way
Who doesn't love Italian cuisine, do they? Prosciutto is a famous and expensive dry-cured ham in Italy, which is made from top-quality pork legs. If you want to throw a little luxury into your date night, prosciutto wrapped figs are your to-go dish!
These round-shaped, cheesy prosciutto figs are appropriate for any occasion, especially when you need a cozy and romantic atmosphere like date nights. It only takes you half an hour to bring your meal to a whole new height with this appetizer.
Ridiculously Easy But Delicious Seafood Date Night Appetizers
Seafood is full of protein and very delightful to enjoy, right? The stunning seafood starting courses below bring a restaurant-like feeling to your date night, but you can whip up any of them right in your kitchen!
Who would not love these yummy appetizers packed with crab meat? Crabs are amazing sea creatures, and their taste is extraordinary too. If you two are seafood fans, don't miss out on mini crab cakes!
This recipe instructs you on how to make crab cakes and garlic aioli dipping sauce. It's a one-skillet dish, done within 10 yet a masterpiece of appetizers. You can either bake or saute these cute cakes.
Here is another seafood appetizer that is guaranteed to be a hit on this list! What could be fancier than chewy, meaty-seared scallops covered in a thick, flavorful raspberry gastrique?
Luxurious as it may sound, this dish requires no special equipment and is effortless to make! You will need to simmer raspberry preserves with wine, season them and sear the scallops with butter. Assemble the two together, and there you go!
A light dish with salmon and piquant dill sauce is never too much to dig in! It is super straightforward to make but creates a stunning look with mouthwatering flavor and a cheerful characteristic.
You can either prepare the salmon with a dishwasher or quickly bake them in the oven. About the piquant dill sauce, you will need to thicken the ingredients until they reduce in half, and this magnificent sauce should bring out the best of your salmon.
Wanna bring something epic yet delicate to your date night table? Then crab stuffed mushrooms are an ideal option for you, as they are bursting with a gourmet flavor once taken out from the oven, yet still too lovely to handle!
You and your partner can warm up your feelings by making this brilliant first course with mushrooms. Stuffing them is really enjoyable, and you both will have a massive crush on this supreme combo of crab and mushrooms.
Prosciutto is truly a divine ingredient in making appetizers, isn't it? This fancy and classic dish deserves to be the star on your date night's table, as it's super delightful and simple to do.
This recipe doesn't require any skillful technique at all! And you only need to prepare a couple of ingredients ahead. Prosciutto wrapped shrimp is gluten-free, loaded up with proteins, and is here to save your date!
Astounding Main Courses For You To Try At Home
You don't need to go to any restaurant to enjoy a top-quality meal. Elevate your dinner right at home by reading the list below and deciding what main dishes will be the most appropriate for you!
Incredible Date Night Main Dishes From Meat Or Seafood To Melt Your Heart
Meat and seafood are often seen as an essential part in main courses. They are succulent, yummy and they provide you with a lot of protein. Once transformed into main dishes, the meat and seafood have climbed up to a whole new heigh!
Lemon chicken piccata is a perfect example of simple goodness from fundamental ingredients. You can literally whip it up within half an hour yet still be able to please your beloved one's heart and soul inside out.
Not only is chicken breast lean meat, but it is also very affordable. When combined with lemon, cream, and other seasonings, it turns out to be the most stunning and fancy dish with just 30 minutes of your time!
Here is a festive pork main dish that is guaranteed to make you both extremely thrilled! The luscious, dark red hue of cranberries pairs perfectly with golden brown chops and vibrant green herbs.
The flavor of balsamic cranberry pork chops is as if it is coming out of my dream! I can describe this food as acidic, herbaceous, savory, juicy, and flavorful. The softness of cooked cranberry and tenderly crunchy pork create an awesome contrast in texture.
Give your night meal an entirely new flavor twist with this Mexican cuisine. In my opinion, mango combined with a flavorful chuck steak staple makes for a wholesome dinner. When incorporated with dairy products and other vegetables, they become an astounding main dish.
Eating tacos is super enjoyable. They are actually a deep-fried version of Mexican tortillas, and hence tacos are crispy and crunchy. When paired with succulent beef and juicy flesh of mangoes and vegetables, they will give you a refreshing and cheerful feeling.
Do you want to add a memorable pop of the preeminent Chinese cuisine to your date night? Then pan-fried pork dumplings are your ultimate choice. They are unique, from their look to their exquisite flavors.
When dipped in soy sauce, they turn out to be a divine couple! Simple as the two may sound, they can actually give you a very bold umami punch in a velvety, melt-right-in-the-mouth texture. Don't forget to sprinkle some onion greens to get the best appearance!
Tuscan chicken is an astonishing one-skillet recipe to serve at romantic dinners. Everyone would obviously go crazy for Alfredo sauce, but they become a match in heaven when paired with chicken.
Sun-dried tomatoes also offer a unique taste to the recipe. Whip them up in half an hour and surprise your loving one with the unimaginably satisfying result. Pair this main dish with your choice of wine to complete your date night!
Pepper crusted seared-roasted steaks are an excellent way of bringing something robust and extremely meaty to your date's table! Steaks and ground peppercorns are a gourmet marriage of ingredients, right?
Steaks, butter, olive oil, and seasonings are basically what you have to prepare to achieve this luxurious main dish. You can flexibly regulate the timing to make the steaks very rare, medium-rare, or well done.
Get to know the ultimate method to make pepper crusted steaks with this amazing journey
Curried coconut mussels is a winner, restaurant-quality mussel dish that you can absolutely try at home. It is unbelievably straightforward and costs you approximately half an hour till done.
Coconut milk brings you a very delicate sweet taste, while other seasonings will provoke all your senses with a potent kick. You should notice that you get rid of any unopened shells when you are about to finish this curry.
Other Fantastic Major Food You Must Consider Having In Your Dates
Without meat or seafood as the main ingredients, main dishes can still be stunning and fill your stomach with joy! Your loved one must be very grateful if you serve them the exquisite food below!
Entertaining your lovely guest from head to toes with this incredibly delightful and versatile version of risotto! Rest assured if any of you are following a strict gluten-free diet with this fabulous recipe!
The citrus taste of lemon complements gorgeously with the subtle flavor of asparagus and rice. If you are not afraid of gaining weight, other dairy products can be added to enhance the texture and flavor of this exquisite dish.
Elevate your culinary tastes with this whole new level of pasta! What could be more amazing than this variety of adult pasta that is made from entirely minimal ingredients but still turns out to be a top-quality dish?
In half an hour, penne alla vodka pasta should have been done. Cooking the pasta, making cheesy tomato sauce in a saucepan with vodka, assembling the two together, and garnishing your food are all it takes to create this gourmet pasta.
Satisfy your veggie craving with these crowd-pleaser mozzarella stacks. Not only are they loaded up with fiber and calcium, but they are super good-looking and taste unbelievably terrific.
With only a couple of ingredients, you can totally create a five-star restaurant dish right at your home! Roasting vegetables would get the best out of them, and you just need to place the cheese and the seasonings together to maximize the taste.
Are you searching for some Asian cuisine to impress your mate but not really into Chinese dumplings? I guess Korean fried cauliflower would be your best option if you prefer something healthy yet very yummy.
Cauliflower, other veggies, and the egg mixture are the key components of this amazing main dish. To make Korean fried cauliflower even more outstanding, you can try roasting the white sesame seeds before sprinkling. And enjoy the dish while it's still hot!
This is an absolutely supreme dish that you should include in your homemade food wishlist! Mushrooms and the ribbon-like pasta fettuccine are already hearty enough, but when combined with creamy Alfred sauce, they lead you to a completely new world!
Can you believe that all this goodness is done in less than 30 minutes? The ingredients are also very easy to buy, and you won't do anything that sounds like an expert to them! Remember to add the cheese gradually to retain the smooth texture of the sauce.
Nothing is as charming and undeniably irresistible as a hot plate of baked gnocchi, isn't it? Surprise your beloved one with this marvelous main dish from Italy. It is creamy, cheesy, and very simple to make.
Instead of the signature potato gnocchi, why not bring a new wind to your table by making this creative version with magnificent vegetables? It is sure to hit the pot, and you can totally customize your chosen ingredients.
This is my absolute favorite cheese dish to be a chef at home! Believe me, there's nothing that shows how skillful you are with food than this recipe, yet it's stupidly simple and only made of several ingredients!
A cheese ravioli usually contains 2-3 types of cheese. It delivers a vibrant, creamy, and phenomenal taste to your mouth. Try to purchase either fresh or dried basil to obtain the authentic Italian flavor of the wholesome dish.
10 Excellent Choices Of Unbelievably Easy Dessert
Please pay attention to desserts a little bit more because they will decide how your dinner date will end. All the desserts presented in this post have gone through a very careful process of selection and are sure to make you marvel at them!
Finish your decent meal by serving this wonderfully gorgeous version of tiramisu. Chocolate tiramisu is very easy to make and definitely gonna win your partner's heart and soul!
This foolproof chocolate-based dessert only calls for a handful of ingredients. Moreover, you will spend only 20 minutes accomplishing the dish. Coffee and liquor are the two signature elements of classic Italian tiramisu, so make sure you don't skip any of them.
Learn how to create the most stunning blackberry apple galette with this whole-hearted instruction
Blackberry apple galette is the ultimate way of seducing your partner through his/her stomach! I have never experienced any apple pie truly heavenly as this, and I was entirely amazed when I found out how simple the recipe was!
There's a very high chance that you will successfully make this delicate dessert with our own oven. Blackberries complement perfectly the crispy baked pastry and granny smith apples. Don't be surprised if the galette is gone within a few seconds!
There's nothing easier than making molten chocolate cakes and serving at home but still feel like you are at an authentic restaurant! Don't blame me if your mate falls head over heels with these adorable cakes.
Molten chocolate cakes only consist of minimal baking ingredients. And you can either make them with a microwave or an oven. Allow the cakes to rest for 5-10 minutes after baking, and wait for the marvelous chocolate lava to flow from the inside when cutting!
Do you really want to raise your appetite with breath-taking cobblers? Then I suggest you should try peach and raspberry oat cobbler because it is just insanely delicious!
This beautiful and expensive-looking dessert can easily fit as a gift on Valentine's Day or date nights. The steps to make this cake are not complex, and you'll get incredible bubbling biscuits with baked fruits.
I promise, there is no chance of failing when you make these chocolate coconut date balls. They are packed with tons of nutrients and are a healthy dessert that deserves to be loved by you both.
A food processor will be handy when making these incredible balls. Finely chop all the tasty ingredients, roll them into balls, and pop them into the oven are basically what you're going to do. And the entire process only costs you 20 minutes!
Fancy as it may sound, champagne white chocolate fondue is not complicated to make at all! It is a super delish dessert and will definitely help you to score more points with your partner.
Can you believe that this rainbow fondue only calls for several ingredients? Simplicity is for the win, right? You just need to choose a good brand of champagne and spend 15 minutes with your fantastic white chocolate. Serve with fresh fruits, good wine, and bon appétit!
Here is another masterpiece of oatmeals and the berry family! It's 100% made of minimal ingredients, hearty, and not time-consuming at all. The two layers of goodness pair perfectly with the luscious vanilla scent.
It's not hard to imagine you two are sitting at a restaurant with this stunning dessert. Its beautiful look and the contrast of the layer's textures and flavors will make everyone rave about it!
This foolproof chocolate mousse is often associated with gatherings, as it is incredibly effortless to make but still delivers a gourmet and seductive feeling at the same time. You're in for a treat with this fabulous recipe!
Heavy cream, cocoa powder, and sugar are the key elements that you need to prepare for this dessert. One thing to remember with this chocolate mousse is not to overwhip the whipping cream. Please stop whipping immediately when it has formed stiff peaks!
Behold all your vanilla and heavy cream lovers! This exquisite vanilla panna cotta is exclusively for you. The recipe is not anything near intricate, and you will attempt to make it in only 20 minutes.
Delicate and luxurious to the max, this Italian dessert requires just a handful of ingredients. Vanilla panna cotta is truly a dessert hack, isn't it? You should prepare the puddings 1 day ahead and keep them in the fridge so as to settle the mixture really well.
No dish is too fancy for a cup of S'mores parfait, isn't it? This high-class chocolate recipe doesn't involve any cooking process yet is always ready to take you to the heaven of desserts!
You can set the layout of this dessert according to your personal preference. It can either be 1 single layer of chocolate pudding with frosting on top or multiple layers. No matter how you decorate S'mores parfait, it will bring you a lot of contentment and appetite!
In Your Opinion, Which One Is The Easiest Recipe?
By reading till here, I hope you have finally planned what recipes you're going to do to prepare for your date night. According to you, what dishes are the most straightforward? When are you going to make them?
Please answer my question via the comment section below. If you have any ideas about what to serve on a date night, don't hesitate to let me know also. Please share my post with your beloved one so you all can know how to prepare a very decent meal.