Are you struggling to find the best date desserts for your next dinner, party, or holiday occasion? It's understandable because this stone fruit is not usually top of mind for many folks in the country.
While dates are a popular fruit and cooking ingredient in the Middle East and North Africa, they're still finding their place in American cuisine. The good news is these small and nutrient-packed fruits can go pretty well with a long list of sweet desserts.
They pair beautifully with chocolate or fresh fruits and complement buttery and crunchy nuts. They're ideally sweet enough to be a natural sweetener and incredibly sticky to be a great binder in cakes and cookies.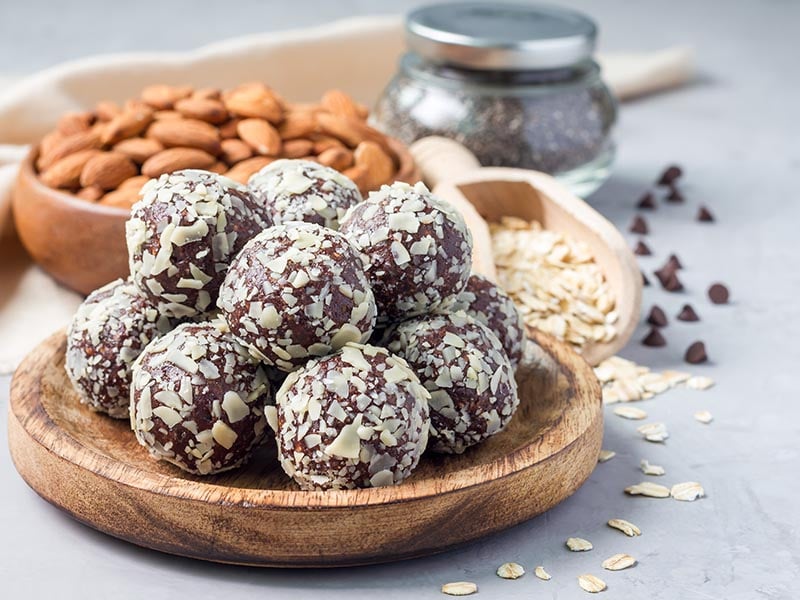 23 Best Date Desserts That You Should Try
One of the best traits of dates is their versatility. They're amazing as a filling of fruity cookies as much as they're in the batter of an orange date bread and beyond! Here are 23 ways to use this amazing fruit to create decadent and irresistible baked goods and desserts.
Total time: 30 minutes + 2 hours and 10 minutes of refrigerating time
These brownies are so thick and rich that everyone will hardly believe they're vegan! These squares contain healthy ingredients such as walnuts, dates, and peanut butter.
Using Medjool dates instead of sugar results in incredibly fudgy and dense brownies. Plus, the frosting of vanilla, coconut oil, honey, and cocoa powder at the last minute gives them a decadent touch.
All you need to do is blend the dough nicely (it's best to pulse 2 small batches separately to achieve the best consistency!) and then spread the frosting on top before refrigerating the whole thing for 2 hours.
These delightful brownies can keep for one week in the fridge and up to 2 months in the freezer. They're ideal for making ahead, so you can avoid last-minute fussing in the kitchen!
These sugar-free brownies made with dates are definitely worth trying!
Total time: 30 minutes
Owing to their similarity to the poisonous nut of the Ohio buckeye tree, these chocolate-coated rounds are given the eponymous name – Buckeye. This treat is especially popular in Ohio and its neighboring area.
The classic Buckeye balls are covered with chocolate, butter, and sugar. In this healthier rendition, regular sugar and butter are out of the picture to make way for the healthier stoned fruit and peanut butter.
To nail this recipe, you should only use fresh Medjool dates to have enough sweetness to substitute refined sugar. Medjool is among the most commonly used date varieties, so you'll easily find it in stores or online.
Total time: 15 minutes + 30 minutes of chilling time
Right when the festive season is over, and after all the indulgence in drinks and desserts, this guilty-free treat is exactly what you need.
These date-studded snickers use no sugar, as the fruits already give them enough sweetness to satisfy your sugar craving. They're sweet yet not over the top, so you can keep coming back for more.
Thanks to the peanuts, you'll enjoy the extra crunch with every bite. These stickers are finally coated with chocolate for the ultimate treat to end your weekend dinner.
Another bonus is that they are a cinch to put together, with a short list of only 5 ingredients and 15 minutes required for prepping. And yes, you'll find no excuses to pass on this healthy and easy treat.
These bite-size date snickers are definitely a big hit at your next party!
Total time: 40 minutes
Tender muffins studded with dates, cranberries, and pecans are worthy of your dessert, snack, and even breakfast.
This recipe nails all the qualities that everyone is looking for in muffins! The cake is buttery and moist in texture and loaded with savory oatmeal flavor.
Yet, what really surprises my taste buds is the harmony of flavors that the nuts and fruits present. Cranberries bring a touch of tartness, while pecans add extra nuttiness, which beautifully complements the sweet dates.
These savory muffins, like any muffin, are best to enjoy warm out of the oven. Serve them with a generous swipe of butter, which will be soaked up nicely by the cakes.
Total time: 30 minutes
These no-bake Millionaire's bars are also known as caramel shortbread or Twix bars in the US. They consist of a crunchy shortbread crust, a thick and chewy caramel layer, and a rich chocolate coating.
However, this recipe is a healthier take on the classic Twix bars. It swaps out the sugar with the Medjool dates for the caramel layer.
Medjool has a sweet and caramel-like taste, making it a rightful and healthier substitute. Plus, the chewy texture from these dates is exactly the quality everyone looks for in this caramel layer.
These chocolate caramel confections can last up to a week if refrigerated, which is great for satisfying sugar cravings for everyone in the house.
Make your Millionaire's bars (or Twix bars) with this recipe. They are just as delicious yet healthier than the original.
Total time: 1 hour and 30 minutes
Energy bars are one of the most popular recipes with Medjool dates. What makes these date-studded bars addictingly scrumptious is the contrasting textures they present.
The butter-cinnamon crust is baked until golden-brown with a crunchy and slightly crumbly texture. The filling, on the other hand, is sweet and luscious.
These delightful treats are full of fiber, nutrients, and energy, so they are perfect to savor as desserts, energy-boosting breakfast, pick-me-up snacks in the afternoon, or whatever occasion!
Total time: 1 hour and 35 minutes
This recipe puts a delicious twist on the classic British dessert. Infused with sweet dates and topped with a drizzle of toffee sauce, this is the ultimate treat for any occasion.
The chopped dates not only add a rich sweetness but also make the cake extra moist. I'm also a big fan of the toffee sauce, which is much like a cross of butterscotch and caramel sauce. In my book, the sauce is the ultimate star here!
If you're like me, you'll end up with a generous amount of it, so each bite is a burst of flavors. Sticky toffee Bundt cake can stay fresh for days, so it's also great to make ahead.
Total time: 50 minutes
These healthy and delicious desserts have a mixture of stone fruits, cinnamon, and nutmeg for the filling and oats, dates, and quinoa as toppings.
The beauty of these crumbles is that all the flavors of fresh produce are allowed to shine through to create the incredibly refreshing and fruity dessert.
Dates make for the perfect topping for this treat. Not only does it add healthy sweetness and a hint of caramel to the crumbles, but also its sticky nature helps bind other crumble toppings together.
These good-for-you crumbles are already delicious on their own. Yet, it's even better if you pair some ice cream on top (the date ice cream with roasted almonds below is highly recommended).
Total time: 20 minutes
This cheesecake is impossibly creamy and tasty that you'll be surprised to know it goes without dairy!
Despite a fancy look, this fruity cheesecake is super easy to pull off and takes only 20 minutes. The crust only calls for 3 ingredients, including Medjool dates, oats, and a pinch of salt. You only need to blend them well and pour them into the muffin tray.
Repeat the same steps for your filling: blend well until it gets a creamy and smooth consistency before transferring it to the muffin. Finish with a swirl of blueberries on top and let the cake freeze overnight. And voila, you get an irresistibly delicious treat to end your dinner.
Total time: 50 minutes
If you're both a big fan of the healthy stoned fruit and pecans, here is the ultimate treat to whip up!
These savory and tender pie bars have a coconut crust and a caramel filling sweetened by dates. Medjool dates, vanilla extract, dairy-free milk, and pecan halves come together for the filling and are bound by arrowroot starch.
The recipe takes only a few easy steps: Make the crust, blend the filling, pour it into the prepared crust, then send it into the oven, and you're all set!
These bite-sized bars are wonderful to share with the crowd. They are delectable on their own, but a scoop of vanilla cream is always a welcomed accompaniment!
Perfectly sweet and nutty, these date-sweetened pecan bars are a nice addition to your holiday feast!
Total time: 1 hour and 20 minutes
Bake this moist and delicious bread on Christmas, Thanksgiving, or any holiday season, and your holiday feast will never be the same!
The dates here add to the sweetness of the bread and also help the bread become pleasantly moist and soft. Meanwhile, orange adds a bright note to the date flavor.
Feel free to add some walnuts and or pecan nuts into the batter if you love to have some crunch for your bread. This orange date bread is awesome when served with some luscious cream cheese.
Total time: 20 minutes + 1 hour of freezing time
These date-sweetened chocolate fudge can stay in the freezer for 2-3 months, so you'll always have something ready for desserts, snacking, or serving with your guests.
This treat is pleasantly sweet, dense, and chocolate-ty, thanks to the combination of dates, coconut oil, and cacao powder. The sprinkles of some walnuts and cashews on top also give it extra crunch and nuttiness, a welcomed addition to such a sweet dessert.
Any form of cocoa will work here. However, make sure it's unsweetened as the fudge already has reasonable sweetness from dates,
This demonstration will show you have to make a delicious batch of raw date-sweetened chocolate fudge.
Total time: 1 hour and 15 minutes
Whenever you want to go a bit fancy, this decadent treat will fit the bill! This date and coconut cake are ultra moist, smooth, dense, and creamy.
It combines the flavors of pecans and dates in the underneath layers and rich coconut toppings. The combination is nothing short of divine!
While the cooked pecans and dates give this cake enough sweetness, I usually crave some crunch in each bite. Same here? Feel free to add a layer of chopped pecans and dates on top as a garnish.
Here's the cooking tip: Don't forget to coat the entire pan with cooking spray, so this "sticky" cake won't be sticky when you remove it.
Total time: 30 minutes
You can't beat the classic! These date scones are easy to make, incredibly lip-smacking, and perfect for morning or afternoon tea. They're best served alongside jam, cream, or butter!
Adding sweet dates is a nice way to spruce up the classic scones. The tangy orange zest and mixed spices complement their sweetness and fruitiness.
The dough is baked until it is light and fluffy with a perfect golden hue. Yet, you can customize the texture a bit here! Arranging the scones closer together gives a soft texture, and spacing them out creates crunchy edges.
Try an easy date scone recipe to create an utterly delicious dessert for your next afternoon tea time.
Total time: 1 hour and 30 minutes
Ice cream is not usually a top choice, especially for dried fruits such as dates. However, this refreshing ice cream really makes me think twice.
This date ice cream is flavored with Medjool date and maple syrup to give more-than-enough sweetness to cure your sweet tooth. The notes of vanilla and cinnamon also help play up the fruitiness of the Medjool dates.
Finally, the toasted almonds on top give this ice cream some nuttiness and crunch. You'll need to let the ice cream sit in the freezer for at least two hours before serving.
Total time: 42 minutes
It would be exaggerating to consider dates and nuts a match made in heaven. Yet, whenever they meet for dessert, I bet the flavor will be awesome.
These pinwheels are a nice example! The mild sweetness of dates pairs nicely with the nutty flavors of the toasted walnuts. This mix is then wrapped around the brown sugar dough to create a lovely and downright delicious dessert.
The only tip here is to add orange juice and zest while boiling the dates. This adds acidity to the water to soften the fruits so you can easily pit and process them later.
Total time: 40 minutes
This speedy dessert has a moist, soft, and squishy texture and is studded with sweet dates and oats.
The dates bulk up the sweetness of the cake. Thus, there is no need to add as much sugar, syrup, and butter as you normally would (only 3 tbsp of syrup is used here!). Yet, surprisingly, these flapjacks still hold together pretty well!
These British-inspired treats come together in 40 minutes with just a few familiar ingredients in the pantry. They're a perfect choice for any weekday or last-minute weekend occasion.
You can put together your own date-sweetened flapjacks in a snap with this easy recipe.
Total time: 35 minutes
Zucchini sounds like a great idea if you want to sneak some veggie into a date dessert! These cookies are a lot like a cross of oatmeal cookies and zucchini bread.
Made with Medjool dates, zucchini, banana, and oats, these cookies are soft and chewy inside with crispy, golden edges. They also have a hint of vanilla and cinnamon. The dates and zucchinis add plenty of moisture to the cookies for an irresistibly soft texture.
These comforting zucchini-packed goodies are not only great for desserts, but they can also be a healthy breakfast and portable enough to go into your lunch box.
Total time: 20 minutes + 10 minutes of chilling time
If you're already jumping on the "date desserts wagon", you're in for a bunch of healthier treats, and these truffles are no exception! These little round bites are vegan, paleo-friendly, and gluten-free, making them a nice choice for more people at your party.
Plus, they are a cinch to make without any cooking involved. Blend the cocoa powder, dates, vanilla extract, and coconut oil until you get a paste-like texture.
Next, scoop the paste into uniform balls and freeze before coating and garnishing them with your toppings of choice. These little balls, rolled in cocoa powder or dipped in chocolate, easily become an oh-so-feel-good showstopper.
Learn to make chocolate date truffles and two more versions with this demonstration!
Total time: 40 minutes
Fig Newton's aren't just cookies; they're a nice combination of cakes and fruits, sweet dates can be a nice ingredient here.
This savory take on the classic Newton's is gluten-free, no-bake, and vegan-friendly. It's naturally sweetened because, in addition to figs, the recipe sneaks some pitted dates into the cookie dough.
The nut-date dough gives these cookies notes of almonds, pecans, oats, and dates. This flavorful coat reveals a soft, cakey, and tender filling made of cinnamon, figs, and orange zest.
It's truly amazing how well these ingredients in the filling complement the concentrated sweetness and fruitiness of the dates.
These cookies take only 40 minutes and some blending and spreading. Great for an afternoon snack, after-dinner sweet craving, or instant energy boost whenever you want!
Total time: 10 minutes
Truffles are among the easiest and quickest desserts to whip up. So if you're looking for more varieties of this dessert, here is another option!
Like the above chocolate date truffles, these tasty little balls are also packed with chocolate and date flavors. However, adding walnuts and hemp seeds gives these truffles a bust of nuttiness (and plenty of nutrients as well).
This sweet confection is just as rich, filling, and savory as the classic date truffles, so the choice is yours!
Total time: 1 hour + 8 hours of resting time
Sweet dates claim their well-deserved status in these Maamoul cookies! Maamoul is a beloved holiday treat in the Middle Eastern. It is a shortbread cookie filled with dates, walnuts, or pistachios, yet sweet dates are the most commonly used ones.
The flavor of this chewy sweet fruit is accentuated with rose water, orange blossom water, or cinnamon. The dough and filling are then shaped in Maamoul mold and dusted with powdered sugar for a nice presentation.
Mahleb gives these cookies a distinctive flavor in the traditional recipe. Yet, if you can't find it in your area, it's fine to substitute with more widely-available ingredients such as cinnamon or crushed mastic.
If you want to make your own Maamoul cookies, here is the detailed instruction you'll need.
Total time: 10 minutes + 2 hours of freezing time
Loaded with healthy fats, fiber, and antioxidants, this should be your next guilt-free dessert to add to your repertoire.
These bars are made with only 5 ingredients, which are all oil-free and sugar-free. Tahini adds deliciously rich, nutty flavors, whereas cashews lend these bars a buttery touch.
They're also a breeze to pull together: Simply blend the ingredients for the cashew base, spread the chocolate on top, add a pinch of salt to taste, and freeze! It couldn't be easier!
Thanks to their sticky texture, the sweet dates act as a binder for these bars. Use fresh dates whenever possible, as they're soft and moist and can go into the blender immediately. For dried dates, you'll need to take an extra step to soften them before pulsing.
Leave Out The Sugar And Use These Sweet Dates Instead!
Dates can replace sugar in various desserts, and they normally do it discreetly so that everyone hardly notices. Try one of these recipes (the one that doesn't have syrup in the ingredient list) and see if your loved ones can notice any difference.
Tell me about your experience cooking with dates or any questions by leaving a comment. Don't forget to share this list for date-lovers or dessert lovers in your life, so they can put their dates into better use!