Time to throw away all your misconceptions about dairy-free desserts. They can be just as sweet and tasteful as the original things, if not better. Whether you're lactose intolerant, vegan, or just looking for healthier alternatives, dairy-free desserts are never a terrible choice.
Fortunately, dairy-free ingredients are not all that hard to find. Nut milk, as well as vegan butter, cheese, cream, and yogurt, are widely available in stores. What's even better is that the difference in taste is barely noticeable, so don't hesitate to give some of these recipes a try right away.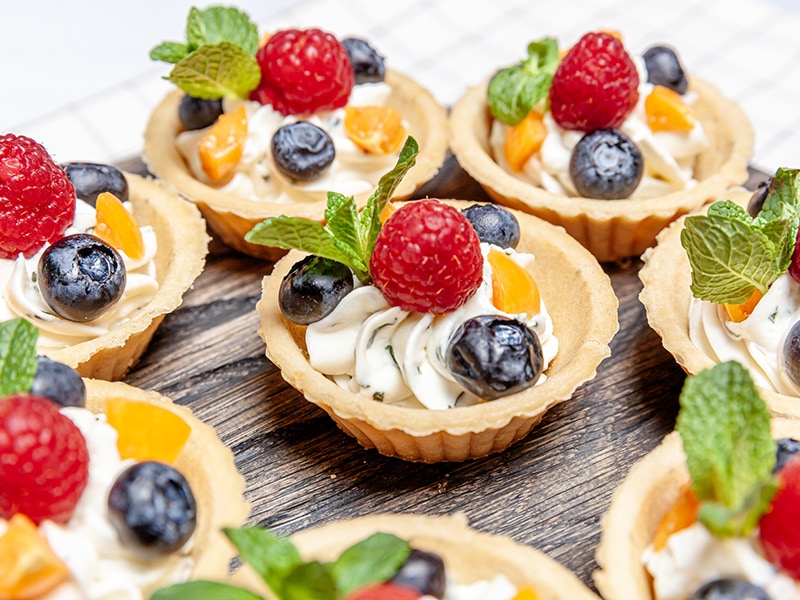 Top 27 Delicious And Healthy Dairy-Free Desserts
Desserts are so beautifully versatile and full of different options. This list includes a handful of varieties for you, from big and medium sized desserts like cake, puddings & mousses, ice cream & sorbet, to bite-sized treats.
Big And Medium Sized Dairy Free Desserts
Dairy-Free Cake
Dairy-Free Chocolate Cake
Dairy-Free Oreo Cheesecake
Blueberry Coffee Cake
Dairy-Free Lemon Cake
Vegan Red Velvet Cake
Dairy-Free Puddings & Mousses
Chocolate Mousse
Chocolate & Chia Pudding
Berry Matcha Chia Pudding
Vegan Raspberry Mousse
Vegan Vanilla Pudding
Dairy-Free Ice Cream & Sorbet
Banana And Almond Ice Cream
Mint Chocolate Avocado Ice Cream
Strawberry Cheesecake Ice Cream
Cherry Sorbet
Strawberry Watermelon Sorbet
Other Big And Medium Sized Dairy-Free Desserts
Mango Pavlova
Chocolate Chip Banana Muffins
Vegan Pumpkin Pie
Vegan Banana Bread
Blueberry Cinnamon Rolls
Dairy-Free Bite-Sized Desserts
Peppermint Fudge Bites
Dairy-Free Mini Fruit Tarts
Vegan Candy Cane Meringue Kisses
Strawberry Mochi
Sugar Cookies
Cherry Ripe Slice
Carrot Cake Sandwich Cookies
Big And Medium Sized Dairy-Free Desserts
This list covers all your favorite go-to desserts, whether it's a huge cake to eat for days or just some nice and simple pudding cups. Whatever it is you may be looking for, you will probably find it here.
Who doesn't love a good and delicious slice of cake to enjoy after flavorful main courses? Tasteful and decadent, these cakes are the perfect way to end a meal. Check them out and see what you can make for your next feasts.
Rich, dark, and velvety smooth, this dairy-free chocolate cake is just as good as the original version. Of course, making a mouth-watering cake without dairy products requires a little bit of flexibility and creativity. However, it's nothing too complicated that you can't handle.
This cake is an incredible sweet choice for any potluck party or get-together. Not only is it irresistibly good, but it's also nut-free, perfectly accommodating various types of allergies, diets, and food intolerances.
A gluten-free version of oreo has finally been released, and you can now enjoy a delicious oreo cheesecake without a care in the world. This cake is incredibly rich and smooth, with layers of cheese and crushed Oreos stacked over one another. It is then topped with loads of oreo crumbles.
The overwhelming amount of cookie crumbs may make this cake seem difficult at first sight, but don't worry. It comes together effortlessly with mostly basic ingredients, and you can even make it without an oven.
Making oreo cheesecake has never been easier with these instructions
Wrap up your meals with this unbelievably good blueberry coffee cake. This sweet treat is filled with juicy blueberries that will have your mouth bursting with flavors. Complemented by the contrasting bitter coffee taste, it's a unique treat no one can resist.
This lovely cake is so easy to make and perfect for all occasions. It's a healthy dessert choice for all your summer feasts but also great as a light treat for tea parties or on-the-go breakfasts. All it takes is an hour in the kitchen and a little bit of attention.
Brighten up all your days with this gorgeous-looking sweet dish. It's thoroughly infused with lemon, which carries a tangy flavor with a lovely aromatic aftertaste. This cake is the perfect choice for those who don't like their cake to be overwhelmingly sweet.
The icing is obviously optional since this cake is good enough on its own, but you can always brighten it up a bit more with a layer of soft lemon glaze. Not only does it make the cake look more appetizing, but it also helps to keep it moist.
Soft and smooth with a mildly sweet and chocolaty taste, red velvet cake is the classic choice for all romantic nights. Whether celebrating major holidays or looking for a lovely dish to share with loved ones, this cake will always give you exactly what you need.
The hardest part when it comes to making the vegan version of this cake is getting the iconic shade of red. It comes from the natural chemical reactions between vinegar and cocoa powder. If the result is not as expected, you can make it more vibrant by adding some natural food colorings.
How about a quick and easy guide to make the softest red velvet cake ever? You can see this video to know more:
5 Dairy-Free Puddings & Mousses You Can Make Instantly
If you prefer a light dessert, these recipes are for you. They feature a lot of fresh ingredients and are so easy that anyone can make them. Just grab a blender and whip yourself up one of these lovely pudding cups.
This delicious sweet treat will have you completely mesmerized from the first taste. It's so rich and creamy that you won't believe there's no egg or cream involved in the process. The ingredients are just simply dairy-free chocolate mixed with coconut milk and sweeteners.
You can enjoy this simple mousse in a lot of different ways. The easiest way is to pair it with some coconut whipped cream. Many like to layer some shaved chocolate on top to enhance the dark flavors. If you prefer something more fruity, fresh berries are good too.
This delectable pudding is a nice choice to use chia seeds. These tiny seeds have amazing health benefits, like promoting good digestion, boosting your immune system, and easing anxiety.
This pudding is pretty easy to make. Just blend the ingredients together and let the mixture chill in the fridge for a few hours. The result is a dark, rich, and velvety smooth dessert you can eat every day because it's so healthy and addictingly delicious.
Make a chocolate chia pudding so rich no one can resist it. You can see this video to know more:
Pudding is an amazing blank canvas for those who love to get creative in the kitchen. This recipe pairs matcha with berries and chia seeds, an unheard-of combination that turns out to be surprisingly good.
This lovely pudding can be put together overnight and become the perfect breakfast food for the next morning. The ingredients are not only delightfully good, but they also help to keep you energized for a whole day. Make a huge batch, and you can have it as dessert for dinner as well.
End your summer meals on a light and fruity note with this raspberry mousse. It's made with only healthy ingredients like fresh fruits, cashew nuts, and coconut milk. On top of that, it's also incredibly easy to put together; just blend everything together and let them chill in the fridge.
This dreamy dessert also makes a great snack and breakfast meal. Just top it off with some quinoa puffs and coconut flakes to make it more filling and energizing. Whether it's to start the day or end a meal, this mousse is a perfect choice regardless.
This vanilla pudding will be your newest favorite dessert, especially if you want something simple. Requiring just a few basic ingredients with a straightforward cooking method, it's a quick fix for all your sweet cravings.
Simple in appearance and ingredients, but this vanilla pudding holds a lot of potential. Its soft and light flavor makes it the perfect blank canvas for various toppings. You can add some coconut whipped cream, sprinkle some fresh fruits on top, or straight up turn it into a parfait.
Cool Yourself Off With These 5 Dairy-Free Ice Cream & Sorbet
Indulge in ice cream as much as you want this summer with these healthy and delicious recipes. Naturally sweet and containing no dairy products, they are the guilt-free dessert you have been waiting for.
This four-ingredient ice cream can be your latest go-to dessert this summer. In just less than minutes and using only a blender, you can whip it up extremely fast and finish it just as quickly because of how good it tastes.
Loaded with banana and almond butter, this ice cream contains nothing but naturally creamy ingredients. It still carries an intense sweetness and smooth texture without any heavy dairy products. Non-dairy whipped cream or sliced fruits are great topping options for this sweet treat.
Everything you need to know to make dairy-free banana almond ice cream. You can see this video to know more:
Everything you see and taste with this ice cream is all-natural. The vibrant green color and the mild sweetness all come from fresh and ripe avocados. The peppermint extract adds a cooling aftertaste, making it the perfect summer dessert.
Since this avocado-based sweet treat has a light flavor, you can pair it with any topping you prefer. Chocolate chips will give you a similar taste to the beloved mint choco flavor, but fresh berries or nuts will add some fun textures to the overall dish.
Obsessed with cheesecake but can't eat too much? This delicious dairy-free ice cream is the answer to all your problems. It still has the same sweet and slightly tangy taste, but even better because it's also really cooling and made entirely from healthy ingredients.
Instead of the regular cream cheese, this recipe uses coconut milk and vegan butter to achieve that smooth texture everybody loves so much. The strawberry flavor comes from swirls of homemade jam, giving you a naturally sweet taste without even a hint of sugar.
Stay cool during the summer with this irresistible cherry sorbet. Made with only a few simple ingredients but it still holds such a deeply sweet flavor and incredibly smooth texture. It doesn't involve dairy products, so this is a guilt-free dessert you can eat over and over again.
The only time-consuming part of making this sorbet is preparing the cherries. If you want an intense sweetness, you can puré it with some extra ingredients or simply remove the seeds then put everything in a blender for a more sour-sweet taste.
This refreshing sorbet only takes less than ten minutes to make, yet the flavor is absolutely phenomenal. Featuring well-loved fruits like strawberry, watermelon, and banana, it tastes like a beautiful summer day melting on your tongue no matter what time of the year you're in.
This lovely icy treat can be made with or without an ice cream maker. A blender will leave you with tiny bits of fruits and enhance the texture, while an ice cream maker will smooth everything out completely. No matter the choice, it will still end up fantastically good.
Don't Forget To Check Out These 5 Other Dairy-Free Desserts
You already know and perhaps love most of these desserts. Still, there's never a wrong time to rediscover the recipes and make a quick batch to treat yourself and everyone you love. See how you can make some of these desserts with absolutely no dairy.
Pavlova is a traditional Russian dish that can be made overnight. It's exceptionally fluffy, which is mostly thanks to the egg whites. However, bean water is an excellent replacement if you plan on making a vegan version..
This snowy dessert is what dreams are made of. It's as soft as a cloud and tastes like heaven. The plain sweetness makes it the perfect base for any topping to go on top of. Sweet fruits will enhance the overall taste, while sour ones will balance things out wonderfully.
These fluffy and moist muffins are the perfect excuse to use up all your bananas before they go bad. They are extremely easy to make with simple ingredients and straightforward cooking methods. Just blend everything in a bowl and bake away.
Using almond milk and sweetened with coconut sugar, these muffins taste just as sweet and addicting as the regular version. They are also quite multi-purpose. Bake a batch big enough to have as dessert and save some for next-morning breakfast.
Say hello to fall with this gorgeous and heart-warming pumpkin pie. Unlike most desserts, it's not overwhelmingly sweet but perfectly balanced with a hint of spiciness. The crust is deliciously crispy, which contrasts nicely with the smooth and custard-like filling.
A classic American dessert, you can find this creamy pie on almost every dining table during Thanksgiving. It's flavorful enough on its own, but many like to add a scoop of vanilla or whipped cream on top. Both of these things you can make entirely out of dairy-free ingredients.
Get your fall dessert ready with this easy instruction for a vegan pumpkin pie.
You can never go wrong with a hefty load of banana bread. Have a couple of overripe bananas lying around? Throw them in a mixture of coconut sugar, flour, vegan butter, and dairy-free milk to bake a delectably filling dessert that everyone will love.
This vegan banana bread is incredibly moist and super tender. The signature banana sweetness is easily one of the best things about this bread. It's addictingly good and easy to pair with any other toppings, from chocolate chips, walnuts to a drizzle of honey.
Tired of eating cinnamon rolls the same old way? Make them infinitely more interesting by adding some blueberries into the mix. Not only does it immediately renew these classic pastries, but it also covers them in a beautiful and eye-catching purple glaze.
These blueberry cinnamon rolls are made the same way you would make regular ones. The only extra steps you need to take are preparing the blueberry jam and spreading it onto the dough. It's a little bit more time-consuming, but the end result is worth every minute.
7 Dairy-Free Bite-Sized Desserts You Can't Stop Munching On
These desserts may be small, but each bite will have your mouth bursting with flavors. From dark and chilling fudge to tooth-rotting sweet sugar cookies, these are the sweet treats you will keep coming back for more.
Treat your loved ones this holiday with some healthy and delicious fudge bites. They feature the ultimate festive combo, chocolate, and peppermint. The vibrant and dark chocolate melts completely inside of your mouth with a lingering frosty aftertaste that you won't be able to forget.
These fudge bites are so unbelievably easy to make as well. You mostly only need to prepare the ingredients and whisk everything together; the rest of the time is just waiting for it to freeze. As the busy season rolls around, you can make a really big batch both for eating and gifting.
These colorful fruit tarts are the best sweet to end your BBQ night or to enjoy seasonal fruits. Crispy edges, creamy centers, and loaded with fresh fruits are the perfect sweet treat that everybody will fall in love with.
Despite being vegan, the difference between this recipe and the regular one is barely noticeable. The tarts are still just as filling and delicious. The richness of the center comes from coconut milk, which creates a lightly sweet base to put any fruit you like on.
Spread the holiday love with these cute little sweets. Featuring peppermint extract, these meringue kisses taste exactly like the beloved and iconic Christmas candy cane. The bonus point is they are so airy that they melt right into your mouth the second you eat.
In addition to being dairy-free, this recipe is also vegan. Replacing the egg whites with bean water still gives these little candies the same lightness as the original version. Delightfully good and suitable for everyone, they are truly the perfect gift this holiday season.
Mochi is a traditional Japanese dessert made of rice flour. People pound it into a sticky paste, then shape it with various molds. It comes in pastel colors and has a smooth, chewy texture. A more modernized version will include mini scoops of ice cream wrapped inside.
This delicate dessert doesn't always come together easily, but it's surely worth all the trouble. It's relatively light in flavor but carries the aromatic sweetness of whatever food it is infused with. In addition to strawberry, you can also make it in various fruity and nutty flavors.
Here's how you can easily make the softest vegan strawberry mochi.
Desserts' ability to be completely customizable is one of the best things about them. These sugar cookies only require pantry essentials, but they leave so much room for all your creative needs. Just grab some cookie cutters, icings, and sprinkles and have some fun.
These dairy-free cookies are crispy around the edges with a soft and chewy center. On their own, they are already quite sweet, but once you add the toppings, that's when they really come to life. A staple for the holidays, they are the perfect sweet treat to share with your loved ones.
Freshly ripe cherries combined with rich and dark chocolate are a dream come true for any sweet lover. Good news for all you busy dessert lovers out there, you don't need to bake them. All the ingredients will come together effortlessly right in your freezer.
These heavenly cherry slices will become your next favorite Christmas treat. Made in the freezer, they are chillingly crunchy with an intensified sweetness. This also means they are gluten-free since all the sugary taste comes directly from the fruits and chocolate themselves.
Carrot cake is a classic dessert loved by many. However, a massive cake can get overwhelming sometimes. Turn it into soft and chewy cookies with creamy frostings jammed in the middle instead for a more delightful experience.
These sandwich cookies have the same hearty and warming flavors as the original cake but with additional luscious frosting. They are small, so you can not only eat them as desserts but also take them everywhere to eat as an in-between meal snack.
Dairy-Free Food Has Never Looked Better!
Made with fresh and vegan ingredients but still bursting with flavors, these desserts are proof that dairy-free food is not at all plain or difficult to eat. It is just as versatile, colorful, and heavenly good as any regular food with butter, milk, or cream.
Food allergies and dietary restrictions are no fun, but you can now make them a little bit more tolerable with these desserts. Make your meals more inclusive and enjoyable to everyone with these recipes. Try them out and tell me all about how everything turned out.
Nutrition Facts
10 servings per container
---
Amount Per ServingCalories303
% Daily Value *
Total Fat 16.1g

25

%
Cholesterol 65mg

22

%
Sodium 322mg

14

%
Potassium 55mg

2

%
Total Carbohydrate 36.7g

13

%

Dietary Fiber 0.7g

3

%
Sugars 21.5g

Protein 4.5g

9

%
---
Calcium

16

%
Iron

1

%
Vitamin D

26

%
* The % Daily Value tells you how much a nutrient in a serving of food contributes to a daily diet. 2,000 calories a day is used for general nutrition advice.