Many people look for easy cucumber appetizers to kick off the meal in a big way. If you also have this intention, you should stop right at this article because it contains everything you need.
This amazing post is a world of fantastic finger foods made from cucumbers. You will have the opportunity to learn more interesting and new cooking skills from the unique tricks I am about to show below.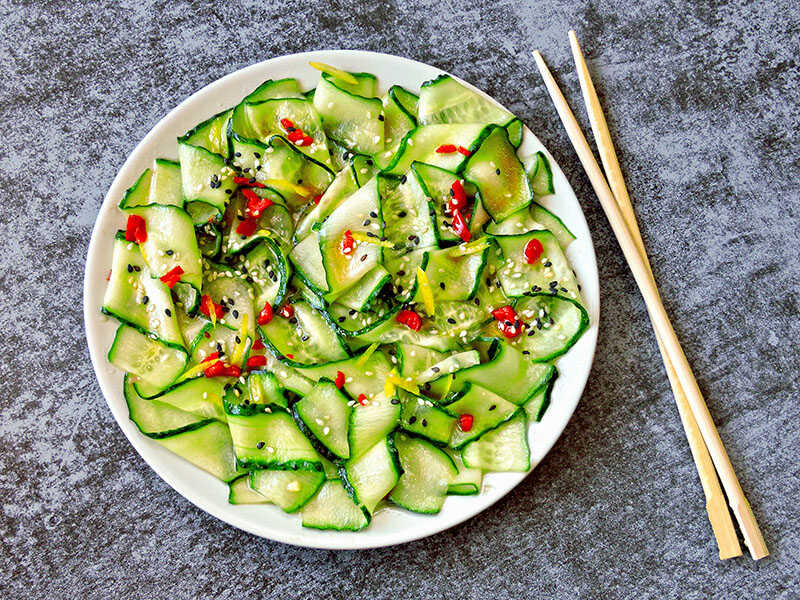 Customize Your Cookbook With The Excellent Cucumber Starters
The information you are looking for will be revealed in a specific and understandable way in this section. Don't forget to try these appetizers and taste them now!
Total time: About 10 minutes
It's great to enjoy cold cucumber soup on summer days as an age-old yet never obsolete idea to cool the body effectively. You just need to prepare essential ingredients like crunchy veggies, Greek yogurt, and herbs to achieve a delicious soup.
This recipe not only brings fresh and rich flavor but also ensures diners' health. A hint of citrus flavor from the lemon juice will awaken your taste buds immediately. Meanwhile, low-fat Greek yogurt is a rich source of protein for the body.
When mixing ingredients, you should not add ice cubes to the blend as this can cause bad effects on the texture. Moreover, to bring a highlight to the dish, it is good to add a bit of jalapeno to the blend for a spicy touch.
I love to eat this light soup with bread, grilled veggies, and kababs. You can chill the soup for about 30 minutes in the fridge before serving it. Do not forget to add some cherry tomatoes and chopped onions to make it more adorable.
Take note of the instructions to make cold cucumber soup with Greek yogurt in your cookbook.
Total time: About 25 minutes
There are many ways to start a party or entertain your mouth at a mid-day meal, but I still have great affection for Greek cucumber walnut bites. This wonderful treat is a common choice among crunchy food fans.
Crispy cucumber is the base component of this dish. But it is the presence of roasted red pepper, hummus, tomatoes, chopped walnuts, and feta cheese that makes cucumber cups more appealing and tastier.
Total time: About 3 hours 20 minutes (including 3 hours for chilling the yogurt)
It's time to bring the ocean air to your dining table with the shrimp and cucumber tzatziki bites recipe. Making this delicious seafood appetizer is a fantastic way to use up leftover steamed shrimp from last night's party.
You can get small and delicate bites after placing shrimps on top of a yogurt mixture and cucumber slices. When consuming these bites, you can easily feel the savory, zing, and citrus tastes coming together into an unforgettable mouthfeel.
Total time: Around 25 minutes
Suppose you have a strong passion for Korean food, you should not miss the spicy Korean beef and cucumber appetizers. This yummy food results from crunchy cucumber, soft beef strip steak, smooth cream cheese, and spicy Asian sauce.
Microgreens, kimchi, sesame seeds, or cilantro are decorative ideas you can use for this superb steak starter. To get medium-rare steaks, you must cook the beef at 145°F for 11-15 minutes.
Total time: About 1 hour
At first glance, this dish looks like a green boat full of white snow. In truth, it is an eye-catching mix of green cucumber and cream cheese. Restaurants often serve this dish as a yummy cream cheese appetizer at parties or as a refreshing and enchanting snack.
The anise-like licorice flavor of dill will leave a profound impression on your mind after enjoying these boats. Plus, this element gives small green accents on the white background of cream cheese.
In case you want to use a piping bag to put the cream cheese into the cucumber, loosen up the cheese by microwaving it first. Nevertheless, you do not need to do this when using a knife to stuff the cheese into the veggie.
Total time: About 15 minutes
This suggestion will bring a tropical breeze to your meal. It looks eye-catching with the striking yellow color of pineapple and the grassy green shade of cucumber. You'll be unable to stop your mouth from watering when standing in front of this delicious salsa.
It is simple to fall in love with the sweetness and juiciness of pineapple. The mild tartness of this fruit can tickle the tip of your tongue and make you want to eat it again and again. I often use it as a topping for tostadas and tacos.
In addition, the fresh taste of this food goes well with tortilla chips. You can create a lighter version using mild green chiles or fresh poblano chiles.
Find out how to effectively prepare cucumber and pineapple salsa here.
Total time: About 20 minutes
Before indulging in the exquisite taste of the stuffed cherry tomatoes, you will be mesmerized by their appearance. The fresh and juicy cherry tomatoes make you want to jump in and enjoy this cherry tomato-based dish right away.
Furthermore, the alluring and smooth mix of cream cheese and Italian herb will steal your soul for a moment. Even better, you can use this creamy blend for other vegetables besides tomatoes.
Instead of spreading the cheese concoction on the cucumber slices and topping with tomatoes, you can stuff the cheesy mix inside the cherry tomatoes. Pick a suitable method depending on your preference.
Total time: Around 15 minutes
Falafel-spiced cucumber bites are a widespread finger food in Middle Eastern cuisine. Please save it in your cookbook for your upcoming cocktail or dinner gathering!
When you chew these bites, your mouth will be filled with crispy cucumber, a creamy and rich mixture of chickpeas, cream, tahini, lemon juice, and seasonings. Decorative components like paprika, Sriracha, and tomatoes also enhance the taste of this treat.
Note, you must prepare the chickpea puree beforehand and chill it in the refrigerator before using it for this food. Only then can the puree achieve perfect silkiness to deliver the best performance.
Total time: Around 30 minutes
Discover how to make a colorful dish with a cucumber right now! Greek Pita Spread is the best collection of chopped veggies like colorful peppers, tomatoes, and kinds of cheese. All create a harmonious, cheesy, and relaxed mixture.
Feta cheese and cream cheese are 2 varieties I use to add a creamy touch to this excellent recipe. Also, sour cream and Greek vinaigrette give the wonderful dish a characteristic tart and tangy flavor. Typically, I mix it with pita bread at meals.
Total time: About 20 minutes
Mini cucumber sandwiches are a simple and versatile tea sandwich recipe that you can make in no time and serve at various occasions, such as parties, picnics, or family gatherings. It has 3 main parts: cucumbers, bread, and cream cheese mixture.
The cucumber slice will be put between the 2 slices of bread, and the cream cheese blend is the wall separating them. When you bite into this sandwich, you can enjoy the soft bread, the rich and cheesy taste of the mix, and the mild cucumber flavor.
The water in cucumbers can make the bread soggy. To prevent this situation, sprinkle the sliced cucumbers with salt and use kitchen towels to dry them beforehand.
When cutting the cucumber, it is best not to cut it into thin slices because you may not be able to feel the flavor of this element in the midst of the bread and cheese blend.
Follow the directions to make incredible cucumber sandwiches now!
Total time: About 20 minutes
Nowadays, people are paying more attention to their health, so wholesome foods have become more popular and familiar in daily meals. Cucumber bites with spicy guacamole is a delectable and fresh dish that meets the requirements of healthy food.
The use of gluten-free ingredients is a plus of this recipe. Not only good for your body, but this fantastic treat also helps save you time in the kitchen with its simple ingredients and preparations. Of course, this dish's fresh and spicy taste will not disappoint you.
The characteristic spicy flavor comes from chili pepper flakes and cayenne pepper. Also, you can come across the buttery and sweet-sour taste of avocados and cherry tomatoes.
Total time: About 30 minutes
Mixing lox and bagel is a legendary combination in cuisine. If you are a fan of good food, do not rush through this idea. This healthy recipe will give you a new option to start the gathering impressively.
You can mix bagels with herbs or veggies to diversify the dish's flavor. Red onion, chives, dill, and garlic powder are other ideal options you should try. You can prepare sliced cucumbers and cheese blend beforehand to save you time at the party.
To achieve even and thin cucumber strips, I usually slice them with a vegetable peeler. Alternatively, you can use a mandoline to do this. You must ensure the uniform thinness of strips for easier rolling.
Total time: About 15 minutes
Suppose you crave bagels, you should not ignore this appealing recipe. This food contains crispy cucumber, bagel cream cheese, and smoked salmon. Apart from the beautiful and refreshing flavor, the simple process makes you love it more.
Even better, you can make it ahead of time to save time at the gathering. Normally, I beautify this recipe with fresh dill. This healthy recipe is the best choice for a holiday party or brunch. Also, it is acceptable to consume it as a gluten-free snack.
You will get a well-loved dish to give your loved ones by following a few basic steps. First, mix cream cheese, minced onion, sesame seeds, milk, and more using an electric mixer. Finally, spread the mix onto cucumber slices and add salmon, capers, and dill on top.
Total time: About 20 minutes
Cucumber dilly bites will bring the freshness of spring into your meal. This yummy appetizer will captivate you instantly, thanks to the light and creamy flavor. It is suitable to refresh your palate before enjoying the heavy dishes.
In terms of appearance, it looks outstanding with the light green shade of cucumber slices, dill, the white of cream cheese mixture, and the red of tomatoes. Hence, it's hard to resist the allure of this recipe when you see it for the first time.
The smooth cheese mixture with Greek yogurt, fresh dill, cream cheese, and dressing powder melts in your mouth along with the mild tartness of tomatoes. A bit of crunch of cucumber can make the dish more memorable.
In case you don't have fresh dill, you can use a lesser amount of dried one. For better taste, you must let the smooth mixture chill longer to make a well-combined flavor.
Check out the steps to prepare cucumber dilly bites immediately.
Total time: About 30 minutes
An incredible appetizer I would like to introduce to you is cream cheese and bacon cucumber bites. Its name indicates the main elements that make up this food. Alright, it includes cucumber, cream cheese, and bacon.
Furthermore, it calls for shredded cheese, chives, garlic, and ranch seasoning for a variety of flavors. After preparing the creamy mixture with cheese and spices, you will scoop it into the cucumbers and add bacon crumbs on top for extra crispness.
Total time: About 10 minutes
I love the combination of delicate cucumber, creamy and rich goat cheese, and crispy bread. This delectable goat cheese recipe can tickle your taste buds with a natural sweetness from the honey on top.
Before toasting the baguette slices on a sheet pan, you must drizzle a bit of olive oil on them. You must wait about 3 minutes until the brown appears on the edges.
You can eat this food after topping the bread with cheese and cucumber. Do not forget to add honey, salt, and pepper to flavor it.
Total time: About 10 minutes
When referring to one of the best keto finger foods, the low-carb and delectable cucumber bites with tuna is the first name that appears in my mind. It will make New Year's Eve parties, potlucks, or BBQ gatherings more exciting.
Nutritionwise, cucumber is high in water and vitamin content, so it's good for weight loss and hydration. In addition, tuna adds an abundant amount of protein and minerals. So you can see how nutritious this recipe is.
This food is also flavored with red bell pepper, mayonnaise, and spices. I recommend using red pepper flakes, parsley, or your best-loved herbs to garnish it. Note, this starter tastes best when served fresh as cucumber can dry out when you leave it for a long time.
To enhance the taste of tuna, it is good to marinate it with spices in a ziplock bag for about 2 hours in the fridge before using it. For variations, feel free to add veggies, shrimps, or salmon to the bites, along with some lime juice or soy sauce.
Total time: Around 20 minutes
You should immediately add blackened shrimp avocado cucumber bites to your seafood feast menu. This delicious food will grab your attention with the gorgeous and attractive golden-brown of tossed shrimps.
The deep and smoky flavors of seasoned shrimps work well with the light and crunchy cucumber slices. Even better, the appearance of creamy avocado sauce will turn this dish into a culinary masterpiece.
Extra tip: you can bring new experiences to diners by replacing avocado sauce with nutty guacamole.
Total time: About 12 minutes
Cool cucumber bruschetta is a convenient appetizer to kick off summer. This delicious food brings diners a pleasant, cool, and light feeling. The mix of tomatoes, cucumber, and spices will give you a good mouthfeel while trying this food.
The dish's secret lies in how you marinate the chopped veggies with the seasonings. I usually add salt, pepper, red wine vinegar, and olive oil to flavor the veggies mixture. Don't forget to chill the blend in the fridge to bring about a better experience.
Total time: Around 15 minutes
Stuffed Greek cucumber cups appetizer only takes about 15 minutes to finish. Why don't you try making it to serve at the keto party right now? This appetizer will give a fresh breeze to your gathering.
Cucumber acts like a cup containing the veggies and cheese mix. Thanks to the moist and mouth-watering dressing, you will find the refreshing flavor of the Greek salad filling hard to ignore. It has the tangy, spicy, and savory taste of vinegar, pepper, mustard, and salt.
Please remember that the best cucumber will bring the best starter. I usually use European, Hothouse, or English cucumbers for this fantastic recipe. Also, it is best to use cucumber with few seeds and no bitter taste.
Explore this tutorial to make wonderful Greek salad cucumber cups.
Total time: About 15 minutes
This delectable finger food comes from combining prosciutto, cucumber, and goat cheese. I guarantee it will help you win the hearts of your guests. They'll love the tender Italian dry-cured ham, crunchy cucumber, and soft, creamy goat cheese.
Furthermore, the sweetness of fig jam or pickle will accentuate the dish's flavor. Aside from using fig jam, it is possible to use cranberry sauce or any fruit preserve your love to sweeten the recipe.
Making this food is a great way to show off your culinary ingenuity and sophistication since mixing and arranging ingredients requires meticulousness and precision to bring out a beautiful and yummy dish.
Total time: About 15 minutes
The well-combined blend of shrimp, crispy veggies, and crabmeat can cool your body on hot days effectively. This amazing food is flavored with adobo seasoning and lime juice, which gives it a mild spiciness with the presence of jalapeno peppers.
You can serve this fresh treat in a few simple steps. After mixing shrimp, crabmeat, and veggies, you'll prepare a mixture of adobo seasoning, oil, and lime juice. Drizzle the mix on the crabmeat blend and toss to combine all. Let's chill the mix and serve in a cocktail glass.
Pick Your Best-Loved Cucumber Appetizers!
Do you love the mild taste and crunchy texture of cucumber? If yes, these recipes are incredible gifts to you. You can change your palate with many delectable choices, so let's keep it all in your cookbook to prepare gradually.
What do you think about these excellent recipes? Please show me your feedback in the comment part. Moreover, what do you think about sharing this post with many other people around you? Thanks for your time!