Suppose you want to make Cuban recipes to update your daily meal every day. These traditional ideas will surprise you. While some people feel there are some similarities shared between Cuban and Dominican cuisine, the former has some unique characteristics.
There are many beautiful things in Cuba, and of course, food is on top of the list. Moreover, it surprises me that many simple and fantastic Cuban recipes are hidden in this humble culture.
It is hard to deny Cuban recipes are the favorite of many people. The center is intense with a neutral flavor, and it all balances very well in taste. Maybe you have always wanted to make those dishes on your own, and now your chance has come!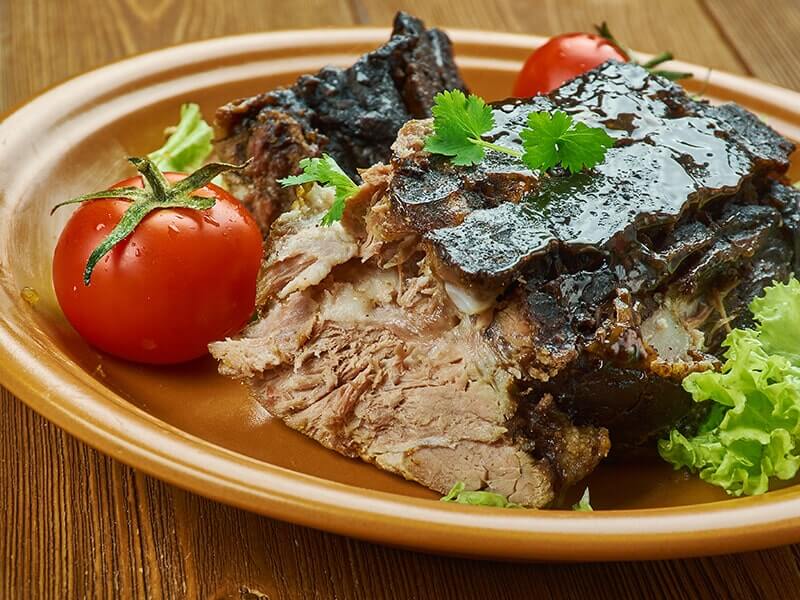 Tasty 26 Cuban Recipes For Your Family Meal
Here is my favorite pick for 26 Cuban recipes. I make sure these will blow your mind when tasting it. Let's check it now!
Appetizer or Side Dish:
Fried Sweet Plantains (Platanos Maduros Fritos)
Sofrito Salsa & Tostones
Cuban Potato Balls (Papas Rellenas)
Cuban Croquetas
Yuca con Mojo
Tostones (Chatinos)
Arroz y Frijoles Negros
Cuban Mashed Plantain (Fufú de Plátano)
Main Dishes:
Chicken:
Cuban-Style Chicken Stew (Fricasé de Pollo)
Cuban Mojo Chicken
Yellow Rice and Chicken (Cuban Arroz con Pollo)
Cuban Chicken and Black Bean Quinoa Bowls
Arroz Imperial Rice
Other Meats & Egg:
Picadillo
Ropa Vieja
Cuban Mojo Marinated Pork (Lechon Asado)
Arroz a la Cubana
Cuban Fried Pork Chunks (Masitas de Cerdo Frita)
Cuban Tamales
Cuban Sandwich (Cubanos Sandwich)
Camarones Enchilados
Dessert & Drinks:
Cuban Pumpkin Flan (Flan de Calabasa)
Arroz con leche
Cuba Libre
Buñuelos
Classic Daiquiri
For more details, all you need to do is scroll down!
Top 8 Cuban Recipes For Tasty A Appetizer or Side Dish
An appetizer is an important part that can not be missed in your complete meal. Now, let's have a look at these perfect Cuban recipes for your beginning meal.
Here is one more Cuban appetizer (or you can serve it as a side dish) that can suit your Latin American meals. Everything you need is ripe plantains and the courage to fry them. However, you should choose plantains that are pretty curved, and their peel is almost black.
Moreover, after removing from your frying pan (or air fryer), sprinkle a bit of salt and serve when it is still hot for the best taste.
You can make the fantastic Fried Sweet Plantains just by following this easy instruction!
This dish is made with green bananas (or plantain), not yellow ones. These double-fried bananas topped with salsa will make your appetizer perfect.
You can also add more flavor with a piece of avocado, then sprinkling a bit of cilantro or a small dollop of sour cream to make it more appetizing.
Your guests will never be happier with these potato balls! And of course, it is filled with meat mixture to let you have more joy with potatoes.
These fried potato balls are the best treats for every family meal with melting covers and creamy insides.
These Cuban Ham Croquettesare a deep-fried dish that comes with dipping sauce, and their taste is overwhelming. Crispy fried covers and a fantastic sauce, you can not run away from this recipe.
This dish could be served on any occasion as a side dish. However, they need time for chilling before serving, so you should check your time well to make it to be perfect.
Yaca is known as cassava, and I prefer to use frozen yuca rather than a fresh one because it is better for your health.
Yuca with mojo sauce is another simple and healthy appetizer for BBQs, holidays, or family celebrations. You should prepare Yuca con Mojo ahead of time and bring some extra mojo sauce for dipping your delicious grilled meat.
Tostones (also called Chatinos) is one of the traditional Cuban starters. This dish is made with ripe plantain cut into round slices, fried, then mashed with a mallet, and fried again until golden brown.
Tostones is the simplest and most basic recipe that will make your appetizer more complete.
It is hard to have an excellent Cuban lunch or dinner if it is missing rice and black beans, also known as Arroz y frijoles negros. The recipe is straightforward but needs time to cook, especially the beans.
The key to this recipe is to cook the rice till it falls apart, and the beans must have a creamy, smooth texture for the most delicious meal.
The fufú de plátano is a classic Cuban dish that has a lot of history. This healthy Cuban cuisine is made with boiled plantain (or banana) and fried seasoning known as sofrito.
The boiled plantain is mashed, then mixed with the sauce, creating a soft, semi-dry texture. Their moisture with a bit of sweetness and a touch of black pepper will create a party of flavors in your mouth.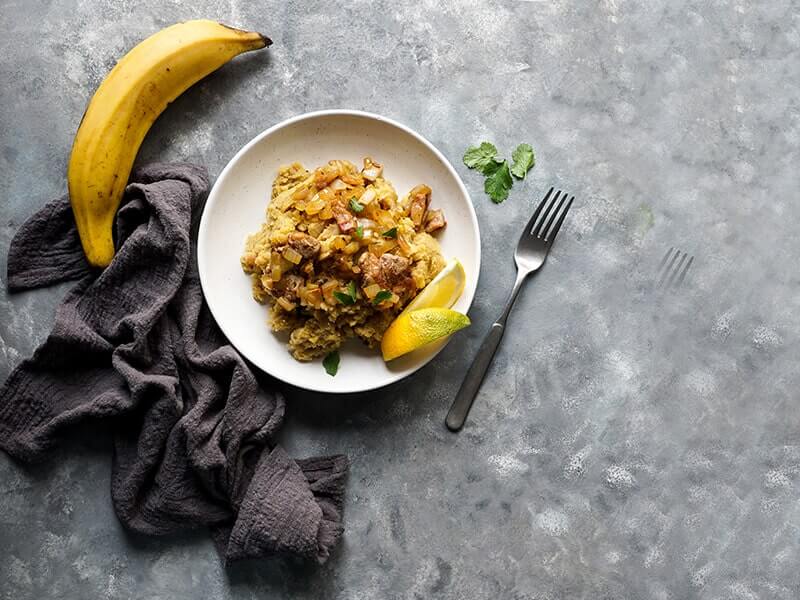 Does this Fufú de Plátano look stunning to you? It is delicious!
How About Top 13 Cuban Recipes for Main Dishes?
Let's find out some Cuban recipes, the most exciting part of your meal – Main dishes. These recipes will make you want to put Cuban foods on your menu every day.
Let's Jump Right Into These Yummy Cuban Chicken Recipes
Chicken is one of the most popular meats globally, and everyone loves it, Cuban too! The reason why is because there are many delicious dishes with chicken in their culture.
Chicken stew, Fricase de Pollo, is another tasty dish with diced chicken from Cuba for all food lovers. After cutting the chicken, marinate it with salt, crushed garlic, onion, chili pepper, sour orange juice, and bay leaf.
The meat is cooked in hot butter (or oil) till they are browned evenly. The dish is cooked with tomato sauce with good seasoning.
The succulent roasted chicken was marinated in a traditional mixed sauce of citrus, garlic, and spices and will provide an incomparable flavor.
You can also use this recipe for pork. The powerful scent of garlic and citrus is the key to the success of this dish. Remember to add these ingredients while cooking because it will give the mojo sauce the unforgettable signature flavor!
Look at these juicy chicken wings. I don't think you can resist its superb tastiness any longer
Cuban Arroz con Pollo, also known as Cuban chicken and yellow rice, is made with fresh vegetables, seasoned chicken, and flavorful rice.
This dish can be simply made right at your home and is perfect for a family celebration.
Full of veggies and flavorful spices, who can resist this spectacular, right?
Quinoa comes from Peru, but Cubans know how to combine the protein of chicken, black beans, and quinoa into a bowl to create a super healthy meal.
If you are a tropical fruit lover, feel free to add more sweetness from seasoned mangoes, bananas, cilantro, and mojo sauce. These few ingredients will elevate the flavor of this dish to another level.
Another famous Cuban recipe combined with rice is here! This Arroz imperial rice consists of juicy torn chicken meat mixed with soft yellow rice, mayonnaise, and cheese.
This dish does not take a long time to prepare and cook. Don't forget to enjoy it with roasted vegetables or a tomato avocado salad.
Don't Forget Other Amazing Meaty And Eggs Cuban Recipes
Besides the chicken, there are various tasty ingredients in Cuban. This section is extremely delicious, and I bet you want to explore these suggestions with me right now, don't you?
This dish is of Cuban Spanish heritage and is eaten with plain rice. Picadillo is an exquisite ground beef recipe cooked at low heat with seasonings, tomato sauce, potatoes, and olives, which provides an unforgettable flavor.
Just imagine, picadillo is enough to make food lovers feel hungry now!
This one may be one of the most recognized Cuban foods on the globe. Beef is the key ingredient used in this recipe; however, it is acceptable to use pork or chicken.
Believe me! This slow-cooked dish is worth giving a shot because of the tender strands of pull-apart flank steak with a beautiful spicy tomato sauce.
This traditional Cuban roasted pork is very simple but full of flavor. The specialty of this dish is a fantastic marinade, and I'm sure this is the best meat you've put in your mouth!
Smoky taste, crispy skin, and juicy meat from this masterpiece will blow your mind. Try this recipe; the taste will be incredible. Trust me!
Arroz a la Cubana, or Arroz Cubano, simply is white rice and fried egg. This is not only a typical Latin lunch but also a popular Cuban dish. Maybe the first thing that comes to your mind is why I add this simple dish to this list?
The truth is that Cuban people love this dish, and it is also my favorite if I need a real quick meal in a day. Moreover, this Arroz a la Cubana would be more special if you added some slices of ripe fried banana.
Masitas de Cerdo Frita is another popular Cuban recipe to upgrade your pork dish ideas. The pork is cut as cubes, marinated in lime or sour orange with a bit of salt, and then fried.
It is usually served with mojo sauce to increase the flavors of the tender cooked meat. You will never forget this unique dish with a bit of sour, salty, and crunchy fried meat.
These Cuban tamales are made of corn and filled with pork and need time to prepare well. Therefore, you should plan everything before cooking to reach the perfect quality.
The tamales should be cooked in water instead of steamed. Therefore, you have to make sure to wrap them carefully and make them as watertight as possible. Serve with crema and salsa verde.
Moreover, this dish is best for the next day, so you may consider cooking it ahead and cool overnight.
Cuban Tamales are now not your problem after checking this lively instruction
Cuban Sandwich is a classic side dish; however, you can also have it in your breakfast. The sandwich simply needs five key ingredients: ham, capicola (or roasted pork as a substitute), cheese, pickle, and mustard.
A Cuban sandwich does not need many ingredients but is still loaded with a ton of flavors! The sandwich should be well proportioned and not overstuffed with ham or anything.
With any dish, the better ingredients you use, the better the sandwich, which is even more important with fewer ingredients. Therefore, my advice is to invest good stuff in these sandwiches, and you won't regret it!
Saucy and spicy are words that describe this dish! Camarones Enchilados means spicy shrimp in English. These shrimp are cooked in a flavorful spicy tomato sauce, or you could be even more creative by cooking them in sofrito sauce.
Serve this delicious dish with rice or bread to spice up your weekend dinners. Trust me! If you try this for once, you will love this recipe for life.
End Your Cuban Feast with This Top 5 Cuban Dessert & Drinks!
Your meal is never complete if you miss dessert or drinks. Therefore, I give you five more Cuban recipes that make your meal end perfectly. Let's find out!
This Cuban pumpkin flan recipe is so creamy and delicious that I admit it could be one of the best pumpkin desserts you must try!
It is much easier to make than you imagined. You just need some simple ingredients, including sugar, milk, egg yolks for great color (it's absolutely fine to use whole eggs), cream cheese, and pumpkin to create an excellent flan.
This Cuban dessert recipe is another of my favorites! It does not need many ingredients to make it fantastic. All you need is rice, milk, sugar, cinnamon, and serve it in round bowls.
This sweet rice pudding can be found in home cooking and in a lot of Latin restaurants. The cinnamon is used to sprinkle on the top of this dessert for better looking and taste.
Who would think that you can make a fantastic drink with rice like this Arroz con Leche?
Grab a highball glass, add fresh squeezed lime juice and rum, then fill the glass with ice. Mix it up with Coke and stir it gently so as not to lose the bubbles.
This mixed cocktail will cool you off on a hot day. Just imagine this drink is making me feel thirsty already!
One more type of Cuban dessert (or snack) that you should try after the main dishes. I'm sure these sweet twists on donuts will surprise you.
In this fantastic Bunuelos, you will find the unique taste of yuca, salt, anise seeds, eggs, purpose flour, and canola oil.
Then you have to prepare the syrup, which is the special component of this dessert. Remember to add a little bit of lime juice to enhance the flavor of the whole dish.
Have you ever tried a Cuban cocktail? If not, I will introduce the classic one – Daiquiri.
This cocktail has a long history. A story tells that Daiquiri was invented by an American man working in an iron mine around 1905.
Making this drink could not be easier by mixing up rum, lime juice, syrup and then shaking it with a few ice cubes. That is all you need for the perfect classic Daiquiri cocktail.
Why Don't You Try These Cuban Recipes?
If you are looking for a new fantastic Cuban recipe to update your Latin menu, I hope this list can give you many informative ideas. The more recipes you know, the more skillful you will get for cooking.
Trust me; you will become a master of Cuban dishes after trying all the recipes on this list. I think you should begin with the Cuban appetizers because they have many simple but delicious recipes.
Let me know which Cuban ideas you are going to try tonight! I would love to hear about it. Thank you for your reading.
Nutrition Facts
8 servings per container
---
Amount Per ServingCalories383
% Daily Value *
Total Fat 12.9g

20

%
Cholesterol 194mg

65

%
Sodium 185mg

8

%
Potassium 1090mg

32

%
Total Carbohydrate 2.8g

1

%

Dietary Fiber 0.3g

2

%
Sugars 1.4g

Protein 59.8g

120

%
---
Calcium

27

%
Iron

2

%
Vitamin D

4

%
* The % Daily Value tells you how much a nutrient in a serving of food contributes to a daily diet. 2,000 calories a day is used for general nutrition advice.