Croissant sandwich recipes have a wide range of variations. Croissants, in combination with different ingredients, create different sandwiches with unique, attractive, and tasty tastes. In addition, the texture of each one is attractive and inviting, making it mouth-watering.
Sandwiches with croissants are super easy to make. They all take a few minutes to make and can serve breakfast, brunch, lunch, and dinner. With these conveniences, they are now popular and familiar, becoming a dish of choice in people's daily diet.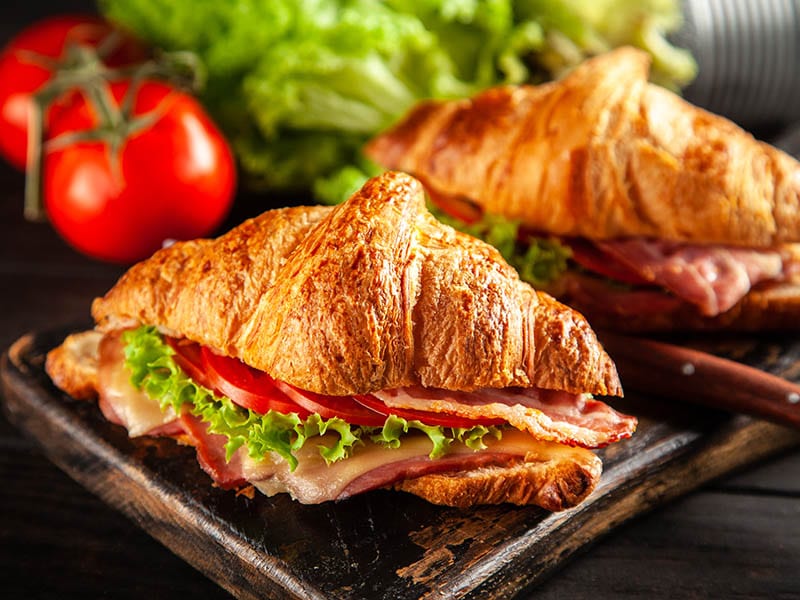 Top 25 Best Recipes With Croissant Sandwich
25 wonderful tried and true recipes with croissant sandwiches are now ready to guide you detailedly in this article. Whether you love meat or vegetables, you will find your wanted recipes here!
Total time: 15 minutes
Turkey is a common sight in North America, especially on special occasions. A Turkey croissant sandwich combines sliced turkey with bacon, cheese, veggies, and croissant.
It has the richness and butteriness of a croissant, the freshness of veggies, and the mildness and savoriness of turkey breast.
This dish is a great source of nutrition, high in calories, protein, and sodium. It is one of my favorite dishes on Thanksgiving day.
You'll learn the easiest way to make a turkey croissant sandwich through this guidance.
Total time: 4 hours 25 minutes
The star of this sandwich is the savory seasoned pork. You can make this at home by seasoning pork sirloin with kosher salt, pepper, garlic powder, and onion powder.
Pork and cranberry croissant sandwiches are packed with so many flavors. It is sweet, creamy, and crunchy. It is also a great source of nutrients and energy for daily activities.
You need a slow cooker to handle pork. After buying or making seasoned pork sirloin, cook it for 4 hours on high heat before placing it in the sandwich.
Total time: 15 minutes
A Monte Cristo sandwich is a sandwich version with ham and cheese. Believed to originate in France as "Croque Monsieur", it had other variations in cookbooks from 1930. This sandwich began popularity in 1960 when Disneyland started serving it on their menu.
This sandwich has a rich taste with a bold aroma that will melt in your mouth and entice your taste buds. Enhance its flavors by serving it with powdered sugar and dipping it in raspberry jam.
Total time: 10 minutes
The first benefit of this croissant sandwich is it takes only 10 minutes to prepare. The main ingredients are convenient to buy: croissant, prosciutto, cheese, and turkey.
Prosciutto, as known as prosciutto crudo, is dry-cured Italian ham. Normally it is served in slices. It has a sweet, salty, and delicate flavor.
A croissant club sandwich with crispy prosciutto has an alluring appearance with different colors of the ingredients. It offers an enjoyable bold and crunchy taste.
Total time: 12 minutes
Bacon, eggs, and cheese croissant sandwiches can serve in any meal of the day, breakfast, brunch, or dinner. It helps keep you feeling full and energetic.
The allure of this hot sandwich delight lies in creamy scrambled eggs, crispy and savory bacon, and rich cheese slices. You can heat the sandwich in an oven, an air dryer, or a microwave. Each of them requires a distinguished timeframe and heat.
A cheesy omelet is an alternative if you like something richer than scrambled eggs. Add cheese on one side of the egg mixture when it gets wet but still does not jiggle, then use a spatula to fold it in half.
Total time: 7 minutes
Gruyere is a hard cow's milk cheese produced in Southern Switzerland and Eastern France. It has a rich, nutty flavor with a firm texture, having pea-sized holes in the interior.
This croissant sandwich with Gruyere and apricot jam is sweet and creamy, without meat. Despite excluding meats, this sandwich is a rich source of calories for your energy intake.
Apricot jam offers the freshness and sweet taste of this sandwich, besides the creamy and nutty flavor as normal. This must-try version of croissant sandwiches will bring you joy and satisfaction.
Total time: 15 minutes
The ingredients for this sandwich are all ready-made and available in any grocery store. Therefore, you only need to buy them and assemble your yummy sandwich in 15 minutes. You don't even have to bake it.
Roast beef and Monterey Blue croissant sandwiches look attractive outside with different colors: the bright cherry red roast beef, the golden brown croissant, the green arugula, and others. It will captivate you with the wonderful taste within the first bites.
Total time: 15 minutes
In mere minutes, you can turn the croissant into a delicious and flavorful dish for breakfast or brunch by adding smoked salmon, scrambled eggs, and chives.
The star of this sandwich is the slightly salty and smoky salmon. This all-year product is not only appetizing but also a great source of protein, calories, and minerals.
Smoked salmon scramble croissants can go well with croissants stuffed with bacon and banana or prosciutto, cranberry, and Brie. They are wonderful dishes to include in your diet with family or friends.
This is how you can make smoked salmon scramble croissants at home.
Total time: 25 minutes
Killer maple mustard croissant sandwich is best suitable for your quick breakfast. All the savory tastes are covered in this amazing morning sandwich. It is worth devouring!
To make the perfect scrambled egg for this sandwich, first, add a little milk to make it more fluffy, then cook in high heat to prevent eggs from being rubbery.
One more wonderful feature of this sandwich is that it is freezer-friendly. Place the sandwiches on a cookie sheet in the freezer for half an hour before wrapping each in a paper towel and storing them in an airtight container.
Total time: 5 minutes
Cranberry has a very astringent and tart taste. The current name is because its pink blossoms look like a crane head. In this sandwich, you use cranberry pomegranate sauce.
Turkey in a fluffy croissant reminds me of Thanksgiving. These delectable ingredients offer delightful eating experiences from the first bite.
You may want to rub fig spread on the turkey for a new twist. It serves a citrus taste that will enhance the flavors of the sandwich to the fullest.
Total time: 15 minutes
Nordic shrimp, or Scandinavian shrimp, is a smaller, tastier shrimp with a more refined texture than others. These shrimps have a mousy gray color and transform to pink when cooked.
Nordic shrimp has a sweet and salty, delicate and rich taste. Combined with apples, onions, and herbs, it creates harmony for the whole dish.
Making this delicious sandwich takes only 2 steps. First, mix shrimp with veggies and spices in a bowl. Next, place lettuce on the bottom half of the croissant, then put the shrimp mixture on before putting the other half on top.
Total time: 10 minutes
Crab is one of the most popular foods in the human diet. It has a delicate taste with natural sweetness and is also an affluent source of vitamin B12.
In this sandwich, crab goes with celery, cilantro, and lime zest, and they are placed on a croissant half. You'll have another layer of sliced avocado above, and the final one is an upper croissant half.
This light and cool dish is best suitable for your busy summer meals.
Total time: 10 minutes
BLT sandwich is a sandwich named by the initials of three main ingredients: bacon, lettuce, and tomatoes. This is the frequent and primary formula of sandwiches.
In this sandwich, there is another important ingredient: shrimp. It complements the others to create a flavorful dish that will satisfy your taste buds.
This sandwich can last in the fridge for one day. You can keep it in plastic wrap and refrigerate it to save for tomorrow.
Following this instruction to make a shrimp BLT croissant sandwich for your family.
Total time: 5 minutes
The unique secret of this croissant sandwich version lies in prosciutto. It brings a new life to the sandwich through the sweet taste and moist texture inside.
Fig is, in fact, a kind of flower, not fruit. It serves as a fruit because it has a thin skin and a sweet flavor. This flower is usually planted in warm weather.
The green arugula makes this sandwich more appealing outside and crunchier in texture. All of the ingredients contribute to boasting the delectable taste. You will find it impossible to resist this sandwich.
Total time: 20 minutes
Baked ham and cheese croissant sandwich is a classic sandwich for breakfast, brunch, or dinner. Its savory and tasty flavor is excellent with chips, vegetables, and dip, making a perfect meal.
The required ingredients are easy to find at grocery stores or supermarkets: croissants, ham, mustard, and cream cheese.
If you don't like baking the whole sandwich, you can bake only the croissant instead. This helps make the croissant crispy and flaky but still retain softness inside.
Total time: 10 minutes
California club is a humble name for this sandwich made from avocado, crisp bacon, smoked turkey, and peppery arugula. Altogether, they create a delicious and bold sandwich that ensures nutritious intake for your daily meal.
This sandwich is pretty to look at, with a golden brown croissant and different colors varying from red and green to creamy white. It has an attractive taste that you will be yearning for more once you try it.
Total time: 15 minutes
The first step in making this sandwich is toasting the whole croissant before cutting them lengthwise into two halves. This helps make the croissant crispy and fragrant outside when the content is still soft.
Have all the ingredients ready by the time you scramble eggs. When eggs are at their best softness, you put the tomato sauce, eggs, bacon, cheese, etc., layer by layer on the croissant and close the sandwich.
This is a fresh dish to enjoy with simple arugula or mixed green salad with vinaigrette. It is an ideal option for your weekday breakfast rotation.
Total time: 15 minutes
Salmon and trout both come from the Salmonidae family, but their living environment makes them different. While salmon primarily live in saltwater, trout live mainly in streams, lakes, or rivers.
Trouts are smaller and lighter in color and flavors than salmon. Combined with fried eggs and veggies, it creates a new version of croissant sandwiches.
Egg and smoked trout croissants offer a creamy, crispy, bright, and fresh taste. The savoriness from the ingredients will make you yearn for more!
Total time: 45 minutes
Compared with other croissant sandwiches, this mango chicken salad sandwich requires a bit longer to prepare, but the result is worth it. This one brings you a new and amusing experience with a new combination.
This sandwich has the buttery taste of mayonnaise and the fresh, sweet taste of mango and basil leaves. I recommend sweet mango for this recipe, but you can replace it with green mango if you want some fabulous changes to fit your preference.
In addition to protein and minerals, this mango sandwich is an exceptional source of vitamin A and C, which helps you maintain healthy skin and hair, as well as protect your eyes.
Total time: 15 minutes
Enjoying this chicken salad croissant sandwich, you will experience a bursting of sweetness with tomatoes and grapes. This refreshing taste is a dominant element in this sandwich.
Within only 15 minutes, you can have this yummy dish on your busy weekdays. Grapes not only offer you a new and delicious flavor, but they also help protect against eye problems, cardiovascular disease, and other health issues.
You can store the chicken salad for up to 5 days in an airtight container in the fridge.
Making a chicken salad croissant sandwich is super easy with this tutorial.
Total time: 35 minutes
Imagine a bite of rich and flakey croissants filled with eggs, bacon, asparagus, and mushroom, is it a nice choice for your brunch?
Different kinds of mushrooms take place in this sandwich to create a diverse taste. Combined with sauteed asparagus, they bring a mild, soft, and spiced flavor.
One tip to perfect this egg sandwich is to fry eggs based on your preference. I recommend letting the white be completely cooked and the yolk a little runny.
Total time: 20 minutes
Cheddar is a natural cheese with a moderately firm texture, a yellow color, and a rather strong flavor. It is a popular type of cheese used in sandwiches, desserts, or snacks.
This sandwich combines cheddar cheese with apples, bacon, and spices for your breakfast. It has a buttery, sweet, refreshing taste that lightens your day.
For this sandwich, use sliced Granny Smith apples, known as green apples or sour apples. If you don't like this kind of apple, you can take Honeycrisp apples or slightly tart apples instead.
Total time: 15 minutes
Chicken is a frequent ingredient for sandwiches. In this variation, dice it to bring new experiences when eating. When you want to enjoy a light and delicious dish, turn to this chicken croissant sandwich.
This sandwich's ingredients are convenient and easy to pick: chicken, croissants, oranges, lettuce, and other basic spices. You can find them quickly in grocery stores or supermarkets.
Chicken croissant sandwiches have nutty, creamy, soft, sweet, and bold flavors. Before sinking your teeth into this amazing sandwich, its appealing and colorful appearance will attract your sight.
Total time: 10 minutes
Caprese is an Italian salad with mozzarella cheese, tomatoes, and basils. However, it has become a unique filling for this sandwich version. It is totally vegetarian so if you are bored of meat, give it a try.
Toasted Caprese croissant sandwich includes melty cheese, crispy croissant, and juicy, fresh tomatoes. Together, they create a refreshing and rich flavor.
The key to this sandwich's aroma and crispiness is grilling or toasting. You can cook it on a grill or a toaster oven until the cheese melts.
Total time: 10 minutes
Among the numerous croissant sandwiches, cheesy scrambled egg croissant is one of the simplest, with only 4 basic ingredients besides croissants: eggs, cheese, chives, and milk.
It is needless to say about this sandwich's rich taste and softness. Eggs, cheese, and milk are creamy and offer great eating experiences. Once combined in a sandwich, they create a harmonized and simple taste perfect for your diet.
This delicious sandwich also requires a very quick and easy method. Whisk eggs with spices and stir in a saucepan until scrambled, warm the croissant, and fill it with scrambled eggs. Only by these 3 steps, your yummy diet is ready.
Make Your Diet Easily With The Best Croissant Sandwich Recipes
Croissant sandwiches are not only yummy and rich in nutrition but also easy to prepare and cook. They are one of the most convenient choices for your daily meals, on busy days, or whenever you want to enjoy a full of flavor dish.
This post has brought the easiest and most appetizing croissant sandwich recipes. Now, scan through it, experience and make your best choice among them. Don't forget to spread this out for others to this wonderful list and comment to let me know what you think!
Let's enjoy it!