This post contains a lot of easy crockpot soup recipes you can make at any party. It provides you with detailed preparations for making these delicious dishes. In addition, you can learn more great tips to make them better.
Perhaps, there are recipes you have already known and had success with them. However, I believe there are still many dishes that you only heard the name for the first time, so please put your mind to this article. I am sure it will work for you.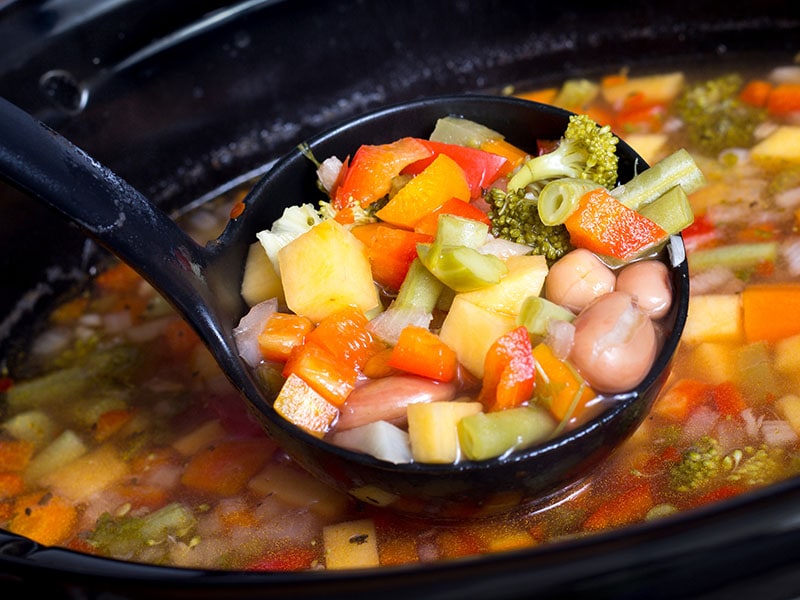 Fill Your Stomach With These Delicious Crockpot Soups
Are you hungry? The nutritious and pleasant soup recipes in this section can relieve your hunger. Therefore, let's learn how to make these delicious soups right now!
Total time: Around 6 hours 45 minutes
You'll be full of energy for a new day after consuming a bowl of nutritious and tasty sweet potato soup. You would like to eat this soup immediately when you smell its enchanting aroma and see its beautiful deep golden shade.
You can prepare this comforting recipe from canned sweet potatoes, which still deliver a delicate sweetness. But it can't be complete without a touch of cumin and coconut cream. The latter brings smoothness and thickness to this soup, making it taste great with crusty bread.
You can add your favorite meat like shredded chicken, pulled pork, or beef to bring a new twist to this delicious soup. Nevertheless, you should not add meat before blending the soup.
Moreover, you should add chicken, beef, or vegetable stock to enhance the taste of this soup. Don't use water in this recipe to avoid losing the flavor.
Total time: 4 hours 20 minutes
I could not resist the eye-catching yellow color of slow cooker butternut squash soup. In addition, this gluten-free and vegan soup captivates guests with its smooth texture and fascinating aroma. Of course, squash's natural sweetness will make you fall in love.
Furthermore, when enjoying this delicacy, you can feel the gentle tartness of apples and a hint of garam masala. The smooth and creamy texture of butternut squash soup will melt in your mouth and give you a pleasant mouthfeel.
In case you want to prepare food in advance to save cooking time at the party, you can gather ingredients in a container or freezer bag and store them in the fridge or freezer. Then you can cook the soup after defrosting the ingredients.
Total time: 6 hours
Cheeseburger soup is one of the fantastic slow cooker soups you must prepare to treat your loved ones. The creamy and cheesy soup is full of veggies and ground beef. It'll taste even richer with the appearance of onion, garlic, and spices.
Furthermore, to enhance the quality of this treat, you can add diced pickles, mustard, extra cheese, or ketchup to this recipe. In particular, eating this warm soup in fall and winter is wonderful. It will satisfy your cheeseburger craving immediately.
If chicken broth is not available on hand, you can use beef broth as an effective alternative. Usually, I'll cook ground beef before adding it to the crockpot, and you can try this trick. But it is acceptable to use a soup pot to cook this dish on the stovetop.
Check out the proper ways to get delicious crockpot cheeseburger soup.
Total time: About 4 hours 20 minutes
You will have warm and beautiful moments with your family when consuming this cozy, thick, and comfortable minestrone on cold days. It is packed in vegetables and excessively flavorful.
When enjoying this delectable dish, you will be mesmerized by the rich flavor of vegetable soup. The veggies and beans blend together after a few hours in a slow cooker. However, if you desire, you can cook this soup in a Dutch Oven pot on the stovetop.
Total time: Around 7 hours 20 minutes
Do you have any idea to turn dried black beans into an appetizing dish? You can refer to this recipe to make a savory soup with this ingredient. This hearty food will make your dinner more memorable.
The fusion of black beans and ham always has yielded legendary dishes. Ham hock gives the soup a distinctive smokey taste. In addition, the food will not be complete without broth, veggies, and spices. To tickle your taste buds, add more jalapeno.
To thicken the soup, you can take some beans out of the pot and smash them until they get a smooth consistency. After returning them to the pot and stirring, the soup will be thicker. For serving, eat it with tortilla chips, and garnish with cilantro and cheese before serving.
Total time: Around 10 hours 25 minutes
Just throw chicken breasts, beef broth, enchilada sauce, and seasonings in the slow cooker, and you will have a tasty soup to give to your loved ones. Feel free to add cheese and tortilla strips to the soup as toppings.
The dish will be better with any beans you love, such as pinto beans or black beans. Do not forget to add avocados and fresh cilantro to raise the value of the soup. I love to enjoy it with cornbread at lunch.
Learn how to make chicken tortilla soup in a slow cooker right now.
Total time: About 5 hours 5 minutes
Let's add crockpot sweet potato and cauliflower soup to your list of ideal low-sodium soups for your upcoming party. If you love soup with an excellent creamy texture and rich flavor, skipping this recipe is a regrettable decision.
Usually, I will mix this soup with various toppings like crumbled bacon, green onions, grated cheese, or hot sauce. But the choice of toppings depends on your preferences. These additional toppings accentuate the aesthetic of this soup.
This excellent soup contains a lot of calcium, calories, vitamin A, and other minerals for the body. In general, the sweet potatoes will turn out smooth and mix well with cauliflower and spices. Plus, this soup gets a bit spicy with the addition of paprika.
Total time: About 8 hours 30 minutes
Crockpot cabbage roll soup is healthy and hearty food for your dinner on cool days. It looks exceptionally striking with the characteristic red shade of tomato. It is my best-loved option to consume with crusty bread.
The cabbage rolls are flavored with Worcestershire sauce, onion, and garlic. And ground beef will provide it with tons of protein. If you follow the keto diet, you may not use rice in this recipe.
Do not miss the instructions to make cabbage roll soup in a crockpot.
Total time: About 6 hours 20 minutes
You can think of milk when looking at the shade of the broth of this crockpot Zuppa Toscana recipe. Plus, you'll love the seductive fragrance of this hearty soup right away. This yummy soup contains bacon, sausage, kale, and potatoes.
After about 6 hours in the crockpot, the bacon and sausage will reach an extraordinary tenderness. I get the pleasant feeling when biting into soft and spongy potato pieces. And the soul of the dish lies in the deep and rich chicken broth.
Instead of using a slow cooker, you can try cooking this soup on the stovetop. There are many ways to enjoy this creamy soup, but I like to sprinkle it with grated Parmesan and eat it with salad or French bread.
Total time: Around 3 hours 10 minutes
I am a massive fan of white beans and sausage. If you have the same taste as me, why not try mixing them in this slow cooker recipe? I believe the flavor will not let you down.
Furthermore, you cannot ignore the alluring taste of onion, carrots, baby spinach, and chicken broth in this beautiful recipe. All will become soft and blended after being cooked in the crockpot.
It's convenient because a crockpot will do everything for you. Your job is simply to gather the essential ingredients, put them in the slow cooker, and wait a few hours to enjoy your delectable product.
Total time: About from 4 hours to 8 hours
It is difficult to resist the rich taste of slow cooker lasagna soup. You just need a jar of marinara sauce and your favorite broth to make this nutritious and fantastic soup. Plus, I do not refuse to add tomatoes, spices, and herbs to this crockpot.
Their combination creates a thick and attractive mixture inside the slow cooker. In particular, do not forget to add ground beef and dried lasagna noodles to this excellent soup. When serving, I often add mozzarella, ricotta cheese, and basil leaves to diversify the flavor.
Follow these tutorials to have a yummy slow cooker lasagna soup.
Total time: About 4 hours 10 minutes
Crockpot chicken Cordon Bleu soup is a collection of ham cubes, Swiss cheese, and other spices. Your little ones will love the softness of ham cubes and the creamy taste of Swiss cheese. In particular, its preparation is pretty straightforward.
The first thing you must do is to add the mix of chicken soup and milk to the crockpot. Then, cover the sauce with chicken breasts, Swiss cheese, and ham. After adding the stuffing and butter to the pot, you can cook the blend for 2 to 3 hours (high heat) or 4 hours (low heat).
Total time: About 8 hours 10 minutes
The soup recipes made from pumpkin always ensure excellent quality. And this delightful soup for fall is no exception. Besides pumpkins' buttery and cream flavor, you can recognize the fragrant taste of cardamom, curry, cayenne, and coriander in this ideal appetizer for parties.
To get the creamy and smooth consistency, you need the support of delicate coconut milk. In terms of look, it grabs your attention thanks to the beautiful dark yellow. Roasted pumpkin seeds and cilantro are two other enhancers to this soup's look.
Total time: About 3 hours 15 minutes
Do you know what to enjoy with bread and salad at dinner? Crockpot chicken wild rice soup will pair well with these two side dishes for a healthy and quality meal. In particular, this dish only requires easy-to-find components like chicken breasts, veggies, chicken broth, and rice.
Like other crockpot dishes, the ingredients in the soup are soft and creamy. In addition, spices make their taste richer and more unique. Using dried thyme, bay leaves, pepper, and rosemary brings warmth to the soup.
You can create the dairy-free and gluten-free versions by giving vegan butter, dairy-free milk, and all-purpose gluten-free flour into the mix. You'll have vegan soup if you omit chicken breasts and replace the chicken broth with vegetable broth.
Total time: About 6 hours
If you mix chicken, potatoes, carrots, peas, and coconut cream sauce in a slow cooker, you'll have a delicious soup to replenish the body's energy. Chicken pot pie soup is a legendary choice for paleo, whole30, or gluten-free diets.
The taste of this comfortable and cozy soup is pretty similar to chicken pot pie. A spicy and warm touch from nutmeg, black pepper, and garlic powder will tickle your taste buds instantly. You can enjoy this smooth and rich soup after 6 hours of waiting.
Because veggies are cooked for a long time in a crockpot, cutting them into large pieces is necessary to avoid dissolving them during cooking.
Total time: Around 8 hours 30 minutes
When you mix delicious ingredients, you'll have a yummy dish to enjoy. Slow cooker hamburger soup is a specific testament to this view. You can enjoy this hearty and rich soup whenever you want since it contains common components.
The blend of tomatoes, carrots, ground beef, and potato will not disappoint you. To promote the deliciousness of this dish, I'll consume it with fresh bread, cornbread, or croutons. Alternatively, you can try mixing it with puff pastry cheese sticks.
You can unleash your creativity with additional ingredients. Red wine will create a particular highlight for this rich soup with ground beef, so try adding it! Meanwhile, pulled pork or shredded chicken are ideal alternatives for ground beef that you can use.
Make the hamburger soup in the slow cooker with these directions.
Total time: About 4 hours 15 minutes
Have you tried combining frozen broccoli and cheddar cheese in a recipe? In addition to the above 2 ingredients, you must prepare the chicken broth, melting cheese (Velveeta), and seasonings to complete this rich and delectable soup.
First, you'll mix veggies, chicken broth, and spices in the slow cooker and cook for about 4 hours. The next step is to blend the soup in a potato masher or immersion blender to get a smooth texture.
Then, add soup, cheddar, and processed cheese into the crockpot and cook for about 15 minutes in low setting mode. Ideally, you should eat warm soup with crumbled saltines and cheddar cheese.
For variations, you can mix broccoli and cauliflower to create another version. Do not hesitate to add bacon or green chiles to this dish. Using pepper jack or Monterey Jack instead of cheddar cheese doesn't affect the overall flavor.
Total time: About 4 to 8 hours
This cozy beef barley soup is an ideal suggestion to warm your body on cold days. With just a few common ingredients and a crockpot, you'll have a culinary masterpiece to treat your guests on holidays or special occasions.
This nutritious food is a source of protein and whole grains. You'll immerse yourself in the softness of beef with the rich taste of the thick broth. The flavor becomes more diverse and attractive with veggies. It gets a red color thanks to tomato paste.
What kind of beef will you choose for this dish? Chuck roast, steak tips, and London broil are soft options you should not ignore. This recipe is yummy with leftover roast, steak, or cooked ground beef.
For preservation, you can keep this soup in the freezer for more than 3 months. Let's reheat it in the microwave or on the stovetop to consume it.
Total time: About 10 hours 20 minutes
I guarantee your diners will want to eat crockpot French onion soup again and again since its cheesy and caramel flavor will win their hearts in no time. The golden-brown hue and crispiness of bread slices will accentuate the dish.
Are you curious about the types of cheese I'll use? Shredded Gruyere and Asiago cheese are my suggestions to bring out the most decadent qualities of this irresistible creamy soup. 
You can find a hint of beef in this food due to the use of beef stock. Plus, you should serve this dish right after finishing the baking process.
Listen to the best tutorial to make delectable French onion soup with a slow cooker.
Total time: About 8 hours 10 minutes
The chicken achieves perfect tenderness and absorbs the typical flavor of enchilada sauce and spices when cooked for many hours in the slow cooker. Boneless breasts or thighs are the options you have to try to supplement the protein to your body.
Not only that, the soup has the creamy flavor of black beans, the delicate touch of frozen corn kernels, and the cheesy taste of Monterey Jack, Colby Jack, or pepper Jack cheese. If you want to serve a crowded party, it is good to use a 7-quart crockpot.
Do not forget to bring a fresh twist to the dish with fresh cilantro. I usually add tortilla strips, sour cream, or pickled jalapenos on top when serving. Let's eat it with Mexican cornbread muffins to have a perfect meal.
Total time: About 6 hours 55 minutes
Chicken is a popular ingredient in premium soup recipes, and crockpot lemon chicken orzo soup is one of them. This comforting soup looks attractive and eye-catching in many colors, such as white, green, red, and light yellow.
Besides the sweet and sophisticated taste of the broth, it will be a big mistake if you do not mention the critical role of tangy lemon juice and hearty veggies. Typically, restaurants will serve this soup with crusty bread.
Total time: Around 8 hours 30 minutes
Slow cooker ham split pea soup is a great versatile recipe since you can serve it as an appetizer or main dish for dinner. The beautiful yellow shade of this soup grabs your attention at first sight. You get creamy and smooth soup after more than 8 hours.
You can make this food without ham if you are a vegetarian. The best way to increase the dish's heat is to add chili or curry to the recipe. To enjoy the meat with the deep flavor, I recommend sauteeing it with butter before putting it in the slow cooker.
Before making this soup, you need to test the cooking time of your crockpot since each slow cooker can have a different capacity. A tip to thicken the soup is to mash the peas against the sides of the pot once cooked.
Total time: About 4 hours 20 minutes
Potatoes are a familiar and versatile ingredient in cuisine. You can create delicious snacks, appetizers, or side dishes from this component. You will get a creamy and dense soup by adding this veggie to the crockpot.
Apart from potatoes, this fantastic recipe also calls for cooked bacon, white or yellow onion, milk, and cheese. I strongly recommend using Yukon gold potatoes for the perfect performance.
The rich flavor and silky consistency of this delicacy come from low-fat Greek yogurt or sour cream, flour, and seasonings.
Discover how to make potato soup in the slow cooker properly.
Total time: About 4 hours 15 minutes
Do you love tacos? You can enjoy tacos in a bowl by making crockpot taco soup. Like other slow cooker recipes, this soup's preparation is pretty easy as you just need to cook ground beef, black beans, taco seasonings, and cheese in a slow cooker.
Beef broth plays an essential role in creating a rich and appealing soup. This is the difference between chili tacos and taco soup. In addition, you can add energy-packed toppings, like tortilla chips, avocado, or sour cream, to make this flavorful crockpot delight more fitting for summer.
Save the following ideas to bring fresh twists to the soup. It's time to raise the fiber and protein content by adding some chickpeas to the dish.
Fresh ingredients will bring better results than frozen or canned ones. Also, there's no problem with replacing the beef broth with veggie or chicken broth.
Total time: About 8 hours 15 minutes
Perhaps, you are unfamiliar with making soup from beer, but you may fall in love with this unique method after enjoying this mouthwatering crockpot beer cheese soup. It is always my top priority on a cold day due to its coziness.
You'll not know what words to use to describe the deliciousness of this soup when enjoying the creamy and rich recipe. The moderate spicy taste of hot pepper sauce and cayenne pepper will warm your body quickly.
If you do not have a slow cooker in your kitchen, you can make this wonderful dish using a stovetop.
Total time: About 6 hours 25 minutes
It is straightforward to make a flavorful and hearty soup with vegetables, tender beef, and barley. This amazing food has a prominent red shade thanks to the tomato paste. Furthermore, its rich flavor will not let you down.
In this recipe, I use pearl barley to bring the chewiness and nutrients to the delicious dish. The taste of soup becomes even better and warmer with a bit of wine.
You can have a perfect meal when you combine this delicious soup with a fresh salad and a glass of red wine.
Total time: About 10 hours 25 minutes
Are you passionate about lentils? With a slow cooker, you can get a mouthwatering curry lentil soup to serve at dinner, lunch, or holiday parties. The unique and gentle curry flavor brings a pleasant feeling to diners. The appearance of curry gives a distinctive red shade.
You can make a vegan version of soup by using vegetable broth. Nevertheless, chicken broth is another great option you can try. The tenderness of lentils and carrots gives you a good sensation.
There are many effective ways to serve this warm soup. From my point of view, I love to eat this soup with flatbread. Moreover, you can try mixing it with salad, rice, or baked sweet potatoes.
It's Time To Make These Soups!
The recipes in this article are all associated with simple and easy-to-find ingredients. Not to mention, the cost to make these items is quite cheap. Hence, don't hesitate! Let's bring these scrumptious soups to your dining table.
You can tell me the results and difficulties while making these soups in the comments. Of course, sharing this post is an essential thing you should not forget! Thanks a lot!