You will never know how many recipes you can complete with just one crockpot! Simple as this cooking tool may seem, it can help you prepare thousands of dishes. And no, that's not joking at all!
In fact, no matter what cuisine you choose for your meal, your crockpot will be more than ready to comply. And the best thing is, with the aid of the slow cooker, you nearly don't have to do anything. Yet, the result still comes out beautiful.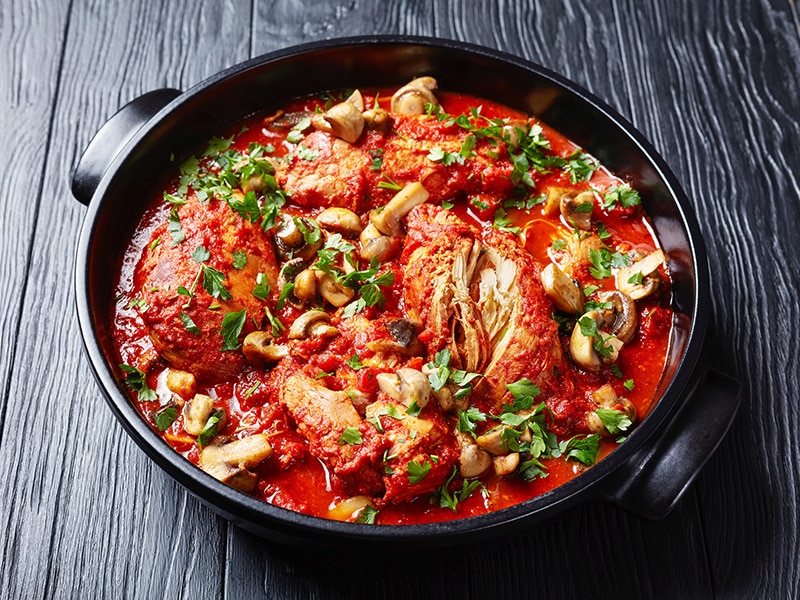 Have You Ever Tried These Fantastic Crockpot Recipes?
These crockpot recipes are effortless to make. All you need is to prepare the ingredients in the morning and place them in the slow cooker. Then, when you come home in the evening, everything will be cooked thoroughly.
American Dishes
US Dishes
Crockpot Chicken and Dumplings
Crockpot Hawaiian Ribs
Crockpot Sloppy Joes
Crockpot Beef Stroganoff
Crockpot American-Style Goulash
Crockpot Mississippi Roast
Crockpot Meatloaf
Crockpot Baked Ziti
Crockpot Macaroni and Cheese
Crockpot Chili
Crockpot Jambalaya
Crockpot Baked Beans
Crockpot Corn Chowder
Crockpot Berry Cobbler
Crockpot Chocolate Lava Cake
Mexican Dishes
Crockpot Chicken Tortilla Soup
Crockpot Chicken Fajitas
Crockpot Chicken Tinga
Crockpot Barbacoa
Other Americans Countries' Dishes
Crockpot Ropa Vieja
European Dishes
Italian Dishes
Crockpot Lasagna
Crockpot Bolognese
Crockpot Chicken Cacciatore
Crockpot Chicken Marsala
Crockpot Chicken Alfredo
Crockpot Minestrone Soup
Other EU Countries' Dishes
Crockpot Beef Burgundy
Asian Dishes
Crockpot Butter Chicken
Crockpot Chicken Tikka Masala
Crockpot Thai Peanut Chicken
Crockpot Mongolian Beef
15 Awesome Crockpot Dishes From The Americas
To many of you, American cuisine is the most familiar one. But do you know how to cook these recipes with a crockpot? Believe me; the flavor will be beyond your imagination!
I Can Enjoy These Familiar Crockpot US Recipes Everyday!
There is hardly anyone who hasn't enjoyed these recipes below. However, if you make them with a crockpot, they will taste like new for you as all the flavors have time to get blended well together.
On chilling days, nothing is better than a dinner with this chicken and dumplings soup. While it has "dumplings" in its name, don't take it as regular Asian ones. They are more like dough rolled into balls before getting tossed into the broth.
Aside from chicken and dumplings, this soup also contains various frozen vegetables for more flavors. And with a crockpot, you don't have to watch the soup continuously. Open the lid occasionally to add ingredients and check the broth.
Your crockpot chicken and dumplings will turn out all soft and tender! You can see this video to know more:
They may look intimidating, but these Hawaiian ribs are so soft that they can melt in your mouth. Why is that? It's all because they are marinated with pineapple before getting cooked.
Pineapple doesn't only increase the tropical feeling but also helps tenderize the meat quickly. Thanks to it, your Hawaiian ribs will become somewhat tangy, suitable for any rice or pasta dish.
It may sound sloppy, but this dish doesn't taste sloppy at all! In fact, you'll get a full flavor of ground beef simmered in tomato sauce. Simple as that, but when it's served between two hamburger buns with some pickles, you wouldn't want to stop eating it.
Also, if you want this mini crockpot specialty a bit different from the regular Sloppy Joe, you can switch the beef with turkey. Or in my family, I will serve it as the filling of baked sweet potatoes as a more nutritious choice.
Beef stroganoff is one of the perfect combinations between meat and sauce. The reason for its harmony lies in the stroganoff sauce made with beef broth. Thus, every bite you have of this dish is full of meat flavor.
From the basic recipe of beef stock and smetana (sour cream), you can create more layers of flavor by adding other ingredients to the sauce. For example, Worcestershire sauce will emphasize the umami taste, while mustard provides more tanginess.
This crockpot beef stroganoff is one of my favorite comfort foods. You can see this video to know more:
Initially a simple Hungarian stew with meat and vegetables, it has become a hearty dish full of pasta and beef through time and American people's creativity.
The most regular meat choice is ground beef, turning this soup into a "hamburger" version, though some chefs prefer cubed steaks.
But the highlight of American goulash is always the pasta. Bite-sized ones like elbow macaroni are the preferable option as they can absorb all the flavor from the broth.
When it comes to roasting, most people would think of the oven. But the recipe I have here doesn't require any of its appearances. You can make this dish with just one slow cooker, which means less work and less clean up afterward.
And do you know what's better? It's that this dish only needs inexpensive parts of meat, so you don't have to worry about your budget when making it. After being simmered in the crockpot, even the hardest cuts can become tender.
You can't find any Mississippi roast as delicious as this crockpot version! You can see this video to know more:
Meatloaf is a traditional dinner recipe for almost every household. But making it takes time. And sometimes, when you come home late, waiting for it to be baked in the oven is tiring.
But that won't be your problem anymore with this crockpot recipe. Just put all the ingredients together in the pot before you leave to work. And in the evening, you'll have a fragrant dish waiting for you at home.
Also, despite the long cooking time, this meatloaf is still moist and tender, just like freshly baked.
Right from the name, you may have already known what pasta you should use. Yes, it's ziti in bite-sized pieces. However, if you don't have it, you can use other pasta with a similar size like penne or rotini.
Also, when cooking this dish, leave the pasta out until the last minute as it only takes less than half an hour to be cooked thoroughly. Do the same with the cheese so that your dish won't become a gooey, mushy mess.
When tired, I only want a bowl full of mac and cheese. Who can say no to this slow-cooked rich dish with pasta? You can cook mac and cheese in two different ways: baking or cooking on the stovetop.
And the recipe I have today follows the latter, only using a crockpot instead to save the effort, so your mac and cheese will become super velvety. Also, remember to add a bit of mustard to the sauce for extra heat.
When it rains, I always want something with extra heat. And this crockpot chili comes to me just like that! With all the chili peppers in the stock, my body will warm up immediately. And I can even alter this dish's spiciness so that everyone can enjoy it.
But the heat isn't chili's only strong point. This stew can satisfy any hungry stomach with its beans and meat, all filling the pot up to the brim, especially if you make it with a crockpot, so the ingredients have time to become super soft and tender.
If you are wondering what jambalaya is, just think of it as a New Orleans equivalent of gumbo stew but having rice mixed with other ingredients.
New Orleans cuisine has always been famous for its glamorous flavors, and this jambalaya is an exact reflection of it. This rice dish has tons of ingredients, making you feel like walking in a food festival with all the foods presented right in front of your eyes.
Get a full New Orleans experience with this crockpot jambalaya! You can see this video to know more:
Baked beans are indispensable in any barbecue party as their sweetness and richness go perfectly with all smoky foods.
Though baked beans taste delicious on their own, many recipes suggest making it with bacon for extra protein. If you want to follow that option, make sure to increase the sugar amount in this dish for the same sweetness as the standard baked beans.
Compared to other soups, corn chowder is quite simple, containing only corn, onions, and potatoes in a creamy soup.
Usually, chefs would use chicken stock as its base, then add potatoes and cornstarch to thicken the broth. You can make the stock with corn cob as the additional ingredient if you want more corn flavor.
There are various choices to complement this dish, from simple green salads to cheese biscuits or bread.
You won't believe this berry cobbler is coming out of the crockpot! With the warm, moist cake, this dessert looks like you just baked it in the oven. To earn the texture, you need to pay a bit of attention to the slow cooker to check whether the cake edges have become brown or not.
Cobbler tastes best when it's still warm, but if you want to make it into a crockpot treat for summer, feel free to serve it with a scoop of ice cream.
Make this crockpot berry cobbler for a taste of summer! You can see this video to know more:
Don't be surprised by this recipe! Making desserts is not the job of only the oven or skillet. A crockpot can do the job just as well as them, especially with this lava cake.
And what you get isn't some small cups but a massive portion enough to feed ten people! Worth all the effort you spend, right?
Moreover, quantity is not the only thing this recipe provides. Its quality is also over the top, as this cake's edges are all cooked perfectly while the chocolate inside remains warm and gooey.
These Crockpot Mexican Dishes Will Capture Your Heart With Their Flavor
When it comes to Mexican cuisine, most people will think of tacos right away. And I don't blame them, as these authentic tacos can really be mind-blowing. That's why, in this part, I'll introduce some of the most well-loved fillings to fill your tacos.
Compared to other chicken soups, this one receives much more love because of the appearance of tortilla chips in the broth, providing it extra crunchiness.
And do you know what's better? It's that you can prepare this soup in just one pot, reducing much cooking time and clean-up afterward.
You just need to toss all ingredients into the crockpot and wait for several hours until they are cooked thoroughly. Garnish it with some avocado slices, lime, or shredded cheese for a filling meal.
Fajitas are another dish from Mexico made of stripped meat and other vegetables. This chicken version is one of the most popular ones. Aside from chicken, I also go for onions and bell peppers as the main ingredients.
You can also add other veggies for more nutrients and colors, such as avocado or red onions. Making this chicken fajita with a crockpot is the most suitable method as all the seasonings can soak thoroughly.
If you love tacos, you shouldn't skip this recipe, as it makes a fantastic taco filling. Basically, chicken tinga consists of shredded chicken in a Mexican sauce made with chicken stock, tomatoes, and chipotle peppers.
While browning chicken before cooking it in the sauce makes a tastier dish, you can skip this step if you don't have time.
Chicken tinga tastes best with some avocado slices, so no matter if you eat it with tacos or rice, don't forget to add them.
Can you believe it? You can make this crockpot chicken tinga with just 3 ingredients!
If you're going to open a taco party, let's make this barbacoa to serve as taco's filling. Though in Mexico, people often choose lamb and cook it in a self-made outdoor oven, I'll use beef and a crockpot for this recipe.
With a slow cooker, you don't have to pay attention to the stew all the time. Yet, seasonings' flavor can still have time to soak in the meat, making it entirely flavorful and tender.
With Crockpot, You Can Cook Recipe From Other American Countries
It's time to dash out of the comfort zone and try some other exciting dishes from other countries for Americans. I promise their flavor won't disappoint you!
From its name (Ropa Vieja means "old clothes" in Spanish), you may guess this is a dish for the poor. However, this beef stew is actually so well-loved by Cuban people from all classes that it's considered a national dish.
That is understandable, as this stew's flavor can be mind-blowing. You have tons of shredded beef simmered in a tomato sauce until tender with all kinds of vegetables. With a crockpot, your meat will become even softer than other regular recipes.
Recreate this exotic ropa vieja with your crockpot now! You can see this video to know more:
With A Crockpot, European Dishes Will Become Much Easier
European cuisine usually connects with the refined, elegant image. However, that's not entirely true as it also contains homemade meals that can warm you up in an instant.
These Crockpot Italian Recipes Are Irresistible!
Can I make Italian dishes with a crockpot? Absolutely yes! Compared to following various complicated steps, it's much easier and more comfortable just throwing all the ingredients into the pot.
If you are stuck with nothing ready for your dinner meal, let's go for this crockpot lasagna! You don't have to go shopping as all the necessary ingredients may be in your fridge already: pasta, tomato, ground beef, and cheese.
Cooking it is even simpler since you just need to layer all the components on top of each other until your crockpot is filled.
Then, set your crockpot on cooking and use the waiting time to do some other housework. When you're done with your job, a hot dinner is already waiting for you!
You may not believe it, but they don't serve bolognese with spaghetti in Italy but with flat pasta like lasagne instead. Aside from that, the authentic sauce doesn't require many tomatoes. Italian chefs often flavor it with other vegetables, white wine, and milk.
But obviously, you can always add your personal touch to this recipe. For example, make it into an English version by adding instant coffee to the broth. Or for me, I usually sprinkle some panko on the soup, so it thickens just as I want.
This crockpot Italian meat sauce is so delicious that you may want to make two pots of it! You can see this video to know more:
You may feel confused about this dish's name. What does hunter stew mean? Well, in fact, that word comes from the literal translation of the word "cacciatore."
It also refers to how Italians cook this dish before: Dump all the available ingredients like meat, tomatoes, onions, and herbs in the wine sauce and simmer them for a long time.
Nowadays, cacciatore has become a classic Italian dish with chicken as the most preferred choice.
Chicken Marsala is often considered a restaurant dish not only because it is delicious but also because it demands lots of effort and time to perfect. Traditionally, you need to pound the chicken breasts and keep a constant watch over them.
However, now, if you have a crockpot, all of this hard work is not necessary anymore. You just need to brown your chicken before transferring it to the slow cooker and let the pot do all the work for you.
Despite its fancy name, this dish is just chicken breast and noodles cooked in an Alfredo sauce made of cream cheese, butter, and heavy cream.
Unlike when you make it on the stovetop, with this recipe, you just need to dump all the ingredients, aside from the pasta, in the slow cooker and leave it to cook itself.
Why leave the noodles out? It's because if you add them too soon, they'll get soggy and mushy. The best option is cooking your pasta separately and mixing them with the sauce when serving.
This crockpot chicken Alfredo can't get any easier! You can see this video to know more:
When you have tons of vegetables left in the fridge, let's take them out and cook this minestrone.
There's no limit on how many ingredients you can put in this recipe, so just follow your heart and give yourself a hearty vegetarian treat! And while you're at it, you can add some pasta for a more satisfying feeling.
Also, don't worry about the broth. You can use vegetable stock or simple water if you don't have any stock.
You'll Love These Crockpot Dishes From Other European Countries
European cuisine doesn't include only Italian ones. Though they are not as famous, the recipes from other countries have the same attractiveness that can draw you right in with just their aroma.
Beef Burgundy is something you'd rather eat at a restaurant than make it yourself since this dish requires lots of work. Some traditional recipes even have 25 different steps to create this stew: browning, simmering, deglazing, etc.
But forget it! With a slow cooker, all necessary steps are just placing the beef and other ingredients in it and turning on the pot. Then, wait for a few hours to enjoy a perfect melt-in-your-mouth beef burgundy!
With a crockpot, this beef Burgundy can't scare you anymore! You can see this video to know more:
With A Crockpot, You Can Make These Asian Dishes Easily
Many people often think Asian dishes are hard to make as they include lots of seasonings and herbs. However, the true secret of these foods lies in how long you cook them. The longer you leave the ingredients in the pot, the better their flavors blend.
That's why crockpot is the most suitable way to make these Asian recipes.
Indian dishes have consistently earned the first prize when it comes to aroma, and this dish is no exception. Whenever I make this butter chicken, I have always prepared some snacks beforehand, so my children won't bother me when they smell it.
To attain that fantastic scent, you need to spend some effort preparing spice mixtures to marinate your chicken and the butter sauce. And be careful if you want to use coconut milk for this dish since it can curdle in the crockpot. So, you'd better add it after turning off the pot.
Some people can confuse this chicken curry with its other Indian relative – butter chicken since their cooking methods and appearances are pretty similar. However, chicken tikka's sauce is a gravy one, whereas the counterpart doesn't contain any gravy.
As chicken tikka is a community dish, there are no fixed recipes for it. But most of the time, this curry includes cooking chicken in a creamy tomato sauce. Turmeric or other food dyes are a vital factor in creating the bright yellow color for this dish.
Give this crockpot chicken Tikka Masala, and you'll love it! You can see this video to know more:
While Asian dishes give out an impression of complex cooking, this recipe is straightforward. It's just chicken breast cooked in peanut sauce. That's it! Can't be any simpler, right?
However, between cooking, you'll need to take out the chicken and shred the meat before putting it back in the sauce so it can absorb all the flavor.
Also, as this is a Thai dish, it can be pretty spicy, so make sure to alter the amount of cayenne pepper or red pepper flakes based on your preferences.
Despite its name, this beef dish doesn't have any connection with Mongolian cuisine. In fact, its actual origin is Taiwan, as people there created this recipe based on what they learn about Mongolian barbecue cooking.
Simply put, Mongolian beef is a stir-fried dish with onions. Different restaurants may add vegetables or spicy seasonings to this recipe. As it's still an Asian dish, Mongolian beef goes perfectly with cooked rice, but you can serve it with noodles as well.
One Small Word Of Advice With Your Crockpot Recipes
Crockpot dishes taste best when you leave the pot set at low temperatures. However, that can be pretty time-consuming. So, when you don't have enough waiting time, you can put it at high heat for a shorter cooking period.
After reading this article, I hope now you can prepare your meal with more ease and comfort. Don't hesitate to show this list to your mates if you think it's useful. Also, feel free to share your other crockpot recipes in the comment section below.