I love crockpot dip recipes for good reasons. First, you can't say no to a good dip. Not only does it fill your stomach, but it also offers an exciting culinary experience. More importantly, a crockpot makes cooking much easier.
In most cases, you just have to toss all the ingredients in the crockpot and wait a few hours. Then, open the lid and enjoy a well-cooked dish. The same is true for a lot of dip recipes I will introduce below.
Whether you need a painless appetizer idea or a yummy snack to munch on during a game night, this list has it. Keep scrolling, and you will find a no-brainer dip to pair with your favorite chips.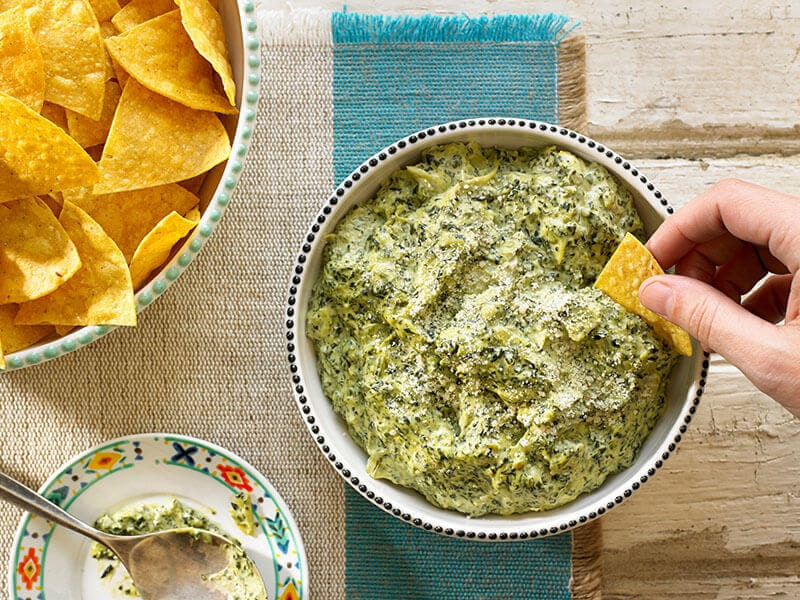 Note Down These Effortless Dip Recipes
These dips are creamy and cheesy. Some of them are healthier as they replace meat with vegetables. You will also see gluten-free recipes, which are suitable for those who have digestive problems.
Total time: 1 hour and 50 minutes
Chicken Enchilada dip was invented based on the Mexican Enchilada to take advantage of this exotic dish and turn it into a dip. It's extremely thick and creamy, featuring a mildly spicy flavor of the Enchilada sauce.
My favorite thing about this chicken Enchilada dip is the avocado. Tiny avocado cubes on top of the treat add extra smoothness to each bite. Along with olive rings, they also make the dip look much more eye-catching.
After adding cheese, you can continue to cook in the crockpot until it melts or bake the whole thing to achieve a luscious, yellow color resulting from slightly burned cheese.
If you think it's difficult to shred the chicken before cooking, this chick Enchilada dip guide suggests a solution.
Total time: 2 hours and 5 minutes
This delectable crockpot recipe could score a place on your go-to list if you are looking for the ultimate dip for your parties and potlucks. There are three reasons behind my statement.
First, it requires only six ingredients and is effortless to make. Secondly, no one can say no to this dip. It's wonderfully spiced, delicious, and will get you a ton of compliments. Last but not least, there will be no messy kitchen after you finish it. All the equipment you need is your crockpot.
To make this chili cheese dip, spray the crockpot with non-stick spray. After that, layer the bottom of the crockpot with Velveeta cheese, followed by the other ingredients per instructions. Let it cook for at least two hours and enjoy.
Total time: 2 hours and 5 minutes
I'm sure when you bring out this Mexican-style crockpot dish, every guest will love it instantly, especially if they love hot dishes. I usually have to scale up the recipe as I can never have enough of it.
This dip is so thick you can easily scoop it up with a chip, and it won't run off like liquid. Therefore, you can get a thick layer of dip on chips and taste every part of it: the crispy bacon, spicy jalapeno, tasty cheese, and sour cream.
Apart from the delectable flavor, this spicy corn and jalapeno cheese dip is vivid to the eye, featuring contrasting colors like red, yellow, and green. It has become my go-to appetizer for a dull day. I feel like it can lighten up everyone's mood immediately.
Total time: 2 hours 15 minutes
I would be broke if I went to Taco Bell every time I craved its special cheese dip. Fortunately, I found my happy place with this delish using a mini crockpot. It tastes like the real thing, is simple to make, and takes little of my time and effort.
Putting it together has only one step: whisk all four ingredients together and serve! Taco Bell nacho cheese sauce copycat is the perfect dip for quesadillas, tacos, tortilla chips, French fries, and more.
The ingredient list includes Cheez Whiz, but you can replace it with any plain cheese dip you can find.
Total time: 2 hours
I have to include caramel apple dip in this list because I know you will certainly be fed up with cheesy dips someday. When that day comes, this delectable dip without cheese will come in handy as a nice, refreshing change.
Serve a bowl with strawberries, pretzels, pound cake, bananas, or marshmallows, and you will have the best caramel apple dessert for your kids. It doubles as a yummy snack, too.
Dark brown sugar is the best and only type of sugar you should use to make caramel apple dip. Light brown sugar works fine, but it cannot compete with the dark option regarding flavor.
Here's a straightforward step-by-step guide for making crockpot caramel apple dip.
Total time: 25 minutes
This dip recipe is made in a crockpot, but it takes only half an hour to complete rather than a full one or two hours. The main ingredients of this dish include a lot of Swiss cheese and white wine.
A seemingly unrelated thing I love about it is the fondue pot. It's a tiny piece of cookware consisting of a heat source and a pot, typically used for preparing fondues. Eating from this pot is so fun. I sometimes make this dish just to have an excuse to use it.
Fondue is most widely served with pretzels, rye bread, sourdough, and sausage.
Total time: 2 hours and 8 minutes
Hot shrimp dip makes a fancy appetizer to start a seafood meal or party. Its creaminess, shrimp meat, and unforgettable flavor will instantly switch on your guests' foodie mode. Let them get addicted to this mouthwatering treat!
No matter how busy you are, try to make this cheesy shrimp dip a short time before serving. The cheese has to be warm and melted for the best mouthfeel. Use chips or crackers to dip in and scoop up the dip when enjoying it.
This recipe makes enough hot shrimp dip for 16 people. If you serve a smaller crowd, you can choose to scale down the ingredient list or refrigerate the leftover for later.
Total time: 2 hours and 5 minutes
Similar to the other crockpot recipes on this list, it takes you only a few minutes to prepare the ingredients. Then, you just have to toss them in the device and let it do the rest of the work as you wait or work on other dishes.
To make this easy Queso Blanco dip, you first need to drain the chiles and tomatoes. Add all the ingredients to the crockpot, lock the lid, turn on low heat, and wait for two hours. Finally, the result should be smooth with traces of chiles and tomatoes, much like a creamy soup.
If you store this soup in the fridge, pour in some milk before reheating to serve. Some extra milk will also help loosen the texture in case the dip turns out too thick.
Total time: 1 hour and 10 minutes
Sometimes it's tiring to look for a food idea for a football party. That's why I'm glad to introduce you to this painless crockpot beer cheese dip. If a football game or a game night is coming, it will help you avoid the exhausting decision-making process.
Obvious as it sounds, keep this in mind: Choose your beer carefully since it will determine the flavor of your beer cheese dip. Pale or light beer, with a subtle flavor, results in a sweeter dip. Meanwhile, darker ale gives you a more bitter punch.
Pretzel bites are an obvious accompaniment for this fabulous dip, but you may also serve crackers, baguettes, broccoli, or cauliflowers.
For extra fat, add some Pancetta to your slow cooker beer cheese dip.
Total time: 2 hours and 10 minutes
I love the classic pepperoni pizza. That's why pizza dip wins my heart completely, but even diners who are not fans of this fast food can't say no. It features a bright red color of Marinara sauce and a smooth, thick texture of melted cheese and cream cheese.
You can sprinkle some fresh basil on top for garnish. The herb will enhance the flavor, too. Crockpot pizza dip is best served with crackers, chips, pita bread, crostini, or raw vegetables.
To ensure Mozzarella cheese melts evenly, stir the pot every half an hour. On the other hand, you can use other types of cheese like jack or cheddar cheese.
Total time: 8 hours and 20 minutes
This recipe cooks onions until they melt in your mouth, which takes up to eight hours. During this time, the ingredient has absorbed all the seasonings and got a wonderful caramel color.
You should let it cook overnight, so you don't have to wait around. In the morning, you will get a smooth and creamy mix by adding cheese and sour cream. Meanwhile, Greek yogurt makes it lighter, refreshing, and healthy.
Caramelized onion dip is versatile. It works as an appetizer, dip, side dish, or snack. The best way to serve it is with garlic chips, crispy bread, or potato chips.
Total time: 2 hours and 40 minutes
This hot crab dip is amazingly thick and creamy with two types of cheese. It offers a nice blend of seafood, green ingredients, and cheeses. Toasted baguette is the most popular to serve with this treat, but Club crackers, chips, and veggie sticks work too.
The guide tells you to use canned crab meat. However, you can go for fresh crab meat. It's much tastier though it costs more. Also, ensure you have removed all the shell pieces in the meat before cooking.
If there's leftover, add it to a baked potato, pasta, or omelet instead of reusing it as a dip.
Total time: 2 hours and 15 minutes
I can't wait to share this remarkable seafood crockpot recipe with you. It features some of the most exotic types of seafood, shrimp, crab, and lobster. Whenever I serve this dip with bread cubes, everyone just goes wildly enthusiastic, and my appetizer is gone before I can enjoy it myself.
Apart from high-quality seafood, the secret ingredient to the ultimate seafood dip is cream of shrimp soup, which produces extra flavor and creaminess. You can use cream of celery soup instead, but I prefer the meaty one.
This seafood dip is good for any season. Just make sure the cheese is still warm and melted when you serve it.
Total time: 1 hour and 5 minutes
A common misunderstanding is that vegetarian dishes are not as yummy as meaty ones, but this spinach artichoke dip is proof of the opposite. Its main ingredients are artichoke hearts, frozen spinach, sour cream, and cheese.
It takes only five minutes of your time to prepare the ingredients. Then, all left is to wait for an hour as the cockpit turns the mix into a heavenly dip. The outcome should be creamy, hearty, and overall delicious with a nice tang from sour cream.
In this recipe, you don't have to use garlic powder if you or your diners can't handle this ingredient.
Apart from Parmesan cheese, you can add Mozzarella cheese to spinach artichoke dip.
Total time: 2 hours and 10 minutes
This Rotel dip is a crowd pleaser. It comprises ground beef and sausage, taking the traditional version to a new level with its Tex-Mex flavor. The outstanding ground beef-based crockpot dish pairs well with nachos, burgers, hotdogs, baked potatoes, and taco salads, whichever you like.
Use black beans instead of ground beef if you like a vegetarian version. You just have to add the beans simultaneously with the other ingredients in the slow cooker. To create a spicy variation, add some red pepper flakes or cayenne pepper to the mix.
The slow cooker method is highly convenient because you have to spend only 10 minutes preparing the ingredients and then leave the cooker to do its job for the next two hours.
Total time: 2 hours and 20 minutes
This rich dip can go well as an appetizing broccoli starter for a hearty meal. It contains tender chunks of broccoli, sharp cheese, tangy sour cream, and refreshingly aromatic herbs. The dip doesn't come with meat, so it's lighter than lasagna and buffalo chicken dip.
The process of making this slow cooker broccoli and cheese dip is as straightforward as the others. However, you need to saute the onion and vegetables before cooking them. Broccoli softens easily, so set the crockpot on low only.
Total time: 2 hours and 20 minutes
This dip is named after the original Reuben sandwich (corn beef sandwich). It's a North American dish served as an appetizer or snack that has gained popularity in many US states. Of course, you can savor it as a finger-licking accompaniment for corned beef, which is its original purpose.
Slow cooker Reuben dip is made with the same ingredients as the original sandwich. It features Sauerkraut or fermented raw cabbage with a signature sour flavor. The recipe also calls for Thousand Island dressing, which offers a zesty, tangy taste.
Sauerkraut and Thousand Island dressing are the two must-have ingredients to make Reuben dip. If you leave them out or use substitutes, it won't be Reuben anymore. But as for the corned beef, you can freely use a homemade substitute.
Total time: 2 hours and 25 minutes
From the look of the dip, you can easily tell there are olives, green chiles, and sour cream on top. Yet, when scooping up the dip with a tortilla chip, you will see beef, traces of beans, and a great deal of cheese.
If you want to tweak the base recipe a bit, use Pepper Jack cheese in place of Colby Jack cheese. It will give you a unique flavor. As for the meat, you can replace beef with chicken or leave out the meat completely to create a vegetarian variation.
You can also bake the dip for only 30 minutes if you don't have much time on hand. However, cooking in a crockpot will blend the flavors much better.
Total time: 1 hour and 5 minutes
This dip inherits the signature taste from the hearty and delectable Philly cheesesteak, which is. It also uses thinly sliced steak and garlic flavor, just like the original dish. The mouthwatering Philly cheesesteak dip makes a perfect appetizer for a game-day party.
Making the treat is a piece of cake. First, you need to saute the onions and bell peppers until they get soft, then transfer them to the crockpot. Secondly, sear the steak and place it in the crockpot. After that, add the cream sauce and top it off with provolone slices.
Set the pot on high and let it cook for an hour. Once it's done, you can keep it warm in the pot until serving time. Remember to stir well before you enjoy it.
Total time: 2 hours and 5 minutes
Making Italian lasagna takes a lot of time, but this crockpot lasagna dip is the opposite. It's quick to prepare and incredibly tasty. If you're wondering about the source of its beautiful pink hue, that comes from marinara sauce.
After two hours of cooking in the crockpot, you will get a thick, dense dip carrying a strong tomato taste, salty cheeses, sour cream, and tender beef.
Depending on your diners' preference, it can pair well with baguette slices, mushrooms, cauliflower tots, or fried zucchini. If you can't finish the dip at once, store it in an air-tight container. When serving, reheat it in a microwave or on a stovetop.
Not in the mood for meat? Simply omit the ground beef as this guide for crockpot lasagna dip does.
Total time: 4 hours and 10 minutes
Not a regular corn recipe, this recipe brings Mexican cuisine to your kitchen! Whether you're preparing for a weekend get-together or Cinco do Mayo, you can't go wrong with this crockpot dip.
It's so delicious and rich in flavors with sweet, spicy, savory, and cheesy tastes. With a tad lime juice, the whole thing rises to a new level, making it a must-have treat for any party. This recipe is also foolproof. I assure you it's impossible to fail with this recipe.
On top of that, this Mexican-style dip is vegetarian as it doesn't use meat. Plus, it's gluten-free, provided that you use 100% corn tortilla chips. If your guests follow either of these two diets, you have got a perfect dip for them.
Total time: 2 hours and 20 minutes
Each dip on this list has its special feature. As for this 7-layer dip, it stands out from the others because it doesn't mix the ingredients. Instead, you will place them in seven separate layers so that when you dip a chip in, you will get a little of everything.
The base recipe requires refried beans, but you can replace this ingredient with refried black beans if you like this specific type of bean. Rotisserie chicken can also replace ground beef to create the 7-layer dip, and it will still taste as delicious as ever.
Those seeking a vegetarian dip can simply use meatless crumbles instead of meat.
Total time: 2 hours and 10 minutes
Here's another crockpot dip recipe for seafood lovers. Compared with the artichoke crab dip, this one leaves out the veggie and pepper ingredients. For the same amount of meat, it uses less cheese, so you should expect a runnier texture.
As a result, the focus is on the crab flavor. If you have a deep pocket, I suggest opting for fresh crab meat as it's much tastier, and the meat has a better texture. However, canned crab meat works very well, too.
You should certainly serve this well-loved starter with some Ritz crackers when the cheese has melted completely. In terms of leftovers, store the dip in an air-tight container in the fridge for three days at most. After that, the dip won't be good anymore.
Add a minced jalapeno to slow-cooker crab dip like this tutorial shows for extra spiciness.
Total time: 1 hour and 30 minutes
This hot pimento cheese dip is among the cheesiest dip sauces you will ever taste. It's full of Pimento cheese, Roth Grand Cru cheese, and cream cheese, featuring a little boozy hint of bourbon. It's suitable for chilly nights in the winter.
Though this recipe produces 16 servings, cut down the ingredient amount if you serve fewer people. The sauce is incredible to dip in different types of chips, pretzels, or veggie sticks.
For casual occasions, feel free to serve it right from the pot. In other cases, if you want to make it look fancy, choose an elegant bowl, and keep the dip warm in the crockpot until it's party time.
Total time: 4 hours and 10 minutes
This vegetarian-friendly crockpot recipe consists of several beans and peppers. It does involve cheddar cheese, but the thick, creamy texture largely results from these ingredients and diced tomatoes.
By cooking at the high setting for four hours, you can ensure everything is well combined, forming a rich flavor complex that's delicious and filling. Serve it with tortilla chips and a beverage of your choice, and you can enjoy your game comfortably.
Total time: 2 hours and 45 minutes
The name Buffalo chicken originated in a restaurant in Buffalo, New York, US. It is a very delicious and convenient dish made from chicken wings coated with a hot sauce and deep fried. In this particular recipe, you will use Buffalo wing sauce to obtain this special flavor.
This recipe works best with boneless chicken breasts. If the chicken is not shredded yet, cook it in a non-stick skillet over medium heat for between 15 and 18 minutes.
After that, chop the chicken and mix the other ingredients in a bowl. Transfer everything to the crockpot and cook on low for two and a half hours. Stir well and serve.
If you make Buffalo chicken dip with raw chicken, this guide will show you the process from start to end.
Total time: 1 hour and 20 minutes
This vegetarian, gluten-free Queso dip is full of good cheeses such as shredded Cheddar cheese, Monterrey Cheddar cheese, and Mozzarella cheese. The presence of cream offers heavenly creaminess and thickness.
In addition to its amazing flavor, spinach Queso dip is painless to make. Step one, cook the ingredients except for heavy cream and spinach in the slow cooker for 20 minutes. Then, add heavy cream, stir, and cook for another 30 minutes.
After that, add the frozen vegetable and let the slow cooker do its job for half an hour. If you find the mixture too thick at some point, pour in more cream to loosen it.
Make A Good Dip, Keep Your Stomach Happy
This list proves that it doesn't always take a pro chef to make good food. Sometimes, you only need a quality crockpot and a shopping cart to buy the ingredients for putting a good dish together, especially with these tasty dips.
Most of these dips pair great with many different kinds of bread and tortilla chips, though each goes best with a certain type. My notes will help you make the best of these recipes.
Which dip will you make first? Keep me posted by leaving a comment in this article. I'll be happy to know if my recommendations are useful. Also, don't forget to share them with your friends or anyone who appreciates a good dip.
Nutrition Facts
15 servings per container
---
Amount Per ServingCalories266
% Daily Value *
Total Fat 19.9g

31

%
Cholesterol 69mg

23

%
Sodium 1095mg

46

%
Potassium 36mg

2

%
Total Carbohydrate 8.5g

3

%

Dietary Fiber 0.3g

2

%
Sugars 5g

Protein 16.3g

33

%
---
* The % Daily Value tells you how much a nutrient in a serving of food contributes to a daily diet. 2,000 calories a day is used for general nutrition advice.