Indeed, making crockpot breakfast recipes has become familiar in many households worldwide. Therefore, you must explore and keep in your mind some famous and delicious breakfast recipes for the first meal of the day.
I will present the list of beautiful dishes and the preparations for making them thoroughly and understandably. You can miss some essential recipes and tricks in case you lose your attention while reading this fabulous article. Let's read this post immediately.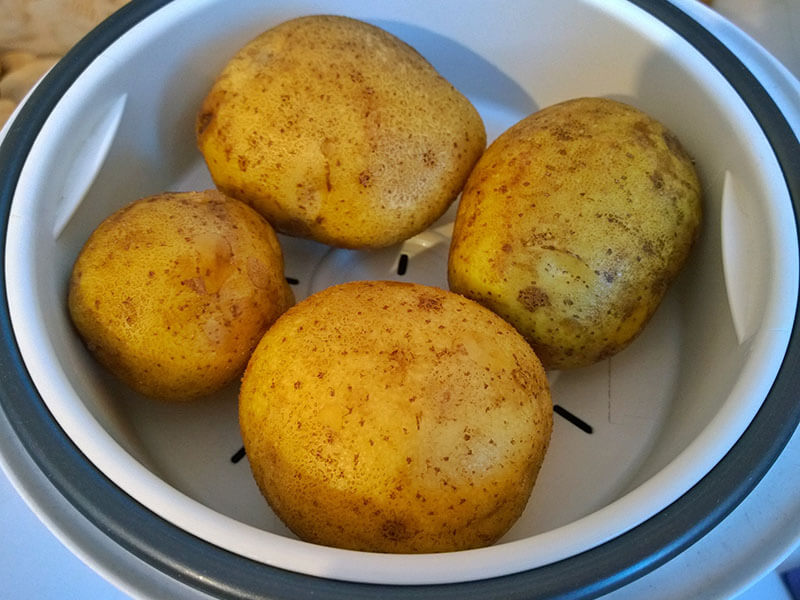 Have A Good Day With The Crockpot Breakfast Recipes!
Your emergency mission is to copy the excellent list to your breakfast cookbook to bring a high-quality meal to your family in the morning. Good luck with your choices!
Total time: About 4 hours 10 minutes
This egg casserole is among the simple and cost-effective slow cooker casserole dishes I'd like to introduce in this excellent article. At first sight, the beautiful appearance with the yellow shade of eggs and green, pink hue of veggies and meat will grab your attention right now.
You dive into this fantastic casserole's tender and airy consistency as soon as you give it the first bite. You should remember to wait for the dish to cool completely before serving it. Let's slice the casserole into small pieces for a more professional serving.
Let's find out how to create egg casserole in a crockpot.
Total time: About 6 hours 15 minutes
Crockpot apple cobbler is the best suggestion for Christmas or cold breakfasts. The sweet, warm, and fruity flavor of this yummy dish cooked in a mini crockpot can captivate you on the first try. You can easily make it with apples, dried cranberries, cinnamon, and honey.
Your job is to add apples to the crockpot and prepare a mix of melted butter, cinnamon, and honey. After pouring the blend over the apples, you top it with cranberries and granola. You must wait about 6 to 8 hours to enjoy the tender dish with syrup and milk.
Total time: About 8 hours 15 minutes
The combination of ham and cheddar cheese always produces excellent results, and this recipe is one of them. In addition to these 2 ingredients, you can find hash brown, butter, and spices in the crockpot.
To give the dish a creamy and soft texture as well as connect all ingredients, you cannot skip eggs. Instead of ham, bacon and sausage can work perfectly in this fantastic recipe to bring a new breeze to the meal.
Total time: About 2 hours 35 minutes
Let's fill the crockpot with broccoli, cream cheese, Colby Jack cheese, and spices and wait more than 2 hours to enjoy the mouthwatering breakfast dish. Regarding the look, it has an irresistible appearance with a gorgeous yellow shade.
The creamy and cheesy flavor of the recipe will steal your soul in no time. The blanched broccoli gives your savory treat a subtle crunch and fresh taste. To protect your crockpot better and avoid the food sticking to the pot, cover it with a bit of cooking spray.
Total time: About 3 hours 15 minutes
Have you ever tried cooking cinnamon roll casserole in a crockpot? Make it now since the result will surprise you. I often prepare this fantastic and delectable treat at Christmas breakfast, Mother's Day brunch, or other special occasions.
You can encounter the softness of cinnamon rolls and the creamy and sweet flavor of eggs and maple syrup. Even better, it is a shortcoming not to talk about the distinctive warm touch of cinnamon in this treat.
Many people ask me if they can replace maple syrup with regular syrup. The answer is yes, but the result will not be as good as when you use maple syrup. This food has many variations with the additions of pumpkin, vanilla, or caramel sauce.
Follow the tutorials in case you want to taste a yummy crockpot cinnamon roll casserole.
Total time: About 4 hours 45 minutes
Goetta is a famous food containing meat and grain sausage. This recipe is pretty common in the Cincinnati region. German settlers in the Northwestern areas of Hannover, Westphalia, and Oldenburg migrated to Cincinnati in the 19th century and made this dish.
Nutritionwise, this excellent dish is a rich source of protein, calories, and carbs, so consuming it in the morning is a great way to recharge after a long working day. If you make a lot of goetta, keep the leftovers in the freezer and remember to wrap them in foil.
Total time: About 7 hours 10 minutes
Are you curious about how a dish containing flaxseed tastes? You can make the crockpot flax oatmeal to check the authentic flavor. I believe you will love this hearty delicacy in no time since it is also full of the fruity taste of dried cranberries and raisins.
Besides these two, you can finish this excellent breakfast dish with other dried fruits. You do not spend much effort as you just put the ingredients into the slow cooker and wait to enjoy the results. Remember to add sliced almonds and milk on top before eating it.
Total time: About 6 hours 10 minutes
Trust me! You can have a lucky and sweet day if you kick off the day with a sweet and delectable chocolate peanut butter banana oatmeal bake. This breakfast dish is a gluten-free and vegan crockpot recipe with an outstanding flavor.
With the presence of chocolate, ripe banana, and peanut butter, this dish is loaded with buttery, chocolatey, and fruity tastes. Cooking in a crockpot brings the smooth, tender, and well-combined blend. The lightly crispy outside is the dominant feature of this dish.
Total time: About 2 hours 20 minutes
Typically, you bake monkey bread in the oven, but I think you should try preparing it in a slow cooker. The result will satisfy your requirements for straightforward and sweet bread.
With this device, you can achieve an excellent breakfast after cooking the dough for about 2 hours. Also, the melted butter and sugar layer outside gives your treat a sticky texture and sweet flavor.
An advantage of this method is that I do not need to proof the dough before cooking, so you can save some cooking time. There is no appearance of refrigerated biscuits in this recipe. I make my own dough with butter, flour, milk, eggs, and yeast.
Check the right ways to prepare monkey bread in a slow cooker.
Total time: About 4 hours 10 minutes
I prefer mixing einkorn grains, nuts, cranberries, and fresh apples in a slow cooker to create a rich and refreshing porridge to kick off a new day. It is suitable for a cold morning because of warm spices like cinnamon, allspice, nutmeg, and cloves.
The dish's preparation is straightforward since you only need to add all crucial ingredients to the crockpot with water and cook for about 3 to 8 hours, depending on your desired mode (low or high heat).
If you want to consume the recipe with more tender grain, cook it longer. For better taste, you should serve this porridge with toppings such as dried cranberries, pecans, milk, and diced apples.
Total time: About 4 hours 15 minutes
I often start the day with a delicious blueberry casserole since I believe the blue color of the treat will bring a lot of luck to my new day. Both fresh and frozen blueberries bring great taste and texture to this dish, so feel free to choose one of them according to your wishes.
The sweetness of brown sugar, maple syrup, and milk will give you an incredible mouthfeel. You can also get a relaxed and pleasant sensation with the creamy and cheesy flavor of this treat that comes from the cream and sour cheeses.
In addition, you cannot resist the fluffy, soft, and light crispy texture of French bread cubes. For more convenient serving, prepare this treat ahead of time in the evening and serve it in the morning when your guests arrive.
Total time: About 4 hours 10 minutes
Slow cooker granola is a nutritious and protein-rich suggestion for your breakfast. Indeed, this fantastic and light recipe will be good for your kids' health and give them a fresh and bright feeling in the morning.
Aside from the light crunch of oats, this tasty food has a subtle sweetness and vanilla touch from honey and vanilla extract. It tastes fantastic when served with dried fruits, milk, yogurt, or dehydrated apple rings.
Furthermore, it is a convenient recipe since you can make and store it easily. I usually add the leftover granola in an airtight container to keep it fresh for a long time.
Let's keep the directions for making crockpot granola in your mind right now.
Total time: About 2 hours
This peppermint mocha snuggler is a versatile slow cooker treat for kids and adults. If you want your kids to enjoy this recipe, add whipped cream or marshmallows to the crockpot hot chocolate.
Meanwhile, to serve adults, you will fill the glass with peppermint schnapps. Moreover, you can try using espresso powder for a caffeine touch or candy cane pieces for sweeter drinks. I guarantee you'll get a warm morning after enjoying this hearty drink.
Total time: About 2 hours 5 minutes
I recommend starting a cold day with a cup of yummy hot chocolate. This warm drink is full of sweet chocolate flavor. I commonly encounter this delectable recipe with marshmallows or whipped cream on top.
I love the subtly creamy taste created by whipping cream in this recipe. When making this wonderful treat, you need to stir the mix carefully to ensure the chocolate chips melt entirely and evenly.
Add other ingredients to the hot chocolate to make it taste better and change its taste. Peppermint, vanilla extract, or rum chata are the additional options you can add to the drink if you desire.
Total time: About 2 hours 35 minutes
Let's combine green chiles and sausage to create a yummy casserole. The moist and creamy texture of this recipe will satisfy your taste buds immediately. The incredible consistency comes from eggs, cheese, and sour cream.
It is possible to make this delicious treat with bacon instead of sausage if you want. To turn it into vegan, please omit the sausage and add your best-loved veggies. In the morning, you can eat it with fruits, toast, or sour cream.
Total time: About 8 hours 10 minutes
Starting the new day with a tasty slow cooker casserole will load abundant energy for your body. After cooking hashbrowns, cheese, onions, and your favorite protein, you have an excellent and flavorful treat.
Of course, you can make a vegetarian crockpot delight with a few changes. Replacing bacon with vegetarian sausage or bacon is an effective way you can try.
Since you need about 8 hours to cook a casserole, let's do it in the evening, sleep deeply, and enjoy the results in the morning.
To prevent your breakfast casserole from burning and sticking, I highly recommend spraying a layer of cooking spray on the pot's surface before cooking this dish.
Save the instructions in your cookbook to make a delicious crockpot breakfast casserole.
Total time: About 4 hours 5 minutes
I often make slow cooker berry quinoa for my family's breakfast when I have quinoa on hand. This treat has the natural sweetness and fragrance of bananas. Also, berries' slightly tangy and fruity taste will tickle your taste buds in no time.
The warm flavor and the charming aroma of vanilla and cinnamon will make your morning great and energetic. Finally, the nutty touch of quinoa is the prominent feature of this excellent dish.
To have this fruity dish for breakfast, add berries, quinoa, spices, and mashed bananas to the crockpot and wait about 2 to 6 hours. Nutritionwise, this fantastic food is packed with protein and fiber.
Total time: About 3 hours 20 minutes
It is pleasant to smell the charming fragrance of cheesy hash brown casserole as soon as you wake up after a long night. I guarantee this creamy and rich casserole can make you want to enjoy it immediately.
The traditional casserole version will be cooked in the oven, but you can apply the crockpot method if you want a peaceful sleep and a yummy dish for breakfast. Slow cooking can help blend all ingredients and spices into a complete casserole.
When consuming this food, you can find a slight crunch from the brown edges of this food. For extra flavor, why don't you try adding diced jalapenos for spiciness?
Total time: About 8 hours 10 minutes
Potatoes are always my top choice for every breakfast. I love the softness and gentle taste of these veggies after being cooked in a slow cooker. Besides that, this food is more flavorful with the addition of paprika, nutmeg, cayenne powder, and other spices.
In terms of appearance, you will be fascinated by the typical golden-brown color of the crockpot potatoes. In addition, it becomes more beautiful and refreshing if you garnish it with fresh oregano before serving.
Listen to how to make delectable crockpot breakfast potatoes.
Total time: About 2 hours 5 minutes
Oatmeal is one of my staple breakfast recipes in my home. You can think of the taste of pumpkin pie when enjoying this fabulous recipe at fall breakfast. Typically, I make it beforehand and reheat it with the addition of chopped pecans to eat.
An essential step you must do while cooking this delectable food is to stir it regularly to prevent it from getting stuck to the bottom of the crockpot. If you cook it on low heat, you need to spend longer cooking time (about 5 to 6 hours) on finishing it.
Total time: About 10 hours 15 minutes
Slow cooker French toast casserole is a familiar dish on daily breakfast, brunch, or holidays in many households. Aside from the characteristic creamy and rich taste, the thing that makes me devoted to this dish is the crunchy crumb topping.
Put bread, brown sugar, nutmeg, and vanilla in a crockpot to make this excellent treat. French bread is the preferred choice, but you can make this dish with Challah bread or Brioche bread if you do not find this French version.
To enhance the flavor of this great casserole effectively, you should serve this tasty treat with warm maple syrup on the dining table.
Total time: About 3 hours 15 minutes
I have a habit of consuming bread at breakfast because it is pretty convenient and straightforward. Recently, I have been addicted to this moist and slightly sweet banana bread. I can make it quickly with the help of a crockpot.
Bananas are the must-have ingredient in this dish. You should opt for ripe ones for the sweetest and richest bread. If your bananas are unripe, you can accelerate the ripening process by putting them in a brown paper bag with apples.
This is an effective trick since the amount of ethylene radiating from the apples helps your bananas ripen faster. A tip to take the bread out of the pot more accessible is to run a knife around the edge of the bread and use oven gloves to get it out.
Total time: About 6 hours 20 minutes
When listing the breakfast recipes, skipping the Denver omelet casserole will be a big mistake. This amazing omelet delight results from cooking beaten eggs with vegetables, cheese, and meat in butter. I use bell peppers, diced ham, and cheese in my recommended recipe.
You can make savory, sweet, or plain omelets, depending on your preference. If you are on the paleo or Whole30 diet, you can make a healthy Denver omelet by omitting the cheese and using almond milk.
Total time: About 3 hours 10 minutes
It is not difficult to have an ideal breakfast with a crockpot and tortilla on hand. After cooking bacon, sausage, veggies, and bacon in a slow cooker and wrapping them in a tortilla, you'll get flavorful and savory burritos for breakfast.
When serving this excellent food, you can mix it with avocado, sour cream, shredded cheese, and salsa to enhance the burritos' quality. Also, you should consume this recipe with a tray of fruit or pastries.
To diversify the taste of this dish, you may turn it into a starter recipe containing kielbasa (Polish sausage) and opt for cheddar Jack in place of Swiss cheese. Suppose you do not like veggies, there is no problem with omitting them.
You can create a yummy breakfast burrito in a slow cooker after following the directions.
Total time: About 2 hours 15 minutes
It's time to get into your kitchen to make yummy bread with a slow cooker to treat your relatives to a holiday breakfast. The soft and fluffy texture of the bread is made from all-purpose flour, dry yeast, olive oil, and warm water.
The light sweetness and saltiness come from sugar and kosher salt. Now, save these instructions in your cookbook! The first step is to mix yeast, sugar, water, flour, and olive oil until you gain a shaggy dough.
Then, knead the dough for about 5 minutes to soften it. Form the dough into a ball and cook it in the crockpot for about 2 hours to give it an eye-catching golden brown. Make the bread crispier by taking it out of the pot and broiling on a baking sheet for 2 to 3 minutes,
Total time: About 3 hours 30 minutes
Do you know how to make tasty frittata provencal in a slow cooker? This part will give you what you need to do to get the perfect breakfast. And you must prepare potatoes, paprika, eggs, and other components before making the dish.
First, place a foil rack in your crockpot with water. Cook the potatoes and onions in a skillet until they are brown. Spice the mix with paprika and add it to the baking dish. Then, fill a bowl with beaten eggs, pepper sauce, thyme, and spices and blend them well.
Pour the liquid on the baking dish and place tomatoes and cheese on top. Put the dish on the rack, cover the pot, and cook for about 3 to 4 hours.
Total time: About 7 hours 15 minutes
The cassoulet recipe inspires the hearty and rich sausage casserole. The cassoulet was an invention of the people in the Languedoc area in southern France. They simmered sausage, veggies, and pulses in wine, stock, and herbs.
For this casserole recipe, you must cook veggies, sausages, beans, sauce, and herbs in a crockpot. The rich taste of the dish comes from a beautiful sauce made from canned chopped tomatoes, white wine, tomato puree, and spices.
Typically, I use Toulouse sausages for this treat, but leek, Cumberland, and herb sausages are the ideal alternatives you can try. When you come to restaurants, you can easily see this food appear with crispy bread or creamy mashed potatoes.
Let's cook crockpot sausage casserole with the help of the instructions right away.
Total time: About 4 hours 10 minutes
There is nothing better than sipping a cup of slow cooker chai tea latte in the morning. It brings a pleasant feeling and warm flavor thanks to the gentle fragrance and spices like cinnamon cloves, ginger, and cardamom.
To bring a slightly fatty taste to this recipe, unsweetened almond milk is an option you can consider. This is a caffeine-free drink, but if you need a bit of caffeine to help you stay awake in the morning, let's add a black tea bag to the recipe.
Furthermore, deliver new experiences to your family members with the variations. Add vanilla extract or bean powder to give it a hint of vanilla. Also, you can get a golden chai tea with fresh turmeric root.
Total time: About 3 hours 5 minutes
In case you have an immense love for sausage recipes, you cannot ignore the crockpot grape jelly smokies. It is the perfect and mouthwatering recipe for cooking sausages in a crockpot with chili sauce and grape jelly.
Besides the meaty touch and soft consistency of sausages, your taste buds will be awakened by the spiciness of chili sauce and the tangy sweet flavor of grape jelly. Besides serving as a yummy breakfast treat, you can add its name to the appetizers menu.
Total time: About 6 hours 15 minutes
Grits are an excellent addition to your breakfast menu. It has many similarities with porridge. Nowadays, you can find many different types of grit at the stores, but I recommend using stoneground grits in this crockpot recipe.
The grits result from the whole corn and contain many vitamins and minerals that benefit your health. Compared to other grits, the stoneground ones take more time to cook.
The creamy and greasy food cannot get the best flavor without toppings like bacon bits, cheddar cheese, dried herbs, and fresh green onions. Moreover, you should serve it with fried eggs, sausage, and cooked bacon for extra taste.
Total time: About 4 hours 10 minutes
Chicken tater tots casserole works great as a tasty breakfast for dinner or lunch in many households. In addition, it is a best-loved choice on special holidays like Christmas or Thanksgiving.
You fall in love with the cheesy, creamy, and rich flavor of this savory treat. What can you find in this recipe? Usually, this food is loaded with frozen tater tots, bacon, chicken, shredded cheese, and seasonings.
To save cooking time, you should opt for pre-cooked rotisserie chicken when making this tasty dish. Salt and pepper are the irreplaceable spices in this recipe, but you can create a new twist by using other spices like cajun or blackened chicken seasonings.
Total time: About 3 hours 20 minutes
The enticing sweet taste of peach crisp makes it become the common choice for dessert on summer days. Nevertheless, it is acceptable to serve it as a yummy breakfast if you want some sweet treats in the morning.
If you are in the peach season, you can make it with fresh and ripe fruits. Do not panic if you do not have fresh ones in your kitchen, let's thaw the frozen peaches to make this outstanding dish.
It will be a big mistake to serve this food without crispy toasted pecans or walnuts. Of course, this peach crisp tastes even better if you consume it with a scoop of vanilla ice cream and fresh blueberries on top.
Give The Crockpot Breakfast Recipes A Shot!
I am sure you can finish these excellent dishes quickly with the support of the instructions in this article. Do not hesitate anymore, and let's make your best-loved breakfast recipes to bring the fantastic and full-energy breakfast to your loved ones.
I could miss many other ideas, so I hope to see them from you in the comment part. So, feel free to leave your contributions. Lastly, please share this helpful post with others around you to give them more tasty choices in the morning.