The best crescent roll desserts are always a treat to munch on any occasion with anyone. With just a can of refrigerated crescent rolls, you can whip up many fantastic treats. There are a lot of ways to cook them, from making apple pies to fixing cakes.
Crescent roll may not be your top favorite food, but let's see if you change your mind after seeing the best desserts made from this versatile dough. The soft and light texture nicely elevates other ingredients.
Anyhow, this article provides a collection of the selected recipes anyone should get their hands on. Scroll down to find out how you can enjoy these rolls in the best ways possible without breaking a sweat.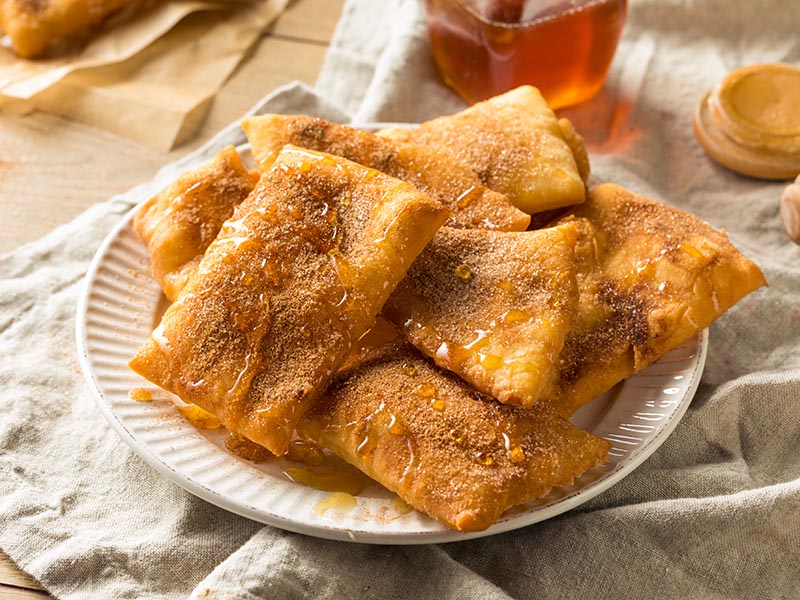 Get Your Hands On The Best Crescent Roll Desserts
A can of crescent rolls is in front of you, and you are scratching your head because you don't know what to do with it? Worry not; I got you covered. Here are the most convenient and mouth-watering recipes anyone can make to enjoy alongside family and friends.
Total time: 27 minutes
Apple pie is a sweet treat everyone knows and loves. Who doesn't love the bright apple taste with a hint of cinnamon? This recipe has all of that, plus more flavors from butter, pecans, and apple pie spice. Everything blends nicely when you bake them to perfection.
The cooking process is straightforward. First, unwrap the crescent rolls in triangle pieces of dough, onto which you put the other ingredients. Chop the apples into slices and dip each of them in melted butter. Next, place them on the wide end of each crescent roll.
Then roll the whole thing around the apple slices, and spread it with butter and sprinkles with additional apple pie spice. Lastly, bake them well, and let cool for about 5 minutes before serving.
That's it, plain and simple, right? It won't take you longer than 30 minutes to get about 8 servings of these apple pie bites onto your plates. Many will say out loud, "how can something so easy taste so good?" They are the best (last-minute) dessert for any event.
You can recreate the delectable apple pie bites with just a few simple steps.
Total time: 27 minutes
Sometimes it's the simple things in life that matter, just like these cheese and berries stuffed crescent rolls. With just four key ingredients, anyone can whip up these delicious treats without spending an entire afternoon or evening.
Berries are great when you consume them fresh, but you could make these fruits better by incorporating them into the baked crescent dough along with cream cheese. The results are a great combination of fruitiness, creaminess, and soft texture.
Total time: 30 minutes (Excluding 1 hour of chilling time)
Be sure to make several batches of these bars because no one can eat just one of them. Fortunately, they are very easy to cook and call for a few widely available ingredients.
The required items may have already been sitting in your pantry. You need refrigerated crescent roll dough, lemons, packages of cream cheese, sugar, and butter. Together, these 5 simple components create extraordinary sweet-tart bars with an appealing golden appearance.
Looking closely, you will find a delicious mixture of cream cheese with lemon stuffed in a crescent roll bottom and top. The baked texture combined with lemon cream cheese goodness makes for an unforgettable experience.
Explore how you can make a delicious serving of lemon cream cheese bars with this detailed cooking guide.
Total time: 25 minutes
Are you craving something with a sweet and vanilla flavor? Search no more since these Empty Tomb Rolls fit the bill. They have a hint of cinnamon and sugar mixture with a melting marshmallow filling. The golden brown color crispy exterior adds more to the inviting charm.
Empty Tomb Rolls are an ideal treat for Easter. They are also known as Resurrection Rolls, Resurrection Buns, or Resurrection Biscuits because of their symbolism for the Easter resurrection story.
The making procedure doesn't involve much trouble. First, dip the marshmallow into sugar and cinnamon, then place it into crescent rolls and seal tightly. Next, dip the rolls into a cinnamon-sugar combination along with butter. Lastly, bake, and enjoy!
Total time: 45 minutes
Now, this is one dessert that will make you impatient. Its hunger-provoking smell coming from the oven is hard to resist and makes anyone wish they could eat the dumplings off the baking dish. Who can't say no to peach pieces nicely wrapped in rich puffy crescent roll dough?
Furthermore, the whole thing is drenched in lemon-lime soda and a butter-cinnamon mixture. Thus, the dish is never boring, thanks to the hot dumplings and a rich sauce. For better enjoyment, you can top the meal with ice cream or the sauce from the bottom of the dish.
The total cooking time may be on the longer side, but it's all worth it for everything mentioned above. Besides, 30-35 minutes of the cooking time is for baking. So the active time is only about 10 minutes.
Try making crescent roll peach dumplings for your whole family now.
Total time: About 20 minutes
Peanut butter Nutella crescent rolls are a great way to conclude your fancy dinner, especially with a scoop of vanilla ice cream. This recipe is similar to your average peanut butter sandwiches but better thanks to the crescent dough's fluffy texture.
The combination of rich Nutella, sweet banana, and sugary mini marshmallows will get to anyone. The best part is you can make the dish even sweeter by putting on some melted Nutella and powdered sugar.
Once the finished product emerges from the oven, don't worry if it doesn't look all that appealing. Once you put in melted Nutella and powdered sugar, the dish will look the part. Feel free to replace bananas with strawberries or whatever suits your liking.
Total time: About 15 minutes
At first glance, this dish may look identical to apple pie bites. But look closer, and you'll see the differences. Instead of utilizing fresh apples, you cook the fruits over medium-high heat in a skillet with butter. This helps the apples become more tender and juicy.
There's also the icing, which is optional. I advise you to make this component to experience the dish at its best. Making the icing is simple; you just have to whisk the milk and powdered sugar until the mixture reaches the desired consistency.
To adjust the icing to your liking, add more milk or powdered sugar for thinner or thicker results, respectively. Once the baking is done, drizzle it onto the finished product, and enjoy this sweet and tasty treat. Remember to beware of the hot fillings!
Anyone can make fulfilling homemade crescent roll apple turnovers if they follow this guide.
Total time: About 15 minutes
Have you ever thought about baked fried Oreos? Yes, they are real and also a very delicious recipe you can make at home. Plus, they are not deep-fried, so they make for a healthy option. You can also cook this dish in an air fryer for ease of convenience.
Anyone can appreciate the crispy outside with the chewy and tasty inside. For that purpose, you need about 10-12 minutes of baking and 4 items: crescent rolls, Oreo cookies, milk, and powdered sugar for dusting.
The baked Oreos are best served warm and fresh, similar to how you serve fried foods. Therefore, when you prepare them ahead, remember not to start baking until you want to eat them. Here's a little tip: top them off with some frosting or Nutella for extra flavors.
It's possible to store the finished pieces at normal temperature for up to three days. Alternatively, you can freeze them for up to three months. In both cases, the crispness is impacted, but the overall taste remains the same.
Total time: 40 minutes
If you are a fan of cinnamon, you should check out this Sopapilla cheesecake bar recipe. Sopapilla is a popular meal in the Southwestern United States and Latin America. A typical serving consists of pillow-shaped fried dough with honey, powdered sugar, or cinnamon sugar.
In this version, you get to enjoy the crisp outside with creamy cheesecake fillings. On top of it all, there's the heavenly caramelized cinnamon-sugar mixture. Within less than an hour and very few preparations, anyone can experience this dish's goodness in all of its glory.
Surprise your family and guests by following this guide and making some Sopapilla cheesecake bars.
Total time: 20 minutes
Enjoying pumpkin desserts is one of the best ways to get the most out of the fall season. The fun pumpkin pie crescent rolls are fun and full of festive spirits. They feature the earthy, sweet flavor of pumpkin pie mix, butter, sugar, and pumpkin pie spice combination.
Whipping up the disk is plain and simple. First, spread a thin layer of pumpkin pie mix to unrolled crescent rolls and roll them up. Next, bake the whole thing for about 9-13 minutes or until golden brown.
After removing the rolls from the oven, let them cool. In the meantime, make a sugar and pumpkin pie spice whisk. When serving, coat the top of crescent rolls with this mixture and brush them with butter.
Total time: 28 minutes
I have good news for extra creamy and sweet treats lovers, especially if you don't want to spend too much time in the kitchen. You can make these astonishing cheese danishes at home without putting in too much time or effort.
The bright white and yellow look of the dish is more than enticing. Moreover, there's the sweet and fresh smell of newly-baked cheese danishes. Be careful, or you will find yourself eating them off the baking tray before you know it.
The flavor is amazing as it is, but you can be creative and try adding strawberry or raspberry jam into the cream cheese. Moreover, putting orange and lemon flavoring on the icing is also a good idea. Cooking is also about being creative, so you should experiment with many things.
Explore the wonderful ways of making flavorsome cheese danishes effortlessly here.
Total time: 23 minutes
Are you looking for a spooky dessert idea for your next Halloween party? I have just the dish you need. Whether you are a kid-at-heart or not, you will love the hazelnuts and cocoa taste of Nutella, sweetness from bananas, and a delicious powdered sugar-milk glaze.
These funny-looking mummies are easy to put together with some simple ingredients. For the eyes, you can use candy eyes, M&M's chocolates, frosting, or whatever floats your boat. The "body" consists of baked crescent dough with Nutella and banana fillings.
The only downside is that they are more goofy than spooky, but that's also why they can be a hit with the kids. The unique appearance and yummy flavor will make little ones talk about this dish long after the party ends.
The Best Crescent Roll Desserts Are Scrumptious Crowd-Pleasers
Despite how they look, most of the best crescent roll desserts are easy to whip up. However, they still offer heavenly flavors with much depth. From now on, you have a good list of handy treats to make with crescent-shaped flaky rolls at hand.
Please tell me if I haven't covered any good crescent roll dessert dishes. Plus, you can comment and share your thoughts on the best way to cook and improve them. Don't be shy: there are me and plenty of others willing to hear your ideas.
Also, don't forget to click that share button, so more will learn about the greatness of delicious crescent roll meals you can enjoy with friends and family. Sharing is caring, do you remember?