The best crescent roll breakfast recipes are what you have to save immediately now. They are delicious and easy to make at home, especially when using the store-bought crescent roll dough. Besides, they are highly customizable to your taste.
Thanks to its crunchiness and versatility, the crescent roll dough is widely used in savory and sweet breakfasts. It also comes in many kinds: buttery, flaky, Hawaiian sweet, etc. Together with some other ingredients, it can create various morning dishes.
After my post, you can save the best crescent roll recipes and make them all year round. These dishes are great for breakfast, whether it's a busy morning or a day off. Keep scrolling to kick-start my wonderful list now!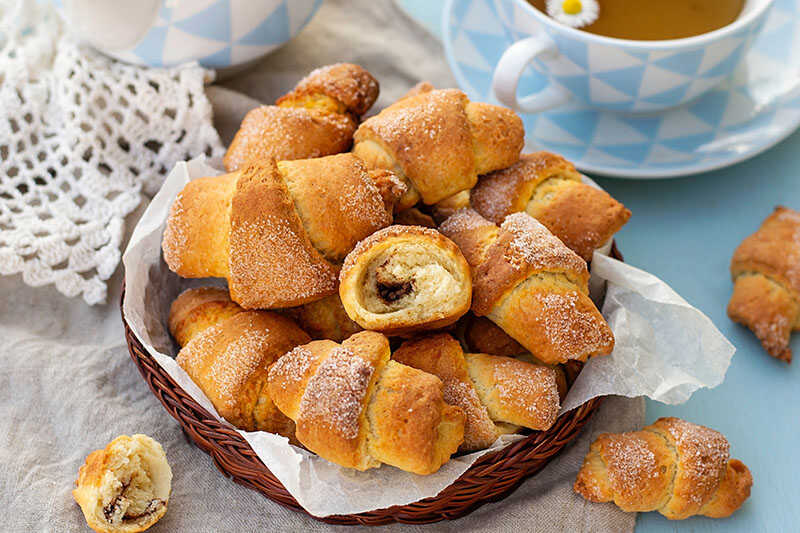 Start Your Beautiful Day With These Fantastic Crescent Roll Breakfasts!
A nice day starts with a tasty breakfast, from which you take in the deliciousness and energy for the upcoming activities. That's why you need to save these crescent roll breakfast recipes now!
Total time: 35 minutes
Crescent breakfast rings are always a to-go dish when you want to enjoy a hearty and flavorful breakfast. The ring contains many goodies, such as bacon, peppers, eggs, and onions. All ingredients gather in flaky and golden brown crescents.
There is no limit to what you want to include in your crescent breakfast ring. Besides the classic filling, you can add cooked mushrooms, veggies, or diced potatoes to make the ring much heartier.
This breakfast ring is good to prepare a day ahead. Simply make the ring, refrigerate it overnight and bake the next day. If there are any leftovers, you can put them into an airtight container and place them in your fridge for storage.
Total time: 20 minutes
These crescent rolls are filled with cream cheese and blueberry pie filling, with the powdered sugar glaze on top that you can't say no to. The dish comes together in just 20 minutes, meaning more time for you on busy mornings.
The blueberry filling has a slightly tangy flavor, making it a great counterbalance to the sweetness of the cream cheese. If you want a fresher version, replace the pie filling with fresh and juicy blueberry or any berries you like.
For storage, you can refrigerate the leftovers in an airtight container for three days. Simply reheat them in the microwave whenever you are ready to serve. A small note is that these blueberry cream treats don't freeze well.
Total time: 20 minutes
By preparing this straightforward recipe, you and your family can have a great time together. These mini cinnamon crescent rolls are fun to make and come together in just 20 minutes, enough time for some bonding activities.
The butter acts as a glue for cinnamon sugar. The icing is an integral part of these rolls. It is a creamy combination of powdered sugar, vanilla, and milk. When making the icing, adjust its consistency by adding more milk.
As the last step, you simply drizzle it over the rolls using a spoon or a piping bag. Conveniently, you can double the amount to serve more people. Simply make two separate sheets with two packages.
Total time: 50 minutes
This casserole is an outstanding candidate if you plan to treat your family members to a cheesy casserole for breakfast. They will like a combination of flaky crescent crust, flavorful sausage, and cheddar cheese.
You can use maple or Italian sausage as a meat source. Alternatively, bacon crumbles or ham also works well. For add-ins, go for peppers, veggies, and herbs. Besides, a spoonful of rosemary gives its potent, woody scent.
If you can't find full-sheet crescent rolls nearby, simply pinch the seams of the perforated crescent dough where you usually tear them apart. For leftovers after serving, you can store them in your fridge for several days or in your freezer for two months.
A hearty crescent roll breakfast casserole will not disappoint you!
Total time: 40 minutes
A braided breakfast loaf looks so nice that people will think you have spent hours making it. Then they are wrong because the recipe is easy and relatively quick to assemble and bake. In addition, a single serving of this delicious stuffed bread offers you eggs, meat, and toast at once.
Besides the classic version, you can change it as creatively as you can. For example, crumbled bacon or sausage can substitute for ham. Switch cheddar cheese to Pepper Jack for some spiciness. Or, enjoy the loaf with sour cream and salsa for a Mexican vibe.
Leftover loaves can store in your fridge for three days. Remember to keep it in an airtight container or resealable bags for the best storage. Then, when you want to reheat it, simply move it to the oven.
Total time: 26 minutes
Few things can be more convenient than these egg cups that you can make in advance and reheat easily in the morning. They have baked eggs, cheese, and bacon kept together by a crunchy crescent roll.
You can change the ingredients to enjoy new flavors every time you make these egg cups. For example, sausage and ham are good substitutes for bacon. In addition, cheddar cheese can give way to others like Monterrey Jack or Mexican cheese.
As always, veggies are highly customizable in any dish, so choose what veggies you like. The cooked egg cups can store well in airtight containers or resealable bags in your fridge for five days and in your freezer for three months.
Total time: 35 minutes
Although these breakfast pockets are simple and include the most basic staples, they are never outdated. It's time to feel the crunchy crust as you bite and a gooey filling inside.
Apart from the classic ingredients, you can never go wrong when adding sausage or your favorite veggies such as bell pepper, mushroom, or potatoes. What's more? You can include salsa as a slight Mexican twist.
If you have some kids, making these pockets is even funnier. They will surely enjoy folding the crescent roll over the filling and using a fork to seal the pockets. It's quality family time!
Total time: 32 minutes (with 12 minutes of chilling time)
Many people spend a lot of money on their favorite croissants. If it is your case, don't miss this chance to recreate this classic crescent roll treat with a lovely chocolate filling that you can easily make at home. It's not only delicious but also saves you some money. A double win!
These chocolate croissants are flexible to welcome more add-ins. Include marshmallows, cream cheese, or jam to create a soft, melty filling. Also, you can serve these croissants with some vanilla ice cream for a refreshing breakfast.
Covering the rolls with a layer of egg wash makes the croissants more appealing with a golden-brown color on top. For the puffy croissant, you should refrigerate them for some minutes before baking.
Who doesn't like these tasty chocolate croissants?
Total time: 1 hour
These sheet-pan crescent breakfast squares have long been a classic breakfast. They have two crescent roll layers and a hearty filling of eggs, cheese, and ham in the middle. All the ingredients come together on a greased baking sheet, making cleanup an easy task.
Full-sheet crescent rolls are perfect because they are more solid. Otherwise, you should pinch seams together when using perforated crescent rolls. Also, do not let your filling get too wet since it can make your bottom crescent roll layer soggy.
Thin slices of deli ham are perfect for preparing the squares with multiple layers. Nevertheless, if you like, you can use other types such as Black Forest ham or honey ham.
Total time: 32 minutes
Although making a typical pizza may take a lot of time, everything becomes easier when you use crescent rolls and add in your favorite toppings like eggs, bacon, cheese, etc. Such a meal is filling and tasty.
Besides, preparing the pizza on a sheet pan makes it easy to create big batches. Therefore, this breakfast pizza sounds great to serve a crowd, especially your overnight guests.
You may wonder how to know when the crescent roll is done. Simply bake until you see the top of it turns into a golden brown color. Or, you can use a toothpick to stick it into the crust. If the dough is dry inside, it is good to serve.
Total time: 21 minutes
These breakfast hand pies are a nice twist on your typical breakfast. Cheese, bacon, ham, and your favorite toppings lie on a rectangular pie crust. Besides, using store-bought crescent dough sheets make these breakfast hand pies a breeze to make.
Adjusting the baking time, you can adjust the egg yolk to be runny or cooked hard. The longer you cook, the harder the egg yolk becomes. Also, because the eggs cook very fast, pay attention to them while you bake to avoid over-cooked eggs.
It is possible to prepare some hand pies earlier in the week and enjoy them later. First, prepare all toppings and the crust separately and store them in the fridge. Then, when you want to eat, simply gather them and move them to an oven for baking.
Total time: 20 minutes
Kids always love interesting food that they can dip into a sauce, not to mention this dish has a lovely name: breakfast pigs in a blanket. They are simple to make and delicious. Even adults can't resist these adorable-looking bites.
Pigs in a blanket are sausages rolled with crescent rolls. Then, drizzle the "pigs" (sausages) with maple syrup to create a golden brown top after baking. You should use fully cooked sausages to save time: simply buy some from the store or cook raw sausage by yourself.
You can make a few batches and freeze them for later. Then, serve them as a quick breakfast for kids before they head to school. These pigs in blanks are fantastic snacks as well!
Make these lovely pigs in a blanket with crescent rolls now!
Total time: 50 minutes
If you want a fluffy apple pie for dessert or breakfast, you mustn't miss this one. The apple pie involves crescent rolls filled with apple pie filling. You prepare this treat by drizzling it with creamy icing made with powdered sugar and heavy cream and bake for 30-40 minutes.
The filling is juicy and sweet with drenched apple pieces. However, the recipe does not limit itself to apple pies. You can use other fruit pie filling to make your favorite flavor. Blueberry, cherry, peach, lemon, or strawberry pie filling are all good choices.
Feel free to substitute the apple cider for whipping cream when making the icing if you want a thinner and shinier covering. The apple cider also lends its apple flavor to the pie.
Total time: 32 minutes
Making mini raspberry cheesecake crescent rolls is a breeze with simple ingredients that are so quick to put together. Enjoying some sweet and flavorful raspberry cheesecakes for breakfast or dessert will be a pleasant experience for your family every morning.
To bring a fresher and more vivid raspberry flavor to your cheesecakes, let's use homemade raspberry jam. You only need some raspberries, cornstarch, granulated sugar, and lemon juice, and up to 20 minutes to create a tasty jam.
The mini version can double as a yummy dessert filled with raspberry goodness. Don't forget to cut every crescent roll triangle into two equal pieces with a knife or a pizza cutter wheel. Then, for serving, you can dip them in the milk and sugar glaze immediately while hot.
Total time: 30 minutes
These crescent roll quiches are small, sturdy tarts made with a pie crust filled with egg custard. These small-sized delights are super convenient for individual serving or for carrying to your friend's house.
The variations are endless because you are always free to add or switch ingredients to your liking. You can use either bacon, ham, or sausage. There are also many kinds of cheese for you to choose from: goat cheese, white cheddar, or Gruyere (a firm yellow Swiss cheese).
Before taking the quiches out of the muffin pan, let them cool for some minutes. Otherwise, the ingredients may fall apart from the crescent crust after the baking finishes.
Total time: 15 minutes
Nutella crescent rolls are great for a warm breakfast with a hot coffee or tea. This sweet, delicious 4-ingredient recipe couldn't be better to start your long day. Enjoy a chewy texture for every bite!
As a nice mash-up taste of chocolate and hazelnut, Nutella blends its sweetness with a slightly sour taste of fresh strawberry, making a perfect combination for the filling.
After taking the rolls out from the oven, add a dusting of powdered sugar over the freshly baked rolls, making them more appetizing. If you have a sweet tooth, dip these crescent rolls in Nutella for extra sweetness.
Total time: 25 minutes
These crescent roll Danish pastries contain a flaky crust contrasting with a tender cream cheese icing. You can also feel a slightly citrusy and clove-like note from cinnamon. The smell of such delicious treats will make your guests beam with delight at any party.
To make a smooth cream cheese mixture, you should allow the cream cheese to warm to room temperature. Doing so prevents the mixture from being lumpy and hard to mix. To add more flavor to the filling, you can add strawberry or raspberry jam into the mixture.
Because these danishes contain a cream-based filling, you should store them in your fridge. They can be good to serve within five days. Another note is that letting these pastries at room temperature for over 2 hours may affect the quality of the cream cheese filling.
Gear up and make these crescent roll cream cheese danishes with simple steps!
Total time: 30 minutes
Finally, my favorite ingredient has come: crab! Who can resist flavorful crab, especially when it combines with cream cheese inside small crescent rolls? These baked crescent rolls filled with such rich goodness are so elegant and tasty.
You will bake these crescent rolls instead of deep-frying them, making it a lighter dish. Moreover, baking helps retain the flavor of the crab. This is also a great recipe to utilize imitation crabs if you can't find fresh ones.
Remember to serve it hot when the flavors are most intense. Then, you can enjoy it with some shrimp toast, dip, or chicken lettuce wraps.
Total time: 27 minutes
A typical stromboli is a turnover loaded with Italian cheeses and cold cuts or veggies. Instead of using Italian bread dough or pizza dough as in the traditional version, you will switch to a crescent roll for more convenience.
This recipe involves salami and deli ham, adding fat and flavor to the savory stromboli. It also gets a mild tang and heat from pickled banana peppers, which are perfect for sandwiches, salads, meats, etc.
Before serving, feel free to add some melted butter or sprinkle with dried oregano to add a sweet, herbaceous flavor. Alternatively, serve it with an Italian salad dressing, horseradish sauce, or ranch.
Make and enjoy spicy Italian crescent roll stromboli today!
Total time: 30 minutes
Many people don't feel confident making a souffle because a French egg-based dish is fragile and difficult to make. Having that in mind, why don't you try a copycat recipe using convenient crescent roll dough?
These souffles have tender eggs and spinach held inside a golden brown crust. Not only are they tasty, but they are healthy and nourishing. You get plenty of vitamins and minerals from eggs and spinach. Besides, eggs and bacon are good protein sources.
You can customize these souffles to include what ingredients you like. How about adding bell peppers for a chewy texture or using sausage to replace bacon? If you want something lighter, simply leave out the meat and enjoy a combination of eggs and cheese.
Total time: 35 minutes
Everyone is happy to have a cake to accompany their cup of coffee in the morning. That's where a crescent roll coffee cake can help. Besides raspberry preserves and pecans, a sweet glaze takes the cake to the next level.
The cakes are very customizable to your liking. For example, you can switch raspberry preserves to other kinds of jams like peach or blueberry to change their flavors. Besides, using walnuts or almonds to replace pecans is also workable.
Even if you are not a fan of morning coffee, try serving the cake with ice cream, and you won't regret it! Also, The cake can be a good player at brunch or on holidays.
Total time: 45 minutes
Another grab-and-go breakfast I would like to recommend is breakfast crescent roll-ups. Your family will dearly love this delicious combo of sausage, egg, and cheese. However, it is very rich, so you should enjoy it alongside some refreshing breakfast side dishes to balance the flavor.
While preparing the roll-ups, use pre-cooked sausage links as a tip to save more time. To add some fiber, simply add some mushrooms and fresh spinach.
These roll-ups are good to prepare in advance partly. You can prepare all the ingredients except the crescent rolls a day ahead. Then, roll the ingredients inside store-bought crescent rolls and move them to the oven for baking the next day.
Making Crescent Roll Breakfasts Is Worth Your Time And Effort
Congratulations! You now have a lot of crescent roll recipes to make your breakfast happy. Most of the dishes are simple to make, flavorful, and energizing. Don't forget to collect the handy tips above.
Thanks for reading, and remember to share my post with those who like the flaky crescent dishes! If you have questions about these dishes or want to share how you have cooked them, come to the comment section now. See you soon with more recipes!
Nutrition Facts
16 servings per container
---
Amount Per ServingCalories84
% Daily Value *
Total Fat 2.4g

4

%
Cholesterol 4mg

2

%
Sodium 87mg

4

%
Potassium 21mg

1

%
Total Carbohydrate 14.4g

5

%

Dietary Fiber 0.4g

2

%
Sugars 7.6g

Protein 1.6g

4

%
---
Calcium

28

%
Iron

1

%
Vitamin D

1

%
* The % Daily Value tells you how much a nutrient in a serving of food contributes to a daily diet. 2,000 calories a day is used for general nutrition advice.