Most people enjoy these best crescent roll appetizers because they are easy to eat and suitable for individuals of every age. There are many recipes to choose from. You can use locally available ingredients to create the greatest small plates for everyone.
I believe this article can provide you with various crescent roll appetizers and how to make them easily at home. You can impress your friends or family with these delicacies. I guess it is time for you to take a look at them.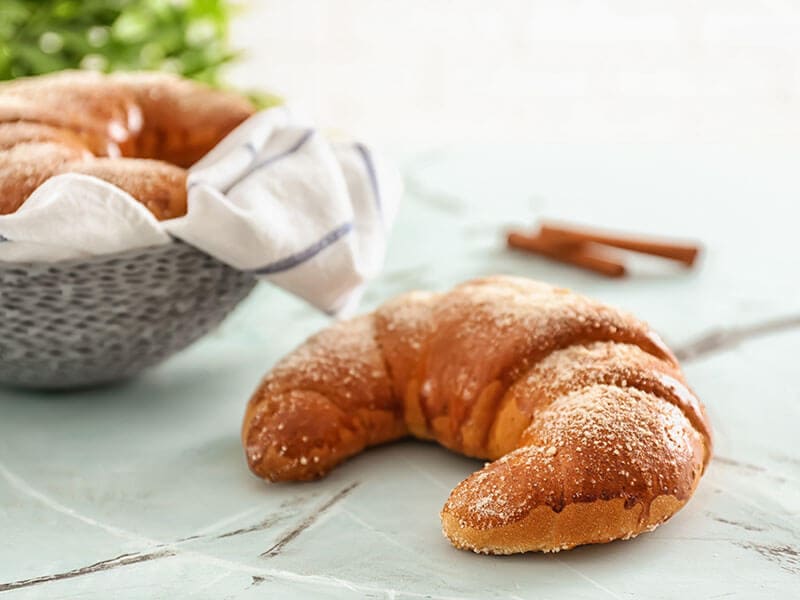 Tasty Crescent Roll Appetizers To Try And Make At Home
Do not lose your confidence because you think these recipes are too difficult to prepare. The list below largely consists of easy-to-make appetizers suitable for individual guests. They might have a simple look and cooking process, but their taste will surprise you.
Total time: 50 minutes
Let's begin with a healthy and delicious broccoli appetizer that is very easy to make. People usually fill the dough with chicken and broccoli. The broccoli not only provides health benefits but also creates a crunchy texture for the braid.
Regarding additional ingredients, this recipe works well with bell pepper, cheese, and mayonnaise. Cheese and mayonnaise will give you a creamy taste. You may want to add a pressed garlic clove for a garlicky flavor.
In case you do not want the taste too cheesy and creamy, you may try cutting back on the cheese and mayonnaise or simply remove them. The final step is to put some egg white and almonds over the dough before baking to create a crunchy texture.
Total time: 1 hour
If you want a crescent roll that comes with meat, try these antipasto squares. This meal offers a variety of salty tastes and gooey texture inside. Begin to make these squares by layering the crescent roll dough at the bottom of your pan.
After that, you put different types of meat, including salami, pepperoni sausage, and boiled ham, on it to get a slightly salty flavor.
I recommend parmesan cheese for additional consistency. This cheese has a pleasant smell. When you combine it with eggs and a bit of pepper, your antipasto will have a moist texture and cheesy taste.
Antipasto squares are not difficult to make.
Total time: 26 minutes
I will show one more chicken crescent roll appetizer you can make at home. That is garlic chicken puffs. This simple shredded chicken appetizer does not require many ingredients, so you can easily cook it whenever you like.
Mix shredded chicken and garlic powder for the filling. Do not forget cream cheese. While baking, the cream cheese surrounds the shredded chicken and creates a creamy, soft texture for every bite.
To make the puffs more crispy outside, the best way is to bake them in the oven with a layer of aluminum foil on the baking tray. No one can resist the attractiveness of the food; it's so creamy but not too salty.
Total time: 3 hours 38 minutes (including 3 hours for refrigerating)
Next, I want to introduce a healthy crescent roll that is suitable for everyone. Veggie squares crescent roll is not only simple to prepare, but it also has a lot of nutrients from various veggies.
You can make it in the way you like with any vegetable. I suggest you use broccoli, green onion, green pepper, and mushrooms. These vegetables make the outlook more colorful. Each vegetable will have a distinct texture and flavor.
The crispiness of mushrooms, bell peppers, and broccoli will create an unusual attraction for each square. Nothing beats finely diced tomatoes for increasing the acidity and making the texture more succulent.
One tip to help you keep the freshness and crunchiness of vegetables is to put all veggie squares in the fridge for 3 to 4 hours. This will be a refreshing gift that will keep everyone cool on a hot day.
This tutorial will show you how to make veggie squares with the crescent roll.
Total time: 30 minutes (including 1 hour 30 minutes for rising)
This entree is perfect for people that love eating something herbal. Garlic and herb crescent rolls might look simple and not have many colors, but the texture and the taste will not disappoint you.
People call it garlic and herb crescent rolls because of the unique combination of garlic, rosemary, thyme, butter, and flaky sea salt. The unique aroma of herbs will compensate for the crescent roll dough's bland flavor. The herbal smell contributes to the dish's overall flavor balance.
The rolls have light yellow outside but are very soft and buttery. Once you try the first one, you can not stop eating. Rich flavor and herbal aroma keep attracting you with every bite.
Total time: 22 minutes
If you like sausage, I think there is nothing better than these pepperoni cheese stick roll-ups. You can make these mozzarella starter treats anytime without worrying about the cooking process. Just try, and you will get a buttery and sticky roll.
Refrigerated crescent rolls are an essential ingredient for the outside layer. For those who dislike pepperoni sausage, you can replace it with salami or ham. Let your creative work.
I recommend using mozzarella cheese instead of regular cheese. When serving, start ripping the roll apart to stretch the melted cheese. This is not only a tasty cheese stick but also very entertaining, especially for the kids.
Total time: 25 minutes
Jalapeno popper crescent roll will give your meal more new flavor. When you first hear about jalapenos, you might think they are extremely spicy, but the truth is not.
You should begin by removing all the seeds of jalapenos. In case you want to experience jalapenos' spiciness, you can leave some, but not too much. The significant highlight is the smoky, burnt aroma of baked jalapenos and the salty taste of bacon.
As a result, you will have a light green color for your meal. Jalapenos are still crunchy after baking. When you take a bite, the spiciness comes first, followed by the rich flavor of cream cheese. These crescent rolls have everything you want for a meal.
Jalapeno popper crescent rolls are a special entree due to their spiciness.
Total time: 32 minutes
Let me show you an amazing green-looking spinach appetizer if you do not want to eat something too spicy. These spinach pinwheels are very easy to make with spinach and garlic herb cheese as the main ingredients.
The best impression of spinach pinwheels is the crunchiness of the crescent roll dough. You only need to chop spinach, then spread garlic herb cheese with it on the flattened dough.
In the center of each roll will be a spiral embellished with green spinach. Even those who dislike vegetables will appreciate the rich aroma and mild garlic flavor. If the flavor is too bland, you can add more garlic and salt to make it tastier.
This finger food is also suitable for vegetarians. One little fact is that you can refrigerate the dough before baking to cut it easily.
Total time: 30 minutes
Imagine how excited your guests will be if you serve them an appetizer made with crab meat. That is why I want you to try the crab and cream cheese-filled crescent roll.
Be confident because the cooking process is very simple. However, the flavor is more amazing than you've thought. Season crab meat with salt and cayenne pepper for more flavors. To complete the mixture, add cream cheese and green onion and stir them well.
The intense flavor of cayenne peppers will balance the inherent fattiness of this enjoyable cream cheese appetizer, keeping it from being too overwhelming. The roll is easy to eat for most people, even children, thanks to its softness and creaminess.
Total time: 45 minutes
People call it a taco ring because it resembles a taco. You can even make it a main course if you want. The crescent rolls are folded to cover the filling and placed next to each other to form a circle.
For the filling, I recommend you make it with beef. Beef stir-fried with onions will add a succulent aroma. To keep the beef filling from splattering during the cooking process, add some cream cheese and sprinkle shredded cheddar on top.
While baking, cream cheese will blend with minced beef, making the texture gooier. You don't have to worry that the beef will fall out when you eat it. Sour cream or chutney will be a perfect sauce for the taco.
With this tutorial video, you can make a yummy Taco Ring.
Total time: 25 minutes
Asparagus is a familiar starter for many meals. However, with crescent rolls, it will become even better. These rolls are simple to prepare but have an odd appeal to everyone.
The main flavor of this comes from the asparagus baked in the oven. The asparagus is slightly scorched on the top and bottom after baking. As a result, the crunchiness of the dough and the smoky flavor of baked asparagus will delight you and your guests.
You may want to sprinkle more mozzarella cheese and parmesan cheese on the rolls after baking to create a cheesy taste. If you want it to be saltier, you can add some salt, but not too much.
Total time: 30 minutes
Cheese and onion mini croissant is an amazing dish with crescent rolls suitable for even breakfasts and family meals. It does not take too much time to prepare, and you can use any ingredient you like besides onion.
The way you make it is quite simple. You just need to cut the croissant in half, add green onion and cheese, then pour the beaten egg on to get a fluffy texture. The aroma of green onions also attracts other people.
Due to the softness and balanced flavor, the mini croissant is suitable for everyone, even children.
Total time: 25 minutes
If you are looking for something that comes with mushrooms, why don't you try these cream cheese crescent rolls? Those tiny rolls have a fragrant smell and mild savory taste when coming out of the oven.
Canned mushrooms are the best option for you to make the filling. They have enough flavor without adding any other spice and have no moisture. Everyone may feel the softness and crunchiness of baked mushrooms at the same time.
To complete this must-try mushroom appetizer, cut the crescent rolls, then spread the combination of cream cheese and mushrooms over the dough. You should make it in large batches because I guarantee people can not stop devouring it.
Total time: 50 minutes
Next, I want to show you an irresistible ground turkey treat for every occasion: meatball-stuffed crescent rolls. You might be confused because not many people eat turkey at the start of a meal. Even so, why don't you give it a try?
Besides basic seasonings like salt and pepper, you should mix ground turkey with parsley, onion, and garlic to give it a unique aroma.
To get an attractive crispy yellow cover, you may want to brush yolk on each roll. You better serve these meatball-stuffed rolls when they are still warm to keep the moisture of ground turkey and the tastiest flavor.
Total time: 30 minutes
These bacon and cheese crescents may be a little heavy for eaters at the beginning of the meal. But it is worth trying for a family gathering. The smoky bacon and melted cheese will satisfy everyone with a hungry stomach.
Bacon and cheddar cheese are 2 main ingredients to combine with crescent rolls, onion, and eggs. The salty flavor of bacon comes first when taking a bite. Meanwhile, the cheese adds a richer flavor while reducing the saltiness of the smoked bacon.
While being baked, bacon releases its fat and becomes crispy. The cheese will melt and provide a gooey texture for every roll. These 2 factors make these crescent mouth-watering and more balanced.
Bacon and cheese crescents are a classic beginning for every family.
Total time: 20 minutes
I have one more crescent ring for you to try at home. However, you may get excited because it comes with chicken and avocado. This tasty chicken appetizer recipe is suitable for any gathering occasion: breakfast, brunch, or even dinner.
It is not an exaggeration to say that the combination of chicken and avocado gives a softness to the overall texture. On the other hand, cheddar cheese and crumbled bacon increase the cheesy and savory taste of every bite.
You only have to sprinkle shredded cheese, chopped chicken, avocado, cheese, and bacon on the dough, then bake until golden brown. Trust me, nothing is better than an appetizer with a crispy and complex texture.
Total time: 45 minutes
Crescent roll carrots filled with egg/ham salad are so much fun to make and eat. You must try it at least 1 time for your children because of its funny shape and tasty flavor. To get a beautiful carrot outlook, you will need some metal cream horn molds.
There are 2 options for you with the filling. You can make egg salad or ham salad, depending on your taste. Then, fill each roll with the chosen salad. Those rolls delight people with a refreshing flavor and a crispy outer layer.
A small tip to make this starter more attractive is using orange food color to make the rolls look more like a carrot. This appetizer is very interesting to enjoy with your family.
Total time: 45 minutes
Can pineapple appear in a crescent roll? The answer is yes. The combination of pineapple and crescent roll dough will provide you and your family with a new dining experience. Let's see how you can make it.
To get a slight sweetness and a nice brown color for your pineapple, you may want to caramelize it with onion in the pan first. The acidity and gentle sweetness of pineapple and onions contribute to the dish's deliciousness.
For the filling, ham and cheese will be perfect. Your palate will be stimulated by the variety of flavors, including cheesy and sweet, in each bite.
Total time: 1 hour 15 minutes
Olives are another signature ingredient that you can utilize to make finger food. The distinct flavor derived from them will provide a light yet delicious start to any meal.
There is an interesting ingredient in fiesta bites, which is guacamole. In case you do not know, guacamole is an avocado-based sauce, it has a refreshing flavor and smooth texture. Therefore, most people do not feel too heavy when eating.
I advise placing some bacon bits on top for an additional salty taste. Finally, olives, cilantro, and tomatoes create a balanced, refreshing flavor.
Total time: 25 minutes
Corned beef Reuben crescent rolls are very popular with most American families, especially on holidays like St.Patrick's Day. You can make these delicious beef rolls anytime to diversify your family's daily menu.
The main flavor of each bite comes from corned beef. It has a unique salty taste, so you do not have to add salt. I suggest using Swiss cheese to get the best cheesy flavor and gooey texture.
For the sauce, you can get a Thousand Island dressing in any supermarket to complete your food.
Corned beef Reuben crescent rolls are a culinary icon for St. Patrick's Day.
Total time: 1 hour 20 minutes (including 1 hour for refrigerating)
Many people enjoy eating shrimp as well as tasty shrimp-based appetizers. Therefore, allow me to add the shrimp lover squares to the menu. You can easily make them at home, and they are as tasty as the appetizers in a fine-dining restaurant.
Fresh shrimp will be used as the main ingredient. As a result, after boiling, shrimp retains its firmness and natural flavor, which helps to balance other spices in the dish.
To make it more attractive, you can add some seafood cocktail sauce with pepper and onion. Remember to refrigerate these squares for 1 hour before serving. All ingredients, including the shrimp, create a crunchy texture that impresses everyone.
Total time: 25 minutes
Have you ever heard about a dip made from artichoke? Sounds a little strange, right? But trust me, spinach and artichoke dip roll-ups will astound you from the first try.
Artichoke hearts enhance the overall taste of the dish with their unique flavor. If you just have worked with artichoke hearts for the first time, wash them thoroughly before draining and chop finely to remove all bitterness.
The golden brown color with a soft and creamy texture ensures this appetizer is a must-try for your dinner.
Crescent Roll Appetizers Are An Ideal Start For Every Meal
The best way to begin a happy meal is a delicious starter. You can utilize your creativity to make a variety of crescent roll appetizers for your friends and family.
Making a crescent roll delicacy might require meticulousness and patience. However, your outcomes will deserve your time and effort. All recipes above will help you conquer everyone's taste.
I hope the information that I have provided will be useful. It is my pleasure if you can leave a comment below and share my post with people around. Thank you and good luck.
Nutrition Facts
8 servings per container
---
Amount Per ServingCalories411
% Daily Value *
Total Fat 28.9g

45

%
Cholesterol 52mg

18

%
Sodium 735mg

31

%
Potassium 125mg

4

%
Total Carbohydrate 24.3g

9

%

Dietary Fiber 0.6g

3

%
Sugars 4.8g

Protein 11.9g

24

%
---
Calcium

131

%
Iron

2

%
Vitamin D

2

%
* The % Daily Value tells you how much a nutrient in a serving of food contributes to a daily diet. 2,000 calories a day is used for general nutrition advice.