Speaking of easy creamy desserts, there are hundreds to thousands of them in the world. Each place has a unique dessert with different processing methods ranging from hot to cold, from smoothie to mousse. Due to that diversity, choosing what to make is challenging.
Keep scrolling down this post to see what my recommendation is for an easy creamy dessert that you can make to please your family's taste buds.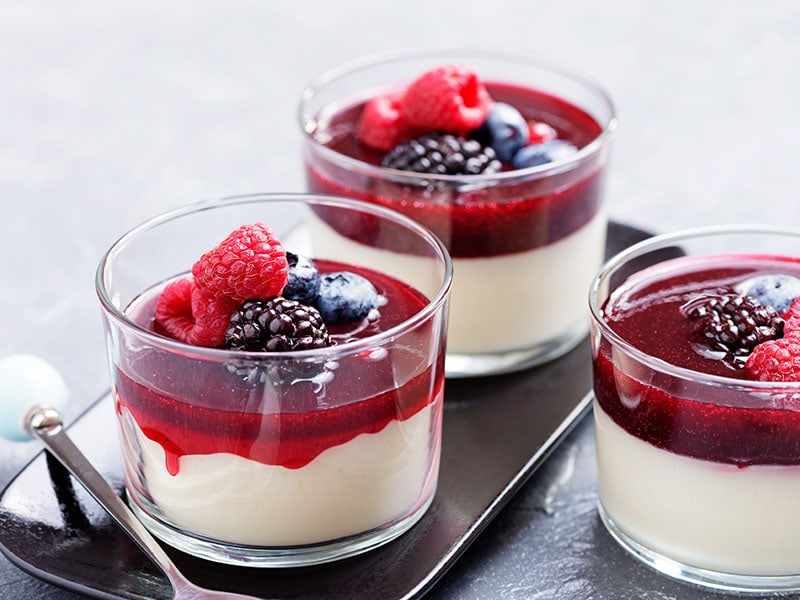 Finish One Portion Of These Desserts, And You'll Always Ask For More
Yes, I am very confident to say that because each dessert from the list of 21 delicacies below is just sensational and nourishing.
Total time: 1 hour 5 minutes
The first creme brulee recipe first appeared in the cookbook of the renowned French chef François Massialot, which was published in 1691. This dessert has a thick custard base covered by a thick layer of burnt caramelized sugar topping.
For this recipe, the most important part is the custard or creme anglaise (which literally means English cream). This is a mixture of vanilla ingredients, cream, and egg. Once you successfully make the custard, the rest of this recipe is so easy.
After a few hours of chilling, the creme brulee is ready to be served. Top some brown sugar on top of the custard and burn it with a kitchen torch to create a layer of caramelized topping.
The classic creme brulee is so easy and delicious with this tutorial.
Total time: 1 hour 12 minutes (including 1 hour of chilling time)
If you are a big fan of peanut butter, don't hesitate to make this creamy and fatty peanut butter pudding with this recipe. This dessert is perfect for rounding off any meal, or it can be served as an afternoon sweet treat.
This dessert is all about its smooth mixture. You will need to boil milk, sugar, cornstarch, and salt in a pan first. Once everything is mixed, turn off the heat, and add vanilla, peanut, and butter before slowly stirring the mixture.
Now you have a smooth and creamy pudding, but it needs some time in the fridge to get ready. Peanut butter pudding can last up to a week in the fridge, so do not worry if you accidentally made too much.
Total time: 1 hour 10 minutes (including 1 hour of chilling time)
The next specialty that I want to introduce is the mixed berry trifle. The combination of strawberry, blueberry, and vanilla custard is just stunning. This trifle is perfect for serving a crowd at parties or on holidays.
This recipe uses vanilla custard because it is soft, fluffy, and retains the form of the trifle better. It is the only ingredient that requires cooking; the other parts of this trifle are fresh berries and ready-made pound cake.
A cup of strawberry or raspberry jam works like a charm to highlight the strawberry flavor of this trifle. The presentation also makes this dish a terrific summer dessert. Don't forget to arrange all the layers as evenly as possible.
Total time: 1 hour 30 minutes (including 1 hour of chilling time)
If you have had enough fruit-based trifles and want to try something different, then this delectable Oreo dessert recipe is what you are looking for. This dessert is simple and packed with Oreo flavor and creamy layers of chocolate pudding.
The trio that makes this trifle are chocolate sheet cake, chocolate pudding, and Oreo whipped cream. For the chocolate sheet cake, cut it into small cubes and use them as the first layer. The following layer is chocolate pudding, but make sure to give it some time to chill first.
The third layer is Oreo whipped cream that is made from crushed Oreo cookies. Just like the pudding, let it rest before using. Nothing satisfies a sweet tooth like chocolate and Oreos, which are both present in this trifle.
Total time: 3 hours 30 minutes (including 3 hours of chilling time)
The famous tiramisu dessert originated in Treviso, Italy. Its name means "pick me up". Yes, who wouldn't pick a tiramisu if they are craving a sugary treat? Tiramisu has many variations, but this recipe is the closest to the authentic one.
This dish consists of savoiardi (ladyfingers), which are sweet sponge cake biscuits bathed in coffee and stuffed with mascarpone and egg cream. If you are wondering what mascarpone is, it is a soft Italian acid-set cream cheese that is usually used in cheesecake recipes.
The secret to this sweet treat of ladyfingers is the use of liquor (which is quite unusual in making desserts). People usually mix rum or marsala wine with coffee and add the blend to the filling or soak savoiardi in it. That explains the distinctive flavor of this Italian delight.
Recreate the authentic tiramisu with this informative and simple guideline.
Total time: 1 hour 10 minutes
This pecan pie cheesecake is an extraordinary combination of pecan pie and cheesecake. Not to mention the pecan caramel sauce complements the pecan pie so well. This tasty treat is meant for every party.
For this recipe, you will need to prepare the crust base, the pecan filling, the cheesecake, and the caramel topping. Regarding the presentation, the layers of this specialty will go in that order. Follow the instructions, and the resulting cheesecake will surprise you.
A little secret tip for this recipe is the replacement of brown sugar for the regular one. This is because pecan pie tastes better with brown sugar. Another thing is that cheesecakes always require time to chill, so do not rush to serve them yet.
Total time: 5 hours (including 4 hours of chilling time)
Matcha tiramisu is a convincing example of how wonderful it is when the East meets the West. In this case, it is a tasty combination of the best Italian dessert and the iconic Japanese ingredient, matcha (green tea powder with an umami aftertaste).
This tiramisu is similar to the original, but it's a lovely treat with matcha as a twist. Savoiardi ladyfingers' layers are covered in mascarpone filling. If you don't like a lot of creaminess in this particular recipe, use two layers of ladyfingers instead; there is nothing wrong with more crunch.
This matcha tiramisu is extremely rich, creamy, and garnished with some sweetness of sugar. But the burst of matcha aroma is what makes this dessert so special. Marsala liquor also adds a distinctive flavor to this variation of tiramisu.
Total time: 1 hour
It is claimed that buttermilk pie originated in England and was brought to America by Southern settlers. This creamy pie is often mistaken for chess pie. The clearest distinction between these two is that the latter contains cornmeal while the former doesn't.
The key to a delicious buttermilk pie is the crust and the filling of the pie. For the pie crust, a regular one would do just fine, or you can replace it with graham crust. Don't forget to add a spoon of lemon juice to the filling because it is essential for this type of pie.
The complete baked pie will have a top that looks like a creme brulee while the filling inside is so smooth and creamy. You can top it with some whipped cream for the extra flavor and fattiness.
Total time: 1 hour 40 minutes
Here comes another Italian delicacy. This Italian Ricotta pie is super creamy and tasty with a little flair of tanginess thanks to the lemon zest. The term ricotta literally means 'recooked', which refers to how it is created by additional fermentation.
The crust for this pie is called pasta frolla – a type of Italian crust that has a sourness to it because of the lemon zest. The essence of this dish is the filling that also contains lemon juice, lemon zest, and whole-milk ricotta.
You know that the pie is done baking when you see the pie crust is jiggly and puffed up with some crackings around the edge. At that stage, its filling has a creamy and smooth texture that will fascinate even the pickiest eaters.
Total time: 5 hours 35 minutes (including 4 hours of chilling time)
Flan, sometimes known as crème caramel, is a creamy custard delicacy with caramel on top and is very popular in Mexico, Spain, and many other Latin American nations. It is a sensational dessert to complete any meal.
The caramel top layer is made by stirring sugar in a skillet. Once the sugar is completely melted, let the caramel chill for a bit. Pour the custard mixture of eggs, condensed milk, whole milk, and vanilla extract into the caramel skillet and wait for it to cook.
After that, flip the skillet to get the caramel on top of the cooked mixture. The secret to the silky, creamy, and smooth texture of flan is the baking technique: The custard mixture is cooked in the hot steam that evaporates from the water bath.
Flan is a simple and easy-to-make dish for a family dessert.
Total time: 6 hours 30 minutes (including 6 hours of chilling time)
The dessert that I am about to recommend will make caramel enthusiasts salivate. This caramel cream pie has a salty caramel filling that is superbly soft and creamy, coated in Golden Oreo crust with extra whipped cream topping.
This icon of whipped cream desserts is super convenient: there's no need to bake anything, so you don't have to worry about time or temperature. The Oreo crust is so easy to make; all you need to do is mix the crushed Oreo and melted butter until they are even.
For the caramel filling, you only need to beat the mixture of salted caramel, whipped cream, sugar, and cream cheese. By beating this mixture evenly, you will create the creamy, silky texture for the pie.
Total time: 25 minutes
Italy is the cradle of many iconic desserts, one of which is the panna cotta. It is made from a mixture of gelatin and pudding. This dessert is favored all over the world because it is delicious and so simple to make.
"Cooked cream" is the English translation of panna cotta. The process of preparing panna cotta involves heating the cream with gelatin so that the cream gets thickened and creates a jelly-like texture.
For the classic panna cotta, vanilla is the main flavor. Meanwhile, the fruit compote or sauce is made from berries and sugar. However, you can be creative with chocolate base flavor and garnish it with strawberry compote, but it is all up to your imagination.
Follow this tutorial to make panna cotta like a native Italian.
Total time: 5 hours 25 minutes (including 5 hours of chilling time)
The next dish on the list is a duplication of the all-time favorite Dairy Queen ice cream cake. This dish is a perfect ice cream dessert with two layers of chocolate fudge and crunchies sandwiched in the two ice cream layers.
There are four layers of sweetness in this incredible ice cream dessert. The first layer is chocolate ice cream, then comes the chocolate fudge, followed by the crushed oreo, and, finally, vanilla ice cream on top. You don't have to make any ice cream: just use what you have on hand.
This specialty is cool and creamy, thanks to the chocolate and vanilla ice cream layers. The sweet middle fudge and crunchy chocolate layer complement the ice cream so well in terms of texture and flavor.
Total time: 6 hours 20 minutes (including 6 hours of chilling time)
Don't miss out on this coffee panna cotta recipe if you are a coffee lover with a sweet tooth. If you crave a taste of coffee but are worried that a cup would keep you up at night, this dessert is for you.
The texture of the coffee panna cotta is creamy and silky, just how panna cotta should be. It instantly melts as soon as you put it in your mouth. The sweetness of the espresso syrup and the bitterness of the coffee will awaken your senses.
When you prepare the gelatin, the mixture should be stirred regularly for everything to dissolve. This is important because this process will decide the texture of your panna cotta.
Total time: 15 minutes
Another tempting trifle that I want to introduce is the banana pudding trifle. With this recipe, you will be able to utilize your leftover bananas and serve your family and friends a savory dessert with an appealing presentation.
To begin making this trifle, start with a layer of vanilla cookies at the bottom, then comes a layer of freshly chopped bananas. After that, spread the pudding evenly on the banana. Repeat this order a few more times until the trifle dish is almost full.
There is always room for extra topping: add another layer of cream and a layer of remaining ingredients. This dessert takes only 15 minutes to prepare and can be made ahead of time, but the quality will remain unchanged.
This banana pudding trifle tutorial will teach you how to make this creamy dessert for your family.
Total time: 7 minutes
On sweltering summer days, all you might ask for is a refreshing and creamy treat like this key lime icebox cake. This cake is made from layers of graham crackers on top of likey tangy and lime lemon cream filling.
A splash of key lime juice balances all the sweetness from other ingredients and furnishes a significantly refreshing touch to this dessert. Regarding the texture, the graham crackers play an important role in fulfilling the crunchiness of this cake.
For the top layer of lime cream, the addition of extra sweetness from sugar and vanilla flavor is necessary to balance out the sourness from the lime juice and lemon zest.
Total time: 2 hours 30 minutes
Not mentioning cheesecake in a list of creamy desserts is a big omission. The next entry that I want to introduce is a riveting raspberry-studded treat that will offer you all shades of fruity deliciousness.
Let's break down this recipe quickly. The base for this recipe is graham cracker crust. In the middle is the creamy white chocolate cheesecake filling. On top is the savory sweet and sour raspberry sauce along with super rich whipped cream.
A special baking method is required for this recipe. It is called water bath baking: your cheesecake will be baked by the heat that comes from evaporated water. This technique retains the cheesecake texture and avoids cracks on the surface.
Total time: 10 minutes
Looking for a straightforward dessert recipe to cook your pineapples? It's right under your nose! With just 10 minutes to prepare and 4 basic ingredients, you can prepare this astonishing dessert for your family and loved ones.
This recipe uses canned pineapples as the main flavor, with whipping cream, pudding, and shredded coconut. You can finish the recipe with some pecan topping, but it is optional. This dish needs to be in the fridge for a few hours before serving.
The secret of this dish lies in the canned pineapple juice. It brings moisture to the fluff as well as adds extra sweetness with the hint of pineapple flavor in the back. You can freely customize this dish just by using the pudding flavor and the fruit of your choice.
Total time: 8 hours (including 6 hours of chilling time)
There are just so many things going on in this Black Forest cheesecake recipe. For your information, Black Forest is a chocolate sponge cake with cherries filling. But this recipe replaces sponge cake with cheesecake to create a creamy, luxurious taste.
The bottom base of this dessert is crushed oreo and melted butter. For the cheesecake, it will be a bit complicated, but the result will be worth your effort. The cherry topping and whipped cream are the final touches for this dessert.
On the top are the white cream rosettes of sweetened whipping cream and fresh, juicy cherries. They herald all the richness and cheesiness from the middle layer of the sugary chocolate cheesecake. The Oreo crust adds a slight sweetness and crunchiness to it.
This Black Forest cheesecake brings out the best flavor of chocolate and cherries.
Total time: 5 minutes
Posset began as a common hot beverage in Britain but eventually evolved into a cream-based dessert. Although it tends to be mistaken for panna cotta, posset does not contain gelatin. This dessert is super tasty and simple.
This irresistible passion fruit delight is made of four simple ingredients: cream, passion fruit pulp, lemon juice, and sugar. Therefore, it comes as no surprise that this velvety dessert has a stimulatingly tangy flavor.
For the processing, you need to simmer the cream and sugar first and constantly stir the mixture. After that, remove it from the heat and add passion fruit pulp as well as lemon juice. Before letting it chill in the fridge, double-check if all the ingredients are evenly mixed.
Total time: 4 hours 10 minutes (including 4 hours of chilling time)
Just like flan or panna cotta, mousse desserts have many variations. This mango mousse is the ultimate comfort snack, packed with the natural flavor of mango plus the perfect combination of sweetness and sourness.
The special thing about this recipe is that it does not require gelatin or eggs to solidify the texture of the mousse. The acidity from the orange and lime juice will change the pH in the milk and cream, causing proteins in them to clump together.
This dessert has an attractive yellow color and a refreshing tropical taste. It is super sweet and creamy but well balanced by the sourness of citrus and mango. A touch of fresh or frozen mango garnish will complete this dessert.
Total time: 1 hour
Red velvet cake is the ultimate sweet treat with whipped cream that represents the holidays. Who can resist the charm of a soft, creamy, and fluffy red velvet cake or its cream cheese frosting? The guests at your Christmas or birthday party will beg you for this recipe!
If you want to achieve that tempting bright red color for the cake, then two spoons of red food coloring are more than enough. Apart from the presentation, the rich chocolate taste of Dutch-processed cocoa powder is another highlight of this vermillion-hued cake.
Here are some tips for you to get the cream cheese frosting right. You can adjust the thickness of the frosting by adding or reducing the sugar. And if the light texture of the frosting does not satisfy you, you can toughen it by letting it sit in the fridge.
Red velvet cake tastes so good with this recipe.
Dreamy Creamy Desserts Are Just So Irresistible
You and your family deserve a menu filled with delightful desserts. However, choosing what dessert to serve is time-consuming and may give you a headache. That's why I am here to inspire you with the 22 tempting, savory desserts above.
I hope that with this list, you are now open to more choices of what creamy desserts to round up your meals. Tiramisu, flan, cheesecake, pudding, or panna cotta, what will be your first pick?
If you start earning praise for your creamy dessert thanks to this article, don't wait any longer to hit that like button and leave some comments below. Share this post on your social media, too, so that people have more choices for their desserts. Thank you so much!