These easy cream cheese dip recipes can make you become a rockstar at any party. Sometimes the best and easy dips can be a game-changer.
These dips can have diverse variations that are luscious and mesmerizing. Therefore, to ensure you have the most appetizing meal, I've put together all these premium quality dips for you to recreate at home.
These recipes are easy to make, versatile, time-saving, and taste fantastic. You might try whipping them up right away to see which one fits your taste buds the most.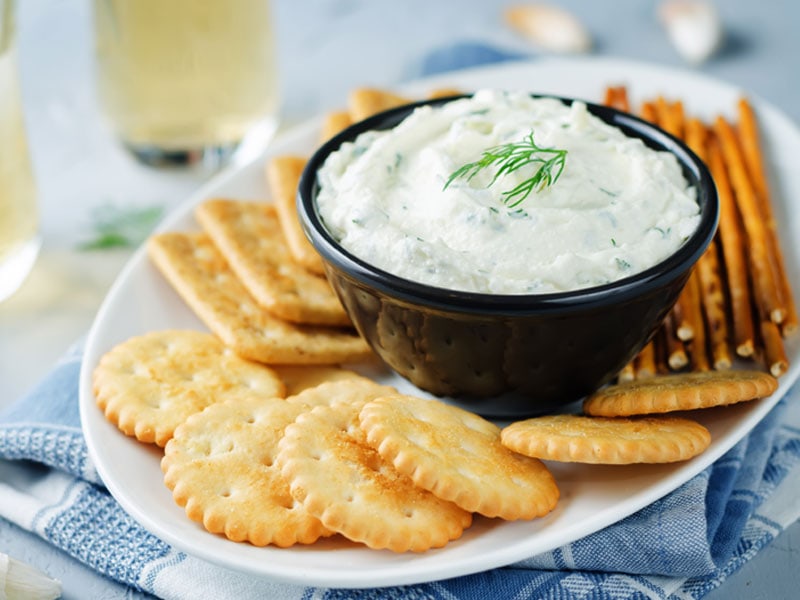 A Tasty Dish Always Needs Perfect Homemade Dip
Out of all the dipping recipes, I have never seen one that is complicated and laborious. However, this compilation is more special than all the others. I offer you these ultimate and delicious cream cheese dip recipes that make you have to gobble them up.
Total time: 35 minutes
A perfect starter recipe is none other than strawberry basil cream cheese dip. It is a flavorful combination of sweet, sour, savory, and creamy tastes. This dip is worth trying this year.
With the strawberry dip topping, your appetizers are enhanced. Not only that, but it is also the best choice when it is extremely simple to do. You can enjoy this dip with your best-loved crackers or pita chíp.
All the extra ingredients you need include just sugar, balsamic vinegar, and fresh basil. Note that do not crush the strawberries completely; this dip consistency should contain some chunks.
Total time: 35 minutes
Cajun shrimp dip has everything you love, thanks to a bold, spicy cajun taste. This heavenly creation has cajun spices, bell peppers, cream cheese, onion, and shrimp.
The typical Cajun seasoning you'll find at the store is a mix of white and black pepper, paprika, onion powder, garlic, and cayenne pepper. Therefore, it provides a spicy, earthy, and savory to any delicacies.
To make this dip, simply stir over low heat until all ingredients are mixed with melted cheese. Continue to bake for 25 minutes, or when the top turns brown, the dish is ready.
This shrimp dip is a huge hit at any party, potluck gathering, or celebration when served with toasted baguette slices.
This Cajun shrimp cream cheese dip pairs well with your favorite cracker so let's make it now!
Total time: 10 minutes (with extra 30 minutes of chilling)
If you have not had the opportunity to travel to Hawaii, you can try to immerse yourself in the Hawaiian breeze of this dip. The Hawaiian dip recipe is perfect for a delightful summer dip with a touch of the tropical breeze in your meal.
In just five minutes, you can experience the Hawaiian vibe with cream cheese, ham, bacon, and pineapple. The sauce may sound difficult to pull off, but it's more straightforward than you think.
First, you need to mix sour cream, cream cheese, and pineapple juice. Then top all the remaining ingredients into individual layers. This process creates layers of flavor that will blow your mind away.
Total time: 10 minutes
Everyone can make this 2-ingredient salsa dip in a hurry. You'll need this recipe a lot when you are in a rush to make dips for surprise parties and quick appetizers with cream cheese.
The ingredients in the recipe are not fussy and hard to find. All you need is softened cream cheese and a jar of your favorite salsa. Plus, you only need a hand mixer to whip up this delicious dip.
It tastes delicious and satisfies everything you need for a versatile dip. You can enjoy it while watching football with crunchy tortilla chips when it has been completely refrigerated.
Total time: 30 minutes
The next simple recipe is cream cheese bean dip with a Mexican vibe. The way to complete this dip is extremely easy and does not require much equipment.
Simply mix all the key ingredients, including refried beans, cream cheese, and sour cream. Then, toss in your favorite salsa and taco seasoning. Coat the mixture with Mexican cheese and bake for 25 minutes.
This dish is now ready to serve. I recommend it should be paired with tacos, rice, enchiladas, french fries, or any Mexican dish. As refried beans have a mildly sweet and earthy taste that is suitable to enrich the overall flavor.
This refried bean dip tutorial will make you love it for how easy and delicious it is.
Total time: 35 minutes
This recipe makes an incredible combo with warm baguettes, crackers, pita chips, and crostinis. It is great on thick, hearty baguette slices with sun-dried tomato and pesto cream cheese dip.
You can taste the subtle sweetness of sun-dried tomatoes with the freshness of basil pesto in a mixture of cream cheese and sour cream. I recommend you use Parmesan cheese in this dip because it has a fruity and nutty taste.
To wrap up this recipe, garnish it with fresh basil, pine nuts, or small sun-dried tomato chunks.
Total time: 30 minutes
The beer cheese dip is an unbeatable recipe. It is simple, with only four basic ingredients. You can introduce the dip at any party, like Christmas, tailgating, or simply as a snack for watching movies or football matches.
Its ingredients include grated Mexican cheese, Rotel Tomatoes, beer, and cream cheese. This recipe is so perfect that it will satisfy everyone who enjoys rich creaminess, and what's more, it retains its fluffy texture even when cooled.
Regarding Mexican blend cheese, this is a combination of cheddar, queso quesadilla, Monterey Jack, and asadero cheese. So, the overall flavor that all these bring out is light, slightly tangy, and creamy.
Total time: 5 minutes
Are you seeking a recipe that can help you to jazz up a party with sweet crackers or fruit trays? Booty dip is a great choice for that. It is a sweet and creamy chocolate-based treat that will bring satisfaction to your party.
You do not have to bake this dip. Just add the softened cream cheese, marshmallow fluff, chocolate chips, cool whip, and brown sugar and blend it until fluffy. You should use the hand mixer to gain the best texture.
The booty dip is versatile as it can be combined with many things like graham or animal crackers, waffles cone pieces, pretzels, and fresh fruits.
Total time: 5 minutes
The five-ingredient dip comes together in just five minutes. It is delightfully silky and pleasantly flavored with a bit of ground cinnamon sprinkled on top, making the mixture the ideal fusion of tastes.
With a cream cheese base and brown sugar as a sweetener, this sweet cheese dip has a delicate sweetness. The flavor is similar to cinnamon cheesecake but interpreted as a silky smooth dip.
This tasty dip goes well with any snack and fresh fruits. Some standout options include pears, pineapples, grapes, apples, and strawberries.
Total time: 10 minutes
Pickles taste unlike any other dishes since they are salty and acidic. The fermentation process gives pickles a unique crunch and recognizable flavor.
Therefore, it can be served with various dishes to improve its flavor or kill off some free time. If you're looking for a brand new appetizer dip, this dill pickle dip must be added to your menu list.
Cream cheese is sometimes too creamy, so the tartness and salty pickles can fix this all. In this dip, you also need two tablespoons of hot sauce, like buffalo sauce, to create the sour and spicy kick for the recipe.
Recreate this dill pickle dip right at home to indulge in an addicting creamy flavor.
Total time: 5 minutes
The cream cheese & olive spread is a great dip that makes everyone love it. It always runs out at the end of gatherings with slices of sandwiches.
In addition to the creamy and savory flavors, this recipe brightens up the palates of olive lovers by adding some chopped pimientos.
They are known as cherry peppers because of their eye-catching red color and heart shape with a sweet and juicy flavor similar to red bell peppers. They are great to come together in this dip recipe.
The most perfect version is that the mixture of cream cheese, olive brine, and mayonnaise becomes a spreadable consistency. If you want to be saltier, you can increase the amount of salt water according to your taste.
Total time: 5 minutes
This recipe brings you the taste of many classic herb seasonings in the dip form to pair with any shareable appetizer, snack, or dessert. As a person who loves a cooking challenge, no one can ignore experimenting with herbal ingredients.
It has been carefully selected to incorporate a variety of fresh herbs. Those categories include dills, chives, and Italian parsley.
Herbs usually stay fresh for up to 3 days in the refrigerator, if more, it's best to pick the fresh over dried ones. The equivalent amount of substitution between the two is 1:1.
In addition to cream cheese, this recipe also requires sour cream, mayonnaise, and feta cheese. The feta has the most distinctive flavor because it is extremely flavorful. You can taste salty, tangy, and creamy when you first bite.
Total time: 2 hours 5 minutes (including 2 hours of chilling)
This creamy clam dip is a hit for hot summer parties. You can imagine how unpleasant a summer gathering can be, so let this recipe help you through.
This dish full of clams is fresh, creamy, and cool with only two cooking steps. To make this dip, mix all the ingredients, so the flavors blend. Leave it in the fridge for at least 2 hours, and it is ready to serve.
The special thing about this recipe is that it has Worcestershire sauce. It is a sauce with the perfect tangy, salty, and sweet balance. Also, thanks to the anchovies, it's rich in umami. Add half a teaspoon of hot sauce like Tabasco to emphasize the warmth and heat.
Total time: 15 minutes
With a creamy cheese base, this dip introduces black beans, salsa, corn, and spices to the flair of southwestern cuisine. Parties are perfect for this flavorful dip and a plate full of chips or veggies.
However, hand mixers are better at producing the smoothest textures. Proceed to blend the ranch with cumin, chili powder, paprika, and some added salt and pepper.
Furthermore, you can include the corn, Pepper-Jack cheese, and black beans in the next step and stir until you reach the desired consistency. Spread them over your dish and enjoy.
Ranch seasoning has a tangy herbal taste that meets the needs of every appetizer.
Total time: 15 minutes
If you're looking for the perfect sweet treat, blueberry cream cheese dip is just the thing. Blueberry cream cheese can be easily made at home with softened cream cheese, fresh blueberries, and honey.
The dip also increases the freshness, thanks to a dash of lemon juice and some zest. For blueberries, you have two options. You can mush them into chunks or mash them to a jam-like consistency.
Total time: 35 minutes
Jalapeño pepper is absolutely America's favorite chili with a green color and packs a lot of heat. You can easily see these Mexican-origin chilies incorporated into anything from sauces and soups to drinks.
Jalapeño peppers have a similar botanical flavor to other peppers. They are quite spicy, but it also depends on your tolerance. For that, their appearance in this Jalapeno cream cheese dip recipe is completely reasonable.
Pairing this pepper with cream cheese, mayo, bacon, and Mexican cheese makes a perfect baking dish with a mildly spicy and salty flavor and a hidden sour note. When the cheese has melted and bubbles appear on the sides, you should enjoy this dish as soon as possible.
With five minutes, you can make a super flavorful Jalapeno cream cheese dip to serve any hungry crowd.
Total time: 10 minutes
This simple 10-minute dessert dip is a fantastic dish made with canned pumpkin. Nothing has a better pumpkin flavor than this incredible dip. In addition, the recipe possesses a beautiful light yellow color from the pumpkin.
You can use a cool whip in the ingredient table to achieve a unique texture. It is key to helping the texture of this dip be light and fluffy. This makes the consistency perfect enough that it won't break cookies and crackers while dipping.
Total time: 15 minutes
In this spinach dip recipe, you may use fresh or frozen spinach. The fresh variety gives a more refreshing feeling. If you have frozen spinach at hand, take advantage of it. Before making this dip, you must defrost and wring it out to avoid creating a thin consistent dip.
When using fresh spinach, you may chop it finely to easily stir. After the party, if you have too much leftover spinach dip, you can store it in the refrigerator for 3 days or in the freezer for up to 3 months.
If you want this spinach dip to be warm, pop it in the oven for a few minutes or eat it when fresh out of the kitchen. There's nothing better than healthy spinach combined with addicting creamy cheese.
Total time: 15 minutes
Cream cheese caramel apple dip is a perfect dish for uneaten apple slices. The trick to avoiding the sliced apples from turning brown is to soak them in a mixture of water and lemon juice.
This mixture slows the oxidation of apples and keeps them fresh longer in the refrigerator. The 15-minute recipe contains all the flavors from the sweet and creamy cream cheese with hints of gummy caramel.
Toffee is usually sweet, firm, and chewy in texture. This crispy topping can make all the serving fruit disappear in just a few minutes. Additionally, peanuts and walnuts also do a good job of adding nutty and crunchy flavor to the toppings of this dip.
Find the ultimate way to make melted caramel mixed with cream cheese and apple in the tasty dip through this video.
Total time: 10 minutes (with an extra 1 hour of chilling)
The Fiesta ranch cream cheese dip cools off on all hot days. Salsa, cream cheese, ranch seasoning, corn, and black beans are featured in this popular recipe.
You can serve this amazing appetizer with Ritz crackers, tortilla chips, and veggies such as bell pepper, carrot, or cucumber. No matter what you serve this dip with, it'll become a star at your dining table.
You should refrigerate this dip in an airtight container if you don't intend to use it. It only keeps its quality for about 3 days. Moreover, when treating it to gatherings, you should discard all the leftover dip after two hours to ensure health safety.
Total time: 35 minutes
The good news for every pizza lover worldwide is that they can make a dip to accompany their pizza. To infuse the classic Italian flavor into the recipe, you need to utilize Italian seasoning in your kitchen. It is extremely helpful to jazz up this dip.
The combination of mozzarella and parmesan cheeses makes the dish twice as delicious and creamy. This dip wouldn't be complete without the most important ingredient – pepperoni.
The sausage is usually made from pork or beef mixed with paprika for an extra kick of heat. Cheese, sausage, and decadent pizza sauce are everything that an Italian food lover cannot miss.
Total time: 10 minutes
This is the easiest and most satisfying cream cheese dip ever! Herb and garlic cream cheese is perfect for any get-together. The combined flavors of cream cheese and sour cream mixed with garlic and herbs make a luscious dipping for chips, veggies, or crackers.
You can make this recipe in advance and store it in the refrigerator for up to a week, but for the best flavor, you should enjoy it within 5 days. So, whenever guests arrive, this dip is always ready to serve right away.
Check out this recipe to bring all the fragrant herbs and garlic cream cheese dip to your meal.
Total time: 35 minutes
The Dijon mustard appearing in this recipe is a warning that you can't stop using tortilla chips or breadsticks to enjoy this dip. Sausage dip with cream cheese and cheddar is a huge crowd-pleaser.
The French mustard introduces a strong and sharp taste with a mildly spicy flavor to the sauce concoction. When added to this recipe, it lightens the creaminess of the cream cheese and the cheddar.
This dip is even better when you're done garnishing it. If you want to gild the lily, you can leave some shredded sausage along with the parsley and cheddar cheese to top it.
Worth Sharing Dip Recipes Ever
The cream cheese dip recipe is a prime pick when you need a last-minute snack for a gathering or if you are just in the mood for something delicious.
The dip is a popular condiment as it enhances the flavor of many different foods. However, many people only consider it as an additive and an attachment. Of course, it is not.
Dipping sauces can change the flavor and texture of your dish from little to complete. Finding a good dipping sauce and whipping up the dish is difficult; however, it's no longer a problem with this article.
I am sure you can find the ideal recipe in this collection of gourmet dip recipes. They are all excellent options for hot and cold occasions. Please comment and share this article with friends and family so you and them can make a delicious and simple dip in a snap.