I promise that cooking is not hard at all with these easy cranberry desserts. The holiday season is coming, and I understand how chaotic the preparation is. Therefore, these delicate yet easy-making sweets come to the rescue if you're stuck in a dessert rut.
With the fantastic sweet-tart flavor, no wonder cranberries are present in hundreds of recipes worldwide. And you will never go wrong with the combo cranberry/orange or cranberry/white chocolate.
Today, let's explore how far this berry can reach in the dessert world. There are a lot of sweets for you to check out, from breakfast cake and crisps to mini tarts. Pick one of the below recipes to amaze the guests with your baking skills.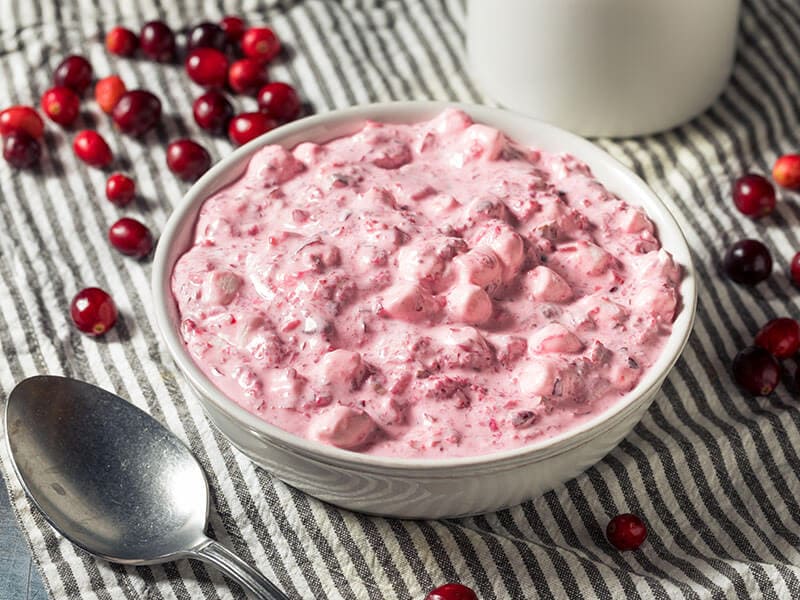 No Stress, No Sweat With These Easy Cranberry Desserts
Full-flavored cranberries are the main ingredient in many of the best fruit desserts. Moreover, these fruits are easy to process in all forms, be they fresh, dried, or frozen. Give these cranberry desserts a try, and you will get asked a lot for the recipes.
Total time: 22 minutes
This oatmeal cranberry version is the spin-off of traditional oatmeal desserts in the form of crunchy cookies. Gone are the days when raisins are the only thing that goes with cookies. The tartness of cranberries is the fun twist you're looking for.
The key to good cookies is the ratio of butter, flour, oats, and sugar. Too much flour or oats will cause cakey and dry cookies. Moreover, avoid overbaking the cookies. They may look pale, soft, and underdone in the center but will firm up as they cool on the baking sheet.
Create more variations by adding nuts like chopped pecans or walnuts. Dried cherries are also a great option to replace cranberries in this case.
Why don't you test your baking skills with these oatmeal cranberry cookies?
Total time: 17 minutes
These simple yet elegant phyllo mini tarts with brie and cranberry will be your new favorite dessert. The bold, vibrant flavors of cranberry sauce make a great pair with creamy brie on a crispy phyllo cup.
To save time, use any phyllo mini shells available at stores. If you fail to find them, cut phyllo dough into squares and press them into each muffin hole.
In each cup, place ½ tsp of cream brie. Bake for about 8 minutes, and spoon a little cranberry sauce on. Put the cups in the oven for another 4 – 5 minutes, and finish with 1 – 2 leaves of fresh thyme to round out the flavor.
The crispy golden phyllo cup, the buttery brie, and the sweet acidity of cranberry sauce will create a party in your mouth.
Total time: 2 hours and 10 minutes (including 2 hours of freezing time)
If you love frozen dessert, there is no way you can miss this holiday cranberry granita. This cranberry granita's sweet and tart flavor is a new chance for the standard ice cream on Thanksgiving. Unlike sorbet, granita will remind you of an ice-shaved treat with flavored syrup.
Granitas' ingredients include water, sugar, and your preferred flavorings. For this recipe, opt for dried cranberry instead of the berry sauce. A hint of cinnamon delivers a warm flavor.
The making is easy with only five ingredients, and you only need to toss them all in the blender. Freeze the mixture until in need of use, and scoop out your dessert with an ice cream scoop or fork to the serving dish or parfait glasses. Top with sugar-covered cranberries.
Total time: 1 hour and 15 minutes
White chocolate and cranberries go with each other like peanut butter and jelly. So it's no surprise that the duo creates another flavor bomb for these cheesecake bars. Enjoy the crunchy and creamy textures with each bite.
Although this dessert uses white chocolate and dried cranberries, feel free to substitute other dried berries, mint chocolate chips, butterscotch, or more. Also, prepare some equipment such as mixing bowls, a hand mixer, and a non-stick cake pan for more convenience during baking.
While I don't encourage you to use fresh fruit during baking due to the excess moisture, top them on the bars for a nice decoration when done.
Total time: 1 hour and 35 minutes
This spiced crisp is the answer if you need a simple yet delicate dessert full of pears and cranberries. These warm and crunchy treats with sweet vanilla ice cream are so comforting. Moreover, cinnamon, cloves, and nutmeg will fill your kitchen with a festive smell.
Pears are one of the crucial elements of this dessert, so choose perfectly ripe ones. Avoid those with bruises or torn skin. Furthermore, get creative with the fruits and spices. Use frozen fruits if it's more convenient. Or add your desired spices to the filling, such as cardamom or allspice.
Remember to bake the crisp until the topping turns golden brown. It should have a nice caramelization and slight crunch. Serve this treat warm and with a scoop of vanilla ice cream. Save and reheat the leftovers for breakfast if you want.
Give this cranberry pear crisp a go and wait for your guests' reaction!
Total time: 55 minutes (excluding cooling time)
A little bit of planning and careful work will pay you back with this Nantucket cranberry tart, a lovely finishing touch for any holiday menu. Your family will get addicted to the sweet-tart berries and crunchy almonds in every bite.
To check if your tart is ready, insert a toothpick in the center. If it comes out clean, remove your tart from the oven and let it cool in the pan on a wire rack. In contrast, let the sweet stay in the heat for a few more minutes. Serve with a simple sprinkle of confectioners' sugar on top.
The great thing about this recipe is that it's easy to make, and no special equipment is involved. Just a bowl and a spoon are enough. However, the tart filling may leak from the tart pan during baking. If possible, try using a 15x10x1-inch baking sheet.
Total time: 4 hours and 45 minutes (including 4 hours of chill time)
If you're looking for a buckwheat recipe with a festive flavor, check out this vegan cranberry pomegranate tart. This tart is gluten-free and completely plant-based, a stunning dessert for any dinner party.
Homemade cranberry pomegranate curd delivers a sweet, tangy, and zesty flavor, making it a great pair with aromatic cinnamon-spiced gingerbread. Plus, vegan white chocolate helps balance the tartness of berries, and sea salt will bind all the flavors together.
As I mentioned earlier, this cake is not only vegan-friendly but also dairy-free and gluten-free. In addition, you can go for a nut-free cake by replacing pecans with other ingredients, such as extra buckwheat or oat.
Total time: 1 hour 20 minutes
There are various ways to end a meal, but these cranberry bliss cracker toffees are my favorite. Light and easy to make, this holiday sweet with white chocolate and dried cranberry on top of buttery toffee will be a dessert everyone loves.
This easy dessert requires several simple steps and a handful of staple ingredients. Go for butter club crackers, but saltines, graham crackers, or Ritz crackers are also acceptable. Make sure your crackers will cover the pan.
The whole thing about tart cranberries, melted white chocolate, salted crackers, and sweet toffee will make your stomach happy. Be patient and wait for the toffee to cool down to break it into pieces.
Total time: 2 hours and 27 minutes (including 2 hours of chill time)
These cranberry shortbread cookies will surely be a treat for your eyes and palate. Fresh orange goes so well with the tart fresh cranberries.
To properly form a dough, you want to start with softened butter. Cold butter won't incorporate into the flour well, especially when shortbread dough does not contain extra liquids.
Also, control the cookies' textures by measuring time and temperature. A low temperature and longer baking time make crisper cookies and vice versa. Choose whichever suits your taste best.
It's never too early to make your holiday cookie dough, and you can freeze it until ready to bake. Wrap it in plastic, then foil, and seal in a Ziploc bag. Remember to defrost the dough in the fridge overnight before using it.
These cranberry shortbread cookies are a nice twist on the classic. Check out now!
Total time: 10 hours (including 9 hours of chilling and freezing time)
Nothing can compare to ice cream on a hot day, so why don't you please the guests with this delicious cranberry orange ice cream. The luscious cranberries and fresh sweet orange zest will kick up your taste buds.
I promise the homemade custard base with a hint of oranges and vanilla is better than any store-bought counterparts. Meanwhile, the cranberry puree is enough to give your ice cream a pink color and a subtle sweet tartness.
Add your personal touch by adjusting the sweetness of the cranberry swirl and custard base. Apply the amount of sugar to your liking, or leave it out and replace it with your desired sweetener. Besides, go for any mix of dairy or non-dairy milk, but keep an eye on their fat content.
Total time: 3 hours and 35 minutes (including 3 hours of chill time)
Crave a cold and sweet treat to end the night? This cranberry frozen yogurt hits the spot. Moreover, you are free to indulge in this dessert without guilt because it's made of yogurt instead of cream.
Frozen or fresh cranberries are optional. If possible, add some blackberries to have a more diverse texture. Also, use honey as a sweetener; feel free to add extra if you prefer sweeter.
Consider adding vodka because a little alcohol helps prevent the yogurt from being too hard. Besides being tasty, this dessert is good for you too. It is a good source of sodium and carbohydrates, vital in supporting bodily functions and physical activity.
Total time: 4 hours and 20 minutes (including 4 hours of chilling time)
Ice cream and pie? Isn't it a very unusual combination? Don't worry because that blend is nothing but tasty. Refresh the sweet course menu for your Thanksgiving party with this crowd-pleasing cranberry ice cream pie.
If you prefer baking old-fashionedly, the homemade components will satisfy you. In contrast, ready-made ingredients will be your life-savers if you need to make a quick yet delicious dessert in a rush. Feel free to utilize graham cracker pie shell, canned berry sauce, and Cool Whip.
To get ahead of the holiday meal, make and freeze this pretty pie in advance. Wrap it in plastic and let it stay in the freezer for a few days. Another option is making the whipped cream earlier in the day and refrigerating it. Then top the pie with cream just before serving.
Total time: 1 hour and 10 minutes
Put a beautiful end to the dinner meal with this apple cranberry crisp. This recipe is meant for the fall when apples and cranberries are at the greatest. Plus, an oat streusel topping adds extra crunch and flavor.
Simply put, a crisp is made with fresh fruits and a crumbly butter crisp topping. This recipe needs cranberries, apples, and orange (juice and zest) with a tinge of ginger, cardamom, and cinnamon. For the butter oat topping, rolled oats, cinnamon, flour, and butter will do the magic.
Follow the simple instructions, and your dessert will be ready in less than one hour and a half. Bake two trays all together if necessary. It's best to enjoy it warm with whipped cream or ice cream.
Total time: 1 hour and 10 minutes
In the mood for some insanely tasty sweet bread? This cranberry orange bread has your name written all over it. Once again, the perfect combo of cranberries and oranges delivers a stunning performance, so this recipe is getting a lot of festive flavors and colors.
Regarding tastes, the slight tartness of cranberry is in harmony with the sour-and-sweet orange, bringing a balanced flavor to the bread. Buttermilk also adds a tangy taste, so every bite bursts with flavors. And don't forget the bread. It has excellent moisture, thanks to the berries.
To check the bread doneness, insert a toothpick or something similar in the center. If it comes out nice and clean, your bread is well-baked. Another bonus tip is that parchment paper makes baking smoother, so use it to transfer the bread easier after it is done.
I'm sure you'll love this cranberry bread with orange glaze. Try it now!
Total time: 20 minutes
Do you want to give a new life to the last ⅓ of the cranberry sauce jar? This crescent Danish recipe is a great way to empty the pantry. The pastries are soft and sweet, and the flavorful cranberry sauce in the middle is irresistible.
Be creative with any jelly or jams if cranberry sauce is not your cup of tea. This recipe saves you a lot of time with canned crescent dough as the base. And making the glaze is simple enough with powdered sugar, lemon juice, vanilla, and warm water.
Keep the leftovers under cold storage, and rewarm them at 300°F in the oven for approximately 4 minutes when you are ready to eat. Even better, eat them cold straight out of the fridge if you want.
Total time: 30 minutes
You will love these cranberry orange cupcakes with white chocolate buttercream frosting after just one bite. The vanilla cupcakes filled with homemade cranberry sauce and crowned with white chocolate buttercream frosting are so gorgeous.
The cupcake is made from orange juice and a touch of orange zest. As for the sauce, it's best to make it from scratch with sugar, cranberry, and water. The cranberry/orange combo can be flexible. Replace orange juice with a teaspoon of milk or vanilla if you want.
Remember that this stimulating orange dessert recipe is for a small batch, about 7 – 8 cupcakes. However, you are free to modify it for larger servings if necessary.
Total time: 11 minutes
Get ready to meet your new favorite festive dessert: white chocolate cranberry fudge. Condensed milk and cranberries are compatible in flavor and color, bringing a cheerful and inviting vibe to any table they are on.
With five basic ingredients, it comes together in less than 15 minutes. Pay attention to the amount of white chocolate and sweetened condensed milk for the right consistency. Too much condensed milk and chocolate will make the texture softer and harder to cut.
If you love to bring more sparkle, go extra with dusting sparkling sugar to the top. Wait for the fudge to cool prior to cutting the creamy condensed milk-based dessert into squares.
Alternatively, refrigerate it to speed up the process. Store leftovers in tightly covered containers. Let them either in the fridge or at room temperature.
Total time: 1 hour and 45 minutes
This delightful French-style apple cranberry tart is the perfect dessert for any holiday. How can you pass the tart-sweet cranberries on the top of a perfectly baked pastry base? Plus, because galettes are freeform, no pan or fancy adornments are necessary.
If you haven't made a galette before, it is a French tart made from pastry and a sweet or savory filling with the edges roughly folded in. This recipe calls for homemade shortcrust for the best results. As for the fruity filling, peeled and sliced apples with fresh cranberries will do the favor.
To ward off a soggy bottom, only put the filling right before baking and avoid liquid fruits such as strawberries. To ensure crisp pastry, add a tablespoon or two of cornstarch to the fruit, or sprinkle semolina on the crust before layering the fruit filling.
Total time: Approximately 1 hour 20 minutes (including 20 – 25 minutes of cooling time)
This cranberry breakfast cake is simple enough, but its flavor is delicate. It just melts in your mouth. Creamy milk and butter with tart cranberries team up in this delightful dessert, a treat for your morning or to end a dinner night.
This cake has a muffin-like texture with sweet/tart cranberry flavors. The prep time is 15 minutes long, and you can save the batter in the fridge and bake it the following morning. Moreover, it yields 12 servings, so the cake is perfect for gatherings and holidays.
Total time: 2 hours and 5 minutes (including 2 hours of chill time)
Are you looking for a one-of-the-kind dessert to serve at your party? This sweet, tart, and creamy cranberry salad will be your treat. It is special from its name. Bonus point: this salad not only tastes amazing but is also simple and super fun to make.
To begin, blend the pureed berries and sugar until combined. Then, whisk the pureed mixture with whipped cream, and add crushed pineapple and marshmallows. Mix to combine. Place the salad in the fridge or freezer for about 2 hours to chill or serve immediately.
Drain any accumulated juices from the crushed pineapple if needed to avoid a watery salad. Moreover, you can make this salad ahead of time as it will last for a few days in the fridge. Stir again before serving if needed.
Rock this cranberry fluff salad dessert on every weeknight or party.
Total time: 2 hours and 15 minutes (including 40 to 50 minutes of chill time)
Regarding gelatin desserts, you should pin this beautiful sweet treat with a touch of ginger on the first line. Grab all your favorite ingredients and turn them into this creamy Italian classic.
The cranberry layer has a perfect sweet and sour taste with a hint of ginger. On the other hand, the cream layers combine heavy cream, Greek yogurt, and vanilla, bringing a nice creaminess and light sweetness to the rich eggless cakes.
Double the cranberry deliciousness by serving with sugared berries on a stick. The panna cottas tastes best when enjoyed fresh off the fridge.
Total time: 2 hours and 25 minutes (including 1 hour of cool time)
Look for a dessert to serve on Christmas? Worry no more and make these cranberry mini pavlovas. They are so light in texture and deliver a bursting flavor in your mouth with the sweet and tangy cranberry orange sauce. And as for its appearance, 10 points for the festive look.
The pavlova is crisp on the outside and chewy inside. Basically, it is a meringue cake made of whipped egg white and sugar. Therefore, remember to let the eggs come at room temperature before separating them. Opt for caster sugar if possible.
Best of all, you can prepare the three separate elements of this dessert in advance and combine them before serving. Just dollop the cream on pavlovas and finish with the sauce on top and your dessert is ready. Try more variations such as chocolate and pears or lemon and blueberry.
Turn These Easy Cranberries Treats Into Year-Round Desserts
Cranberries are in the season from October through December in the US. If you prefer making desserts from fresh berries, take advantage of this time of the year. In the meantime, frozen cranberries are available all year round, so be flexible in your recipes.
Also, there's no need to wait until special occasions to rock these sweet treats. With easy-to-find ingredients and simple cooking methods, make your cranberry dessert and enjoy it whenever you want.
Thank you for reading this article. Your words and feedback are my motivation to produce more content. Please comment and share these recipes with your friends and family.