These best crab appetizers are ideal when you want to upgrade your usual meals or need something new, especially for starters that use crab meat. Delicious, healthy, and easy to make, these recipes below will satisfy your appetite perfectly.
As you know, crab meat is loaded with numerous health benefits and is popular in many cuisines worldwide. However, do you collect enough crab-based delicacies to diversify your appetizer menu? Trust me; this post will assist you.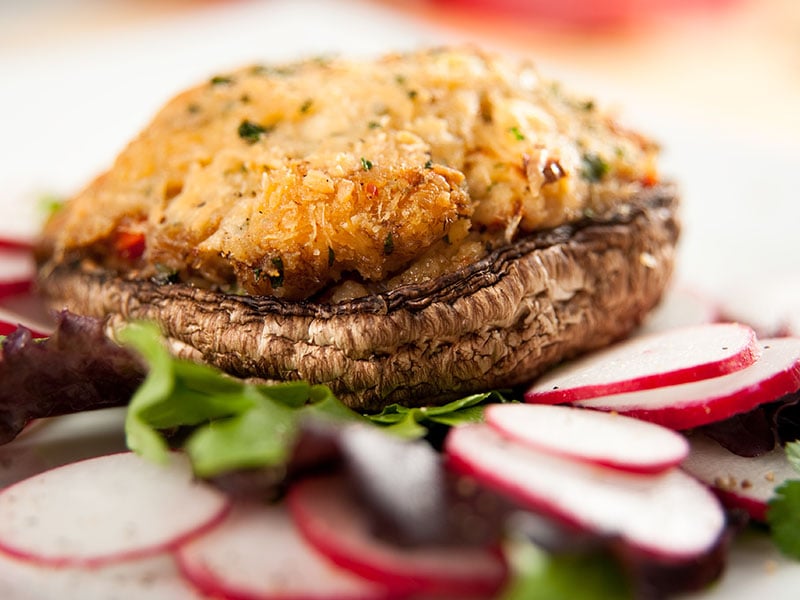 Must-Try Crab Appetizer That Even A Novice Cooker Can Master
You have a plan to hold a party but haven't found anything promising yet? You have come to the right place because these appetizers listed below make the ideal prelude to the subsequent main courses.
Total time: 16 minutes.
Regarding crab-based delicacies, it is a must to talk about crab rangoon egg rolls. This superior recipe with eggs takes only a short time but also requires easy-to-find ingredients, such as crab meat, Worcestershire sauce, egg roll wrapper, and green onions.
While garlic powder amplifies the savory warmth of your rolls' filling, cream cheese lends your appetizer a sweet flavor with a pleasant slight tang. If you love something sweeter, you can add a little bit of sugar or mirin to make this appetizer suit your taste better.
You need to combine all the components to make the fillings for your dish. Next, use egg roll wrappers to cover your fillings and fry your results. After a few minutes, you will have perfectly golden brown rolls to enjoy with your family.
Crab rangoon egg rolls should be present in your next meal, and you need to learn how to make them right now.
Total time: 30 minutes.
If you love crab cakes, but this delight is only suitable for dinner, give Cajun crab cakes a chance to fulfill your cravings. These golden bites are an ideal choice to refresh your palate, especially when they go with the best accompanying dishes for crab cakes.
Let's start with mixing crab meat, mayonnaise, panko bread crumbs, and Cajun seasoning until you get a well-combined mix. Next, you must shape your cakes into small balls and coat them with the leftover bread crumbs.
All that remains is to bake your cakes and wait for your effort. If you want your crab cakes to get a perfectly crispy texture, you should preheat the oven to provide enough heat. You should also rotate the patties and the baking sheet while cooking for the best results.
It is a good make-ahead recipe that you can prepare in advance for up to 1 day. When you want to enjoy it, just reheat them for about 10 minutes. If you want to make them for use longer, you can store them in the freezer for up to 2 months.
Total time: 25 minutes.
These gorgeous puff pastry starter dishes are exceptionally effective at whetting your guests' appetite, making them more eager for the main course that follows. Even better, they only need some simple ingredients and half an hour to produce that stunning result.
When cooking this delicacy, you need to combine all the ingredients used for the fillings. The inclusion of green onions gives your appetizer a hint of sharpness and spiciness. Moreover, these fillings take a tart note from lemon juice.
After the fillings are ready, you can spread them over the pastry and shape your treat into a jelly roll. After slicing your roll into pinwheels, you can start baking your dish. Never forget to make the dipping sauce to bring your appetizer to a new height.
Total time: 20 minutes.
If you love both crispy bacon and crab meat, don't miss this crab BLT sliders delight because it will be your next favorite. It consists of many layers like a sandwich, making them visually appealing and colorful.
This recipe begins with creating the crab meat mixture with mayo, old bay seasoning, eggs, and dijon mustard. Before shaping this mix into patties and coating them with bread crumbs, you should let the crab meat rest in the fridge for about 1 hour.
The next step is to fry your crab cakes until you achieve the crunchy and perfectly golden results. When everything is ready, just assemble your crab cakes, cooked bacon, and lettuce in the potato sliders.
Your appetizer takes a robust herbaceous flavor from old bay seasoning. Moreover, a touch of lemon juice and dijon mustard adds a depth of flavor and complexity to your dish, making them more irresistible than ever.
Total time: 30 minutes.
Want to raise your meals to a new height? Virginia crab imperial is fancy enough to bring you the feeling of eating at a high-quality restaurant. Crab imperial is a crab meat-based American delicacy baked as a casserole.
This Virginia crab imperial is mouthwatering, savory, and sweet. While mayonnaise gives your dish a creamy base, eggs play an essential role in holding all the ingredients together.
You can serve this appetizer with lemon juice or wedges to balance this dish's final flavor with a hint of acidity. Utilizing this crab treat to stuff your shrimp or salmon is also a significant match.
Feel free to add sherry to the mayonnaise mixture if you prefer a bit of boozy taste in this recipe. If you don't finish this dish in one go, you can store it in the fridge for 1 to 2 days. Remember that this crab imperial is unsuitable in the freezer.
Let's follow this guide to make Crab Imperial right now!
Total time: 1 hour.
Crab bites appetizer is a good solution when you need an ideal appetizer to feed a crowd. Delicious, creamy, and crispy, these crab bites include crab meat, panko bread crumbs, and lemon zest.
Just from the very first bite of this appetizer, you can taste a sweet flavor of butter and an onion-y fragrance of chives. Furthermore, these bites feature a touch of salty and nutty flavor from parmesan cheese, making them become a big hit on your dining table.
If you are familiar with baking, this idea can't challenge you at any step. You just need to prepare the crab meat mixture and the bread crumbs combination. Remember that 350 degrees F is the best temperature for the best results.
Total time: 10 minutes.
It would be an incomplete list without this easy crab pate. As one of the easiest recipes to make with crab, this delight is versatile, mouthwatering, and wonderfully aromatic. You can utilize this pate to boost the flavor of sandwiches or salads.
What you need to do is to mix all the ingredients, such as crab meat, mayonnaise, celery, and black pepper, until the combination clings together perfectly. Never forget to garnish your dish with some parsley or paprika to please your taste butter.
The addition of dijon mustard imparts your dish a tangy and sharp hint with a note of spice. Furthermore, lemon juice gives this treat a sour taste with a tad bit of bitterness, making the overall flavor of this dish more harmonious.
Total time: 23 minutes.
New Orleans is known for its seafood dishes, and fried crab claws is one of their specialties. Appearing with a golden brown exterior, these crab claws will win a big score, thanks to their fantastic texture and flavor.
This treat is a perfect combination of crab claws, creole seasoning, eggs, and flour. If you prefer a spicier dish, you can increase the amount of hot sauce to make this delight suit your appetite better.
After frying, you will have a delectable appetizer with a tender and flaky texture inside. Every bite will bring you the feeling that you are at a fine dining restaurant in New Orleans.
Your crab claws are delicate and amazingly sweet. Serve them with your favorite sauce to double the deliciousness of your appetizer.
Total time: 30 minutes.
Are you a fan of mushrooms? If yes, stay tuned because this crab stuffed mushrooms recipe will satisfy your taste. This recipe will utilize mushroom caps for the covers and use mushroom stalks as a part of the filling.
While cream cheese gives your appetizer a mild, sweet taste with a hint of sharpness, parmesan cheese adds a salty and nutty note. Moreover, other seasonings, such as garlic, red pepper flakes, and paprika, are this appetizer's flavor booster.
This creamy delicacy is suitable for preparing ahead of time. If you don't stuff mushrooms with the fillings before storing them, they are excellent for over 24 hours. Pair this dish with chopped chives and paprika to enhance your experience.
Don't skip this instruction if you want to make perfect Crab Stuffed Mushrooms.
Total time: 1 hour.
Have you ever tried any famous canapé dishes? It is a kind of appetizer made with bread, muffins, or crackers and comes with various types of toppings. It sounds effortless, right? This treat is creamy with a herbaceous flavor and a hint of spiciness from ground pepper.
When making this crab recipe, you must first create a mixture of butter, mayonnaise, crab meat, and parsley. When these components are well combined, you can spread it over English muffins and freeze your appetizer for about half an hour.
Baking your treat is, of course, the final step. When the exterior of these results turns brown and bubble, your appetizer is ready to serve. A fresh salad is always an ideal pairing for this dish.
Total time: 20 minutes.
If you are on a low-carb diet or just simply have leftover crab meat on hand, give these tasty hors d'oeuvres with cucumbers a try to refresh your meals. These cucumber cups have a crunchy exterior with delicious stuffing.
Starting with combining all the ingredients, including crab meat, mayonnaise, mustard, and lemon juice, then you should shape your cucumbers into cups and stuff your fillings for each cup. Very straightforward, isn't it?
Do not forget to sprinkle Old Bay seasoning on top of your cups before serving. This ingredient will enhance the overall flavor of your dish. Moreover, your appetizer takes a slightly tangy and tart taste from sour cream, making it more addictive.
Total time: 30 minutes.
Let's continue with one of the most delicious appetizers made from crab, crabbies. This recipe contains some accessible ingredients, such as English muffins, crab meat, creamy butter, and mayonnaise.
It's not only straightforward to make but also amazingly delectable. Often coming out with a golden and triangle-shaped appearance, these cabbies are cheesy with a slightly garlicky hint of garlic powder.
If you are looking for an excellent appetizer to make ahead, these cabbies are a good option. Besides appetizers, you can serve this tasty delight for breakfast or brunch.
Total time: 35 minutes.
Nothing is better than serving your wonton chips, tortilla chips, or crackers with a creamy dip. Though fresh crab meat is the ideal ingredient, you can prepare this finger-licking appetizer from imitation crab if you don't have it around.
For the best result, you must soften cream cheese first. There are many ways to practice this task. You can heat it in a microwave, submerge your cream cheese in warm water, or simply let it at room temperature for about 40 minutes.
Coming out with a creamy consistency, this dip is packed full of flavor. The combination of onion powder and garlic powder gives your dish a sharp and slightly sweet taste. But please note that I don't encourage you to freeze it because the flavor and texture will change dramatically.
You don't want to miss this step-by-step instruction when making crab rangoon dip, right?
Total time: 30 minutes.
If you are planning to hold a party, add this cooking idea to your menu since it will help you impress everyone. What's more, these crab poppers require inexpensive components (especially if you use imitation crab), making them not only delicious but also fit your budget.
On the other hand, parsley provides your appetizer with a bright and herbaceous fragrance. Moreover, a touch of parmesan cheese is a flavor booster, giving your dish a nutty note with a salty aftertaste.
Never forget to make a sriracha aioli dipping sauce to double the deliciousness of your crab poppers. This sauce is a perfect blend of mayo, fresh garlic, and sriracha, complimenting well with your treat.
Total time: 10 minutes.
Within 10 minutes, you will have a hearty appetizer to start a party. There is no reason to skip this real crab meat salad, right?
To ensure the recipe comes out perfectly, gently separate the crab meat from the shell first. Then combine all the ingredients, including mayo, sour cream, and red onions. And that's what you need to do to prepare this salad.
Overall, your salad has a rich and savory taste deriving from fresh crab meat and a characteristic tart flavor of lemon juice. This salad works perfectly with your favorite crackers and other fresh veggies, so do not miss serving these ingredients with your salad.
Let's Start Your Party With These Crab Appetizers!
Have you ever got the best crab appetizers to enrich your boring menu? I hope this article has provided helpful information about these crab-made delicacies. Best, quick, and tasty are always the top criteria of these appetizers.
Finally, don't forget to let me know your opinion about the list above by commenting on this post. It would be wonderful to see your sharings after reading this article. Thank you for your attention, and for now, bye!