Simple and satisfying cold soup recipes are what I turn to when summer is in full swing. From iconic cold soups like gazpacho and vichyssoise to exotic ideas that you may be lacking in your soup repertoire, these delicious summer recipes come to the rescue!
Let's face it. The last thing you want in those sweltering days is to heat the house for a meal. Often, these chilled dishes require little to no cooking at all. Plus, they tend to get better as they chill, allowing you plenty of time to make in advance.
Not only are summer cold soups a breeze to whip up, but these recipes are also filled to the brim with nutritional vitamins and sensational flavors that may send you off to heaven.
Anytime the sun is blasting through your window, these cold soup recipes are just the ticket to enjoy summer in the best way!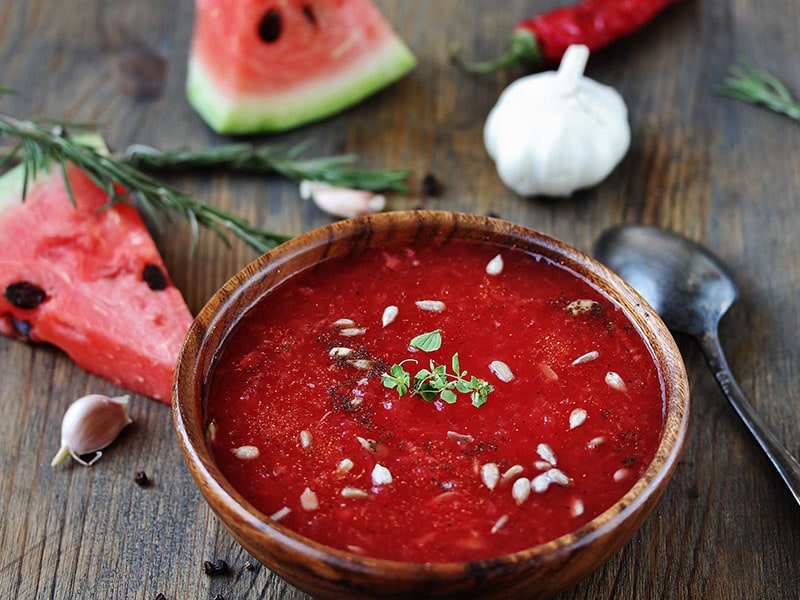 Top 26 Best Cold Soup Recipes That Hit The Spot Every Time
When those sultry days of summer come around, you can rely on lighter meals to keep your house and your body cool. The best cold soup recipes perfectly fit the bill, so you can still use your soup spoons and deep bowls when it gets hot outside!
Cold Fruit Soups
Cold Banana Soup
Cold Papaya Soup
Cold Raspberry Soup
Chilled Creamy Avocado Soup
Chilled Peach Soup
Chilled Pear Soup
Chilled Strawberry Lavender Soup
Mango Ginger Soup
Cold Gazpacho Soups
Mango Gazpacho
Pineapple Gazpacho
Roasted Tomato And Red Pepper Gazpacho
Shrimp Gazpacho
Stone Fruit Gazpacho
Watermelon Gazpacho
White Gazpacho
Yellow Tomato Gazpacho
Other Cold Soups
Carrot And Orange Soup
Chilled Fennel And Cucumber Soup
Chilled Watercress Soup
Cold Corn Soup
Curried Squash Soup
Herbed Zucchini Soup
Minted Pea Soup
Polish Dill Pickle Soup
Summer Borscht
Vichyssoise
What's A Good Cold Soup Recipe To Make At Home?
Made with fresh vegetables and fruits, these best cold soup recipes can cool you down without taking much time or effort to whip up.
Easy Cold Fruit Soup Recipes For Those Hot Months
Don't break a sweat heating up the kitchen for hot weather! These cold fruit soups come to the rescue with their delicious and fruity flavors without taking much effort to whip up.
Should you ever find yourself with a wealth of ripe bananas, this fruity summer cooler is your best bet! Rich, creamy, and absolutely filling, it can be served as a beautiful summer appetizer or dessert of your choice.
No doubt, bananas are the real stars of the show, giving it a classic tropical vibe. Give it a sniff and the delicate aroma will sweep you off your feet.
For a finishing touch, feel free to garnish with a sprinkle of cinnamon. Not only does this step make the soup even more exquisite to look at, but it also adds an extra layer of flavor that you surely will love.
Opinions about papayas are divided, especially concerning their strong odor. If you can get past that smell, this tropical fruit has a wealth of health benefits to offer, not to mention it tastes marvelous in a chilled bowlful of soup.
Papaya soup is one of the easiest to put on the table. In fact, this yummy soup with low sodium content relies on just three base ingredients: papayas, lemon juice, and sugar. Puree the soup until silky and smooth. Also, don't be shy to add some black peppers if you desire a spicy kick.
Thanks to the papayas, this cold soup has a vibrant color that makes you want to dive in right away. With a hefty dose of vitamins in every spoon, it's a great dish to incorporate into your weekly menu.
From the look, this gorgeous cold raspberry soup is a feast for the eyes. The bright pink shade will make you thrilled even before taking the first sip. Light, fresh, and exquisite, it's practically what hot summer days are begging for.
This elegant raspberry soup is a bomb to serve at any parties, potlucks, or simply just a nice dinner at home in those sultry summer months. After one sip, you'll probably want to spoon the whole bowlful away.
With no cooking involved, chilled raspberry soup is a go-to indulgent treat when you don't want to heat the house. From fun appetizers, desserts, or pick-me-up snacks, the options for serving this dish are endless!
The gorgeous buttery texture isn't the only thing to love about chilled avocado soup. In fact, this smooth, velvety bowlful of goodness is jam-packed with a wealth of nutrients, which is what you need if you've had a tough day.
Bite by bite; the fresh avocado flavor really shines through in this dish, subtly complemented by lime, green onions, and a dash of pepper. Ready in minutes; it's one of the easiest recipes in your summer soup lineup.
To add a pop of flavor, you can shake things up by topping the bowl with some crispy bacon and chopped tomatoes. Whether as an appetizer or a light meal paired with muffins or a few slices of toasts, it's sure to melt your taste buds away.
Bursting with fresh and delicious flavors of summer, chilled peach soup is what's missing in your soup lineup. More than a tasty cold appetizer, this dish makes a wonderful dessert to end your meals on a sweet and elegant note.
Just the beautiful mild orange color alone is enough to win awards. Fresh ingredients are the key to success with this dish. It's a flash to make, taking no more than five minutes.
Creamy, juicy, and surprisingly healthy, chilled peach soup is the perfect go-to when peaches are in season. If you're not afraid to go the extra mile, give it a nice lift with a glass of champagne. You won't regret it!
When pear season is in its full swing, blend up a quick batch of chilled pear soup! The use of pears gives this dish its special identity. Sweet, mellow, and very earthy, it makes for a palatable way to start or end your meals.
While you'll mostly find pear soup served warm as a quintessential autumn dish, this chilled riff is so mouth-watering you won't have it another way. The pears need simmering for about 15 minutes until lightly brown before being pureed with milk and butter.
As with other cold soups, the trick to nailing this recipe is by chilling the serving bowl and the soup in your fridge for them to be slightly cool. On the yellow pear base, sprinkle the soup with some cinnamon or lemon balm to enhance its gorgeous look.
Yes, this soup tastes just as elegant and pleasing as it sounds. The addition of lavender brings out the sweetness in strawberries, which results in an earthy and complex flavor. Simple as it is, this recipe is sure to satisfy even the pickiest eaters around.
Ready in minutes, this fruity soup is a cinch to make. Since lavender has a strong flavor, be sure to use a very light touch. If you accidentally put too much lavender and don't want it to hit you over your head, just put a little bit more sugar.
Garnish with sliced strawberries, and the result is a mouth-watering bowlful of soup that you'll want to slurp with a straw the whole day long!
This sweet, tart, and often a bit spicy mango ginger soup can do no wrong, especially if you're sticking to a gluten-free diet. As the base of the dish, fresh mango lends itself to a juicy and flavorful taste, while ginger adds an extra kick to it.
To prepare this recipe, all you need is to put all the fresh ingredients into a blender until the mixture is creamy and smooth. Let it chill for a few minutes, then take your soup spoon and dive in!
Toothsome Cold Gazpacho Soups To Keep You Cool
Traditional gazpacho is a seasonal soup typically served chilled to combat the summer heat. With these gazpacho recipes on hand, it's a breeze to use up those fresh veggies in your kitchen in the best way possible.
Rich, creamy, and chock-full of flavors, this simple-to-make mango dish is straight out of a fairy tale. Besides, who says gazpacho has to be red in color? Fresh mangoes give this soup body and the attractive yellow coloring, making it stand out from the crowd.
One thing I love about this gazpacho is the perfect balance of sweetness and spiciness. It's delicate with an extra kick to whet your appetite from the first taste.
In fact, there're plenty of ways to play with this dish's texture and suit your fancy. If you're serving it for lunches or dinners, top it all with some traditional croutons or little ham to elevate the salty taste, which does a great job of whetting your appetite.
A tropical riff on the old-fashioned Spanish recipe, pineapple gazpacho is a delightful and healthy meal. As the pineapples, cucumbers, and bell peppers combine, the soup yields a rich and creamy texture.
The best way to truly describe the taste of this gazpacho is a wonderful marriage between an authentic Mediterranean vegan recipe and a tropical heaven. It's so hearty and complex, making each bite a pure bliss on your tongue.
For an attractive garnish, dress your bowl up with a few pineapple wedges. The rule of thumb to always bear in mind when it comes to whipping up this dish is by using all fresh ingredients and chill the whole thing so that the flavors get a chance to meld.
If you love a mild spicy level that stands no chance of burning your taste buds, you're in for a treat! As its name suggests, this recipe gives the starring role to red peppers. But I'd say any color of bell pepper that you have on hand will do the trick.
Ideally, this gazpacho riff should have a smooth texture that's not too thin or thick. The little kick from peppers perfectly complements the sweetness of tomato sauce. Toss in some leftover white bread, and it's ready for slurping up.
Cool to the mouthfeel yet with a touch of smokiness? Who doesn't fall in love with this tasty shrimp gazpacho? This delicious twist typically features plenty of tomatoes, avocadoes, lime, and shrimps to create a gorgeous bowlful of summer.
As with other cold soups, shrimp gazpacho needs a minimum of 20-30 minutes of chilling time for the flavors to fully develop. Some garlic bread would be the best accompaniment for sipping the soup as a light meal.
Who knew these juicy stone fruits work so well in a tomato-based gazpacho? A unique blend of ripe tomatoes, peaches, jalapeno peppers, and occasionally some plums gives this dish its bright and flavorful essence.
Light and elegant, this gazpacho serves as a great appetizer as well as a light dinner course paired with a few slices of bread. To give it a savory twist, don't be shy with the garlic and sherry vinegar. It might just be the new start in your soup repertoire!
An odd riff on the traditional Spanish specialty, watermelon gazpacho may sound unusual at first. Even so, give it a go, and I promise you'll find a brand favorite watermelon-based starter dish. It's light, refreshing, and yields a wonderful harmony of summer flavors.
Upon blending, the end result is super smooth and luscious. A good Spanish trick is to thicken it with bread, but a dollop of sour cream also does the job. At its best, this gazpacho is definitely the essence of summer on your table.
Sweet, tangy, and incredibly savory, watermelon gazpacho is the epitome of chilled soup. The perfectly balanced flavor goes well on a slice of crusty bread or as an easy side dish for pasta.
Need help whipping up delicious watermelon gazpacho? You'll find it here!
Though less popular than its classic red version, white gazpacho totally deserves more attention for its wonderful flavor. This delicious Spanish appetizer is typically made with cucumbers, almonds, sweet grapes, and bread.
Rich, nutty, and with a pleasant hint of tanginess, white gazpacho might be one of the most refreshing soups you've ever tasted. Give all of the ingredients a good whirl in a blender so that the texture gets silky and homogenous, and it's ready to go.
For the flavors to truly meld, it's best that you make the soup in advance and let it sit for roughly two hours in the fridge before serving.
If sunshine were a bowlful of soup, this yellow tomato gazpacho would be it. Creamy and luscious with tons of flavors from yellow beefsteak tomatoes, cucumber, olive oil, and yellow bell peppers, this recipe tastes like it just walked out of a cookbook.
While often spicy, the good news is you can totally cater the spicy level to your taste. To prevent the soup from getting watery, a golden tip is to thicken it with some bread. Chill for at least 30 minutes, top it all off with some fresh oregano, and you're good to enjoy!
Other Refreshing Cold Soups For Your Soup Repertoire
Let's be real! With these cold soup recipes up your sleeve, the options are endless! From appetizing starters to bright after-meal desserts, these dishes are just what you need to add to your soup lineup.
Despite my initial confusion, it's safe to say carrots and oranges are an unexpected match made in heaven. These two ingredients come together in a healthy and sophisticated bowlful of soup that looks and tastes like summertime sunshine.
Briefly cooking the carrots in vegetable stock softens them and allows the flavors to come out. Then, combine all the ingredients and pulse to get a thick, velvety soup mixture as desired.
Garnish the bowl with a swirl of cream or a sprinkle of chives on top, and the end result is absolutely beautiful to look at. With all the vitamins, antioxidants, and minerals it provides, this recipe might just be your new go-to for a healthy diet.
This indulgent soup highlights the gentle, sweet-smelling taste of fennels. To tone the fennel's potent flavor down, let it simmer in vegetable broth for 15 minutes before blending in with lemon juice and good-quality avocado oil or other types of vegetable oil.
Besides a spicy punch, garnishing the soup with a grind of pepper also makes the perfect contrast to the creamy, smooth texture. The whole recipe takes 30 minutes to put together. But since it needs some time to cool down, it's best to make this soup a few hours in advance.
With so many tasty flavors and textures going on, a bowlful of chilled watercress soup is always a thrill in spring and summer. This delicate dish allows the peppery and bright taste of watercress to shine through without giving an overpowering mouthfeel.
Creamy, mild, and unexpectedly satisfying, the soup is what your spring and summer meals are yearning for. It's best to make big batches and stash some in the fridge for later indulgence.
On a side note, since the intensity of watercress tends to vary, it's best to cater the amount to your taste. You can serve this sensational starter with a dollop of whipped cream on top and, if desired, a glass of cold white wine for a fancy dinner.
Collect more tips and tricks to mastering the chilled watercress soup right now!
Though mostly served warm as a winter appetizer, corn soup is equally one of the best ways to cool your head in those steamy hot months. With a velvety, luscious texture and a naturally rich corn flavor, it's summer goodness in a bowl.
As with other corn-centric dishes, this recipe tastes best made with fresh corn, but canned corn also works in a pinch. Prepare it ahead for a delightful chilled lunch or dinner.
Blend everything until silky, and the soup is ready to serve. It yields a sweet, delicate, and rich mouthfeel along with a pleasant aroma that draws you to it while still on the stove. To dress it up, garnish with anything from green onions and avocados to cherry tomatoes.
Curry powder and yellow squashes in the most delish summer fare? Count me in! Adding some warm Indian curry flavor to the stock strikes a balance between savory and sweet spices. Making this soup from scratch is quite fast, as long as you spare enough time for it to chill.
As the base of the whole soup, yellow squash lends itself to a delicate, slightly nutty flavor. When blended, it's incredibly creamy and satisfying. For the flavors to build up, the squashes and curry are simmered in a broth for 25 minutes.
If your heart desires, it's super easy to add a tangy dimension to the soup with a dollop of sour cream. Or else, just ladle it up and enjoy it as a healthy dish with roasted vegetables or salads on the side.
Who would've thought a combination of zucchinis and fresh herbs creates such a fancy dish? Pureed ripe zucchinis give the soup a thick, silky body. Then, a splash of cream is stirred in to elevate a super creamy and satisfying taste.
The good thing is that you can totally leave out the cream and still end up with a tasty dish. It's delicately light yet so filling. When you've got some fresh herbs on hand, this cold soup is your best bet.
There's one than one way to relish this chilled soup. Whether it's with some shrimps, crusty bread, or a simple green salad on the side, this herbed zucchini soup is sure to stick to your ribs.
Nothing comes close to the key ingredient of an oh-so-summer soup like fresh mints. This soup packs a creamy, light, and tasty flavor with a delicate note from the mints. Plus, it can be served cold or warm, depending on the season.
All you have to do is briefly simmer the peas, puree the whole thing, and enjoy. Feel free to add some cream or leave it out to make this a vegan-friendly recipe. As for the nutritional content, the soup does a great job at boosting your digestive system.
Don't forget a sprig of mints atop the center of the bowl at the end. This subtle touch contributes to the aroma, lovely appeal, and instant fresh mouthfeel once you take the first bite.
Make your own minted pea soup from pantry ingredients with this stepwise tutorial!
If you haven't ventured into the big world of Polish soups yet, you're missing out. Dill pickle soup is a traditional dish that's near and dear to many locals. Savory, tangy, and incredibly creamy, it'll sweep even those who aren't pickle lovers off their feet.
Typically, people prepare this soup with soured milk as the base to give the entire pot a silky, luxurious texture. Putting pickles in soups may sound weird. But give it a try and soon enough, you won't be able to stop eating!
No wonder this delicious soup is a staple in many Polish households. The beauty of this dish lies in how versatile it is. You can serve it warm as a comfort food or chill it for two hours to make it a delish summer recipe.
Hailing from Eastern Europe, summer beet borscht is full of deep red color coming from the beets. Traditionally, this iconic soup is made with roasted beets, onions, potatoes, cabbages, dill, and sour cream. Regardless of what's in your spoonful, it always looks like beets.
Most of the time, borscht gets its luxurious texture from sour cream, earthiness from beets, and a depth in flavor from the blend of veggies. After ladling it into bowls, people tend to enjoy it with a dollop of yogurt on top.
Cold borscht comes to the rescue when you want something light and chock-full of flavors in those sweltering end-of-summer days. When it comes to side dishes, some baked potatoes or white rolls are just what you need to balance out the beets' robust flavor.
It's safe to say that vichyssoise is a delicious creamy soup that you all know and probably have had a taste of at least a couple of times. Originally a French recipe, the soup is best enjoyed in the hot season.
In essence, this classic delicacy is made by cooking leeks, potatoes, and cream in a chicken broth before being pureed smooth. The combo of ingredients lends the soup a deeply savory and earthy taste.
Plus, the basic recipe is endlessly customizable with various spices. The beauty of vichyssoise is that you can go ahead to make a big batch and stash the leftovers in the fridge for later. Garnish with chives or parsley, and you have yourself a luscious French appetizer on your table.
Recreating the classic vichyssoise at home doesn't get easier than this!
Keep Yourself Cool And Fueled This Summer!
With these delish cool soup recipes up your sleeve, I bet you're well-prepared for those hottest nights of summer. There're plenty of ways, from classic to out-of-the-box ideas, to incorporate summer produce in these recipes to make them even more brilliant.
In fact, as the temperature rises, these quick and refreshing dishes might just be your saving grace. You can choose to make a fruity dish with no cooking at all or turn up the stove a bit and get a fancy, mouth-watering soup on the table.
Either way, one of the most important things about dishing up these chilled recipes is to make them at least two hours ahead. By letting the soup chill in the fridge, you're giving the flavors a chance to develop and meld together.
If you're looking for a great start to enjoying food when it's pushing 90 degrees outside, you know just what to do.
Let me know what your favorite recipe of the list is and how you create your own amazing riff in the little comment box down here!
Nutrition Facts
6 servings per container
---
Amount Per ServingCalories148
% Daily Value *
Total Fat 5.3g

9

%
Sodium 4mg

1

%
Potassium 448mg

13

%
Total Carbohydrate 26g

9

%

Dietary Fiber 2.4g

10

%
Sugars 20.6g

Protein 2g

4

%
---
* The % Daily Value tells you how much a nutrient in a serving of food contributes to a daily diet. 2,000 calories a day is used for general nutrition advice.