Cold appetizers are never out of trend as they bring you convenience. It's a privilege that sometimes you almost even don't need to boil, bake, stew, fry, or steam anything to get your food done. Most importantly, they are still as delicious as the hot-serving ones!
There are a ton of cold appetizers in the world so you may not know which one is worth trying. And I knew you have been in that trouble for a long time. This list here will be your best support!
Now, don't waste any second. Jump into my list right away to get all of these tasty recipes!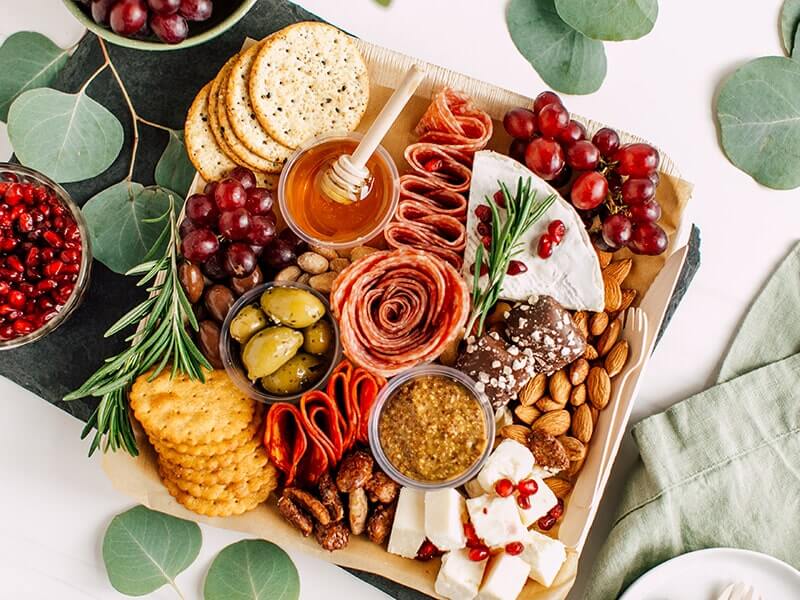 30+ Insanely Delicious Cold Appetizers That Can Make Your Day
My collection of cold appetizers not only gives you ideas on dipping sauces, salads, or soups but also provides various kinds of skewers & balls and other mouth-watering cold treats. Check them out to find your most favorite ones!
Dipping Sauces
7 Layer Dip
Cold Crab Dip
Chips And Salsa
Green Goddess Hummus
Harissa Yogurt Dip
Fruit Dip
Guacamole
Salads
Pasta Salad
Broccoli Salad
Fruit Salad
Summertime Tomato Salad
Cajun Potato Salad
Mediterranean Salad
Thai Green Papaya Salad (Som Tum)
Soups
Gazpacho
Carrot Ginger Soup Recipe
Russian Cold Beet Soup (Holodnik)
Cold Cucumber Soup
Chilled Blueberry Soup
Chilled Peach Soup
Chilled Avocado Soup
Skewers & Balls
Antipasto Skewers
Sandwich On A Stick
Classic Cheese Ball
Pesto Tortellini Skewers
Olive Cheese Ball
Caprese Salad Kabobs
Pineapple Cheese Ball
Other Cold Appetizers
Vietnamese Shrimp Spring Rolls
Mexican Shrimp Cocktail
Classic Deviled Eggs
Veggie Pizza
Ham Pickle Roll-Ups
Charcuterie Board
Having Ideal Cold Appetizers With 7 Brilliant Dips Recipes
These flavorful dipping sauces are an indispensable addition for your other foods. They help to double the flavor as well as change the dry texture into wet and moist. If you don't have any sauce recipes, here are my 7 creamy and delicious dips for you!
This Mexican 7 layer dip is just like a flavor explosion when it comes into your mouth. As its name suggests, this cold appetizer includes seven layers of dips.
Filled with over ten kinds of ingredients, you totally can expect a new energetic addition for your main dishes. Serve it with tortilla chips or crackers. You certainly will want to go back next time!
I had never known crab could be used to make dipping sauce until my friend gave me her ultimate crab-based appetizer. Creamy, cheesy with a hint of fresh lime juice. This is the perfect dip you can have on a summer day.
Plus, it is even better to use fresh crab meat for making this dip because fresh crab meat can give you the natural sweetness that you can't find in canned crab. I know it will be hard for most of you. But if you get a chance to have the fresh one, don't use the canned crab.
I guess that none of you don't know this Mexican classic treat as it is one of the most popular dishes that is served in Mexican restaurants in America. Chips And Salsa is an addictive item you will want to have every weekend.
You even don't need any heat to get this appetizer done. Just throw all of the ingredients into the blender and press the button! And what about the chips? In-store tortilla is the quickest solution!
You can feel your heartbeat in every dip you try. Not only green goddess hummus will impress you at first sight, but also steal your heart once you try it.
With the mixture of healthy vegetables, herbs, tahini, and olive oil, this is one of the must-try cold appetizers you cannot resist. You wonder what is its best companion? Well, every kind of sandwich you have!
Greek yogurt is one of my favorites as it can turn every mundane thing into a delicious and irresistible dish. And Harissa Yogurt Dip is my proof. This dip is just the smartest invention from yogurt.
I had never expected this before until I went for a recipe found in a travel book. The light sour from yogurt, a little spicy from harissa paste, and smell of garlic with the creamy texture will hook you for a lifetime.
You might have not tasted a fruit dip before, but I bet this special fruit starter course can change your fruit-eating habit from now on! You will always want to have this sweet in every kind of fruit you eat.
With the cream cheese, marshmallow creme, and vanilla extract as the main ingredients, fruit dip adds the creamy and brings your fruits the sweet taste. And it is even better to serve with succulent fruits such as grapes, berries, cherries, or apricots!
Another all-time classic treat I want to recommend to you is guacamole. Similar to salsa, this dip is also an iconic appetizer of Mexican cuisine. With simple and easy-to-find ingredients, guacamole is a friendly dip that you can make at any time.
And serve it with tortilla chips too! All Mexican salsa and dipping sauces can live without these crispy chips.
Watch this video to know more:
7 Healthy Salads As Cold Appetizers For An Energetic Day
I'm a salad person, so it's obvious that salad recipes can not be out of my list. When making this section, it is really hard for me to decide since there are too many cold salads I want you to know.
But here are my top 7 salad recipes that can immediately capture your heart!
For me, pasta is a multi-use ingredient that can go to all of your recipes. If you are looking for an eat-to-full salad, don't hesitate to go for this tasty pasta-based appetizer!
Since pasta can provide you starch and vegetables can give you fiber. This cold appetizer is the ideal pick for your breakfast also. Not only that, the vegan-friendly property makes them one of the priorities of many vegetarians.
Broccoli is both delicious and tasty, but I never understand why someone hates it. This crunchy broccoli salad with chopped onion, dried cranberries is just freaking refreshing and comfortable.
The apple cider vinegar dressing will sweep away all heavy feelings and raise your craving as it brings a light sour flavor into your meal.
Fruit lovers, can I see your hand? You know what I mean, right? It's time to make this bunch of joy and share it with your loved ones! Fruit salad is never a bad choice for a cold but a yummy and juicy appetizer.
Just prepare some of the fruits you like, then dice them small and mix! Double the flavor with honey and lime juice at the end of mixing; heaven is right in front of your eyes.
Note: Remember to use fresh fruits. Frozen ones usually lose most of their juiciness in the freezing time.
This a yummy appetizer that uses tomatoes as the key ingredient. It's simple, affordable, and won't take too much of your time. You can use leftover fresh tomatoes in your fridge to turn them into a tasty cold appetizer in just a flash.
On the other hand, diversify your salad with sweet corn and blueberry or fresh red onion. And one thing you should keep in mind: Olive oil is indispensable for a shiny look!
Do not know how to handle these potatoes? This potato salad is right here for you! Potatoes are easy-going ingredients when it comes to salad. You don't need any complex technique or special cooking trick.
In addition, potato salad can almost be paired with all dishes like rice, grilled meat, or crackers.
Mediterranean cuisine almost haunts me every time I'm planning to go for a salad. I could not refuse this sweet and attractive invitation when suddenly remembering its name.
It can be said that Mediterranean-style salad is the ultimate combination of a refreshing, healthy, and flavorful treat ever! This salad can offer you so many things as its rich, plenty and various fresh vegetable ingredients. Be careful; it will trap you forever!
Asian cuisine has more and more become popular worldwide as it brings out new, fresh and healthy energies to Americans. And if you are calling for an Asian salad, just pick Thai green papaya salad.
This salad is incredibly appetizing with a mixture of so many flavors, including sweetness, sourness, spiciness, and saltines. Herbs, especially cilantro, basil are the essential additions to complete this salad. Moreover, crushed peanuts also can not be left behind.
Watch this video to know more:
7 Cold Appetizers With Soups You Need To Try Before You Die!
Soup is a typical treat you can find in every country's appetizer menu. It's tender, juicy and satisfying. Hot soup is usually highly appreciated but cold-served soup still can win many people's hearts!
I have a list of dishes that are categorized based on their dominant colors. Sometimes if I'm too busy to decide what I should eat, this list will be my super assistant. Now I will introduce you to my "best-seller" pick of soup: Gazpacho.
The vibrant orange appearance is the first thing you will love. However, when it comes to the taste, I'm sure you won't care if it's pretty or not and just won't stop eating until there's nothing left.
Liam – my oldest son, really loves this carrot ginger soup and always wants me to make it every weekend when he comes back from school. This soup is extremely balanced among the flavors.
You may hate the ginger smell, but this vegetable will not overweight you because of the carrot presence. The sweetness of the carrot will limit the pungent smell of ginger. So, don't need to worry. This soup absolutely is not a bad choice.
Easy and healthy carrot ginger soup is the best treat for your kid!
Holodnik is a traditional Russian kind of soup that beet is used as its vedette. This vegetable has a naturally sweet flavor, so it is usually made into soups. As Russia's weather is mostly cold, holodnik is created and served as a cold appetizer.
This soup is also super easy to make. If you don't have much time for a meal, pick this Russian appetizer to save time for your main course. Don't forget the boiled egg. It makes the soup work better!
Cold cucumber soup is so fragrant! My favorite version definitely can not lack dill. Wait! I know many of you don't like this herb smell. But don't hurry to step away! You also can replace the dill with basil. It will be more pleasant.
In case you are an anti-herb person, no problem; just simply skip this ingredient. Cold cucumber itself is delicious. You don't need to add anything you don't want to.
Blueberry season is coming! Just celebrate it with a bowl of chilled blueberry soup. This soup is not a waste of time. With the eye-catching look, no one is not willing to give it a chance.
I bet you are too! And it is a fact that not only can you serve this blueberry soup as an appetizer, but also can serve it as a smoothie for summer. No matter which option you choose, this soup works effectively!
Another fruit-based cold soup you can make for your family is chilled peach soup. In this recipe, you can expect a more creamy texture as it may require cream. However, depending on your preference, the cream can be optional.
Also, when choosing the peach, you need to buy the ripe ones. The pale ones don't have a soft texture and sometimes they taste tart. This will ruin your soup.
The final one does not mean the worst one! For me, every soup in this list has its own value. Like this chilled avocado soup, it is creamier and thicker than all others above.
But you know, it is also savory like all the above soup! Therefore, don't look any further. Avocado soup can meet all of your needs!
7 Excellent Skewers & Balls Ideas For Cold Appetizers
Cold skewers and balls are especially suitable to make in your leisure time like weekends or holidays. These colorful delicacies can be stored for up to one day without losing their flavors.
Here are my 7 ideas for you!
There are so many reasons to fall in love with this cold Italian appetizer! Antipasto skewers combine different kinds of cheese, sausage, ham, mushrooms, fruits, and vegetables. You don't need my explanation anymore, right?
All you should do is prepare the necessary ingredients, clean them (if needed) then threaded them into the skewers! What about the dipping sauces? Antipasto skewers work well with both Pesto yogurt dip and herb vinaigrette!
On boring weekends, I often spend time in my kitchen trying to find out ways to turn all the leftover ingredients in my fridge into ultimate masterpieces. And sandwiches on a stick is one of my favorite recipes since they help me take advantage of all the leftover ingredients.
I use my opened bag of sandwiches, then grab some vegetables and fruits from the fridge and thread them in a stick. Ta-da, I have some lovely and decent cold appetizers! It's easy. I can make it. You do, too!
The creamy texture is the reason why cheese balls are so attractive. If you are a beginner, try classic cheese balls first. Mix everything into a round ball then freeze it for about an hour.
This appetizer will be a suitable treat for your movie time. Spread it on bread or any cookie you like!
Classic cheese balls are easy to make with this instruction!
Make your simple tortellini more appealing by skewering them on a stick, and place them on a plate with pesto sauce. And it is even better to make some salad.
Pesto tortellini skewers are perfect for adding to the outdoor parties menu. Invite your friends and let them join you. Cooking together has always been one of the best ways to connect people.
The olive cheese ball is another version of cheese ball in which the olive flavor is the prominent feature. You would love to have this sweetheart on your game days or at any other gathering.
Honestly, I just had it last weekend with my dogs. As my husband and kids just went to my mother-in-law's house, it's so wonderful to spend my private time with my favorite movie series!
I love caprese salad kabobs so much! This cold appetizer is super simple to prepare. I don't even need to go shopping because the ingredients are all available in my fridge. All I do is sneak out into the garden to get some fresh basil leaves.
Try making your own Caprese salad kabobs. They're delicious, adorable, and so easy to make. Remember to serve them with basil pesto for dipping. It can help you to push up the flavor.
Pineapple incredibly goes well with cheese. This sour and sweet fruit can help you balance the creamy and smooth taste of cheese. On the other hand, your cheese ball will be moister and juicier.
Plus, pineapple cheese balls should be served within a day. You shouldn't have it in the fridge for three days because it's more perishable than other kinds of cheese balls.
Other Cold Appetizers That Totally Worth A Try!
You know, "last but not least"! These cold appetizers below will be the most distinctive experiences you should try before you die! If you are looking for something out of the safe zone, 6 other cold appetizers below will be your gems!
No one can resist Vietnamese shrimp spring rolls. This dish is a prime example of Vietnamese cuisine: healthy, low in fat, and diversifying. A traditional Vietnamese shrimp roll consists of rice vermicelli, pork, shrimp, and vegetables which are rolled in rice paper.
The key factor that affects this appetizer flavor lies in its sauce – Fish sauce. Once you skip out this sauce, all things become nonsense! If you are lucky enough to have peanut sauce, your spring rolls can be saved, but they will not taste as good as the authentic fish sauce.
Note: Go to the Asian market to find all the ingredients. I'm sure you can find almost all Asian products here.
Make the authentic Vietnamese shrimp spring rolls to have the best enjoyment!
This dish can remind you about ceviche, but instead of fish, the Mexican shrimp cocktail uses shrimp as the main ingredient. This cocktail is abundant in both texture and flavor.
The crunchy vegetable and shrimp with the slightly spicy taste of tomato sauce create the most spectacular experience ever. Remember to serve your dish in a glass. That's why it's called "cocktail"!
When I first heard this name, I thought, "Why do I have to try an egg that is deviled?" How silly am I! Deviled eggs are actually a classic appetizer you can easily make.
To have this tasty dish, after boiling your eggs, peel and cut them in half lengthwise. Next, mash the yolks and mix them with other condiments. Put them back on the whites. Here you have it, a delicious dessert!
Forget all the meat-based pizzas you often eat! They are too fat for your diet. Instead, go to the supermarket and buy your favorite vegetables. Remember: fresh vegetables!
Come back home and cut vegetables into cubes, shreds, or any shape you want. Place them on the cream cheese crust and serve right away!
Note: Buy can-be-eaten-raw vegetables as you need to eat them raw.
Ham pickle roll-ups are a dish worth trying. With just a few pieces of ham and dill pickles, you'll have a delicious cold appetizer.
The mild sour taste of pickles will whet your appetite. One more and one more! You cannot stop eating until there is nothing left on the plate.
You must make a charcuterie board at a family reunion or a friends' gathering! This on-one-board appetizer is the most hearty cold appetizer ever! Every detail just makes it to perfection.
And I would rather call it a picture than a board. Crackers, nuts, fruits, cheese, meat, and dips – it's like all kinds of appetizers are grouped into a board!
These Cold Appetizers Are So Good! Have You Ever Felt In Love?
I'm confident that no matter what appetizers you choose from my collection, they're all the best candidates. These appetizers, from dips, salads, soups, skewers to cheese balls and other desserts, are carefully selected. Even the pickiest will find their best companion here.
And one more last thing I just want to say: Cold appetizers can be just as comforting and fresh as hot ones. If you refuse, you may be missing out on the most magical things.
Now, if you find my post helpful, share it with anyone you think needs this collection. And please leave a comment here to let me know if you have found your "right ones." I would love to read all of them!
Nutrition Facts
16 servings per container
---
Amount Per ServingCalories44
% Daily Value *
Total Fat 3.5g

6

%
Cholesterol 21mg

8

%
Sodium 154mg

7

%
Potassium 13mg

1

%
Total Carbohydrate 1g

1

%
Protein 2.4g

5

%
---
* The % Daily Value tells you how much a nutrient in a serving of food contributes to a daily diet. 2,000 calories a day is used for general nutrition advice.