The best coconut desserts in the world are uncountable. They may be from your beloved America or from faraway Asia. Wherever they are, the naturally sweet and nutty flavor of coconut is the key to their reputation.
In the past, people had to handle coconut from scratch to make sweets. Fortunately, you and I now have a lot of product choices to pick from, including coconut oil, milk, and flakes. That's why you and I have more chances to discover those delectable desserts.
So after years of making desserts, I am here to share my coconut heritage with you. Some are fancy, while others are simple. But on the whole, they are delicious enough to die for. Join me and explore more coconut dishes!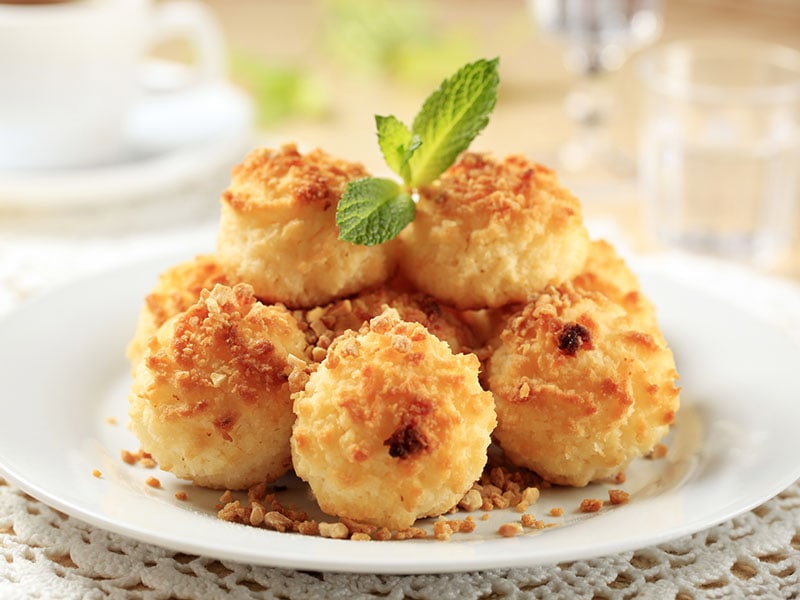 34 Coconut Dessert Recipes To Please Your Sweet Tooth
Coconut is the best way to make your desserts look healthier. Not only does it bring you a creamy texture you adore, but it also gives you an explosion of tropical flavor. So behold the 34 coconut desserts below since you will become addicted to them in no time, guys!
Total Time: 1 hour 10 minutes
The first coconut dessert I want to introduce to you is coconut cheesecake, which I am a fan of. The crumble crust made from graham crackers is buttery, while its filling is cheesy and sweet, thanks to sugar and cream cheese.
When you finish the cheesecake, do not forget to top it with whipped cream and toasted coconut. The smooth and light cream adds loads of coconut kick and creaminess to your cheesecake. On the other hand, the toasted coconut adds some crunchy texture.
Although eating fresh is just fine, I always love to chill this cheesecake in the fridge for a couple of hours. The chill cream layer will be more satisfying and inviting to enjoy.
Check how to make smooth and decadent coconut cheesecakes!
Total Time: 2 hours 35 minutes (including 2 hours of chilling time)
For those who don't like cheesy flavors, you can make this old-fashioned coconut cream pie without any cream cheese. The crust retains the same buttery flavor as the recipe above but with a creamier custard filling, thanks to coconut milk and cornstarch.
Though this recipe calls for a smooth custard in the middle, I like to have some crumbly texture of coconut inside. Thus, I always put in some toasted coconut whenever making this cake.
But it's you who eats this delightful dessert in the end. So just follow your preference, and do what is best for you. Whichever you choose, this cream pie will be a coconut hit.
Total Time: 42 minutes
When your tongue touches this moist, fruity delicacy, you feel the cloud-like fluffiness and coconut aroma – all in just one bite!
And if you are not a professional cook or do not have any mixer equipment, rest assured that this vegan cake is shockingly easy. You can make it with your eyes closed.
All you have to do is fold dry ingredients with wet ones. Add in the coconut flakes and fold them together. Finish by pouring the mixture into the pan and baking. How can something be more effortless than this, right?
But your delight is not complete without cream cheese frosting in each layer. Make it with vegan cream cheese, butter, coconut flakes, and sugar. Add coconut cream if your frosting is too thick. This addition will also provide a boost of coconut flavor to your cake.
Total Time: 1 hour 10 minutes
Sometimes it is better to go back to basics. You will know what I mean when you try Dulce De Coco – a famous Latin American dessert made from coconut meat. It is naturally sweet and full of tropical flavors.
Grated coconut, evaporated milk, and sugar come together in a heated pot to produce this creamy delicacy. Besides, cinnamon sticks and optional vanilla extract also flavor your dessert with warm and floral notes.
To prepare the coconut meat, simply wrap your coconut in a towel and use a hammer to crack it open before using a spoon to scoop its flesh out. If the flesh has a dark peel, use a potato peel to remove it. Finally, wash off the dirt and pat the meat dry.
Total Time: 1 hour 15 minutes
The queen of Sri Lankan cakes, Bibikkan, is a famous coconut cake on the country's southern coast. Traditionally, people prepare Bibikkan for festivals or religious occasions, including Christmas or Tamil New Year. But to me, any time is perfect for Bibikkan enjoyment.
And I'm sure you feel the same after eating it. Each bite of it is full of coconutty sweetness and spice fragrance. Inside, the sweet-tart raisins and salty melon preserve balance out perfectly the overall flavor.
Regarding the texture, the roasted semolina adds graininess to your cake, while the chopped date and shredded coconut, plus the fatty cashews, provide a chewy texture.
Here are detailed instructions to make coconut cake in the Sri Lankan style!
Total Time: 15 minutes
If the days in your region are too hot, a cup of delectable ice cream dessert will be your savior. A spoonful of frozen coconut goodness should cool down the heat. And you know what, making this no-churn version is just as easy as boiling water.
You need only two ingredients: cream of coconut and cold heavy cream. To start, make whipped cream from heavy cream in a stand mixer. Then fold in cream of coconut until mixed and pour into the pan for overnight freezing. That's it – no fuss, no fancy steps!
But you should not confuse cream of coconut with coconut cream or coconut milk. This product is a thick syrup, like condensed milk but with a coconut flavor. Usually, people use it in cocktails, so find it on the cocktail-related shelves if you can't get it in the baking ones.
Total Time: 20 minutes
How can I describe this yummy chocolate sweet delicacy? It is an untroublesome yet hearty sweet that you can always make for your beloved every Valentine's Day. With just a few handy ingredients and a little effort, your love will be sent in no time.
To recreate these lovely bites, you handle coconut in the food processor for sticky crumbs. Plus, the combination of honey, vanilla, sea salt, and coconut oil will provide a natural sweetness to your coconut balls.
In the meantime, stir coconut in the skillet for a fragrant and aromatic topping. Once prepared, dip your coconut balls in melted chocolate and end with a sprinkle of toasted coconut.
For the best shape, you can freeze or refrigerate your final bites before serving. Honestly, I prefer chilling to freezing them. That way, my bites will be cool and soft enough to enjoy immediately.
Total Time: 30 minutes
Swiss roll is a sponge cake filled with whipped cream, jelly, or chocolate ganache. Although it has "Swiss" in its name, its origin is murky. It might have originated from somewhere in Central Europe.
Aside from that, marbled Swiss roll has earned its reputation for fluffiness and creaminess. That's what you can expect from this recipe. Even more, it uses coconut milk in place of dairy cream, which reduces greasiness and adds a more natural flavor.
However, coconut milk may take a night in the fridge to separate the liquids and solids. You should use the latter to make whipped cream, so do not shake the can when taking it out of the fridge.
Total Time: 2 hours 15 minutes (including 2 hours of refrigerating time)
For people who don't know, haupia is a famous and iconic dessert of Hawaii that any local restaurant should serve you after the meal. While "hau" in Hawaiian means cool, "pia" refers to arrowroot – one ingredient in the pudding.
But since arrowroot is not always accessible, I change the recipe a little, so this H-something food becomes more adaptable. It only calls for coconut milk, cornstarch, water, and sugar. After stirring all the ingredients in the pan and refrigerating the mixture, your haupia is ready.
Serve it with chicken long rice, laulau, lomi salmon, or pohole salad for a hearty meal. Or, you can top large cakes with it for a fancier and more exotic look.
Let's prepare the Hawaiian coconut pudding Haupia for a tropical atmosphere in the kitchen!
Total Time: 40 minutes
Now let me introduce you to a gorgeous cake from the Balkans. You may be familiar with it since Čupavci is quite similar to Lamington, a famous dessert from Australia.
Čupavci is a biscuit cake in a beautiful square shape. This dessert may blow your mind with an outer layer of buttery chocolate and desiccated coconut.
To get a layer of chocolate, you need to stir all the topping ingredients (except coconut flour) into the pot. Then dip your baked biscuit evenly and quickly into the toppings and coconut flour. The thin cover should be enough to complement the cake's flavor and texture rather than subvert it.
If you look for a slightly different taste, feel free to add rum or vanilla extract to your biscuit or topping. These will bring your dessert to another level of fabulous flavor.
Total Time: 2 hours 15 minutes (including 2 hours of chilling time)
Let's meet this wholesome dessert – Maja Blanca, a coconut pudding from the Philippines. Traditionally, Filipino people enjoy this pudding in fiestas or holidays like Christmas. For me, however, it is best for serving at family gatherings.
The traditional Filipino sweet treat has a gelatin-like consistency made of coconut milk, sugar, and cornstarch. You can find a teeth-pleasing crunch coming from corn kernels stuffed inside the creamy pudding.
Best of all, this dish calls for toasted coconut flakes as a garnish instead of the usual latik topping. Though your dessert only takes minutes to make, it is still tasty and delightful in its unique way. Do not underestimate its simplicity!
Total Time: 35 minutes
These blondies are always rich and insanely delicious. That's why I want to keep that sweet chewiness for myself every time I make some.
To make these delicate treats with brown sugar, you should prepare a mixture of flour, baking powder, and eggs. Together, they present a chewy and tender dessert filled with hearty chocolate and coconut.
The white chocolate layer lends extra sweetness to your delicacy, while the toasted coconut on the top is revolutionary. It gives your dessert a satisfying crunch and lovely nutty flavor. You can feel the difference right after a first bite!
Total Time: 20 minutes
Chocolate and coconut truffles are a lovely treat without involving eggs, perfect for a couple or dinner for two. They are smooth, delicious, and melt-in-your-mouth. Plus, you can easily handle these cuties at home since there is no need for fancy ingredients or equipment.
All you need to do is stir melted chocolate and cream with butter and coconut flakes. High-quality white chocolate provides a smooth texture and rich mouthfeel, but you should melt it at low heat due to its low burning point.
And the best part of the recipe is its versatility. You can vary the flavor depending on your preference. My recipe calls for sweet hazelnuts and zesty orange peel, followed by a vanilla extract.
Your truffles can stay still in the refrigerator for up to 2 weeks. But honestly (from my own experience), I don't think you can store them that long since your kids are always there to finish them.
Satisfy your sweet tooth with these white chocolate and coconut truffles!
Total Time: 35 minutes (including 15 minutes of refrigerating time)
Do you seek a sweet treat to boost your mood? Coconut mudslide cookies should be your next favorite. They contain dark chocolate with loads of antioxidants. Moreover, a combination of chocolate and coconut is also perfect for Easter dessert. They are just a great sweet to die for!
And did I mention these cookies are simple to make? You only need to combine all the cookie ingredients with coconut rum. Not only does coconut add moisture to your cookies, but it also lends a naturally sweet taste. Because of its lower sugar content, this is a healthier recipe for you!
With dark chocolate chunks folded in, your puffy baked goods should also feature melty goodness when biting. Plus, a touch of sea salt helps balance out all the sweetness and bitterness in your cookies.
Total Time: 20 minutes
To keep your kids from stealing all your coconut truffles, you can treat them to these Samoa pretzel sticks (Just kidding!). It is a symphony of coconut, caramel, and chocolate in one Samoa cookie. No one can resist its tasty flavors, not even the pickiest one!
The fun thing about this dessert is that you can have your children help with making it. Let them dip pretzels into the caramel and melted chocolate. After the sticks get covered with a sprinkle of toasted coconut, your kids will have their sweet treat without trouble.
Indeed, the toasted coconut is the beautiful part of this recipe. It is sweet and somewhat more aromatic than vanilla extract (my opinion). The coconut scent should bring a tropical atmosphere to your house whenever your family enjoys dessert.
Total Time: 2 hours
Coconut loaf cake is a moist, buttery cake bursting with the fatty flavor of coconut. Though the ingredients list is long, do not let it intimidate you. This dessert is simple in the making and produces perfect results every time.
You only need to mix all the ingredients to form the batter and bake it until done. Meanwhile, whisk coconut milk, confectioners sugar, and vanilla extract to make a coconut glaze. Top your bread with it and shredded coconut before serving.
Most importantly, the baking time may vary on different ovens and pans. So the best way is to check your cake center with a toothpick or sharp knife. If it comes out clean, your cake is ready to go.
Total Time: 15 minutes
Everyone loves chocolate mousse, and so do I. However, every time I have a cup of mousse, the worries about its huge carb and dairy content overshadow my joy. Fortunately, coconut milk is there to turn my decadent dessert into a wholesome sweet treat.
Among all dairy-free products, I pick this coconut-based recipe because it provides you with a perfect thickness and crazy delicate mouthful. Just whisk it up with vanilla extract and powdered sugar for a creamy mousse. Then turn it into a chocolate one with cocoa powder.
For the best presentation, pour your smooth mixture into the dessert glass. Garnish with a dollop of coconut whipped cream and grated chocolate. And feel free to put on top some vibrant berries to decorate your mousse.
Try this 3-ingredient chocolate coconut mousse to treat your vegan friends!
Total Time: 2 hours 7 minutes (including 2 hours of freezing time)
If you are a fan of chocolate bars, you will love this sweet version with pears and coconuts. The recipe only needs five familiar ingredients: chocolate, pears, butter, coconut, and walnuts. You can now make your sweet bars at home in just minutes.
The combination of milk chocolate and butter brings a sweet tone to your dessert bars. Try those bars to see how shredded coconut and chopped pears bestow fruity and nutty flavors on every crunchy bite.
But how can a bar be a bar if it misses the nuts? Don't forget to top your chocolate dessert with walnuts for an earthy finishing note. After a couple of freezing hours, cut it into squares and call everyone to gather. Your crowd should be pleased and ask for more!
Make these sweets in advance if you desire. Wrap them in parchment paper and store them in the freezer. Then your kids will have a light dessert after every meal for up to 3 months.
Total Time: 6 hours 10 minutes (including 4 hours of chilling time and 1 hour of cooling time)
Anytime I was back in my hometown, my grandma always treated me to lemon tarts. The sourness of lemon felt right to me, but there was always something missing. When I figured out this recipe, I knew coconut should be added to my favorite dessert.
Like normal tarts, the pastry features custard lemon filling in a crispy crust. But when adding a coconut layer, you change the whole dessert to another form. Not only adding chewy texture, but coconut also rounds off your tart with a slightly sweet and nutty flavor.
For the best tropical taste, garnish your finished pie tart with shaved coconut. The fresh coconut meat will perfect your sweet and tart dessert to end a filling meal.
Total Time: 5 minutes
Triple coconut mug cake is a microwave-friendly cake made from coconut oil, milk, and flakes (hence the "triple" part in the name). Though it only takes a few minutes in the microwave, your mug cake ends with a light and fluffy dessert full of coconut flavor.
To get this hearty microwave dessert, simply whisk all the ingredients in a mug and microwave it for about a couple of minutes. After that, serve your cake alone or beautify it with a garnish of whipped cream and toasted coconut. Either way, it is divine and luscious to enjoy.
A small note is to use vegetable oil. The coconut oil itself in this recipe is not enough to bring on the moist texture, so the addition of vegetable oil is a great help. Also, you should use fat-free milk instead of whole milk to prevent the cake from drying out.
Cook Time: 1 hour 40 minutes
In this section, I will take you to one of the most diverse cuisines in the world – Vietnamese cuisine. With a nice treat of chè bắp (a sweet corn soup), you now have an irresistible Vietnamese dessert.
Due to having corn and glutinous rice, the delicacy is sweet and somewhat thick (hence pudding in the title). With spoonfuls of coconut sauce to the soup, the nutty flavor goes hand in hand with the sweetness and makes your chè bắp tastier to enjoy.
The best part of the soup is the making process; there is no waste of corn. While people put corn kernels in soup for a crunch, they use the leftover corn cobs to strengthen the corn flavor. Just simmer them with water for an hour, and your soup will have a more intense taste.
Let's turn your sweet corn pudding into a low-carb recipe by omitting the glutinous rice!
Total Time: 1 hour 20 minutes (including 25 minutes of cooling time)
Incredibly tender and moist, this coconut bundt cake is an excellent dessert to farewell guests. If you have some leftovers after dinner, you can save them for the next morning. It is a promisingly yummy breakfast to start your day.
To achieve this coconut dessert, you combine the flour mixture with the creamed mixture to form a batter. Then bake your cake after you let the batter rest. During oven time, coconut flakes and extract in your batter work to emit an enchanting aroma.
Once done, transfer your baked cake to the dessert plate. And do not forget to frost it with coconut glaze. The fluffy foam presents a thick and rich coating to your cake, which makes it attractive and pleasantly sweet to eat.
Total Time: 45 minutes
Ho ho ho! It's not Santa Claus, but the most beautiful and delicate cake coming to town. This coconut poke cake is out for Christmas days. Though I always enjoy making one for my friends whenever it's their birthday. Just freely make it because it is super yummy!
The cake mix and egg whites combine in the recipe to make this fluffy cake. You then poke numerous holes and fill it with coconut cream pudding. That way, your delicacy will be moist and toothsome, with lots of fruity flavor in each bite.
For the best appearance, adorn your Christmas dessert with holiday frosting, colorful chocolates, and coconut.
Total Time: 50 minutes
I dare say that these chewy coconut squares are the most satisfying dessert or snack to treat lovers of sweet foods. Although their look doesn't suggest much, they give you a surprising chewiness when biting.
A star to that magical mouthfeel is sweetened condensed milk. When mixed and baked with other ingredients, it becomes thick and caramel-colored, gluing everything together and adding a milky sweetness to the filling.
Besides, brown sugar is also a key ingredient in the condensed milk sweet course recipe. It provides a perfect crispness and a delightfully sweet filling. Anyway, if you are on a diet, you should think twice before making this addictive one.
Total Time: 55 minutes (including 20 minutes of soaking time)
Thailand is a unique cuisine in Southeast Asia. And khao niaow ma muang is an easy and delectable Thai dessert you must try once in a lifetime.
You can cook both your rice and sauce directly on the stovetop. So there is no need for a fancy rice cooker or oven.
During the cooking, brown sugar and coconut milk add a sweet and nutty flavor to the whole dish. Serve your sticky rice with ripe mango cubes and a drizzle of coconut sauce, and your Thai dessert will bring all the tropical flavors home.
If you have leftovers, you should store the sauce and sticky rice separately in the refrigerator. They can remain in good condition for up to three days. When you are ready to eat, reheat your rice in the microwave, add sauces, and serve with diced mango.
No way a sweet food lover would say no to this Thai mango sticky rice dessert!
Total Time: 35 minutes
This simple coconut rice pudding recipe is all you need for desserts. It is perfectly creamy with numerous rice bits for texture. Flavorwise, this rice pudding is pleasantly sweet and aromatic, thanks to coconut milk, cinnamon, and vanilla.
And the fun comes with the toppings. Although the dessert itself is good enough, you can spice it up with anything to your liking. I highly recommend a combination of bananas and chocolate syrups. Trust me, that combo is just undeniably tasty!
If you can't consume sugar, swap it for honey or maple syrup. These natural sweeteners will give the same result.
Total Time: 37 minutes
Whoopie pies are Pennsylvania Amish sandwiches made of leftover cake batter. The cake gained its name from the children's reaction when seeing this pie in their lunchbox. Yes! They yelled "whoopie!" – exactly like I did when my mother made one for me back then.
I still remember the goodness of soft vanilla buttercream inside the moist and cakey cookies. That's why I have brought it to the list to share with you. Best of all, this is a tasty gluten-free dessert that uses only healthy ingredients. So go ahead, guys!
A small trick to achieving a perfect whoopie is calculating the correct amount of ingredients. Always use a measuring cup when mixing batter. The right amount of flour and liquids will lead to an excellent texture.
Besides, you should not be greedy with the batter. Two tablespoons are enough as your cookies will spread and rise when baked.
Total Time: 1 hour 20 minutes
With the pecan pie on the table, your family will feel like Christmas is around the corner. The buttery and attractively nutty scent of pie crust and pecan warm up your whole kitchen, but it does not end with only that.
In this island pie recipe, you play with flavors, thanks to the addition of pineapple and coconut. These ingredients are a game changer, bringing the tropical taste to your traditional pie with all the sweetness, tartness, and nuttiness.
Though the thick pie results in extra baking time, your final staple will not disappoint you. The filling is excellently flavorful in a crispy crust. And as always, perfect your dessert with a top of whipped cream and toasted coconut for extra creaminess.
Total Time: 1 hour
Welcome to one of my favorite custard desserts – Flan de Coco! It is dense and caramelized sweet with a touch of French cuisine. Once you try it, you will remember this delicacy forever.
Made of condensed milk and egg yolks, this sweet is full of creamy and velvety custard texture. The sweet caramel on top is beautifully brown and glossy, making a gorgeous appearance to the overall dish.
However, what makes this dish specialty compared to other flans lies in the shredded coconut. The dessert features a biscuit-like coconut crust on the bottom. This part is crumbly and adds plenty of nuttiness that nicely completes a hearty dessert.
Do not worry if you only have a few guests enjoying this big serving. You can store the delicacy in the fridge for up to three days. But remember, freezing is not a good idea since that may ruin the smooth texture.
Total Time: 20 minutes
Here comes another pudding to put on your dessert list. Unlike other puddings, this Puerto Rican coconut one is thick and wobbles like a Jell-O. Its taste showcases a mildly sweet cinnamon flavor with a slightly tart undertone.
Essentially, a real tembleque should be white in appearance and jelly-like in texture. Thus, coconut milk is a crucial ingredient. For the best result, fresh coconut milk is the top choice. With no additives, it gives you the perfect bright white without any gray shade.
But if you can't access that type of milk, full-fat coconut milk is the next great option. It performs a perfect mouthfeel of tembleque to enjoy.
Let's wow everyone in your family with this mini coconut pudding tembleque!
Total Time: 10 minutes
This cookie recipe will please your sweet cravings in no time. Most impressively, these clusters are gluten-free and egg-free, hence vegan. And with nutritious ingredients, your cookies are a perfectly healthy dessert for everyone in the family.
They contain a bunch of seeds coated with dark chocolate and coconut flakes outside, creating an interestingly crunchy texture. Plus a presence of cinnamon and vanilla extract, each bite is full of sweet and woody flavor. So yummy!
Also, you can feel free to double your batch if many kids are at home. For storage, put these yummy sugar-free desserts in zip bags or airtight containers and put them in the fridge. They can keep for up to 2 weeks.
Total Time: 20 minutes
If you want to have some fun activities with your kids, you should make these coconut popsicles. They require no heat and no fuss, with only simple steps and ingredients on hand.
The coconut milk and evaporated milk are key to the white and rich popsicles. Still, sugar and optional vanilla extract add to the taste for an appealing dessert. When your paleta (ice pop) mixture is done, let your kids do the pouring and store these popsicles in the freezer.
Once you pop one out of the mold, it is perhaps the most welcoming dessert in your house during summertime. If you have no mold, you can switch it for small cups, jars, or any containers available in the kitchen.
Cook Time: 15 minutes
Guys, it's time for cupcakes! This recipe is a chocolate cupcake topped with caramel sauce and loads of toasted coconut. You can't imagine how good coconut pairs with chocolate. The nutty flavor and bittersweet cake together develop an over-the-top dessert.
And the highlight of the delicacy: coconut caramel sauce sinks into the cupcakes. Yes, you do not hear wrong! Use a knife to make a hole in each cupcake, fill in a sauce, and seal up the hole. Once you pipe the frosting on top, no one knows the delicious secret inside until eating time.
Do not skip the garnishes if you look for a fancier dessert. Sprinkle crunchy toasted coconut and drizzle extra coconut sauce. And your guests will experience a bold tropical flavor in every bite.
Total Time: 23 minutes
Last but not least, coconut macaroons are a light treat on any dessert table. Do not confuse them with macarons (a French sandwich cookie)! This double-o delicacy is soft, spongy, and easy to make instead of a crispy and tricky one.
All you do is mix all the ingredients and bake these cookies until brown. Once you finish the baking, the fresh batch will give you the mellow aroma of coconut, followed by a hint of vanilla. And that's also the prominent taste you will get from the macaroons.
But if you want to twist up the flavor, many variations are waiting for you to explore. Add dried berries to give your macaroons a tangy sweetness. Be sure to chop the nuts before spreading them evenly on the cookies.
Alternatively, you can add chopped nuts for more flavor. Chocolate chips are also an option to surprise your diners with bittersweet cookies.
Explore this best gluten-free version of coconut macaroons!
Nothing Is Better Than Coconut Sweets For A Hearty Dessert
Now you have all my delicious coconut recipes on hand. And I'm not exaggerating by praising coconut from the beginning, am I? Coconut is the soul of every dessert above, whose charm no one can deny.
So plan ahead and make some simple desserts for your family tomorrow. They will enjoy them and shower you with many compliments. I can't wait for you to show your achievements and everyone's reaction!
If you appreciate my contributions, go ahead and give me a like. Also, feel free to share this post with people on your friend list who want a hearty dessert. I bet your friends will be grateful for that. Thank you, and enjoy your sweet days!