Try these best chuck steak recipes if you are unsure what to make for dinner. Chuck steak is cut from a cow which is a good alternative for more expensive steaks like ribeye. These chuck-steak delicacies will hit the spot if you cook them properly.
This list below will give you some ideas and inspiration to do with this ingredient. Furthermore, I will show you step-by-step instructions and some interesting tips for the best result. Let's dig in and discover more about them!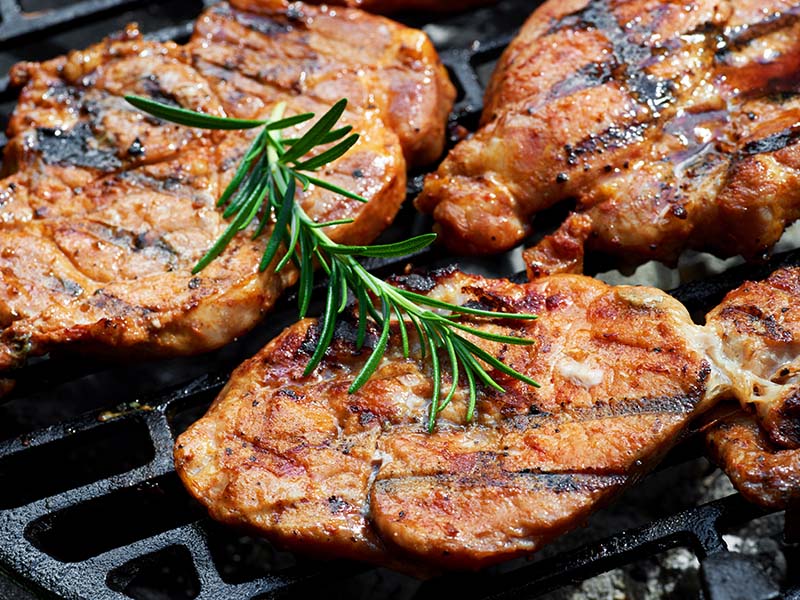 Chuck Steak Vs. Chuck Roast: Are They Different?
Many still use the terms "chuck roast" and "chuck steaks" interchangeably. However, are they the same concept? Take a look to discover more of this helpful knowledge!
Chuck roasts are cuts of beef from the chuck meat or a cow's shoulder. Chuck steaks are more minor cuts sliced from chuck roasts, which might be 1 to 3-inch in thickness. Therefore, the cuts are the key point that sets chuck roasts and chuck steaks apart from each other.
In terms of the texture, chuck roasts and chuck steaks don't differ much. Both are rather tough and frequently require a lot of cooking time. You can apply these cuts in various delicacies, such as braised dishes, stews, and slow-cooked foods.
Due to this characteristic, chuck steaks and chuck roasts frequently have the same price. Chuck steaks are slightly more expensive in some cases since they need the butcher to spend more time cutting them.
Highly Recommended Chuck Steak Dishes You Should Try
If you think a cheap chuck steak can't impress your whole family, let the list below change your mind. These delicacies are not only tasty but also flavorful and visually enticing. Check this out now!
Total time: 1 hour 45 minutes.
This budget baked chuck steak dinner In Foil recipe is bound to be a tremendous hit if you are looking for an ideal option for dinner. Instead of marinating chuck steak for a perfectly tender texture, this treat will cook your meat slowly in the oven.
Let's start with placing chuck steak in aluminum foil. Covering your meat with foil will help to retain the moisture of your steaks, making them more irresistible. After that, add other ingredients, including onion soup mix, carrots, and potatoes.
After wrapping the foil, your dish is ready for baking. Besides the above veggies, you can use other favorites such as parsnips and rutabaga. Homemade onion soup mix is also suitable in this situation.
You can serve this delicious chuck steak with crusty bread or baked biscuits to enhance your experience. If you don't want to enjoy this delicacy right after baking, you can store it in the fridge for 5 to 6 days.
Total time: 4 hours.
French onion pot roast is another delicacy that I would like to share with you. This treat is not only deliciously melt-in-your-mouth with tender chuck roast and the rich and aromatic gravy but is also very easy to make.
First of all, you just need to cook your chuck roast in a slow cooker with the sauce made with Worcestershire sauce, tomato sauce, and white wine vinegar.
After cooking, if the sauce becomes overly fatty, you can separate it from the chuck roast and place it in the fridge. When the grease floats on the top, you just need to scoop out this unnecessary fat, and you are done.
Next, make a thick gravy with cornstarch or flour to serve with your chuck roast. You can pair this wonderful dish with steamed veggies, fresh salads, or baked potatoes to keep your taste buds happier.
This recipe uses red onions, but you can replace this ingredient with yellow, white, or even sweet onions if you have them on hand.
How to make French Onion Pot Roast? Check here for the answer!
Total time: 1 hour 15 minutes.
Instant pot chuck steak with beer and onions is an excellent dinner idea for Sunday when you want a tender and juicy chuck steak but don't want to wait all day for it. This treat is a perfect blend of chuck steak, beer, dried thyme, and paprika.
Beer plays a crucial role, adding a depth of flavor to this dish. I suggest you choose a darker beer for the best effect, such as stout, amber ale, or porter. However, if you don't like using an alcoholic drink, you can replace beer with chicken broth.
Remember that browning the chuck steaks is the first step and also the critical step if you want to get the best result. You can skip this step, but your dish's flavor will change dramatically.
Total time: 3 hours 35 minutes.
Nothing is more attractive than combining beef and noodles in a delicacy. And French onion beef with noodles is a typical example. Aromatic, delectable, and filling, this delicacy will help you impress your whole family.
First, you should prepare the stock with chuck steaks, dry white wine, and other ingredients, such as fresh thyme, brown sugar, and dried bay leaves. Next, simmer the stock until you get a perfectly soft chuck steak.
Finally, combine your noodles, and shredded beef stirred with brown sugar smothered in the flavorful stock, and serve. While fresh thyme gives your dish an earthy and lemony flavor, brown sugar will balance your meal by lending it a slightly sweet taste.
Total time: 25 minutes (excluding 3 hours of marinating time).
Have no idea how to prepare your busy meals? Try this exquisite marinated boneless chuck steak with minimal effort right now! The ingredients are surprisingly simple, and this recipe is also very straightforward to prepare.
To make this delight, you must marinate chuck steak with some easy-to-find components. Next, place your steaks in the fridge for your meat to absorb the flavor evenly. After approximately 3 hours, you can start to cook your steaks.
Is it even easier than you might think, right? A touch of garlic gives your chuck steaks a slightly sweet and pungent flavor. Moreover, Worcestershire sauce adds a robust umami taste to your dish, making them more addictive.
Total time: 10 minutes (excluding 1 day of marinating time).
If you think the quality of a chuck steak-based delicacy isn't as good as ribeye, let this grilled chuck steak recipe change your mind. You can achieve the ideal consistency of this treat by keeping in mind two important factors.
First, you need to marinate your chuck steak with a mixture of red wine vinegar, garlic, and Italian seasoning. While garlic imparts a robust and spicy flavor, vinegar quickens the tenderizing process by dissolving the steak's fiber.
Compound butter is another key component in upgrading your Grilled Chuck Steak to a new height. It is a mixture of garlic, unsalted butter, and fresh rosemary. After removing them from the grill, you just need to spread compound butter over the chuck steaks.
Your results are juicy, soft, and incredibly delicious, making it not inferior to a more expensive steak. Au gratin potatoes, grilled vegetables, or salads will complement your dish. Remember that you can adjust the grilling time to suit your steak's thickness for the best result.
Following this guide will teach you how to make Grilled Chuck Steak at home.
Total time: 8 hours 20 minutes.
Have you ever thought that deviled swiss chuck steak is a Swiss-originated delight, as suggested by its name? If yes, you are wrong. The word "swiss" here indicates a method of tenderizing your meat by pounding or rolling it.
Combining brown sugar with dry mustard gives you an amazingly sweet and spicy chuck steak. Don't miss tomatoes and carrots if you want to add a pop of color to your dish.
You can make this chuck steak delicacy ahead of time. It is suitable for 2 to 3 days, but remember to reheat your dish before serving for the best taste. The pairings for this dish are diverse. Mashed potatoes, mashed cauliflower, and rice work well in this case.
Total time: 50 minutes.
I love this honey glazed chuck steak with pancetta and asparagus, and I believe you do, too. So let's learn how to make it. Little heads-up: this dish is juicy, delectable, and tender with a rich flavor.
When cooking this recipe, you need to fry the chuck steaks with some seasonings until you get well-browned meat on all sides. After that, add tomato sauce, honey, garlic, and beef stock to your dish and bake the mixture for 30 minutes.
While waiting for your beef mixture to cook, you can fry pancetta and asparagus to top your steaks. When everything is ready, time to serve your treat. Sprinkle some green onions over your food if you love a sharp and spicy note at the last minute.
Total time: 2 hours 40 minutes.
If you have had the opportunity to sample typical meals in Japan, you will notice a bowl of robust curry. That particular delicacy is Japanese beef curry, one of the core staples of Japanese cuisine.
This delicacy uses chuck roast, curry roux, potatoes, and garlic. If finding curry roux is challenging, you can go to an Asian grocery store to buy this product. There are many curry roux brands; just choose the one depending on your preference.
This meal exemplifies Japanese cuisine's strong and distinctive flavors, which always manage to harmonize the sensations of umami, sweetness, and savoriness. Bursting with flavors, this delicacy is also thick and velvety.
The pairings of this dish are unlimited. You can serve it with rice, crispy breaded cutlets of pork, and udon noodles. This curry is good for 3 days in the fridge. Moreover, you can extend its shelf life up to 1 month in the freezer.
Total time: 1 hour 40 minutes.
If you happen to be both a beef and noodle lover, I have a treat for you. As the name implies, beef and noodles are the two main ingredients in this recipe. Whether you apply dried or frozen egg noodles, this treat will stimulate your taste bud magnificently.
A savory gravy is a key to helping you get success in making this dish. It is a perfect blend of beef broth, flour, bay leaves, and other seasonings. Deriving a sweet and peppery taste from paprika, this gravy is creamy and rich with enough hints of aromatics.
Don't forget to add the flour, which helps your beef and noodles thicken. You can also use a mixture of flour and unsalted butter as a replacement. This delicacy is suitable for freezing in an airtight container for 3 months.
Follow this instruction to make Beef And Noodles for the best result.
Total time: 6 hours 35 minutes.
What could be more beautiful than a bowl of beef chuck roast with various veggies and herbs! Although this delight requires a long time to prepare, it's very straightforward to make and needs many simple ingredients.
Remember that you should use whole carrots and yukon gold potatoes (or russet variety) in this case if you don't want to enjoy a mushy dish. These ingredients work well with beef in a slow cooker for a long time yet holding their shape.
Coming out with a beautifully browned appearance, your chuck roast is tender, juicy, and succulent. Moreover, a touch of bay leaves lends your treat a rich and savory note. Never forget red wine in this recipe since it adds a depth of flavor and complexity to your dish.
Total time: 2 hours 25 minutes.
Braised dishes are also the top choice when mentioning chuck roast dishes. That's why I would like to introduce another braised dish on this list. This is a braised tomato chuck roast. Aromatic, tender, and tasty, this treat will be the winner on your dinner menu.
Tomato paste works well in slow-cooked recipes like this, intensifying the flavor of this dish over time. Moreover, including various fresh herbs, such as rosemary, thyme, and parsley, provides your treat with a richer taste.
Serving this savory treat with mashed potatoes, roasted asparagus, and carrots will double the deliciousness of your dish.
You can reduce the heat and extend the cooking time even though this recipe calls for 275 degrees F. Furthermore, remember that browning plays a crucial role in helping your chuck roast achieve a moist and juicy texture.
Total time: 4 hours 20 minutes.
Chuck roast burnt ends recipe is one of the most accessible delicacies you can make at home without needing a complicated list of ingredients. When cooking begins, you must coat cubes of chuck roast with BBQ seasoning, brown sugar, and olive oil.
After that, place your meat in the smoker for about 2 hours. After removing the meat, you need to add honey and BBQ sauce one at a time and continue to smoke your chuck roast. Remember to cover your meat with foil to help it absorb the flavors better.
The chuck roast is sweet, tender, and bursting with flavor, making it an excellent accompaniment to tacos (a traditional Mexican food), nachos (a tortilla chip-based Mexican dish), and sandwiches.
Total time: 8 hours 10 minutes.
It would be my mistake not to list this easy smoked chuck roast in this post. Smoking and braising are the two basic steps you need to complete if you want to enjoy this wonderful delight.
Although this recipe requires a long time, the result will deserve your time and effort. First, you need to prepare the rub with garlic powder, dried parsley, and chipotle chili powder to coat your chuck roast.
Next, you need to smoke your chuck roast until the internal temperature of this meat reaches 160 degrees F. Braising your meat in a mixture of beef stock, and red wine is, of course, the final step.
Your chuck roast derives a smoky flavor and a beautiful dark appearance thanks to the smoking process. Moreover, red wine complements beef perfectly, giving your meat a richer taste. Can you give me a reason to miss this recipe? The answer is precisely "no," right?
Let's see how Easy Smoked Chuck Roast beat up all of the competitors on your menu!
Total time: 4 hours.
For those unfamiliar with the term, the word "tagine" not only indicates the name of this stew but also implies the cooking vessel, a dish popular in Morocco and Algeria. Beef Tagine will win your heart in no time, thanks to its fantastic flavor and texture.
Turmeric, coriander, and cinnamon come together in this sweet and savory dish. A touch of Spanish paprika gives your stew a warm and slightly smoky flavor. However, If you don't have Spanish paprika available, you can substitute it with regular paprika.
You can serve this stew with rice, crusty bread, mashed potatoes, and any other pairings you often enjoy with stews. Each combination will become a tremendous hit.
This recipe takes you hours to slowly cook; therefore, you can make a big pot for consumption to save time. Your beef tagine is good in the refrigerator for a few days. You can also store it in the freezer for longer (up to 3-4 months).
Determine The Best Dishes With Your Chuck Steak Right Now
These best chuck steak recipes are not very difficult to make as you might think. Although most of them ask for hours to complete, the results are so worthy. They are delectable, flavorsome, and visually appealing.
If you love my list above, don't hesitate to give this post a "like" and share it on your social media. I will be happier if you can share your experience with today's article in the comment section below. Thank you for your support, and have a nice meal!