Easy chorizo recipes work all year round. Chorizo contains meat (mostly pork), dried peppers, and seasonings, so most of my list today is flavorful, slightly spicy, and super delicious.
Chorizo comes in wide regional varieties, but the most popular types are Spanish chorizo and Mexican chorizo. While the former is a cured, dried sausage ready to serve in slices, the latter is raw meat sausage and requires further cooking.
Chorizo can fit various dishes: salads, soups, stews, etc. Remember to use the correct types whenever you want to include them in your meals. And now, let's keep scrolling to save the easiest chorizo recipes for yourself!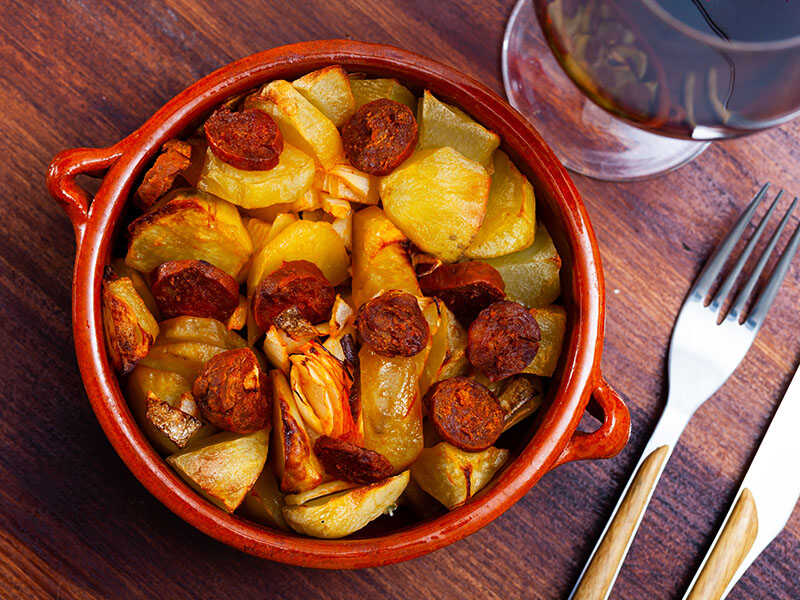 Making Chorizo Dishes As Professionals!
Chorizo appears in many meals and occasions. Here are 32 chorizo recipes that you can make at home. As long as you prepare good ingredients, these cooking instructions are super easy and enjoyable to make.
Total time: 50 minutes
Enchilada is a well-known Mexican entrée. It involves corn tortillas rolled around its filling and a sauce covering these tortillas. This time, the filling contains fresh chorizo and ground beef, while the savory sauce is from oil, flour, beef broth, and spices.
In Spanish, enchilada means "to season with chili". That's why the chili-based sauce usually covers enchiladas to give a bold and spicy flavor. Besides, the fresh chorizo also adds spiciness to the enchiladas.
A secret to rolling corn tortillas easily is to fry and dip them into the enchilada sauce briefly. Doing so will make them a bit softer and much more bendable than when you heat them with the microwave.
Total time: 25 minutes
Mexican rice combines simmered rice, onion, garlic, and chili peppers. It is a perfect side dish to accompany mole, refried beans, or tacos in Mexican meals. Let's add some chorizo as a protein source.
Mexican chorizo makes the rice pan hearty and flavorful with fresh pork and seasonings. Paprika in the chorizo adds a smoky and slightly spicy taste. Besides, a punchy flavor comes from herbs like chopped cilantro.
People crumble the chorizo into small pieces, cook them with veggies, and then stir them well with rice. Lastly, serve it with cilantro or some Tabasco hot sauce.
Total time: 1 hour 30 minutes (with 10 minutes of resting time)
Paella is originally from Valencia, Spain, but its modern form came in the mid-19th century in the Albufera lagoon next to Valencia. Local people in Valencia make paella with a traditional shallow pan called "paella."
Traditionally, a paella involves grain rice, smoked paprika, saffron, and a sofrito base made from onion, peppers, and garlic. In this paella, you include chicken thighs and spicy, smoky Spanish chorizo.
A special part of paella is the socarrat, a crusty bottom caramelized and toasted while you cook. To make it, keep simmering after you stir in the chicken broth. Doing so helps the rice continue to cook and form a crust at the bottom.
Total time: 30 minutes
If you went to any tapas bars in Spain, you probably tried chorizo al vino tinto, chorizo in red wine. It's also known as "chorizo con vino." It has a fattiness and the spiciness of the chorizo and a solid taste of the wine.
Simmer chorizo slices in dry red wine to boost the flavor. Add a bay leaf for an earthy note. Then, keep simmering until the wine sauce has thickened. The result is a super flavorful combination.
You can serve homemade chorizo in red wine with farmhouse bread as an appetizer or snack. Use some wooden skewers or toothpicks to pick up each chorizo piece, just like how Spanish people enjoy it.
Bring Spanish spirit to your home with some chorizo in red wine!
Total time: 20 minutes
These chorizo sweet potato tacos are easy to make with three main simple ingredients: Mexican chorizo, sweet potatoes, and black beans. Nevertheless, the result is out of this world!
As always, Mexican chorizo lends its spiciness, while there is a natural sweetness coming from sweet potatoes. Like other Mexican and Tex-Mex favorites, these boldly seasoned tacos become hearty when adding some black beans.
How about the toppings? There are endless options: freshly chopped cilantro, guacamole, cheese, or sour cream. Besides, you can add fried eggs to make it a delicious breakfast.
Total time: 40 minutes
In Italy, risotto is a popular rice dish cooked with broth until it becomes soft but not mushy. For many people, reaching that consistency is so difficult. However, there are always tips for making it successful: use a large pan and not over-stirring.
A large pan helps you spread a thin layer of rice on the surface, making it cook evenly. Second, you just need to stir it regularly so that it doesn't stick to the pan, but you don't need to mix it all the time.
You should serve it warm after cooking to feel the most flavors. For leftovers, they last for three days in an airtight container in the fridge and freeze well in the freezer. When you are ready to serve, thaw and reheat it with a pan. Add a little water to soften it.
Total time: 40 minutes
Soups are always great because they are economical with simple ingredients from your fridge, leaving no out-of-date food waste. In addition, this soup is keto-friendly with cauliflower, one of the most popular low-carb veggies.
Roasting the cauliflower intensifies its flavor and creates a pleasing color for the soup. Next, blend the roasted cauliflower with the stock and sour cream to create a smooth soup. An immersion blender or a normal blender will help you.
For serving, enjoy it with some garlic bread and a fresh salad on the side. The soup is also good to accompany other main courses, such as roast beef or chicken.
Total time: 20 minutes
Burrito is one of the most famous dishes in Mexican and Tex-Mex cuisine. It involves a flour tortilla tightly wrapped around its fillings. People usually grill or steam the tortilla to make it soft and pliable.
The filling often contains various ingredients, mainly beans, meat, cheese, and vegetables. Of course, the filling is highly customizable. For example, you can use chorizo, potato, and egg in these breakfast burritos.
You can use either beef chorizo or pork chorizo. Both are flavorful, with the former less oily. Plant-based soy chorizo also works, but you may have to add some oil before folding the burritos.
Total time: 30 minutes
The next hearty recipe you can make with chorizo is chorizo and chickpea stew with baked eggs. All the ingredients come into just a pot or skillet, making it super convenient.
The stew promises to be most-requested in your family. This is because everyone will like how filling it is with loads of different ingredients, including chorizo, chickpeas, and eggs. Besides, various ingredients make it a super healthy and filling stew.
It's also chock-full of flavors. Apart from the chorizo's meaty flavor, chopped tomatoes add a fresh taste. Also, bay leaves and oregano make the homemade stew more earthy.
Total time: 40 minutes
If you want a quick and cheesy breakfast or brunch, try a Mexican breakfast pizza with chorizo. It is a crowd pleaser with savory ingredients like chorizo sausage, eggs, and shredded cheese.
The pizza is also very versatile, with many variations. While it usually uses typical pizza dough, the crescent dough will produce a flakier crust. For the sauce, go for a processed sauce or a mix of chipotle pepper and adobo (Mexican chili sauce).
Additionally, you can use either Monterey Jack, Mozzarella, Chihuahua, or other shredded cheese. No matter what kind of cheese, they all bring a cheesy taste to your breakfast pizza.
Total time: 40 minutes
Another delicious dish for you is roasted Brussels sprouts with chorizo and sherry vinegar. The recipe involves Spanish chorizo, which brings a noticeable smoky flavor because it is a fermented and cured sausage.
First, you sauté chorizo in olive oil and stir well with shallots, garlic, and paprika until you notice the browned garlic and shallots. In the meantime, toss Brussels sprouts with the liquid from the chorizo mixture and then roast them in the oven.
Regarding its taste, honey gives a slight sweetness in addition to the sour taste of vinegar. Besides, honey also supplements the spice from the chorizo and paprika.
Total time: 45 minutes
Many people believe mac and cheese originated from Northern Europe in 1769. That was when it first appeared in the book The Experienced English Housekeeper by Elizabeth Raffald. Mac and cheese are always cheesy, creamy, and irresistible.
Apart from the macaroni, you will use chorizo as a Mexican-style twist to the classic mac and cheese. The savory chorizo added a spicy and meaty flavor. In addition, bell pepper, jalapeños, and black beans make it a hearty version.
This mac and cheese are perfect to serve with some loaves of bread and a green salad. Spanish white wine like Garnacha Blanca or Albarino is also a good accompaniment.
Total time: 30 minutes
In Spanish, "chorizo con papas" means "potatoes with chorizo", which are the two main ingredients. The dish can become an excellent filling for tacos, taquitos, corn tortillas, or flour tortillas as a delicious breakfast, lunch, or dinner.
Chorizo con papas have many variations. Replacing the Mexican chorizo with soy chorizo makes it a plant-based recipe. If you don't like the fattiness of the chorizo at stores, use chorizo made of lean ground pork or chicken.
You can store leftovers in airtight containers in your refrigerator for 3-4 days. When frozen, they can last for three months. When you want to consume them, remember to thaw overnight and reheat with a microwave or a skillet with medium heat.
Making chorizo con papas is no longer a difficult task!
Total time: 1 hour
Originating from French, quiche is a tart made with a pie crust filled with egg custard. Many savory add-in options include cheese, meat, seafood, and veggies, making chorizo quiche a filling and delicious breakfast, brunch, or dinner.
A store-bought pie crust works well if you want to save time. Or you can create a homemade buttery, flaky crust with all-purpose flour, butter, and shortening. You don't need to pre-bake the crust, but you can still do so to make it well-cooked and crunchier.
Preparing the crust and the filling beforehand is okay. Simply add them to a pie dish when you want to bake. If you're going to make the filling a day ahead, remember to exclude the eggs and refrigerate it in a covered bowl in your fridge.
Total time: 45 minutes
Chorizo is an excellent ingredient for making meatballs. You can enjoy a flavorful combination of pork chorizo, cheese, red onions, and seasonings within each meatball. They also have a nicely browned color and a juicy, soft texture.
For serving, you can enjoy these meatballs with homemade pasta and fresh tomato sauce on the side. They are a delicious accompaniment for lasagna, some baguette slices, and a dipping sauce of olive oil and vinegar with some herbs.
An outstanding variation is chorizo meatballs for a cocktail party. These meatballs are only half the size of the typical ones. The small size makes it convenient for party guests to pick up with a toothpick while they are holding a cocktail in the other hand.
Total time: 52 minutes
Chile rellenos, or "stuffed chile peppers," originated in the city of Puebla, Mexico, and have become popular in Mexican cuisine. These peppers are stuffed with melted cheese and minced meat. In some variations, people cover peppers in an egg white batter and then fry them.
These chiles rellenos with chorizo include Chihuahua cheese, a Mexican cheese derived from cow's milk. Besides a semi-soft texture, it has a salty, mild, and slightly sour flavor depending on its aging duration.
You can make these peppers in advance and refrigerate them. Remember to cover the baking pan. When you are ready to serve, bake these peppers in an oven. Then, place them on salsa with cream sauce and a pinch of chopped cilantro.
Total time: 30 minutes
Shrimp and chorizo paella is slightly different from what a standard version looks like. While a typical paella in Spain may contain rabbit, chicken, crab, or snails, let's renew the recipe by integrating fatty, smoky chorizo.
Paella is most delicious when cooked with Spanish paella rice, such as bomba rice. This is because paella rice absorbs three times its volume of liquid, while it's only two times for regular rice. Another grain white rice, Arborio, will do the trick.
Also, you should use a large paella pan for cooking. A large pan helps to cook the rice evenly because you can stir-fry the rice in a thin layer. If you don't have a paella pan at home, simply use the largest and flattest pan.
Let's make a delicious pan of shrimp and chorizo paella for your beloveds!
Total time: 50 minutes
This tomatillo-based treat is so versatile that you can make it just from available ingredients in your fridge. Besides, you can make it in advance and serve it for breakfast, brunch, or dinner during your whole week.
Although it's optional, the poblano sauce makes the whole dish unforgettable. After baking peppers, tomatillo, and garlic, you blend them with cilantro, bouillon, and Mexican crema to create a savory sauce. Topping the sauce on the chorizo hash helps round out the flavors.
Believe it or not, you can finish all the steps in just 1 hour. In addition, because all ingredients come into a single skillet, you don't have to spend much time cleaning after cooking and serving.
Total time: 10 minutes
This Mexican-inspired omelet with chorizo is so flavorful with various ingredients. While The Mexican chorizo has a strong meaty flavor, the slight sweetness of red onion makes it a good omelet.
This delicious omelet treat features Mexican cheese, especially queso quesadilla (melting cheese) or Oaxaca cheese. Although sturdy, queso quesadilla is a creamy, mild, and versatile cheese, making it a perfect melting cheese. Semi-soft Oaxaca cheese also works.
You can top your Mexican omelet with some chopped veggies such as zucchini or pinto beans. It also goes well with some sliced avocado, guacamole, or hot sauce.
Total time: 40 minutes
Also known as "Patatas a la Riojana" in Spain, potato and chorizo soup is famous in the La Rioja region of the country. The soup is usually the second course on the menu in a lunch meal.
It is hearty and nourishing on cold rainy days with all the quality ingredients: flavorful Spanish chorizo, starchy potatoes, tasty bacon, and paprika. The soup is always perfect, with some crusty bread on the side and even some Spanish wine.
This soup has many variations to fit your taste and nutrition needs. If you want to include more vitamins in your meal, use sweet potatoes. You can further add beans for extra protein. Lastly, switch parsley with cilantro for a more authentic Mexican soup.
Immediately jump in for a tasty potato and chorizo soup!
Total time: 1 hour 30 minutes
This is the first time you see beef and chorizo come together in today's list, but they hand down a savory beef chorizo chili. Adding toppings like shredded cheese, sour cream, and biscuits makes it even more enjoyable.
The Tex-Mex ingredients like pork chorizo, poblano peppers, and pinto beans intensify their flavors when you refrigerate or cook them longer. For the best result, prepare this dish a day ahead or spend some hours during the day cooking.
You can use the crock pot for cooking the stirred mixture if you want a more tender chili. Cook for about 7 hours on low and 3.5 hours on high settings. When the ingredients are well-cooked, you are good to go.
Total time: 30 minutes
Apart from meat chorizo, don't forget that you can rely on vegan soy chorizo. It's time to make a highlight to the list with a recipe for vegan soy chorizo potato hash.
Vegan soy chorizo can make delicious dishes like any meat chorizo. People use soy protein or vital wheat gluten and other seasonings to make this variety. Thus, it contains less energy and fat than meat chorizo, making it suitable for weight loss diets.
You can serve potato hash with scrambled tofu and a slice of toast. You can further make a hearty burrito with it. If you are an egg consumer, add a dippy egg and some buttery biscuits for a protein-packed breakfast.
Total time: 1 hour 40 minutes
Dried beans have been a staple in the Mediterranean throughout a long history. People usually look for a warm Spanish white bean stew in autumn and winter. The recipe calls for white beans, tomato sauce, and Spanish chorizo.
A white bean stew goes well with a side of cucumber salad and lemon possets for dessert. Also, it is good to enjoy with some slices of crusty bread. When heating the stew, don't forget to add some spinach, which adds more freshness to your stew.
Dried beans should be soaked overnight in salted water and washed with clean water the next day when you cook. Or you can even boil them and refrigerate them in advance.
Total time: 35 minutes
These egg muffins are perfect for weekday mornings when you want something as quickly as possible. They freeze and reheat well, so simply prepare some more at the weekend and enjoy the following week.
You can use muffin tins or silicone molds to contain the mixture for baking. Remember to spray the metal tins with nonstick spray to prevent the mixture from sticking to them. For the silicone molds, put them on a metal baking sheet for easy transfer into the oven.
Bell peppers, broccoli, and kale are excellent add-ins for these egg muffins. In addition to Cheddar cheese, replace with or add any cheese such as Mozzarella, queso fresco, and Colby Jack.
Learn the easiest way to make tasty muffins from egg and chorizo!
Total time: 30 minutes
Let the chorizo combine with succulent salmon in a creamy tomato-based sauce. Everything is in one single pan or skillet, making it so easy to make and clean.
The recipe asks for skinless salmon. Nevertheless, you can still use skin salmon and maintain its crispiness by not pouring the sauce on it. As a reminder, Parmesan cheese has a hard, gritty texture as a block, and when finely grated, it thickens the sauce nicely.
Like other saucy dishes, all the delicious sauce in the salmon-chorizo pan goes well with crusty bread or baked potatoes. Besides, a green salad is a super healthy side dish to accompany.
Total time: 25 minutes
Typical Mexican nachos include fried tortilla chips (totopos) topped with cheese-based sauce and toppings like meats and vegetables. Try these spicy chorizo nachos if you want a crunchy snack for a chilly movie night.
This recipe uses Monterey Jack cheese for the sauce. To prevent the cheese from clustering, stir it with cornstarch in the boiled mixture of wine and lemon. The acid from wine and lemon juice keeps the cheese creamy and glossy.
The chips and chorizo are good to make a day ahead, while the cheese sauce needs to be served right away. So, make sure to plan each step accordingly.
Total time: 1 hour 10 minutes
Few things are more enjoyable than a bowl of creamy pasta after a long day at work. It is versatile, filling, and delicious. You can enjoy these fresh, chewy noodles drenched in a creamy sauce any time of the year.
Because the tofu chorizo is already flavorful, you only need a quick sauce made with cashews, garlic, salt, and water. You can blend them raw with a high-powered blender. Otherwise, boil hard cashews until tender before blending with a regular blender.
The vegan chorizo crumbles and cream sauce are suitable to prepare and refrigerate before cooking. The pasta tastes the best when served hot. Before serving, top it with some chorizo crumbles and chopped parsley.
Total time: 25 minutes
These stuffed green peppers have various savory ingredients such as pork chorizo, corn, black beans, and a Mexican Cheese blend. Every flavor supplements each other and hands down a great weeknight dinner, especially for fans of spicy food.
You can serve these stuffed peppers with avocado and sour cream. Alternatively, add either a hot sauce, some cilantro, or salsa. Salad is also a good accompaniment.
For storage, the leftover peppers can store well in an airtight container in your fridge for several days. Simply place them in the microwave or oven at 275°F for 15 minutes to reheat.
Total time: 30 minutes
As you may know, biscuits and gravy were not popular until after the American Revolutionary War ended in 1783, when there was a foodstuff shortage. In the American South, it was the energy source for workers on the plantations.
To twist this classic breakfast, use Mexican staples like chorizo sausage, poblano, and jalapeno peppers. The richly flavorful chorizo will make your gravy irresistible, not to mention the creamy base from whole milk.
You can store the leftover gravy in an airtight container in your fridge for four days. When you want to reheat, simply pour it onto a saucepan and move it into an oven. Add some milk if it looks so thick.
Here's an easy-peasy cooking instruction for tasty biscuits and gravy with chorizo sausage!
Total time: 25 minutes
Belonging to Spanish or Latin-American cuisine, an empanada is a turnover filled with various ingredients, including meat, tomato, cheese, etc. People bake or fry empanadas until they get a crispy, golden crust.
Regarding its appearance, chorizo and cheese empanadas look like hand pies made with puff pastry. After 15-20 minutes of baking, they are so flaky on the outside and cheesy on the inside.
You can enjoy them alone as a filling puff pastry appetizer or snack. But they go very nicely with dipping sauces. Two highly recommended accompaniments are sour cream and queso (a cheese dip). Besides, these empanadas also go nicely with a salad and ranch dressing.
Total time: 22 minutes
Whenever the BBQ party comes, you may want these kebabs (grilled skewers) loaded with chorizo, tomatoes, and halloumi (a traditional Cypriot cheese). The tangy dressing is quick to make with simple ingredients.
Halloumi cheese is a mixture of milk from goats, sheep, and sometimes cows. Due to its high melting temperature, people usually fry or grill it in replacement for meat. So, unsurprisingly, it is one of the best options on these grilled kebabs.
You can transform the leftover kebabs into many dishes. First, grill or pan-fry the leftover cherry tomatoes, chorizo, and halloumi cubes to bring them back to life. Then, serve with eggs and toast for a hearty breakfast or combine with buns to make hamburgers.
Total time: 40 minutes
Apart from wrapping chorizo and egg in a tortilla, it's time to try a new cooking style. That's why I use crescent rolls to make this excellent breakfast dish.
A handy tip is to place the crescent dough in your fridge before using them. Doing so would make it pliable to form a ring. Do not worry if the filling is visible. It will hold its shape after baking.
You can assemble a breakfast ring ahead of time and refrigerate it overnight. Alternatively, cook the filling of chorizo and eggs, and then refrigerate it until you want to form a ring and bake.
Gear Up And Make A Savory Chorizo Masterpiece Now!
Chorizo lends a meaty taste to any dish you make, and those featuring chorizo are always mouth-watering. I bet you have already picked up some favorite recipes and will make them as soon as possible.
What do you think about the list I share? What dishes would you like to make? Don't forget to share your ideas and cooking experiences with me in the comment section. I hope you will always keep your passion for cooking. See you next time!