This fantastic post will reveal all the easy chocolate desserts you can make with a few simple ingredients and preparations. I am sure their alluring flavor will leave a profound impression on your guests' minds at the end of the meal.
This article not only provides a list of excellent suggestions but also shows the tricks and how to create many variations to diversify your dessert menu. Hence, please stick to this post to gain all essential things related to this topic.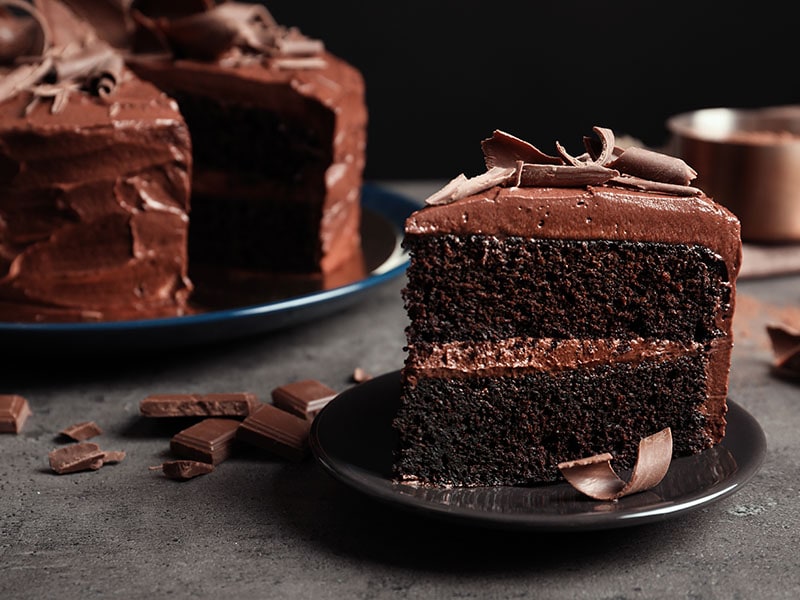 Blow Your Mind With These Delectable Chocolate Desserts
Are you ready to show your cooking talent by making these fantastic chocolate desserts? This section will be your instructor to help you get the best dishes for the party.
Total time: About 12 hours 30 minutes (including 10 hours for chilling)
Triple chocolate mousse tart is widespread at holiday parties or actual events. You can make it if you have a lot of free time, and the results will be worth your effort and time. Please give it a try now!
This amazing mousse contains 3 layers of milk, white, and dark chocolate. The tender and airy mousse goes well with the flaky crust. Flour, sugar, eggs, and butter are the essential ingredients in making the crust you must prepare.
For making mousse, whipping cream is an indispensable ingredient besides chocolate to bring a creamy texture. In terms of decoration, I usually use curls of chocolate to create patterns on the top.
Total time: About 35 minutes
Enjoying the soft and chewy Mexican hot chocolate cookies is an effective way to tempt your taste buds. Besides the sweetness, it is not difficult to feel cinnamon's typically warm and earthy taste when eating these cookies.
Not only that, the cinnamon sugar on the surface makes the cookies more unique and attractive. After baking, you get excellent round and flat cookies with a deep brown shade to treat your family members.
Follow this tutorial to make Mexican hot chocolate cookies.
Total time: Around 10 hours 45 minutes (including 8 hours for cooling)
If you are used to dark chocolate cheesecake and want to bring a new breeze and brighter color to the party, the white variety is the best idea. Rich, creamy, and cheesy flavors are the things you can clearly feel when enjoying this dessert.
The alluring sweet flavor of white chocolate cheesecake will blend in the delicate and fatty coconut whipped cream and melt in your moist mouth. Of course, the aromatic and firm coconut crusts also leave you speechless.
In addition, coconut crusts are a clever solution for garnishes to enhance the value of this dessert. Before serving, it is acceptable to add some chocolate truffles to diversify the flavor if you desire.
Total time: About 10 minutes
Chocolate bark is an ideal suggestion for Christmas or other holidays. Plus, you can prepare it as a small and cute gift for your loved ones to spread your love on special occasions. And you can be creative since it has many different variations and toppings.
I highly recommend using high-quality chocolate bars instead of chocolate chips to get great results. In addition, milk and white chocolate are other excellent ideas you can use. There's no problem applying the mix of dark and milk chocolate.
Tempering the chocolate plays a vital role in making this treat. This process makes the bark shiny and glossy. You can add a new twist to the recipe by using toppings like coconut flakes, toasted nuts, cashews, or pecans.
You should not add oil or shortening to chocolate since they can soften the bark. Please make sure to use dry equipment to get the best performance. Also, it is necessary to cool the bark for about 10 minutes in the fridge after adding toppings.
Total time: Around 1 hour 20 minutes
Combine zucchini, chocolate chips, cocoa powder, and gluten-free flour together, and you will get a loaf of incredibly tender and fudgy bread. Its ebony color, which resembles that of ancient wood, will make a strong impression on anyone when they see it for the first time.
In case you would like to make grating the zucchini easier and faster, it is best to use the food processor. To make the preparation for this yummy zucchini dessert recipe easier, you can use regular cocoa powder. But its taste will not be as perfect as the dark one.
Save these instructions in your cookbook to make chocolate zucchini bread.
Total time: About 8 hours 55 minutes (including 8 hours for chilling)
Trifle is a dessert recipe that frequently appears on restaurant menus. This wonderful and delicious sweet treat originated in England. Initially, it consisted of layers of fruit, cake, pudding, and whipped topping.
Brownie trifle is pretty similar to the traditional version, but it has an additional shaved chocolate layer on top. When you serve this dessert in a glass, you'll see layers with different colors creating a unique look.
You'll be immersed in the sweet and chocolate flavors when enjoying this dish. In addition, the smooth consistency of pudding can fascinate you instantly. Typically, I make it in advance since it takes 8 hours to chill in the fridge before it's ready to serve.
Total time: Around 1 hour 50 minutes
This thick, creamy, and moist cake is the well-combined fusion of coconut pastry cream, chocolate cake, and coconut buttercream frosting. While enjoying this treat, the chocolate and coconut flavors will flood your mouth and give you a state of bliss.
The first thing you must do is to make the cake batter. After baking it, you continue with preparing the coconut filling. After layering the cake and spreading the frosting on top, you'll complete this treat.
For ease of assembling the cake, you should only use room-temperature ingredients. But chilling the frosting is an essential step you cannot ignore.
Total time: About 2 hours 50 minutes (including 2 hours of chilling time)
The typical way to take advantage of the espresso powder and chocolate on your hand is to make these excellent shortbread cookies filled with chocolate toffee bits for dessert.
I love the round shape and beautiful light brown color of these cookies. Apart from consuming them as a dessert, people often serve them as an excellent snack or pack them into cute and meaningful gifts for those around them.
You need to chill the rolled-out dough for about 2 hours to 2 days before using it. Alternatively, you can freeze it for later use. Before baking, please use a fork to create tiny holes in the dough to release the air.
Total time: About 30 minutes
Ice cream is one of the indispensable parts of your summer parties. I guarantee your kids will immediately love the cool and sweet taste of mint chocolate chip ice cream. Mint flavoring, cream, chopped chocolate, and an ice cream maker are all things you need to get a yummy dessert.
I prefer chopped milk chocolate bars for making this terrific treat since they are easy to chop. Meanwhile, I never use chocolate chips because I get too much trouble with chopping them.
An important note you have to remember is not to decrease the fat content since it is the main factor that directly affects ice cream's creamy and smooth texture.
Follow the instructions step by step to get perfect mint chocolate chip ice cream.
Total time: Around 1 hour
You will be fascinated by the rich, gooey, and fluffy chocolate cobbler. It is an indispensable recipe on the menu of desserts at dinner or any exciting party.
Chocolate cobbler is a traditional dessert with soft chocolate-flavored cobbler and thick and hot chocolate sauce on top. This wonderful recipe can make you think of the delectable molten lava cake.
It will be a pity if you do not enjoy chocolate cobbler with different toppings to enhance the flavor. Vanilla ice cream, caramel, diced strawberries, or fresh mint are ideal options you can consider to wow your guests.
Total time: About 1 hour 35 minutes
When finished with yummy and smooth no-bake chocolate lasagna, your party will be more memorable. This excellent dish comprises many layers of Oreo cookie crust, cream cheese, chocolate pudding, and chocolate chips.
These layers create a dramatic appearance with many different colors. Can you help falling in love with the chocolate and cheesy flavor? In addition, the subtle sweetness is an advantage that makes you irresistible to this food.
Total time: About 1 hour 15 minutes
You can surprise your kids on their birthday with a giant blackout chocolate cake. The tender and spongy cake is covered with moist frosting and numerous chocolate chips. So, your mouth is always full of chocolate goodness when enjoying this dish.
The soft and black cake combines flour, cocoa powder, espresso powder, eggs, and others. Meanwhile, to make the excellent frosting, you have to prepare cream cheese, heavy cream, butter, and sugar,
For better flavor, I usually add some melted chocolate on top of the cake. You can enjoy it at room temperature or chilled. However, cutting cake will be simpler than at room temperature.
Go to the kitchen to make blackout chocolate cake right now.
Total time: About 1 hour 45 minutes (including 1 hour of cooling time)
The kids often ask me to make Samoa cookies with caramel, coconut, and chocolate to enjoy on weekends. And I am always willing to make them because they are pretty simple and do not cost too much.
The light golden cookies with a seductive buttery taste will pair perfectly with the melted chocolate and caramel on top. In particular, the highlight of the desert belongs to the fragrant and delicate toasted coconut.
The following tricks will be valuable for your samoas making. First, please use whole milk for these delicious cookies. And you need to pay attention to the coconut while toasting since it may get burnt in seconds.
Total time: About 30 minutes
Are you curious about a yummy and sweet dessert with chocolate and cherries? This section will give you the ways to make fabulous desserts containing 2 ingredients. This yummy dessert has 3 main parts: crust, filling, and toppings.
The crust tastes sweet with maple syrup and has a beautifully soft texture. Its earthy hint of oats can leave a deep impression in your mind. It also gets an eye-catching brown color from cocoa powder.
I use chocolate to make the tart filling to bring a slight bitterness to the dessert. In addition, I love to add cherries to enhance the taste of the filling. These cherries are a rich source of vitamins and minerals for your body.
The tart looks attractive with a layer of white coconut whipped cream on top. The smooth and delicate topping can melt in your mouth quickly. Plus, do not forget to add a bit of cherry jam to highlight the fantastic sweet treat.
Total time: About 2 hours 18 minutes (including 1 hour 30 minutes for resting)
Twix originated in the United Kingdom in 1967 and appeared in the United States in 1979. Over time, it has become one of the 5 most popular candy bars in this 50-state country. Why don't you try bringing its iconic flavor to your kitchen?
These copycat bars are the product of the perfect combination of butter, flour, caramel, and chocolate. The buttery shortbread and moist melted chocolate will be protected by a thin layer of melted brown chocolate.
For storage, you can put these bars in an airtight container and store them in the refrigerator for a few weeks. But its shelf life will last longer when stored in the freezer.
Making Twix bars become more accessible with the directions.
Total time: About 2 hours 40 minutes (including 2 hours for chilling)
Cosmic brownies were associated with the Cosmic bowling trend in the late 1990s, which gave this treat its name. Its look is similar to the striking neon lights in bowling alleys with these colorful sprinkles on the black chocolate brownies.
The incredible brownies get the perfect chewiness and thickness. To have the perfect texture, the chilling process is essential because it effectively tightens the consistency.
For serving, you must cut it into small bars to enhance the aesthetic. I recommend using a sharp and large knife for this step. Do the cutting quickly, or the knife can stick to the brownie and create bars with uneven edges.
It is possible to make a gluten-free version of this sweet treat by replacing all-purpose flour with gluten-free baking flour. And if you would like to use this dessert later, you can keep it in the fridge.
Total time: About 22 minutes
I can never forget the rich and sweet taste of molten chocolate lava cake. Even better, when you separate this cake, the melted center will make your mouth water. Also, it can give you a pleasant mouthfeel when you taste it.
It is best to add some espresso to the recipe for intense chocolate flavor if this component is available on your hand. You must cover the ramekins with nonstick to prevent the cake from sticking to this equipment.
This dessert is always a common choice of diners at restaurants. Chefs often serve this fantastic dish with ice cream or fresh berries for extra flavor.
Total time: About 50 minutes
Winter will become warmer after enjoying baked hot chocolate pudding. People often mix it with ice cream to create a masterpiece combo. One advantage of this recipe is that you can make it in advance to save time.
This excellent food looks mysterious and minimalist with a dark black color. Its moist surface with sweet syrup gives diners a feeling of extreme pleasure and stimulation when they look at this outstanding dessert.
Check out the right steps to make hot chocolate pudding for dessert.
Total time: About 40 minutes
The sweet chocolate chip cookie pizza is one of my favorites after each meal. I love to enjoy the sweet taste and softness of this treat with a cup of coffee or tea. Alternatively, this is the best combo for the chill time after a hard-working day.
The appearance resembles a large pizza with its distinctive golden brown hue and colorful chocolate chips on the surface. For a more beautiful look, I usually add a little icing on the outer edge of the cookie. This element helps bring a creamy and cheesy touch to the dish.
The seductive sweetness is the prominent flavor of this dessert. When consuming this fantastic dessert, you can also feel the chocolatey taste of small chips.
You can adjust the consistency of the cookie by modifying the baking time. From 20 to 24 minutes is the best time for a soft cookie. Nevertheless, you can make it crispier by increasing its time in the oven.
Total time: Around 1 hour
It will be a big mistake not to mention Reese's chocolate peanut butter cup earthquake cake on this list. This recipe will satisfy your chocolate cravings with a generous amount of chocolate chips and fudge cake mix.
Can you stop yourself from being ensnared by the sexy sweetness and buttery flavor of the peanut butter blend? This recipe's messy appearance is similar to the earthquake vibe its name refers to. Remember to add some ice cream on top before serving.
Total time: About 31 minutes
Crumble turtle cookies will bring sweet and memorable moments to your family's Christmas party. Turtle chocolate pecan caramel candy is the main inspiration for this yummy treat. The combination of pecans, chocolate, caramel, and milk chocolate will surprise you.
The chopped pecans around the cookie give it a slight crunch to create the perfect balance with a soft and chewy cookie. You need moisture and smoothness from milk chocolate and dense caramel to make this dessert explode.
Occasionally, you'll get the cookies with the raw center after taking them out of the oven. So, I always leave the cookies on the hot baking sheet to let them cool completely, and this helps the cookies achieve the perfect softness and chewiness.
Learn how to make yummy turtle cookies immediately.
Total time: About 25 minutes
You are craving cookies, but you have run out of brown sugar! What will you do to satisfy your craving? Making chocolate chip cookies without it is an incredible option you should consider.
It impresses with its eye-catching pale yellow color and brown chocolate chips on top. Not only that, the tender and chewy texture will be addictive for you. You can also find a slight crunch from the edge of the cookies.
Suppose you have free time, let's make the dough beforehand and create the balls from it. You can preserve them in the fridge and bake them to treat guests when needed.
Total time: About 55 minutes
Bourbon is a barrel-aged distilled whiskey, with corn as the main ingredient. Perhaps, you have enjoyed cocktails made from this element. However, you may not know how to make a yummy pie with this ingredient. Let's learn now!
This excellent dessert contains sugar, flour, egg, and butter. Also, the mix of chocolate chips and toasted walnuts makes the treat more fascinating. Of course, Kentucky bourbon is the soul of this dessert.
This ingredient adds an intense touch of caramel, oak, and vanilla to the recipe. You can diversify the flavors and remove the monotony of its appearance by adding a scoop of ice cream on top.
Total time: About 1 hour 20 minutes (including 20 minutes for chilling)
Chocolate truffles are a familiar dish at holiday parties. The sweet balls wrapped in brown chocolate shells can catch your eyes in no time. And the excellent sweet taste will steal your heart at the first bite.
When you munch on the truffle, you'll be excited by the crispiness of the shell and the super tender interior. Besides chocolate, this sweet treat cannot lack the sweetness of powdered sugar and the cheesy touch of cream cheese.
To melt the chocolate, you can use the microwave. Alternatively, melting it on the stovetop is another viable option you can trust.
You can get amazing chocolate truffles with these directions.
Total time: About 5 hours 17 minutes (including 5 hours for cooling)
If you are finding a smooth and decadent dessert for weekend dinner, you can give vegan silk chocolate pie a shot. Although the chocolate may take the center stage, the dish is an avocado-dependent sweet recipe to materialize the unimaginable creaminess.
Dark chocolate chips, coconut milk, avocado, and coconut whipped cream are indispensable to the success of this sweet treat, whose enchanting sweetness comes from the pure maple syrup.
If you cannot find ripe avocados in stores, you can buy green and hard avocados and leave them on the counter for 2 to 3 days to soften them before cooking. Aside from the silky pie, the addition of prebaked pie crust gives a slight crunch.
Total time: About 7 hours 40 minutes (including 6 hours for cooling)
Cheesecake is a global dessert as you can find it in many parts of the world. Usually, this treat, which has existed since ancient Greece, has many layers made up of different ingredients, such as cheese, eggs, sugar, and others.
Today, I'll introduce a smooth and delectable cheesecake made from chocolate for your special occasions. To get a complete dessert, you must make 3 parts: crust, cheesecake, and chocolate ganache.
It is best not to use chocolate chips for this recipe. You can use semi-sweet chocolate instead of the dark one if you can't stand its strong taste. Anyway, you should not forget to chill the cheesecake in the fridge for 6 hours before serving it.
Are you satisfied with the list of simple chocolate desserts I have shown in this post? Your guests can have incredible and exciting experiences with the sweet treats. Therefore, make these desserts and treat them right now.
If you get much valuable knowledge from this post, please spread the information to others by sharing this article. Alternatively, I would like to learn about your thoughts and feelings after reading this post via comments. Thanks for your support!