When it comes to the best Chinese foods, you will be surprised at how endless the options are. From appetizers to main courses and even desserts, it would take you almost an entire lifetime to completely experience everything.
China is one of the longest-existing cultures globally; this means the country's cuisine has thousands of years of development. Aside from popular national food, each Chinese region has its unique delicacies.
That's why I want to take this opportunity to introduce you to a universe of Chinese delicacies. This list will help you decide what to eat the next time you visit the country. And who knows, you might be able to find your next favorite food there.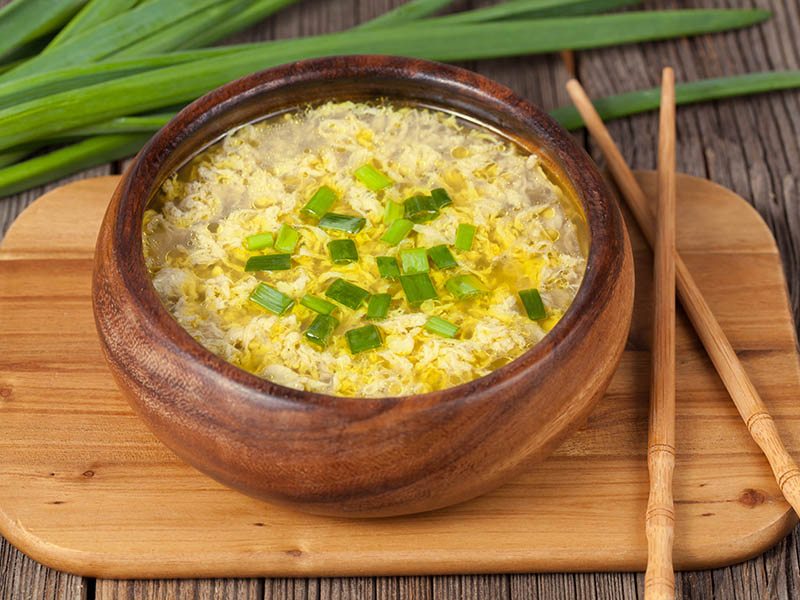 Four Simple Chinese Appetizers To Get Started
Appetizers are essential to kickstart your palate for any meal. The Chinese-styled recipes are always light, but the flavors can stimulate your taste buds. I will show you a few famous Chinese starters in this small list.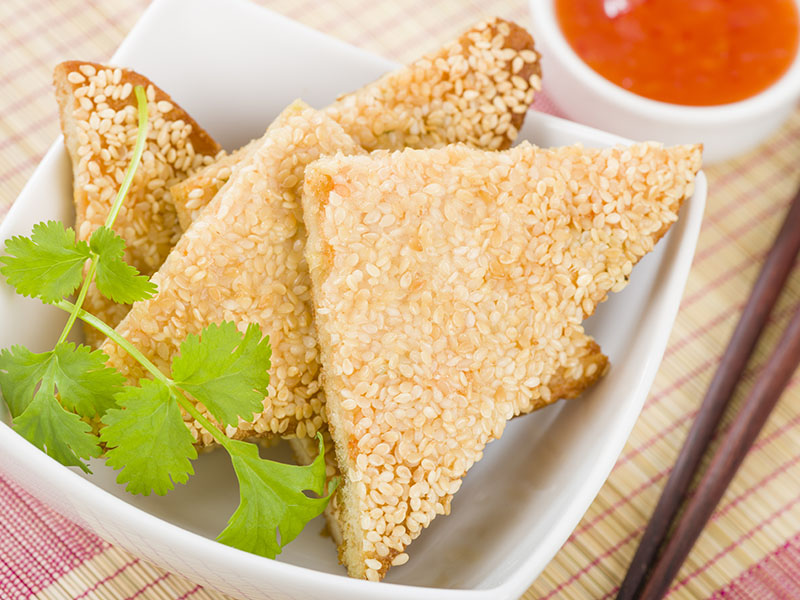 Shrimp Toast, or Xia Duo Shi, is a staple of Hong Kong, particularly its Dim Sum cuisine (a brunch style in Hong Kong and Guangdong province). This inspiration for this delicacy likely came from toast when Hong Kong was a colony of the British Empire.
The things that attract people to Shrimp Toast are both texture and flavor. The crunchy texture is distinct from most Chinese soft and chewy food. The shrimp becomes a sort of a paste, so the taste is much more refined and concentrated.
More often than not, Xia Duo Shi will come with a garnish of sesame seeds and a side of dipping sauce.
Shrimp Toast is a great mix of eastern and western cooking.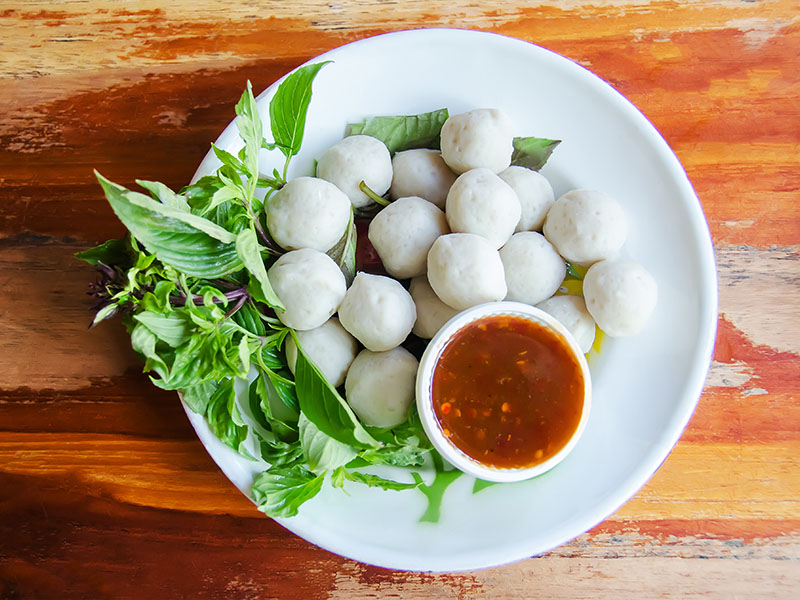 For as long as fishing has existed, many regions worldwide have created their fishball specialties, including China, where the entire eastern side of the country meets the Pacific Ocean.
There are multiple varieties of this delightful appetizer within China, separated between the mainland and Hong Kong-Macau. The version from Hongkong-Macau is one of the most famous street foods in the region.
The cook usually deep-fries the balls, so the outer layer can slightly crisp up. Apart from deep-frying, the fish balls can be an excellent addition to a typical Chinese hotpot with their fishy flavor.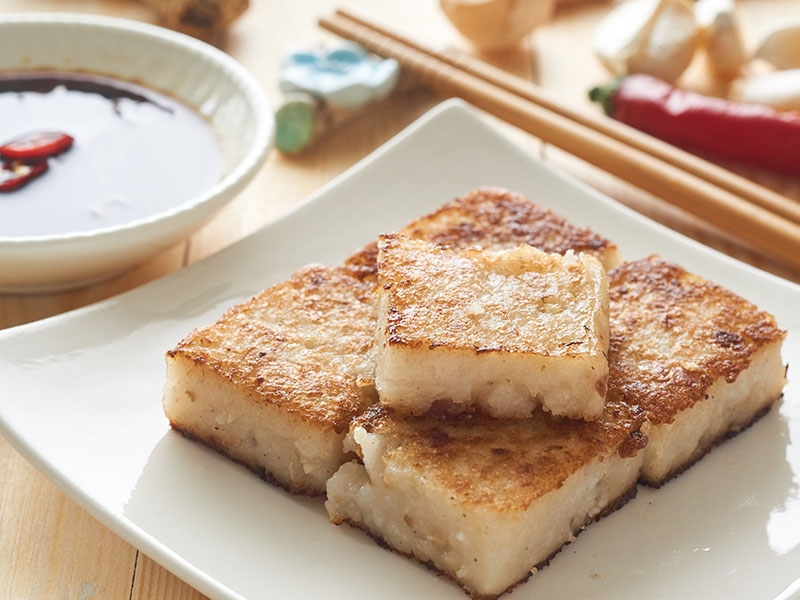 If you want to try another staple of Guangdong cuisine – one of eight major Chinese cooking styles, Turnip Cake is a good option. Despite being called "turnip," the main ingredient is Daikon radish, a white radish that you can see in many Asian-styled dishes. The "turnip" is just a mistranslation.
The main ingredients are just flour, radish, and small bits of meat (including shrimp and scallops). However, Lo Pak Gou's simplicity doesn't prevent this delicacy from being beloved.
This dish is always available in a Chinese restaurant called Yum Cha, where you have Dim Sum with tea.
Turnip Cake is a favorite in many Dim Sum restaurants.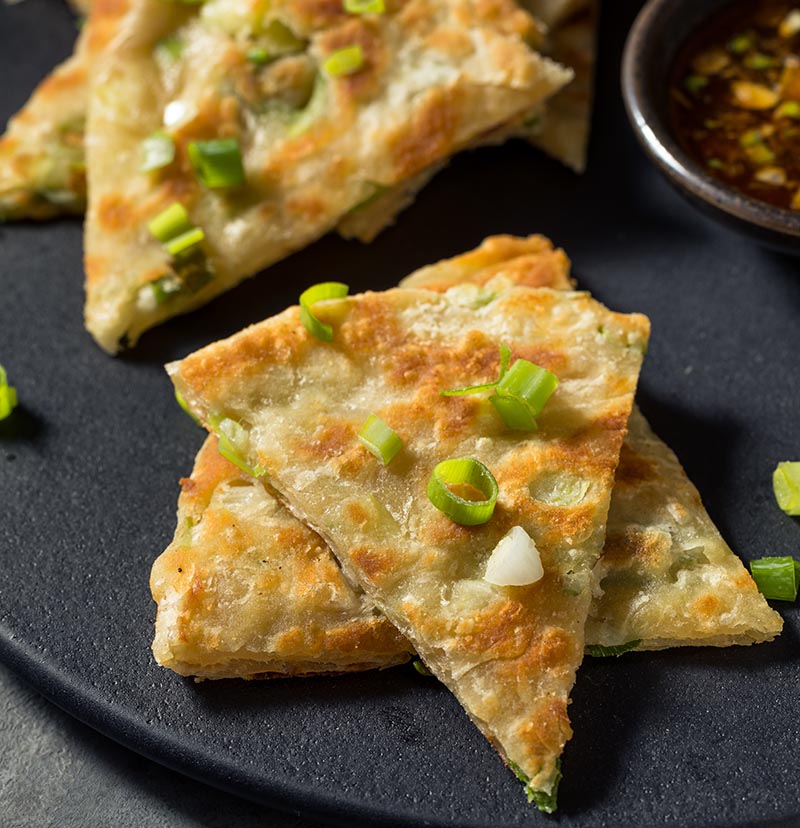 Scallion Pancake or Cong You Bing is a versatile dish since it can be a snack, appetizer, or street food. There is an exciting theory surrounding this unique delicacy.
Some people said that when Marco Polo, a famous Portuguese traveler, brought back the pancake recipe from China, he might have accidentally invented the pizza. However, historical evidence suggests pizza arrived much earlier.
In most versions of Cong You Bing, there is only flour with scallions as the main ingredients. But, other variants also exist, like pancakes with fennel green and sesame seeds. There is another type that uses garlic chives instead of scallions.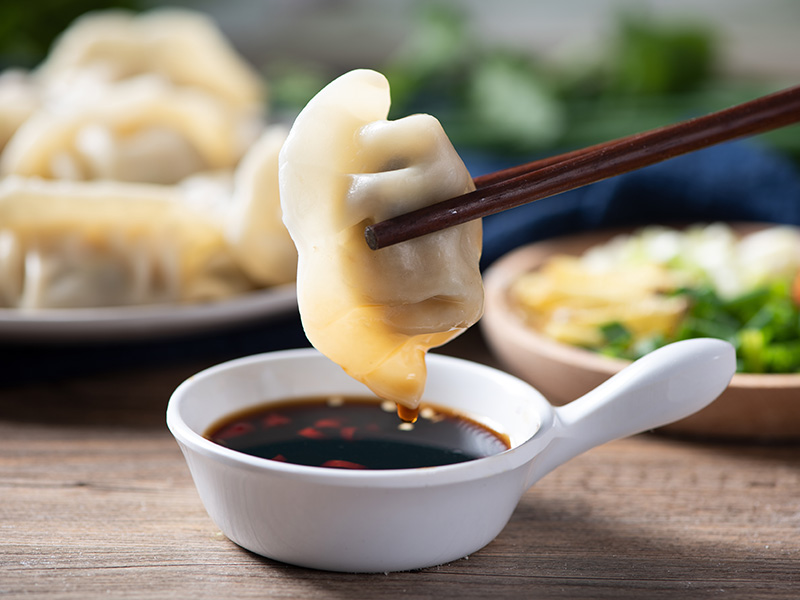 Aside from being called dumplings, Jiaozi also has another English name, "potsticker." The name derives from the Chinese word "guotie," meaning "to stick."
One theory suggests that this specialty was created during the Han dynasty (3rd century B.C – 3rd century A.D) by Zhang Zhongjing. The Chinese official made Jiaozi to help people fight off the blistering cold.
On the other hand, many people believe Jiaozi came from the western side of Asia. But no matter where this type of dumplings came from, nobody can deny its influence on the whole Chinese cuisine.
The hot filling blends perfectly with the chewy wrapper dough, creating a delectable and easy-to-eat dish. Aside from being an appetizer, Jiaozi is also suitable as a main dish.
Jiaozi used to have a different purpose than filling your stomach.
The Top Chinese Main Dishes For Your Meals
In this section, I want to show you some of the most notable Chinese main dishes nowadays. Since the selection is pretty huge, I split them into different categories to give you a more thorough look.
Enjoy A Cattle-Based Diet With These Nine Chinese Delicacies
Meat is an essential part of an average Chinese diet. You will find many exciting dishes with pork or beef as a base. With the addition of Chinese-styled seasonings, the flavors can get to a whole new level.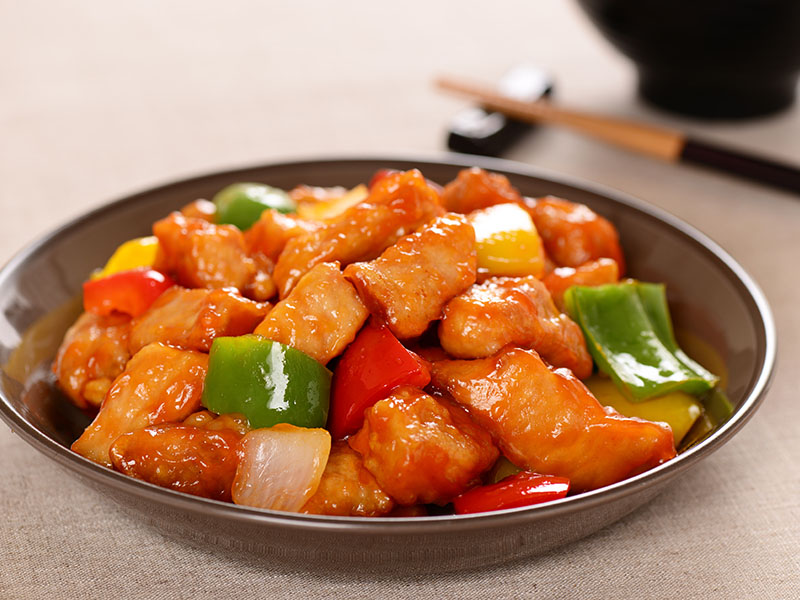 Sweet And Sour Pork is a part of a more oversized culinary style called "sweet and sour," which originates from the Tang dynasty of China (7th-10th century A.D). This style uses a sauce called Tang Cu Jiang, which involves both sweet and sour components.
Although a few versions of this pork-based Chinese dish use different types of meat, the most common variant is pork. The meat usually gets coated with cornflour. That means when you cook it, the outer layer of the pork can become crunchy.
As for the sauce, it's just as simple as mixing sugar or honey with rice wine to create a sweet and sour sensation. You can add ketchup to the mixture if you like.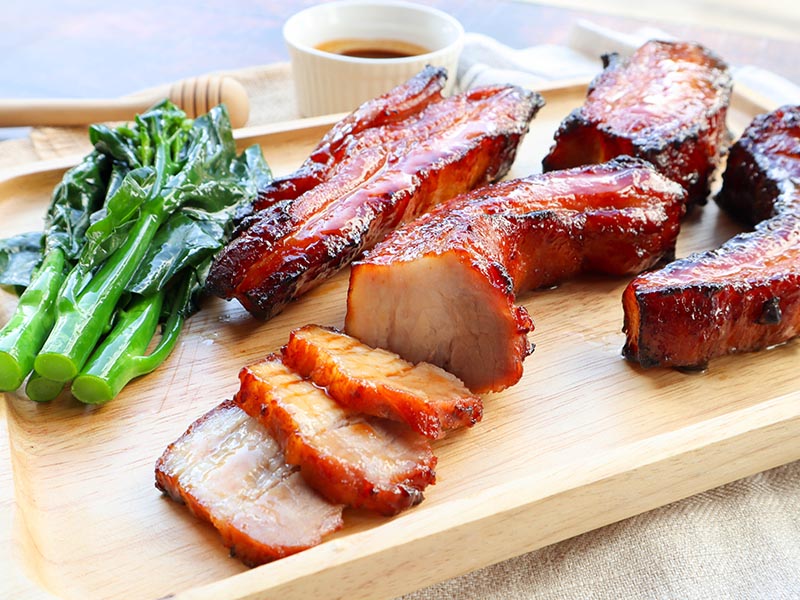 Whenever you visit Hong Kong or any Cantonese-speaking region within China, there is one dish that you must always try, and it's named Char Siu. This delicacy is a type of roasted pork that can lure anyone in with its look alone.
The pork's exterior has a lovely sheen thanks to a type of Chinese sauce/seasoning consisting of honey, soy sauce, and red food coloring. Char Siu makers also utilize a type of seasoning called five-spice powder, a combination of star anise, cloves, and Chinese cinnamon.
The taste of Char Siu leans toward sweet and slightly savory. Apart from China, you can also see this type of roasted pork in many Southeast Asian countries, where most Cantonese immigrants reside.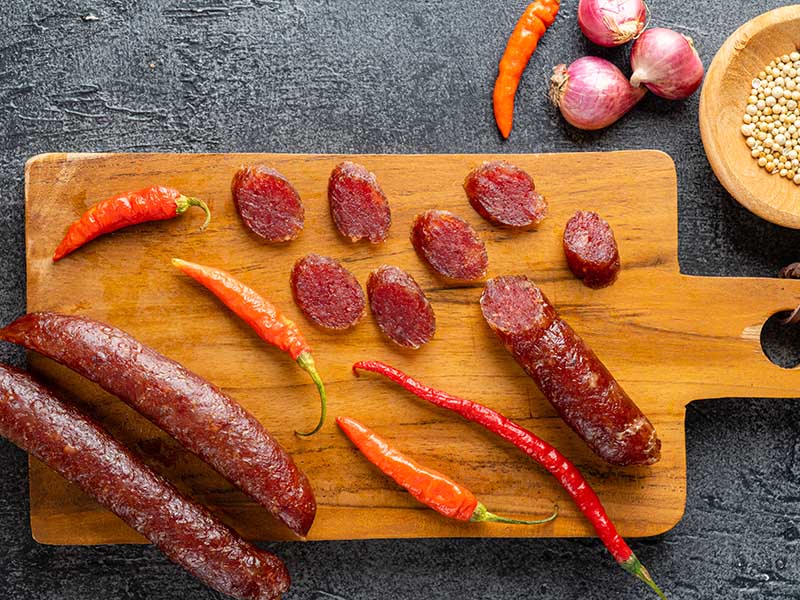 Lap Cheong has a very distinct taste compared to its contemporaries in Europe and America when it comes to the flavor. The Chinese version of pork sausage is delightful and fragrant. The texture is relatively chewier than western-styled sausages.
The sausage filling is a split between pork meat and pork fat. This combination usually gives the Lap Cheong sausage a vibrant flavor. The seasonings consist of MSG (monosodium glutamate), rice wine, and rose water.
Lap Cheong is only a tiny part of China's more prominent Chinese sausage family. Other variants like Yun Chang, which uses duck liver, and Nuomi Change which utilizes glutinous rice. Like Char Siu, this type of sausage is available outside of China nowadays.
Lap Cheong has a long history in Chinese cuisine.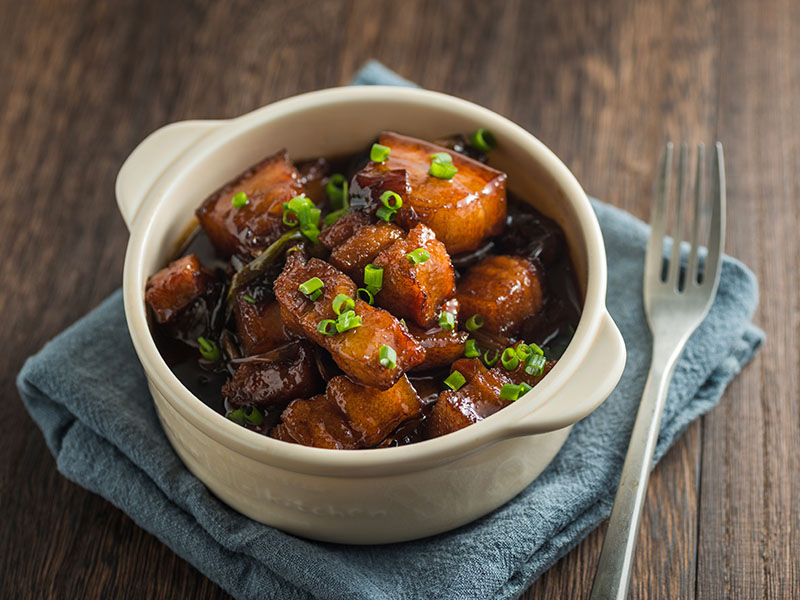 Hong Shao Rou, or Braised Pork Belly, is a delicacy you should check out when visiting China. The flavorful nature of the sauce and the nourishing cuts of pork can fill you up in no time.
Due to China's regional differences, the recipe for Hong Shao Rou in each province and city can also be different. For the Hokkien version called Tau Yew Bak, the sauce (rice wine, sugar, and dark soy sauce) is thinner, and you put in hard-boiled eggs alongside the meat.
On the other hand, the Shanghainese version prefers to coat the pork with a thick layer of glaze. Fun fact, the Hunanese version of Braised Pork Belly is a favorite of Mao Zedong, who was the first chairman of China.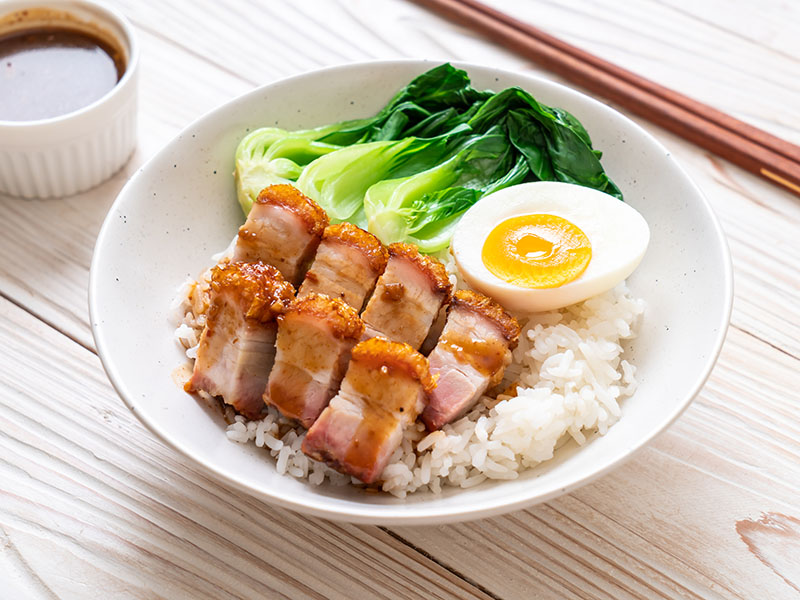 This section of notable Chinese pork dishes will be incomplete if I don't mention this legendary delicacy. Siu Yuk, or the Crispy Pork Belly, has become an institution for mainland Chinese people and their overseas counterparts.
Siu Yuk is a staple specialty in Hong Kong's culinary culture. The cook usually covers the skin with many condiments like salt and vinegar. The roasting process requires very high heat, so immediately, the entire exterior crisps up.
Most celebratory feasts always require a roast pig as the central part of Chinese culture. The pig comes with red wrapping paper to represent luck and prosperity.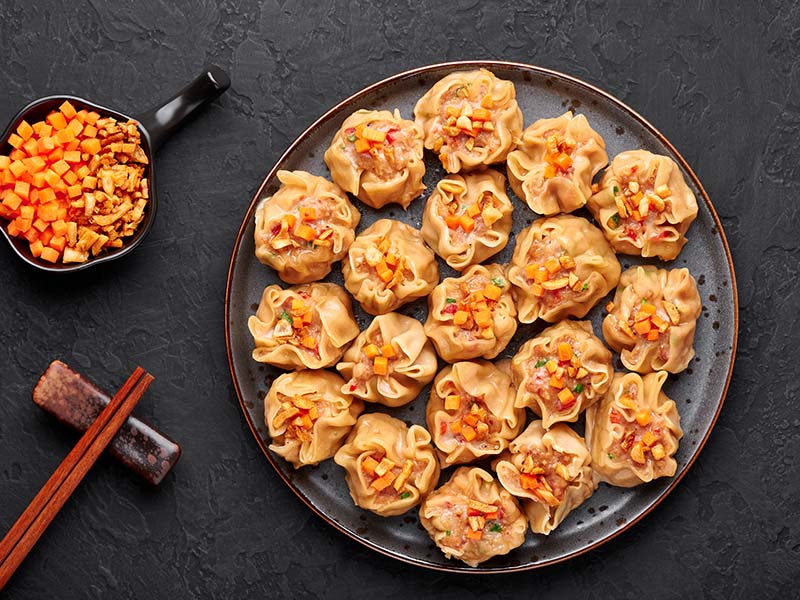 In Chinese cuisine, dumplings reign supreme. Apart from the Jiaozi I mentioned above, Shumai dumplings are just as popular. Thanks to the primary Chinese cooking technique of steaming, this type of dumplings manages to stay quite juicy and flavorful.
Shumai comes in many different varieties, but one of the most popular versions is the Shumai from Cantonese-style cuisine. It's available in many southern regions and across the globe. The filling is mostly shrimp, ground pork, and mushrooms.
Other notable versions of Steamed Dumplings include Hunan Shumai, which resembles a chrysanthemum flower, and Xinjiang Shumai, which uses mutton or beef since most people in the province are Muslims.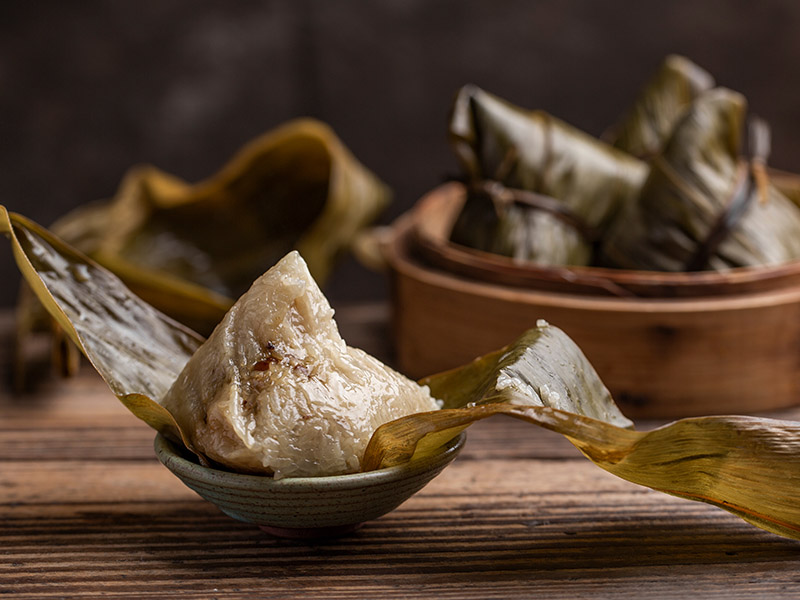 For many Chinese people, the arrival of the fifth day of the fifth month in the Lunar calendar usually signals two things: The date of the Dragon Boat Festival (or Duan Wu) and Rice Dumplings (Zongzi).
The origin of Duan Wu is different based on where you are in China. Still, when it comes to the most popular theory, people would say Duan Wu is a celebration of Qu Yuan, a government official of the state of Chu during the Warring State period of China (5th-3rd century B.C).
People started making Zongzi during the Eastern Han period (1st-2nd century A.D) by wrapping sticky rice with leaves from a Manchurian wild rice plant. Soon, the delicacy evolved to include filling such as nuts, dried fruits, and even mung beans.
In particular, the Hokkien version, called Bak Chang, includes things like pork, Chinese sausage, and fried shrimp. This version leaves a savory after-taste in your mouth.
The history of Zongzi is just as interesting as its flavors.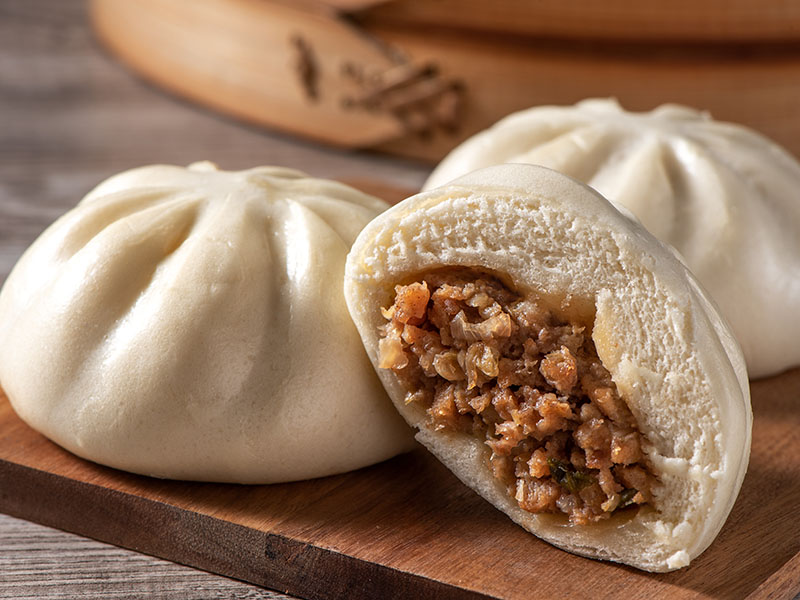 The idea of meat wrapped around a dough-based casing is almost synonymous with Chinese cuisine. Aside from the various dumplings that I have introduced, I also have one more option: the Pork Bun or Baozi.
Baozi is a derivative of another bun-like specialty called Mantou, which doesn't have any filling. The exterior is a sheet of dough composed of flour, sugar, and baking powder. The sugar is probably the biggest reason you can feel the hint of sweetness underneath.
Based on the region, you can come across various types of filling. The most common version is minced pork with soy sauce and oyster sauce.
However, if you crave sweeter varieties, you can also find Baozi with red beans and egg custard, which can be delightful to eat.
Five Chinese Specialty Consisting Of Poultry Meat
The selection for your next Chinese meal does not just end there because I have another list for you. I will show you some of China's most well-known poultry-based delicacies in this instance. Let's get into it.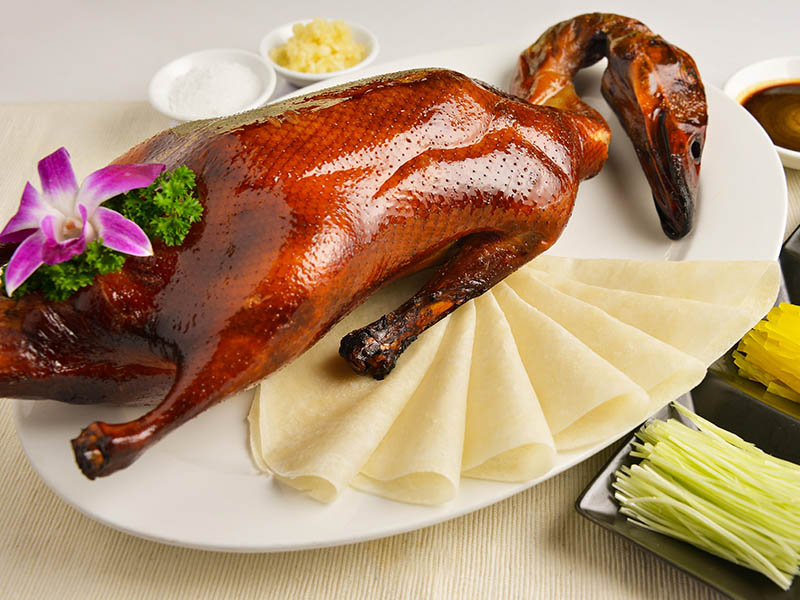 To experience the authentic Chinese imperial feast, you don't have to look any further than the Peking Duck. The concept of a roasted duck has existed ever since the Northern And Southern Dynasties (5th-60th century A.D).
However, roasted duck became an imperial dish during the Yuan Dynasty (13th-14th A.D). The recipe for this Beijing-style victual suggests covering the duck with honey, soy sauce, and sauce. The marinade will turn the skin from light pink to a reddish-brown, thanks to the heat.
Peking duck usually comes with a side of a type of pastry called Mandarin pancake, consisting of flour, boiling water, and oil. You wrap the duck meat with the pastry like a spring roll-the chewiness from the wrapper contrasts nicely with the crunchiness of the duck.
Peking Duck has been a favorite imperial dish for many centuries.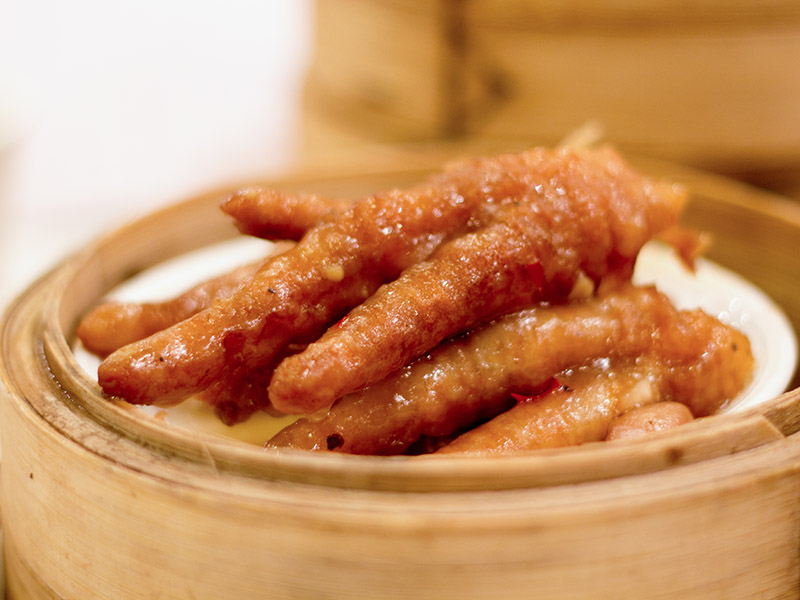 The name alone might get you curious, but Phoenix Claw is simply a dish consisting of chicken feet. Chinese people love to give notable names to ordinary food to attract customers.
Phoenix Claw or Chi Zhi Feng Zhao is one of the name staples of Dim Sum cuisine. The preparation usually starts with marinating the feet in soy sauce, oyster sauce, and sugar to give the flavor more sweetness.
The cooking process for this Asian chicken dish is to steam the feet until the skin starts to puff up. The moisture will keep the skin from drying out, giving you a juicy texture.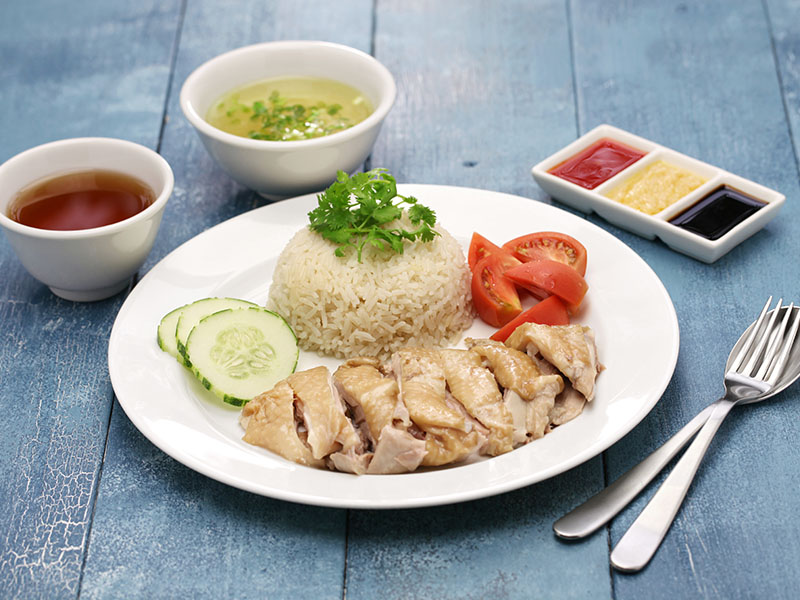 As the name suggests, Hainanese Chicken Rice comes from the people of Hainan Island, which is at the southern tip of China. Due to the spread of Chinese immigrants across Southeast Asia, this dish is available in Singapore, Indonesia, and Malaysia.
Hainanese Chicken Rice originates from a similar chicken-based delicacy called Wenchang chicken. The meat usually goes through a poaching step that infuses the skin with the fragrance of ginger and spring onion.
In most Hainanese Chicken Rice restaurants, they will serve you a side of chicken rice. This type of rice is quite rich and flavorful, thanks to being cooked in chicken stock.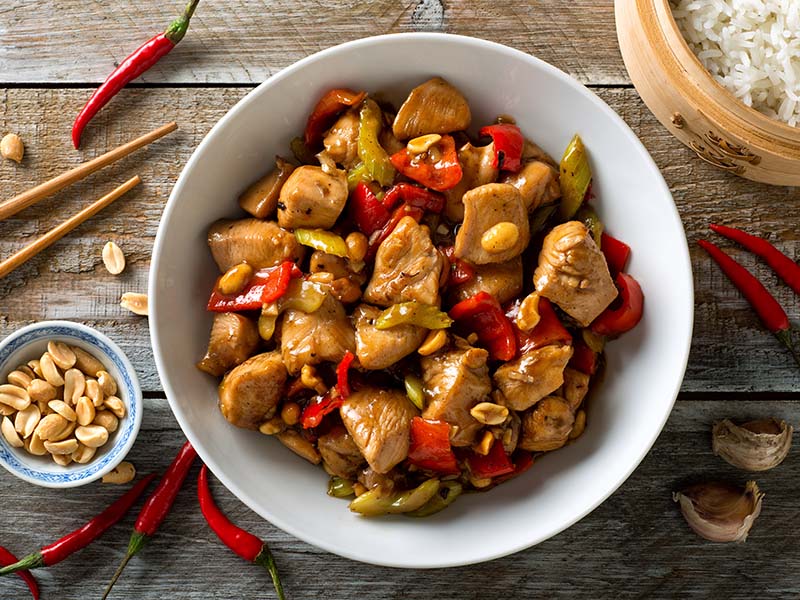 Kung Pao Chicken is the English name for Gong Bao Ji Ding, a Sichuan-based delicacy. If you're not familiar with Chinese cuisine, Sichuan delicacy is infamous for its spiciness, and Kung Pao is not an exception.
The delicacy got its start during the last imperial dynasty of China, Qing (17th-20th century A.D). The spices are typical Sichuan cooking in the original version, including Sichuan peppercorns and chili peppers. The combination makes the chicken very spicy.
However, when Chinese immigrants brought this dish overseas, the flavors had to go through some adjustments to fit the weaker palate of other countries. The main spices are just ginger, garlic, and regular pepper.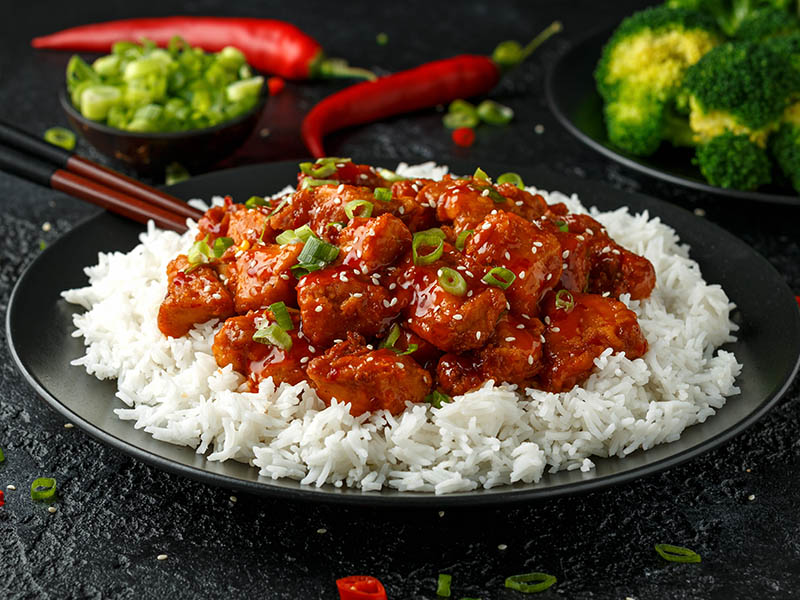 Here is an interesting tidbit about the dish: According to popular belief, many people think that this chicken-based delicacy came from the Hunan province due to it being the birthplace of "General Tso" Zuo Zongtang, a military official from the Qing dynasty.
However, if you directly ask the locals in the province, they would probably say they have not heard of General Tso's Chicken. Other claims of origin include a chef from Taiwan named Peng Chang-Kuei and a Chinese immigrant in New York named T.T.Wang.
But no matter what the natural history may be, everyone would agree that the specialty is something you must try once in your life. The crispy exterior of the chicken keeps the inside quite juicy. The sauce is very savory and sweet. The chicken would often go over rice.
This history of General Tso's Chicken is unlike what you might expect.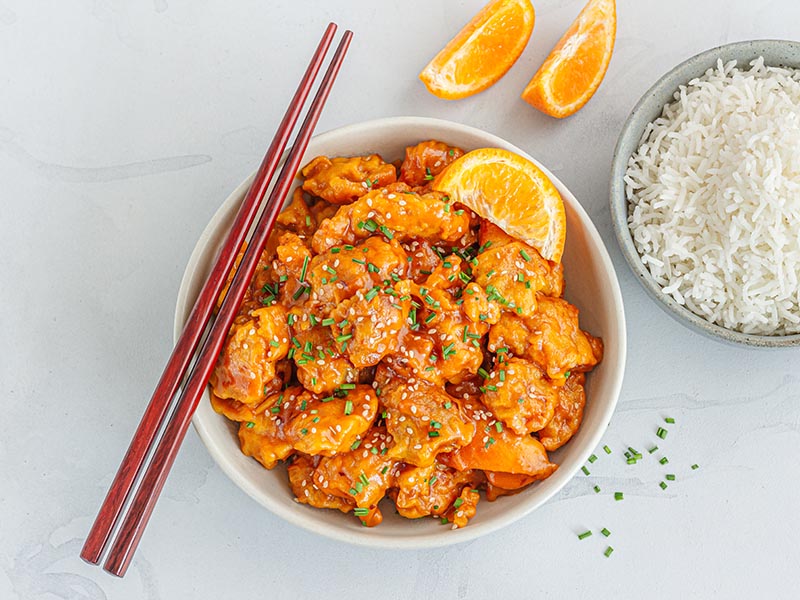 Orange Chicken is an interesting case since, in North America, many people often categorize it as Chinese food. Yet, in China, most people would call it an American-styled dish. But for me, it's the perfect combination of East and West.
You can feel the sauce coating the crispy fried chicken pieces from the texture alone. This method will infuse the exterior with many flavors, including the sourness of orange juice, sugar's sweetness, and soy sauce's umami.
You serve the chicken with white rice and garnish (scallion or sesame seeds). This dish is often one of the main staples of an Asian-styled fast-food chain called Panda Express in America.
Seven Famous Seafood Meals In China That You Should Know
Once again, with the advantage of geography, China has a massive network of rivers and streams. The entire eastern side of the country also faces the Pacific ocean. Those are the reasons why China has such a vibrant seafood menu.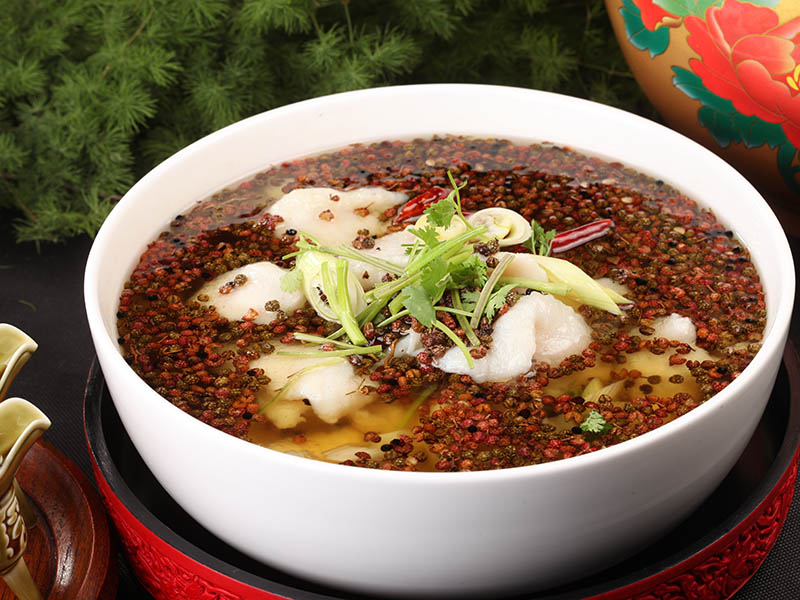 To start this subsection of seafood-based Chinese delicacies, let me introduce you to a delicacy from Sichuan cuisine called Shui Zhi Yu, or simply Boiled Fish.
This version is a variation of the Shui Zhui cooking style, which uses hot oil to give the ingredients a very flavorful base. You can choose any type of protein, like pork and beef. I specifically chose the recipe as the representative since white fish is a lot more tender.
However, as I said above, Sichuan cooking can be pretty spicy, and the oil consists of dried pepper and Sichuan peppercorns, which means you better prepare your taste buds. This specialty will give you the burning of a lifetime.
Shui Zhu Yu is not something you can eat without a high spice tolerance.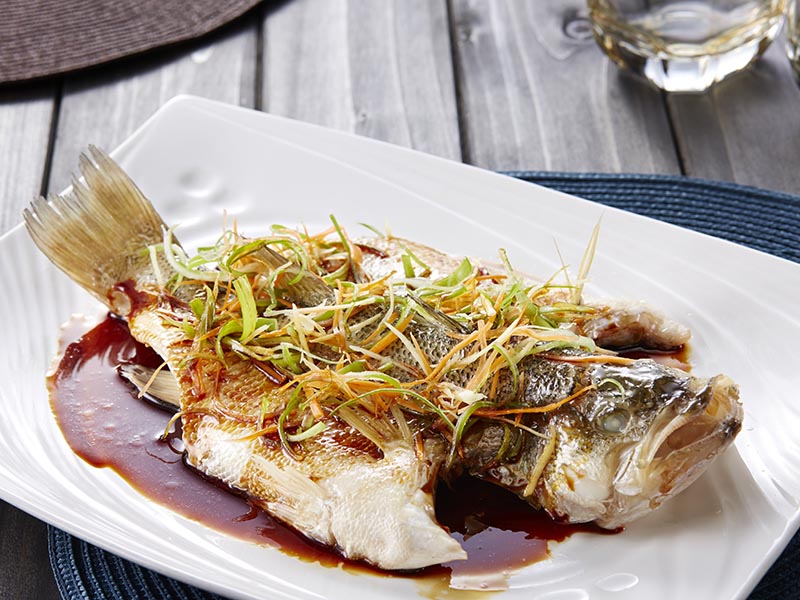 If you've been to a Chinese wedding or celebration, you will notice that restaurants always serve a fish-based dish called Qing Zheng Yu, which means Steamed Fish. That's because having fish can bring you wealth, according to an old Chinese saying.
In many recipes, the most preferred type of meat comes from white fish; this means you can use tilapia or carbs. The general sweetness from white fish meat will contrast nicely with the sauce.
The steaming sauce combines soy sauce, cooking wine, and sugar. The balance in flavors is quite pleasant; you can feel the tang of cooking wine blending alongside the savory soy sauce and sweet sugar.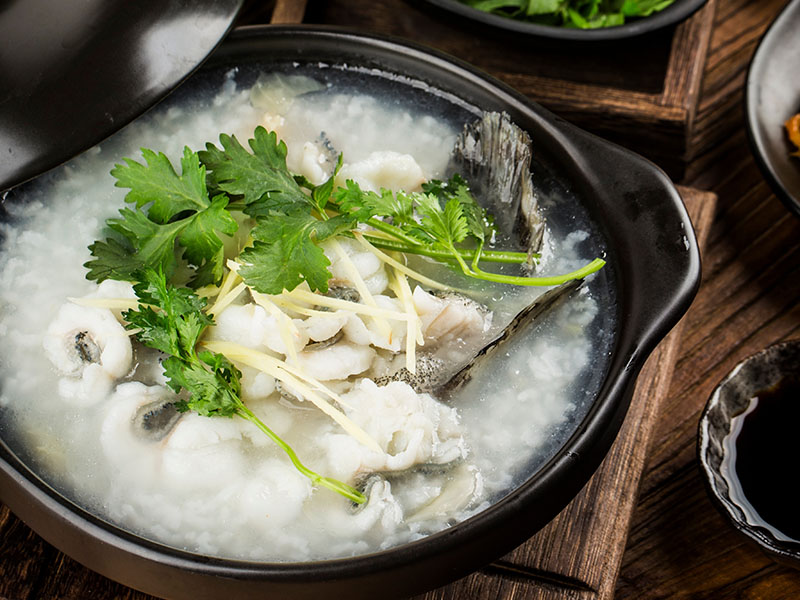 Chinese Fish Congee can be an excellent way to relieve stress and make you feel better when you're sick. There's just something magical about the texture and flavor of the dish.
In China, congee stands among some of the essential dishes for Chinese society. Each Chinese region will have its version of congee, but the most common variant is the plain white congee that goes with salted eggs and youtiao (a type of fried dough stick in China).
Congee is versatile. You can customize it with any type of meat, including fish, just like the recipe suggests. Make sure to marinate the fish with chicken bouillon, fish sauce, and garlic to enhance the savoriness.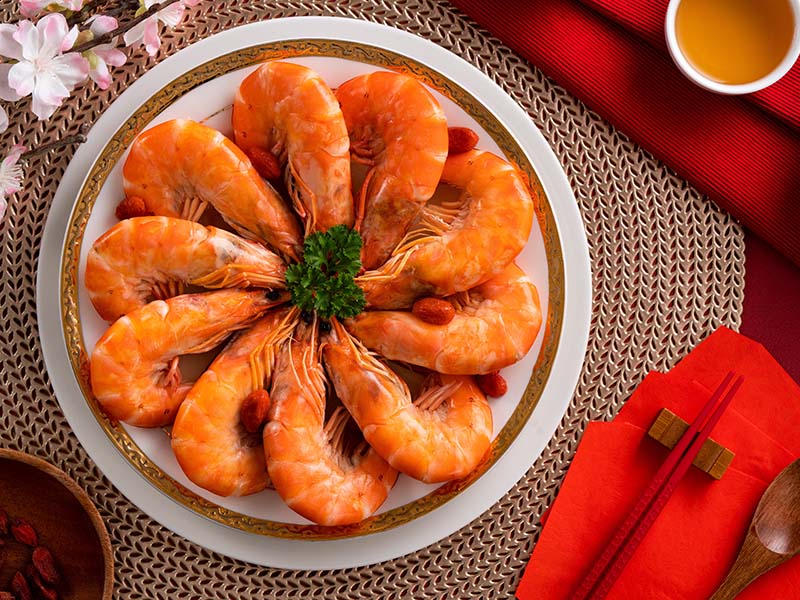 There are several Chinese-based drinks that are alcoholic beverages. And if you genuinely want to feel the zing of an alcoholic drink in your bloodstream, let me tell you about this Chinese delicacy called Drunken Shrimp.
There are two styles of preparation for this delicacy. The first is to cook the shrimp before submerging them in wine. Or you can do the opposite by marinating the shrimp first and then boiling them. These methods will make the meat quite juicy and zingy.
The second style is picking out the freshest set of shrimp and dumping them in wine. Once the time is up, you just peel the shrimp and eat them without cooking. However, the second method poses the risk of bacteria going into your body.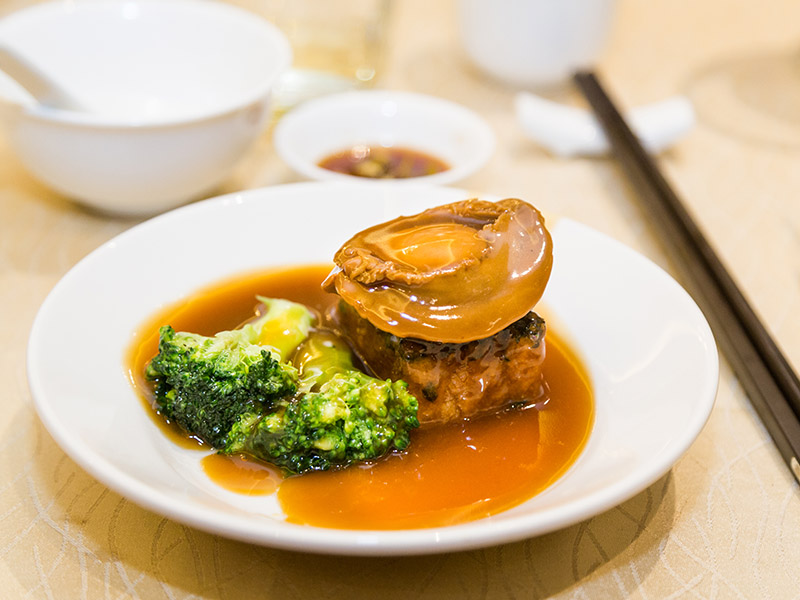 Hong Shao Bao Gu, or Braised Abalone, stands as part of the more extensive Shandong cuisine. This cuisine is well-known for focusing on seafood dishes with lighter flavors and a soupy texture like braised sea cucumber and sweet and sour carp.
Shandong cuisine is essential in imperial cooking, particularly in the Qing (17th-20th century A.D) and Ming (14th-17th century A.D) dynasties.
Due to the luxurious nature of Hong Shao Bao Gu, eating the delicacy can make you feel like a true emperor. The abalone usually goes through a braising step to soften up the meat. The sauce consists of soy sauce, oyster sauce, and chicken broth to bring out the richness.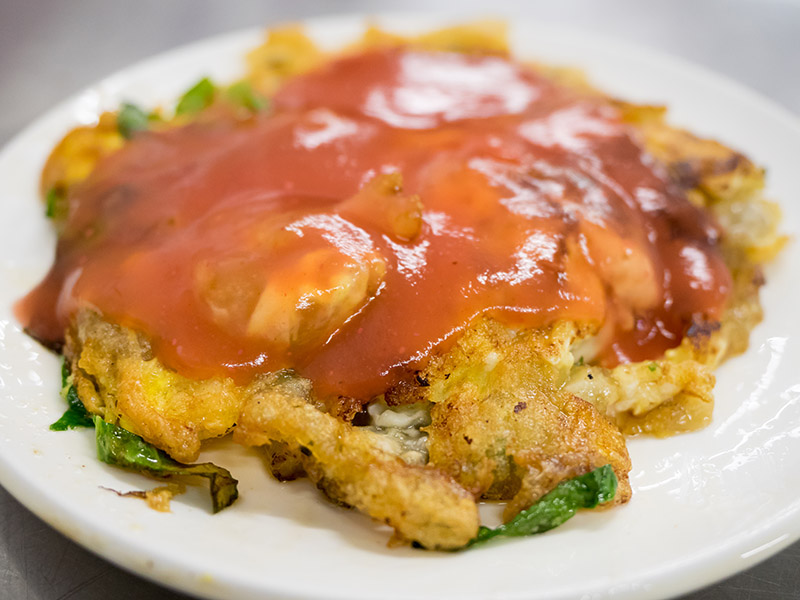 Oyster Omelet originates as a regional delicacy of the Teochew and Hokkien people. The popularity of E Zi Jian would soon spread all over Southeast Asia due to the wave of immigration from those same people.
You can find various iterations of this delicacy beginning with an E across Southern China, Taiwan, and Singapore. The recipes share three standard features, including oysters, starch, and eggs. However, the seasonings will depend on the region.
This specialty is available in many night markets and street food stalls across China, Hong Kong, and Taiwan.
Three Extra Chinese-Themed Foods That You Have To Get A Taste
Although these different delicacies might not belong in any of the above categories, they are still worth tasting. If you're not a fan of meaty dishes, the options below would be perfect.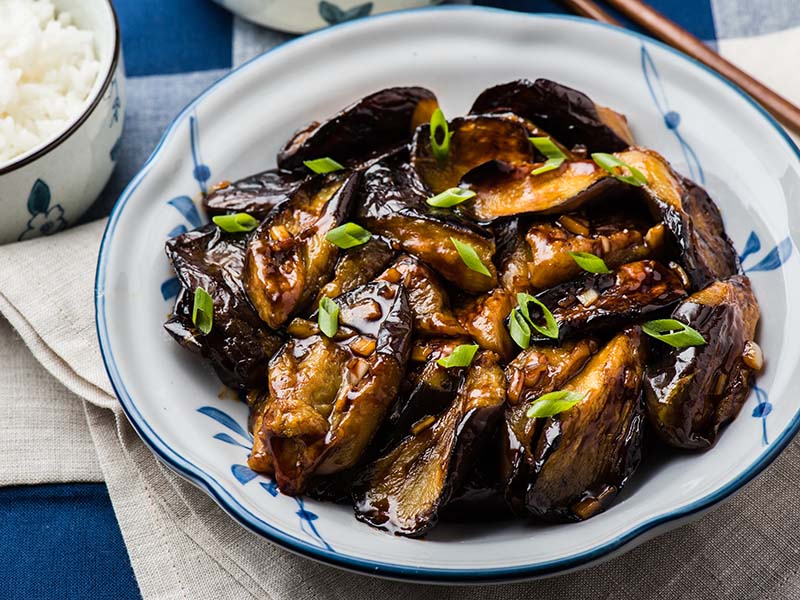 Yu Xiang Qie Zi is simply a plate of stir-fried Chinese eggplants with Sichuan seasonings. The delicacy might sound quite rustic at first, but you won't believe the hidden depth that the eggplants possess. There are multiple layers of flavors for you to explore.
The vegetarian-friendly Chinese dish comes from Sichuan cuisine, alongside Cantonese and Shandong styles.
As a representative of Sichuan food, Yu Xiang Qie Zi always requires dried red chilies to give that signature heat. The Yuxiang sauce, which comes from soy sauce, oyster sauce, and vinegar, can be tangy and savory.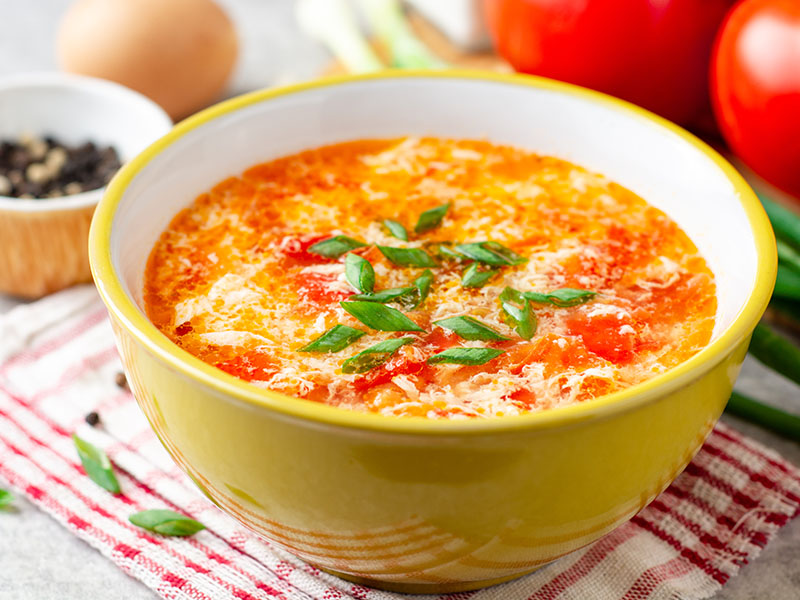 When it comes to a standard Chinese meal, soup is always a must-have. The delicacy acts as a palate cleanser to help you wash down all of the food.
One of the most notable Chinese-style soups is the Dan Hua Tang. The delicacy has various roles based on the soup's consistency. If the soup is thinner, you can have it as a side dish. But if the texture is a little thicker, Dan Hua Tang can be a great snack.
The usual ingredients are eggs, a type of stock (meat or vegetable), and cornstarch. However, there are multiple ways to spice up the flavors, like adding shrimp, crab, or even tomatoes, just like the example recipe above.
Egg Drop Soup has fed so many Chinese families for years.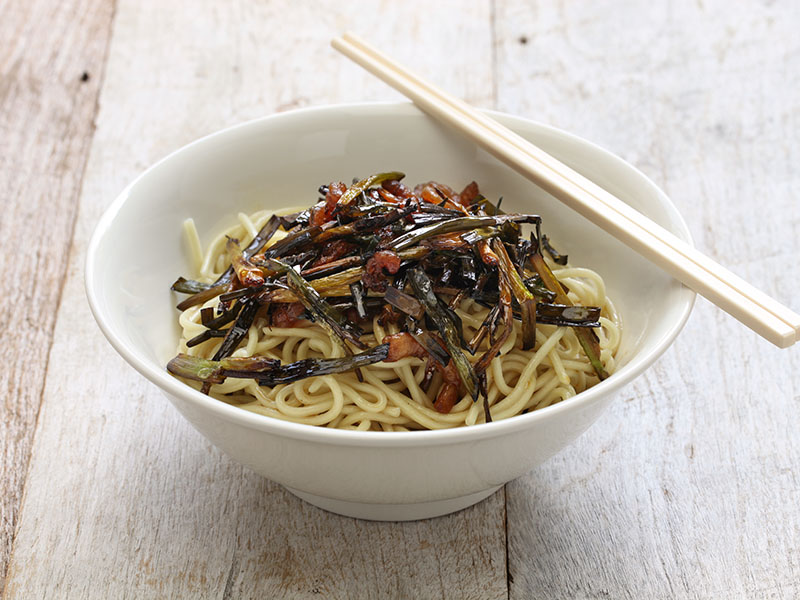 Scallion oil noodles or Cong You Ban Mian is part of the subcategory of oil noodles, which became food for the imperial court during the Ming dynasty. Even though the name implies the use of oil, this type of Chinese delicacy is not at all greasy.
The texture of this delicacy feels relatively light and fragrant. That's because the dish uses mostly egg noodles, which is one of many different Chinese-style noodles today. Instead of using regular oil, Cong You Ban Mian lets the scallion essence infuse within the oil.
This process will create an irresistible aroma that attracts eaters in every corner. Since the recipe doesn't require eggs, meat, or dairy products, it's suitable for people who follow a strict vegan diet.
These Chinese-Styled Desserts Are Delightful!
Like the rest of the world, Chinese people love to have desserts at the end of a meal to "lighten up" their stomachs. But the dessert selections in China are a lot more diverse, not just cookies or ice cream like what you're used to. Just take a look below.
Five Chinese Sweet Soup Options To Try After Meals
This subsection will show you a popular type of Chinese dessert called sweet soup, or Tang Shui. These recipes share one feature: they all have a similar set of base ingredients, consisting of water and sugar.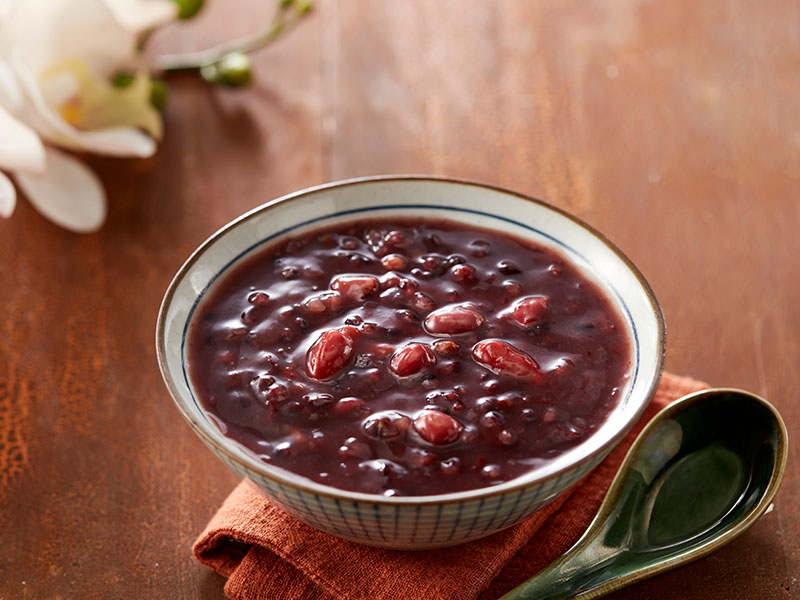 Let me show you Red Bean Soup or Hong Dou Tang in this entry. This delicacy is possibly one of the most popular sweet treats in China, Taiwan, and Southeast Asia.
The main ingredients are just simply sugar, water, and red beans. The starch of the beans brings out the nuttiness. The flavor also keeps the sugar from being too overwhelming to your taste buds.
You can enjoy Red Bean Soup at any time of the year. If the weather is hot, just add a few ice cubes to your bowl of soup. But if it's cold outside, it's best to eat Hong Dou Tang as warm as possible.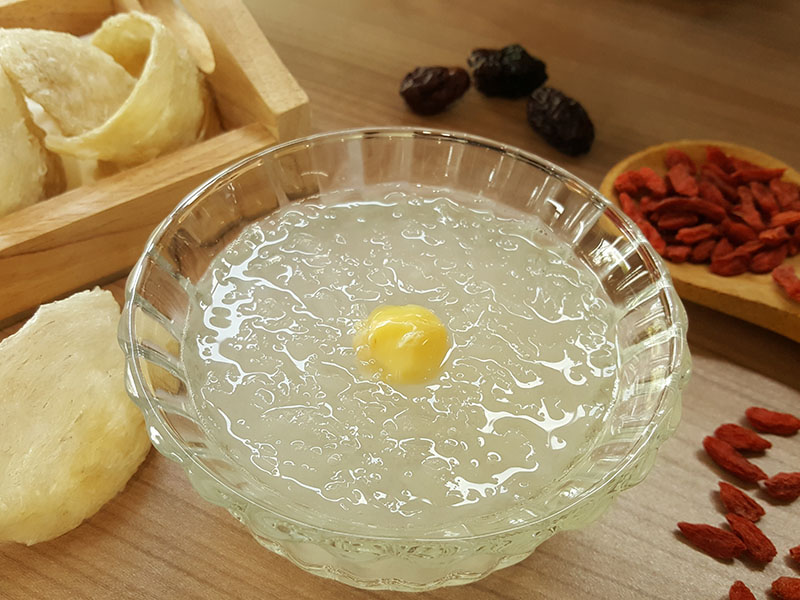 Yan Wo is one of those dishes where you can instantly feel like a king when you taste it. The luxurious delicacy has existed within the court of imperial Chinese for centuries.
As the name suggests, this soup has an actual nest built by a type of swiftlet called the Indian Swiftlet. The birds use their saliva to create the structure. The harvesting process is quite dangerous since swiftlets tend to build their nests on the side of a cliff.
The texture of a bird's nest is rather interesting because you can feel the delicacy's gelatinous nature, yet a mild sweetness is hidden underneath. Due to the hidden flavor, the cooking process of Yan Wo doesn't rely much on seasonings.
You can learn why bird's nest soups are so expensive.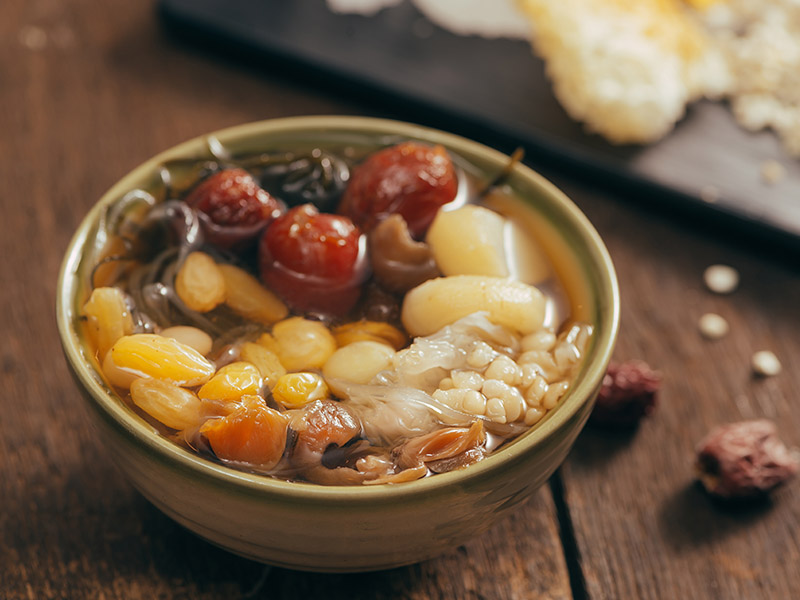 Qing Bu Liang is something that you might encounter more if you visit the southern side of China, particularly Guangdong and Hainan provinces.
The sweet delicacy is packed with eastern medicinal ingredients like dried dates, dried longan (a famous fruit in China), and dried lotus seeds. The addition of these components gives the soup a very refreshing feel. Not just that, but the flavors tend to be quite nutty and fruity.
Apart from China, Qing Bu Liang is available in many regions with a considerable population of Cantonese immigrants, like Southeast Asia, specifically Ho Chi Minh city of Vietnam.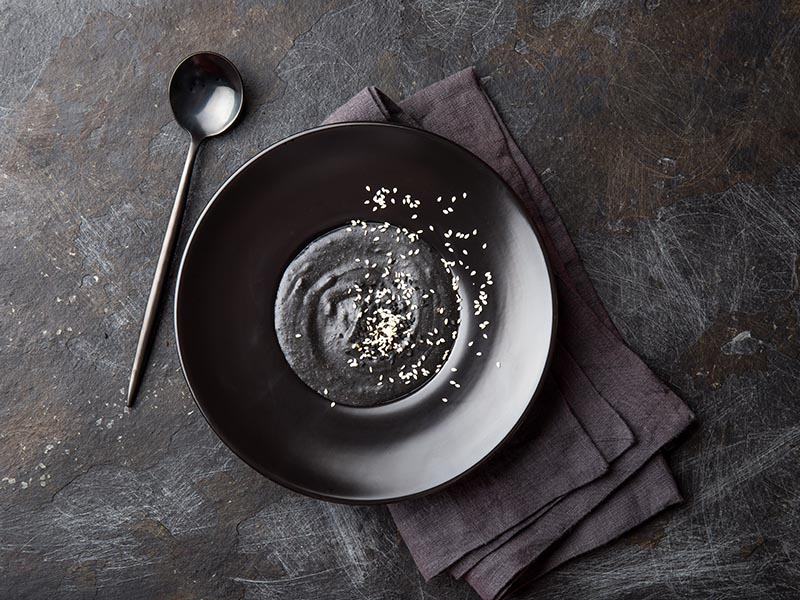 If you prefer your soup to have a much thicker consistency, there is an option that you can consider the next time you travel to China.
Zhi Ma Hu is also a delicacy that you can find in Hong Kong, Taiwan, and many southern regions of China. The thickness doesn't just come from sesame seeds alone, but you also have to add rice flour to increase the viscosity.
Aside from being quite delightful to eat during the winter, this sweet soup can provide many nutrients for your body, including vitamin B, iron, and magnesium. These elements will keep your blood and hair relatively healthy.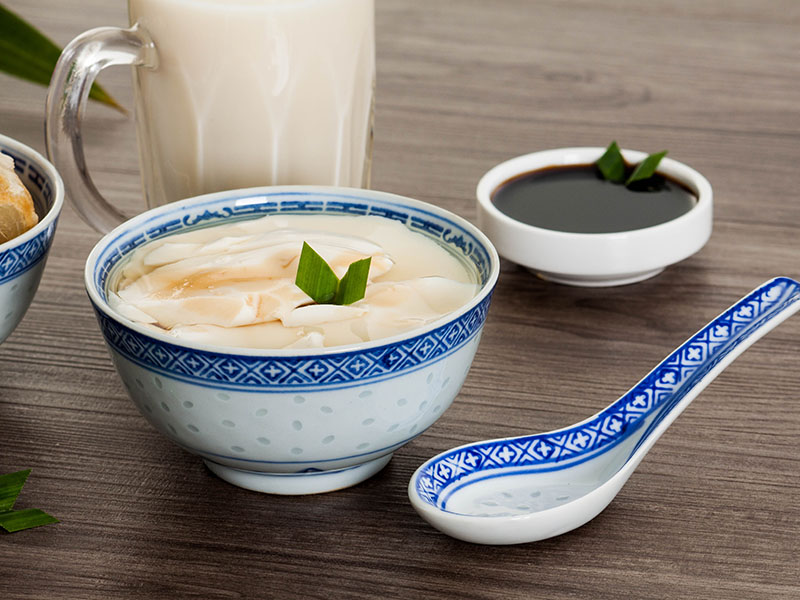 Tofu Pudding, or as the locals call it, Dou Hua, might have originated from the Han dynasty. According to a legend, Prince Liu An accidentally created this type of delicacy when he failed to obtain the pill of immortality. The dish became pretty popular and soon spread all over China.
In most Chinese regions, this Chinese tofu-based specialty is often a sweet dessert with sugar, ginger, and tofu as the base ingredients. This variant is also spreading to Taiwan and many Southeast Asian countries.
However, there is a more savory version in many northern Chinese provinces that has soy sauce and meat. Sichuan province also has a unique spicy Dou Hua dish which includes Sichuan peppers.
Tofu pudding is a popular snack in Hong Kong due to its silkiness.
Two Pastry Treats Of China To Soothe Your Sweet Tooth
Of course, Chinese dessert options are not that limited to just sweet soup alone. Here are some of the more amazing pastries you can find in the country or in significant Chinatowns worldwide.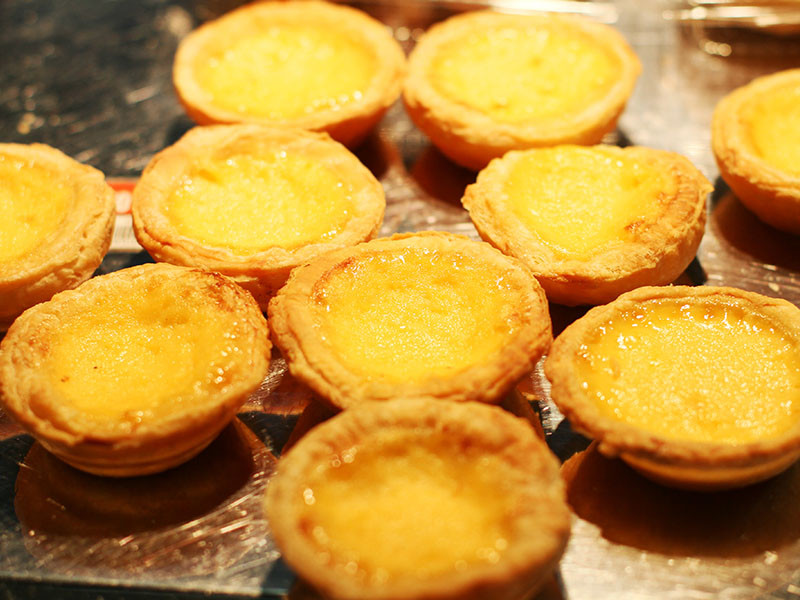 Chinese Egg Tart or Dan Ta can be considered a fusion food when the original recipe took a lot of inspiration from the custard tart of Europe. The birthplace of Dan Ta is Guangzhou, the capital of Guangdong province.
Although the recipe can vary depending on the region, puff pastry, egg, and milk are the most common ingredients. The puff pastry provides the stand for the egg filling; it's also very flakey. The creamy filling is lovely with its egg-forward aroma.
Dan Ta is widely popular with Cantonese people. You would see a lot of Dim Sum restaurants, inside and outside of China, selling this pasty. The egg tart goes rather well with stimulating Chinese tea. The contrast between the former's richness and the latter's herbal flavor is stunning!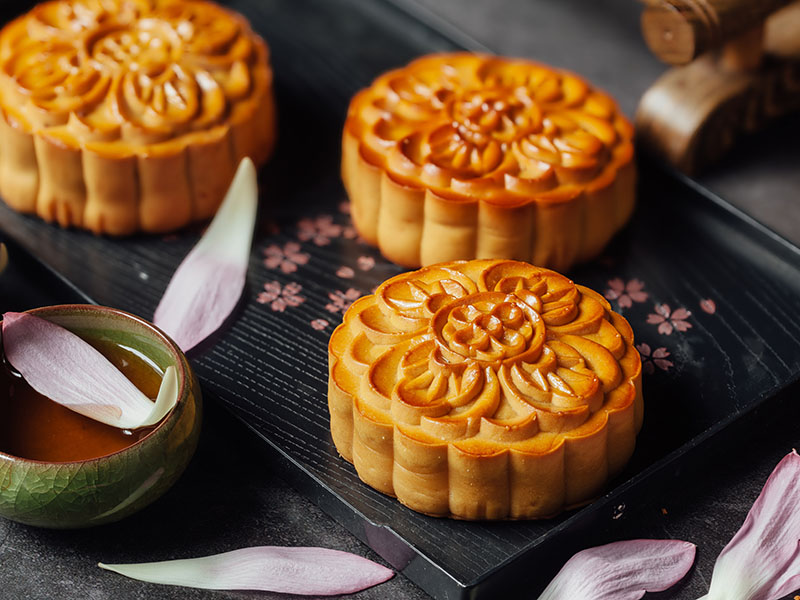 A special celebration called Mid-Autumn Festival usually takes place on the 15th day of the 8th month of the Lunar calendar. During this time, children would go out with their shiny lanterns and then come home to enjoy a plate of delightful Moon Cakes.
This unique pastry is quite sweet, with a filling consisting primarily of a paste of your choice (mung beans, red beans, or mashed lotus seeds) and salted egg yolk. The sugary flavor will contrast nicely with the saltiness of the egg yolk.
Fun fact: During the last years of the Mongol-lead Yuan dynasty, rebels from the Ming dynasty used Moon Cakes as a communication device. They printed hidden messages on top of the cake. After the message was delivered, the rebels ate the dessert to dispose of the evidence.
This video will show you the production of Chinese Moon Cakes.
The Chinese Cuisine Is Vast And Endless
China is a paradise if you're a food lover. Each Chinese region has its specialties and unique features that make the cuisine even more diverse. You will never get bored of eating Chinese dishes because there will be something every day.
I hope I can make your Chinese food tour a bit easier in the long run with this list. And don't just stop at these entries; go out and explore more because Chinese cuisine is something worth spending a lifetime uncovering.
If you plan on visiting China, please comment below on which dishes you'd like to try. Don't forget to give this post a like and a share on various social media. Thank you for reading, and I'll see you later!