With the list of delicious chicken wrap recipes, you can combine your leftover chicken with other ingredients to create a complete meal. Whether you use starchy wrappers, lettuce, or bacon, your chicken wraps are still full of nutrients and delectable.
Chicken is a superb protein source good for your diet. It is versatile and a staple ingredient in many salad or stew dishes. However, you can switch up your wrapping game with chicken wrap delights. They are simple to make and delicious.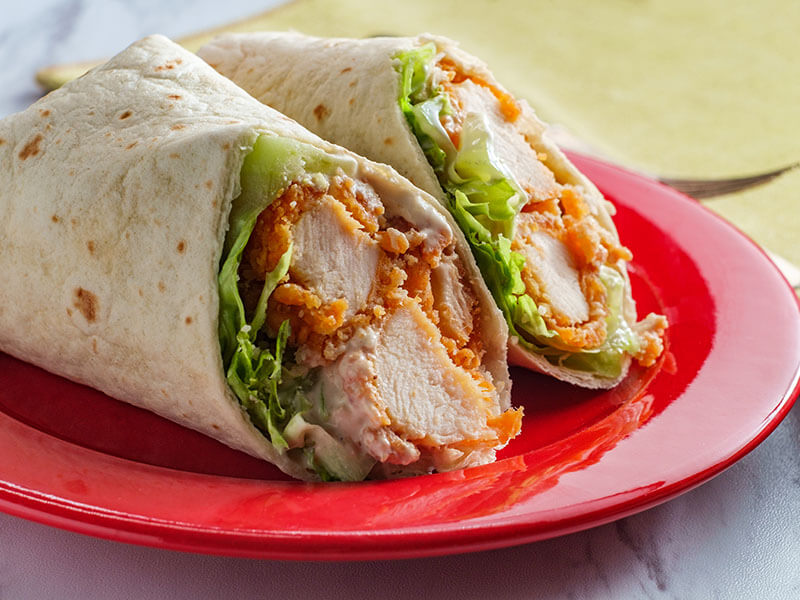 Learn How to Prepare Delicious Chicken Wraps For Your Family
Some of these chicken wrap recipes will go straight to the top of your must-cook list. If you're still in doubt, scroll down this post to find out more.
Total time: 25 minutes
If chicken wraps have recently become your obsession, you should try this Southwest chicken wrap recipe. This delicacy combines chicken tenders, fresh veggies, corn, black beans, and mayonnaise-based dressing in tortillas.
What makes this chicken wrap stand out is the southwest dressing. Its main ingredients are mayonnaise, salsa, and milk. This creamy sauce adds a tangy and milky flavor and binds other components perfectly.
You can utilize whatever type of chicken to make this recipe: grilled chicken, rotisserie chicken, or frozen breaded chicken. The other ingredients offer a variety of textures and flavors to ensure that every bite is delicious.
The southwest chicken wraps are easy if you follow this tutorial.
Total time: 15 minutes
Where are the pesto lovers? Try this grilled pesto chicken wrap and make it your next favorite lunch. Rotisserie chicken, mozzarella, artichoke hearts, avocado, and pesto are packed in tortillas and grilled to perfection. It's also an ideal recipe to make use of leftover rotisserie chicken.
The shredded rotisserie chicken is plain, but the pesto, Italian seasoning, and mozzarella cheese complement the wrap's flavor wonderfully. Additionally, the avocado and artichoke hearts offer extra texture and refreshing notes.
Grilling the wraps will develop a crisp crust and help them retain their shapes better. Make sure to grease all sides of these bad boys before grilling. Once the wraps finish grilling, the melted cheese and avocado will hold together other ingredients.
Total time: 20 minutes (excluding 30 minutes of marinating time)
You can't say no to these creamy Tzatziki grilled chicken wraps. Tzatziki is a Southeast European sauce. This sauce includes salted strained yogurt with cucumber, garlic, salt, and olive oil. In this recipe, Tzatziki is not the marinade but is a sauce.
To marinate the chicken, toss olive oil with oregano, paprika, and garlic. While the chicken is marinating, prepare the Tzatziki. The key in this process is to strain the cucumber. Afterward, combine cucumber liquid with lemon juice, herbs, and Greek yogurt.
For assembling, you will use a warm tortilla to wrap grilled chicken, Tzatziki, and veggies. These wraps have a tangy profile and are full of goodness from various ingredients. Their refreshing sour tastes will tantalize your taste bud.
Total time: 20 minutes
Follow this recipe to prepare a quick and healthy hot lunch if you are short on time. These wraps consist of fiber-rich veggies, protein-rich chicken, and cheddar cheese. You can whip these up without breaking a sweat.
You only need to grill the chicken. Remember to rinse and pat dry the chicken before seasoning it with salt and pepper. You can save time by chopping lettuce, tomatoes, and avocado while waiting for the chicken.
I highly recommend grilling the wraps after assembling them. Doing so will create a crunchy mouthfeel and add more flavor to the wraps. The best moment to savor them is when they are still hot with the cheese melting inside.
Total time: 20 minutes
The next specialty I want to introduce is a famous recipe using ground chicken from PF Chang's dining restaurant: chicken lettuce wraps. These chicken wraps will be just as delicious as those from a restaurant. You can prepare these simple wraps effortlessly.
You will start by browning the ground chicken with garlic, onion, vinegar, and ginger. Besides those ingredients, you need three types of sauce for stirring: hoisin sauce, soy sauce, and sriracha.
The result will be savory sauteed chicken placed nicely in the middle of the lettuce wrap. Take a bite and feel how the fresh lettuce, crunchy onions, and sweet chicken blend.
No one can resist the deliciousness of PF Chang's chicken lettuce wraps.
Total time: 15 minutes
Peanut sauce and chicken wraps are match-made in heaven. The crunchy coleslaw meets seasoned chicken in this delight, and they offer nothing but wholesome sensations and flavors. You can make this simple lunch easily.
The secret lies in the peanut sauce. Since it uses many ingredients, the sauce has a complex but comforting taste. If you taste it, you can notice the sweetness of honey and peanut butter and a sour note from the vinegar.
The filling is a fusion of coleslaw and cooked chicken breasts. Coleslaw is a tremendous source of fiber and vitamins. Chicken breasts are all about the lean protein that keeps you healthy.
Total time: 45 minutes
This bacon-wrapped chicken recipe is slightly different from other dishes on this list. This wrap recipe is pure decadent with crispy, salty bacon wraps around the juicy, tender chicken breast. Additionally, a brown sugar glaze finishes everything off beautifully.
This heavy main dish looks like it comes from a fine dining restaurant, but you will be surprised at how straightforward it is to make. Before you wrap chicken breasts with bacon, you must rub them with the ingredients for the glaze. Voila, they are ready for baking.
I suggest using thin bacon strips so that you can wrap them easier. If the bacon is out of place, some toothpicks can keep it from falling. These crow pleasers can stay good in the refrigerator for up to 4 days and three months in the freezer.
Total time: 30 minutes
If your children don't like broccoli, you can give these grilled chicken broccoli wraps a try to sneak some healthy vegetables into their diets. You can prepare these wraps easily as they only require chicken, broccoli, cheese, and other simple flavorings.
It takes two steps to recreate this specialty. The first is to season the chicken with simple condiments and grill it. The other step is to steam the broccoli. If you want a vibrant green color, blanch it and soak it in ice water after steaming.
Once these ingredients are ready, start wrapping them with mozzarella cheese. Assembling these wraps in a panini press will give these wraps beautiful grill marks, which is a strong plus in terms of presentation.
Total time: 25 minutes
A delicious chicken wrap often contains your favorite salad combined with chicken and wrapped in tortillas. It is the same for this chicken Caesar wrap recipe: Regular Caesar salad ingredients come together with grilled chicken for delicious wraps.
Bland chicken is boring, so you have to marinate it. You will need lemon juice, minced garlic, oregano, and other condiments. Let your chicken swim in this glory for 15 minutes. Take advantage of marinating time to prepare the other components.
You can make these wraps in advance by cooking the chicken a day before and preparing the salad ingredients. However, make sure to add the dressing and roll the tortillas before serving to prevent the wraps from being soaked in liquid.
You can try making chicken Caesar wrap to surprise your family with this guideline.
Total time: 1 hour 34 minutes
If you want to look for a new culinary experience, try making these Greek chicken gyros with Tzatziki sauce. This recipe features the signature components of Greek cuisine, from chicken Souvlaki marinade and Tzatziki sauce to the classic Greek Gyros.
Greek Gyros consist of pita bread wrapped around rotisserie meat, veggies, and Tzatziki sauce. The first thing to do when making these chicken Gyros is to marinate the chicken in olive oil, lemon juice, and various herbs.
You can use pre-made pita bread to save time. To assemble, warm the pita and place salad topping, grilled chicken, and Tzatziki sauce in the middle. Thanks to the quality ingredients, every bite will blow you out of the water.
Total time: 10 minutes
I believe many of you here are big fans of McDonald's, especially their sweet chili chicken wrap. Cucumber, tomato, and Thai sweet chili sauce make the ideal combo in this delectable sandwich wrap dish. Follow this recipe so you can make them at home to save time and money.
These bad boys are so straightforward to prepare with tortillas as the wrappers. You will spread mayo on the tortillas and top them with fresh veggies and grilled chicken. Drizzle some Thai chili sauce on top, and then wrap them up. As simple as that, they are ready to serve.
Choosing fresh veggies is crucial in making this dish. You should go for romaine lettuce and avoid using iceberg lettuce as they are watery and have no nutrients.
Total time: 28 minutes (excluding 20 minutes of marinating time)
For a healthy lunch or a light dinner, these grilled lemon chicken flatbread wraps meet all standards. This simple yet delicious flatbread recipe combines flavorful chicken, fresh vegetables, and hot garlic sauce to create a dish to brighten your days.
The star of this dish has to be the juicy grilled chicken. You must marinate the chicken with lemon, garlic, and spices and skewer it. Once it absorbs all the flavors, you can start grilling. You know the chicken is ready when it reaches a golden brown color.
The garlic sauce also contributes a spicy kick to the flavor profile, making it a perfect partner for the delicious grilled chicken. The flatbread and fresh veggies also provide a satisfying texture to this specialty.
Total time: 1 hour 35 minutes (including 1 hour of marinating)
Shawarma is a famous Middle Eastern recipe made of meat cut into thin slices and grilled on a vertical rotisserie. The seasonings for Shawarma are lemon juice, olive oil, and aromatic spices. Pita bread and grilled chicken come together to make a delicious dish.
You will need chicken thigh filets for extra juiciness. Marinating them will bring out the best chicken flavors. The tender, moist chicken filets are the best match for crunchy, refreshing onions, lettuce, and tomatoes.
The yogurt sauce is essential in bringing tanginess to the overall flavor profile. Besides, the soft pita bread has a mild flavor that highlights the chicken and veggies tastes. Thanks to the special seasonings, every bite is beaming with Middle Eastern flavors.
This savory chicken Shawarma will become a crown pleaser if you make it with this guideline.
Total time: 12 minutes
Fresh veggies are essential in Vietnamese cuisine, and these Vietnamese lettuce wraps are no exception. You can utilize your leftover chicken for this dish. These wraps are fresh, healthy, and effortless to pull off.
You will need lettuce as the base for wrapping. For the topping, you are looking at a list of crunchy veggies: carrots, cabbage, cucumber, and radish. Besides the baked chicken, you can add your favorite source of protein.
The soul of this recipe is the dipping sauce called Nước Chấm. It is a superb combination of sweet, sour, salty, and spicy flavors. These flavors blend to perfection. The secret lies in the umami taste from fermented fish sauce.
Total time: 15 minutes
You are missing out if you haven't tried Naan for wraps. Naan is a popular Indian flatbread. It is chewy and tender with a hint of butter and yogurt. Additionally, hummus is another unique component of this cuisine.
Hummus is the Arabic word for chickpeas. In this tasteful shredded chicken recipe, you will use roasted red pepper hummus. It has umami, sour, and spicy taste, ideal for spreading or dipping. You will spread hummus on the Naan bread before adding toppings.
Shredded chicken, fresh veggies, and a tangy vinaigrette are nutritious enough for the toppings. When serving, you can let your guests wrap these for themselves, or you can tie a hemp cord around the wraps for better presentation.
Total time: 30 minutes
Nothing is better than savoring a bacon-wrapped chicken for lunch or dinner, but this bacon-wrapped jalapeno popper-stuffed chicken is on another level. This recipe is more complex and vigorous.
To create this recipe, you need to spread diced jalapenos and the cheese on the chicken breasts and wrap them in crispy bacon strips. Instead of seasoning the chicken breast with salt and pepper, you can opt for taco or creole seasonings.
This recipe allows you to integrate a variety of tastes and mouth feels into a single dish. These chicken breasts are incredibly delicious that every bite will be a hit.
Total time: 10 minutes
These chicken bacon ranch wraps are beautiful and bursting with flavor. They should be on the list of your light lunch. And guess what? The recipe is also simple to create with only a few ingredients.
You will have tortillas wrapped around fresh tomatoes, lettuce, chicken, and bacon. The primary flavor of these wraps comes from the ranch dressing. The ranch sauce taste complements the saltiness of bacon beautifully.
Preparing these wraps in advance is possible but be mindful that the tomatoes can turn watery. They can make your wraps soggy and unappealing. I advise you to drain them in a fine mesh to eliminate extra moisture.
Chicken bacon ranch wraps are so healthy and delectable if you follow this informative recipe.
Total time: 35 minutes
Another amazing teriyaki chicken wraps recipe is here to satisfy your taste sense. This specialty includes chicken and fresh veggies cooked together in teriyaki sauce. You can whip these teriyaki chicken lettuce wraps without difficulty for busy weeknight meals.
The dish's highlight is the teriyaki sauce. The homemade sauce would be the best, but you can also buy pre-made sauce. To whip up this savory sauce, you need to boil water, soy sauce, mirin, honey, and garlic until the mixture gets thick.
Besides teriyaki chicken, other veggies also contribute significant tastes to the wraps. Choosing which type of lettuce to use is also crucial; I advise using butter lettuce for the best flavor and crunchier texture.
Total time: 25 minutes
This peanut chicken lettuce wrap is another lettuce wrap recipe I want to recommend. "Nutty" is the most appropriate word to describe this dish. Tons of salted peanuts combine with rice noodles and ground chicken to form a showstopper at any meal.
The ginger garlic sauce transforms bland chicken and rice noodles into savory flavor bombs because this sauce has numerous ingredients. Thus, it is slightly tangy with the fragrance of ginger.
To recreate the dish, you first make the sauce and marinate the chicken. Then, saute the chicken and peanuts. Add the noodles and give it some good stir. Finally, place the mixture on the lettuce. You can top it with fresh cilantro and green onions for a refreshing feeling.
Total time: 20 minutes
Here comes another grilled chicken wrapped in tortillas recipe. These grilled chicken cordon bleu wraps are a fun spin on the famous chicken cordon bleu dish. The original chicken cordon bleu involves ham and cheese stuffed into the chicken breast for deep frying.
This recipe is similar to the classic one with shredded chicken, Swiss cheese, ham, and a simple honey mustard sauce. Instead of a breading layer, tortillas will wrap around these ingredients nicely for a quick trip on the grill.
This dish is the best for a light dinner or lunch. It has a mild flavor palette, but the seasoned chicken has a tart and tangy kick from the yellow mustard. The melted cheese will bind other ingredients' flavors and textures wonderfully.
Total time: 30 minutes
If you are yearning for tacos but don't want to increase your carbs intake, these chicken taco lettuce wraps are what you need. They are light, delicious, and refreshing. You can prepare them for lunch, dinner, or afternoon snacks.
To make the chicken sing, you only need standard taco seasoning. The seasoning includes chili, onion powder, cumin, and coriander. Besides the chicken, the creamy cilantro sauce will take this taco recipe over the top with its tanginess and spiciness.
The best lettuce to use in this recipe is the butter one. It is firm enough to hold the fillings but still crispy and soft. These lettuce leaves will replace the taco shells and add extra freshness to the wraps.
Give these chicken taco lettuce wraps a shot, and you will be amazed.
Total time: 35 minutes (excluding 15 minutes to 6 hours of brining/marinating time)
Without this Prosciutto-wrapped baked chicken delicacy, the list of your chicken wrap recipes would be incomplete. This dish has a lot of inspiration from the chicken saltimbocca. It is an Italian delicacy that consists of Prosciutto and sage wrapped around veal.
This Prosciutto-wrapped baked chicken is similar but replaces veal with chicken breasts. After wrapping chicken breast with Prosciutto (dry-cured Italian ham), you will cook it in a buttery white wine sage sauce.
The key to delicious chicken breasts is to brine them with warm water and salt. This dish is perfect with some roasted veggies or salad as a side. These wraps are pure decadent as every bite is so savory and loaded with buttery, hearty flavors.
Total time: 15 minutes
Let me bring you another strange combination of fruit and chicken. These chicken apple salad wraps have diced apple and dried cranberry. It is unusual to have apples in wraps, but this recipe will become your new wrapping staple.
For this recipe, you will need shredded chicken and celery for the salad. The dressing consists of lemon juice, Greek yogurt, and other condiments. Besides tortillas, you will use lettuce as an extra layer for these wraps.
These wraps are full of flavors and textures. Fresh veggies and diced apples add a crispy texture to these wraps. On the other hand, the sour dressing taste complements the tangy, sweet apple and cranberries wonderfully.
Total time: 20 minutes
No chicken wrap recipe screams summer louder than this one. Your favorite pineapple mango salsa meets shredded chicken and lettuce to deliver a delight full of freshness. These wraps are effortless to make and super low in carbs.
The pineapple mango salsa is a game-changer. The ingredients required to make this sauce are similar to regular salsa sauce with an addition of fresh fruits. The mango and pineapple contribute sweetness and extra tanginess to the sauce.
After boiling the chicken, you need to shred it and toss it with olive oil, paprika, garlic powder, and lime juice. Once all the ingredients are ready, place lettuce and assemble chicken with salsa sauce. Avocado or extra lime juice is my suggestion for the topping.
Total time: 34 minutes
This teriyaki chicken quesadilla is a unique fusion between the well-loved Mexican quesadillas and Japanese teriyaki chicken. This duo is promising to be your new go-to chicken wrap recipe. It is ideal if you want to pamper yourself with cheesy, buttery delicious treats.
You have to bake the chicken in teriyaki sauce for 30 minutes. The teriyaki sauce has a sweet and sour taste matching perfectly with juicy, tender chicken. On the other hand, a quesadilla is a Mexican delicacy made of tortilla, meat, and other ingredients.
In this recipe, teriyaki chicken is the main filling in the quesadilla, with some grated cheddar cheese accompanies. This delicacy's appealing appearance and delicious flavor go hand in hand. You can enjoy this dish as a complete meal or after-school snack for your kids.
Everyone can pull off this teriyaki chicken Quesadilla by following this detailed tutorial.
Total time: 25 minutes
Give these chicken wraps a shot because they taste exactly like those from the Pei Wei Chinese restaurant. Many people adore this restaurant's signature dish. So, I think you can save some money by making it at home.
To pull off these wraps, stir chicken with mushrooms, green onions, and hoisin sauce. Once everything combines, toss in cashews. This flavorful chicken will be on the top list to impress your family.
There are vegan and vegetarian options for these wraps too. You can replace chicken with more cremini mushrooms. If you are not a mushroom fan, feel free to remove them. I suggest using some sesame seeds as a garnish to offer these wraps a hint of nutty flavor.
Total time: 10 minutes
Cranberry might be a questionable ingredient to put in chicken wraps. However, it is worth a shot. The trio of chicken, cranberry, and pecan blend with celery to create a refreshing salad filling. A large tortilla wraps everything up nicely.
Combine chicken, cranberry, pecan, and celery in a bowl and toss them with mayonnaise for a creamy texture. You can season the mixture with salt and pepper to your taste. After that, scoop the mixture on a tortilla and top with fresh parsley.
The pecan and celery offer a crunchy sensation to the wraps, while the sweet and sour cranberries stimulate your taste bud. The additional freshness comes from the celery and fresh parsley. It is well balanced with starchy tortillas.
Are You Ready For Some On-The-Go Chicken Wraps?
I adore these chicken wraps because they are one of the simplest dishes to prepare. You may mix and match these wraps using whatever you have on hand, with chicken serving as the base ingredient.
Another significant point about chicken wraps is that most of them are portable. Numerous people are so busy that they lack time to sit down and enjoy a meal. Chicken wraps are helpful in this situation since people may enjoy delicious cuisine while on the road.
What do you think of these recipes? Leave a like and share your thoughts in the comment below. Send your friends the link to this article, so they learn how to make a quick and delicious meal. Your support is my motivation to produce more content. Love!