If you ever desire a long list of easy chicken tenderloin recipes, you have come to the right place. With these recipes below, I'm sure they will satisfy you. What's even better is that making them doesn't take much time and effort.
After coming back home from a long day at work, the last thing you want to do is spend more hours in the kitchen. Therefore, chicken tenders are your problem solvers. Due to their size and texture, you can save time on prep work and cooking.
From instant pot frozen chicken tenders and flamin' hot chicken fingers to chicken scampi, many more are awaiting you on this list.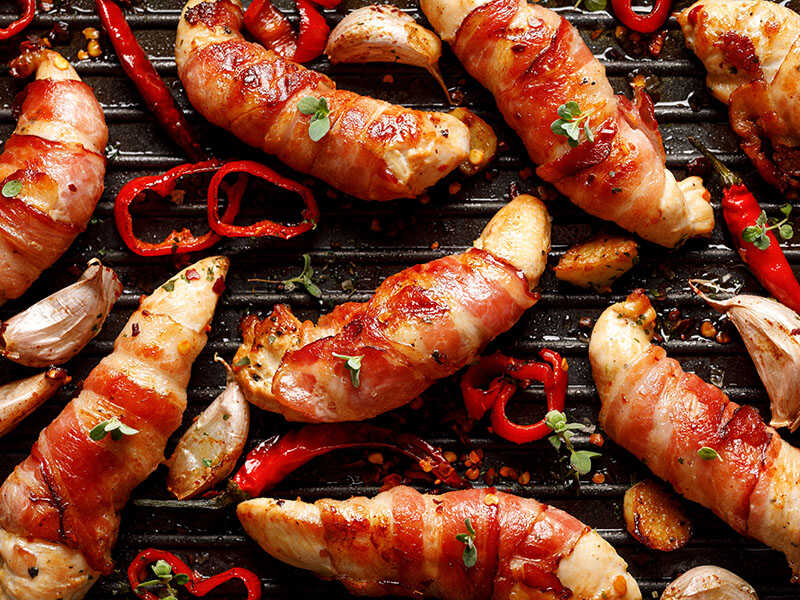 Let's Talk About Chicken Tenderloin
Before meeting the chicken tenderloin dishes, I want you to have some insights into this meat cut. How much have you known about chicken tenderloins?
A chicken tenderloin, or a chicken tender, is a thin muscle part located below the chicken's breast. And this cut of meat is quite soft and small compared to the other parts of the bird. There are two tenderloins in every chicken.
There are many ways to prepare the tenders, such as breading, grilling, baking, or frying. You can also turn them into filets or chicken fingers. Most notably, the cooked flesh is pale if no seasoning is added.
Chicken Tenderloin And Chicken Breast – Spot The Differences
Many people often confuse the tenderloins and the breasts with each other. But as a conscientious home cook, you'll need to know when to use these two cuts of chicken.
On the underside of the bird is the breast. This clean-cut contains minimal skin and fat, perfect for those struggling to control their weight.
If you care about the texture, tenderloins win an extra point. There is no-fail cooking with these tender, soft, and juicy cuts of meat. In contrast, unlike the tenders, chicken breasts are usually tougher because they are in the hard-working area of the bird.
Also, the tenders are much smaller than the breast meat so that you can cut short a lot of prep times, and they are cooked faster. These two cuts are interchangeable in many recipes; however, you should pay attention to marinating and cooking times to choose the best option.
Yet, you may want to consider their nutritional value and chicken breasts are the winner of this round. More specifically, breast meat is high in calcium, zinc, magnesium, and vitamins, while the tenders don't offer many vitamins and nutrients.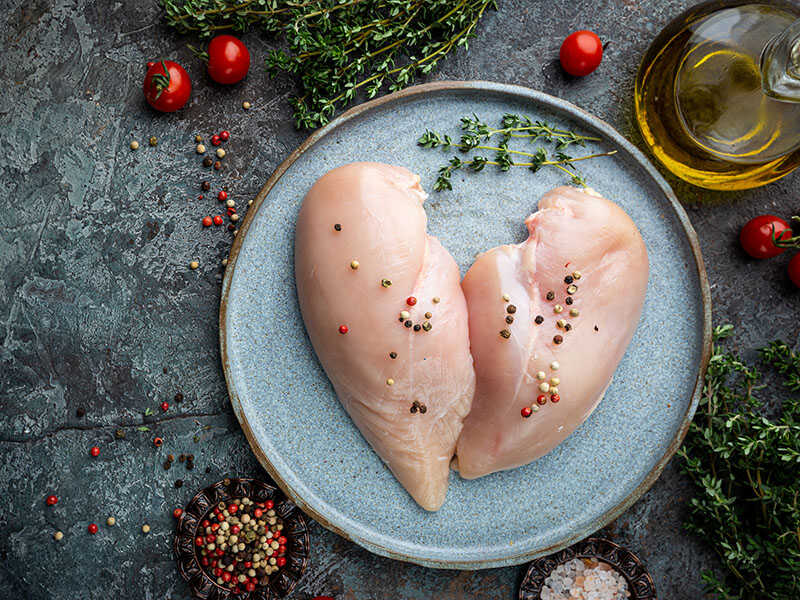 Check Out These Tasty Chicken Tenderloins Recipes
As promised, after the warm-up part, I will introduce you to some recipes for chicken tenderloins. Don't worry! I adhere to the easy-to-make criteria so you can whip out these dishes at home without difficulty.
Total time: 14 minutes
Let's start with these instant pot frozen tenders recipes. With an instant pot, you will turn the frozen chicken tenderloins into a hot delicious dish on busy days in just 10 minutes.
This recipe not only saves your time and skips washing steps but also keeps the flesh succulent and flavorful.
Taco seasonings keep the chicken from having a bland taste. However, if you don't like them, replace them with salt and pepper. A tip to help disperse the seasonings is to add one to two tablespoons of olive oil to the bowl.
Moreover, you don't need to freeze the chicken individually. You can cook frozen chicken even if they stick together. Serve as is or shred these tenders for other dishes such as tacos, sandwiches, or homemade chicken salads.
Total time: 15 minutes
Anyone at any cooking skill level can whip out this lovely dinner recipe with an air fryer. These unbreaded chicken tenders won't need bread crumbs, flour, or eggs, so the delicacy is low-carb, keto-friendly, and dairy-free.
The recipe uses fresh chicken tenderloins and some simple seasonings such as Kosher salt, oregano, and paprika. Adjust the seasoning to your liking for the best results. Do you want it spicier? Rub your chicken with chili powder or a Cajun seasoning blend.
Regarding safety, use a meat thermometer to check the internal temperature. Take out the chicken once the thermometer reads 160 – 165F. When finished, your chicken tender will have a nice golden brown outer layer and juicy and flavorful meat.
Do you know you can use an air fryer for cooking juicy chicken tender without breading? Check out now.
Total time: 18 minutes
With minimal ingredients and effort, you could make chicken tenders at home at a lower price than the store-bought. I believe you should make a double batch because once you eat it, there is no way you can stop.
If the chicken tenderloin is unavailable, replace it with chicken breasts and cut it into strips. You can fry the chicken in a deep fryer, heavy-bottomed pot, or pan. Avoid an overcrowded pan and fry chicken in batches, so it browns evenly.
The chicken is anything but bland since it's been seasoned earlier with salt, pepper, and garlic powder. But for an extra kick, pair it with your favorite dressing, such as honey mustard and ranch.
Total time: 25 minutes
Try making these delicious chicken tenders with intensely flavored mustard sauce. The chicken will be perfectly baked, and I'm sure the result will be excellent.
The highlight of this recipe is, of course, chicken tenderloins, as they are a great addition to your healthy diet. No need for complicated preparation because chicken tender has a little fat to trim off.
Toss the chicken in the bowl and combine with the mustard mixture, and they are ready to bake.
No meat thermometer? Check the meat doneness by cutting the chicken in half. Your dish is good if the juice is clear and the inside is no longer pink. Also, do not worry about the spiciness. The mustard sauce is suitable for children and adults alike.
Total time: 35 minutes
Are you tired of having your chicken the same way? These keto-friendly chicken tenders will bring more twists to your diet. Best of all, they are low carb, so you will be less guilty while enjoying them.
The secret to keeping the carbs in check is using Parmesan, almond flour, and several seasonings for the breading instead of regular flour or bread crumbs.
While garlic powder adds some sweetness, Parmesan cheese brings nuttiness to the flavor. It also has a bit of pepper for a spicy surprise.
Bake the chicken for about 20 – 30 minutes until the outer layer turns golden brown. Switch on the broiler for the last minutes to get extra crispy skins.
Total time: 1 hour 10 minutes
Do some fun experiments with this version of Cracker Barrel grilled chicken tenderloins! Chicken aside, you only need a few more items to pull it together. And spoiler alert, you won't actually need to grill them.
This taste-alike version is sweet with a tangy citrus note, and the chicken is juicy, succulent, and flavorful, giving you a savory burst of flavor in every bite. You can make this dish on a non-stick skillet or by grilling the chicken.
Whisk lime juice, Italian dressing, and honey together to make the marinade. Pour over the chicken, ensure it has been coated evenly, and marinate for at least one hour. Remember to cook the chicken lightly golden in color but not dry.
Give this restaurant-quality copycat Cracker Barrel grilled chicken tenderloins a try now.
Total time: 2 hours 25 minutes (including 2 hours of marinating time)
Treat your kids with this grilled honey mustard chicken tenders recipe. Your little eaters will fall in love with the tender and melt-in-your-mouth chicken tenders with a sweetness from the silky honey Dijon marinade.
This dish is really easy to make, but you need some patience. Because the chicken gets marinated for 2 – 8 hours, it is best to leave it in the fridge overnight.
After that, throw them on the grill and finish with the reserved marinade. The prep time is short, with only 10 minutes away.
When done, the sticky chicken will have a blend of sweet and savory flavors thanks to Dijon mustard, lemon juice, salt, and pepper. Serve the dish immediately with a salad, crusty bread, or your favorite wine.
Total time: 20 minutes
Let's innovate the lemon pepper chicken with some spices. With an air fryer, the dish will be on the table within 20 minutes.
The plus point of using an air fryer is that your chicken will be less greasy and still have a crispy outer layer. Not to mention, the seasoning mix is a blend of lemon, pepper, garlic, and paprika. Therefore, the chicken comes out savory and flavorful with a punch of spices.
Ensure to preheat your air fryer and cook the chicken tenders in batches, so they don't get overlapped. Use a thermometer to check the internal temp of the finish reaches 165F.
Total time: 25 minutes
Say hello to another lemon pepper recipe for chicken tenderloin. Don't worry. This deep fry dish differs entirely from the "air fryer lemon pepper chicken" above. All the deliciousness in these chicken tenders is impossible to pin down.
The secret to the extra soft and juicy chicken lies in buttermilk with its slight acidity. Meanwhile, for lemon pepper seasonings, the highlight of this recipe, you can use salted or sodium-free ones. Alter all-purpose flour with gluten-free flour if desired.
Lemon pepper chicken tenders already taste good, but it is even better when paired with honey butter sauce. The rich, sweet flavor and lemony notes of the spice combined with the savory tenders are just swoon-worthy.
Unlike the above air fryer lemon pepper tenders, this recipe calls for a deep-frying method, so your chicken will be extra crispy and crunchy. Remember to use a deep-fry thermometer to check if the oil temp hits 350 – 370F during cooking.
Total time: 26 minutes
Behold how the alluring flavor of the ranch chicken gingers will charm your diners. A packet of ranch seasoning mix adds a tangy, fresh herb flavor to your chicken. As a result, your chicken finger will have a nice crisp outside and moist flesh inside.
Add ranch seasoning mix to flour, then cover the chicken in the mixture. Dip it in the beaten eggs and coat with the panko crumbs mixture. You should cook the chicken tenders for at least 4 minutes per side or until the internal temp of the flesh hits 165F.
If you cannot use up all the ranch mix, combine the leftovers with buttermilk and mayonnaise to make a dipping for a double dose of ranch deliciousness.
Total time: 50 minutes
No more waiting hours in line to have an order at restaurants when you can make Olive Garden chicken scampi at home. This copycat version's taste is not inferior to the original and won't disappoint you.
Chicken scampi is another version of shrimp scampi, a famous fish in America with essential ingredients such as garlic, butter, heavy cream, and white wine. But this version will have some changes to suit the children and replace the primary element from shrimp to chicken tenders.
Quality wine doesn't cost a fortune, so don't look for cheap cooking wines. Also, for a restaurant-quality restaurant, don't forget to dress up your dish with parmesan cheese and some fresh parsley.
If you are bored of shrimp scampi, why don't you make some changes to this chicken scampi recipe.
Total time: 30 minutes
Making these healthy buffalo ranch baked chicken strips could be an excellent excuse for bonding time with your children. The recipe is simple enough that your kids can join in making it. So don't forget to give them the crispy and yummy strips as awards after the cooking is done.
To begin, marinate the strips with your favorite buffalo sauce to give them a nice spicy flavor. You don't need to be picky because any buffalo sauce will do. Bake for 20 minutes until the chicken is crispy and crunchy.
Check your ranch seasonings' salt/sodium levels, as store-bought buffalo sauces are always salty. If you use salt-free or low sodium BBQ sauces, feel free to add ½ teaspoon salt or adjust it to your taste.
Total time: 1 hour and 20 minutes
These decadent wraps using chicken are my guilty pleasure. Set aside the guilt about weight, the "marriage" of bacon and chicken is already a big plus for this recipe, not to mention the sweet-smoky-spicy flavor trio.
As I mentioned previously, bacon and chicken are a top-tier flavor combo. The contrast between salty, crispy bacon and juicy, tender chicken's flavor and texture hit it right. Plus, the mustard BBQ sauce adds sweetness with a hint of heat and balances the saltiness of the bacon.
During cooking, the sauce will caramelize and leave a nice brown color on the outer layer. If you want to keep things keto-friendly, opt for a sugar-free rub and BBQ sauce.
Total time: 20 minutes
Using an air fryer will be the best solution if you want to have crispy buffalo chicken tenders in a short time. Besides, you won't have to worry about your chicken getting too oily.
Choose your favorite buffalo sauces for the best results. However, if buffalo sauces are not your number 1 choice, use different sauces for your customized air fryer buffalo chicken, such as Franks, Crystals, or others.
For the leftovers, seal them in an airtight container and store them in the fridge within 1-2 days. If the chicken gets soggy, it will come back "alive" after 3-5 minutes of reheating in the air fryer. Freezing the buffalo chicken tenders can last for about one month.
If you love using buffalo sauces in your food, you must try these air fryer buffalo chicken tenders.
Total time: 20 minutes
Nashville hot chicken tenders are well-beloved for the subtly spicy sauce flavor of brown sugar, garlic powder, and cayenne pepper. To balance the spiciness, people often serve them in Southern style with soft white bread and pickles. Sounds interesting enough for you to dig in?
The key to the extra crispy and thick coating is double dip the chicken in your flour coating. Also, choose a neutral oil, such as canola or vegetable oil, to keep the frying temperature consistent.
Besides, avoid overcrowding the pan by frying in batches. Otherwise, the oil temp will drop, and the chicken will not cook evenly.
To store, keep the leftovers or new batches in a zip-top bag. Ensure your chicken is cooled, refrigerated, and eaten within one or two days. Frozen tenders can last for one month. Make sure to defrost them in the fridge overnight before reheating the chicken.
Total time: 8 hours and 30 minutes (including 8 hours of marinating time)
These pickle juice chicken tenders are easy to make. Trust me. You needn't be a pro chef to rock this recipe. Besides, you can cook the chicken with an oven or air fryer.
Except the marinating time may take a bit long (8 hours), the processing only takes 20 minutes. Marinating the chicken a day in advance is best to save you time. Besides, make sure to pat the chicken dry after marinating.
Drop some hot sauce into the beaten egg to add a spice kick. Additionally, for more convenience, you can buy fresh chicken in bulk, cut it into portions, and freeze them with pickle juice. When needed, defrost and use.
Total time: 15 minutes
Using the air fryer is always a no-fail cooking method for tender cuts like chicken tenderloins. In just 10 minutes, you can enjoy the chicken cooked to perfection with the natural light sweetness from the pecan nuts, plus the savory taste from the spices.
The setup of the breading is simple. Rub the chicken tenders in salt and pepper. Next, soak them in flour, then egg and pecan crumb mixture for at least 30 minutes, and your chicken is all set.
Always spray the chicken with oil before air frying for extra crispness and a more golden-brown crust.
Either crushed or chopped pecans are acceptable. And if panko is unavailable, homemade or regular bread crumbs are also great options.
Total time: 30 minutes
Surprise your kids with these Parmesan ranch chicken tenders. Upgrade the game by dipping these yummy chicken fingers in honey mustard or ketchup. The youngest eaters will love the chicken strips baked to crispy perfection.
Chicken tenderloins are my go-to cut of meat because they require little prep work. Not to mention, the meat is high in protein and the most delicate part of the bird. If you want to cook this dish for two, reduce all ingredients in half and use 1 pound of chicken tenders only.
You don't have to use ranch seasoning, so customize other herbs, spices, and seasonings to your liking. Another great substitute for corn flakes crumbs is panko bread crumbs or crushed Ritz crackers.
Total time: 25 minutes
Bring the beloved Italian cuisine to your table with these crunchy Italian-style Parmesan chicken tenders. You don't need fancy ingredients to make this seem-to-be luxurious staple. Only a few pantry ingredients and Italian bread crumbs are more than enough.
Go for freshly grated Parmesan instead of the pre-grated ones. Trust me, the fresh cheese offers better flavor and texture to your mouth. Besides, to keep the recipe gluten-free, replace all-purpose flour with almond flour, and opt for gluten-free Italian bread crumbs.
Apart from baking, you can make these Italian-style chicken tenders using an air fryer. Preheat your air fryer to 400F and cook your chicken for about 12 minutes. And voila, your dish is table-ready.
Total time: 20 minutes
Why do you have to fry chicken when you can bake it? Super delicious and less grease, Cheez-It chicken tenders have everything a chicken fan could dream of. And bonus points? They are ready to serve in 20 minutes.
Honestly, the combination of chicken and Cheez-It crackers is a heaven-made match. Thanks to the cracker coating, the tenders have a nice crispy and flavorful outer layer. And underneath the cheesy scrumptious crust is the impeccably juicy meat.
Remember not to treat panko bread crumbs as optional. The Japanese-style bread crumbs are critical to giving the chicken nice crispiness with Cheez-It crackers.
There are no limits with these Cheez-It chicken tenders. Let's get creative!
Total time: 5 hours and 15 minutes
Enjoy this comforting slow cooker chicken recipe with unmistakable Italian flavors alongside diced tomatoes, green pepper, and broccoli florets. Fortunately, a slow cooker makes everything easier.
All you need to do is to toss all the ingredients in a slow cooker, turn on the cooking mode, set it aside, and come back hours later for a delicious meal. Yet, be sure to add broccoli florist to the crockpot in the last 45 minutes of cooking time and stir to combine.
You can prepare this Italian-style dish in advance by mixing everything (except broccoli) and refrigerating the mixture in an airtight container. When in time of use, pour the mixture into the slow cooker and proceed as usual. You won't notice the differences – promised!
Total time: 24 minutes
Air fryers and chicken tenders are such a great duo that you can't stop creating new flavors based on them. If so, why don't you try these pretzel-crusted chicken strips? The succulent chicken flesh covered with crispy pretzel crust will mesmerize you from the first bite.
Depending on the size of the air fryer, you should adjust the number of batches. Avoid putting too many strips in one stray or basket, so they are cooked evenly. Usually, 14 minutes is enough for the cooked chicken but use a thermometer to check if the internal temp hits 165F.
If you don't have a food processor, put the pretzel in the zip-top bag and crush it with a rolling pin. Moreover, a tip to keep the chicken warm while working in batches is to leave the air fried ones on a baking sheet and keep them in the oven at 200F.
Total time: 35 minutes
If you are a chicken tender fan like I am, you will love this baked Tex-Mex recipe. Even better, you don't have to worry about the dipping because I've prepared one for you: a garlic avocado sauce.
The easiest way to coat the chicken is by dumping it in a large zip lock bag with panko, chili powder, garlic powder, cumin, and more. Then shut and shake until the tenders are fully coated. The taco-inspired bread crumbs will give the chicken tenders a nice Mexican flare.
Meanwhile, the zesty avocado garlic sauce made from avocado, Greek yogurt, cumin, and lime juice, will be a perfect companion to these taco-inspired tenders. Add extra cayenne to the bread crumb mixture and the dipping sauce for a kick of heat.
Total time: 22 minutes
Forget the regular chicken strips, and blow up your taste buds with these flamin' hot chicken strips. Just by hearing the name, you may already imagine its taste. Crunchy, cheesy, and loaded with spicy flavor, this dish will put a spell on you.
Chicken tenderloin is the best choice for this recipe because they're already strips. Although this recipe uses the Flamin' Hot Cheetos, grab a regular Cheetos bag if spicy foods are not your thing and that even your youngest eaters can dig in.
A non-stick cooking spray is not ideal for this recipe. Alternatively, utilize a pump spray bottle or mister to apply oil. Be careful not to let the strips touch or stick together, as the touching parts won't be as crispy as the rest. When done, eat as-is or with ranch dressing.
Bring more heat to your dinner with these Flaming Hot Cheetos chicken strips!
Total time: 35 minutes
Fruit and chicken combination is not an alien concept for home cooks, but have you tried the combo of plum and tenderloins? If not, here's your calling to make a batch of these skilled plum chicken tenders.
What is special about this recipe is that you will use fresh sliced plums. Choose your plum wisely because its taste can vary from slightly tart to extremely sweet.
When cooked, some plums can be bitter to taste. Leave the skin on because it's edible and suitable for a presentation look.
The tenders' sweet, sour, and saucy taste is suitable to serve with brown rice or orzo pasta. Check the doneness of the chicken with a thermometer or look at the juices. If the plums are also soft, your dish is good to go. Sprinkle it with toasted sesame seeds for decoration.
Total time: 25 minutes
Baked paleo chicken tenders are already flavorful with a crunchy exterior and seasoned flesh. But once you dunk them in the tangy-sweet mustard honey sauce, it will be like a little party of flavor in your mouth.
The ingredients come together in 20 minutes of baking, and the delicious sauce just needs two simple ingredients: mustard and honey. Plus, this recipe is not only yummy but good for you as it is high in protein with the presence of almond and coconut flour.
You can make batches of these chicken tenders and keep them refrigerated for later use. Note that they can be kept in an airtight container in the fridge for up to 5 days and frozen for up to 6 months. I'm sure these gluten-free tenders are as delicious as the store-bought versions.
Total time: About 20 to 25 minutes
In the mood for more chicken tenderloin recipes? Serve these rice crispy chicken tenders for a gluten-free dinner in under 30 minutes, and excite your family with the creamy honey mustard sauce.
This recipe requires minimal prep work, and you usually have all ingredients on hand. However, gluten-free rice cereal with no or less sugar is essential. As for the sauce, honey, mustard, spices, and paleo mayo are all you need.
The chicken is already flavorful, thanks to paprika, salt, and pepper. Yet, the sweet and tangy honey and mustard sauce will add an extra delicious flavor and take your chicken game to the next level.
Total time: 45 minutes
If you don't have much time on weeknights, why don't you use the frozen tenders in the fridge and create a new dish? Try making these chicken Parmesan sliders, and your weekday dinner dilemmas are solved.
The beauty of frozen chicken tenders is that they are convenient and versatile in many dishes. But remember to prepare the chicken according to package instructions, or the inside will still be cold when you get them out of the oven.
Another great substitute for the Hawaiian sweet rolls is the dinner rolls. And you can add some slices of pepperoni or salami onto each roll as a hidden surprise.
What To Serve With Chicken Tenderloin
Like most white meat, the tenderloins have a neutral flavor, which means they are versatile in any cuisine and can go well with anything. Choose side dishes or dipping sauce according to how the meat is prepared.
Some popular and safe options for chicken tender side dishes include mashed potatoes, salads, rice, and grilled or roasted vegetables. However, be flexible because the possibilities are endless. Play with the flavors and choose the best combos on your own.
Below are some more side dishes to pair with chicken tenderloins if you are interested:
Pasta or zoodles
Potato wedges
French fries
Coleslaw
Roasted potatoes
Fried rice dishes
Mash potatoes
Fritters
Corn salad
Have You Been Pleased With These Easy Chicken Tenderloins?
Have you found the answer to "What to serve for dinner"? Admittedly, chicken tenderloins are my go-to ingredients for quick and easy dinners since making them requires little prep time and effort.
What do you think about these recipes? If possible, tell me your experience making the chicken tenderloins in the comments below. Also, hit the like button and share my article with your friends who are chicken tender fans. See you in more great content!
Nutrition Facts
4 servings per container
---
Amount Per ServingCalories136
% Daily Value *
Total Fat 4.2g

7

%
Cholesterol 50mg

17

%
Sodium 516mg

22

%
Potassium 26mg

1

%
Total Carbohydrate 1.4g

1

%

Dietary Fiber 0.4g

2

%
Sugars 0.4g

Protein 24g

48

%
---
* The % Daily Value tells you how much a nutrient in a serving of food contributes to a daily diet. 2,000 calories a day is used for general nutrition advice.