Welcome to my list of the best chicken sausage recipes, where you can explore and pick up many dishes for your breakfast, family dinners, or even parties. The following recipes are not only tasty but also easy and quick to make.
As always, chicken sausages are a wonderful food to make with ground chicken. They are versatile in making pasta, soups, one-pan meals, etc. Besides, they have many types, such as Italian or Andouille, and many flavors that can fit anyone's appetite.
Without further ado, let's keep reading the following list to get some ideas and make the best dishes from chicken sausage now!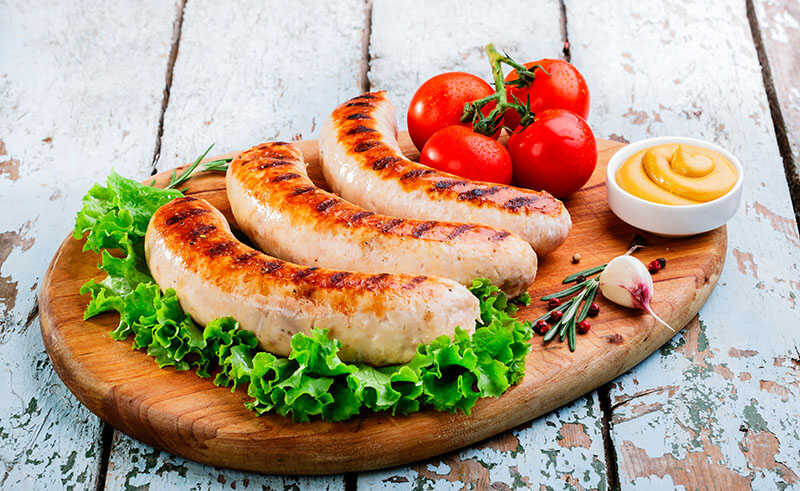 Fantastic Chicken Sausage Recipes Are Waiting For You!
As promised, I'll give you the best recipes featuring chicken sausage so you will no longer be fed up with your repetitive daily meals. The combination of chicken sausages and other ingredients makes each unique and delicious.
Total time: 20 minutes.
Chicken sausage pasta always occupies the highest position in my list of chicken sausage recipes. Quick to prepare and cook, chicken sausage pasta is your to-go dish on busy days.
Every ingredient is easy to find, and their combination makes it a simple yet mouth-watering pasta. It combines precooked chicken sausage, tomatoes, and spinach into a colorful, kid-friendly pasta.
If your children don't enjoy spinach, replace it with others to maintain the green color and essential nutrients for veggies. Also, remember to add some cream cheese to make it even more enjoyable.
Make tasty chicken sausage pasta in a few simple steps now!
Total time: 25 minutes.
As its name says, pita, yeast-leavened round flatbread, is used as a pocket to contain a hearty mixture of chicken sausage and stirred veggies. The veggies include mushrooms, onion, zucchini, yellow squash, and basil.
To make these delicious pita pockets, stir ingredients first, then stir them and fill the mixture into each half of the pitas. They look cute and appealing and promise to be a great dish for your breakfast or evening dinner.
These chicken sausage pita pockets are simple to prepare and versatile to change the ingredients. Therefore, you can use whatever veggies you have at home to make the fillings for pita pockets.
Total time: 6 hours (including the refrigerating time).
This fantastic recipe will teach you how to make homemade mango chicken sausage. After all, the savory grilled sausages won't disappoint your time and effort.
This one has a light meaty taste from chicken and sweetness from the mango. You should add some cilantro and garlic to boost the mango flavor, while some jalapeno would lend its pleasing heat to the dish.
For the best smoky sausage, put it in a grilling grate and grill it with direct heat after 5 minutes of preheating. Everything hands down into flavorful and fruity links of sausage that you can't resist.
Total time: 50 minutes.
Pesto pasta with chicken sausage and roasted brussels sprouts is another chicken sausage pasta you can make at home for your lunch or dinner. This pesto pasta is hearty with browned chicken sausage and roasted brussels sprouts.
Little half-cut brussels sprouts are roasted and tossed with sliced chicken sausage and boiled pasta. This makes the dish slightly smoky yet so tasty that you simply can't help but scoop it repeatedly.
You can serve this pasta warm, and don't forget to sprinkle some grated Parmesan cheese on top of the mixture.
Total time: 30 minutes.
Chicken sausage and spinach can fit squash ravioli so well that you want to have it the second time after your first try. Also, it takes only about 30 minutes to finish all the steps.
To make this ravioli, you cook the ravioli as per instructions first. Then, add the ravioli to the skillet, stir, and toast until it's browned. Next, add the remaining ingredients, then stir them together.
In the first step, remember to save a little pasta water to use soon afterward. Also, don't overcook the ravioli because it'll be stirred and tossed with other ingredients in the following steps.
Total time: 30 minutes.
The next goodness I would like to recommend is chicken sausage and vegetable skillet. It is an all-time favorite because it only dirties one pan. This couldn't be better for those who find cleaning after cooking a hassle.
This skillet is filled with chicken sausage and fresh veggies such as bell peppers, zucchini, onions, and red potatoes. It will surely bring you freshness from veggies and a meaty flavor from chicken sausage.
You can enjoy this one with brown rice, and its leftovers are still delicious. Therefore, you can cook it ahead of time as meal prep.
Enjoy fresh and fantastic chicken sausage and vegetable skillet today!
Total time: 55 minutes.
A pan of chicken sausage with roasted asparagus and potatoes is a good source of protein and antioxidants for your family members. So you mustn't miss this healthy and scrumptious recipe.
The chicken sausage highlights this dish with a strong meaty fragrance, while the veggies are nicely baked and crunchy.
The cool thing is that you can prepare for about an hour before jumping into the cooking. This gives you 15-20 minutes to finish some small tasks, which no longer makes cooking as tiring and time-consuming as many people think.
Total time: 20 minutes.
Zucchini noodles or zoodles are spiralized zucchini made with a veggie spiralizer. For this recipe, zucchini noodles are sautéed with chicken sausage, tomatoes, and basil. They are perfect for those who go for keto or low-carb dishes.
When cooking zucchini noodles, be careful not to overcook them, or they will release water and become soggy. Also, top these noodles with red pepper flakes and grated Parmesan and serve them warm.
If you don't have a veggie spiralizer in your home, you can still make zucchini noodles with a vegetable peeler, a knife, or a box grater. Leave out the zucchini core because it will make your dish mushy afterward.
Total time: 2 hours (with 1 hour of dough rising time).
Belonging to Italian-American cuisine, a stromboli is a turnover filled with Italian cheese and sliced meats or vegetables. For this one, the filling includes chicken sausage, peppers, onions, sauce, and cheese.
This fully stuffed stromboli is worth trying because of its flavorful fillings and crispy crust. To save time, you can buy a pizza dough kit at stores since it helps you easily make the stromboli dough.
To make this stromboli in advance, undercook it 10 minutes before perfection and reheat it with a foil covering before serving.
Total time: 45 minutes.
This hearty, soul-warming chicken sausage and kale stew will bring you the most satisfying taste. All goodies, noticeably chicken sausage, aromatic veggies, and vinegar, perfectly combine in a single stew dish.
The well-cooked chicken sausage and tender curly kale make this stew outstanding, while the freshly chopped rosemary shines through, making a savory broth. Lastly, cider vinegar makes all tastes bright and fresh.
For this brothy stew, you can serve it warm with some plain or buttered crusty bread, making it a super comfortable meal for some cold nights.
This hearty, soul-warming chicken sausage and kale stew will not disappoint you.
Total time: 1 hour 10 minutes.
Using vegetables to accompany chicken sausage in a casserole is a great idea because they help spread the meaty flavor. Besides, the cauliflower's nuttiness also balances the sausage's spiciness.
Firstly, you sautée the sausage and add the onion, garlic, and thyme. After that, toss the mixture with the briefly boiled cauliflower. Finally, sprinkle the mix of Parmesan cheese and bread crumbs over the casserole, and roast it to perfection.
Given this is a casserole, making it is not that time-consuming. With a little time and effort spent, you can enjoy a tangy, hearty casserole for dinner time. This warming casserole will satisfy your craving, especially when the weather becomes cooler.
Total time: 30 minutes.
Have you ever got plenty of ingredients in your fridge but don't know how to combine them into a good meal? One-pot creamy orzo with chicken sausage may be a good recommendation.
Orzo is a form of short-cut pasta and looks like large grains of rice. This dish combines other ingredients such as mushrooms, onions, zucchini, diced tomatoes, and especially the meaty chicken sausage. You can also use farro or risotto/arborio rice instead of orzo.
The one is most flavorful and delicious when you serve it hot. You can store leftovers in an airtight container in your fridge for no more than five days.
Total time: 7 hours 10 minutes.
Crockpot sausage and peppers are filling and indulging for your weeknight dinners. The taste of this dish is similar to Italian sausage pizza, yet without the crust.
The ingredients are mainly Italian sausage, sliced pepper, onion, and seasoning. Of course, you can slightly customize some of them to your taste. Also, this one is low-carb, gluten-free, and paleo, depending on your sauce ingredients.
You can enjoy it in the pot, with cheese, or pair it with a toasted bun. But, no matter how you serve it, this crockpot sausage and peppers are out of this world.
Total time: 20 minutes
Alfredo, an Italian pasta of fresh fettuccine, is loaded with butter and Parmesan cheese. Although this toothsome recipe contains rigatoni, you can use any other type of pasta. Unsurprisingly, every family member will love this creamy alfredo.
This one is unbelievably tasty, with chicken sausage, soft pasta, and plenty of veggies. Besides, many will enjoy a creamy coating of Parmesan cheese.
Interestingly, you can serve this alfredo, either warm or cold. This makes it a great quick lunch or supper for all busy people.
Make this chicken sausage and broccoli alfredo in only 20 minutes!
Total time: 25 minutes.
As you can buy shelf-stable or frozen gnocchi at the supermarket, making this gnocchi with spinach and chicken sausage is a piece of cake. Simply follow some simple steps, and you will have a fast and easy dinner.
This one is truly indulgent with fluffy gnocchi, tasty sausage, and fresh vegetables. Besides, its savory thickened sauce is good to accompany sliced French or Italian bread.
What if you can't find any gnocchi nearby? You can make it from potatoes and flour by yourself or simply use medium-sized pasta like shells or ziti instead.
Total time: 45 minutes.
If you want to try a bite of the fall season, you may like this sausage, kale, and sweet potato quinoa bowl. The combination of sweet potatoes, chicken sausage, kale, and quinoa is so pleasing during this season.
The result will have chicken sausage and veggies absorbing the yummy chicken broth. Remember to rinse and drain the quinoa with a fine mesh strainer for the best results.
Another reason to try this savory dish is that quinoa is a good source of fiber, which can prevent constipation and intestinal health problems. In addition, this one is good for those who want to lose weight because quinoa makes you feel full longer.
Total time: 1 hour 25 minutes.
If you feel exhausted from cooking after a working day, this dump-and-bake Italian sausage with rice can be your savior. You don't need to do any preparation for this easy dinner.
First, combine the liquid base for your casserole with all ingredients, including chicken sausage, white rice, bell pepper, onion, etc. Then, bake the casserole in your oven for about 1 hour and stir the sausage halfway through.
If the rice isn't tender enough, keep baking for another 10-15 minutes so it can absorb more liquid and get cooked.
Total time: 10 minutes.
If you want a quick idea for your dinner, give this stir-fried lemon pepper chicken sausage and kale a try. Chicken sausage perfectly combines with other ingredients to make up this delicious recipe. But with the right side dishes for chicken, its power to amaze you will increase tenfold.
The cooking steps are so easy that any newbie can make it successfully. Cook chicken sausage with browned onions. Then, 2 minutes before the sausage is cooked, toss in some sliced kale. Lastly, add some extra lemon slices to round out the dish with its yellow color.
Squeezed lemon juice makes it more appetizing, yet you can adjust the amount according to your liking.
Total time: 1 hour 30 minutes.
Cassoulet is a hearty, slow-cooked casserole in French cuisine. Its name came from the cooking vessel named "casserole" used to make it.
This chicken cassoulet with sausage and Swiss chard is a one-pot dish that will enlighten your day. Sautéed Swiss chard has a nice texture, and its color perfectly complements this recipe.
You will also love the tender chicken sausage and the thick stew, especially when you enjoy it with a salad or roasted vegetables. Furthermore, you will get plenty of fiber, protein, and carbs from this single cassoulet.
Gear up and make this tasty chicken cassoulet with sausage and swiss chard!
Total time: 25 minutes.
Chicken sausage and spinach frittata are great ways to start your new day. This frittata brings you quality proteins and contains veggies to meet your daily nutritional intake.
You can serve this chicken sausage and spinach frittata with sliced avocado or sweet potatoes as side dishes. This meal will keep you full of energy for the whole morning.
Depending on your ingredients, this one can be gluten-free or paleo. So consider and select your favorite ingredients to make a wonderful breakfast.
Total time: 20 minutes.
Chicken apple sausage breakfast melts are pleasing sandwiches you can enjoy on multiple mornings. As you halve each of them, savory ingredients like sausage, onion, and cheese appear at once!
With distinctive and tasty ingredients, you have the chance to enjoy a cheesy, crunchy, sweet, and savory grilled sandwich.
If you are short on time, try covering your skillet with a lid while cooking the sandwich. Doing so makes the cheese melt a bit faster than without a lid. Also, these melts are great grab-and-go breakfasts you can make in advance and store.
Total time: 40 minutes.
Healthy, home-cooked, easy sheet pan sausage and pepper hoagies are ready for your dinners. These chopped veggies with boldly-flavored chicken sausage are more than enough to make you happy.
All ingredients, including the hoagie rolls, are roasted to golden-brown perfection, making them so appealing that no one can resist.
How about the flavor? The veggies' sweetness balances with the meaty flavor from the sausage, while the saucy tomatoes offer a light tanginess to complete the hoagies.
Total time: 50 minutes.
You can count on this chicken sausage sweet potato bake for lunch or make it for breakfast by adding a fried egg on top.
This one can help you save time because it is suitable for lunch meal prep. You can divide a full dish into some glass containers and heat them in the microwave when lunchtime comes.
Following this recipe is so convenient when you have a processed spice blend. But you can still make it yourself with dried thyme, rosemary, basil, etc.
You can easily prepare chicken sausage sweet potato bake beforehand at home!
Total time: 40 minutes.
Inspired by the classic meat-and-potato dinner, this veggie and chicken sausage meal with honey mustard sauce is zesty, simple, and comforting. Its flavor will round out your weeknight supper.
You will like how chicken sausage, roasted potatoes, carrots, and honey mustard sauce are combined in flavors and colors.
As a one-pan meal, you can effortlessly put all the ingredients together and bake. And the result is so satisfying.
Total time: 32 minutes.
Sometimes you don't feel like eating typical pizza because of the same ingredients over and over. So why don't you try this pizza with roasted garlic chicken sausage, manchego cheese, and red onions?
The pizza is loaded with a bold and rustic flavor from the smoked sausage and a tangy flavor from the melted cheese. Therefore, this flavorful and savory pizza will break the meal monotony in your family.
In addition, this pizza is also a good option for those with gluten intolerance since it uses a cauliflower crust or other gluten-free crusts. For storage, you can store these pizzas wrapped in foil or plastic wrap in your fridge for three days.
Total time: 45 minutes.
If you are planning a cookout and family dinner, glazed skewers should be on your list. These kabobs packed with chicken, apple sausage, and sweet potatoes will play their role well.
With skewers, you thread chicken, apple sausage, and veggies such as boiled sweet potatoes, bell peppers, and sweet onions. Then you cook them with a heated grill. As a result, the glaze gives kabobs a nice flavor and creates an appealing caramelized coating.
Smoked veggie-packed, colorful kabobs are fresh and worth the effort. However, different types and sizes of veggies and the grill's temperature lead to different cooking duration.
Total time: 1 hour 10 minutes.
Let this farro and sausage stuffed roasted acorn squash finish the chicken sausage series today. The baked acorn squash is well-loaded with well-cooked farro, flavorful chicken sausage, and savory mushrooms.
Farro offers you a chewy, nutty filling. Together with chicken sausage and other veggies, this one is a fall favorite, and every spoon gives you a strong feeling of this season.
Although it's a bit tricky to cook the acorn squash and the filling separately, you will enjoy a soft roasted squash with a delicious filling for your time and effort!
Chicken Sausage Brings You Savory Meals
You can make many delicious dishes from the popular and tasty chicken sausage. Combining it with various ingredients in the right ways offers you healthy and pleasing meals that no one can resist.
Don't forget to save this list and share it with other chicken sausage fans! I also would like to know your cooking experiences, so remember to share them with me in the comment section below. Thank you, and I hope to see you in my next post!
Nutrition Facts
4 servings per container
---
Amount Per ServingCalories306
% Daily Value *
Total Fat 16.4g

26

%
Cholesterol 8mg

3

%
Sodium 663mg

28

%
Potassium 295mg

9

%
Total Carbohydrate 25.8g

9

%

Dietary Fiber 3.3g

14

%
Sugars 6.3g

Protein 14.2g

29

%
---
Calcium

22

%
Iron

1

%
Vitamin D

2

%
* The % Daily Value tells you how much a nutrient in a serving of food contributes to a daily diet. 2,000 calories a day is used for general nutrition advice.