If you want to add the best chia seed recipes to your list, you have come to the right place! In this post, I'll share many chia seed recipes you can easily make at home.
Chia seeds are well-known as a great source of omega-3 fatty acids. Besides, they are also rich in dietary fiber, protein, and minerals like iron, calcium, and magnesium. Therefore, they have become favored ingredients in puddings, jam, oats, smoothies, etc.
Follow me through this post to equip yourself with the most delicious chia seed recipes. I strongly believe that people around you can't help but compliment you for these tasty chia seed dishes. So let's jump in now!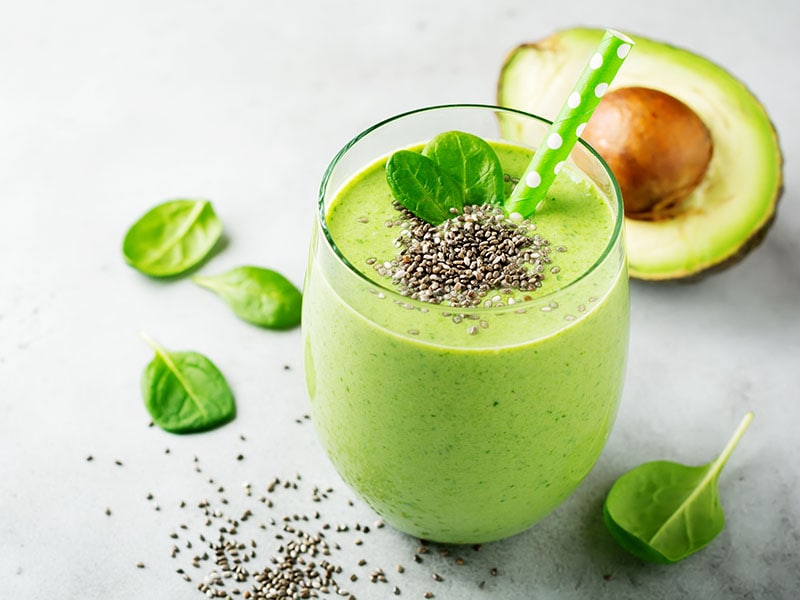 Here Are 27 Best Chia Seed Recipes That Won't Disappoint you!
Chia seeds are available at any grocery store, and chia seed dishes are easy to follow. Keep scrolling to see what you can make with these tiny seeds.
Total time: 4 hours 5 minutes (with 4 hours of chill time)
The first chia seed recipe you mustn't miss is pumpkin chia seed pudding. Made from pumpkin and chia seed, it's a favorite in fall when pumpkins are abundant and appear in every home.
It's so easy to make in minutes because no cooking is needed. Pumpkin pie lovers will also love this pudding since it uses pumpkin pie spice for the same flavor, yet in a much easier way and with less sugar.
Besides, this one is so healthy when you can take in all the valuable nutrients found in pumpkin and chia seeds. So it's a double win to enjoy a delicious and healthy pudding. For storage, frozen chia pudding kept in an airtight container can last up to 3 months.
Total time: 20 minutes
Making chia seed pancakes is a novel way to eat chia seeds. These vegan chia seed pancakes make a delightful sweet dish free of dairy, eggs, oil, and nuts. They are truly a crowd-pleaser.
You can serve these pancakes hot or chilly for any meal during the day, especially when you crave something fluffy and sweet. You have various topping options: fruits, maple syrup, jam, and butter.
This recipe is versatile in terms of ingredients. Apart from all-purpose flour, whole wheat flour, spelt flour, or gluten-free flour also does the trick.
Sweeteners like maple syrup, cane sugar, and coconut sugar are all good. You can use cashew, soy, oat, or hemp milk to replace almond milk. Lastly, apple cider vinegar, white vinegar, or lemon juice can substitute for vinegar.
Total time: 8 hours 20 minutes (with 2 hours of refrigerating and 6 hours of freezing)
On hot days, few things can be better than chilling popsicles, especially those made from fruits and nutritious ingredients. This is when healthy strawberry chia seed popsicles come in.
Making these popsicles is similar to pudding when you stir chia seeds with other ingredients such as coconut milk, honey, and maple syrup. However, popsicles are loaded with fruits and then frozen.
These healthy popsicles have a creamy texture created by the chia seeds and a subtle strawberry flavor, making them appetizing and kid-friendly. You can also replace strawberries with other fruits for various tastes.
Total time: 2 hours 20 minutes (with 2 hours of refrigerating time)
This coconut chia seed parfait with pineapple is fresh and appealing with layers of different ingredients. It includes creamy chia pudding, crispy granola, and fresh pineapple cubes.
The three layers with contrasting textures make every bite exciting. Also, this one is perfect for meal prep. You can prepare each ingredient ahead of time and throw them together to create a healthy and filling parfait.
This recipe is highly customizable with other fresh fruits such as kiwi, peaches, or bananas. Also, adding fatty and protein-packed nuts or seeds brings it a chewy texture. Therefore, this parfait promises to be the most requested dessert in your family after the first try.
Total time: 37 minutes
If you plan a weekend treat, don't miss these lemon chia seed muffins. Made with simple ingredients available at home, these mouth-watering muffins won't disappoint you.
They offer an aromatic lemony flavor thanks to the lemon zest and juice. Besides its lemony flavor, oil and butter add a rich flavor, while sour cream adds moisture to these tender muffins.
Even if you haven't made these muffins before, you will never go wrong with the batter since it doesn't require a mixer. However, you must be careful not to mix it too much, or your muffins can become dense and tough.
Don't miss these tender lemon chia seed muffins with an aromatic lemony flavor!
Total time: 5 minutes
Normally, overnight oats are not keto-friendly because they contain high-carb oats. Nevertheless, you can still enjoy a keto version by substituting oats with other ingredients.
Chia seeds and hemp seeds are two keto superfoods for this recipe. In addition, it contains other low-carb ingredients such as coconut yogurt and almond milk. You can easily make this gluten-free and dairy-free recipe with simple steps, and no cooking is required.
To make these sugar-free, low-carb overnight oats a success, try using a large bowl to hold all ingredients helps the mixture become well-combined. Also, stirring the mixture every 2-3 hours during the refrigerating time helps the seeds to absorb the liquid well.
Total time: 5 minutes
Believe it or not, this wonderful and must-try dessert is full of ginger, peach, and chia seeds. It has the sweet flavor of peach, the ginger's spiciness, and the chia seed pudding's creamy texture.
This peachy recipe is so addictive that your family will always want to try more. You can enjoy this tasty pudding as a light breakfast, snack, or dessert. For breakfast, you can make this pudding in the evening and refrigerate it until the next day.
Last but not least, this one is highly healthy and nourishing. It is vegan, gluten-free, and dairy-free and loaded with plant-based proteins, fibers, vitamins, and omega-3.
Total time: 1 hour 30 minutes
Keto chia seed crackers are crispy and fun to eat. They are perfect for dipping in guacamole and hummus. Also, it's not bad to eat them on their own. They will satisfy your cracker craving even when you are on a low-carb diet.
The neutral-flavor chia seeds absorb other mildly sweet and nutty flavors in these crackers. You can adjust the spices and salt as per individual taste. However, remember that the spices intensify when you bake crackers in the oven.
Don't hesitate to make more than the amount you need because you can store frozen crackers for up to three months.
Total time: 25 minutes
These lemon cookies with chia seeds are great when you want a simple snack at the weekend. They are crunchy on the outside and soft inside, making every bite enjoyable.
You can feel a lemony flavor from the lemon juice and zest and a subtle crunch from the chia seed as you bite them. They are vegan, gluten-free, and nut-free, so they can please any of your guesses.
You can make this one with simple ingredients such as lemon, lemon juice, yogurt, chia seeds, and coconut oil. It can store for up to a week in your fridge and for months when they are frozen.
Baking crunchy and lemony chia seed cookies is an enjoyable weekend experience!
Total time: 1 hour 10 minutes (with 1 hour of freezing time)
These hemp and chia seed bars contain protein, calcium, fiber, and healthy fats. They are mainly made with hemp seeds, chia seeds, coconut oil, and almond butter. If you don't like almond butter, you can use any other nut butter you like.
Interestingly, these bars don't need baking, making it a simple recipe. So, you can forget about store-bought bars and easily make these healthy bars at home. Besides, homemade bars don't contain refined sugar at all!
These bars will lose their shape at room temperature, so you should store them in an airtight container in your fridge or freezer.
Total time: 6 hours 5 minutes (with 6 hours of freezing)
During summertime, you can't miss out on delicious trifles. In this case, it's chia banana mango trifles. They are a combination of high-quality yet simple ingredients.
Within a small glass of trifle, you will explore various delights: fresh fruits, nutty almond milk, sweet honey, and super healthy chia seeds. Every scoop will satisfy your craving immediately.
However, trifles will get soggier over time, so you should enjoy them soon after they're ready to serve. For serving, put fresh fruits and chia pudding in beautiful layers in glasses or 8-ounce jars. Or, you can even simply gather them all in a bow!
Total time: 35 minutes
Orange chia seed drink is so pleasing for hot days, as it keeps you hydrated and energized while providing essential nutrients from orange and chia seeds. This beverage also contains a boatload of vitamins, minerals, and antioxidants.
Not to mention, it is the easiest way to include chia seeds in your diet. You only need to soak chia seeds in water and orange juice, then drink it whenever you like.
You can freeze the chia seed and orange juice mixture into ice cubes to use them many times. When you want to make the juice, simply add these cubes to a glass of water.
Orange juice, pineapple juice, and chia seeds make up a super healthy and refreshing drink for hot summer days.
Total time: 30 minutes
Homemade applesauce chia muffins are so easy to make with simple ingredients. Besides, they are always welcome in any family, especially those with kids. Who can resist these delectable and simple treats with applesauce?
The applesauce brings a subtle sweetness to the freshly baked muffins. They are fully packed with nutritious goodness. With Greek yogurt, these muffins are rich in proteins and calcium, improving your bone health and boosting metabolism.
To create the best muffins, remember to add an appropriate amount of sugar depending on whether you use unsweetened or sweetened applesauce.
Total time: 10 minutes (excluding 1 hour of refrigerating)
Almond joy chia seed pudding makes for a flavorful high-protein treat to serve everyone in your family. This pudding has a nutty almond flavor with almond milk, butter, and extract.
You can blend all ingredients into a creamy brown pudding and top it with coconut and chocolate chips. It's an interesting experience different from when you eat whole chia seeds.
You should serve it cold after some hours of refrigerating. Or you can make it ahead and store it in your fridge for breakfast the next day. If you want it to be your grab-and-go breakfast, remember to contain it in mason jars with lids for the most convenience.
Total time: 40 minutes
If you love sweet snacks, you can't miss this chia seed strawberry jam. Its sweetness comes from honey, not refined sugar, making it a healthy jam.
Apart from the honey, you only need chia seed and strawberry to make a delicious jam. You get the jam-like texture from chia seeds and the slightly sour flavor from strawberries.
You can slather this homemade jam on any bread you like. To store this jam, refrigerate it in a sealed container for up to a week. Meanwhile, frozen jam can last for three months.
Make this chia seed strawberry jam to accompany bread for an easy yet delicious breakfast!
Total time: 15 minutes
Although it's called "porridge", you don't need to cook this recipe. Thus, it's perfect for people on raw vegan diets. In addition, the apple pie flavor is another plus for this porridge.
The porridge-like texture comes from the blended mix of most ingredients, including the chia seeds. Particularly, the chia seeds absorb the almond milk and help create a thick consistency for the dish.
This porridge is a warm and comforting breakfast, especially on some chilly mornings. To make it warm, you need to heat it to 40°C in a saucepan, so having a thermometer on hand is very useful.
Total time: 4 hours 5 minutes (with 4 hours of refrigerating time)
If you have a sweet tooth and looking for a dessert that can play as breakfast, dark chocolate overnight oats surely top the list. These naturally sweet oats are loaded with nutritious ingredients and promise to provide you with plenty of energy for the day ahead.
Although you use only some simple ingredients to make these overnight oats, the result is wonderful. The rolled oats absorb the walnut milk yet still maintain their texture. Bananas offer a natural sweetness as well as fiber.
Another key player is the walnuts since they round out the dish with their crunch. Besides, they are also full of fiber, protein, and fats. Last but not least, this dish is vegan and naturally gluten-free!
Total time: 27 minutes
Before or after a workout, you may want some energy balls to refill energy. They are always loaded with protein, good carbs, healthy fats, and fiber. These chia seed energy balls are no exception.
Thanks to their delightful flavors, these energy balls are so addictive. Among all ingredients, peanut butter is a glue for these adorable balls. And the crunch comes from dry chia seeds.
To let them keep their spherical shape better, you can bake them for 12 minutes. For storage, you can put no-bake balls into airtight containers and keep them for a week in your fridge.
Eating these delightful chia seed balls provides abundant energy for daily activities.
Total time: 1 hour 10 minutes
Banana bread is a comfort food that is fluffy, super-moist, and healthy. Sesame chia banana bread with honey and tahini will warm your home and fill it with a sweet banana flavor.
Sesame and chia seeds make banana bread crunchier than traditional bread and bring nutritional benefits. Also, the tahini lends its sesame flavor to the whole bread. If tahini is unavailable at home, peanut butter will do the trick.
Last but not least, the natural sweetness from honey makes this banana bread irresistible. Every family member, from kids to adults, will enjoy this bread so much.
Total time: 20 minutes
These coconut seed clusters are so easy to make with some steps. You only need to gather the ingredients, mix, and bake. Regarding its nutrition, pumpkin seeds, sunflower seeds, and chia seeds are all rich in protein, healthy fats, and fiber.
All ingredients are blended until they are coated in the honey. The honey sticks them as clusters and lends its natural sweetness. Coconut chips or coconut smiles are fatty and indulging.
You can enjoy these crunch clusters as a healthy snack or a side dish. For storage, simply store them in airtight containers at room temperature for three months.
Total time: 10 minutes (excluding cooling time)
Let's make your almond or peanut butter even more enjoyable with chia seeds. This recipe is also a healthy treat of different seeds and delicious maple syrup.
The steps for this power butter can't be simpler, so be confident if you're a newbie. First, stir all the nutritious seeds, namely pumpkin seeds, sesame seeds, and chia seeds. Then, mix them well with the remaining ingredients, such as almond butter and maple syrup.
The power butter is sweet and crunchy, fantastic for accompanying fresh fruits as a snack. You can also serve it with toast or yogurt. Any way you enjoy it, it provides plenty of energy and good nutrients.
Total time: 1 hour 10 minutes (with 1 hour of set time)
For those time-poor people, apple pie overnight chia pudding is a favorite quick breakfast, thanks to its simplicity and delicious flavor. The dish comes together in just 10 minutes.
Chia seeds play a critical role in this recipe, creating a thick and gel-like texture. Meanwhile, the applesauce offers its apple flavor, and the maple syrup sweetens the pudding. Last but not least, chopped apples bring you freshness and crunch.
For this pudding, you can use any non-dairy milk, such as almond milk, coconut milk, or oat milk. If you are out of maple syrup, honey or granulated sugar also works.
Make savory apple pie overnight chia pudding with these simple steps!
Total time: 1 hour 13 minutes
Plant-based chia burgers are ideal for those wanting to lose weight. In addition, they are perfect weekly meal-prep dinners that you just need to reheat in an oven for several minutes. Even without meat, these curried carrot chickpea chia burgers are still very filling.
They are mainly loaded with carrots, chickpeas, onions, and beans. The chia seeds help to bind the ingredients into patties and make them crunchier. Curry powder adds a warm and slightly spicy flavor to the burgers.
These crunchy burgers are tastier when served with dill lime cashew cream and hamburger buns. The cream covering the patties makes them a bit fresh and grassy. You can also top these patties on a salad or accompany them with vegetable quinoa.
Total time: 4 hours 5 minutes (with 4 hours of freezing time)
Here is another refreshing popsicle recipe you should save for scorching summer days: kiwi coconut chia popsicles.
Kiwi offers fresh and distinctive flavors in any dish. Containing loads of vitamin C and vitamin E, kiwi offers antioxidant and anti-inflammatory effects. Furthermore, it helps maintain blood pressure and reduce stroke risks and cardiovascular health issues.
If you plan to make these popsicles multiple times during the hot season, try filling these popsicles with other fruits such as bananas, grapes, and so on. Among them, bananas may be an outstanding candidate as they are still creamy when frozen.
Total time: 15 minutes
With its vibrant purple color, this fantastic and healthy blueberry chia seed smoothie should be next on your weekly recipe list. It's also a super quick smoothie, especially when most ingredients are available at home.
This smoothie is high in protein, healthy fats, fiber, and other essential antioxidants. The goodness comes from vitamin C-packed blueberries and chia seeds rich in protein, omega fats, and calcium.
Although the original smoothie contains raw milk, you can switch to coconut milk for a dairy-free version if you have a dairy intolerance.
Making this juicy and healthy blueberry chia seed smoothie couldn't be simpler!
Total time: 6 hours 5 minutes (with 6 hours of sprouting chia seeds overnight)
If you want to try something new with chia seeds, this yummy pomegranate recipe will satisfy your needs. You will enjoy a gel-like mixture of pomegranate juice and chia seed and feel the sweet yet slightly sour yogurt at once.
You first need to refrigerate the mixture of the pomegranate juice and chia seeds overnight. Then strain the germinated seeds, mix with yogurt and antioxidant blend. Finally, top with pomegranate seeds. This parfait is simple, but its freshness is unforgettable!
Not to mention, it is extremely beneficial for your health thanks to its sufficient carbohydrate and protein. Besides, the antioxidant blend helps to boost your immune system, improve stamina, and reduce signs of aging.
Total time: 30 minutes
Most popular in Latin America, especially in Mexico, agua frescas are non-alcoholic drinks made from fruits, cereals, or flowers. These ingredients are usually blended with sweetener and water. Today, I would like to recommend one of them – chia lime agua fresca.
Named Agua de Limón con Chia in Mexico, this one is a refreshing drink made with lime juice and chia. It is a good source of nourishing nutrients, notably protein and fiber.
In addition to the blending method, you can make this drink by adding chia seed into a pitcher, covering it with water, and stirring with the agave and lime juice. After that, refrigerate the mixture for half an hour.
You can decide how sweet the drink is by adding more or less each ingredient.
Chia Seed: A Truly Nourishing Ingredient
Undeniably, chia seeds are not only nutritious but also refreshing in many dishes, including desserts, side dishes, drinks, etc. Therefore, integrating them into your diet is probably a must. I hope you get inspired by all the recipes I recommend in this post.
It's time to gear up and make yourself a tasty chia seed dish. Let me know how you enjoy it in the comment section below. If you like what I share, send this to those interested. Thank you in advance, and see you next time!
Nutrition Facts
2 servings per container
---
Amount Per ServingCalories174
% Daily Value *
Total Fat 11.9g

19

%
Cholesterol 3mg

1

%
Sodium 33mg

2

%
Potassium 93mg

3

%
Total Carbohydrate 6.4g

3

%

Dietary Fiber 4.6g

19

%
Sugars 1.1g

Protein 10.9g

22

%
---
* The % Daily Value tells you how much a nutrient in a serving of food contributes to a daily diet. 2,000 calories a day is used for general nutrition advice.